Last updated on
Here are 12 amazing (and amazingly clean) movies you've probably never seen. Maybe you've never even heard of these. All the better, because you're in for a treat!
These are mature, grown-up films for true movie aficionados that just simply don't have any obscene content. Win-win. Some are even family-friendly and will be appreciated by youngsters.
Sometimes you just want to sit back and enjoy a great movie. You don't want to worry about kinky stuff, excessive violence, filthy mouths, and all that other garbage. Sometimes what you want is just good, clean fun.
These movies fit the bill. But more than that, they're actually pretty thoughtful, artistic, and dramatic. This isn't a list of family-friendly cheese. Each title is well-written with top-notch acting and a creative plot. These are clean movies that adults will enjoy.
We'll list each movie and the general 'feel' without giving away too much of the plot. Ranked by IMDB rating and then by RT, but remember that those aren't always accurate because not everyone appreciates film the same way. Enjoy!
This post contains affiliate links. Our disclosure is kinda boring, but you can read it here if you like.
12 Amazing (& Amazingly Clean) Movies You've Probably Never Seen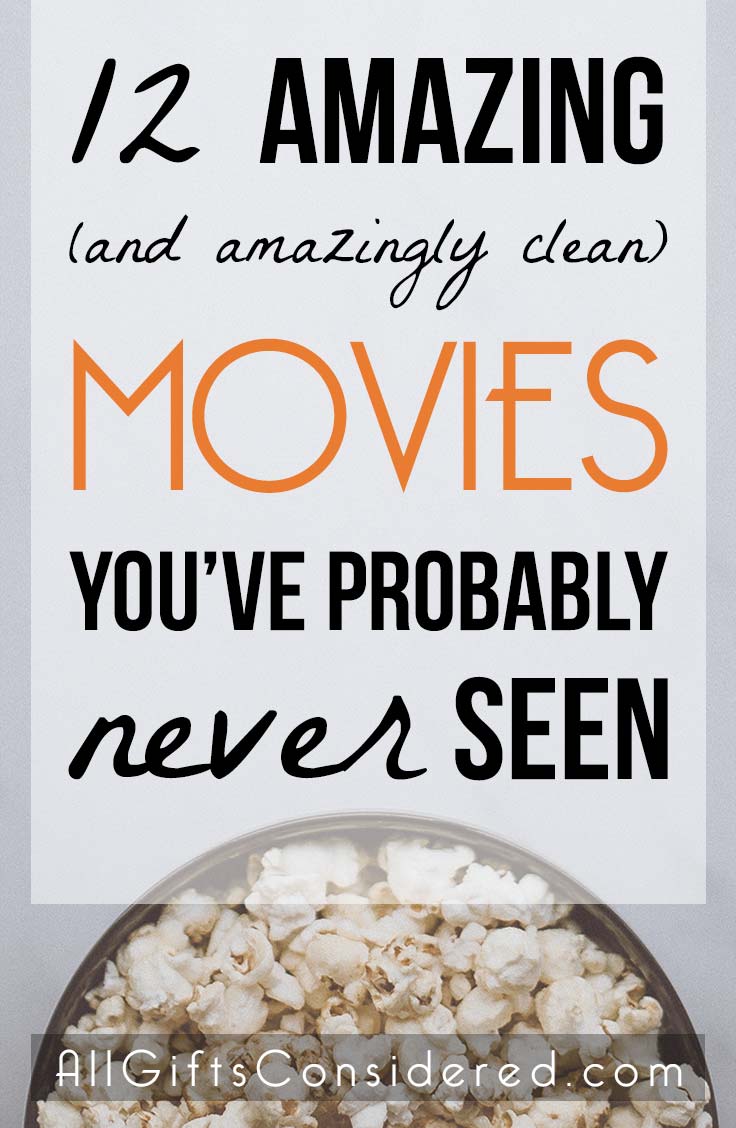 Each of these are super-clean movies with stellar production, acting, plot, and more.
1. Paper Moon (1973)
PG / 8.1 IMDB / 91% Tomatometer
Made in the 70s but a throwback to the even earlier times of the Great Depression. Black and white, travelling salesman, a precocious youngster, a bit of swindling. Humorous, nostalgic, and emotional. For adults to older children. Watch >>
2. Babette's Feast (1987)
G / 7.8 IMDB / 96% Tomatometer
A slow burner period drama for people who like old-fashioned village life, subtitles, and delicious food. For adults and teens. Watch >>
3. Mrs. Palfrey at the Claremont (2011)
PG / 7.6 IMDB / 70% Tomatometer
A slow, sweet drama of friendship between an elderly widow and a young writer. For adults and teens. Watch >>
4. Never Cry Wolf (1983)
PG / 7.6 IMDB / 100% Tomatometer
A snowy drama about a wolf researcher. It has the Disney logo, and it's about animals – usually two good reasons for adults to avoid. Don't make that mistake! This is a masterpiece. Good for the whole family, though a guy does run around naked for a bit with the typical blurred out/angled/strategic framing so you don't really see anything. Watch >>
5. M. Hulot's Holiday (1953)
G / 7.5 IMDB / 100% Tomatometer
Bumbling comedy in French. There's more bumbling and comedy than French, so don't let the (very few) subtitles scare you away. Probably the inspiration for Mr. Bean. Family-friendly. Watch >>
6. Rabbit-Proof Fence (2002)
PG / 7.4 IMDB / 87% Tomatometer
Set in the Austrailian Outback of 1931 during the government's "progressive" integration program. A thrilling triumph of will and familial love that is emotionally powerful and fun to watch. Family-friendly. Watch >>
7. The Winslow Boy (1999)
G / 7.3 IMDB / 97% Tomatometer
The crime was petty, but the boy denied it. So his father spends a vast fortune defending his honor in court. A period piece set in early 20th century England, and a tale of honor, truth, and justice. Family-friendly. Watch >>
8. The Dead (1987)
G / 7.3 IMDB / 93% Tomatometer
Director John Huston's final film, an adaptation of a short story from James Joyce's Dubliners. A dinner party, and all-Irish cast, the melancholy feel of an artsy theatre production. For adults and teens. Watch >>
9. The Spanish Prisoner (1997)
PG / 7.2 IMDB / 88% Tomatometer
A labrynthine corporate thriller centered around a long con. Think the complexity of Ocean's 11, but pretty much just people talking. This is an "intelligent" rather than "flashy" film. For adults and teens. Watch >>
10. Bright Star (2009)
PG / 7.0 IMDB / 83% Tomatometer
The perfect choice for fans of John Keats, Jane Campion, poetry, and costume drama romances. Like a Jane Austen movie, but a little more moody and based on real life. For adults and teens. Watch >>
11. Strings (2004)
PG / 7.0 IMDB / 80% Tomatometer
A fantasy action flick made entirely with marionettes. What sets this film apart is that 1) it's actually really entertaining, and 2) the puppet strings are an integral part of the storyline. For older children up to adults. Watch >>
12. The Golden Boys (2008)
PG / 6.0 IMDB / 28% Tomatometer
A cute, quaint, and charming story of three old codgers (A-list actors, all) who live by the sea and the introduction of a woman into their midst. If that sounds corny to you, you are welcome to follow along with the Rotten Tomatoes crowd and their 28% fresh rating. But you like a movie that just is what it is – a cute, quaint, and charming adult dramedy – then you'll love this little gem. For adults and teens. Watch >>

Pin It To Your Family/Movie Board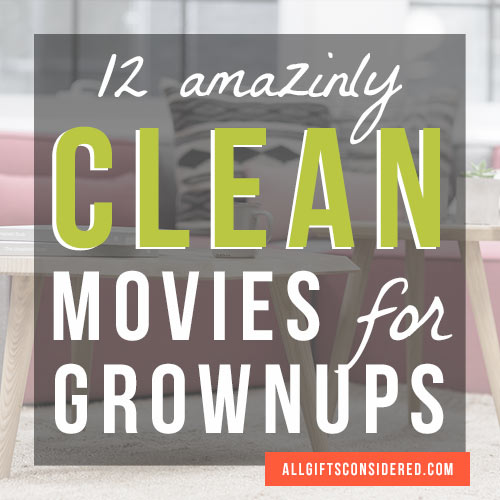 Need more clean movie ideas? Get the Massive List of Family-Friendly Movies That Grownups Love Too, over 600 titles of highly-reviewed films rate PG or less.
(Visited 34,771 times, 1 visits today)