Looking for creative at home movie night ideas?
Whether you decide to avoid the movie theater experience because it's too pricey, too germy, too crowded, or there's nothing playing that you want to see, a relaxing movie night at home is always a good idea.
For most of us, it's as simple as popping something in the DVD player or scrolling through the latest and greatest streaming service.
But, ya know… it doesn't have to be that simple. It could, instead, be amazing.
We're going to show you some of the best ways to elevate your evening and create a cinematic experience at home. Here are some seriously fun movie night ideas for a memorable movie night in the comfort of your own living room!
Our website is supported by our users. We sometimes earn a commission when you click through the affiliate links on our website. See our privacy policy & disclosures for more information.
50 Best Movie Night Ideas
Here's what we have in store for you.
Movie Night Ideas for Families
Here are some fun family movie night ideas to take your evening together to the next level.
1. Find a Great Family-Friendly Movie
Your movie night party has to start with a great movie. The hardest part is finding a good, clean film to watch as a family! That's why we've put together a massive list of high-quality, well-reviewed, family-friendly movies that grown ups actually like too.
You'll find classics like The Princess Bride, Karate Kid, and The Parent Trap. But we also include little-known gems like Condorman, Finding 'Ohana, Fly Away Home, and many more.
Since that's quite a lot of titles to wade through, here are 12 clean favorite films that you probably haven't seen.
Btw, if you are tired of all the animated children's films (yes, we've all seen The Lion King and Finding Nemo a million times), we also have a list of the best non animated family movies to check out!
2. Movie Night Genre Dice
When you can't decide, take a roll of the dice. The Movie Night Dice.
Choose a comedy, and action-thriller, a rom-com, a classic, and then toss the dice and see what happens.
3. Introduce the Classics
Once your littles are past the toddler stage, it's fun to introduce the classics. You know, the old black & white movies from days of yore. Believe it or not, they're still really entertaining!
Some favorites in our house include:
4. Make Movie Tickets & Roll Out Literal Red Carpet
Tickets are easy enough to design on your computer and print out at home, or just can hand draw some. We've even seen the big roll of raffle tickets available at the dollar store.
To enhance the Hollywood premiere feel, this red carpet is plenty long, bright red, and affordable.
These are a super fun way to elevate your movie night experience, especially if it's for a family birthday bash.
5. Old-Fashioned Popcorn Stand
Trust us when we say you'll make your money back pretty quickly if your family loves popcorn the way ours does! We've owned one of these full-size trolleys for years – happened to find one on craigslist – and it's still going strong. It's also the first piece of furniture guests comment about!
There are also little counter-top sized versions of these that are super cute as well if you don't have the floor space for a full-size trolley.
6. Personalized Popcorn Bowls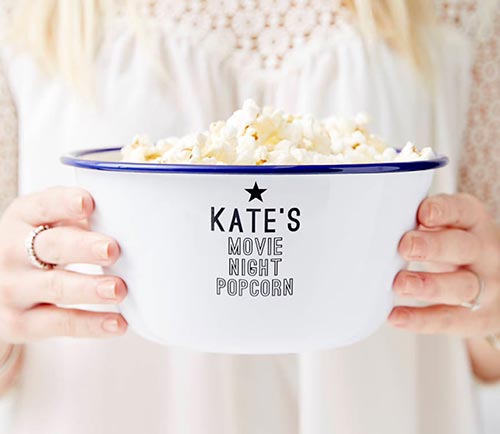 Sharing is for the birds.* Get yer own, mister!
*Oooh, another movie night idea!
With these cute personalized popcorn bowls you'll never have to wonder who has been reaching into your stash with their grimy hands.
And you can personalize your concoction they way you like it: with extra salt, more butter, or a handful of peanut M&Ms.
7. Get Cozy with Blankets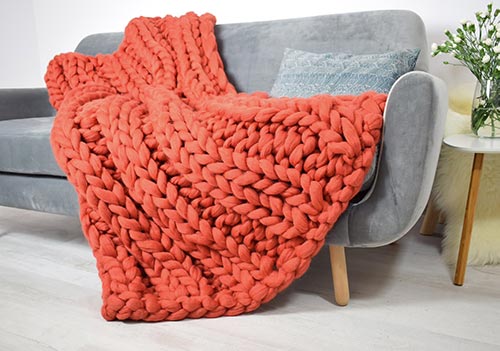 Get one for each family member and you'll happy as pigs in mud! Or people in really comfortable blankets… Anyway, family movie nights are all about comfort, so you're going to want to have plenty of blankies to go around.
Related: Warm & Cozy Gifts for the Best Snuggles
8. Wear Family PJs
It's not just for Christmas morning anymore! Family matching pjs are totally a thing, and we are here for it. Whether you go for timeless flannels, silky satin, or have a theme, it just makes your movie night a whole lot more fun.
And you won't feel better if you fall asleep fifteen minutes into the film, per usual.
9. Create a Drive-In Movie Night
Collect cardboard boxes and have the kids decorate them to look like cars. Fill them with pillows and blankets, and have a drive-in movie night!
Create a snack bar with a drive-thru window so the kids can scoot through and order soda, popcorn boxes, hot dogs, and maybe even banana splits if you're feeling crazy.
The kids can pull up on the floor in front of the big screen while the parents sit back and relax on the couch. It's an all-around win!
Or, if you wanted to make it even more authentic, set up your own outdoor movie screen. The kids can sit in their "cars" while the grownups enjoy some time together in cozy blankets by a fire pit.
10. Board Game + Movie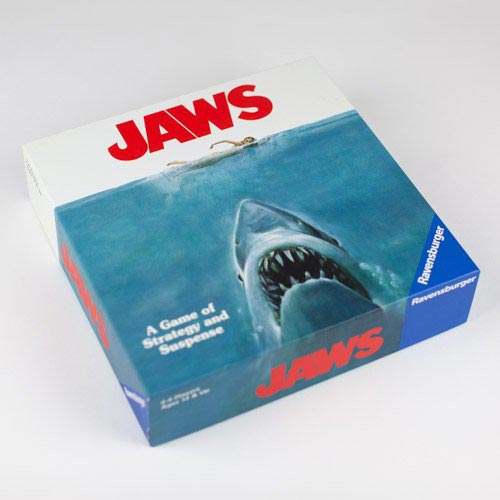 Many great board games have been inspired by equally great movies. Jaws is, of course, an all-time classic, but did you know they made it into a phenomenal board game? True story – my family loves board games, and Jaws is one of our favorites.
So make movie night extra fun by playing a movie-themed board game before you turn the lights out and the volume up.
Some other board games you can pair with the film or show:
A game and a movie is one of our family's favorite movie night activities. (As long as ice cream and popcorn are involved!)
11. Movie Trivia
Test your Hollywood knowledge, and maybe learn something new! There are tons of movie trivia games out there, and you can easily look up trivia online.
One fun throwback-style game is the Blockbuster Party Game, which is shaped like a Blockbuster VHS rental case. Either way, have a few rounds of film trivia before queuing up tonight's headliner.
12. Historical Trivia
Whether you pass out the trivia questions before the movie so they can mark off the answers as they watch and find them, or wait till it's over to check their memories, this is a super fun way to feel a little smarter at the end of the ninety minutes!
Trivia is ideal when your movie selection is a period piece. Watching one of the seven million adaptations of Jane Austen books? Do a Jane Austen trivia quiz!
13. Book + Movie
In our house, we love movies, and we also love reading, learning, and history. (And we have some limits on screen time, so earning a movie night can be kind of a treat.)
So often, as part of homeschool or summer reading assignments or whatever, we'll have the kids read a book like To Kill a Mockingbird, then watch the movie. Or we'll study the American Revolution and then watch the film of the musical Alexander Hamilton. Another good one is Temple Grandin – learn about her life, then watch the movie as a family!
Here are a few more book and movie pairs for the whole family.
14. Decorate with Movie Posters
If you're lucky enough to have a home theater, you're going to want to decorate the walls with something other than boring old paint or wallpaper!
Finding posters of the original artwork for movies isn't as hard as it used to be (like this one; thank you, ol' interweb!), and these are just perfect in every way for your movie nights.
For some added interest, add some lighting, just like they do in the theaters when they want to showcase an upcoming film.
15. Personalized Movie Theater Sign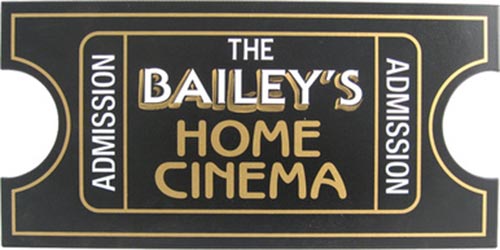 Totally perfect for mounting right above the big screen or the projector, this adorable sign is made to look just like one big movie ticket, and it's personalized with your family's name!
This is a great gift for a movie lover in your life, but also makes a great gift to yourself (we won't tell).
16. Have an Intermission
It's not just for taking a potty break! Pop some fresh corn, plump up the pillows, and have a conversation about the film so far. What are you learning? Is it scary so far? What was the funniest part? Do you think the butler did it??
Long epic films used to have actual intermissions. People mingled, refreshed their drinks, and socialized for a bit before returning for the second half.
17. Use a Projector
You can buy, rent, or borrow, but having a projector just makes movies that much more fun.
Anyone can watch on a boring television; there's something special about seeing your favorite film light up the side of the wall, or outside on the garage wall.
Such a fun way for the entire family to spend a summer evening together!
Movie Night Ideas for Couples
It's date night! Here are some fun ideas to make your movie night stand out with a touch of romance, a touch of nostalgia, something new and different, or something refreshingly familiar.
18. Matching PJs Night
All you have to do is buy one set of old-fashioned button down, two-piece men's pajamas. You can find them online or even at Walmart.
He gets the bottoms, and she gets the top (which will be more like a nightie on her). Super cute and kind of sexy!
19. Anti-Rom-Com Night
Sure, you can watch The Notebook for the umpteenth time on date night, but sometimes it's fun to mix it up a little.
So pick a different genre like a sports film, a true story, something historical, a ridiculous comedy, or a horror flick. Variety is the spice of life! Besides, everyone likes Die Hard.
20. Re-Watch Your Favorite Movies from Childhood
If you both grew up loving Pete's Dragon and haven't seen it since, it's due for a re-watch! Or if you just heard he has never even seen Chitty Chitty Bang Bang, it's time to remedy that.
After all, nostalgia breeds romance! We're pretty sure that's a scientific fact.
Sidebar: Speaking of…. If you've ever actually seen Chitty Chitty Bang Bang, you need to read this review. It explains why every child who grew up watching it was scarred by it remembers it so well. Mild language warning.
Related: Best Family Adventure Movies
21. Cozy & Romantic Blanket Fort
They're not just for kids! Be young at heart and build your own fort together out of sheets and blankets. Turn off all the lights, snuggle up, and maybe eventually get to that movie. Ahem.
22. Watch the Movie You Saw on Your First Date
Or your second. Whatever was the first movie you saw together is what you're watching now! It'll bring back all those memories in a romantic flood.
23. Watch Movies Back to Back
So many good trilogies to choose from! Next time you have a whole afternoon/evening to spend together, put on your most comfy sweats, stay hydrated and well-fed, and watch all of the Back to the Future films.
Or Lord of the Rings. Or Fast and the Furious.
We don't judge here, we just come up with great ideas.
24. Watch a Classic for the First Time
Never seen a Hitchcock (gasp)? What about Casablanca? Citizen Kane? The Changeling?
There are reasons why these movies totally stand the test of time, so find out why they're classics with your honey!
25. Double Date
Whether you invite your besties or that new couple next door, find a film that everyone can enjoy (so probably not something way too gory, with too many sex scenes, or a lot of subtitles. Check out our Clean Romance Movie Guide, which lists all the best romances without all the icky stuff). We're trying to make friends here, after all.
Provide lots of beverages and snacks, of course!
Related: 150 Backyard Date Ideas for Romantic Quality Time
Movie Night Ideas for Friends
Get the group together to watch a flick, and make it fun with one of these themes or activities.
26. Start a Movie Club
You can change the theme monthly, or keep it on track with your favorite genre.
Some ideas might be: Laurel and Hardy, Southern comfort, slapstick, mind fudge movies (you know what we mean), Oscar winners, animated films, or shorts.
27. Holiday Theme
We love watching Darby O'Gill and the Little People every St. Patrick's Day, Elf on Christmas Eve, Miracle on 34th Street on Thanksgiving morning, and something patriotic on July 4th.
Or you could be silly and have a Christmas in July night! National Lampoon is always a good idea, no matter the weather.
28. Pixar/Disney/Kid's Movie Night
You don't have to have kids to enjoy an animated or children's movie! Plus, you can laugh about how many jokes went over your head at the time and now you get them (we're looking at you, The Goonies).
Whether it's Pixar gems like Soul or Up, or a classic Disney movie such as The Fox and the Hound, or a weirdly wonderful flick like Willy Wonka and the Chocolate Factory, you're only as old as you feel.
29. Drinking Game
Come up with a fun bingo-type game (make your own or google someone else's) and keep the drinks flowing!
Take a shot every time the hero takes off his shirt in an action movie, every time someone gets murdered doing something stupid in a horror flick, every time the Rock lifts his eyebrow… you get the idea.
30. Movie Night Dress Up & Dinner Theme
This one is always fun! Have a dinner party where the food is themed around the movie, and everyone dresses up like their favorite characters.
Ideas for films that have great costumes and food:
Oh, and don't forget to watch the movie.
31. Grill & Chill
Invite a group of friends over for dinner and a movie. Start in the backyard by grilling up burgers or, if you're feeling adventurous, steaks or kabobs.
Have each friend contribute sides, drinks, or movie snacks. Enjoy a meal together, then turn on a fun flick. Simple, yet perfect.
Outdoor Movie Night Ideas
Take your movie night into the great outdoors! You'll just need a good movie projector, plus a wall or other flat surface, or a movie projector screen.
Here are some great ways to watch a flick under the stars.
32. Scare Fest
Life gets scarier in the dark, so bring on a frightening movie! Pick an 80s slasher, or a black and white Hitchcock, and get ready for gasps and shrieks.
33. Silent Film
An old vintage classic, like a Charlie Chaplin or a Mary Pickford film, are fun ways to introduce everyone to a genre they likely haven't experienced! The slightly choppy, black and white, subtitled movies are perfect for a projector.
If only you had an organ to play… Hmmm…
Have a musically-talented friend accompany with a keyboard, or create your own soundtrack with classical music or even modern compositions. There's a rich history of adding music to silent films, so feel free to experiment!
34. S'mores & Movie Fun
Sticky and sweet, chocolatey and melty, s'mores are a great accompaniment to a movie. And the mess stays outside, so win-win!
35. Drive In
If you have acreage, having your guests pull up their trucks to watch the movie is so much fun! Add in some tailgating food and you're going to have a blast.
36. Movies in the Pool
Got a pool? Love movies? Have friends? Well, if you have a pool you definitely have friends! Setting up your portable projector poolside is such a fun way to spend a hot summer night.
Bonus points if you watch a film that's water related, like Jaws, Titanic, or Overboard! Or that epic classic of cinematography, From Justin to Kelly.
37. Worst Movies Ever Made Party
We just mentioned From Justin to Kelly, which is widely regarded to be one of the worst evah, but you can't go wrong with Gigli, Kirk Cameron's Saving Christmas, Staying Alive, Waterworld, Mac and Me, or Problem Child.
Because laughter is the best medicine! Encourage people to narrate or provide commentary along with the feature film, a la Mystery Science Theater 3000.
38. Pick a Trilogy or Sequel
It's a double feature with this idea! You can't go wrong with the Bourne movies, or a couple of carefully chosen James Bond films. Don't forget to have movie themed snacks (shaken, not stirred, naturally).
Movie Snacks & Food
Speaking of movie snacks… here are some of our favorite ideas.
39. Classic Movie Snacks: Tried and True
You know the drill: popcorn, lots of candy, sodas, floats, nachos, pickles.
Anything and everything you can buy at a movie theater, for much less $$, and in the comfort of your own home!
40. Nacho Bar
Load up on cheesy goodness (bonus if your movie is cheesy as well), with a variety of chips, jalapenos, black olives, beans or bean dip, salsa, sour cream, and guac!
41. Baked 'Tater Bar
Economical and tasty, the Baked Potato Bar is perfect for an easy "dinner and a movie" night.
Guests can top their spud with whatever they see fit: cheese, sour cream, bacon, broccoli, chili, butter, green onions, and maybe a variety of flavored salts.
42. Chili Cook-off
Make movie night a bit of a contest with a chili cook-off!
Encourage everyone to bring their yummiest concoction in an Instant Pot or crockpot to stay warm for those second and third tastings throughout the movie. Always so good in the middle of winter!
43. Homemade Popcorn
There are tons of recipes on Pinterest, so go nuts!
Mmmm, nuts are good with popcorn. As is nutritional yeast, parmesan, chopped fresh herbs, flavored butters or salts, chocolate drizzles, cinnamon candies…
44. Guilty Pleasures Extravaganza
No healthy stuff allowed! For just one day, give in to all the cravings. We're talking pizza rolls, Doritos, candy, soda, ice cream, Twinkies, whatever your heart desires!
Tell everyone to bring their own "guilty pleasure" snack to share, and pop in your favorite "guilty pleasure" flick. What's it going to be this time – Peak Nick Cage in Con Air? Brendan Fraser's The Mummy? An early Anne Hathaway classic, The Princess Diaries?
Tonight it's all about guilt-free guilty pleasures.
45. Binging with Babish
Make food and drinks from the movie you're watching! Binging With Babish has video recipes for meals and more from (or inspired by) popular shows and films of all types.
The list of ideas and recipes includes Friends, Seinfeld, Luca, Raya and the Last Dragon, Rick & Morty, Pulp Fiction, Moonlight, reed, South Park, The Office, Twister, Groundhog Day, and plenty more.
46. Taco Truck Night
Ok, you probably don't have your own personal taco truck to park outside, but you can definitely make your own tacos for movie night!
Hard shell or soft, it's always time for tacos. And they're great for pickier eaters or a large crowd, because you can top them the way you like them.
47. Personalized Pizzas
Pizza dough is so easy to make, but if you're intimidated, you can always purchase freshly made dough from Trader Joe's or other supermarkets.
Provide sauces, cheeses, and of course, a variety of toppings. Use your regular grill or a special outdoor pizza oven.
If they're personal sized, you can fit two on a cookie sheet and bake two cookie sheets at once! This one pairs nicely with pizza or Italian themed movies.
P.S. Don't forget dessert pizza.
48. Sushi
Whether or not the film you chose is Japanese, sushi is a great way to feed a crowd. Making your own before the movie starts is always fun, or pool your cash for some yummy takeout from your favorite sushi restaurant.
P.S. The movie East Side Sushi is a way cute Indie flick about a Mexican girl who wants to learn the art of sushi making. We've included it in our list of fun (& clean) movies for adults.
49. Ice Cream Sundae or Banana Split Bar
All you need is a ton of toppings, some ice cream, and lots of spoons for this idea!
Check with your guests ahead of time to see if they need a dairy free option, or are allergic to peanuts. It's fun to set everything up like an old-fashioned ice cream shop, too!
50. Burgers Bash
Or you can go mini with sliders! Everyone loves a good burger and they're just so all American that you have to pair them with a classic American film, like Field of Dreams, Red River, West Side Story, or Remember the Titans.
Fries optional, but highly suggested.
More Movie Snack Ideas:
Sweedish Fish
Milk Duds
Sno-Caps
Caramel Corn
Pretzels
Twizzlers
Dots
Whoppers
M&Ms
Junior Minds
Trail Mix
Buffalo Chicken Dip
Chex Party Mix
Puppy Chow, aka Muddy Buddies
Cheese & Meat Platter
More Movie Night Ideas at Home
Even more fuel for how to make movie night FUN.
Movie Night Themes
Pick a theme and decorate, dress up, and serve food and snacks that complement the theme. Here are some ideas for a themed movie night:
Countries (England, Spain, Germany, Brazil, etc) or regions (New York City, the South, Fargo, etc)
Seasons (spring, summer, fall, winter)
Time period (1800s, Roaring Twenties, the 70s)
Beach
Arctic
Superheroes
Mystery
Western
Christmas
Safari
Broadway musicals
Musical singalong
Sports (be sure to PLAY the sport before, during, or after the movie!)
Indoor Movie Night Ideas
Most of the movie night activities listed above can be done inside, but here are some that are particularly ideal for indoors:
String lights to create a marquee
Create unique seating options: Move couches and chairs around, pull out the hide-a-bed, give the kids sleeping bags, etc
Movie-themed scavenger hunt or escape room game
Coloring pages from popular movies like Harry Potter or Star Wars
Have fun making snacks and treats together
Play silly games like "Pin the Academy Award on the Movie Poster"
Create snack trays for the kids using Dollar Tree totes
Start with a short film, whether a classic cartoon or just a fun YouTube video
Pause at random times and have a dance party
Read next: 12 Amazing(ly Clean) Movies That Grownups Love