Our men and women in blue are true heroes and should be celebrated as such! To help you honor your friend or loved one that puts their life on the line daily, we have put together a comprehensive list of gifts for you to choose from.
Is there a birthday coming up? A promotion or retirement on the horizon? Whatever the occasion may be, we've got you covered. Our gift experts have curated this list with your law enforcement officer in mind.
Take a look and have fun choosing something for that special police officer, sheriff, deputy, or other public servant.
Our website is supported by our users. We sometimes earn a commission when you click through the affiliate links on our website. See our privacy policy & disclosures for more information.
10 Best Gifts for Law Enforcement Officers
We'll start with the ten best gifts for any and every law enforcement officer.
1. Best Officer Ever Tumbler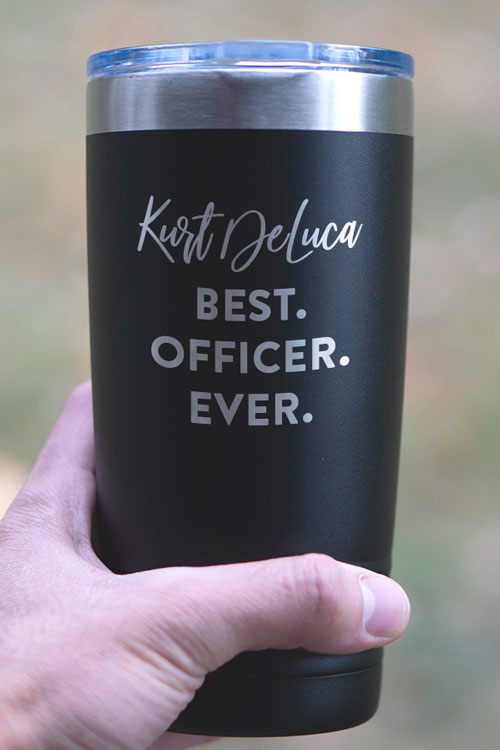 Our personalized "Best Officer Ever" tumbler is a favorite! Made from stainless steel, these travel mugs will keep your cold drinks nice and icy, and your hot drinks will be steamy for hours.
You have your choice of stainless steel along with six vinyl-wrapped colors: black, gray, dark blue, light blue, pink, or teal.
Personalize this tumbler with your friend's or loved one's name, along with the quote of your choice; perhaps something like:
Best. Officer. Ever.
Stupid people keep me employed
Deputy Police Chief – Precinct 6
I like big busts and I cannot lie
Father. Husband. Officer. Hero.
2. Handcrafted Pacific Crest Plaque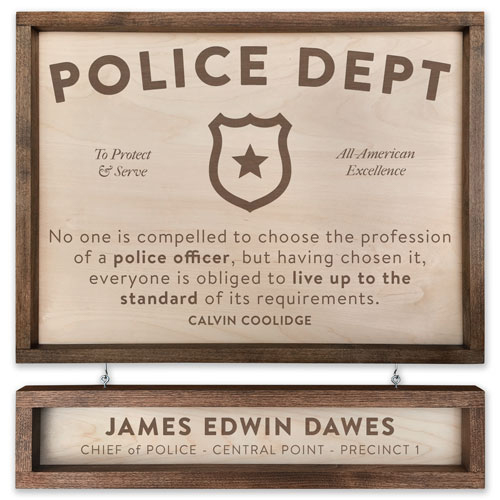 This handcrafted wooden police sign is made in Oregon to honor the dedicated public servant in your life. This is the perfect police gift for retirement, a promotion, or any other special day.
Fully customizable with the option to add a classic-looking hanging name board and personalized to order just for you.
3. Safe-T Decorative Fire Extinguisher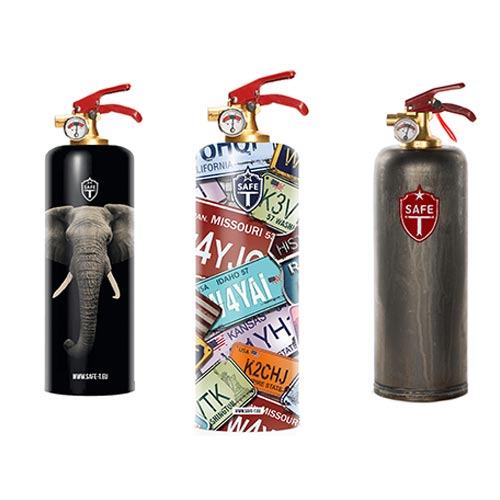 Safe-T Design Fire Extinguishers combine design and function. They are made to be exposed and kept within easy reach. They are also made to spice up your interior!
You can find one to compliment anyone's personality and home interior. And of all people, law enforcement officers will appreciate the safety angle.
We all need fire extinguishers; why not have a beautiful one?
4. Vintage Police Officer Sign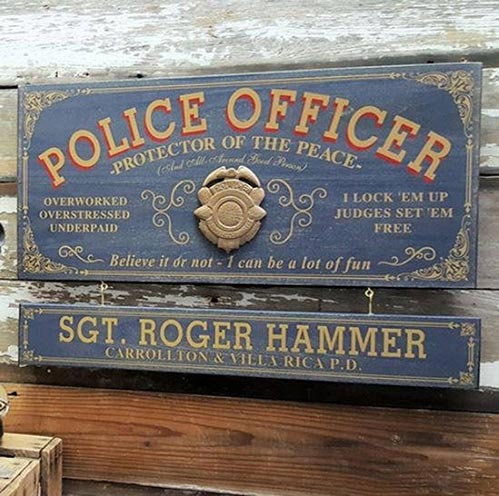 This nostalgic police officer sign is perfect for retirements, promotions or awards. The back of the sign is "raw" wood; you can have everyone sign and add a personal message with a permanent marker.
This sign is hand-made from wooden planks—ideal for hanging in the office, den, or game room.
5. Ultra-Thin Wallet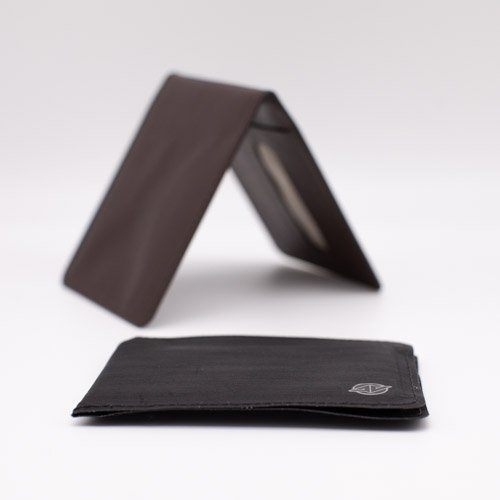 Most men can use a high-quality, easy-to-carry wallet. These wallets are ultra-thin and engineered to last for years.
The materials used in these wallets are the same used in body armor, vehicle armor, and air cargo nets in the military!
This minimalist wallet is a thoughtful gift for any man in your life.
Related: 65+ Best Gifts for Men (Gift Guide for Him)
6. Rare Beer Club Subscription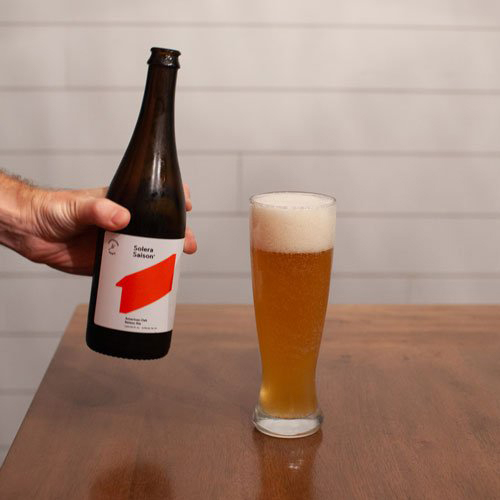 Order that special someone a monthly "Rare Beer Club" subscription. The Club's goal is to deliver the best and most hard-to-come-by beers out there.
Treat your friend or loved one to a monthly or quarterly beer surprise. This is a gift anyone would be thrilled to receive – after all, who doesn't want beer delivered to their door?!
So, cheers to that special public servant in your life! If you're lucky, they might share one with you.
See our review and unboxing here for more details.
7. Retirement Bottle Opener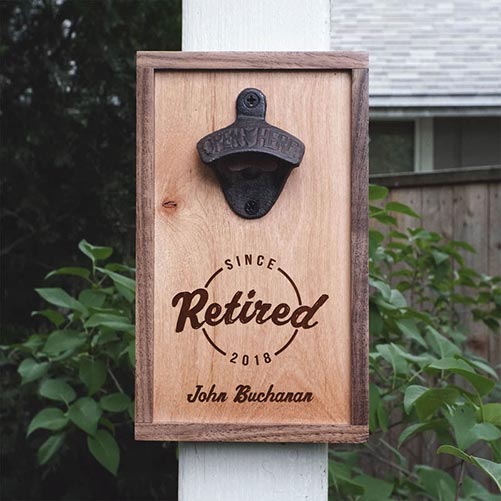 Our personalized walnut and maple wood bottle opener is a considerate retirement gift. It will ensure that the new retiree will kick back and enjoy that extra leisure time.
(And it pairs perfectly with gift #6.)
Hang this bottle opener on the patio or in the garage. The retiree can enjoy a cold soda or beer with their friends.
Related: 50 Perfect Retirement Gifts That Retirees Actually Love
8. Plant a Tree in Their Honor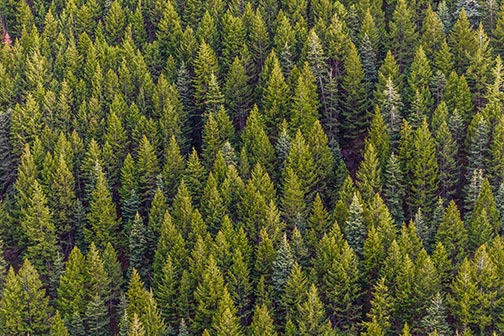 Plant a tree in honor of the people that serve your community.
Wildfires can rip through forests. This leaves wildlife displaced and the trees badly scorched. Replanting trees in honor of people who matter in your life can help regrow these devastated areas.
This is a gift that will last for many lifetimes over. Replanting the trees of our forests is a service that lets you do good while giving gifts to good people.
9. Commissioned Art Portrait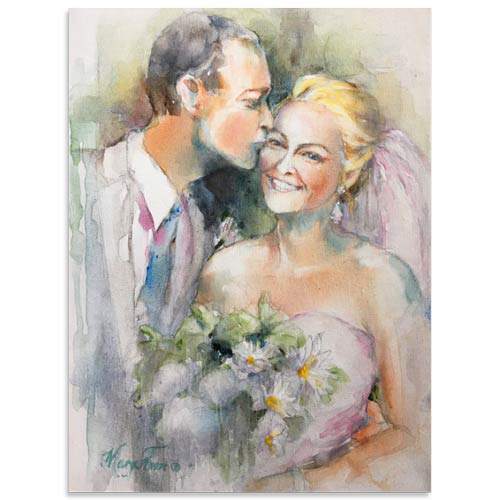 Tell a story – have a portrait made from your favorite photo. Artist Mary Ann Simmons says, "The best portraits are from life or photos you absolutely love – of life being lived – not smiling at the camera."
She will take your photos and turn them into a masterpiece that anyone would be proud to own!
A portrait is a beautiful way to honor your special public servant at retirement, a promotion or preserve a memory.
Related: 15 Inexpensive Gifts for the Woman Who Has Everything
10. Personalized Bird Feeder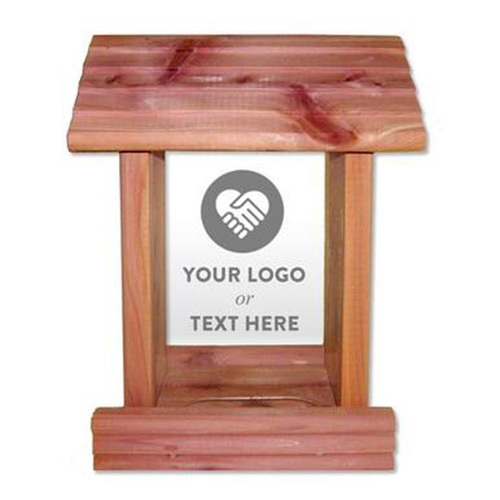 Our cedar bird feeder is a great way to enjoy the outdoors or watch the birds from a window! The cedar wood will last for years to come. The transparent acrylic front panel is made for engraving; add a special message or your loved one's name.
Your police officer will spend hours of relaxation watching the birds that will come to feed every day. This is a gift to be enjoyed for seasons to come.
Gifts for Police Officers
Here are some stellar gift ideas for the police officer in your life.
11. Personalized Shadow Box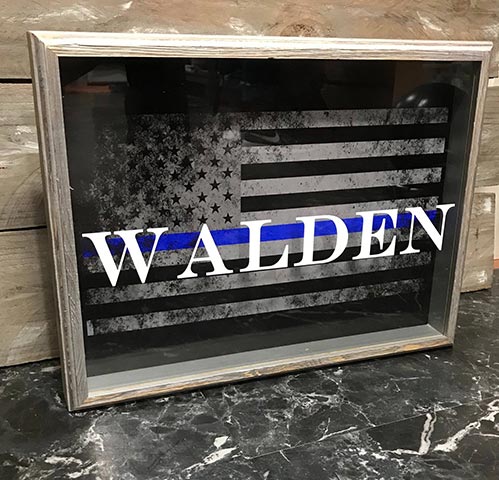 This hand-made "Thin Blue Line" shadow box is the ideal gift for the police officer in our life. These unique boxes are made from distressed barn wood; padding behind the graphics allows you to pin items to it.
The glass of the shadow box will be personalized with your officer's name. This shadow box can be wall-mounted or stand on a shelf.
The "Thin Blue Line" shadow box will compliment any office or den perfectly!
12. Patrol Car Boxes
These Police Party Treat Boxes are here to enforce the rule that everyone has a good time!
You can stock these cardboard treat boxes with candy, popcorn, pretzels and small party favors. A great treat for the office or a party.
Fill them up with your officer's favorite treats and watch them smile! You will be the hero this time.
13. Thank You Gif Box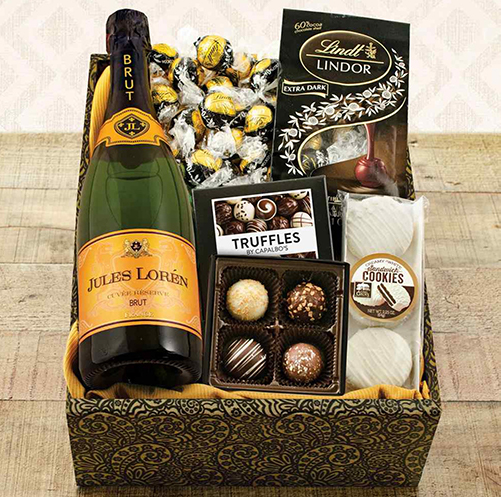 Next time they're off duty they'll be able to celebrate in luxury and tasty goodness! A truly wonderful way to show your appreciation for their hard work and dedication to your safety and protection.
Spoil them with this fine champagne and assortment of delectable chocolate truffles, and they love you to the moon and back.
14. Definition Print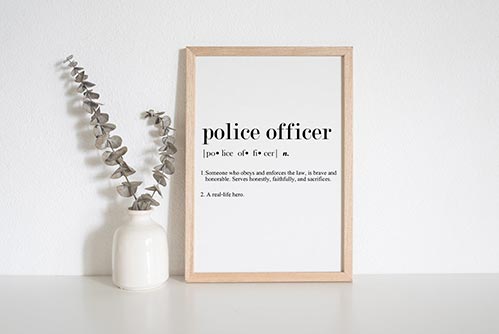 The police officer definition is a digital download that will be available immediately after payment. You will receive a link to download 4 high-resolution JPG files. Print off on quality paper and frame!
This picture is sure to please any police officer that receives it.
15. Personalized Bobbleheads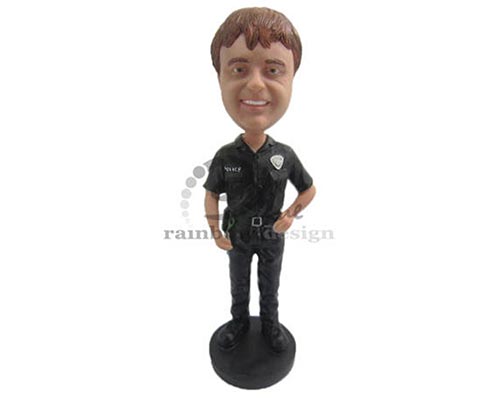 These hand-made custom bobbleheads are created from durable resin. This is an extraordinary way to honor your man in blue!
A great decoration for his office, den, or even the game room. This bobblehead is a gift he will treasure for years to come.
Gifts for Sheriff Deputies
Let's give the Sherriff's department their due with these creative gifts for your favorite deputies.
16.Police Navidad Christmas Shirt
For the officer who loves the holidays, the Police Navidad Shirt features fun red and green colors and law enforcement's variation on wishing everyone a Merry Christmas.
17. Leather Field Notes Journal
In the field, the office, or out on patrol, this awesome field journal cover will keep all of their most important memos portable and close at hand. Crafted of the finest leather, it will last through countless tough scenarios or years of regular use. Don't forget to include the journal!
Perfect for that special LEO in your life, this handy journal is available in four different finishes to suit their tastes to a T.
18. Engraved Card Holder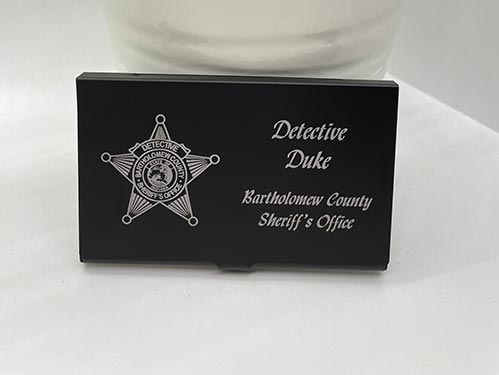 This hand-made business card holder is a thoughtful gift. Your officer can keep their cards crisp and clean in this aluminum holder that fits easily into any pocket. Its thin design will hold up to 14 cards.
You can include the police agency's badge or patch with the officer, deputy, or trooper's rank, name, and agency.
19. Best Deputy Ever Personalized Tumbler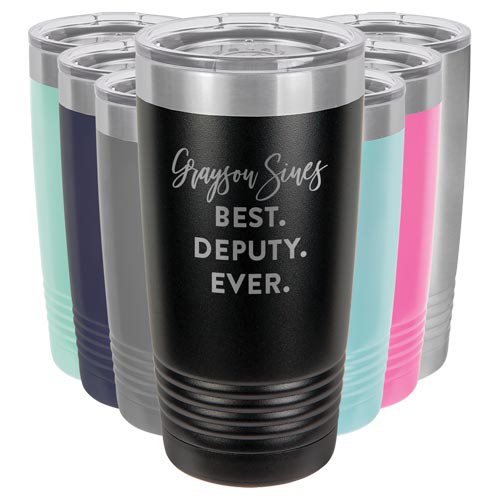 This thermal tumbler is our favorite gift for someone who is truly the best. This is a nice way to honor that deputy in your life.
This Polar Camel tumbler is made from stainless steel, double-walled and vacuum-sealed. Our travel mugs will keep your beverages icy cold or piping for hours.
We offer your choice of stainless steel along with six additional vinyl-wrapped colors. Add your loved one's name to this tumbler to make it extra special.
20. Labeled Grill Set
This three-piece BBQ grill set is a fantastic gift made from heavy-duty stainless steel. This set is made with hard maple handles and durable brass rivets. And for your convenience, an integrated bottle opener is on the end of two of the BBQ tools.
The spatula is laser cut with the sheriff's department icon and sure to be a treasured gift.
Gifts for State Troopers
Always on patrol, and always ready to serve, the state trooper in your life deserves the very best gift. Here are some ideas.
21. Cigar Club Subscription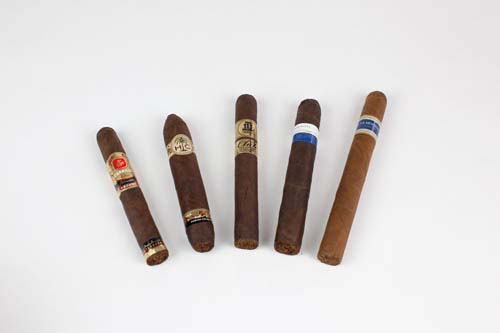 Is your LEO a connoisseur of fine cigars? Or have they expressed interest in becoming one? If so, this Cigar of the Month subscription is an excellent choice! Two different clubs to choose from, but each offers an excellent variety of rare and exciting varieties to give them something to look forward to each month.
22. They See Me Rollin' Funny Trooper T-Shirt
This is a cute way to show that state troopers DO have a sense of humor. Bring a smile to that special trooper's face with this comfortable cotton-blend T-shirt.
Paired with a pair of jeans, it'll be the perfect ensemble for a backyard BBQ or a casual day at home.
23. Eat, Sleep, Arrest, Repeat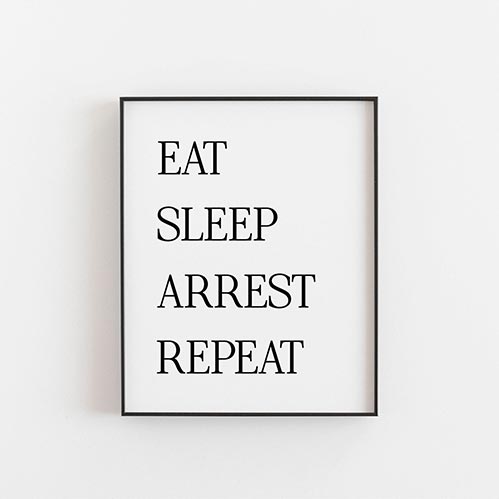 The ultimate saying for your hard-working trooper. They will proudly display this print in their home or office.
This is a physical print that is printed on high-end photographic paper and suitable for framing.
Your trooper will feel honored (and humored) every time they look at this.
24. Personalized Frame Sign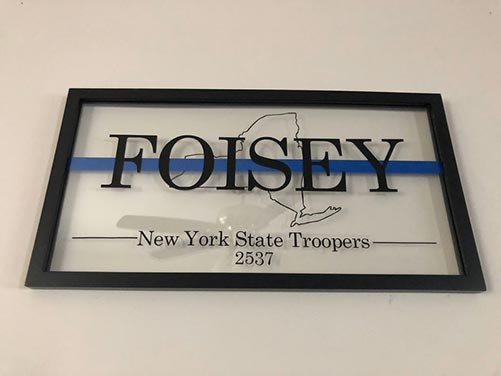 This is the ideal gift for the person who puts their life on the line daily.
Customize this hand-made glass and vinyl gift with your state trooper's last name, state, and badge number. They will proudly display this in their home or office for years to come.
25. Relaxing Vacation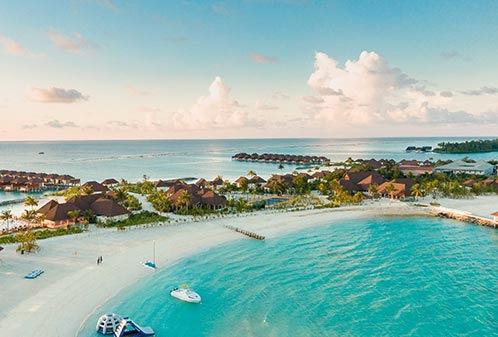 Who deserves a vacation more than our hard-working public servants?
Tinggly makes it easy to choose the perfect experience gifts for him. This creative gift idea comes with hundreds of unique "experiences" for him to choose his favorite. With all of the experiences offered, he will be sure to find the perfect one to suit his personality!
Here's how it works:
You purchase a gift package, which is basically a gift card for the experience of his choice
Prices range from (give or take) a hundred bucks up to about $600
The recipient redeems for whatever adventure they choose, which could be several nights in a New York hotel, a food tour of San Francisco, a kayak tour with sea lion viewing in Laguna Beach, or, if you happen to be in, say, South Dakota, a nearby option would be a hot air balloon ride.
All the recipient needs to do is get themselves to whatever experience they choose
It's really an awesome way to give a memorable gift! See even more experience gifts here.
Gifts for Highway Patrol
Highway patrol is an important public service, and if you know and love a dedicated patrol officer, then here are some gifts to consider.
26. Metal Wall Décor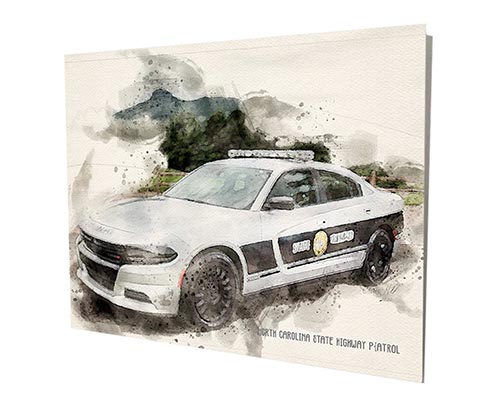 This art piece is a fantastic state trooper gift. It is a hand-made metal wall hanging; and can be hung in an office or den, adding beauty to any décor.
You love your highway patrolman or patrolwoman; show them how much when you present them with this fantastic piece of art.
27. Wooden American Flag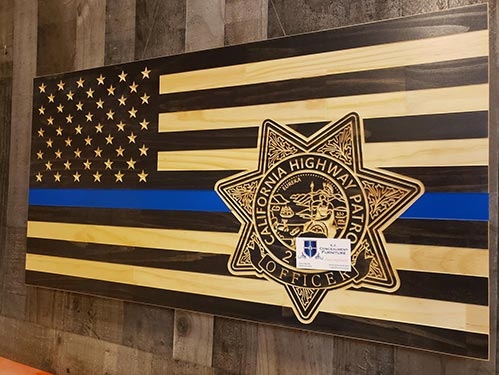 This hand-made wooden American flag with a California Highway Patrol badge is a fantastic way to honor your CHP. You can add custom engraving or challenge coin holder, and of course they can design it for any state.
Honor and respect your patrolman with this beautiful subdued American flag and thin blue line masterpiece.
28. Personalized Leather Portfolio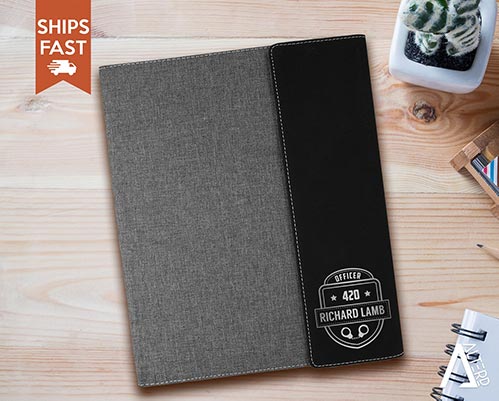 This personalized California Highway Patrol leather and canvas portfolio with a notepad is the perfect addition for the office. Also, you can add the badge number, name, and/or rank of the officer.
This is a gift that they will be used again and again!
29. Ultimate Massage Chair
This full-body massage chair is the ticket for any hard-working person! Sit down and relax while the rollers massage your neck and back.
You'll enjoy the massage on your shoulders, arms, hips, calves, and feet. In addition, the chair offers lower back heating and foot roller massage to help work out all the kinks of the day.
You can use the included remote to customize a massage – this is the gift that keeps on giving.
30. Much Needed Vacation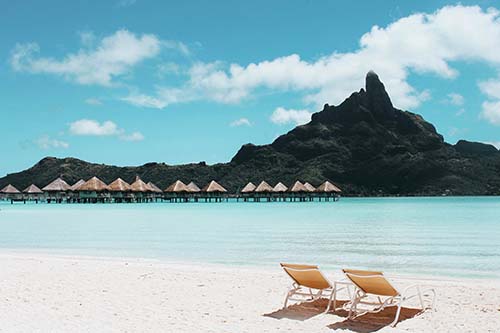 I don't know about you, but when I think long and hard about what is most needed in a law enforcement officer's life, one idea comes to mind… A break. They need time to get away from it all, reset, refresh, and just rest.
And you can give that to them! Pick from hundreds of possible getaways and experiences with Tinggly and treat them to that well-earned respite.
Now is the time for you to decide on a gift. Which one will it be?
Read Next: 25 Incredibly Creative Police Retirement Gifts