So you need a Casablanca gift. A gift idea with a "Casablanca" or classic movie theme.
Film buffs are known for being picky gift recipients, but I think that if you take the time to understand what is important to them then you will be well-equipped to find the perfect movie gift, every time. We've collected 14 Casablanca Gift Ideas for the Movie Buff to help you out.
Our website is supported by our users. We sometimes earn a commission when you click through the affiliate links on our website. See our privacy policy & disclosures for more information.
Casablanca is a classic film if ever there was one. The very first American Film Institute list of 100 Greatest Films put Casablanca at #2, only a slot behind perennial critic favorite Citizen Kane. (The updated list has it at #3, with The Godfather sneaking in at #2.)
Casablanca has consistently appeared at or near the top of pretty much every all-time great film list, and is beloved by generations of movie goers, whether or not they regard themselves as a film buff.
And it's one of the most insanely quotable movies ever made.
So if you are shopping for a Casablanca-themed gift idea, there are many books, decor items, and film options for you to find the perfect present. Here are our top 14 Casablanca Gift Ideas for the Movie Buff:
1. The Movie
This is the most obvious one, and the one they are most likely to already have. But there may be an opportunity here for a creative gift idea.
First, find out what format(s) they already have. Then, find out what media player(s) they have. Then find a combination that they don't already own, and get it for them! Some people really like the old-school feel of a lo-fi VHS player. Others may have the film on DVD, and own a DVD/BluRay player, but haven't gotten around to purchasing the movie in BluRay format.
So there could be surprising opportunities here! Check out the format and player options available:
Digital (use a favorite streaming/digital service)
Casablanca on BluRay disc
Casablanca on DVD
Casablanca on LaserDisc (fun collectible!)
Casablanca on VHS
Or, if they already have it in all their favorite formats, you could get them a digital projector and screen so they can experience it in a whole new way at home.
You can also keep your eyes open for a local screening and get tickets for a showing. Or throw a Casablanca-themed movie night party along with a showing of the film. Use your imagination!
2. Casablanca Soundtrack
So they already have all the movie versions they could possibly want… how about the official Casablanca Soundtrack? Yes.
As Time Goes By, anyone?
CDs and downloads are great, but if you want to be a winner, go vinyl.
3. Vintage Personalized Casablanca Plaque
How is this for a different approach! A premium wooden plaque, made in the USA and personalized with a nifty hanging name board, and printed in a classy vintage style with hand-distressed finish.
The Vintage Casablanca Casino Sign is a great alternative to many of the "standard" Casablanca gift ideas.
4. Large Wooden Wall Art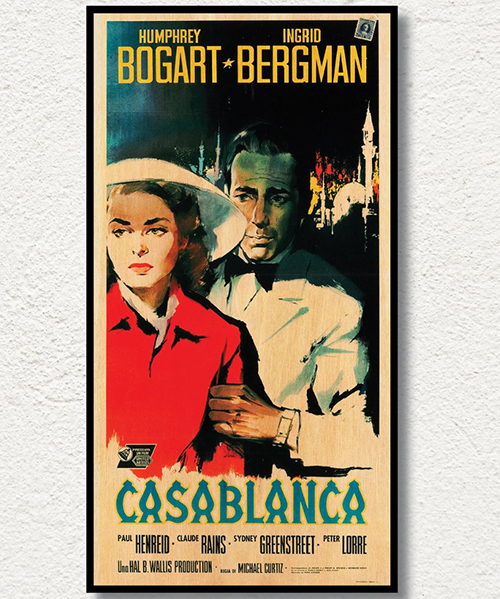 I'll take two, please! If you are looking for that ultimate gift for your film noir loving friend (or yourself), then look no further! It doesn't get much better than this. Bogey and Bergman took the cinemas —and the world — by storm with Casablanca, and the history of film was changed forever.
Commemorating such a historic picture with a great piece of wall art is a must.
5. Claude Reins Shirt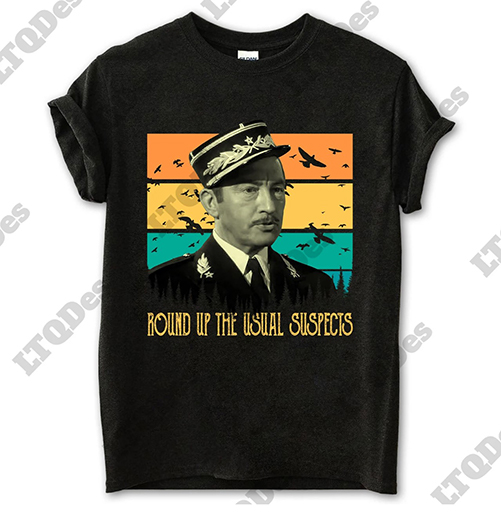 Help them lend a nod to the classics with this fun and quirky t-shirt! They'll love sporting it on weekends and, of course, to the movies. Comfy, cozy, and available in a wide range of colors and sizes, they're sure to love it.
6. Rick & Ilsa Enamel Pins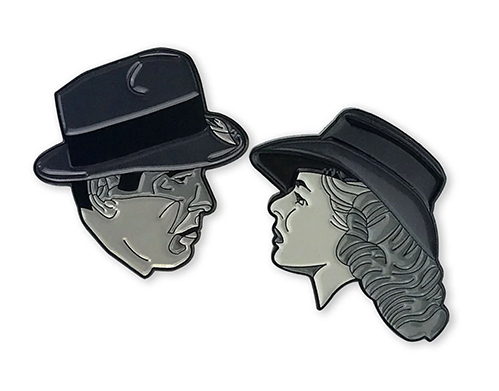 Play it again, Sam… Or should we say, pin it again? Sorry, sorry. I couldn't help myself. But for real, these pins are just too much! So classy and yet quirky, too, these are perfect for your favorite Casablanca nerd.
7. Personalized Movie Ticket Plaque
Here's a great gift idea for someone who already has all the movies, books, and paraphernalia.
The Personalized Movie Ticket Plaque is solid wood, shaped like a theater ticket, and includes personalization. You could use it to say their name, or personalize it with "Casablanca" or make it say "Rick's Cafe Home Cinema."
8. Casablanca Movie Screen Play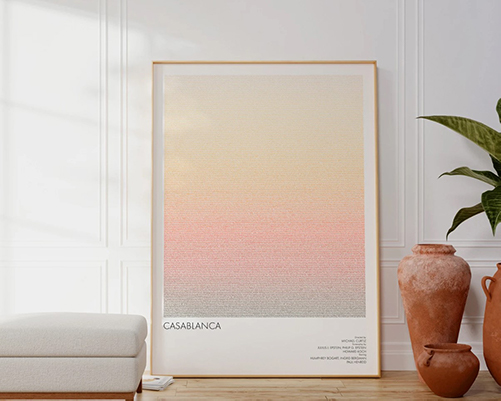 Now someone was really thinking! These incredibly beautiful art pieces are actually the original screenplay from the classic Casablanca. If you look really close, the beautiful gradient is made up of teeny, tiny print. Such a pretty piece to display in their home, office, or dedicated theatre room.
9. Personalized Home Theater Plaque
Here's another Personalized Home Theater Plaque, made in the USA from real wood and screen printed in full vibrant color. Personalize with their name, or take advantage of the customization to have the center line say any of these Casablanca references:
Renault's
Sam's
Rick's Americain
Signor Ferrari's
Michael Curtiz'
Personally, I would have it say "Captain Renault's Home Theater" in reference to the delightfully calculating character portrayed by Claude Rains. Because he's the best.
Related: 12 Amazing(ly Clean) Movies You've Probably Never Seen
10. Personalized Home Theater Quarter Barrel
Here is the premium version of the home theater decor idea. Made from a real oak barrel head and designed to look like the top "quarter" of an oak barrel, the Personalized Vintage Home Theater Quarter Barrel Plaque measures a spacious 21″ in diameter and includes a 3-dimensional relief of a film reel.
All the same customization ideas from the previous item apply: use their name, family name, favorite Casablanca character, actor, or production team member name.
11. Casablanca: Script and Legend (Book)
Just like it says, Casablanca: Script and Legend is a nice paperback book put together and edited by Howard Koch (one of the script's authors). The book includes a copy of the movie script along with analysis by Koch, Charles Champlin, Roger Ebert, Umberto Eco, and others.
12. Casablanca Champagne Coupe Glass Set
For the big time Bogey fans, this champagne coupe set from the History Company is a must. Just as if they were straight outta Rick's Café, these classic champagne glasses are perfect replicas.
They won't be able to resist raising a toast with a "Here's looking at you, Kid."
13. Round Up the Usual Suspects: The Making of Casablanca (Book)
Anyone who loves Casablanca will enjoy reading the story of how the film was made. Published in 1993, Round Up the Usual Suspects is still the go-to work for the behind-the-scenes story, and a must-have for any film buff.
14. Personalized Flask & Dice Set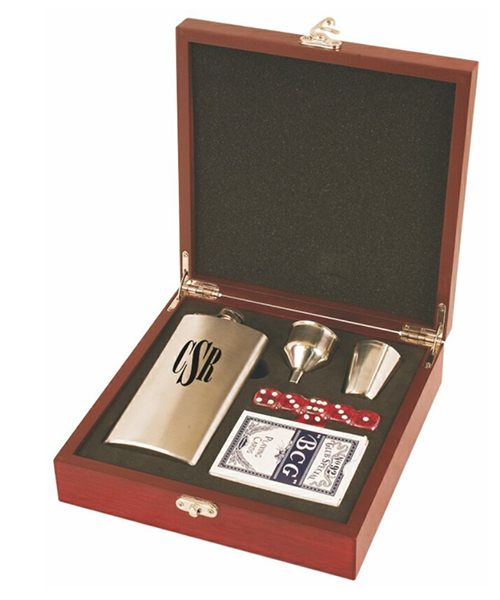 One last off-the-wall movie buff gift idea: A personalized Flask & Dice Gift Set like the one pictured above can be personalized to say, "Rick's" across the top and "Cafe American" on the bottom.
This is just one of many movie gift idea items you can personalize for the Casablanca film buff at Northwest Gifts. Check it out!
Read Next: Best At-Home Movie Night Ideas