Have you received an invite to a lake house? Maybe a dinner party? Maybe a house warming? It's always a good idea to show up with something lovely in hand (such as a thoughtful hostess gift). But what type of lake house gifts should you look for?
You can go with the obvious, i.e. a bottle of wine or a bouquet of flowers, but let's get a little more thoughtful, shall we?
Read on for 45 perfect lake house gifts for your lovely host or hostess.
Best Gifts for Lake House
Our website is supported by our users. We sometimes earn a commission when you click through the affiliate links on our website. See our privacy policy & disclosures for more information.
1. Manta Ray Paddle Board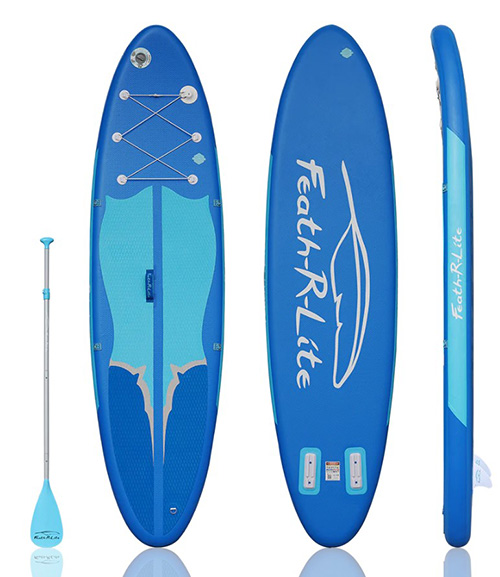 This paddle board is easy to fold, easy to carry, and it just looks so fantastic. With this super great board, they'll feel like a million bucks out on the lake.
If your friend owns a place on the water, they can literally never have too many paddle boards, so add this fun and practical host gift to their collection.
2. Probably on the Boat Welcome Mat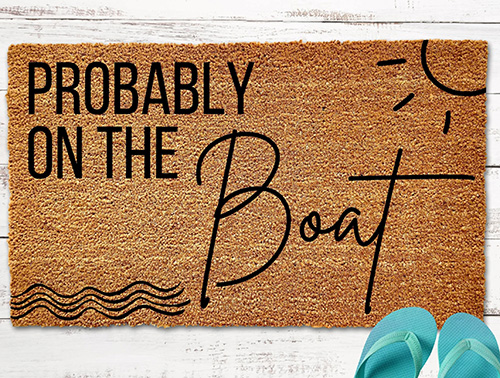 Easier than leaving a note, this clever welcome mat is way cuter than the typical, boring ones you often see, but works just as well!
Leave all the mud and debris outside where it belongs — not in their lovely lake house!
3. Bonfire Bluetooth Speakers
Talk about atmosphere! These bluetooth speakers look just like a bonfire. They're also waterproof, so bring them as close to the lakeside as you like.
Great for grill-outs, parties, or romantic nights out on the dock. These make the perfect small gift ideas without being cheap.
4. Custom Lake House Sign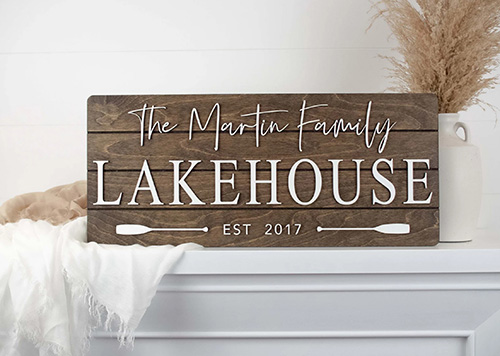 Totally customized, this adorable lake house sign is perfect for a housewarming party!
The color palette will go with virtually any interior style, and it will look great hanging outside on the porch, or inside on the family wall of photos. So cute and such a great hostess gift.
5. Cheers! Lake House Wine Label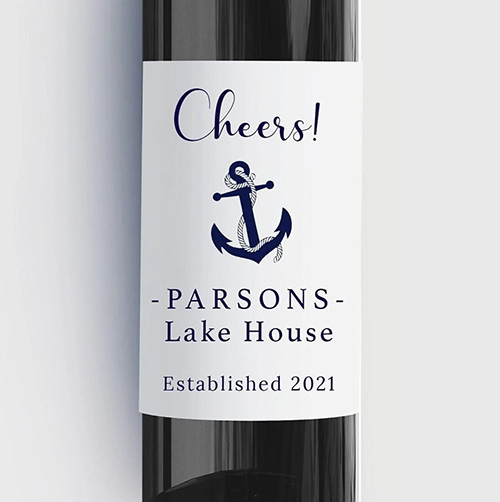 So perfect for a hostess gift, these cute lake house wine labels bring some sassiness to the table! Order one (or a few) of these up and place them on their favorite bottle of wine before you take it to their lake house.
They'll want to keep the bottle after it's empty because it's just so adorable.
6. Stainless Steel Bonfire Fire Pit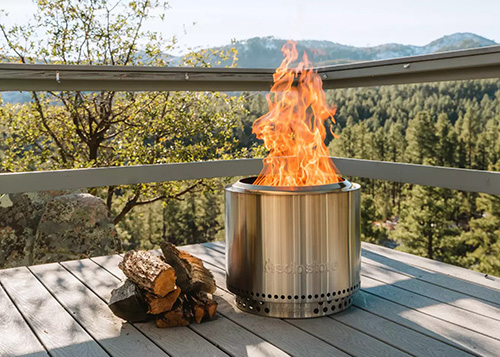 There's nothing better than a lake house, unless it's a lake house with a backyard fire pit! This one is just begging for scary stories, S'mores, and a cooler full of your favorite beverages.
And did we mention it's smokeless? That may just be the best part.
7. Life Is Better at the Lake House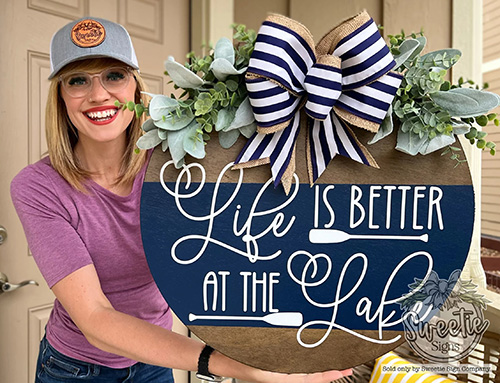 So much cuter than a typical welcome wreath, this giant lake house sign is just the thing to bring to a housewarming party, or just as a great way to say you're thinking of them.
It is so charming with its big, cheerful bow. Who would be able to hold back a smile when they get home to see this on their door?
8. Puffin Drinkware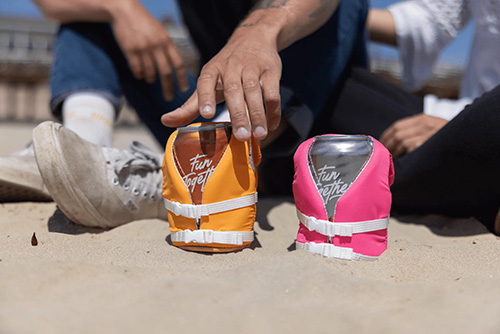 Perfect for while they're the on the lake, out fishing, around the campfire, or just sippin' on the back porch! Keep their drink nice and cold, and look hilariously awesome while doing so.
These Puffin Drinkware koozies are so dang cute. And there's one for everyone, too, no matter how eccentric they may be.
These would make wonderfully unique gifts for that lake house host with a good sense of humor.
9. Bocce Set & Case
This Bocce ball set and case is just the thing for some backyard fun!
The old school, Italian lawn game will have the whole family fired up — in a good way, of course. For even more hilarity, make up your own house rules!
Related: Best Outdoor Toys & Games
10. Misty Lake Wall Art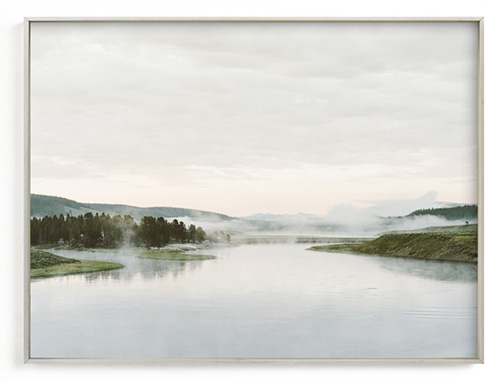 What a pretty piece of art this misty lake picture is! It's sure to wind up front and center at their lake home, and will transform their entire living area.
You can choose your color palette, so it will be picture perfect for your hostess's home and style.
11. Housewarming Dinner Party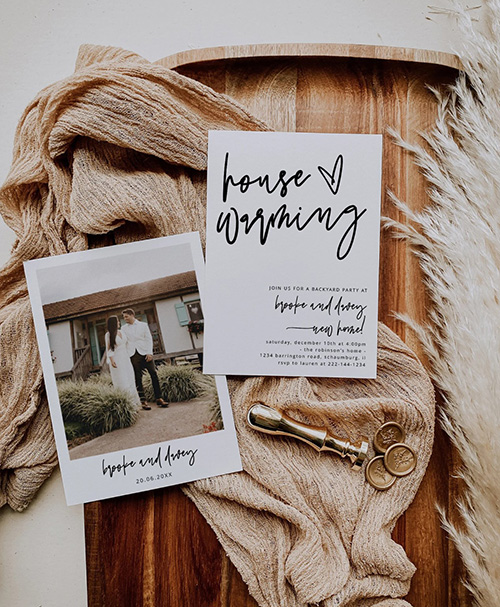 Set up a housewarming party for their new lake house! You can go all sophisticated with a candlelit dinner, or keep it simple with something like a potluck. Either way, the custom invites pictured above are perfect to send out!
The important part is spending time together with all of the friends and family who join in.
12. All of the Party Games!
For those whose lake house is the party house. These party games will ensure a great time, full of laughter and memories.
It might just become a monthly tradition — game night at the lake house! Sounds a lot like perfect weekend getaway plans to me.
Here are some to include:
13. Designer Fire Extinguisher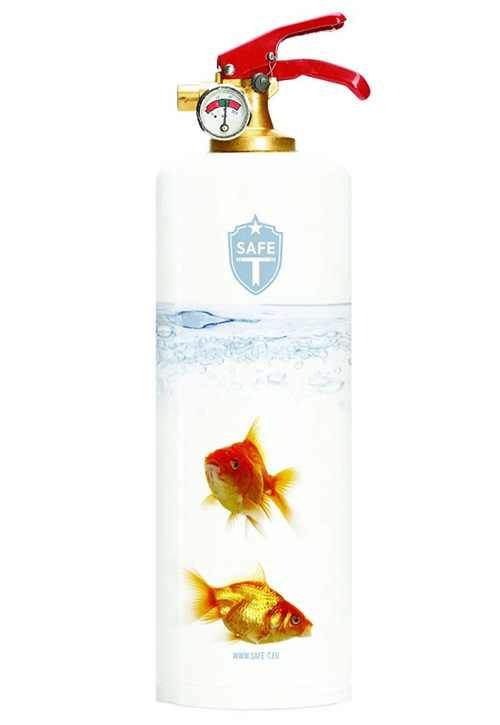 Anyone can have a boring fire extinguisher, but this one is for your extra special friend or family member with the lake house!
Protect that amazing house (that you love to visit) in style with one of these funny/witty/pretty fire extinguishers.
14. Love You to the Lake & Back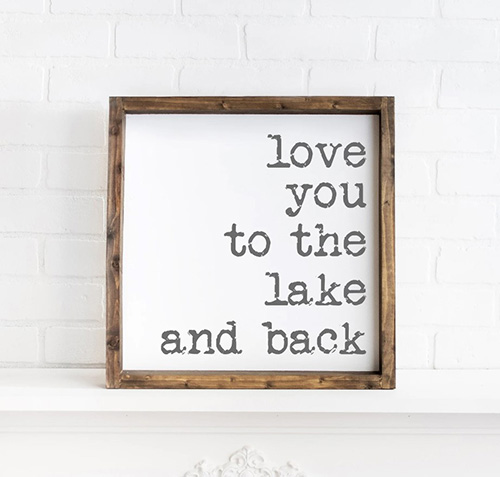 We've heard "Love you to the moon and back," but we have a new favorite saying now!
This cute sign will look adorable in your host's home, nestled in with their other mantle decor, or hanging on the wall. Even in the guest bedroom or bathroom! It's just so sweet.
15. Nespresso Machine
A good, flavorful cup of coffee while sitting on the deck, watching the calm of the lake? Yes, please!
No one makes better coffee than Nespresso, and they will even recycle your pods with a UPS pouch that you can ship to them for free! How cool is that? What better way to have your coffee and be responsible, too?
16. Hammock for Two
Name something better than a nap in a hammock. A hammock built for two, perhaps?
This one is big enough and sturdy enough for you and your honey bunny, comes with a detachable pillow, and has the prettiest aqua color — great for the lake house!
17. Wooden Wall Map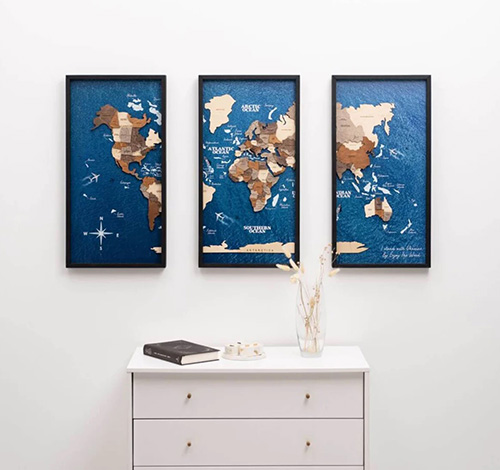 These wooden maps are so cool! We've never seen anything quite like them. You can choose from five different color palettes and pick either the medium or large size. The 3D characteristics really make them stand out from your usual wall decor.
18. Organic Cotton Towels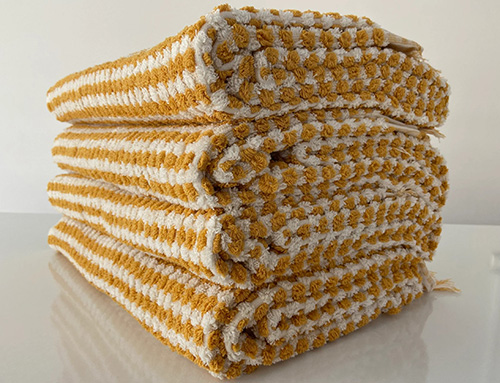 Look, if you're a Gen X-er like I am, you get a little giddy over new towels, okay? But honestly, who doesn't love fluffy, new towels?
This set is made of organic cotton, and you'll feel like royalty when you wrap yourself in one of these bad boys. I am in love with the mustard color, as well! Such luxury.
19. Hydroponics Indoor Garden
Love some fresh herbs? Who doesn't?
This amazing hydroponics, indoor garden is a must-have for the home chef, the potion maker, and anyone who loves a pinch of something yummy and fresh. Isn't that all of us? Such a fun way to provide fresh herbs all year long!
20. Luxury Sheet Set
The only thing better than bedtime is bedtime with new, luxurious sheets. These ones are so soft we want to reach through the screen and caress them!
They make a great housewarming gift for beach or lake house lovers, and while you're putting a set in the cart for them, treat yourself as well! Might as well…
Hostess Gift Ideas for Lake House
21. Lake House Guest Book
A great coffee table book always makes the perfect hostess gift! This one is not only fun to flip through, but their guests will love writing a personal note when they come over. Fun for Airbnb owners, too!
22. Thank You Gift Basket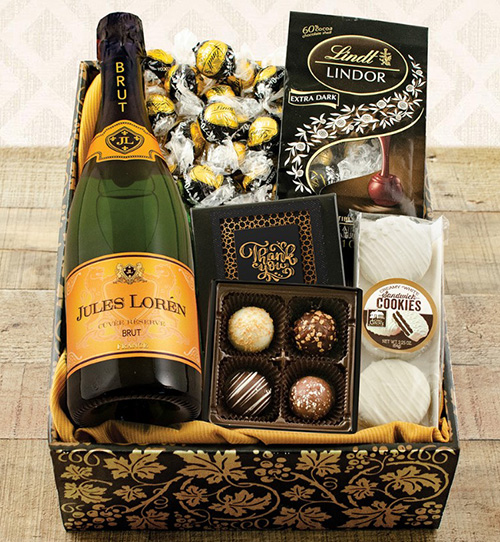 When in doubt, go with champagne and chocolate truffles, right? You can't go wrong! This handsomely packaged gift basket is great for saying "thank you" after spending the weekend at your friend's lake house, or for bringing when they invite you for dinner.
23. Living the Lake Life Tumbler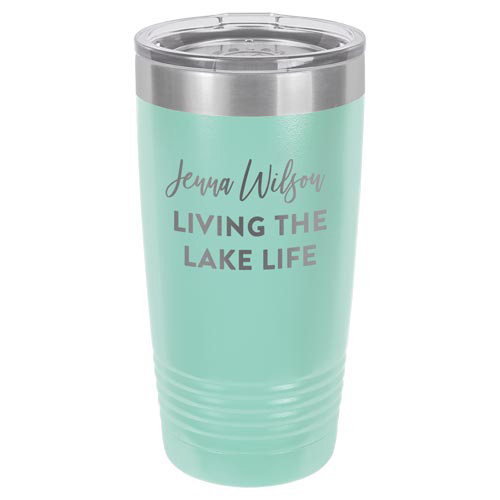 Personalize this great tumbler however you like, but we are digging "Living the Lake Life"! Equipped with a tight, vacuum seal, it's perfect for keeping their hot beverages hot and their cold ones nice and frosty.
You can choose from a variety of colors, so pick the one which suits your favorite host best.
24. Outdoor Wine Table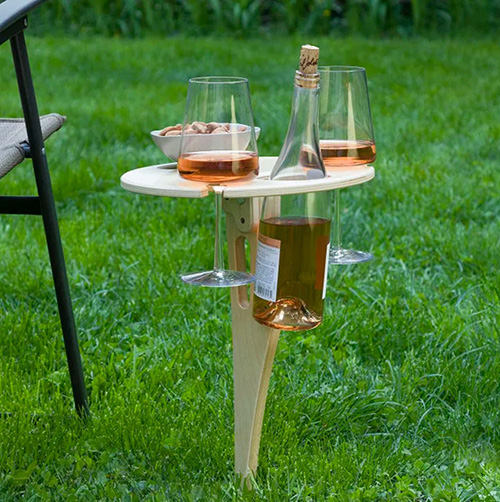 How clever is this outdoor wine table? We want at least a set of four! Perfect for a lake house, these little tables beg for a glass of wine, a snack of cheese and crackers, and a picturesque sunset to make a wonderful memory.
And for all of the beer fans — there is also a beer table option!
25. Lovely Lavender Flowers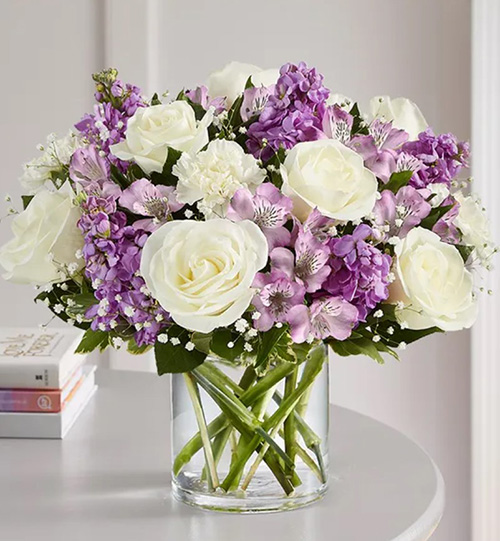 Blooming fresh and fragrant as can be, this gorgeous bouquet of lovely lavender will last a surprisingly long time. It's a little different than your typical bouquet of roses or lilies, and the smell is just to die for!
26. Resin & Wood Wine Charm Set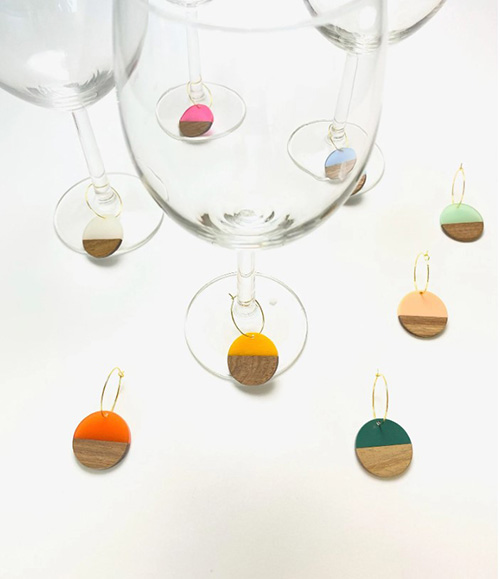 Wine charms that aren't silly looking? I mean, silly has its place, but these ones are just so sweetly sophisticated.
They'll never have to wonder which glass of chardonnay is theirs when they have these pretty charms to identify their glass. Small, practical items like these make the best hostess gifts.
27. Thank You Spa Box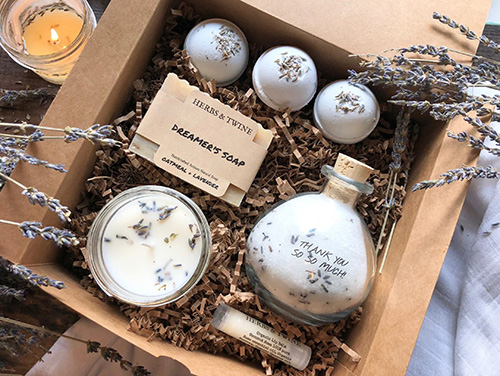 Treat your hostess with the mostess to a spa day in her own lake house! She'll feel special and pampered — as she should be — once she locks herself inside with this luxurious 'thank you' spa box.
28. Stainless Steel Knives
A set of stainless steel knives is such a great gift for the family who is always hosting parties and dinners at their lake house! 
This set will serve them well for years and years to come, and will be an absolute God-send when it comes time to chop, dice, mince, and slice!
29. Cluin Ice Bucket with Scoop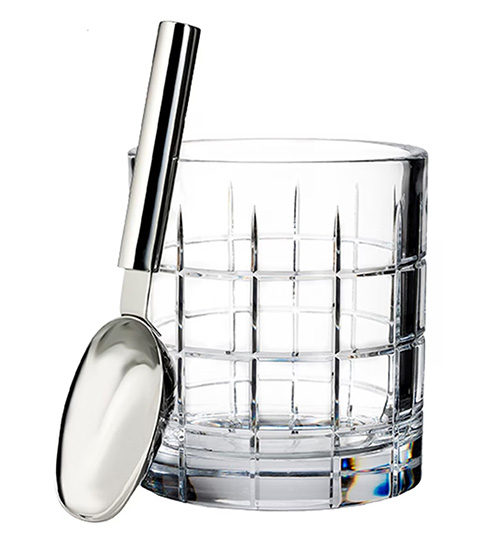 Get them something sophisticated and haute couture with a Cluin ice bucket and scoop! When they're constantly opening their lake house to their friends and family (and footing the bill), it's time to say thank you with a practical hostess gift that they will cherish for years to come.
30. Personalized Lemons Serving Tray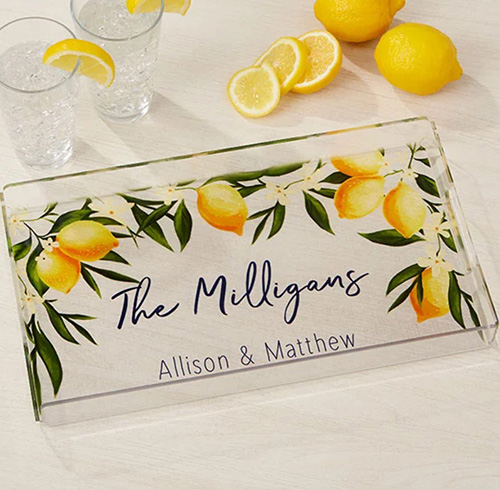 This sunny lemons serving tray is personalized with their own name(s), making it so thoughtful and unique.
They'll love using it to serve beverages (lemonade, anyone?), snacks, or tea out by the lake all summer long. Playing the favorite party host will be a breeze with one of these on hand.
Personalized Lake House Gifts
31. Picnic Backpack Kit
What's better than a picnic? A picnic at the lake, of course! This cute backpack kit comes with everything you need…well, besides all the yummy food, of course. Great for hikers, bikers, and explorers of all kinds, too!
32. Custom Lake House Ornament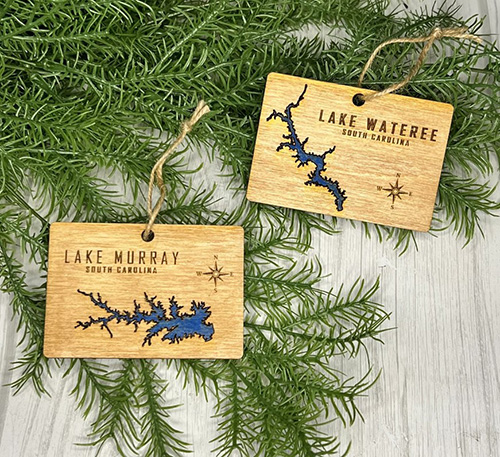 This holiday season, give them the cutest custom lake house ornament for their Christmas tree! So unique and special, they make thoughtful holiday gifts that show how much you know them and love them.
33. Garden of Love Tea Towels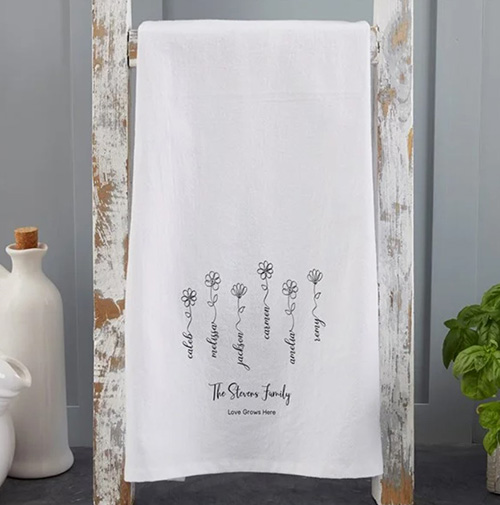 Aww, these cute towels are too special for words. Customize them with the names of your hostess's children and grandchildren and their birth flowers.
These great cotton towels will be treasured for years, and definitely won't be folded and put into a drawer — they'll be on display for all to see!
34. Lake Life Picture Frame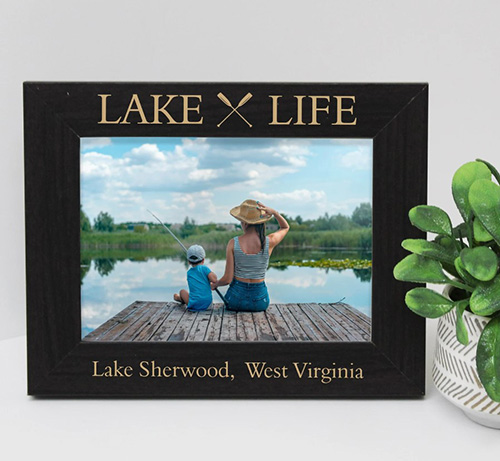 A little customization, your favorite lake photo, and voila! You have the loveliest of gifts for your host and hostess! So cute and simple, but it will instantly brighten up their living space.
35. The Lake House Throw Pillow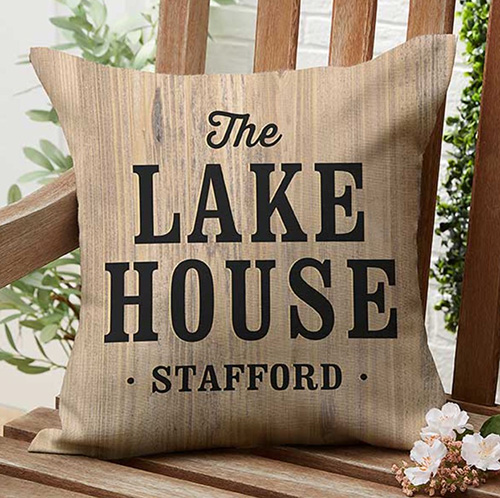 So cute for tossing on the hammock out by the lake, or for napping on the porch. This sweet pillow is stuffed just right for some cuddling. Anywhere they place it will be the place to be, and can you ever have too many throw pillows? Of course not. Silly question.
Lake House Gifts for Dad
36. Custom Captain Tumbler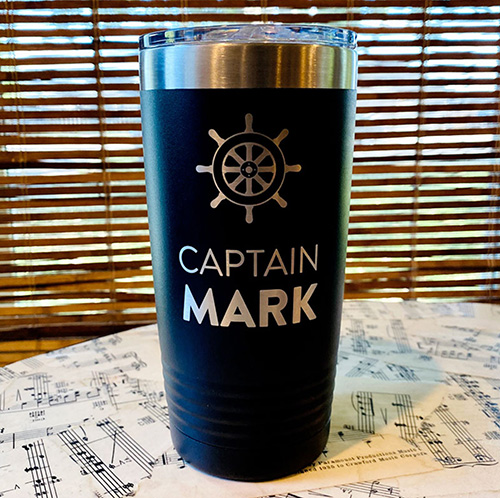 Get him a gift that keeps him hydrated!
Being out on the water is too much fun to be interrupted by running to the house for a drink, so this will allow him to bring his icy cold beverage with him. Whether he's fishing or napping on the boat, with this great tumbler he can stay cool and happy.
Related: Best Gifts for Boat Owners
37. Home Bar Serving Cart
This home bar cart is great for serving guests, and it looks charming, too. Pretty and practical, we love a unique hostess gift like this one. It will be put to use more times than they can count!
What's more fun? Stocking it? Or pushing it around making cocktails for your friends? Only time will tell.
38. Fishing Trucker Hat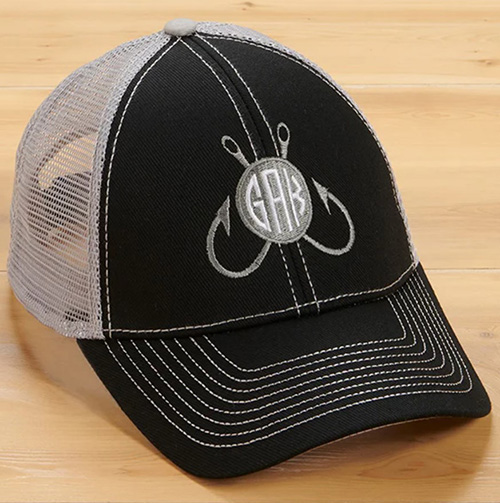 For the fisherman or woman who loves hanging out at the lake, this trucker hat is a great option! It will keep the sun out of their eyes, protect their scalps from sunburn, and ensure they look super cool while doing so. A win-win-win.
Related: The Fisherman Gift Guide
39. Indoor/Outdoor Firewood Log Rack
For those chilly autumn evenings, this indoor/outdoor firewood rack is a real time-saver! It not only works hard keeping your logs organized and stacked, but it also looks pretty nice while doing so.
Lake house gifts don't always have to be decorative or fancy. Sometimes practical items like this are super helpful. Great for those die-hard lake house fans who live there year 'round!
40. Retirement Years Solar Wind Chime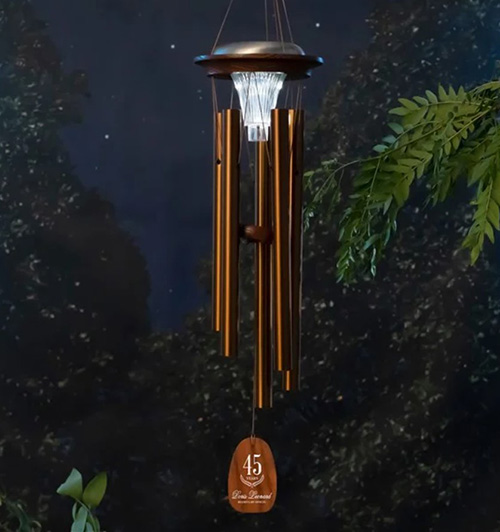 Is your friend or parent finally retiring to their lake house full time? Then they'll love this beautiful wind chime that commemorates the occasion!
Perfect for porches, the tinkling sound of the chimes will blend in perfectly with the enchanting nature that surrounds them.
Lake House Gifts for Mom
41. Personalized Picture Plank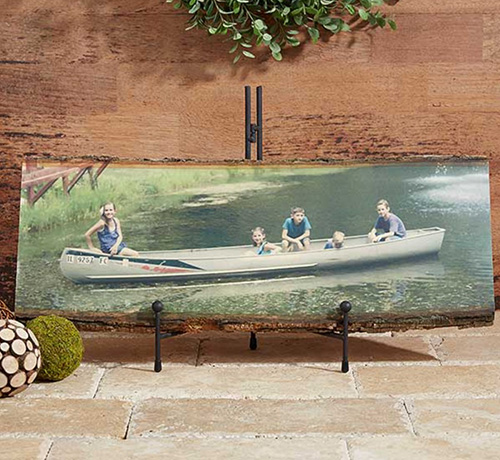 Use a favorite photo — taken at the lake house, of course! — and have it transformed into this lovely, personalized picture plank! It will blend in perfectly with their lake house decor and is really something special that will wow them.
42. Lake House Family Blanket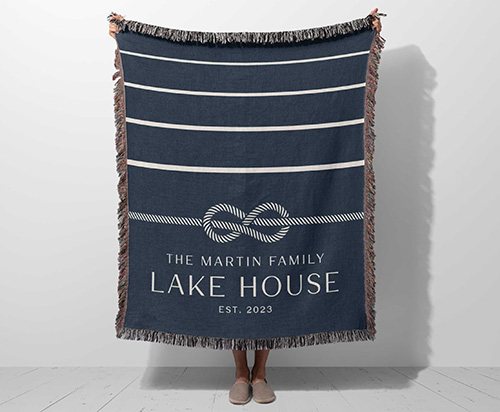 We love a good nap at the lake house, don't you? This oversized and oh-so comfy family blanket is big enough for two at least!
The personalization really makes it unique and one-of-a-kind and shows your family how much you cherish them.
Related: Thoughtful Gifts for Women That Want Nothing
43. Engraved Charcuterie Board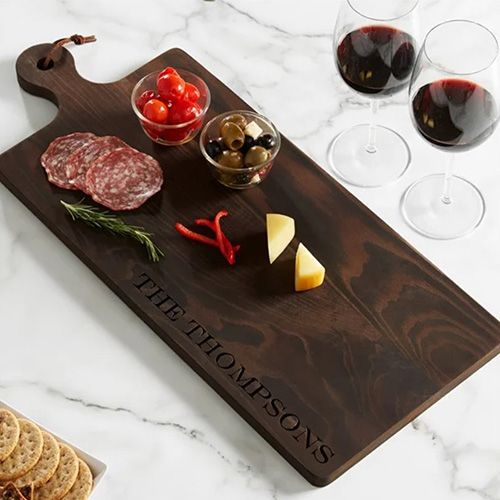 They'll love serving tasty treats on this pretty charcuterie board! It's charming enough on its own, but once you add the personalization with the engraving, you really have something special that they will treasure and keep forever.
44. Classy Wine Tumblers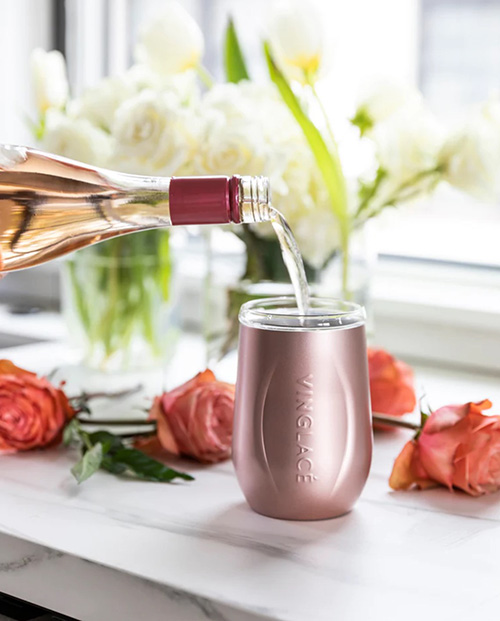 There are few things more relaxing than a yummy glass of wine at the lake house, but it's always a balancing act with glassware!
Enter in these classy wine tumblers. Say bye-bye to broken glass, plus the lids keep the bugs from going swimming in your Merlot. That's a win-win!
45. Blush Robe Set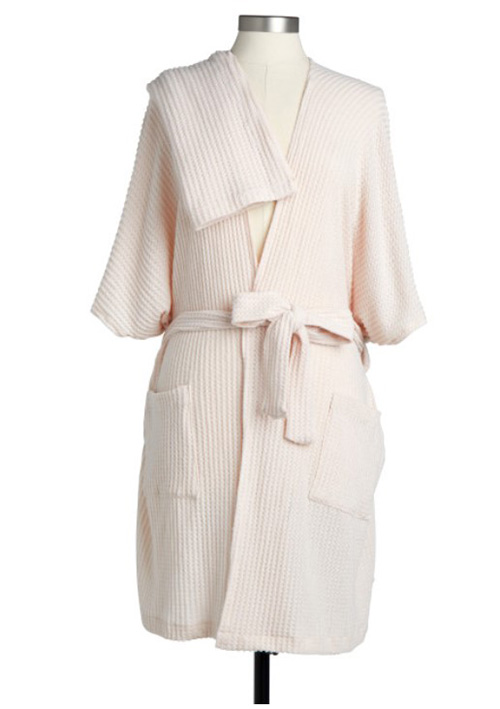 A nice robe set like this one makes a lovely hostess gift. These soft blush robes are great for keeping in the guest room, as well, or even out by the hot tub!
Hosting overnight guests is a breeze when they have some pretty robes to offer when needed.
Read Next: Hostess Gift Ideas and Tips