Here's a novel idea: how about giving housewarming gifts that the new homeowners will actually use?
After all, visiting a friend or family member who just purchased a home is always fun. You get the tour, you get to help with interesting questions like, "Would this sofa look better in this corner or that one?", and there's usually food, social mingling, and that ever so laid-back atmosphere that just can't be beat.
But what do you bring to a housewarming party (besides a bundt cake or a wilting bouquet of flowers)?
Don't fret, we've got you covered. Here are the best housewarming gifts. Like, ever.
Great Housewarming Gifts They're Sure to Love (and use)
Our website is supported by our users. We sometimes earn a commission when you click through the affiliate links on our website. See our privacy policy & disclosures for more information.
1. Custom Welcome Mat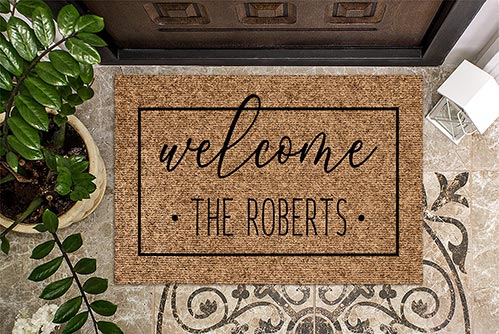 We're willing to bet the new homeowners haven't even thought of a welcome mat yet, so why not gift them this personalized one? A doormat with your name on it just feels like a rite of passage, don't you think? Like, "Heck yeah, this is my house!"
With its neutral colors and font, it will look great on the front patio next to the new geranium plant from Aunt Sally.
2. Wine & Cheese Basket
Okay, the bottle of wine and cheese may be gone almost instantly —for obviously delicious reasons — but the basket will be a cherished item for a long, long time.
This absolutely adorable and ever so useful basket will be a hit at any housewarming party (and all the other guests will bemoan their lack of such a great gift).
3. Re-usable Paper Towels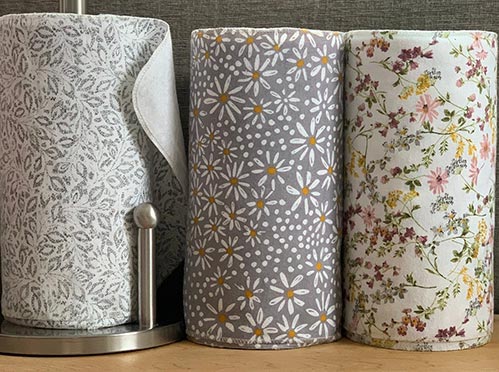 Reducing plastic, waste, and just the whole "instant gratification, it's all about me" way of life is actually cool! Like, really cool.
These pretty and totally useful alternatives to paper towels will have everyone cutting down on consumer waste and looking good while doing it.
Perfect for the new homeowners, you're going to want to purchase some for yourself, too.
4. Zwilling Cool Touch Electric Kettle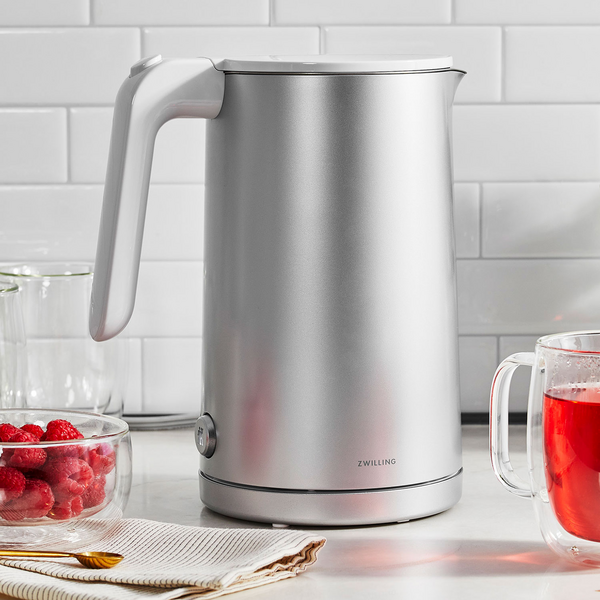 There are a few items that new homeowners just have to have, and a great electric kettle is definitely one of them. This fantastic example from Zwilling will be a perfect addition to their new kitchen.
Designed with cool touch technology, you never have to worry about accidentally burning yourself as you might with a traditional kettle. It also features an integrated cable winder for easy storage, though we don't imagine it will leave the countertop anytime soon.
A modern twist on a classic favorite, this kettle would make a great housewarming gift.
5. Personalized Bird Feeder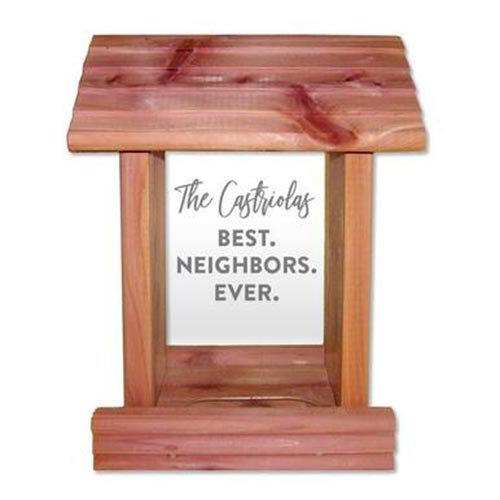 They've likely been so busy decorating the inside of their new house, they've neglected the outside!
This personalized and custom engraved wooden bird feeder will instantly spruce up the back porch a bit! Not to mention they'll make a good first impression on their feathered neighbors.
6. Cool Fire Extinguisher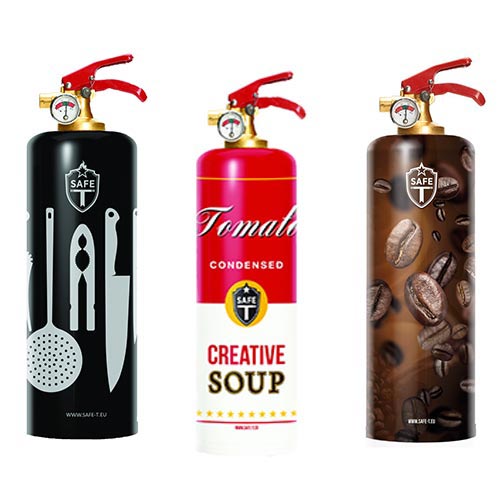 This is a useful housewarming gift that we actually really, really hope they won't have to use! Anyone can have a boring old red fire extinguisher; how many own one decorated with coffee beans, tomato soup, or grilling utensils??
This one is definitely NOT going under the sink, never to be seen.
7. Yard Dice Game (Yardzee, Farkle, etc)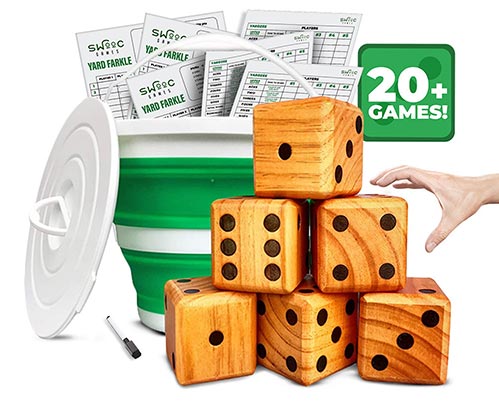 There's nothing worse than a party where everyone is bored, the small talk has run dry, and everyone needs something to do. Why not gift — and then break in — this yard dice game?
We'd say everyone is a winner with this fun outdoor game. It will be the life of the (housewarming) party!
8. Personalized Cookie Platter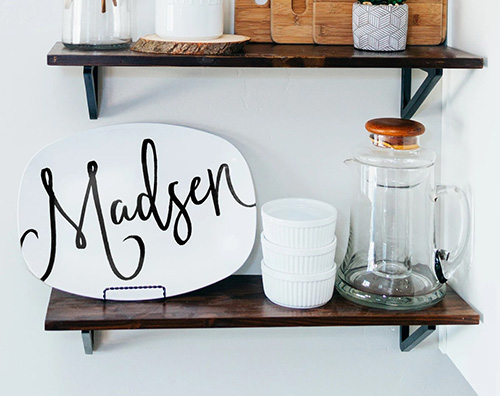 There's a list of key items that every household kitchen needs, and a good cookie platter like this one is definitely on it! Customized with their family name, this great platter is simple and versatile enough to fit right in with most kitchen decor.
And what better way to gift this than stacked high with some deliciously fresh baked cookies? This recipe is sure to delight.
9. Personalized Drink Tub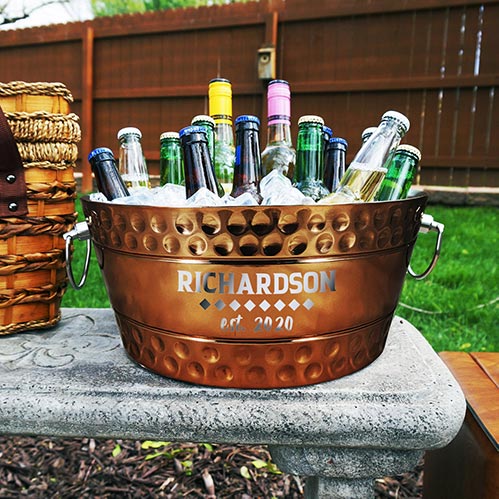 How darling is this generously sized copper bucket/drink tub? This will be the hit of the party for sure, and will be brought out again and again for each backyard BBQ, family reunion, and neighborhood cookout.
There's no better way to warm a new house than by cooling down some delicious beverages.
10. Fluance Vinyl Player
Sure you could go for a blender, a toaster oven, an embroidered tea towel… But why not jazz things up in their new house with a great record player?!
This great vinyl spinner from Fluance will have all their favorite tunes floating through the new space in no time. With lots of great features and a classic, sleek design this is not your grandma's Victrola. Sure to delight, it makes a perfect housewarming gift
11. Embroidered Cable Knit Throw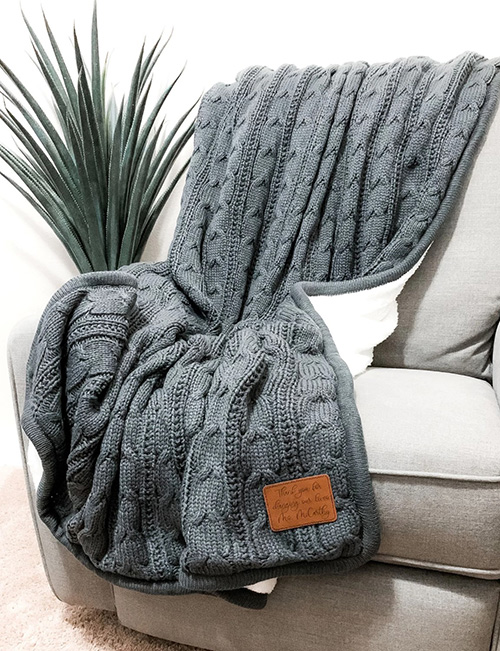 Few things say "home sweet home" like a cozy, cuddle-y throw blanket. And this one is extra special because you can have their family name custom monogrammed on the leather patch!
While the cable knit and sherpa lining scream warmth and comfort, it doesn't sacrifice any design points, making it a perfect housewarming gift for those with a penchant for interior design.
12. Phillips Essential Air Fryer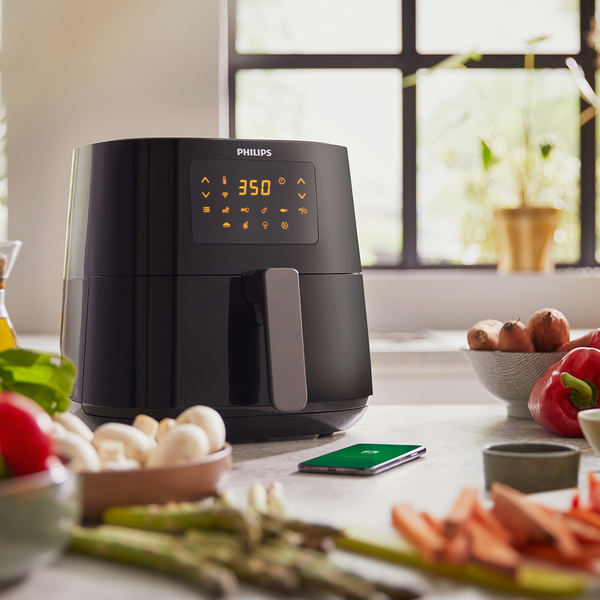 Air fryers are the new toaster ovens, or haven't you heard? That essential, small appliance that no one can live without? Yup, that's them! And this fantastic model from Phillips is a must have on the list of great housewarming gifts.
The Phillips Essentials smart air fryer is everything needed in a kitchen appliance. With six cooking settings — bake, air fry, grill, roast, reheat and keep warm — who could ask for more?
Oh, did we mention you can run this puppy from your phone? Because yeah, you can. Slick.
13. Indoor Herb Garden
Planting a whole garden can be daunting, especially if they're still in the process of moving in and settling in. So instead, why not try gifting an herb garden?
They'll love the thought, the practicality, and the yummy addition to their dinners! Cute, fun, and always fresh, this is an environmentally-conscious housewarming gift that looks good and tastes good.
14. Wall Mounted Bottle Opener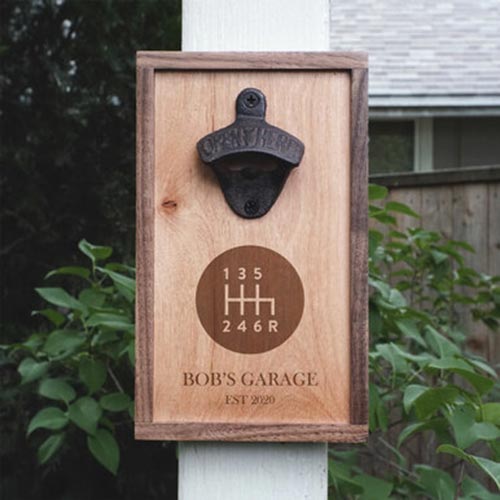 Commemorating their new home, this custom and personalized bottle opener/sign is perfect. And it'll get a ton of use at the house warming party, so it's a win-win!
Built to last, it will look fabulous whether mounted in the kitchen, the den, the shop, or next to the grill in the yard. The one pictured above is for the mechanic/auto/racing enthusiast. We have plenty more themes too!
15. Le Creuset Coffee Mug Set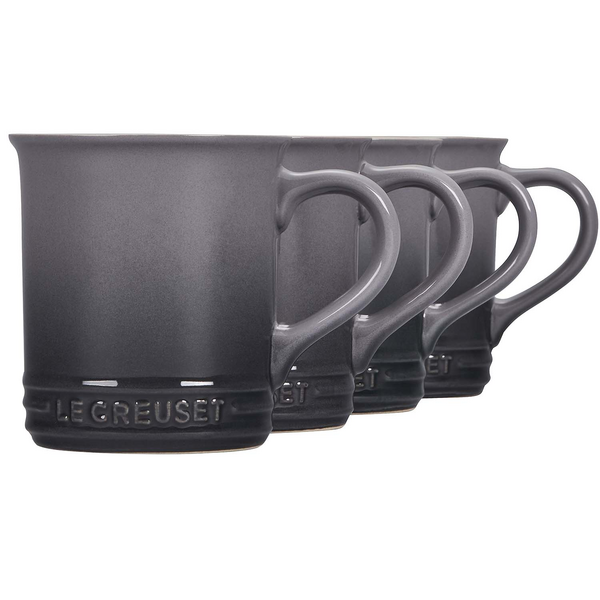 Among the many essentials, coffee mugs are some of the most important, and this neat set from Sur La Table is just everything.
Sure they probably have an interesting assortment funny mugs from their coworkers and that one chipped mug from Grandma Pearl they'll never throw out, but these are grown up mugs…
Sophisticated and yet practical, we love everything from the size to the color options. Crafted with beautiful quality, this is one set guaranteed to last many an early morning coffee ritual.
16. Personalized Cutting Board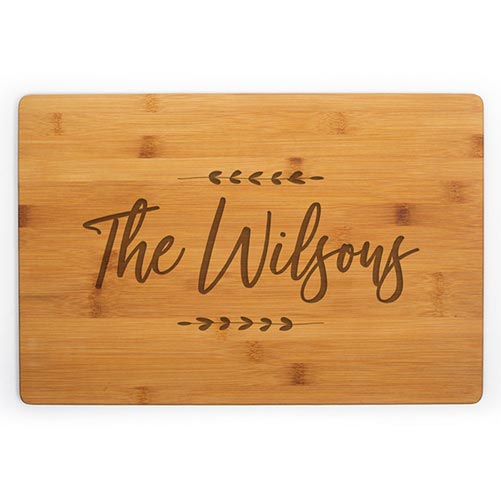 Such a practical and thoughtful gift! Personalized with anything you like, from The Greens, Est. 2021, to Mary's Kitchen Goods, this bamboo wood cutting board will be used and treasured for many years.
You could pair it with a new knife, cooking spices, or a set of yummy cheeses, too.
17. Enameled Dutch Oven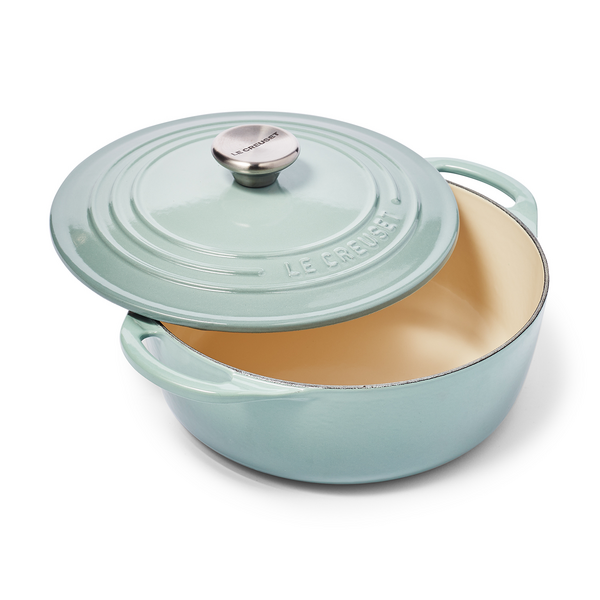 Get their cookware collection started off on the right foot with this gorgeous enameled Dutch oven from Le Creuset. Nothing can replace a Dutch oven in their new kitchen. Or any kitchen for that matter!
This great piece is peak as far as practical gifts are concerned, and we guarantee it will get plenty of use. From pot roasts and casseroles, to double Dutch chocolate cakes and hearty stews — this not so little pot can handle it all.
18. Custom Engraved Coaster Set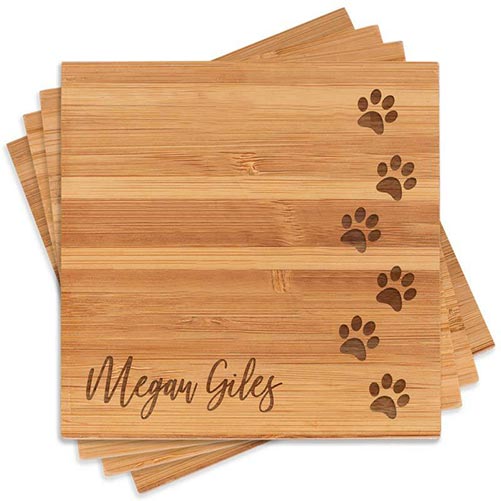 Chances are the new homeowners are secretly worried about the beverages they're passing around (the carpet, the coffee table, the mess!). Put those worries to rest by giving them this set of personalized wooden coasters!
Whether they're pet lovers (see paw-print theme, above), ocean lovers, horse enthusiasts, or anything else, we have themes to match (or just create your own).
19. Bath Towel Sets from Mara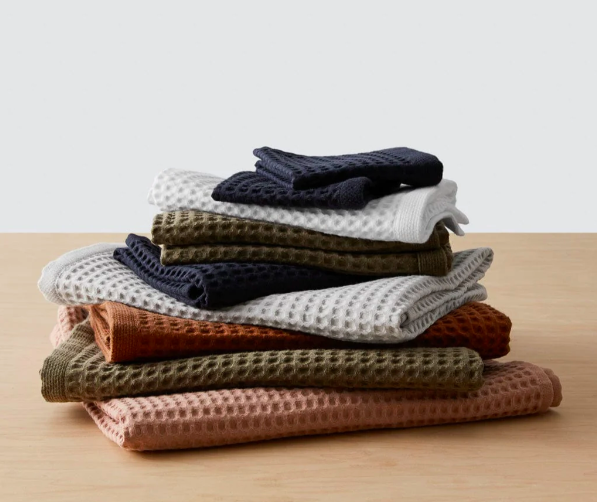 Every new household deserves a great set of matching bath towels. This stylish and luxurious set by Mara checks all of the boxes: quality made in a fair trade environment, certified organic materials, soft and absorbent, and available in a large selection of beautiful colors.
So help them say goodbye to that worn out collection of old beach towels, college dorm carry-overs, and faded washrags, and welcome a pretty and pristine start to their master bath collection.
20. Personalized Corkscrew Wine Bottle Opener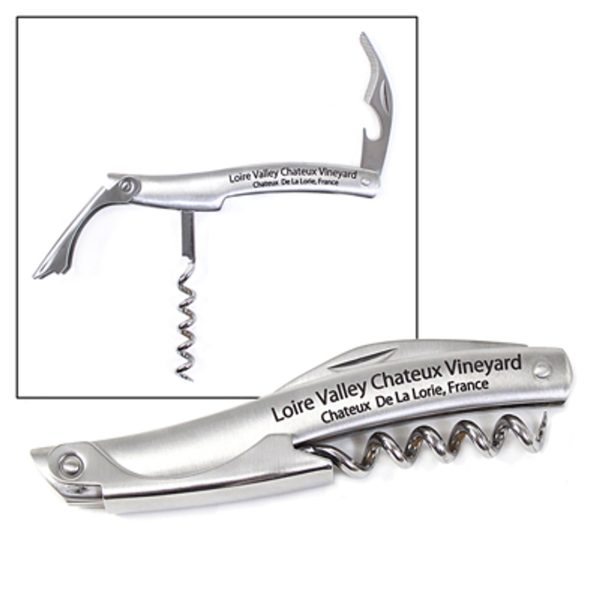 You know how it is when you move into a new house: things like pens, flashlights, charging cords, and corkscrews disappear into boxes marked Miscellaneous… sometimes never to be seen again!
So, spare your friends the trouble of finding their old, boring bottle opener and give them this good looking and custom engraved corkscrew opener. It may be just the thing to make the housewarming party pop. (Don't you love that sound?)
21. Ceramic Bakeware Set
We're willing to bet they broke at least a few dishes in the move. So this new set of ceramic bakeware is going to be perfect! Stylish and sleek but also timeless and practical, these nesting dishes will be used countless times.
22. Pour Over Coffee Set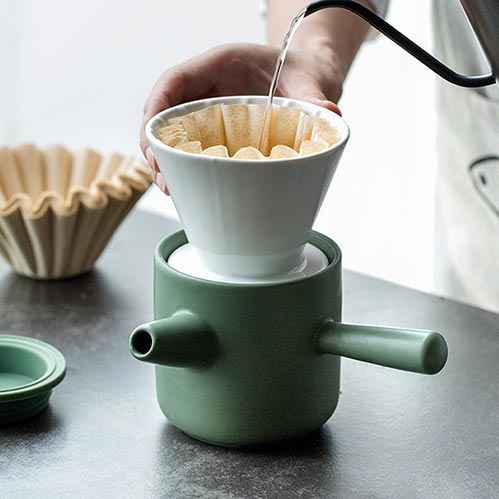 It's practically a piece of art in itself, isn't it? But not just that, a pour-over coffee maker makes a mean cuppa joe!
Some mornings you just don't have time to fire up the espresso machine and go full barista, so when that's the case this little pour-over is here to rescue you from a coffee-less morning.
Related: 17 Must-Have Kitchen Accessories That Are Brilliant Gift Ideas
23. 17 Piece Viking Knife Block Set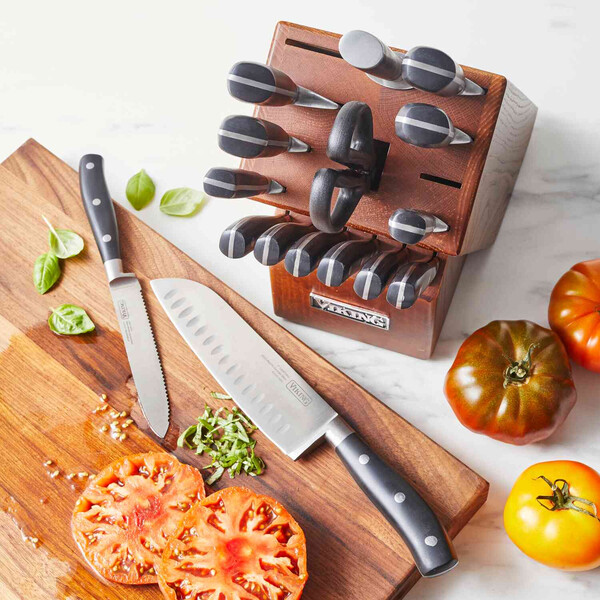 This is one gift that they will get to use each and every day in their new kitchen!
Viking is known for their quality craftsmanship and lasting durability, as well as their designs built on comfort and practicality.
This fantastic knife set will not only look great on the kitchen counter, but will excite and bring out the budding chef in every family member. Not to mention they'll get years and years of use out it.
24. Home Sweet Home Key Holder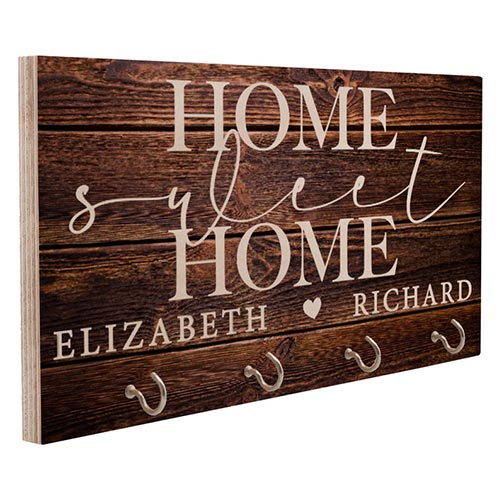 This gorgeous wooden key holder sign is fully customizable and will be a huge grand slam for the new homeowner.
No one wants purses, hats, and coats cluttering up the sofa or mud room. Display everything in style with this one of a kind sign.
25. Our First Home Christmas Ornament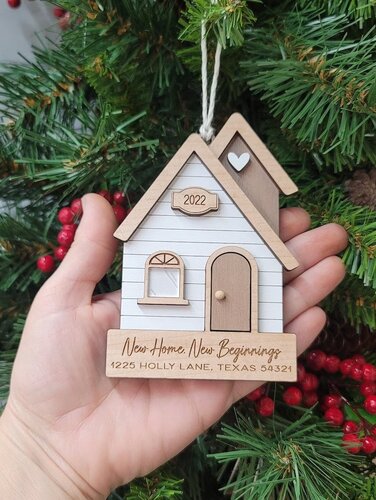 Looking for a heartwarming and personalized gift that will instantly win a place in their hearts? Look no further! This little "Our First Home" Christmas ornament has won us over lock, stock and barrel.
And it's definitely not limited to use at Christmas time, either. It would look just as cute hung in the window, from a decorative hook on the wall, or even the front door knob!
More Unique Housewarming Gift Ideas
BBQ Subscription Box from Grill Masters Club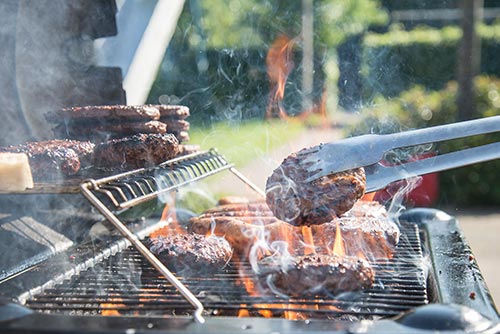 If their new home has a killer backyard and your hosts love to grill, then this BBQ subscription box from Grill Masters is the way to go!
It really is the gift that keeps on giving, and if you're lucky, you'll get to reap some of the rewards, too. Just don't forget to remind them you're free for Friday dinners.
Related: Foodie Gift Ideas
Personalized Ring Toss Game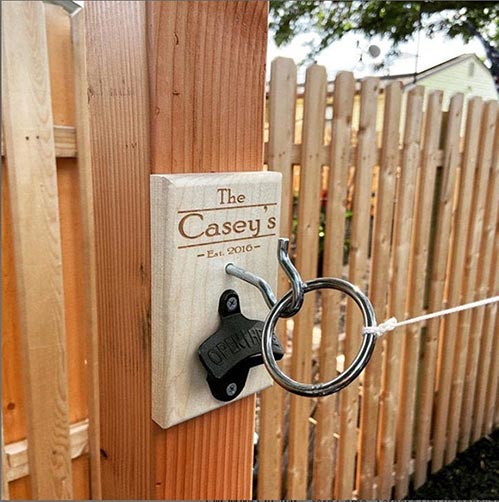 Sweet and useful — not to mention fun — this personalized ring toss game will be a hit. Paired with an ever-so-useful bottle opener, this will look amazing in their yard or game room while providing hours of half-tipsy entertainment.
Survival Kit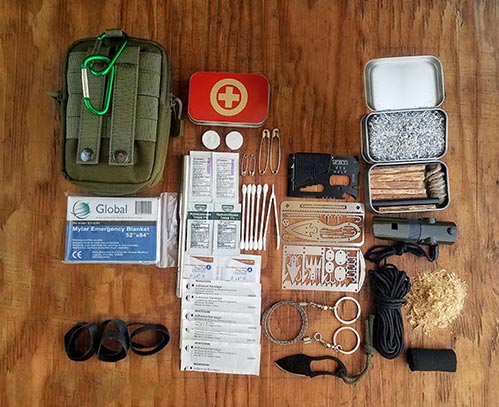 Always handy to have near, this survival kit has everything the new homeowner needs (even if they didn't know it).
Hopefully, they won't need to use it any time soon, but if they do, they'll appreciate it (and you) all over again!
Plus, now that we've experienced 2020 together and have arrived at the dawn of a new era, having an emergency kit on hand doesn't seem too weird, does it? It actually makes an excellent housewarming gift that the recipients will genuinely appreciate.
Celebrate Wine Gift Basket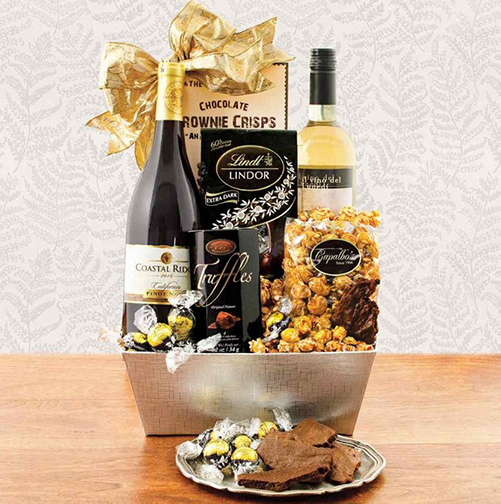 What could make a better gift than a delectable basket of fine wine and gourmet goodies? We certainly can't think of many. A delight to their eyes and their tastebuds, this pretty basket aims to please.
Maybe, if you're lucky enough, they'll share. Don't get your hopes up, though. We wouldn't blame them for keeping it all to themselves.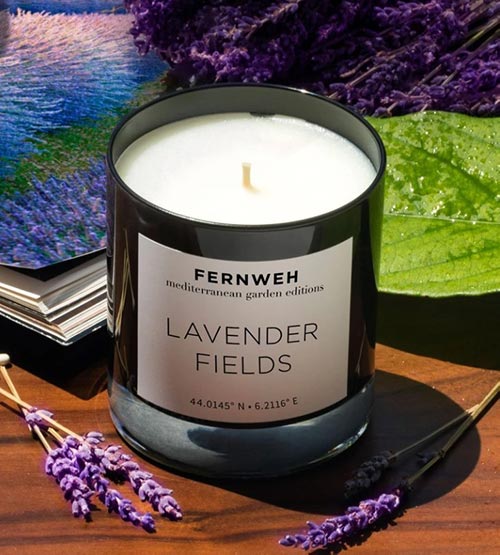 Nothing brings soft and aromatic atmosphere to a new home like some new candles! These intriguing scents are just the thing for a little bit of ambiance and aromatherapy.
Inspired by the spirit of exotic destinations, each collection is hand-poured here in the USA with soy-based wax. Extensive burn times combined with incredible aromas make these the perfect housewarming gift that they'll use all. the. time.
Personalized Wine Glass Set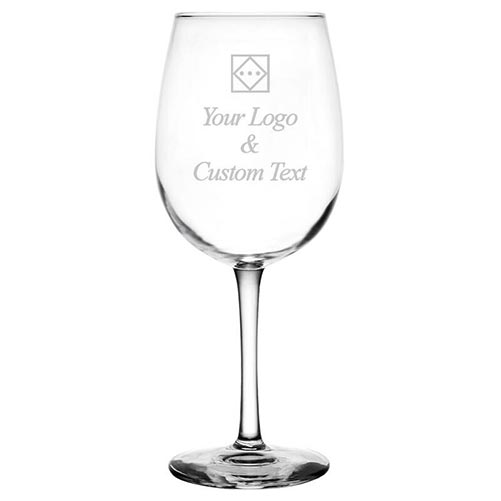 Fully customizable with anything from the recipient's names, to something more personal like The Smiths Wine Bar or Chuck's Fine Vinos, these engraved wine goblets only need the following: some wine and a toast! Cheers!
Oh, and depending on what beverage your new homeowners prefer, we have plenty more styles available over at Northwest Gifts. From pint glasses to coffee mugs to Glencairns for whiskey, our glassware collection allows you to choose and personalize the ultimate housewarming gifts.
Housewarming Gift Etiquette FAQ
Here are frequently asked questions, answers to those questions, plus thoughts on what makes a good and useful housewarming gift.
What is a traditional housewarming gift?
Anything that goes hand in hand with their home. For instance — bread, wine, plants, décor, wall art, or something personalized to commemorate the event.
Food and drinks are always appreciated too, as they are normally too busy unpacking to cook! Combine them all with a homemade casserole presented in a pretty dish that's theirs to keep, or a potted plant in an unusual pot.
Traditional housewarming gifts:
Bread, that this house may never know hunger
Salt, that life may always have flavor
Wine, that joy and prosperity may reign forever (we learned these from It's A Wonderful Life)
Houseplants, that your home would grow and thrive
Candles, that your light may shine
Honey, that your home may enjoy all the sweetness that life has to offer
Attach a note or include a card that says one of those quotes to go along with your traditional gift.
How much is appropriate to spend on housewarming gifts?
It depends on how close you are to the recipients. If it's your grown child for example, of course you're going to want to spoil them a bit more than you would, say, your second cousin twice removed.
Is alcohol a good housewarming gift?
Know your audience, as they say! If they enjoy a good glass of wine or frequent the local pub, then a bottle of something spirited might be just the thing. However, if you're not certain, we'd go for something non-alcoholic.
When should you give housewarming gifts?
When they've sent you a notice of their new address, an invitation to a housewarming party, or they are either leaving your neighborhood or moving into your neighborhood.
How do you host a no-gift housewarming party?
Most people consider it a breach of etiquette to ask for no gifts. So, what do you do if you don't want or need people to bring housewarming gifts?
Easy: Don't call it a housewarming. Invite friends and family over for a BBQ or a cocktail party, and just don't say anything about housewarming. You can say, "Be sure to note our new address at ____." You could also put a little note along the lines of, "What to bring: Just yourself, a plus-one (optional) and a simple side to go with burgers."
Bonus: Build Your Own Gift Basket!
Oftentimes it's the little things — the tea towels, the hand soap, the mason jars and kitchen utensils — that get overlooked. But that doesn't make them any less essential!
DIY your own present from some of these great ideas, and you'll have a unique and personalized housewarming gifts basket that they will be oh-so grateful for.
Depending on the size of the basket you choose, you could pick anywhere from three to four gifts to nine or ten! It's entirely up to you. But here are some great ideas and suggestions to get you started:
• Essential spices and seasonings
• Can opener
• Pot holders and trivets
• Tea towels
• Potted plant or air plant
• Essential oils diffuser
• Mini steamer
• Pillowcases and linens
• Placemats
• Games
• Teas and coffees
• BBQ accessories
• Tupperware

Read Next: 50 Must-Have Bathroom Gift Ideas