The holidays are the perfect time for romantics and lovers to write ooey-gooey Christmas love notes to each other.
Speaking (um, writing) as someone who literally had a Christmas-themed wedding, I am all in-favor of Christmas being a sappy, sweet, snuggly, lovey-dovey holiday.
We should always celebrate the heartwarming fuzzies of seeing couples setting up Christmas trees, the poets scribbling with hot cocoa by the fire, the desperately-seeking-their-soulmate whose dreams of love include visions of sugar plums.
There's nothing more romantic than ice-skating mishaps that turn into the how-we-met-stories. A "will you marry me?" proposal etched into a Christmas tree ornament? Yes, please — and talk about an amazing keepsake! Or what about a good, old fashioned date spent looking at all the holiday lights?
That will put a twinkle in your eye.
We're always seeking ways to express the love we feel through the gifts we give at Christmastime. But perhaps the most important thing for lovers and sweethearts to consider is what to say to one another?
For your inspiration, here are 101 of our most romantic Christmas quotes for lovers & romantics.
Most Romantic Christmas Quotes for Lovers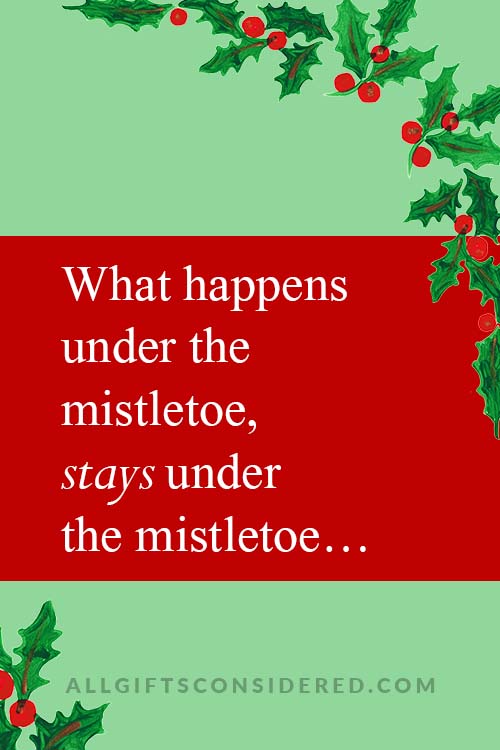 What happens under the mistletoe, stays under the mistletoe…
But for now, without hope or agenda, let me say, just because it's Christmas, and at Christmas you tell the truth: to me, you are perfect. — Love Actually
In a season like this, I wouldn't be held by the snow. With all these feelings of bliss, I've to put aside my ego. And step out to let you know, with you, I'm well pleased and the love you show is to me the bee's knees." ― Emmanuel Aghado
Christmas has always been my favorite time of year. There's so much joy, love, beauty and romance surrounding us everywhere we look. I never knew how much more it could mean to me until I met you. It's gone from my favorite time of year, to a season I never want to end; and that's your doing.
A roaring fire, a crackling candle, a glass of wine, and YOU. The perfect Christmas.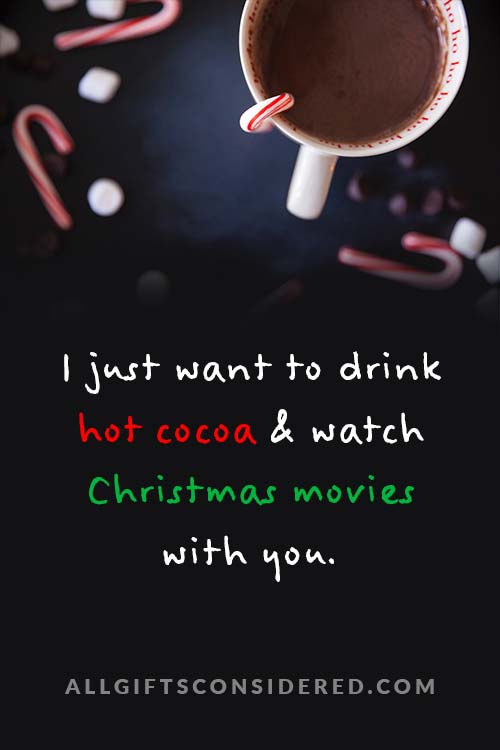 I just want to drink hot cocoa and watch Christmas movies with you.
"Christmas isn't a season. It's a feeling." — Edna Ferber
"I don't think you're an idiot at all. I mean, there are elements of the ridiculous about you. Your mother's pretty interesting. And you really are an appallingly bad public speaker. And, um, you tend to let whatever's in your head come out of your mouth without much consideration of the consequences. But the thing is, um, what I'm trying to say, very inarticulately, is that, um, in fact, perhaps despite appearances, I like you, very much. Just as you are." — Bridget Jones's Diary
Hallmark movies have nothing on us, baby! The goal this year is to be the ooey-gooey-est, most lovey-doviest of Christmas couples, and I think we're off to a pretty good start. Now, get over here.
You're the spice to my hot-buttered rum, honey buns.
"Don't you think we ought to kiss or something?" — White Christmas
"I'm in love, I'm in love, and I don't care who knows it!" — I really don't. I'll scream it from the rooftops.
No need for puffy coats, flannels and firesides… I've got my love to keep me warm! That's you, by the way.
"I think you're really beautiful and I feel really warm around you… and my tongue swells up… and do you wanna get food?" — Elf
"When an Immortal finds himself envying the Mortal entrusted to his care, it's a danger signal. Take her in your arms and hold her tight… Kiss her for me, you lucky Henry!" —The Bishop's Wife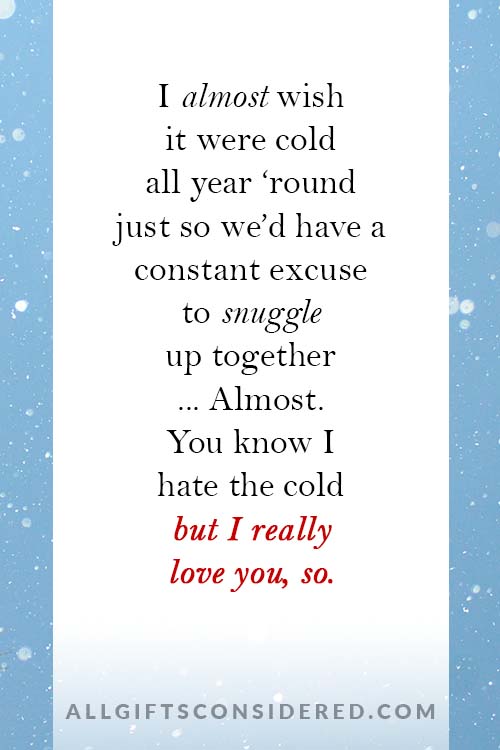 I almost wish it were cold all year 'round just so we'd have a constant excuse to snuggle up together… Almost. You know I hate the cold — but I really love you, so.
When I count my Christmas blessings, I always count you twice! Or three times. Or four…
"What is it you want, Mary? What do you want? You want the moon? Just say the word and I'll throw a lasso around it and pull it down. Hey. That's a pretty good idea. I'll give you the moon, Mary." — It's A Wonderful Life
"Christmas waves a magic wand over the world, and behold, everything is softer and more beautiful." — Norman Vincent Peale
You can't help but feel the romance in the air at Christmas time. Everything about the season screams of love. It's even painted red!
"No one should be alone on Christmas." — How the Grinch Stole Christmas
I love Christmas and just winter in general. It gives me so many great excuses to pull you in closer and hold you tight.
"I woke up thinking about you and going home for Christmas and got very excited." — The Happiest Season
You'll always be the Santa to my Mrs. Claus.
"I planned out our whole day. First, we'll make snow angels for two hours, then we'll go ice skating, then we'll eat a whole roll of Toll House cookie dough as fast as we can, and then we'll snuggle." — Elf
"What do I care if icicles form? I've got my love to keep me warm." — Dean Martin
Let's snuggle up together, like birds of a feather, and go on a sleigh ride!
Related: Funny Quotes for Christmas Cards
Christmas Love Quotes for Her
"Later on we'll conspire, as we dream by the fire, to face unafraid the plans that we made — walkin' in a winter wonderland!" — Bing Crosby
"I promise you, I'll be home for Christmas. You can count on me." — Bing Crosby/Michael Buble
"What is Christmas? It is tenderness of heart." — Agnes M. Pahro
"The way you spend Christmas is far more important than how much." — Henry David Thoreau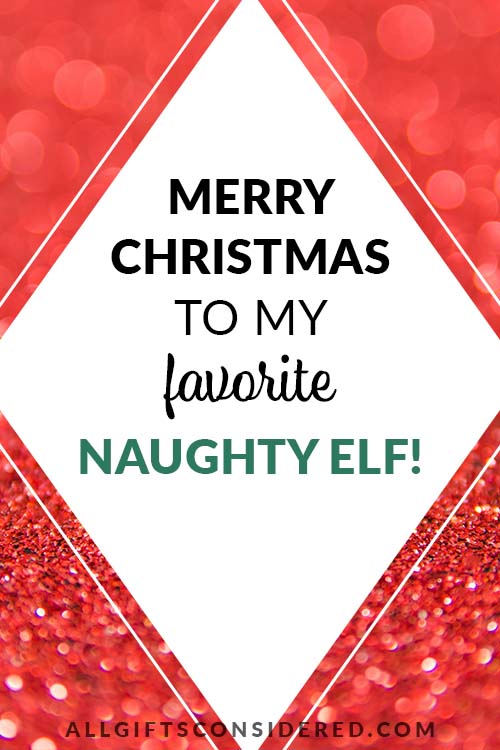 Merry Christmas to my favorite naughty elf!
Christmas is time for miracles, and you, truly, are my miracle from heaven.
"Christmas is a whisper of peace and a sigh of hope on the lips of love." — Richelle E. Goodrich
"You have such a pretty face. You should be on a Christmas card!" — Elf
"I could use a little more social interaction." — How the Grinch Stole Christmas
This Christmas, all I want is plenty of time under the mistletoe with you!
Snuggling up by the fire. That's my favorite Christmas gift!
"The greatest thing you'll ever learn is just to love, and to be loved in return." — Moulin Rouge
You really are my sunshine, because you're making me melt like a snowman.
"It's cold outside. A man's gotta do something to keep warm!" — Miracle on 34th Street
"In some ways, you're far superior to my Cocker Spaniel." — White Christmas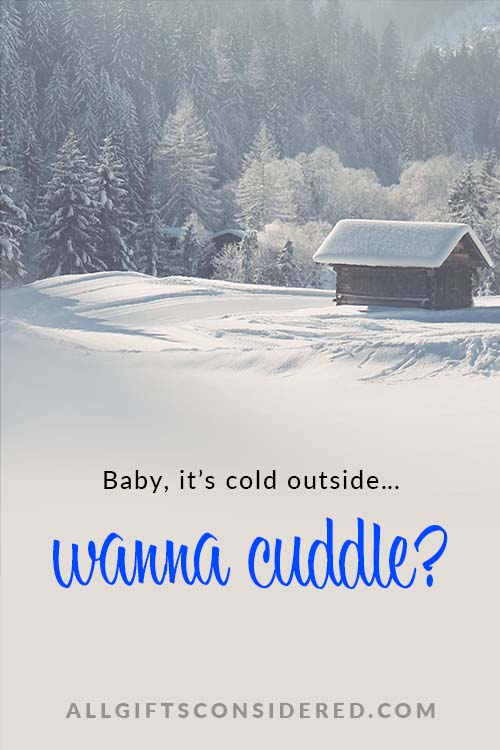 Baby, it's cold outside… wanna cuddle?
"I just want you for my own, more than you could ever know." — Mariah Carey
"But with my baby far away, what good is mistletoe?" — Elvis
Girl, you're just so beautiful, you sleigh me.
You're the best Christmas gift I've ever received!
When it comes to things to unwrap, you're my favorite!
"I have never loved anyone the way I love you." — Her
You are more beautiful to me than all the lights on all the trees all over the world. You are simply dazzling, my love.
"Christmas is the season of joy, gift giving, and of families united." — Norman Vincent Peale
"He who has not Christmas in his heart will never find it under a tree." — Roy L. Smith
Meet me under the mistletoe!
How could I possibly ask for something more for Christmas? I've already received the best gift in the whole, wide world — YOU!
"Faith is believing in things when common sense tells you not to." — Miracle On 34th Street
Related: Printable Christmas Cards
Christmas Love Quotes for Him
"This is Christmas! The season of perpetual hope!" — Home Alone
You're the best thing under my tree! Merry Christmas, darling!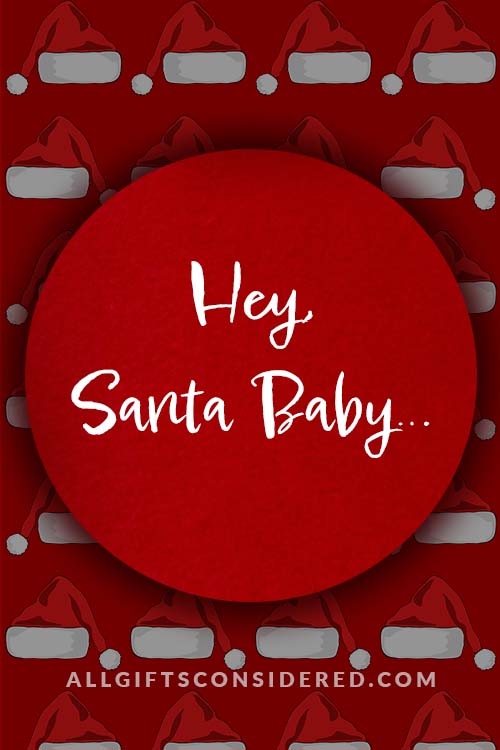 Hey, Santa baby…
"If you look for it, I've got a sneaky suspicion you'll find Christmas all around." — Love Actually
"Cheer up, Grinch." — How the Grinch Stole Christmas
"That's what Christmas memories are made of. They're not planned, they're not scheduled, they're not in your Blackberry. They just happen." — Deck the Halls
I'd like to deck the halls with you this Christmas!
"To me, you are perfect." — Love Actually
"I want my house to be seen from space!" — Deck the Halls
"My heart is, and always will be, yours." — Sense and Sensibility
Excited to walk through a winter wonderland with you!
Carols, snow, presents, trees, food, and family. I have all I ever wanted for Christmas, all thanks to you!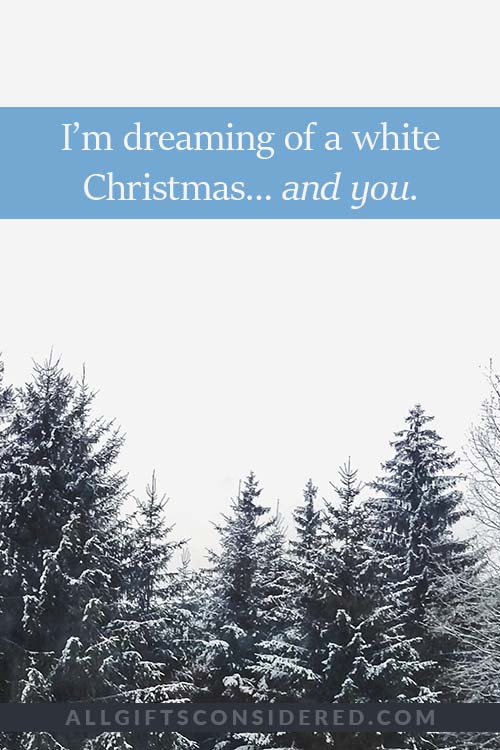 I'm dreaming of a white Christmas… and you.
You will always be the heart of Christmas for me.
"Love shall be our token,
Love be yours,
And love be mine." – Christina Rosetti
Don't tell the kids! I am totally planning on kissing Santa Claus tonight!
"It's Christmas Eve. It's the one night of the year when we all act a little nicer, we smile a little easier, we cheer a little more. For a couple of hours out of the whole year we are the people that we always hoped we would be." — Scrooged
"Strange, isn't it? Each man's life touches so many others." Thanks for being a part of mine!
Honey, you're the frosting to my cookies, the jingle to my jangle, and the boughs to my holly (whatever that last one means)!
Nothing can make me fold into your arms like a kiss on the nose under the mistletoe…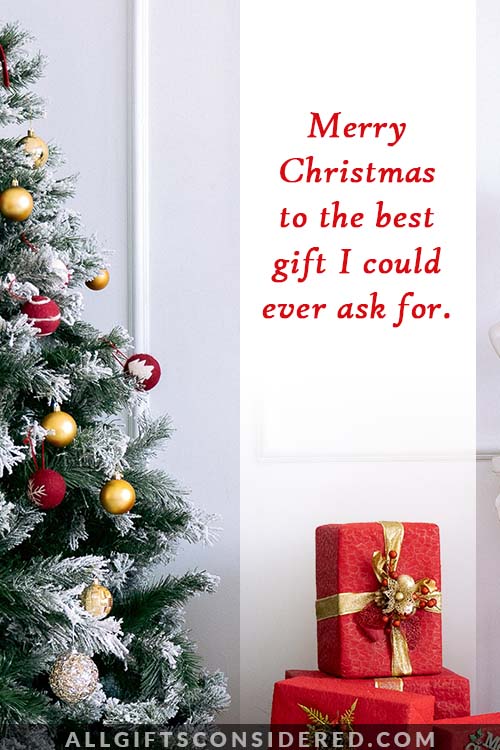 Merry Christmas to the best gift I could ever ask for.
"Good morning and Merry Christmas. I hope I'm in time to see you flip the flapjacks!" — Christmas in Connecticut
"Nobody's walking out on this old-fashioned, fun Christmas!" — National Lampoon's Christmas Vacation
"It's not what's under the Christmas tree — it's who's around it." — Linus (Peanuts)
Hanging out under the mistletoe until you get some ideas!
"Help me… I'm… FEELING!" — How the Grinch Stole Christmas
"Remember, George, no man is a failure who has friends." — It's A Wonderful Life
Merry Christmas to the man who makes my heart sing all year around!
"Merry Christmas and keep the change, ya filthy animal!" — Home Alone
They tell me it's cold outside, but I can't even tell when you're with me, hot stuff.
"Unless we make Christmas an occasion to share our blessings, all the snow in Alaska won't make it white." — White Christmas
"Where do you think you're going to put a tree that big?!" — National Lampoon's Christmas Vacation
I really never knew I could love the holidays this much. You've changed my world for the better, and I love you so much for it. Thank you for sharing your special magic with me.
Related: 101 Christmas Activities That Everyone Loves
Christmas Messages for Cards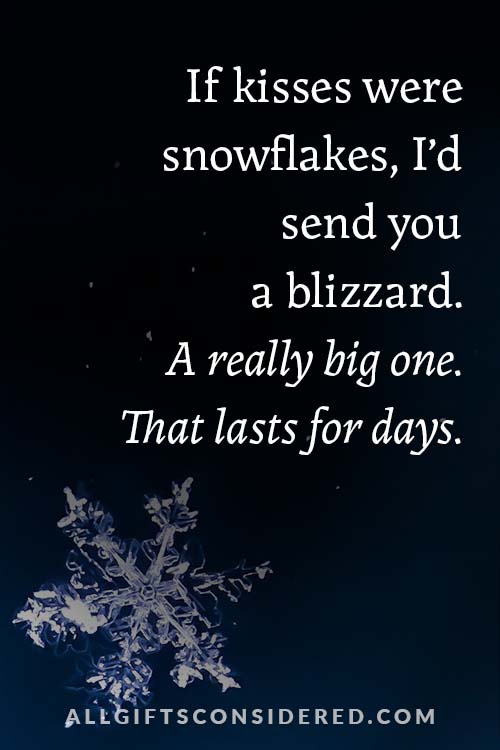 If kisses were snowflakes, I'd send you a blizzard. A really big one. That lasts for days.
You are the most wonderful part of the most wonderful time of the year. Merry Christmas, darling!
Everyday feels like Christmas with you by my side. Grateful for you, my favorite Christmas present!
I only want two things this Christmas. I want you, and I want us. That's all I will ever need.
Christmas, to me, is full of the most beautiful things. Snow, twinkle lights, beautiful decor, roaring fireplaces… and you, of course.
Like a warm fleece, an inviting hearth, a home cooked meal, a hot cup of cocoa— I want you to feel the warmth of my love wrap around you just like your favorite of these.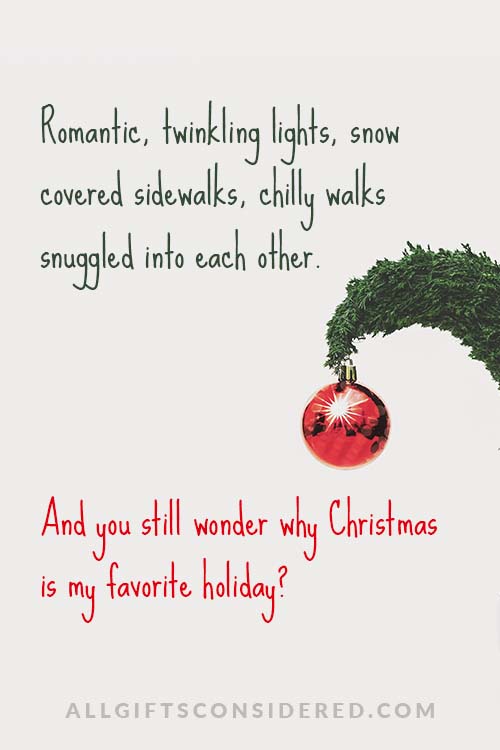 Romantic, twinkling lights, snow covered sidewalks, chilly walks snuggled into each other… and you still wonder why Christmas is my favorite holiday?
Who really needs sugar and spice and everything nice when you're around? You're all of those and so much more!
The biggest blessing at this time of year and all year 'round is always you. It always has been, and it always will be. You're the best gift I could ever hope for.
Read Next: Here's What to Put on Your Christmas List