The Left Right game is especially beloved among the myriad of fun Christmas games because it gets everyone laughing.
At your gift exchange, the last thing you want is a long, boring, drawn-out time where everyone waits for one person at a time to choose and open a gift.
To speed things up, generate laughter, and get people passing gifts left and right and all around, we propose that you… tell a story.
That's right! A really great way to do a gift exchange, the Left Right Christmas Game is perfect for an office Christmas party game, family gift swaps, kids parties, and much more.
Whether you're partying it up with large groups during the holidays, or just celebrating with your family, with the right Left Right Game (heheh) you'll have everyone in stitches by the end of the story.
We have not one, not two, but five great Left Right Game free stories for you to use, including a funny left right game story for any occasion (not just Christmas).
Read on for how to play this favorite gift passing game, for Left Right Game exchange ideas, and to get your free printable!
Our website is supported by our users. We sometimes earn a commission when you click through the affiliate links on our website. See our privacy policy & disclosures for more information.
What is the Left Right Party Game?
The Left Right Game is kind of like a white elephant gift exchange, but this particular pass the present game is based on a prewritten story filled with directives to pass gifts either to the left or right in the group.
The Left Right story is read aloud, and when the story ends and the last directive is read, whichever gift you have is the gift you get to keep!
How Do You Play the Left Right Game?
Everyone brings a gift to the gift exchange. It's best to decide on a theme (such as coffee mugs, board games, or a Christmas ornament) and/or a dollar amount (somewhere in the range of $10-50).
All the presents should be wrapped ahead of time.
Seat everyone in a circle, with the gift they brought in their hands. A moderator will read a left right story — typically a silly, ridiculous story, with a Christmas theme or one that pokes fun at the boss and coworkers — filled with the words "left" and "right."
"With a wink of his left eye, the jolly old elf…"
"St. Nick landed a little right of the chimney…"
"The tiny reindeer reached with his left hoof to open the right window…"
Each time the reader says the word "left," everyone passes their gift to the left. Same thing for when they say "right" — the gifts move to the right.
These
What Do You Need for the Left-Right Game?
The Left Right exchange is a pretty simple game, so you only need two things:
A designated left right story to read, filled with the verbal cues of "left" and "right"
Everyone to bring a wrapped gift
That's it! Now let's get to some stories.
Left Right Game Exchange Ideas
These are all fun, clean, and family friendly left right stories.
Some are intended for family gatherings, others intended for the office party, and still others are designed where you can personalize it for large groups by filling in the names of your choice.
Most of these printable games are holiday-themed, but we also have one for anytime and anywhere.
Story #1: Ribbons & Bows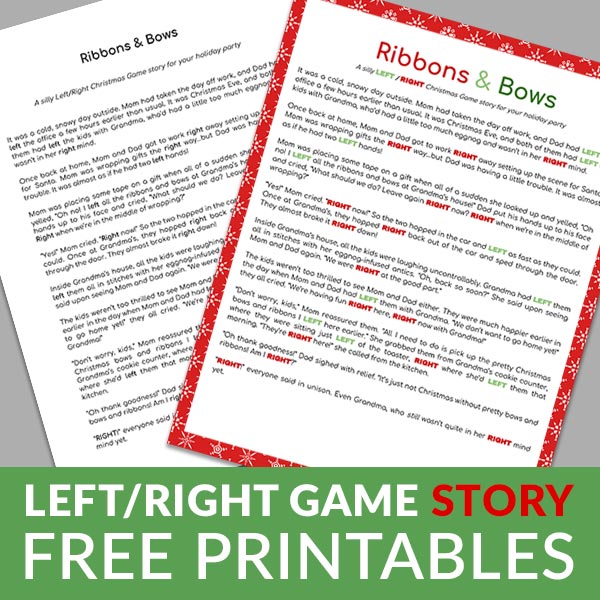 Christmas theme
Anyone, any gathering
This is a very silly Left Right Christmas Game story for any holiday party. It's perfect for kids and the whole family.
Excerpt:
It was a cold, snowy day outside. Mom took the day off of work, and Dad LEFT the office a few hours earlier than usual.

It was Christmas Eve, and both of them had LEFT the kids with Grandma, who'd had a little too much eggnog and wasn't in her RIGHT mind.

Once back at home, Mom and Dad got to work RIGHT away setting up the scene for Santa Claus. Mom was wrapping gifts the RIGHT way…
Story #2: Christmas Parade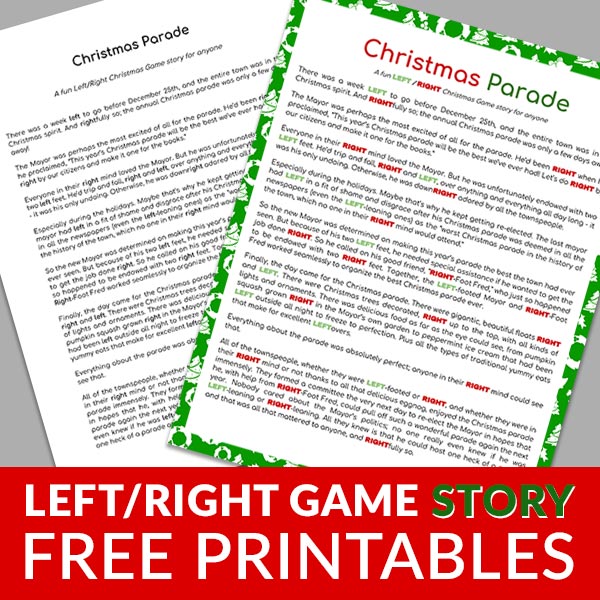 Christmas theme
Anyone, any gathering
Another ridiculous Christmas story, ideal for any family Christmas party or holiday gathering.
Excerpt:
There was a week LEFT to go before December 25th, and the entire town was in the happy, Christmas spirit. And RIGHTfully so; the annual Christmas parade was only a few days away!

The Mayor was perhaps the most excited of all for the parade. He'd been RIGHT when he proclaimed, "This year's Christmas parade…
Story #3: The Christmas Tree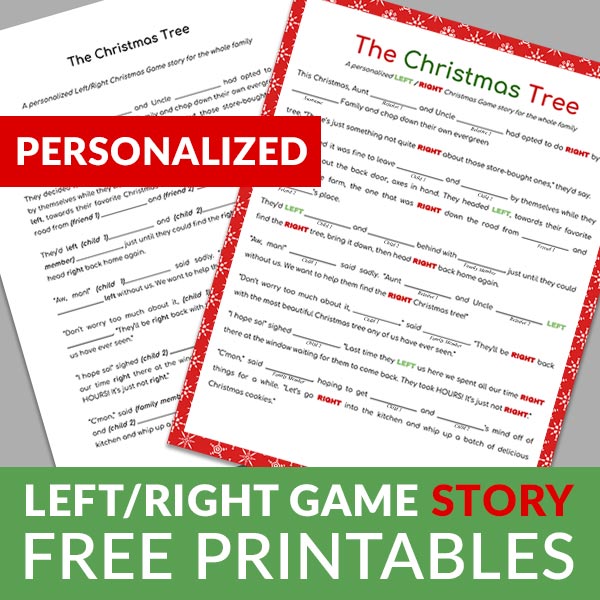 Christmas theme
Anyone, any gathering
Personalized with up to 7 names
This family-friendly right left game story features blank spaces where you can fill in names from among your family members.
This is a great story if you're aiming to put family members in the spotlight.
Excerpt:
This Christmas, Aunt _______________ and Uncle _______________ had opted to do RIGHT by the _______________ Family and chop down their own evergreen tree.

"There's just something not quite RIGHT about those store-bought ones," they'd say….
Story #4: The Christmas Luncheon [Office Party]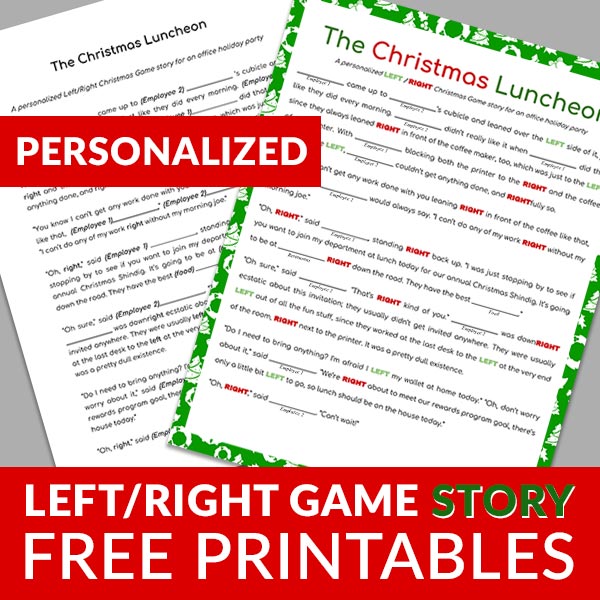 Christmas theme
Ideal for the office
Personalized with two coworker names
This Christmas left right game story provides spaces for you to put in the names of two of your most ridiculous coworkers. So much fun at their expense.
Excerpt:
[Employee 1] _______________ came up to [Employee 2] _______________'s cubicle and leaned over the LEFT side of it, just like they did every morning.

[Employee 2] _______________ didn't really like it when [Employee 1] _______________ did that, since they always leaned RIGHT in front of the coffee maker, too, which was…
Story #5: The Piano Man [Anytime!]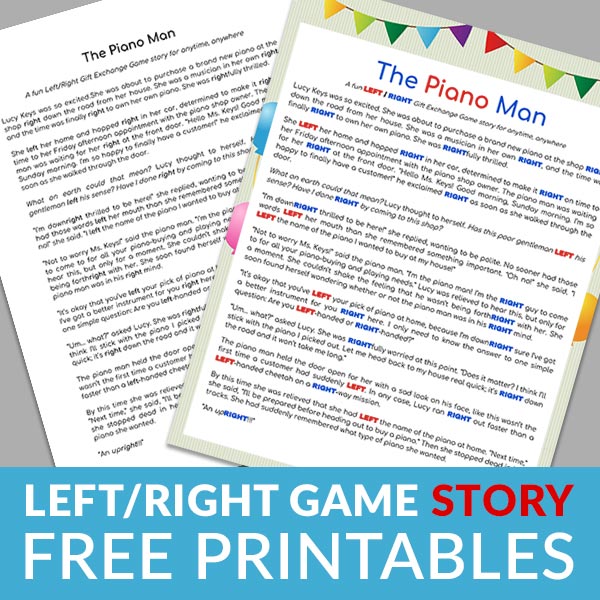 Funny left right game story any occasion
No holiday theme, ideal for use throughout the year
Just the tiniest bit creepy
Great for all ages
This passing game story is perfect to use throughout the year, for birthdays, office parties, and more.
Who is "The Piano Man," and what dangers lurk within his shop? Should Lucy buy a piano… or walk right out of sight?
Excerpt:
Lucy Keys was so excited. She was about to purchase a brand new piano at the shop RIGHT down the road from her house.

She was a musician in her own RIGHT, and the time was finally RIGHT to own her own piano. She LEFT her home and hopped RIGHT in her car, determined to…
---
If you didn't find one of these that you were in love with, you can always opt to write your very own story or Christmas gift exchange poem!
They aren't too terribly difficult to come up with, and if you don't want to write the whole thing from scratch, you can borrow bits and pieces from the stories you like, then embellish them as you choose.
The sky is the only limit for your creativity!
More Gift Exchange Games & Ideas
If these Left Right Games aren't your cup of tea, we came up with more than 45 of the best gift exchange games here.
The "more than 45" part includes ideas for skipping the traditional materialistic gifting frenzy that happens each year, too.
Whether you want something fun, simple, crazy, cute, or to just avoid a lot of the annual insanity, we have some great ideas here for your whole family (or the whole office).
Read it: Thirty-Nine 45+ Ingenious Gift Exchange Ideas
10+ Great Gifts for Your Left and Right Game
Here are some of our favorite gift exchange gift ideas. Because if you're bringing a gift, you want it to be the one people fight over.
We've got practical gifts, goofy gifts, thoughtful gifts and more, so sit tight!
Sea Turtle Tumbler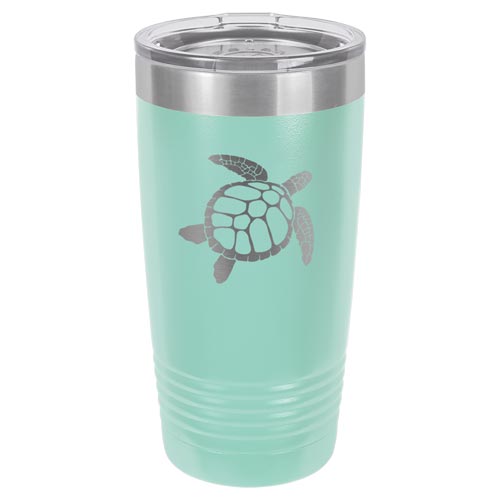 This sea turtle tumbler is so adorable. High quality and available in your choice of size and color, it's perfect for all of those holiday cocoas and coffees on the go.
You can also get it customized with text, which is included. Of course, you won't know who is going to get this, so you can't do a name.
But you can do a custom message that works for anyone ("I won this mug at the 2020 ACME Company Gift Exchange") or a classic Christmas quote that your family loves ("Buzz, your girlfriend… Woof").
Party Games
Party games are always a great idea for holiday gift exchanges!
Once the left right game or the other gift exchange of your choice is over, you can break out another great game and play the night away!
Mountain Snow Capped Candle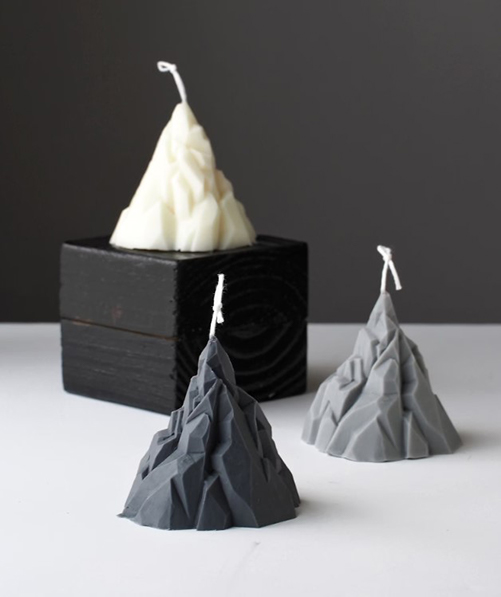 These beautiful, handmade candles will have everyone trying to steal them!
Shaped like pretty little mountain peaks, these cuties come in four color varieties and four scent options. A perfect addition to anyone's winter decor.
Reindeer Toss Game
Inflate these reindeer antlers, put one set on your head and another on a friend's, then go to town trying to land some rings.
A silly— but oh-so-fun—way to say Merry Christmas, this gift is perfect for your next holiday gift exchange.
Laser Cut Wood Journal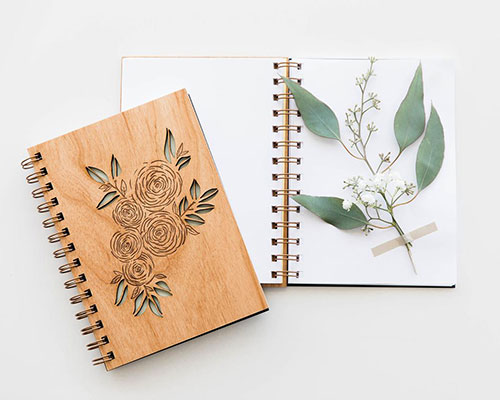 This journal is so cute. Like, really cute. And who doesn't love a good journal?
It's the right price for most gift exchange budgets, and will be a coveted prize in the trading/stealing wars.
Bluetooth Speaker
It's always great to throw a cool electronic gift into the shuffle, and this fabulous speaker will definitely make quite the prize!
And it's a great price point, too, without sacrificing quality.
A Photo of Yourself on a Sequin Pillow
If your gift exchange is more the "white elephant" variety, here's a killer idea. Put a photo of yourself on a sequin pillow, and watch everyone fight over it.
Shoulder Massager
You might need to borrow this after you all finish wrestling for it…
We kid, we kid. But in all seriousness, who wouldn't want this fabulous shoulder massager?
Mini Library Building Kit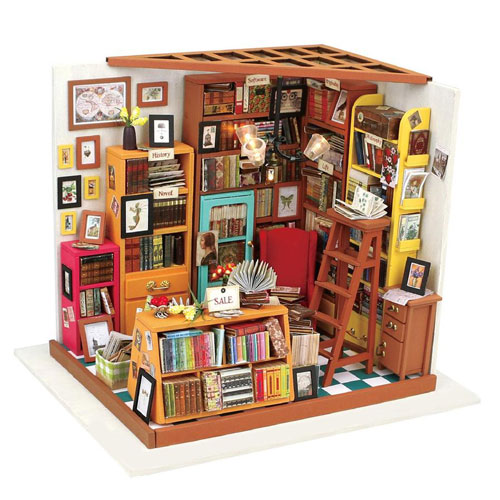 Ok so this one is probably a little on the high side for most gift exchange dollar limits, but if you want to win the unofficial prize for bringing the most unique (and most "stolen") gift, this is it.
It's a model set to build a tiny library, filled with all sorts of miniature, magical things.
In addition to all the books, which are organized by type, there are picture frames, maps, a chandelier, a ladder, flowers, and lots more to discover.
Fernweh Candle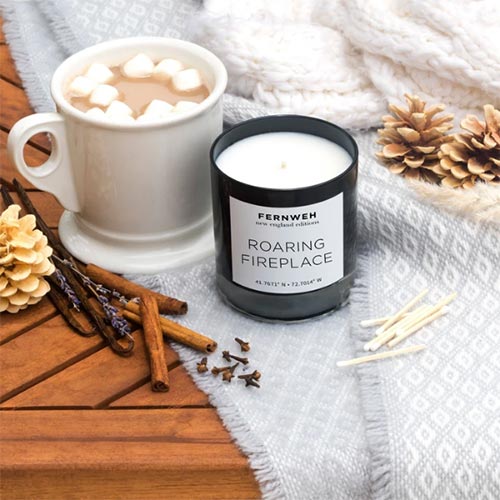 Fernweh Candles specializes in candle "experiences" meant to take you on an adventure while yet in the comfort of home.
At your Left – Right gift exchange, everybody will be vying for a whiff of the Roaring Fireplace Candle from Fernweh's New England collection.
Scents of balsam and spices mingle together to create a nostalgic aroma of Christmases of yore.
Snowflake Shaped Window Cling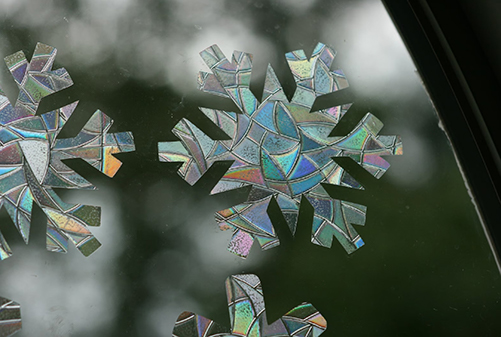 Spruce up your window decorations with these beautiful, prismatic snowflake window clings!
Festive, fun and oh-so colorful, these make the perfect white elephant and Secret Santa gift.
DIY Gift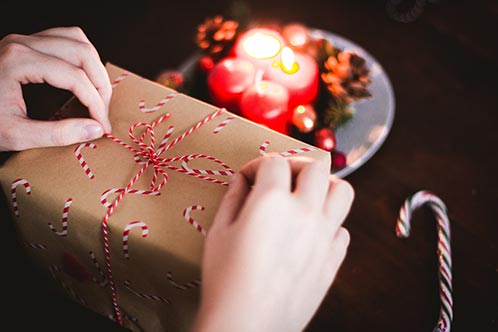 When you bring a do-it-yourself gift to the left right gift exchange, you bring a bit more effort and thoughtfulness to the table than if you were to just purchase a gift.
If you go the DIY route, there are literally hundred of gift ideas for you to choose from to make. Here are some of our favorites:
For further DIY gift inspiration, see 100 Things You Can Make While Watching TV.
---
Read Next: Christmas Planning: How to Win the Holidays