It is so hard to say goodbye to a mother who has passed. It's also difficult to know what to do when supporting a friend who has lost their mother.
We've put together a thoughtful list of gift ideas to help you or a friend memorialize that special lady you call mom.
21 Best In Memory of Mom Gifts
Our website is supported by our users. We sometimes earn a commission when you click through the affiliate links on our website. See our privacy policy & disclosures for more information.
1. Memorial Bird Feeder Sympathy Gift for Mom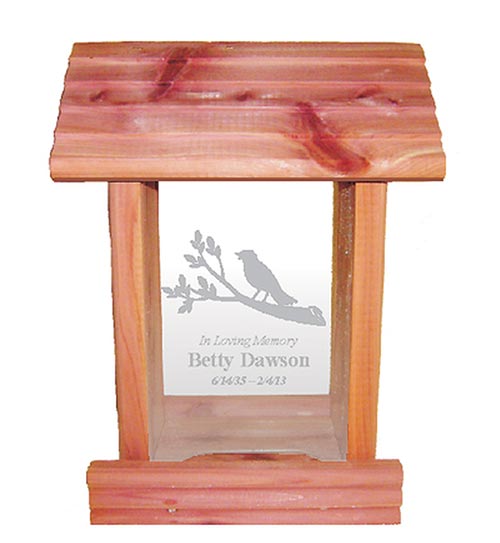 Our cardinal memorial feeder is a perfect memorial for someone who loved to feed and watch the birds.
This rustic-looking bird feeder is made from solid cedar. Cedar is a hardwood that will stand up to the weather for years and years.
You can make this feeder extra special and have your mom's name and dates laser engraved on the front acrylic panel.
2. 3D Heart Portrait of Mom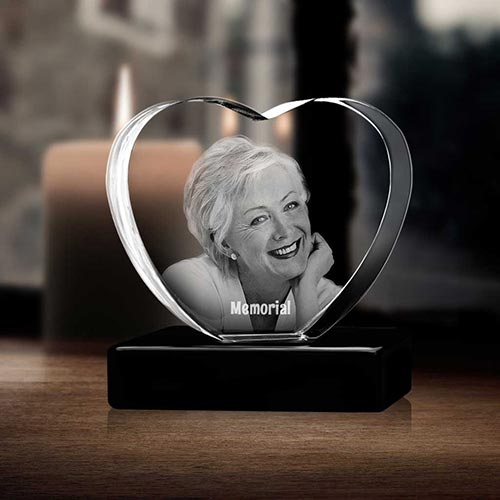 If you are looking for that extra special gift, this is it. A personalized 3D portrait memorial crystal with just the right photo and a heartwarming message will mean so much to the recipient.
These beautiful images are laser engraved into the crystal. This gift will bring a smile to everyone's face.
3. Sympathy Votive Candle Holder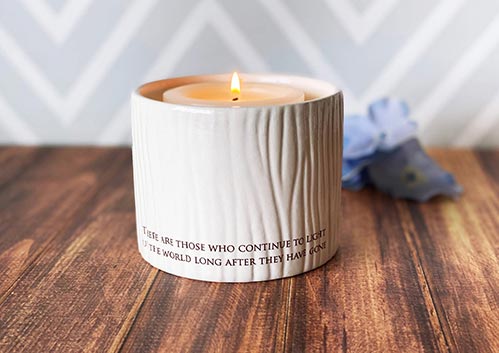 This hand-made earthenware clay sympathy votive candle holder includes a sentimental wish – There are those who continue to light up the world long after they have gone.
As an "In Memory of Mom" gift, this one is rather versatile – you can use it as a candle holder or vase, a bowl for candy or potpourri, or fill it with notes as a "bowl of encouragement."
4. An Angel in Heaven
This angel in heaven keepsake box will be treasured for years to come. The memorial box can be used to save a few of mom's favorite souvenirs. Every time it's opened it will bring a sweet smile of remembrance to your face.
This trinket box is a nice addition to any decor. You can put it in your bedroom, on the bathroom sink, or just about anywhere else.
5. Leather Scrapbook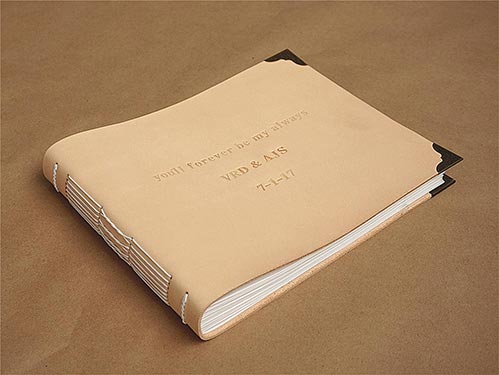 This hand-made leather scrapbook will give you hours of memories; first when you are putting it together and then for years to come as you page through it.
Includes custom inscription on the cover, so you can personalize it with your loved one's name and dates.
6. Tree in Their Name
Trees for a Change is a wonderful way to do something in memory of a loved one and help our forests and woodland creatures.
You purchase the tree gift, then the information about where the tree is located and photos of it are posted online, and the recipient of your gift can go online and learn about the tree. They can even use a map to find it and plan a trip to visit it.
This is a healing, restorative gift that will last for years… possibly centuries!
Related: 10 Heartwarming Sympathy Gift Ideas for a Grieving Friend
7. Heaven in Our Home Engraved Candle Holder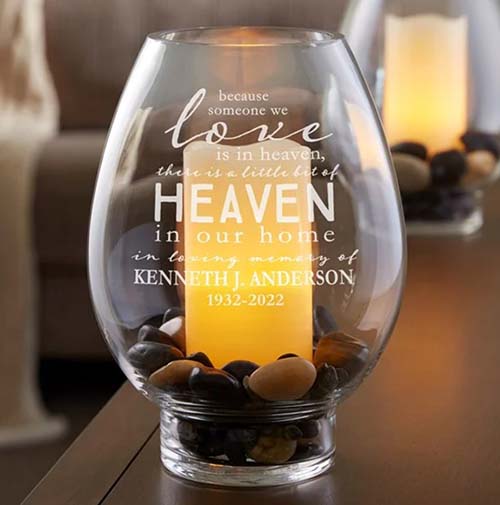 This elegant, etched glass hurricane is a perfect memorial centerpiece for your bookcase, table, or fireplace. You can personalize the front with your loved one's name, and it can be filled with just about anything that reminds you of her. That could be candles, her favorite scent of potpourri, flower petals, sea glass… Whatever you decide, it will be a lovely reminder.
8. Pennies from Heaven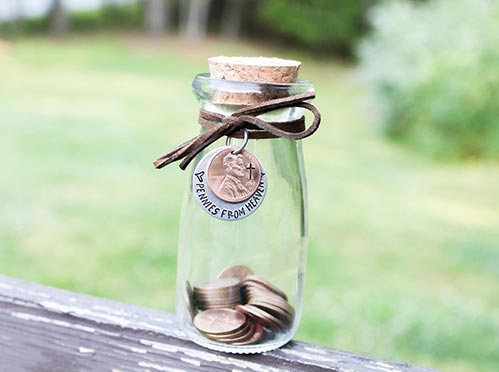 Pennies from Heaven is a memorial keepsake that is, in a word, adorable. A round aluminum charm with and 2 hearts hangs on the jar.
Legend says, "When an angel misses you, they toss a penny down."
Don't pass by those pennies on the ground. Pick it up and save it in your jar. After all, maybe it was "your" angel that tossed it from heaven!
9. If Love Could Have Saved You Handcrafted Memorial Plaque for Mom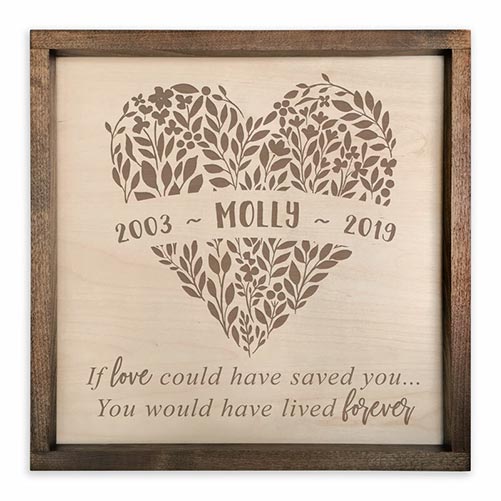 This personalized handcrafted memorial plaque for mom is laser etched with your mom's name and dates inside of a floral heart.
This is a beautiful and meaningful addition to anyone's home – and the perfect way to honor that memory of your mom.
10. We Shall Meet Again Memorial Glass Frame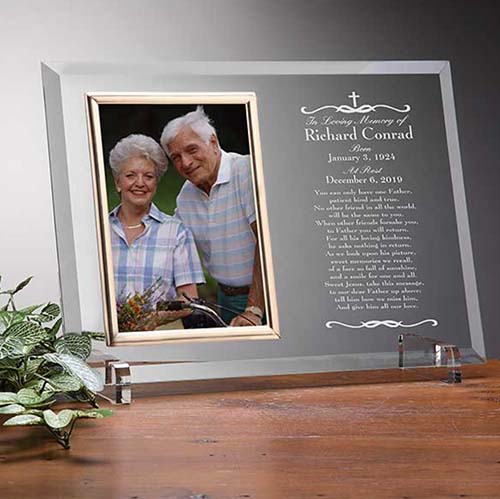 This lovely remembrance frame is so elegant and meaningful. With its heavy beveled glass design and polished brass accent, the beautiful engraving is just the finishing touch.
It is entirely customizable, and you can inscribe anything from their favorite poem or Scripture to a song or quote. Or maybe write a letter to them in heaven? It will truly be one of a kind.
More like this: 21 Unique Sympathy Gifts to Show Love & Support
11. Guided Remembrance Journal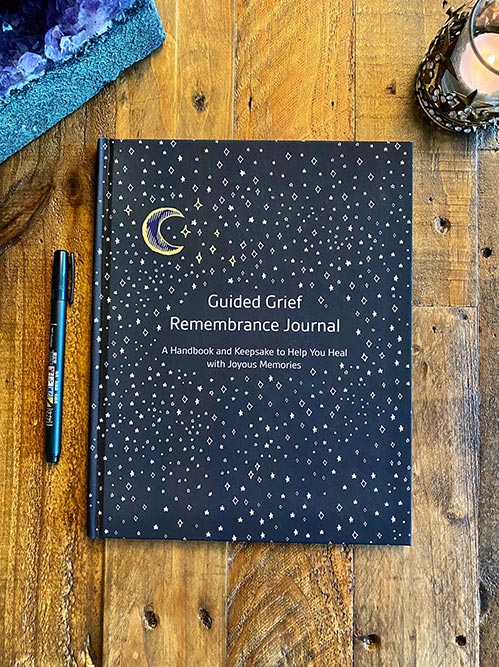 This guided remembrance journal will help you get your thoughts and emotions down on paper. Journaling is a very productive way to work through grief.
This journal includes guided prompts to help spark and document happy memories. These memories are something that can be passed down for generations to come.
Learn more about the benefits of grief journaling, along with 40 inspirational prompts.
12. Sympathy Wind Chimes
There is nothing quite as relaxing as listening to windchimes gently blow in a breeze. These sympathy windchimes will bring you comfort every time you hear them – reminding you of your loved one.
Perfect for your patio, garden, or even in your home.
13. Heirloom Recipe Cutting Board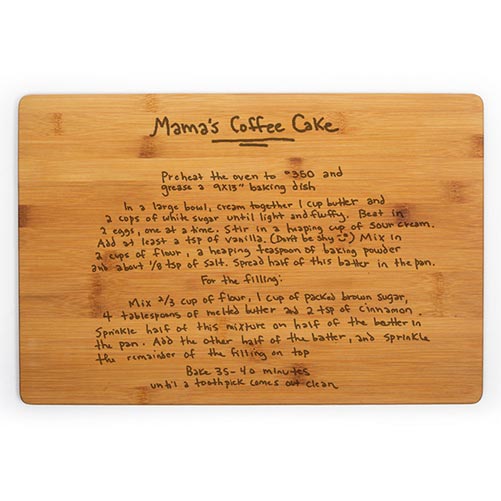 You can put mom's most loved recipe on this heirloom recipe cutting board. The recipe will even be laser engraved in your mother's own handwriting!
You can use the reverse side for cutting. If you don't want to "use" the cutting board, it makes a great decoration too.
14. Personalized Memorial Bench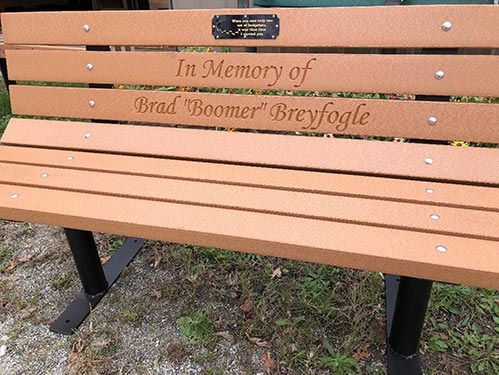 This handmade "In Memory of" bench is crafted from 540 recycled plastic jugs. Personalize this bench with your loved one's name and dates, and be at peace knowing that you're helping the environment through recycled materials.
Your bench can be placed on your patio, back yard, or garden. People will be enjoying this bench for fifty-plus years.
15. Pressed Flowers Sun Catcher
This pressed flowers sun catcher is a sweet way to honor mom and her sunny disposition. The pressed flowers add vibrant color to the glass dress and metal frame.
Think of your mom every time this ornament "catches" your eye.
16. Name a Memorial Star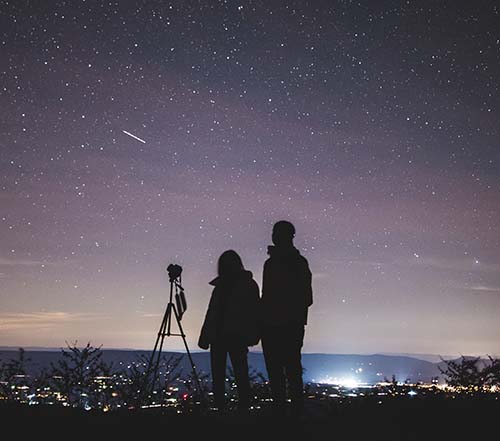 If they were the most magical part of your life, or you thought of them as your guiding light, this is the perfect remembrance for them. Give them their very own star and think of them every time you gaze into the night sky.
What an incredible way to memorialize their life and legacy.
17. Personalized Heart Keepsake Box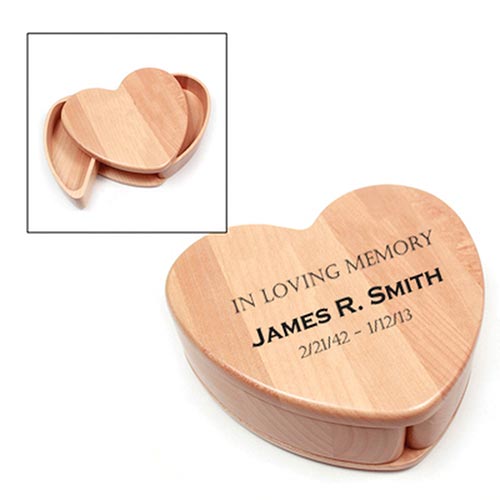 Our personalized heart keepsake box is a sweet way to keep those little trinkets safe. This heart-shaped box is lovingly crafted from maple.
Have your loved one's name and dates laser engraved on the top of your heart – and keep them in your heart forever.
18. Custom Portrait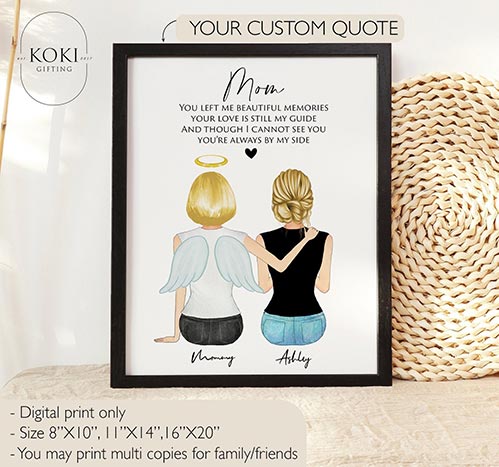 This custom portrait is perfect to celebrate the life of your beloved mother. You can customize your portrait with hairstyles, hair color, clothing styles, names, and so many other ways.
The artist will create the portrait in memory of your mom, and send you the file as a digital download. It's easy to print at home or at your favorite print shop. This gift will be enjoyed for years to come.
19. Sympathy Ceramic Tile
This sympathy ceramic tile is a sweet way to express your love to someone going through a loss.
This ceramic tile is a heartfelt sentiment reminding us that our loved ones are truly never gone.
Your friend can display this tile with the included easel or even have it installed on a countertop or wall.
20. Love From Heaven Keychain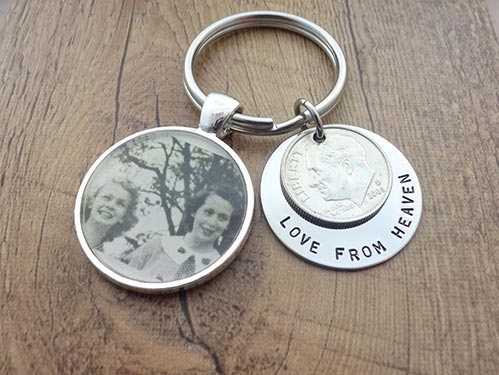 Remind them that someone in heaven loves them with this Love From Heaven keychain. Your keychain will come with your favorite photo (that you provided), and the dime medallion.
The keychain will carry more than your keys. It will carry precious memories.
21. Letters to My Parents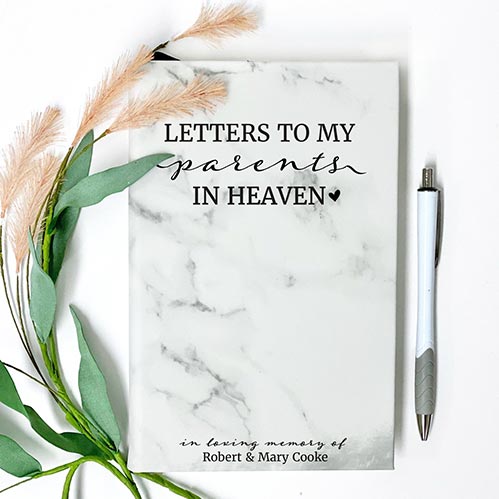 You can make some special memories by writing in your Letters to My Parents journal. This is a fantastic way to share thoughts and memories with family members. You can give everyone a turn writing down their heartfelt feelings.
You will pass this memoir down for generations to come.
What to Say to Someone Whose Mother Passed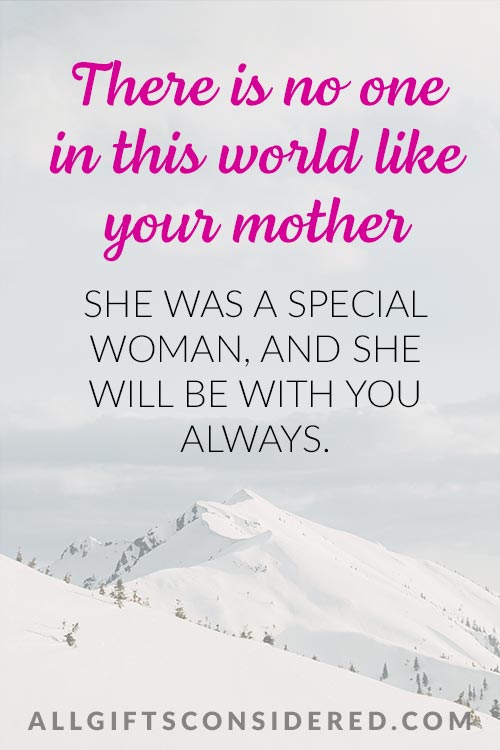 There is no one in this world like your mother. She was a special woman, and she will be with you always.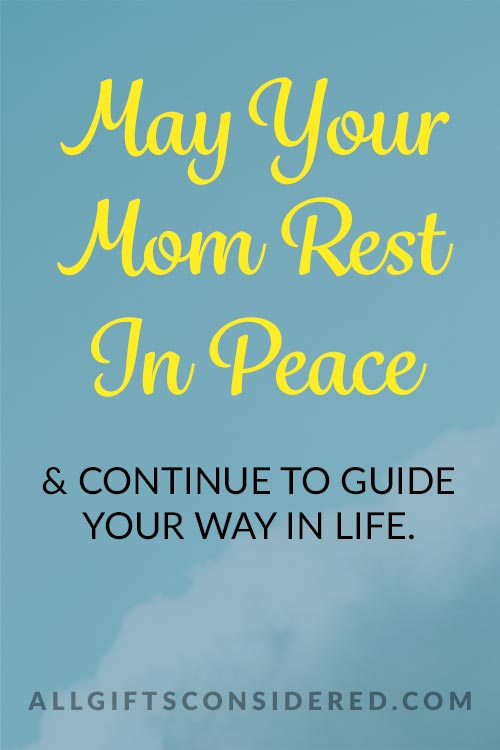 May your mom rest in peace and continue to guide your way in life.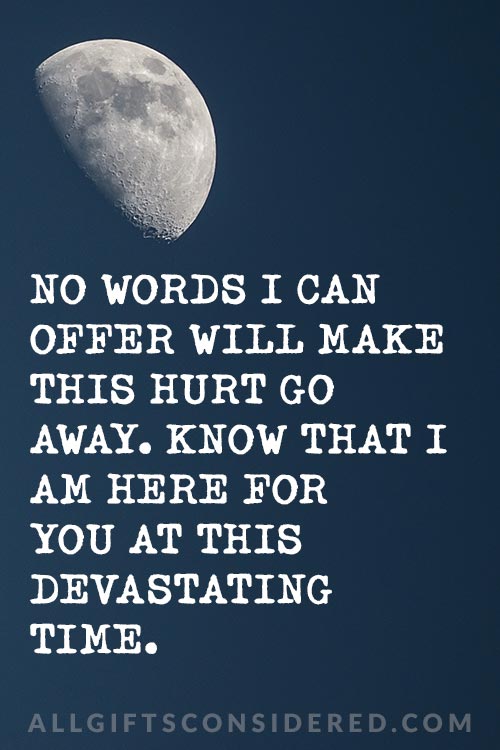 No words I can offer will make this hurt go away. Know that I am here for you at this devastating time.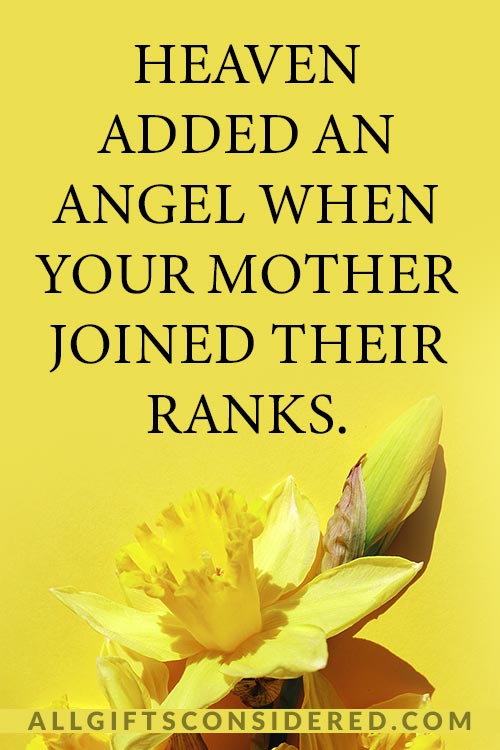 Heaven added an angel when your mother joined their ranks.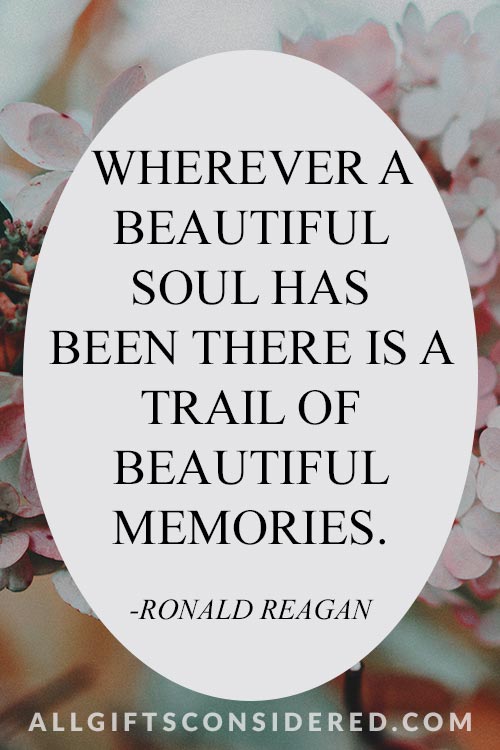 Wherever a beautiful soul has been there is a trail of beautiful memories. -Ronald Reagan
It is our hope that you have found something on our list to comfort a friend or yourself. We offer you our deepest condolences on your loss.
For more condolence messages, check out this article – 101 Condolence Messages to Express Your Love & Support
Read Next: What to Send When Someone Dies