You want to find some awesome gifts for someone who is a passionate RV enthusiast.
Well, look no further! We've dug down deep to curate this list of great RV gift ideas to suit your friend, family member, or significant other. Below you're sure to find something that they have always wanted (and needed!).
RVs, those charming homes on wheels, are more than vehicles; they're a lifestyle. With over 11 million RV-owning households in the United States feeling the same way, we found the best gifts to make sure that each journey your favorite campervan owner takes is unforgettable!
So whether your friend is a seasoned RV traveler or a newbie exploring the open road for the first time, these fun gifts are for them!
Our website is supported by our users. We sometimes earn a commission when you click through the affiliate links on our website. See our privacy policy & disclosures for more information.
Table of Contents
The 10 Best RV Gifts
Picture your friend hitting the open road in their RV. They are filled with joy from exploring national parks all over the country as the wind is whipping through their hair. If that fits them to a T, then these are the gifts for them!
So if you are on the hunt for the perfect Christmas gift or some useful tools, these great ideas will make excellent additions to any RV or campervan owner's life:
1. Custom Travel Journal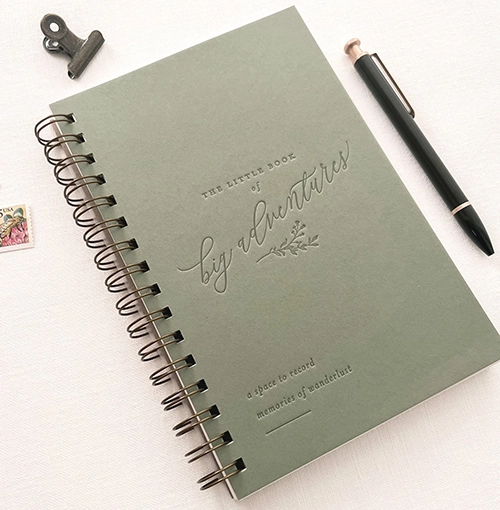 Travel journals are essential for those voyagers who love documenting their trips! It's an open space to capture a treasure trove of memories with the ability to revisit them whenever they want to relive the magic of RV life.
We love how this customized travel journal has a durable, thick cover and a clean, easy-to-use design. The journal's prompts and trip segments help keep the RVer's writing inspired while still staying organized. And with 136 pages, they will have plenty of room to write their favorite memories or important findings.
2. Fun Can Coozies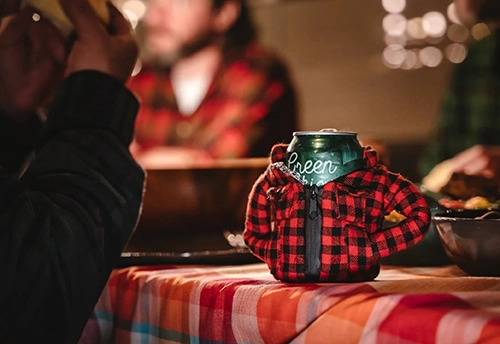 These fun can koozies by Puffin Drinkwears are must-haves for any outdoor adventurer. Designed to keep drinks at the perfect temperature, they are not only functional but stylish. So it'll be easy to find one that matches your friend's unique style!
If enjoying a cold can under the sun is a favorite pastime, these koozies are the perfect gift ideas.
3. Custom Wine Tumblers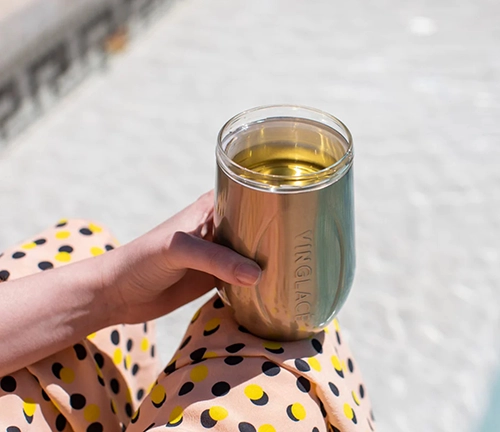 Help your friends indulge in relaxation with Vinglace's stemless wine tumblers.
Perfect for RV getaways, these stainless steel glass-lined wine tumblers maintain the ideal temperature for your favorite wines without affecting the flavor.
With an elegant design that doesn't compromise durability, a pair of tumblers with optional customization will prove ideal for toasting unforgettable moments on the road or staying bougie on camping trips.
4. Collapsible Drip Coffee Maker
Can your RV friends live without coffee? We didn't think so! Keep their compulsion brewing with one of these collapsible coffee drippers.
The compact and easy-to-use design makes them one of our favorite coffee gifts for your caffeine-addicted RV friends. Each one is a breeze to clean and easy to carry, enabling a fresh brew at any time, any place.
But if time and space are at a premium, then check out our favorite instant pour-over coffee for them. They'll be able to get their caffeine fix without the compromise.
5. Solar Panels
Do your RV-owning friends love going off the grid to remote locations? How about staying out a little too long for comfort? Then they will want these solar panels!
Solar power affords a great way to keep every light on and each cell phone charged without the worry of being near a traditional power source.
Because these solar power panels come in a foldable design (about the size of a traditional school binder), they're a space-saving and reliable companion for any RV-owning adventurer who appreciates that bit of civilized power out in the remote wilderness.
6. Indoor Plants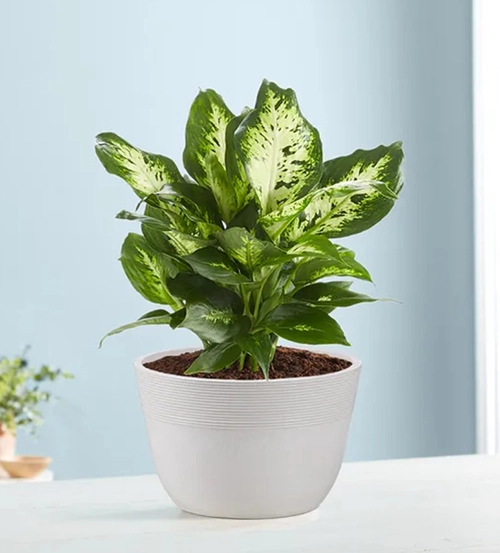 Help them bring the outdoors in with small indoor plants. Plants can help purify the air while infusing their small space with natural beauty.
Dieffenbachia plants are easy-to-care-for, which of course means they are a great option to add a bit of atmosphere and life to their home on wheels.
7. Personalized Campsite Garden Flag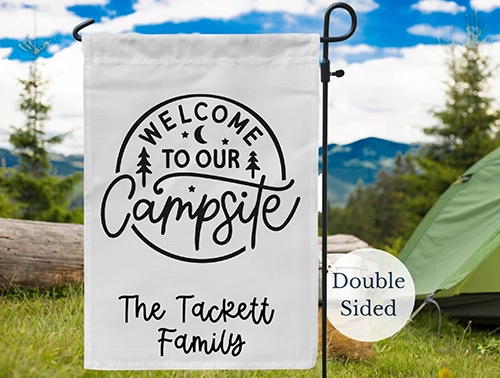 Do your full-time RVers always have their rig parked by a serene lakeside or nestled in the heart of the wilderness?
If so, a personalized garden flag would be a charming way to showcase their wanderlust and enhance their lifestyle with a bit of custom flair.
8. Designer Fire Extinguishers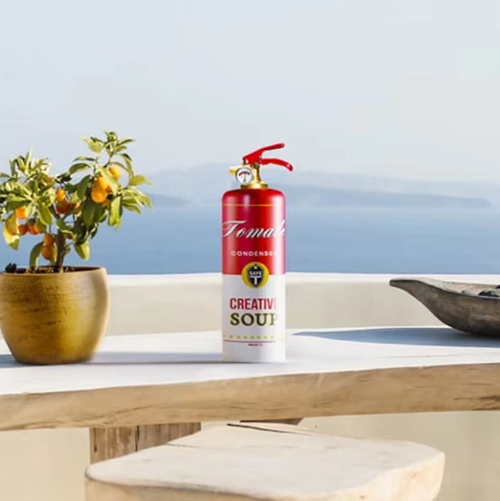 Prioritize their safety with these stylish fire extinguishers. Made from steel at only 4.4 pounds, these fire extinguishers will fit snugly into any RV.
Plus, with so many themes to choose from, you'll find the perfect design to fit your RVer friends' lifestyle! All while helping them stay safe on their adventures.
9. Travel-Inspired Candles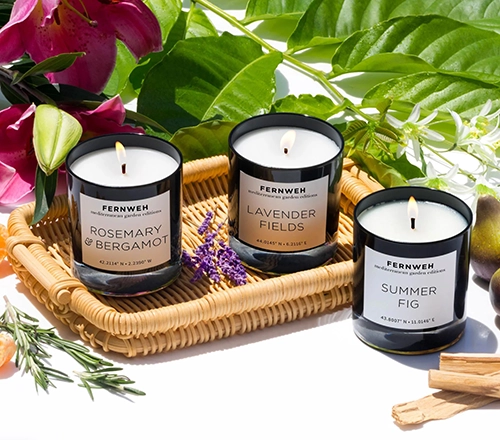 Has an aroma ever transported you to a far-off land in your imagination? That's exactly what Fernweh Candles are designed to do.
Crafted and hand-poured to capture the essence of wanderlust (that's the meaning of "fernweh" in German – a longing for far-off places), these naturally fragrant candles make a thoughtful gift for those who can't wait for the next trip!
Made in small batches by expert candlemakers in the USA, each candle promises a clean burn while transporting adventurers to their favorite destinations.
10. RV Camper Ornament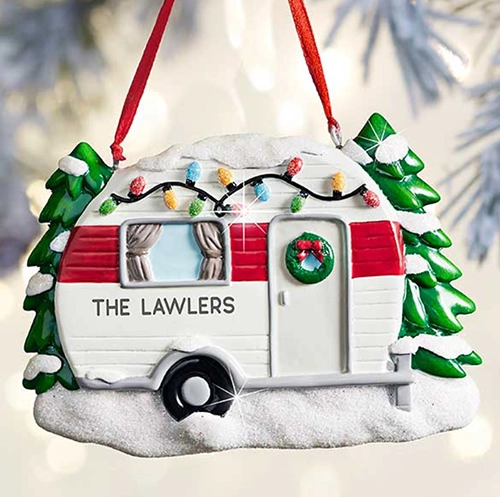 Looking for thoughtful Christmas gifts for your RV buddies? Add a festive touch to your friend's RV for the holidays with this personalized camper ornament.
Exuding a sense of fun and a cheerful, outdoorsy spirit, this ornament can be customized with their names and includes a red ribbon to help them hang it on the tree. What a delightful way to celebrate the joy of RVing during the holiday season!
Related: Best Secret Santa Gift Ideas
RV Accessories for the Friend That Is …
It doesn't matter if they're hikers, space-conscious organizers, or embarking on their very first RV adventure! These RV gifts celebrate the uniqueness of their RV lifestyle:
A National Parks Enthusiast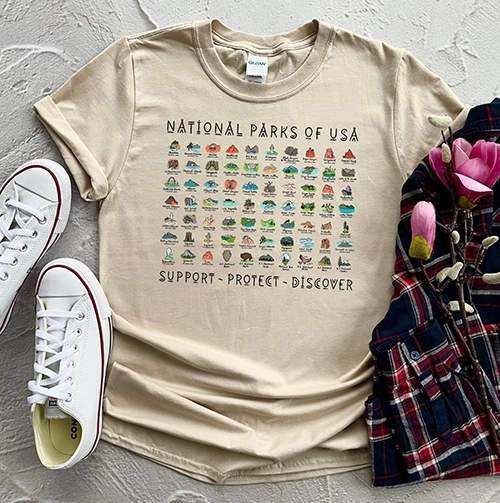 Annual Passes: Delight your friend with an annual pass to local national parks that unveils a realm of natural wonders. A pass enables them to step into the breathtaking beauty of national parks, where they'll find everything from awe-inspiring landscapes to peaceful evergreen nooks.
National Park Inspired Gear: Elevate your friend's connection to national parks with gear that mirrors their admiration. Imagine gifting them t-shirts adorned with stunning park vistas or coffee mugs showcasing their favorite natural landmarks. These items let them wear their love for the great outdoors proudly and spark conversations about their passion.
Outdoor Adventure Essentials: Equip RV campers for memorable journeys with top-notch outdoor gear. Imagine presenting them with sturdy hiking boots, weather radios, bungee cords, lightweight backpacks, and portable camp stoves. These essentials not only enhance their comfort but also immerse them fully in the thrilling experiences national parks offer.
Nature-Focused Photography Equipment: Ignite your friend's passion for capturing the beauty of national parks with precision and artistry. Consider gifting them camera accessories like lens filters for capturing vibrant sunsets or tripods for steady shots. If they already have those, new camera bags are great for protecting their equipment during outdoor escapades.
Dealing with Limited Space in RVs
Loving Road Trips and Camping Trips
Picnic Table: Turn any scenic spot into a cozy dining area with this foldable picnic table that accommodates the whole crew.
Camp Chair: Relaxation takes center stage with a comfortable camp chair that's perfect for stargazing and storytelling around the fire. We love this personalized chair!
Portable Propane Fire Pit: Another essential for campers! The crackling of a fire and meals cooked over open flames are essential elements for any camping experience.
Outdoor Activities: Here is a fun gift idea! Embrace the spirit of play with fun games and gear to accent each road trip or camping adventure. From classics like frisbees to modern favorites like paddle boards, these great gift ideas encourage unforgettable moments shared with friends and family members.
A New RV Owners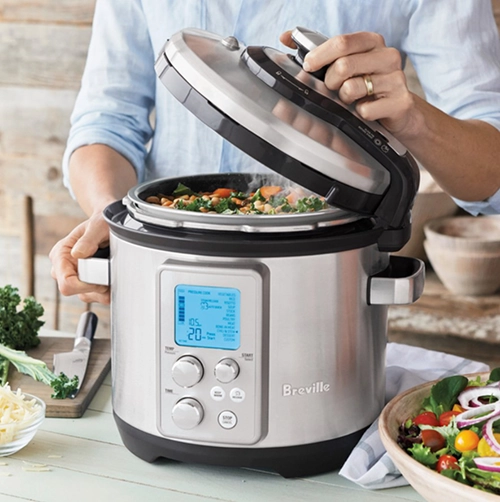 Related: Best Gifts for Travelers & Wayfaring Wanderers
Factors to Consider
Gifts that optimize space and functionality are valuable, especially in smaller campervans or RV trailers. When buying a gift for an RV owner, consider these factors:
Size of the RV
One of the most crucial aspects to weigh is the size of your friend's RV. Each inch of space is invaluable, and your RV gift ideas should seamlessly integrate into their compact home on wheels.
Type of RV
Different types of RVs have different features and amenities. Before selecting a gift, take a moment to understand the type of RV your friend owns. Whether it's a towable travel trailer or a versatile camper van, tailor your gift to align with their specific RV style. This ensures your present seamlessly integrates into their RV lifestyle, enhancing their comfort and enjoyment on the road.
Interests of the Owner
Learn more about their favorite hobbies, adventures, and preferences to find an excellent gift that truly resonates. For example, if they're avid hikers, consider equipping them with a set of hiking poles! By catering to their interests, your gift becomes a reflection of their unique RV journey.
Enhancing the Experience
Ultimately, the essence of your gift idea should revolve around enhancing their RV experience. Whether you try to add comfort or update older products, ensure that your chosen RV gift ideas seamlessly integrate into their journey.
To do so, ask a lot of questions. Stealthily show interest in their camping hobby. Ask what works, what they like, and what they would do differently. RVers love to talk about their pastime, so this should be an easy task! Listen, and it will help you find the ideal gift to make their next outing all the more enjoyable, convenient, and memorable.
Personal Touch
Beyond the practical approach of meeting their camping needs via gear and accessories, aim for a touch of personal connection with your gift.
Reflect on shared memories, inside jokes, and experiences that define your friendship. Use these to inspire your present, which will add a layer of intimacy that can turn your simple gift into a cherished reminder of your bond and their RV adventures.
We hope this gift guide for camper owners and RV travelers has inspired you during your search. With such unique gift ideas, we are sure you'll find the perfect gift for them!
Have a favorite RV product or fun fact you want to share? Let us know in the comments below!
Read Next: Best Camping Gifts for the Camper Who Has Everything