Mom's are just the best, aren't they? Loving, kind, generous to a fault… And how better to celebrate the utterly wonderful person they are than with a beautifully personalized Mother's Day gift?
Mom deserves nothing less than the best, and that's just what we've rounded up for you in this list. From the most beautiful of jewelry pieces, to photo collages and displays, to garden décor and more!
There's a little something here for even the most particular of ladies. And we've made sure to include Grandma, too!
So if you're looking for a great gift to both wow her and touch her heart, you've come to the right place. Keep scrolling for fifty-five of our absolute favorite Mother's Day Gifts.
10 Best Personalized Mother's Day Gifts
Our website is supported by our users. We sometimes earn a commission when you click through the affiliate links on our website. See our privacy policy & disclosures for more information.
1. Mama Bear Tumbler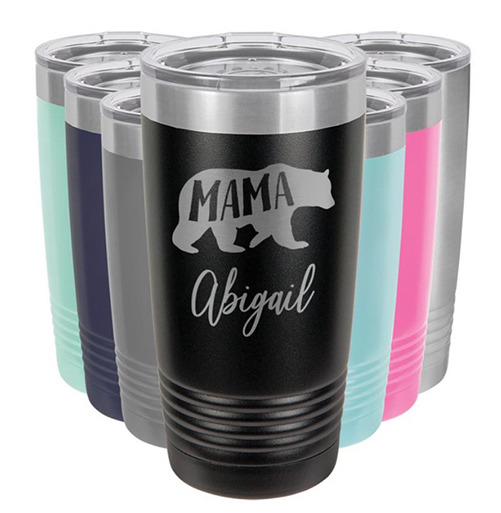 It doesn't matter how old the kids get, how busy she is, or where life takes her. Once a mama bear, always a mama bear… This great tumbler is perfect for all her beverage needs!
Whether we're talking about keeping her lemonade ice cold at the soccer game or her coffee piping hot in the carpool line, it has all of her bases covered. She won't leave home without it.
2. Watercolor Family Portrait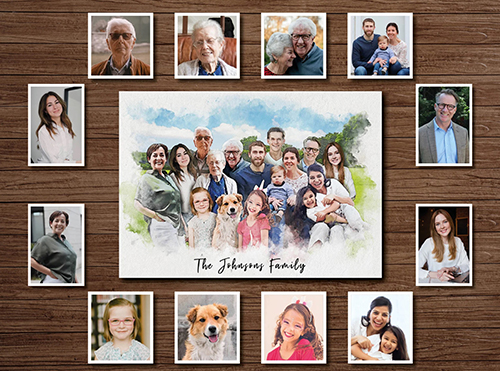 If family is her everything, then a beautiful watercolor family portrait like this is just the thing! She'll love hanging it front and center on the living room focal wall, and showing it off to all her friends.
Simply submit the photos of your choice, and the artist will combine them into a picture perfect work of art to cherish for years and years to come.
3. Wooden Family Sign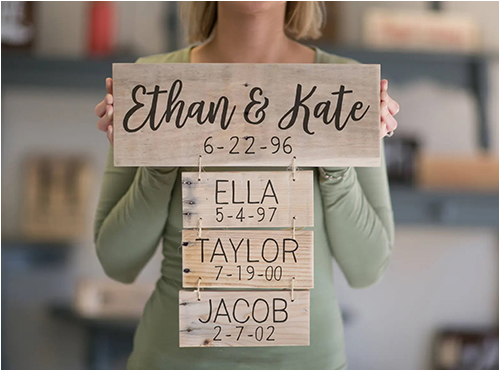 How precious is this wooden family sign? Mom will love this sweet piece that features each family member's name and dates custom engraved. Made to order with as many panels as needed (you could even add pets if you wish), she will love hanging this sign indoors or out for all to see.
4. DIY Mother's Day Cake
Get cookin' in the kitchen, and show her how all those baking lessons she gave you have paid off! This fun, DIY Mother's Day cake will delight both her eyes and (hopefully, if you followed the recipe) her taste buds.
There's just something about a homemade Mother's Day gift that is so special, don't you agree?
5. Handwritten Blanket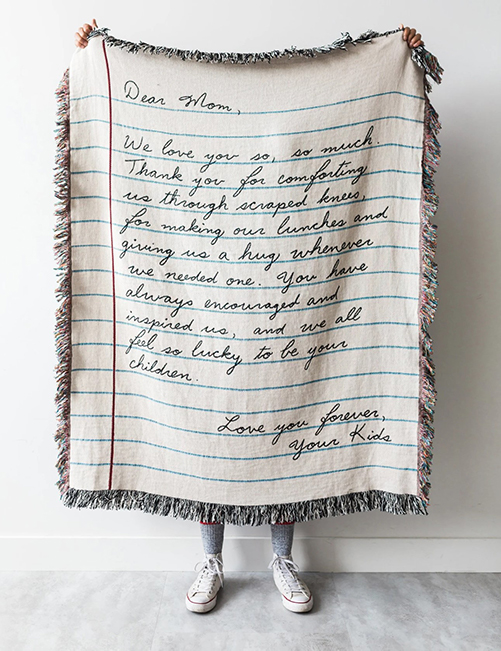 What's more touching than a tender, carefully written letter to tell Ma how much you love her? Why, a cozy blanket that delivers said letter!
This neat blanket is printed with a letter in your own handwriting to make it a super sentimental and personalized Mother's Day gift. She'll cherish this gift, and will love snuggling with it in the evenings.
6. No Matter Where We Are Print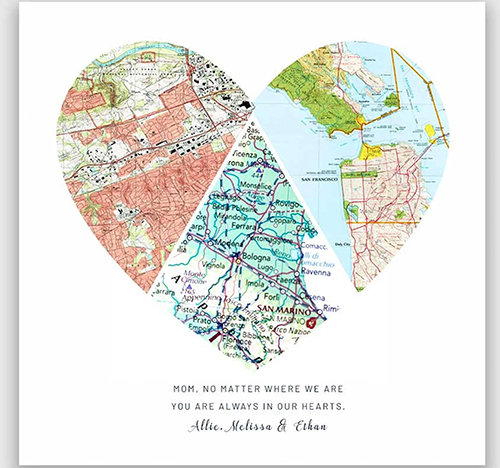 I may just tear up, and she probably will, too! This wonderful "No Matter Where" print puts the sentiment in sentimental. Time and distance may come between you, but the heart of a mother is always tied to her children.
Simply choose your respective locations, and you have a meaningful and one-of-a-kind gift she will cherish.
7. Classic Paintings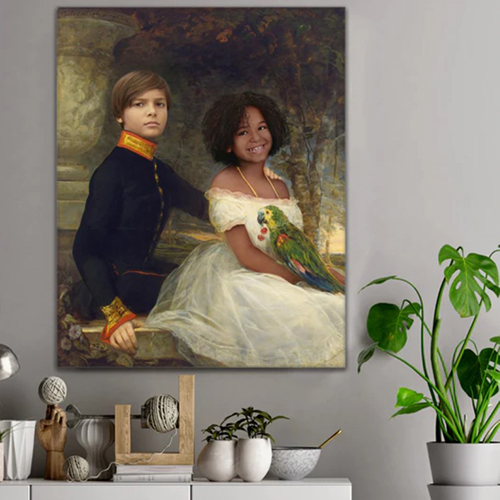 These classical portraits are just too much fun! Whether you choose to make her a regal queen, or request a royal family portrait, she'll be absolutely delighted with the results. And, I mean, talk about a conversation starter… She'll love showing it off.
8. Family Photo and Handprints
This is such a fun idea. Put her favorite family portrait in the side portion of this neat frame, and place each family member's colorful handprint next to it! Such a unique and personalized Mother's Day gift will definitely occupy a place of honor on the family wall.
9. Cabernet & Chocolate Gift Basket
She'll feel super spoiled when she receives this incredibly luxurious gift basket! Stuffed to the brim with the finest sweets and delicacies and topped off with a beautiful bottle of cabernet, it makes such a wonderful 'Thank You' Mother's Day gift for all she does. And you can personalize the color of the ribbon, too, so be sure to pick her favorite.
10. Personalized Song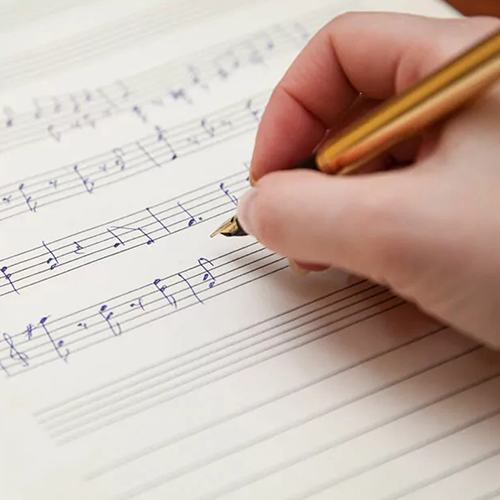 Now this is one present she won't be forgetting anytime soon. Talk about a personalized Mother's Day gift!
Answer some questions and share some special thoughts or memories with musician David Morgan, and he will write and record a song just for Mom. You can choose either one minute or three minutes for the song length, and give him as many details you deem necessary for her very own masterpiece. She'll absolutely adore this one.
Personalized Gifts for Mom from Daughter
11. I'll Always be Your Little Girl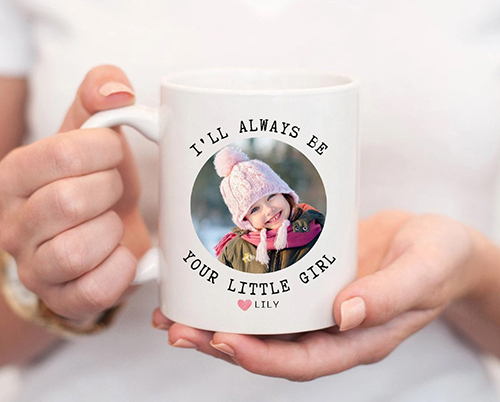 Mothers and daughters, fathers and sons… There is just something so unique about these bonds. Celebrate your one-of-a-kind love for mom with one of these adorable mugs! She'll love sipping her morning coffee or afternoon tea from it, not to mention seeing your smiling face looking up at her.
12. Double Name Ring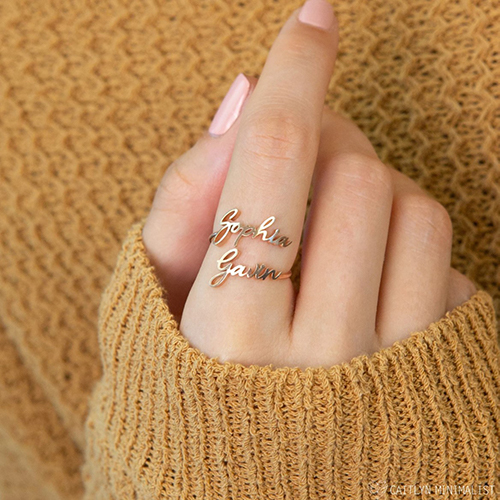 How gorgeous is this personalized name ring? Your mama will feel extra close to you whenever she slips it on, even if you're cities, states, or countries apart! Choose from sterling silver, gold, or rose gold as well as from two different fonts to personalize it. She'll want to cherish it and wear it every day.
13. Pressed Flowers Ornament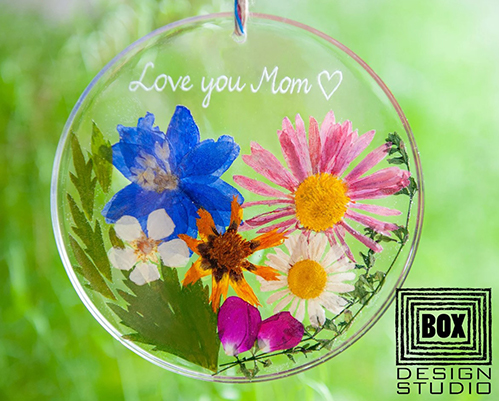 Small and delicate, but packed with a huge amount of sweet sentiment! These gorgeous, pressed flower ornaments are just the thing for your extra-special mama. Each piece is 100% unique, and can be engraved if you so wish. She can hang it in the window, from her rear view mirror… anywhere really.
14. Spa Gift Box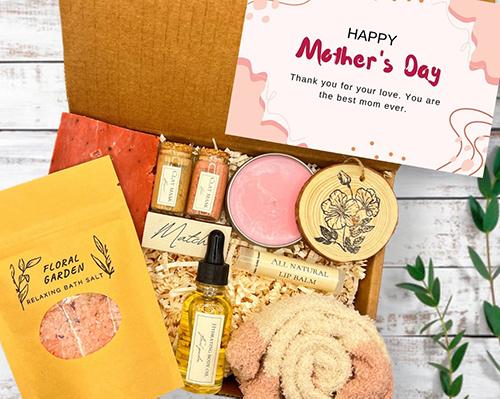 If there's anything she deserves, it's a bit of pampering. Okay, maybe more than a bit. She deserves a lot of pampering! This fantastic spa gift box is meant for just that. Treat her to a day at the spa without ever having to leave the comfort of home.
15. To My Mother With Love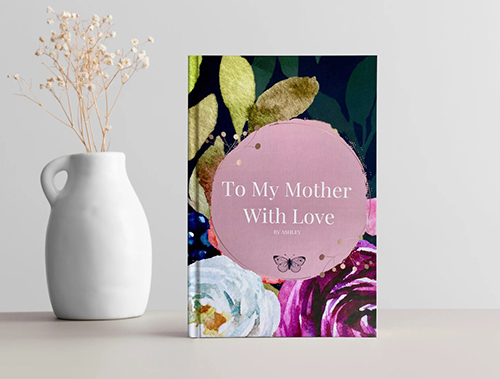 This personalized message journal is so, well, personal! Loaded with prompts for you to fill out with all of the reasons you love her, there are also places for you to write her letters or messages, Scriptures, poems and more. You can personalize the cover, too! This one is a no brainer.
Related: Best Mother's Day Gifts
Personalized Gifts for Mom from Son
16. I'll Alway be Your Little Boy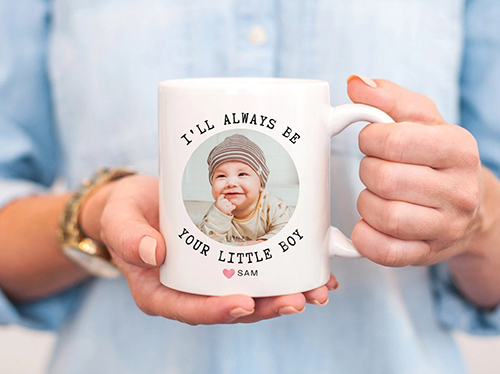 Little boys just have ways of wrapping their mamas around their little fingers… Now she can wrap hers around him, too, each and every morning as she sips her hot java. This precious, personalized mug will become an instant favorite, and the one she reaches for every day.
17. Favorite Child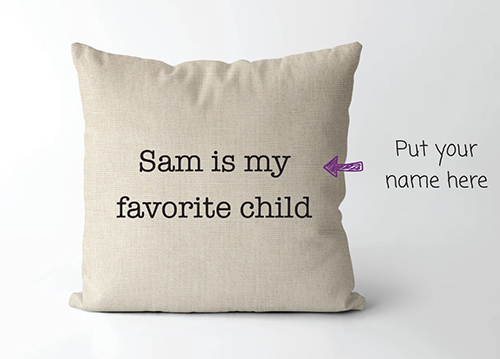 Listen, everyone knows mom doesn't play favorites… right? This cheeky pillow will bring a bright smile and a chuckle to her lips every time she sees it. You can choose the type of fabric and either one or two sided printing for this fun gift.
18. Message to Mom Keepsake Envelope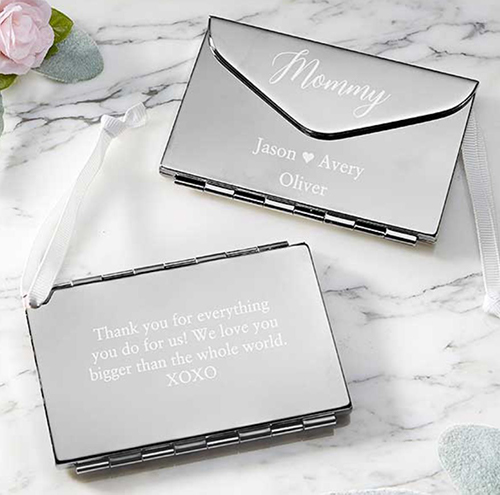 How sweet is this keepsake memory envelope? Made from polished, silver-plated steel, you can have it engraved with her name or a message of your choice. You could even write a little letter and delicately fold it inside before giving it to her. She'll cherish it for years to come.
19. Ring & Watch Stand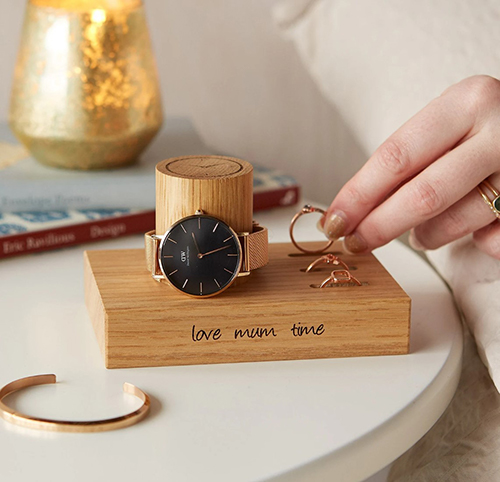 Mom will absolutely adore this neat and useful personalized Mother's Day gift! Keep all of her favorite rings and watches organized and easily accessible, all while reminding her of your love and appreciation. Have this great display engraved with a personal message of your choice, and watch her eyes light up with delight.
Related: Practical Mother's Day Gifts
20. Hand-Written LED Note
So unique and even more sentimental! This lovely little nightlight will make her ooh and ahh over your thoughtfulness (go you). Write out a touching letter to Mom thanking her for her love and devotion, and the artist will transform it into a glowing, LED display. Definitely one of our favorite picks for a personalized Mother's day gift.
Personalized Mother's Day Gift for Grandma
21. Engraved Handwritten Recipe Cutting Board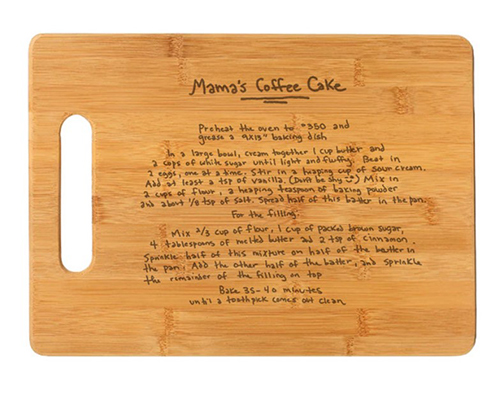 If there's one thing (or thousands) we love our Grandmas for, it's their mouth-watering, family recipes! Immortalize your favorite one with one of these fantastic cutting boards. Now she won't have to dig through that giant box of recipes just to make your favorite cookies when you visit (wink-wink).
22. Grandma's Garden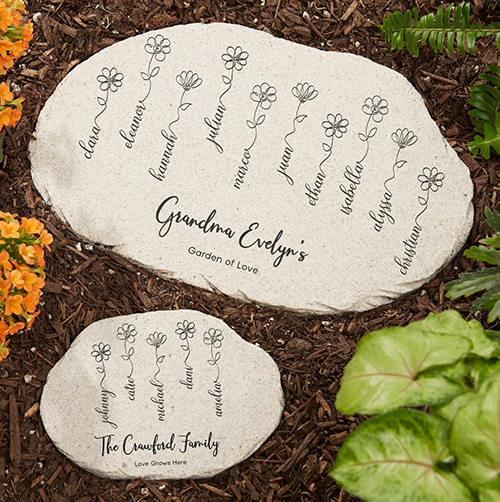 How are Grandmas super good at, like, everything?! When she's tending to that green thumb in the flower garden, you can remind her of all of her loving grandchildren with one of these pretty engraved garden stones. After all, she tends to you with the same gentle care with which she tends her roses.
23. Personalized Reasons Cuddle Wrap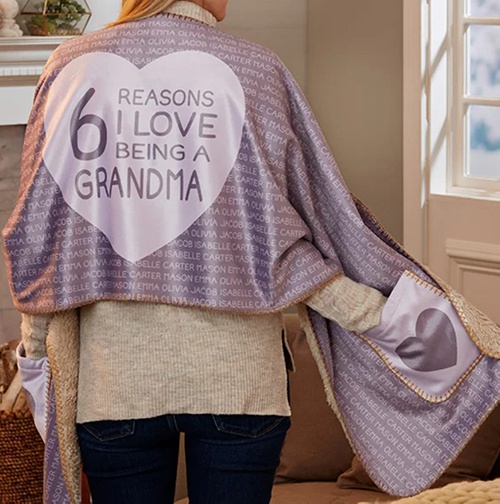 This cozy, sherpa lined wrap is everything she never knew she needed! Printed with the names and reasons she loves being a grandma, it's the perfect size for snuggling. And has deep, top-stitched pockets for all her essentials. Choose from eight great colors (and maybe more than one). She won't want to take it off.
24. Best Nanna Ever Tumbler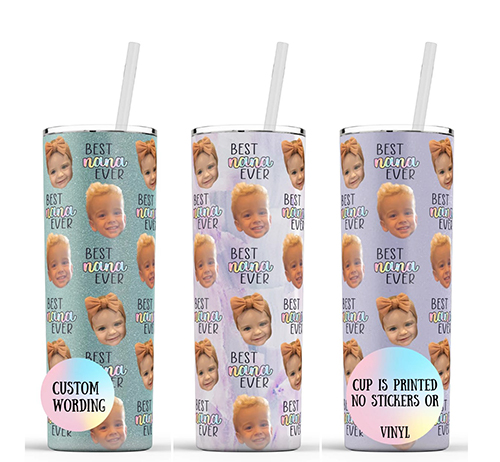 Because she is, after all, the absolute best out of all the Nanas out there. She'll appreciate having this fantastic, personalized tumbler for her afternoon tea or to stay hydrated throughout the day. There are tons of fun colors to choose from, and you can add all the kiddos faces to bring a smile to her own.
25. Vintage Bed & Breakfast Sign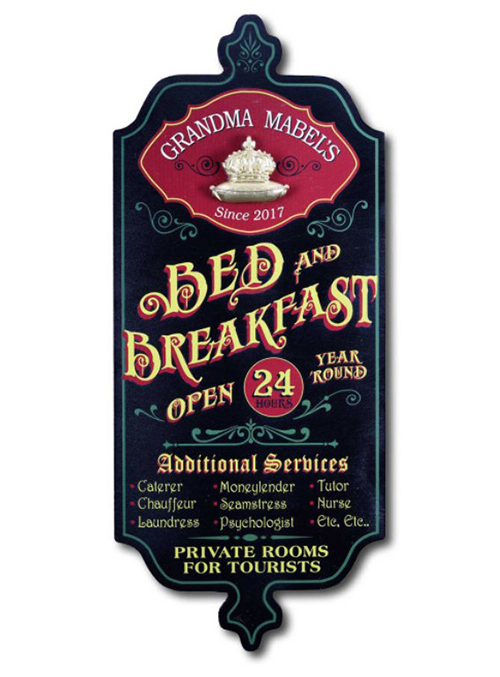 If this fun sign ain't the truth, we don't know what is! Grandma might as well just change her name legally to "Jack of all trades." She'll get a kick out of this vintage style bed and breakfast sign, and will probably hang it front and center on the porch or in her home.
Personalized Mother's Day Necklaces
26. Engraved Names Necklace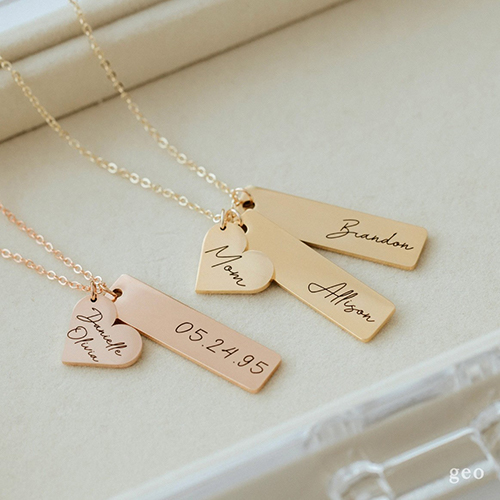 This gorgeous, personalized necklace is sure to become an instant classic in her collection. Beautifully engraved with her children's names and her own in a little heart, you can add up to six tags. And you can choose from silver, rose gold, or yellow gold!
Related: Mother's Day Gifts for Girlfriends
27. Floral Framed Birthstone Necklace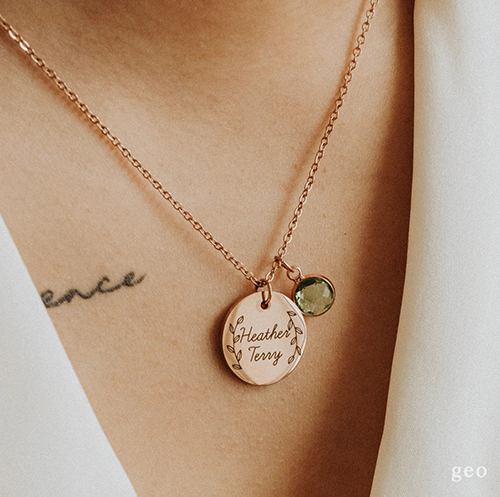 How pretty is this delicate 'Nana' necklace? Grandmother will be absolutely thrilled to be able to wear a reminder of each of her precious grandkids. And that floral engraving is just everything! Choose from three finishes, and add up to ten birthstone gems to make it 100% unique.
28. Floating Charms Engraved Locket
There's just something so special and classic about a locket, isn't there? Timeless meets sentimental in this beautiful, floating charms locket for mom or grandma.
The locket itself is plated in 18k rose gold, decorated with pretty rhinestone accents, then engraved with the names of her children or grandchildren. Just add the birthstone gems and you've got the most wonderful, personalized Mother's day gift she will cherish.
29. 14K Solid Gold Birthstone Necklace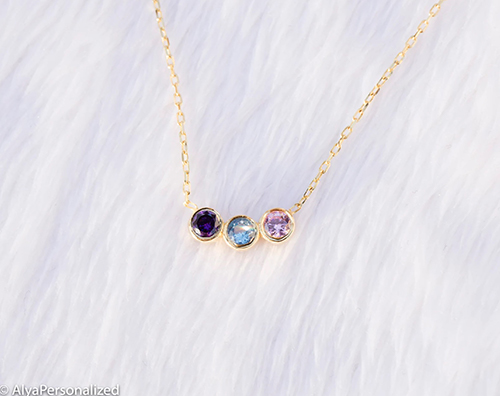 Her heart will melt at the sight of this gorgeous piece, we're sure of it! Stunningly elegant yet simple, it will make a perfect addition to all of her favorite outfits. From everyday outings to a night on the town, this has all her bases covered. Choose from three precious metals, then add you and your siblings' birthstones to make it personalized just for her.
30. All Heart Necklace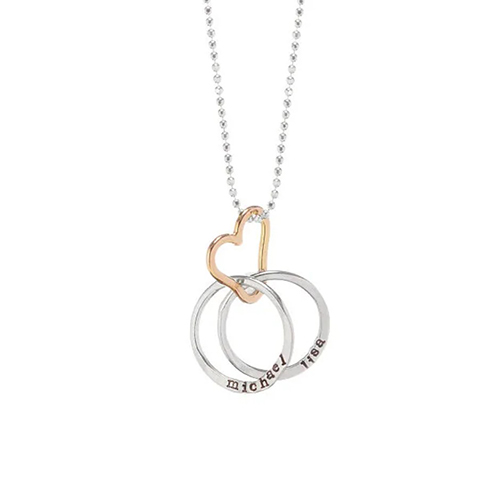 A pretty necklace for you and Mama to represent your love for one another. The sterling silver disks are stamped with your names then joined by a lovely, gold-filled heart. A little more on the casual side of our necklace options, she can wear this each and everyday without worrying about it being too dressy.
31. Minimalistic Tiny Initial Necklace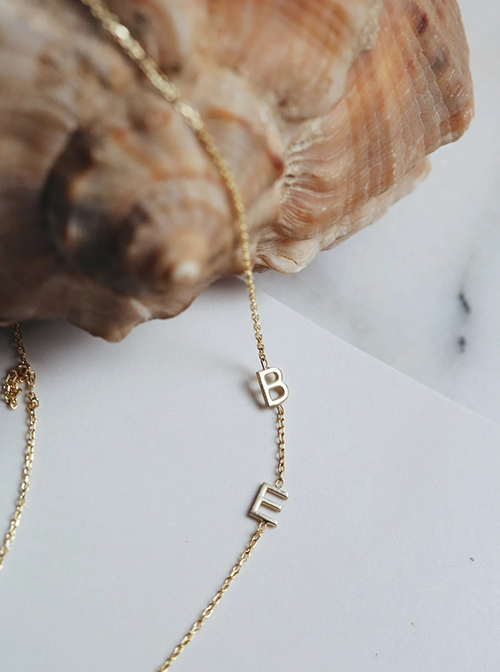 If she isn't much of a flashy jewelry person, then this dainty initial necklace is just the thing. So light and delicate she might even forget she has it on! Add up to ten initials to the pretty chain, and choose from multiple lengths and finishes to personalize it just for her.
32. Family Tree Necklace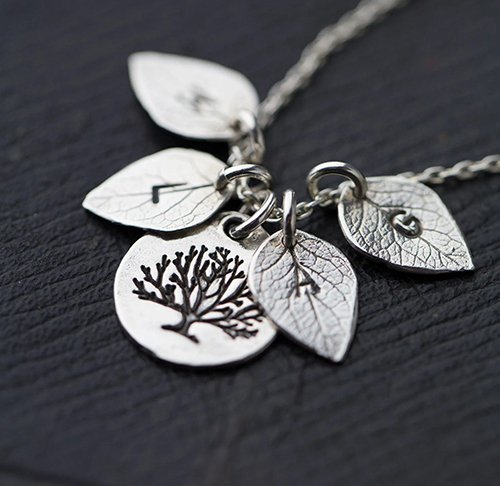 Now this is a personal favorite… I may just have to buy one for my Mama, too! This nature inspired family tree necklace is so unique, and makes a wonderful alternative to birthstone necklaces.
If your mother is more of a precious metals girl than a gemstone girl, this is a great option. You can add up to six leaves to her little family tree, and choose from several chain lengths to make it just right.
33. Photo Locket
It really doesn't get much more classic than this! If she is a sucker for all things pretty and traditional, then you've found your gift. Tuck a couple favorite photos of the two of you away in this classic heart locket, and she will be absolutely delighted. Choose from silver or gold and have it engraved for an extra special touch.
34. Birth Flower Necklace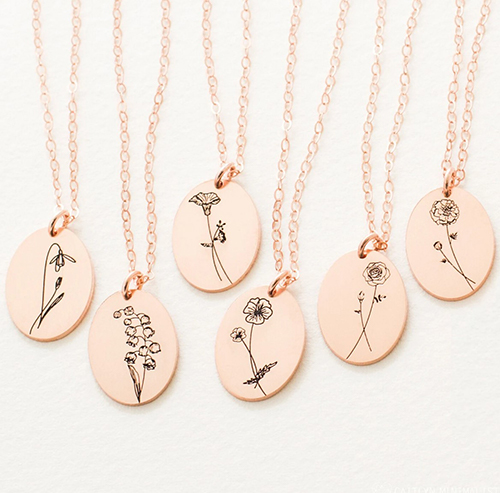 How adorable are these minimalist birth flower necklaces? Delicate and fashionable, they will make a perfect compliment to all her favorite outfits. Choose her birth flower (or maybe yours!) and her preferred finish, and you have an unforgettable, personalized Mother's Day gift she will cherish for years and years to come.
35. Engraved Names & Birthstones
'Sweet' is the word that comes to mind when we see this lovely necklace. Add up to five names and birthstones to this silver interlocking heart. The result? An extra personalized expression of your love for Mom. She'll be absolutely thrilled!
Personalized Mother's Day Garden Gifts
36. Best Mom Ever Bird Feeder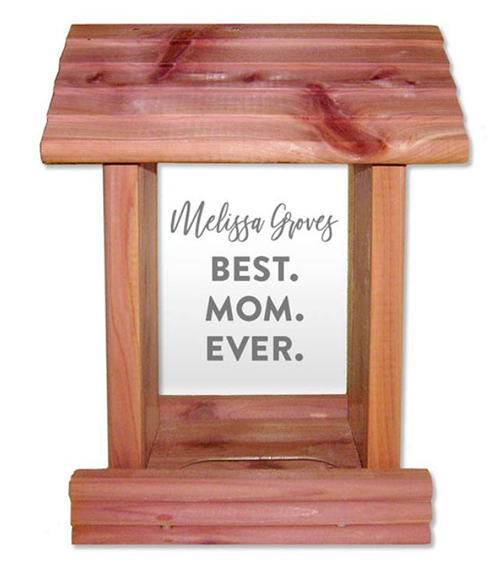 Because who doesn't love watching those adorable little birdies flit and tweet around the garden?! If said birdies are one of her daily delights, then this personalized feeder will be an instant hit. Lovingly crafted to last with ample room for large amounts of feed, we aren't sure who will be happier — her or the birds.
37. I Will Be in My Office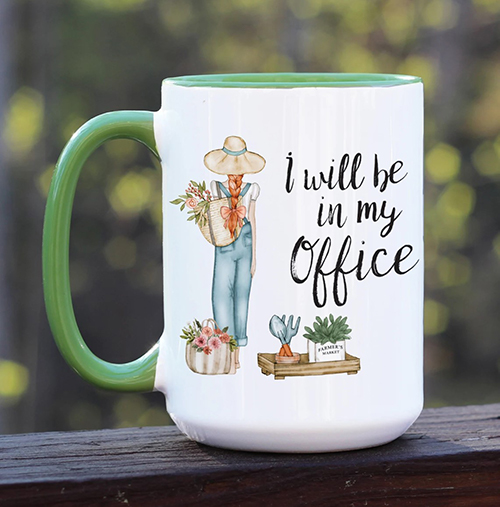 And what an office it is! We're going to go out on a limb here and assume she loves her tea or coffee almost as much as she loves her garden… Or maybe it's the other way around?
Either way, this adorable mug will quickly become a favorite that she reaches for each day. We love the cute illustration and its ample size.
38. Secret Garden Sign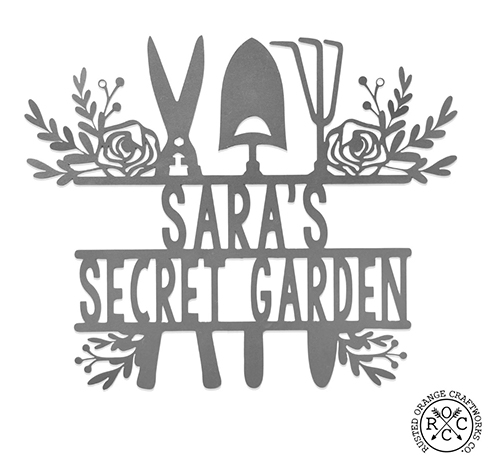 Some secrets are meant to be kept, but some are meant to be shared! Especially if they're as beautiful as we know her garden probably is. This sweet, personalized sign is just too precious for words. With a blend of elegant and cottage core styles, she'll love adding it as the finishing touch to her favorite spot.
39. Floral Garden Stones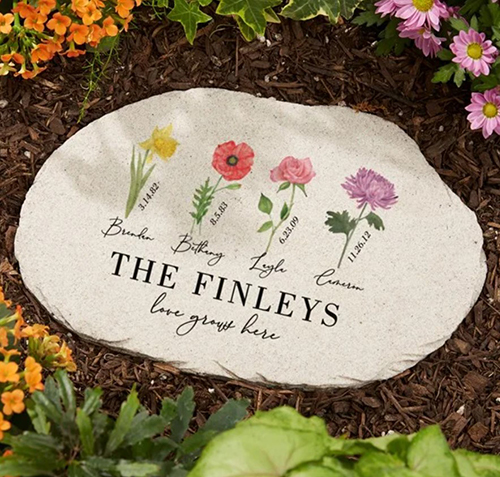 These fun and unique garden stones are just what she's always needed (even if she wasn't aware of it)! You can add the names, dates and birth flowers of all her children, along with the family name underneath. She'll be delighted with this personalized Mother's Day gift.
40. Photo Flower Pot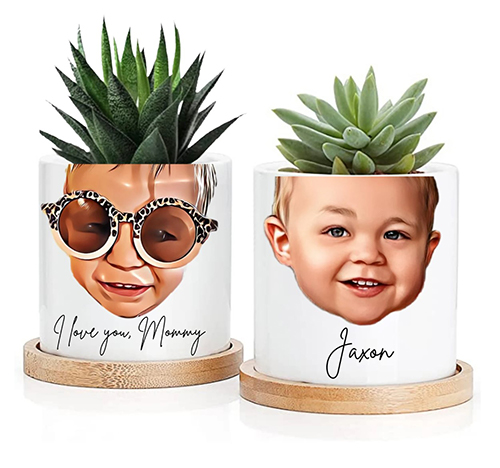 These are about as fun and personalized as it gets! She'll get a chuckle out of the cute planters, but also endless enjoyment out of the delicate plants that she chooses to fill them with.
Perfectly sized for cactus, air plants, small vine starts… The list goes on and on! And it's already equipped with a drainage hole, so she can get to planting as soon as she unwraps it.
Related: Best Gifts for Gardeners
Mother's Day Photo Gifts
41. Heart Snapshot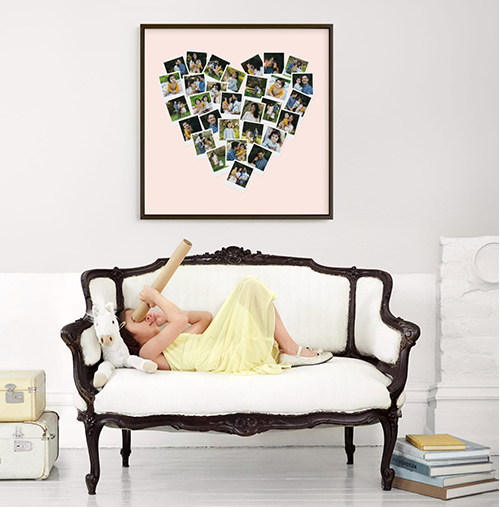 Talk about personal! Take up to 30 of her most favorite pictures and let the folks at minted turn them into a one-of-a-kind collage gift that will thrill her.
She'll be so grateful for such a thoughtful gift, and we can just about guarantee it will earn itself a place of honor on the family wall.
42. 3D Crystal Photo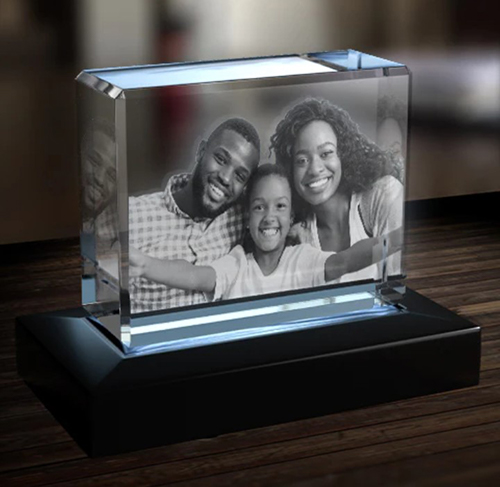 Turn a favorite photo of the two of you (or maybe the family) into a stunning 3D crystal display. These 3D renderings are extra elegant, and will make an excellent addition to her nightstand, the bookcase, or the coffee table. Add a lighted base for an even more brilliant display!
43. Photo Frame Music Jewelry Box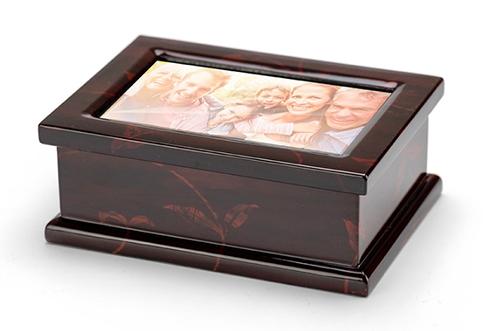 When technology meets classic design, we are so here for it. While this may look like your standard musical jewelry box, it is everything but. These neat boxes are equipped with a digital module, allowing you to upload as many as fifteen of her favorite songs!
Add a cute photo of the two of you to the top (which she can switch out at any time), and you have a timeless, personalized Mother's Day gift she'll adore.
44. Mini Heart Keepsakes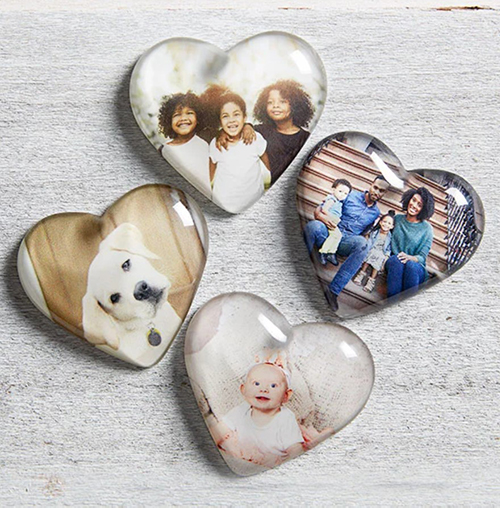 How precious is this mini keepsake heart? Too precious for words, we think! Have one of her favorite pictures placed inside and she'll absolutely adore it. Small enough to fit in her hand, but big enough to use for a paperweight or to display, it makes a wonderfully thoughtful gift.
45. First Mother's Day Glass Frame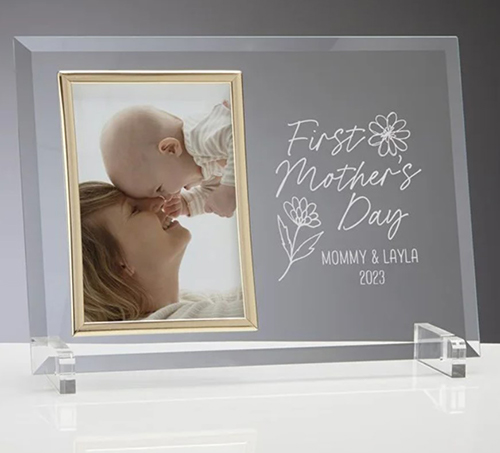 If your little Mama is new to the mama game, then this beautiful "First Mother's Day" frame is just the thing! Elegant and tender, you can have the pretty beveled glass engraved and personalized with her and baby's names to make it extra special. This is one keepsake she won't be parting with anytime soon.
Personalized Mother's Day Cards
46. Mother's Day Photo Card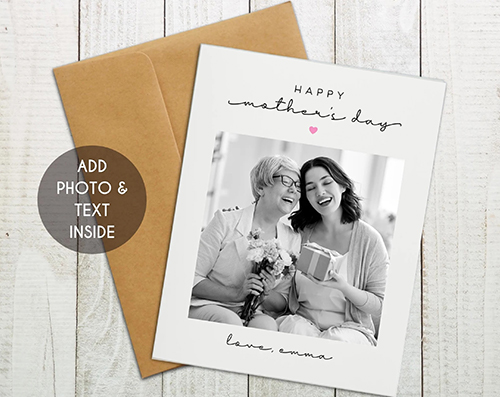 How lovely is this custom photo card? A card goes a long way to express your love and appreciation, and one that has been sweetly personalized just for her will go even further! She will be touched by such a loving gesture.
47. Awesome Genes Mother's Day Card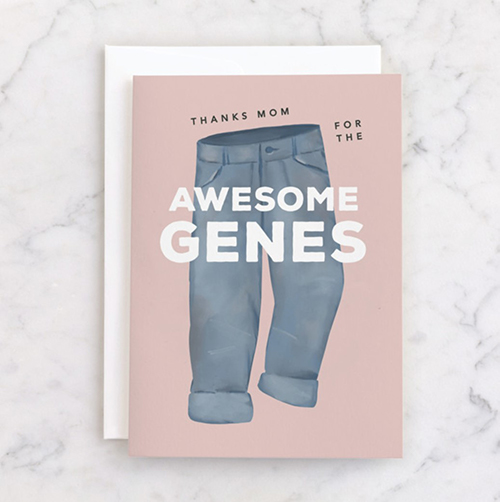 Mom humor is a thing, too, right? Appeal to her funny bone with this cute card! After all, it tells no lies — your best genes did come from her. Sorry, Dad.
48. If Mothers Were Flowers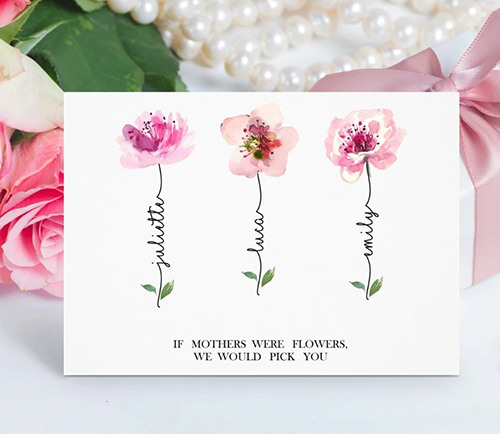 Sweetness overload! This custom Mother's Day card is just everything. From the delicate watercolor flowers to the beautiful calligraphy names, it's an instant win in our books.
49. DIY Pull Me Mother's Day Card
Do you remember spending hours as a kid carefully constructing a "masterpiece" for mom out of construction paper and glue sticks? No? Well, maybe it's time then. This fun DIY Mother's Day card will bring back memories for both of you, and touch her with your effort.
50. Pop-Up Floral Box Card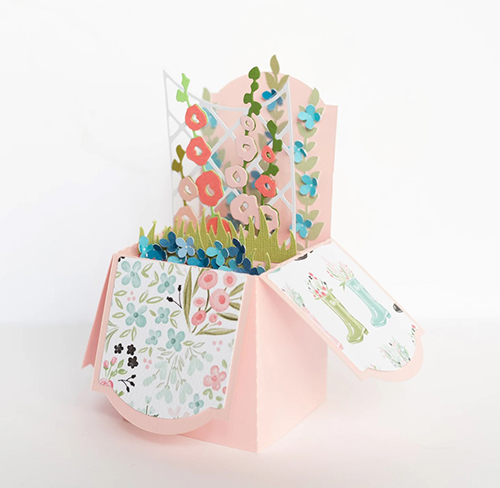 Few things can bring joy and excitement the way pop-up cards can. There's just something so endearing about them!
This wonderful example will enchant and delight her, and remind her of your love and appreciation. And once her day is over, it's pretty enough to keep on display.
51. 1st Mother's Day as Grandma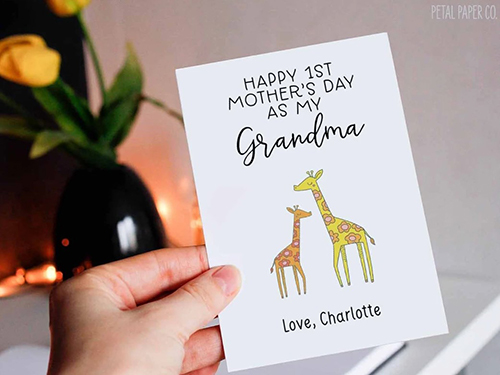 Don't forget about Grandma! Especially if this is her first Mother's Day as a Grandmother, she deserves a custom card to commemorate.
Have this darling greeting personalized just for her, and watch her face light up with love and delight.
52. We Love you to Pieces Card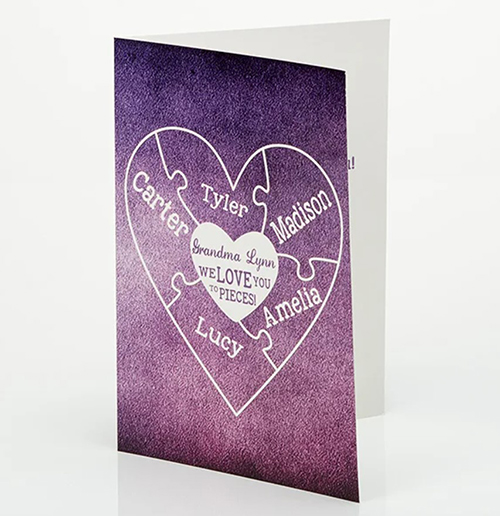 Great from the kids or grandkids, this darling "Love You to Pieces" card will go straight to the keepsake box once she's done displaying it! Choose from three fun colors and add up to eight names to make it just right.
53. Loving Her Personalized Photo Card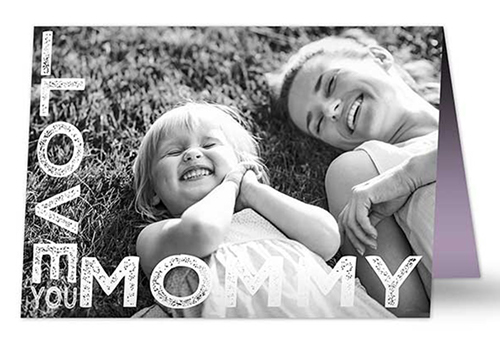 This one may bring tears to her eyes… Make sure to have some tissues close by. This touching card can be personalized with your favorite photo of the two of you, and is printed with a sentiment of your choosing.
Maybe the unique way you tell her you love her? A quirky nickname? So many options to choose from.
54. Mamaaaa Ooh Ooh Oohhh
"Mamaaaaaaaa! Ooh-ooh-oooooh!"… C'mon. We know you sang it in your head. And she will, too! This fun card is perfect for your music lovin' Mama, or any lady with a decent funny bone. We love the fun illustration, too.
55. Behind Every Great Kid Card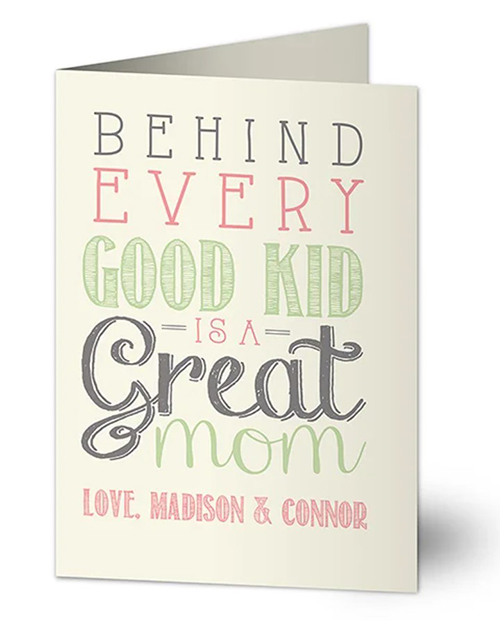 Ain't that the truth! This sweet, personalized card says it all, and is signed with you and your siblings names for an extra special touch. She won't be tossing this one anytime soon, we're sure.
Read Next: 8 Unique Mother's Day Gifts for Hard-to-Buy Moms