If you are looking for a personalized anniversary gift, look no further. What could be more personal than a framed art photo piece featuring you and your beloved?
These nine beautifully personalized photo anniversary gifts are from Minted, a fine art photo and print art house fueled by a bustling community of creatives. Nearly all of their designs are crowdsourced from independent artists, with the actual production quality maintaining an incredible standard of excellence for each and every framed art piece.
This means that your personalized anniversary gift – or any decorative art piece from Minted – will be a unique work of art of the very finest quality.
9 Beautifully Personalized Photo Anniversary Gifts
This sponsored post contains affiliate links and we will be compensated if you make a purchase after clicking on any of the links. Please see our full disclosure here.
1. Personalized Frosted Heart Snapshot Mix Frame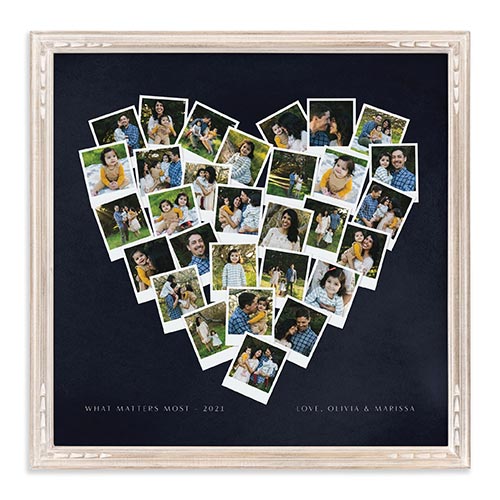 This anniversary photo frame is a one-of-a-kind personalized gift. The design surrounds thirty of your favorite photos. These images are artfully arranged and perfectly printed onto museum-quality cotton rag archival paper with archival pigment ink that results in a vibrant photo art piece.
Finished with your choice of frame from metal to reclaimed barnwood, this is a truly memorable personalized photo anniversary gift.
2. Personalized Photo Anniversary Quote Gift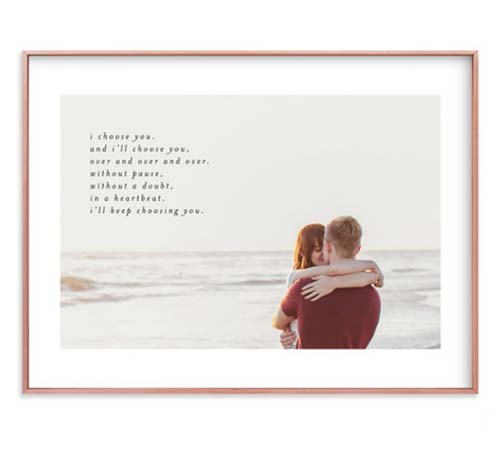 The quote on this Minimalist Quote Keepsake frame can be customized with any text you like. You can personalize it with your names and wedding date, a favorite Scripture verse, or any other meaningful quote that will be special for your anniversary. The design pictured above reads,
i choose you.
and i'll choose you,
over and over and over.
without pause,
without a doubt,
in a heartbeat.
i'll keep choosing you.
3. Love Letters Foil Pressed Photo Art Anniversary Gift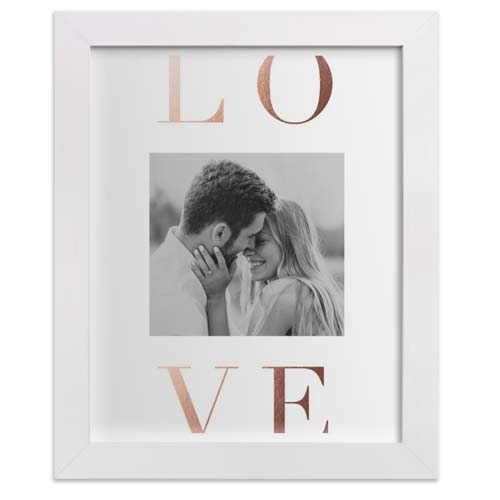 LOVE. In gold foil, contemporary style, with loads of white space surrounding your most cherished photo together. A bold, sophisticated, and treasured anniversary photo gift.
4. State Love Personalized Photo Anniversary Gift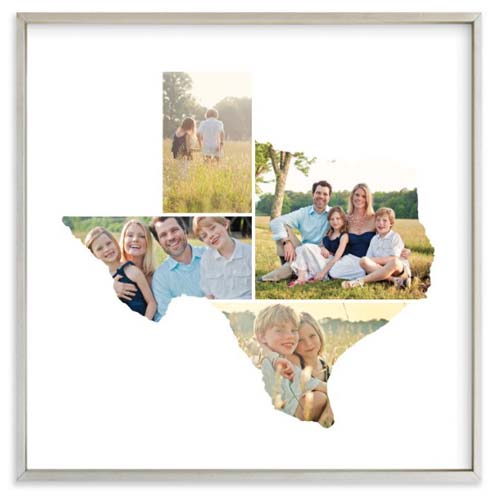 This creative personalized photo art print is the perfect showcase of your love for your family and your love for your home state.
Use your personalized photos to easily create the shape of the state of Texas (or any state, for that matter). The result is a beautiful and personalized anniversary gift that will leave your spouse speechless.
5. Wedding Moments Framed Collage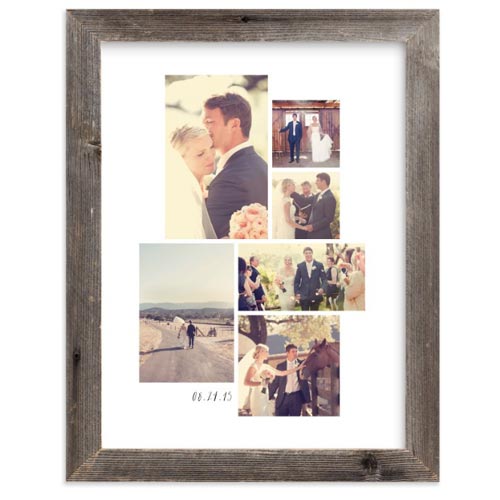 The only text on this wedding photo collage is your special date. This design features a pleasing combination of photos and white space, drawing attention to each image and leaving no doubt as to the significance of the date.
You may also enjoy: 101 Romantic Things to Do on Your Anniversary
6. Happy Family Photo Collection Anniversary Gift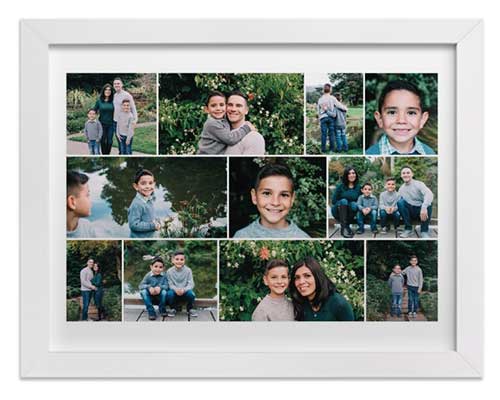 What better way to bless the love of your life than with a memory-saving framed collage of your favorite family photos. This beautiful collage can come in a wide variety of sizes and frames, and is easy to customize.
7. Love Line Photo Anniversary Gift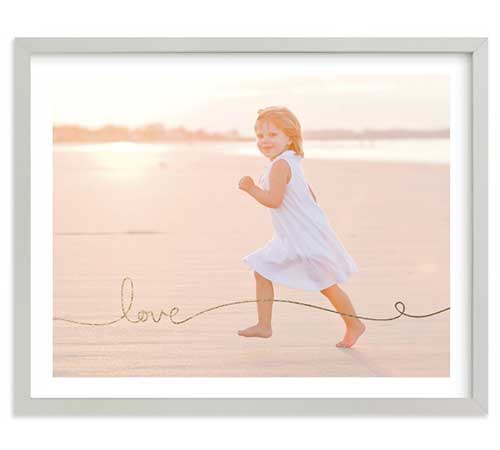 The "Love Line" art print has the L-word in a beautiful script across the front. Embossed with real gold, silver, or rose gold foil, the result will take your spouse's breath away when you present this heirloom anniversary photo gift.
8. Personalized Big Date Picture Frame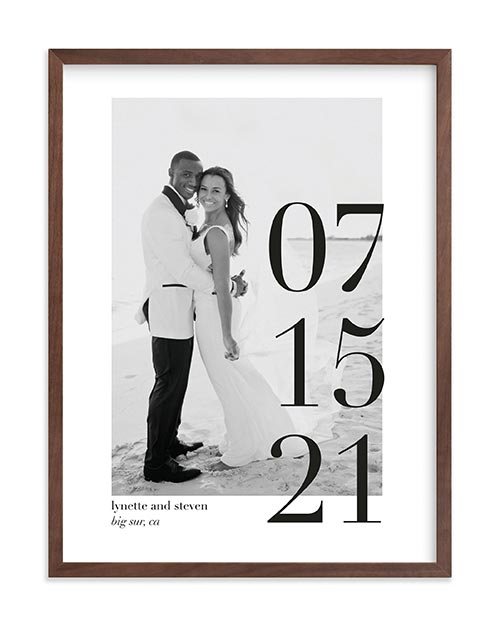 Your "big date" is meaningful – so treat it that way! Frame a favorite pic from your wedding in any size you like, with gorgeous molding, matted white space, and the numbers from your big day superimposed with an elegance that will make admirers out of every visitor to your home.
9. Love You to the Moon and Back Anniversary Gift Photo Art Collage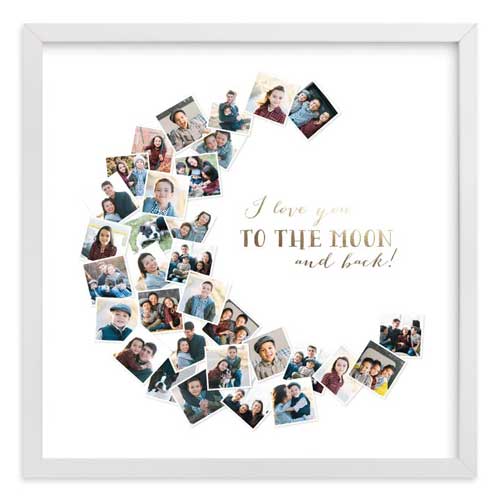 "I love you to the moon and back!" Printed in embossed gold foil, this photo collage is in the shape of a waxing moon and personalized with a bold splash of your favorite photos and memories over the years together.
Read Next- Gifts by Anniversary: Traditional & Modern Gift Ideas by Year