Maybe your pediatrician went above and beyond by saving your offspring's life. Or maybe they are simply a member of your family. Either way, it can really stump your noggin trying to come up with that perfect pediatrician gift!
After all, your pediatrician is way intelligent (and will see through a less-than-thoughtful gift), super busy (and won't have time to ever redeem that gift certificate for a mani/pedi), and may even seem like they have everything already.
When you're frantic over what to get them, we're here to help. Scroll down for 17 of the best pediatrician gifts we've ever seen!
Best Gifts for Pediatricians
Our website is supported by our users. We sometimes earn a commission when you click through the affiliate links on our website. See our privacy policy & disclosures for more information.
Pediatrician Profession Sign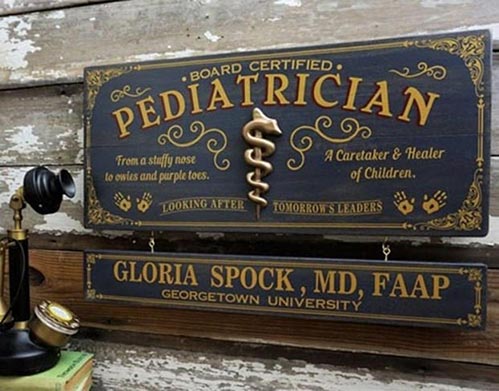 With its vintage feel, but timeless and modern appeal, this gorgeous pediatrician sign will really wow them.
Fully customizable with their own name, initials, and university, this will hold a place of honor no matter where they choose to display it: the office, the lobby, or even their living room!
Custom Bobblehead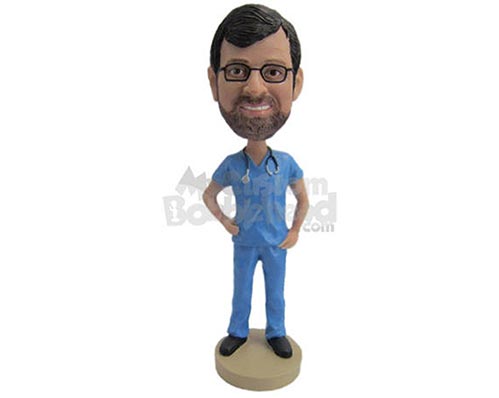 If there's something else out there that says "you made it!" we've yet to find it. This hilarious custom bobblehead will make them laugh and is sure to be their new favorite desk ornament.
Their coworkers are going to be awfully jealous of this one! So hang onto the purchasing info, because National Nurse Appreciation Week is coming up…
Personalized Pediatrician Ever Tumbler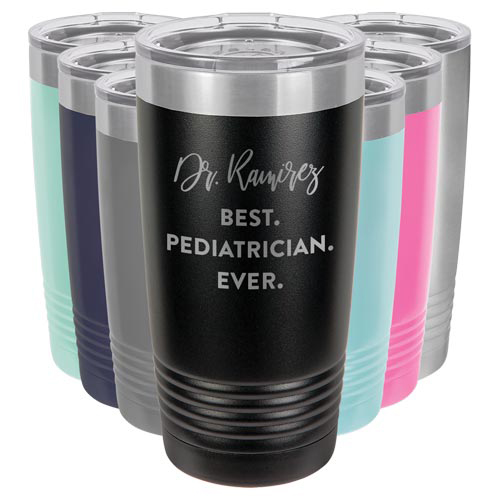 Give them the perfect combo of sweet, sentimental, AND practical, with this custom engraved tumbler! It's vacuum-sealed, comes in a variety of colors, and will keep their favorite beverage icy cold or steaming hot for hours and hours.
It's hard to stay hydrated when you are as busy as your pediatrician is, so help them out with this great gift.
Digital Photo Frame
Classy, chic, and easy on the eyes, this digital photo frame will look perfect in their office! It scrolls through all their favorite photos, and it's easy to add new ones anytime simply by emailing an image to the special email address.
With a sleek appearance, combined with curated photos specifically chosen to make them happy, this frame will enhance their work space and bring a bit of techy flair to their desk.
Funny Nutrition Ornament
Of course they would love this adorable and clever pendant ornament to adorn their Christmas tree, but they just may hang it from their rearview mirror in their car, or somewhere else where they can enjoy it all year long!
It's just too cute to only show off during December.
Pediatrician Graduation Gifts
Here's what to give when the student becomes the master – of pediatrics.
A Truly Amazing Pediatrician is Hard to Find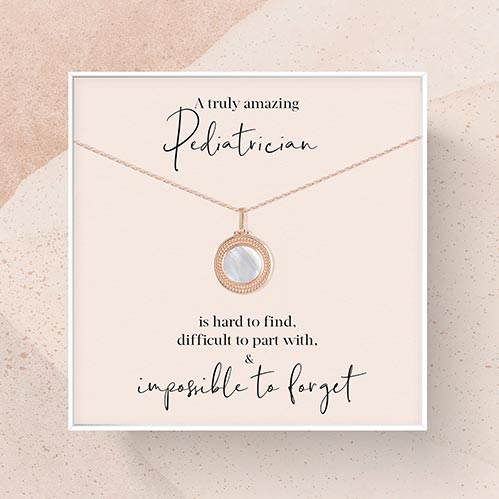 Perfect for the pediatrician who always accessorizes and dresses to kill heal, this pretty pendant necklace is sure to make her misty-eyed.
With its sweet sentiment and dainty chain, it will dress up her scrubs AND look amazing next time she has to wear that little black dress for a elegant work event or charity auction.
Funny "I Fix Boo Boos Professionally" Shirt
Look, we get it. We've had to spell pediatrician about a dozen times in this post alone, and the redlining is no joke (thanks, spellcheck)!
Make them laugh along with you with this clever and oh-so true t-shirt. It'll be their new favorite alternative to scrubs in no time.
Graduation Figurine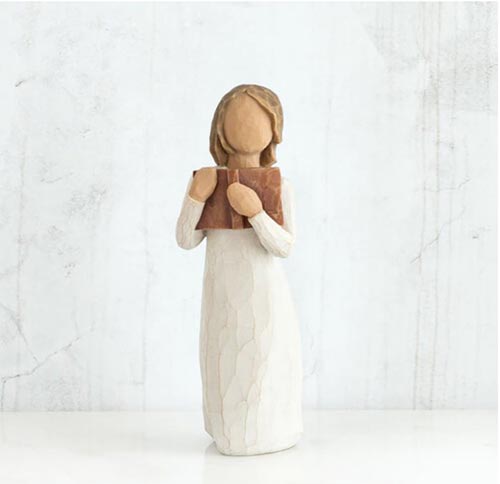 Every pediatrician needs to decorate their office and lobby, so why not help them in that endeavor with this charming and sweet figurine? The soft colors and gentle silhouette will look just right on her desk, bookcase, or shelf.
Related: 10 Awesome Nursing School Graduation Gifts
Gifts for the Pediatrician's Office
Every office is in need of some beautiful décor and other accents. These are the perfect pediatrician office gifts.
Spruce of the Office with Fresh Flowers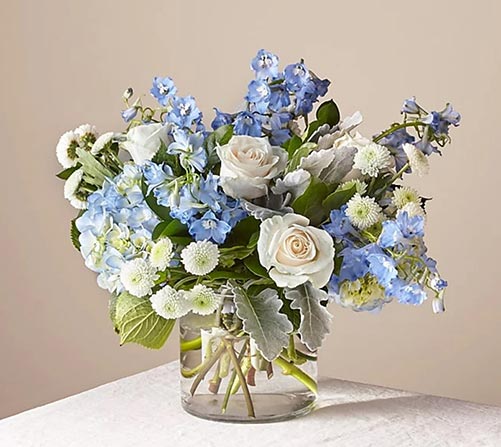 It's a scientific fact: fresh flowers make people bloom right alongside them. They fill the space with a tantalizing aroma, and brighten up the drab doctor's office or lobby.
Arrange them in a pretty vase and they'll have something to keep long after the blooms do.
Printable Artwork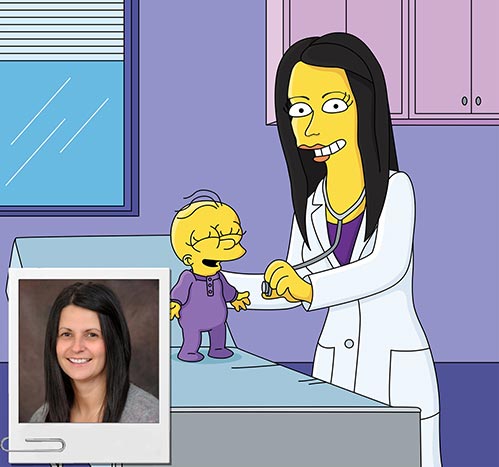 Designed after your very own pediatrician, this funny and adorable printable artwork is sure to make them laugh and proudly display it!
Who wouldn't want to be turned into a Simpson-esque portrait?!
Pacific Crest Sign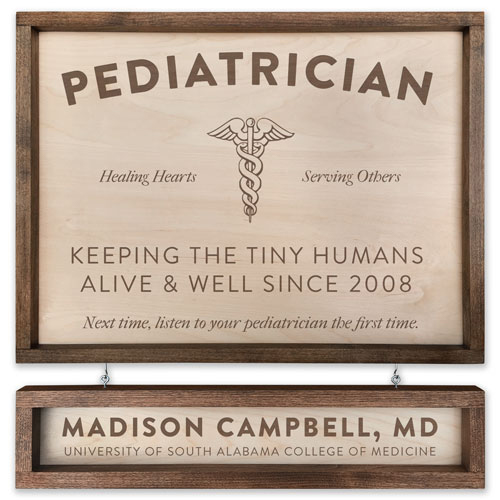 Customizable with your pediatrician's name, initials, and graduating college, this good-looking sign will make their jaw drop.
It's timeless and blends in perfectly with any décor, all while proudly displaying their accomplishments (along with a cheeky reminder to listen to them the first time next time).
Related: 21 Nurse Practitioner Gift Ideas
Pediatricians Retirement Gifts
You want to honor a retiring pediatrician with something meaningful and unique. Here are some stellar ideas.
By Touching So Many Lives…
They've earned their retirement and we think they've earned a nice little gift to go with! This pretty keepsake will warm their hearts and make them realize just how much you mean to them (and to all their patient's families).
Personalized "Retired!" Bird Feeder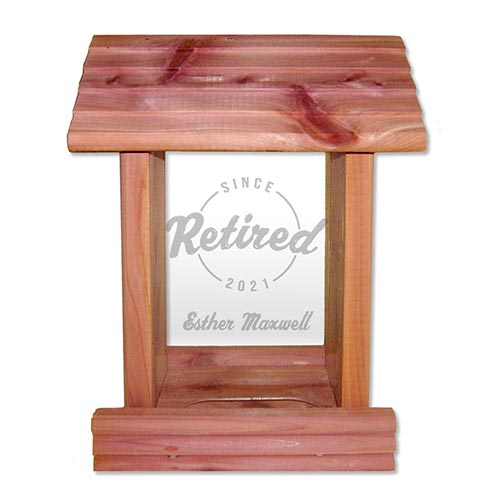 It's finally time for them to relax! Let them do so on a back porch, with a cup of coffee, a sunrise, and some cheerfully singing birds. To that end, give them this wonderful and personalized bird feeder.
Made of cedar, it will last for years to come and bring plenty of joy (and birdseed) to their back yard or porch.
Retirement Vacation!!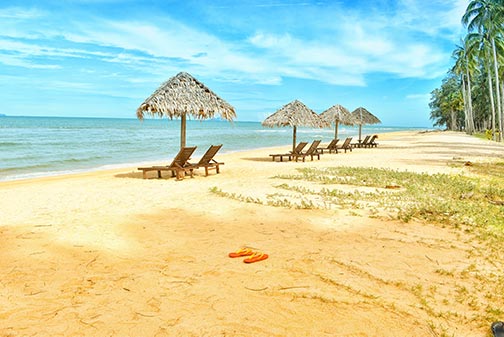 If they've been too busy working for the last twenty years or so to ever take a vacation, now's the time to remedy that!
Giving them the gift of a luxurious or exotic getaway is just the ticket, and you'll love getting all their selfies from their dream vacation.
Here's how it works:
You purchase a gift package, which is basically a gift card for the experience of their choice
Prices range from (give or take) under a hundred bucks up to about $300
They redeem for whatever adventure they choose, which could be rock climbing at a nearby gym, a wine tour within easy road trip distance or snorkeling in Hawaii/Mexico/Florida Keys (they'd just need to get themselves there)
More Retirement Gift Ideas: 13 Best Retirement Gifts for Doctors
Best Thank You Gifts for Pediatricians
Here are some great ways to say thanks.
Appreciation Care Package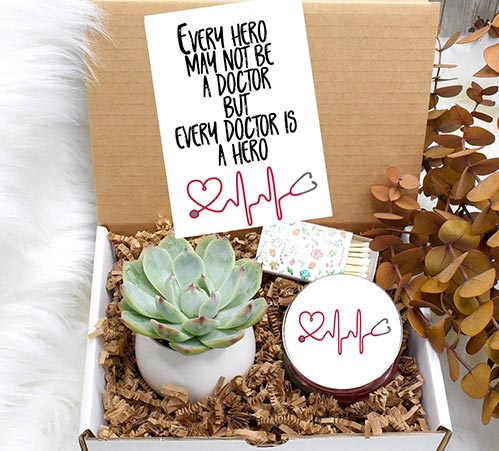 Carefully and lovingly put together, this sweet gift basket has just what they need after a long shift.
They've been taking care of all of their patients, now it's time for you to take care of them! They'll love each and every handpicked surprise in this adorable box!
Chocolate Medical Kit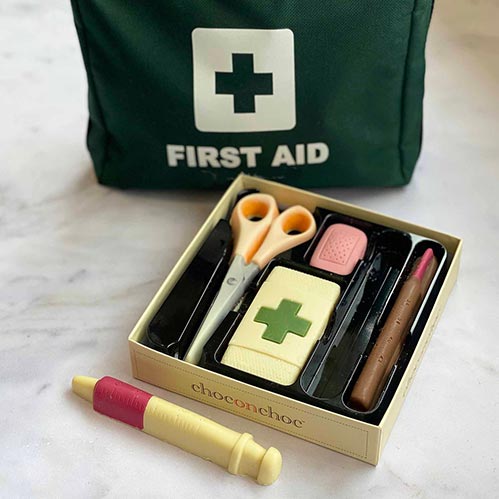 Whoever said laughter is the best medicine clearly forgot about chocolate! This clever and delicious medical kit will be oohed and ahhed over, and is almost too pretty to eat… well, almost. Nibble, nibble.
Related: 21 Thank You Gifts for Doctors to Show Your Appreciation
Personalized Thank-You Candles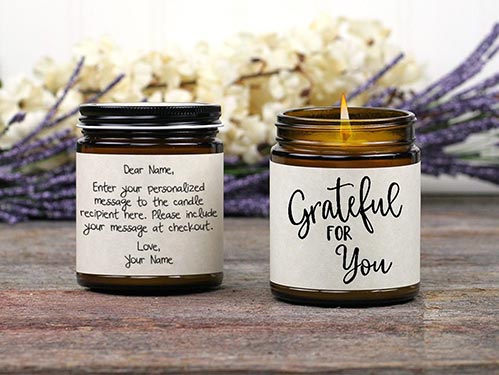 How neat is this fully personalized candle? They will be flabbergasted at this yummy smelling candle, and may tear up reading your heartfelt message on the label.
Whether you go sweetly sentimental, or silly and full of jokes or puns, this candle is definitely the way to go when gift giving!
Read Next: 10 Gifts for Doctors That Have Everything
Pin It