A nursing school graduate has put in untold hours of work, sweat, labor, and undoubtedly a few tears. To reward their labor of love, some stunning nursing school graduation gifts are in order.
But what to choose?
Choosing The Right Gift
There are plenty of options. You could go with the old standby of a gift card or cash tucked inside a graduation card. Or you can find tons of cute nurse mugs, funny and quotable t-shirts, or handy nurse gear.
You could go to the other extreme and go all-out with a vacation trip, pay off their entire student debt, or a new car. If you can afford to go big, do it!
But for most of us in the real world, we want to honor the effort the graduate put in to their certification without (on the one hand) breaking the bank or (on the other hand) giving some cheap trinket.
We like nursing school graduation gifts that hit that sweet spot in between. Not too hot, not too cold, but just right.
10 Nursing School Graduation Gifts
Not to worry, we have some great graduation gifts in mind for you. These are unique and creative gifts that will be used and appreciated for years to come.
The price range is right, too – from top-tiers gifts at around $150 down to some quality affordable gifts in the $30-ish range, we've got you covered.
Let's take a look at ten great nursing school graduation gifts.
Our website is supported by our users. We sometimes earn a commission when you click through the affiliate links on our website. See our privacy policy & disclosures for more information.
1. Personalized Walnut Memory Box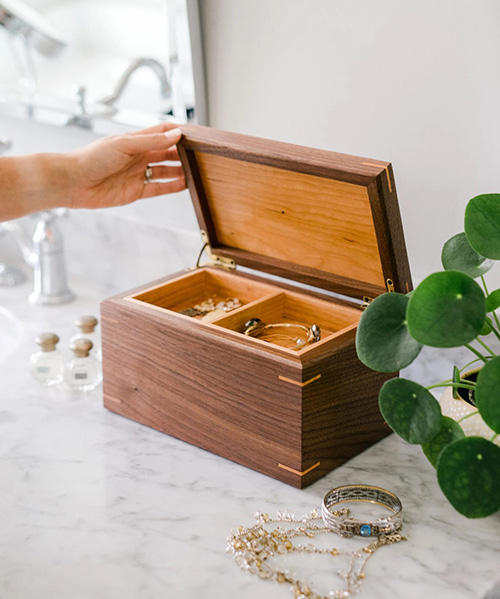 Craftsmanship and natural beauty are at the forefront with this stunning, Walnut and Cherry wood memory box. Meticulously crafted with the utmost care, this gorgeous keepsake is available with several variations, and can be engraved with an image of your choice.
This is one memorable gift that will stay with them for years, and maybe even generations.
2. Personalized Tumbler Mug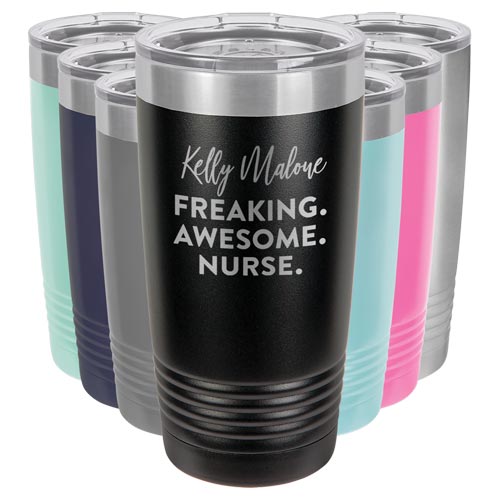 Since medical professionals are always on the go, what better way to let your nursing school graduate know that they have truly arrived than with their own custom engraved tumbler!
These mugs are vacuum sealed and double walled to ensure that drinks stay hot (or cold) for… like, ever. Custom engraving is included, with bulk rates for multiples, even with each one personalized.
Whether you're getting just one or many, this is a great gift. Includes the name of your choice plus the phrase of your choice.
Some popular phrases we can engrave:
BEST. NURSE. EVER.
FREAKING. AWESOME. NURSE.
COFFEE, SCRUBS, AND RUBBER GLOVES
R.N. SINCE [YEAR]
3. Vintage Medical Professional Plaque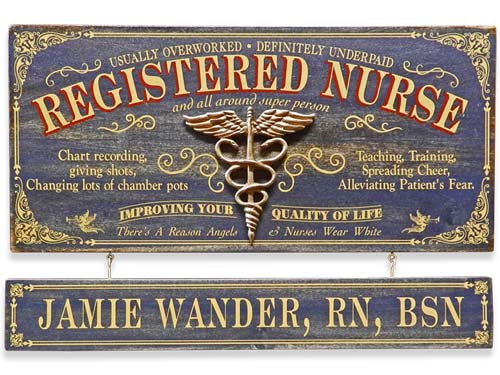 These vintage office signs have been a huge hit as medical school graduation gifts. For nurses, specifically, there are designs for nurse, nurse practitioner, registered nurse, and nurse anesthetist.
And wine connoisseur. Just sayin'.
We also offer a variety of themes for other medical professions, including anesthesiologist, cardiologist, emergency medical services, health care professional, and many more.
These are gorgeous vintage-style wooden plaques, made in the USA to order for your nursing school graduate, and personalized with a hanging name board. Check them out here.
The top board can't be changed, but you can personalize up to two lines of text on the hanging name plank. Plus, if that's not enough space, just add more name boards – you can line up as many as you like!
If you don't see the exact right theme in the vintage style, you may want to consider the next nursing school graduation gift idea, which can be personalized in any way you like, for literally any profession….
4. Custom Engraved Nurse Plaque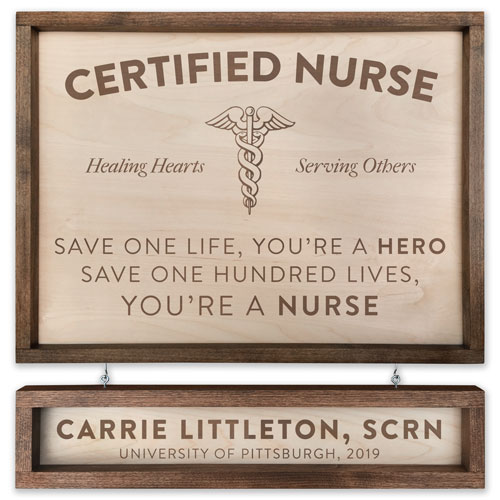 This gorgeous wood sign is custom made in the USA from solid wood and includes any personalization you like. That includes the specific profession – you can do Certified Nurse as shown or anything else (Registered Nurse, Nurse Midwife, Neonatal Nurse, etc).
Choose just the top portion or add the hanging name board to commemorate multiple certifications.
We handcraft these in-house in our Oregon wood shop, then engrave each plaque to order for you. You can personalize any text on the sign, so it's easy to make this a uniquely perfect gift for the graduating nurse.
Related: Best Gifts for Every Midwife
5. Stethoscope
The Littman Classic Stethoscope is the gold standard among medical professionals. It's an instrument they will use all the time, so you want to make sure they get the best.
Plus it comes in all sorts of gorgeous colors, like the "Caribbean Blue" pictured above! If you're looking for practical gifts for nurses, a Littman stethoscope is the way to go.
6. Coffee Maker
Here is another practical idea. A coffee maker is the perfect nursing school graduation gift for the newly certified nurse embarking on a fresh adventure (aka, a crazy work schedule).
Pictured above we have the "Elite" Kurig single-serve pod coffee maker. Not only does this version come in gorgeous colors like the "brushed gold" you see here, it can make hot or iced drinks in a variety of sizes plus strong brew options and hot water on demand (perfect for a healthy oatmeal breakfast).
Other options for a coffee maker graduation gift include:
7. Smoothie Blender
If you're trying to come up with a thoughtful graduation gift, think about what the nurse might need or use most in the next stage of their career. How about a personal size "bullet" blender, for quick, healthy smoothies on the go!
This mini blender is really affordably priced, and comes with a 700-watt blender, two 16oz blending cups with travel lids, and is totally dishwasher safe. The blender is plenty powerful, able to crush through ice and frozen fruit for a delicious breakfast that will travel well.
For the perfect gift pair, their smoothies will travel even better in a personalized travel tumbler like one of these!
8. Flowers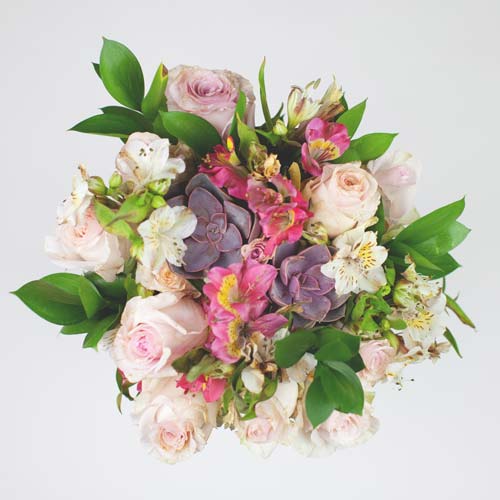 You can pick up flowers just about anywhere, or go for something fun like a monthly flower delivery subscription from The Bouqs.
I like The Bouqs because, first of all, the flowers are gorgeous. That's a photo of the ones I actually received from them, and they were great.
More than that, they have a "farm-to-table" setup where they only cut the flowers when you order them (so there is minimal waste) and only use farms that are certified as sustainable. Their farms also recycle water runoff and avoid the use of red label chemicals.
All this, and their prices are good too! I compared their prices to similar FTD bouquets, and it was about the same. So why not surprise your graduate with a gift that lasts for 3 or 6 months, or even a year?
Click here to get 15% off your first order, or read my full review and unboxing here.
9. Personalized Nurse Necklace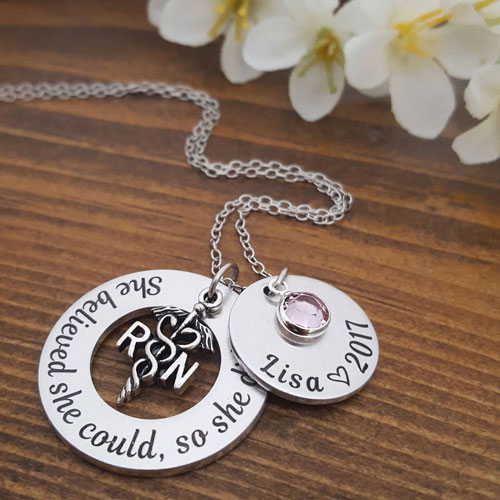 "She believed she could, so she did." What a perfect sentiment for the graduating nurse!
This cute necklace comes on your choice of chain and includes personalization of name and year, plus birthstone.
The artist pairs a quote disc and nurse charm with the staff of Hermes medical symbol. The result is lovely and whimsical gift that the graduate will treasure always!
10. Nurse's Clipboard
This handy clipboard is an affordable gift that comes in several sizes and colors. The clipboard is designed to hold standard legal pads and spiral notebooks and boasts tough and durable construction.
Not only will the newly certified nurse use it often, but it is also the perfect gift to fill with bonus items like cash or gift cards.
Or just give clipboard as-is for an affordable nursing school graduation gift idea!
Related: 101 Graduation Wishes to Write in a Congratulations Card
More Popular Nursing School Graduation Gifts
Self-Care Gift Basket
Who doesn't like to melt into a couch (or luxuriate in a hot bath) with some delicious treats after a long day of triage? Here are some stellar ideas for a self-care graduation gift basket:
Wine
Nurses love wine. It's not a stereotype, it's just a fact of life. Get the nursing school graduate a nice bottle of wine and maybe some personalized wine glasses.
Personalized Bottle Opener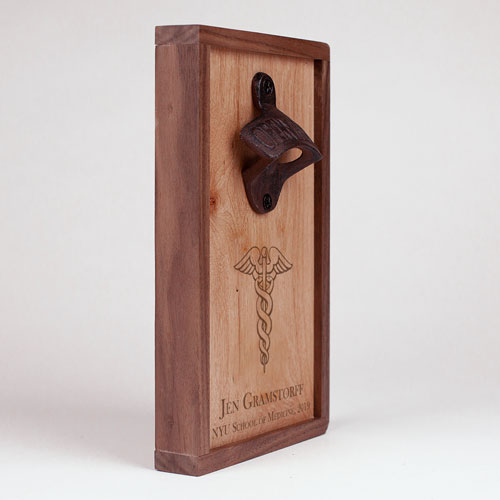 Or maybe the nurse in your life is more into craft beer. Get them this handcrafted and personalized bottle opener along with a choice six-pack and you have the perfect nursing school graduation gift.
Even More Nursing School Graduation Gifts
Already we've encountered some of the best-ever nursing school graduation gifts. If you still need a wider selection, try out these guides and gift ideas:
Read Next: 50 Most Hilariously Funny Graduation Gifts