Are you on the hunt for some unique, thoughtful, and practical Nurses Week gift ideas? Nurse Week is that special time of year when we place a spotlight on all of the care, dedication, and life-saving work nurses carry out each and every day.
Life is a splendid gift – there is nothing small about it.

Florence Nightingale
So you happen to have a special nurse in your life to whom you want to show your utmost gratitude. You want to give your nurse something that they can really use and admire at the same time. Something that is sure to bring a smile to their face whenever they see it!
21 Nurses Week Gift Ideas
Well, you've come to the right place! We have compiled a list of twenty-one Nurses Week gift ideas that are sure to do just that.
Below, we've picked out a little something for everyone, from comfy active wear shoes to a relaxing adult coloring book. No matter which gift (or gifts!) you end up going with, we hope that it's just the right gesture to show your nurse just how much they mean to you.
So let's take a look at these awesome Nurses Week gift ideas!
Our website is supported by our users. We sometimes earn a commission when you click through the affiliate links on our website. See our privacy policy & disclosures for more information.
1. Custom Engraved Tumbler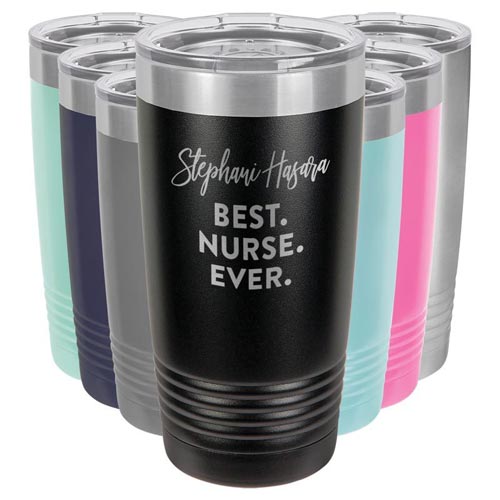 Any nurse who likes to start out his or her day with a piping cup o' joe, or even an iced drink, is sure to enjoy this high-quality personalized Nurse's Week tumbler from Northwest Gifts. We are able to custom engrave any of our Polar Camel tumblers. That includes the name, logo or design. And we have several colors to choose from as well!
All of our tumblers are vacuum-sealed and also double-walled. This means that your nurse's drink will be staying hot or chilled for hours on end.
Bulk discount rates are available so you can get tumblers for the entire floor or staff. And it still counts even if each item is individually personalized!
2. Personalized Heart Shaped Keepsake Box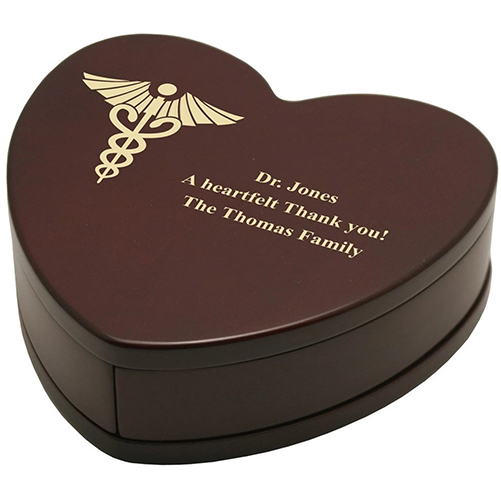 If you are searching for more of a keepsake gift for your nurse, look no further than this one-of-a-kind personalized wooden keepsake box.
Crafted from beautiful, quality rosewood right here in the USA, this keepsake box is also customizable with a sweet message from you.
3. Eucalyptus BathTime Muscle Soak
There is nothing like a nice, warm bath to sink into after a long day at work. For the nurse, this may be true ten times over.
If you know a nurse who enjoys taking long, hot baths just as much as the next person, consider gifting them this bathtime muscle soak. This particular soak is infused with soothing eucalyptus and peppermint, is made from a base of high-grade Epsom salt, and also has added vitamin C crystals.
4. Cute ID/Badge Holder
A good nurse knows exactly how to put his or her patients at ease, no matter the situation. This is an especially necessary ability to have when it comes to pediatric nursing. Whether it's a cute pair of scrubs or a sweet little accessory, children are put at ease when they see a smiling face.
This adorable bandage-themed ID or badge holder will do the trick! Patients will be able to focus on the little red heart or winking smiley face looking back at them…making any procedure that much easier to get through.
5. Syringe Watercolor Pens
Coming in at number 5 on our list of Nurses Week gift ideas are these unexpected pens! No one likes to get a shot, but don't worry – if you see your nurse whip out one of these, it's not what it looks like!
These cute watercolor pens come 36 to a set, and are sure to bring a (suspicious) smile across the faces of your nurse's unsuspecting patients.
6. Stethoscope Charm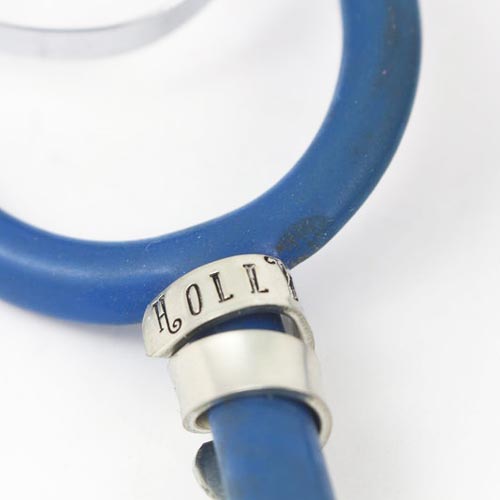 For the nurse who would like something a little more on the subtle side, this stethoscope charm would make the perfect gift. It gently wraps around the neck of their stethoscope, marking it as theirs and also serving an aesthetic purpose.
This handcrafted pewter charm is customizable and can be stamped with any icon, name, or date up to 15 characters.
Related: Nurse Anesthetist Gift Guide
7. Custom Vintage Nurse Plaque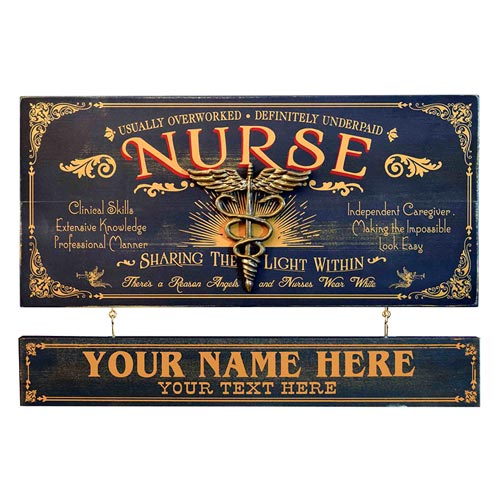 Looking for a Nurses Week gift idea that offers a little something more for the wonderful nurse in your life? Then look no further than this stunning vintage nurse plaque from A Simpler Time. An old-timey, hand-distressed piece, it's the perfect addition to a home office, or to serve as a thoughtful graduation or retirement gift.
Our plaques are made of solid wood, and we are able to add and customize a bottom name plank. The sign also showcases a classical-style relief carving of the Caduceus symbol.
8. Nurse's Personalized Retirement Print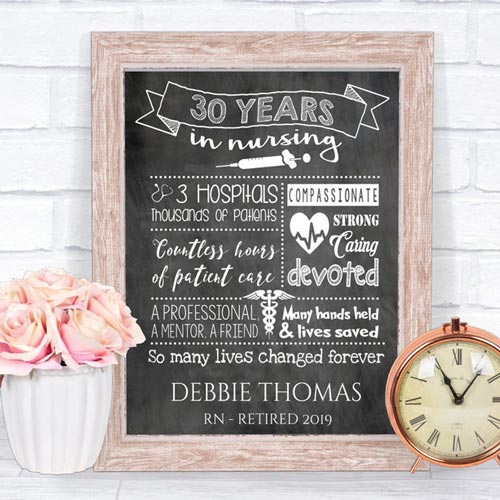 Maybe your favorite nurse is about to retire after putting in years and years of dedication! A nurse's retirement deserves a very special gift, and we've found just the keepsake.
This gorgeous digital print from Etsy can be custom-ordered to highlight all your nurse's years of commitment, the year they are retiring, and even the number of locations they've worked at over the years.
The best part about it is that you don't have to wait for it to be shipped! As soon as the artist personalizes it for you, it's ready to be downloaded, printed and framed straight from your home office.
9. Water Bottle With Reminders
If there's one thing everyone knows about nurses, it's that they are always on the go! Many of these hard-working professionals barely have time to go to the bathroom, or even eat throughout the work day, let alone drink enough water. That's why a little encouragement can go a long way!
This fun water bottle can provide your nurse with that encouragement in the form of measurements! It does measure water intake traditionally (with ounces), but also includes motivational quips, such as "Drink more!" "NO EXCUSES" and "Almost there."
The bottle comes in several different colors, two different sizes, is BPA free and also dishwasher safe.
10. Encouraging Journal Nurses Week Gift Idea
Speaking of encouragement, take a look at this pretty "You Got This" journal. It's widely accepted by experts everywhere that writing in a journal can help you to process the day's events and relieve any built-up stress. And how true this can be for a nurse.
Nurses have very stressful jobs. They are often underappreciated by patients and doctors alike. They work long hours, double shifts, and are on their feet all day. Sometimes, an ear to listen may be all a nurse needs after a long, hard day on the job. Even if that "ear" is just a journal in which to release all those thoughts and emotions.
This particular journal is available in six different soft-tone colors, and contains 256 lined pages. The binding allows for the open pages to lie flat, and a ribbon bookmark is also sewn in.
11. ON Cloud Shoes
When it comes to Nurses Week gift ideas, sometimes its best to think outside of the box! As mentioned above, we all know that nurses are constantly on their feet. What better gift then than a quality pair of brand new active wear shoes?
FYI: This brand is one the most recommended for nurses!
12. Personalized Bamboo Cutting Board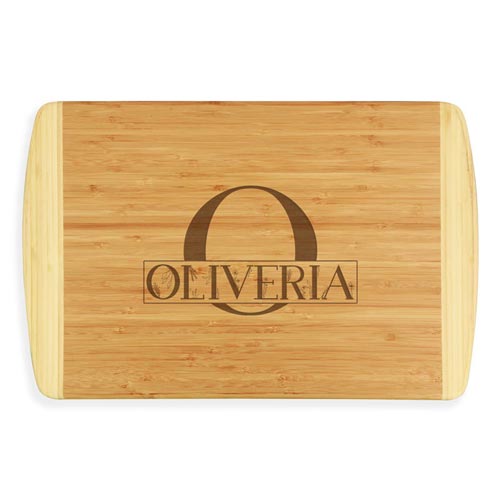 For a timeless, personalized Nurses Week gift that also will not break the bank, take a look at this beautiful bamboo cutting board.
We will take your nurse's family name and engrave it over a larger initial engraving. If you look closely at the image above, you'll see that we also engrave a delicate floral design into the name.
This cutting board is a spacious 18″ by 12″ and is crafted with two contrasting tones of strong bamboo wood. Other personalized cutting board designs are available here.
13. Cherokee Infinity Scrubs
From one the top recommended brands known for it's comfort, antimicrobial fabric, and long lasting material, comes these great scrubs. Flattering, durable and, most importantly, comfy these will be her new favorites. Hands down.
Six pretty versions of medical-standard colors make these scrubs suitable for even the strictest hospital codes.
14. Nurse Affirmations Frosted Cup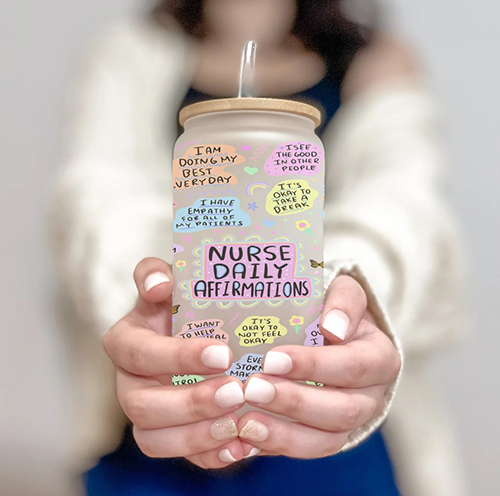 Nursing is not only physically taxing, but also mentally! Help keep your nursing friend's happiness levels high with this thoughtful nurse daily affirmations cup.
Comes in frosted glass with a bamboo lid. They'll love reading the sweet affirmations and keeping this at work.
15. Personalized School Nurse's Sign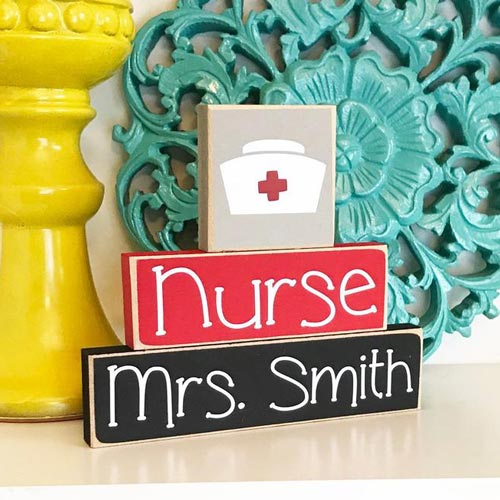 School nurses don't get a lot of recognition, but they are vital to the well-being of our most precious blessings. So why not consider this sweet Nurses Week gift for someone special in your school district!
Show your gratitude to the school nurse by giving him or her this handmade wooden sign. Have it personalized, so that anyone who enters their office knows whose good hands they are in.
16. Nurse's Adult Coloring Book
Coloring isn't just for kids! Adult coloring books continue to be a popular way for grown-ups to unwind and relax after a long day. Such books have been shown to help reduce stress and anxiety, and also help to get the creative juices flowing.
This hilarious nurse-themed coloring book can serve as either a thoughtful gesture or as a gag gift for that special nurse on your mind.
17. Custom Nurse Sweatshirt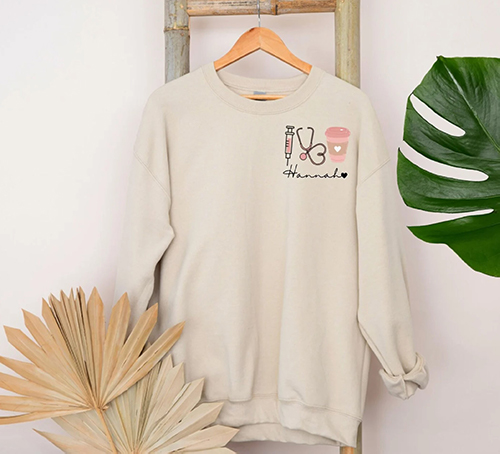 Do you know someone who's about to graduate from nursing school? Then bravo to them! They've managed to get it all done in a short amount of time- and that is no easy feat!
Show your nursing school "survivor" just how proud of them you are with this cute nurse sweatshirt from Etsy.
Related: 10 Awesome Nursing School Graduation Gifts
18. Custom Engraved Bird Feeder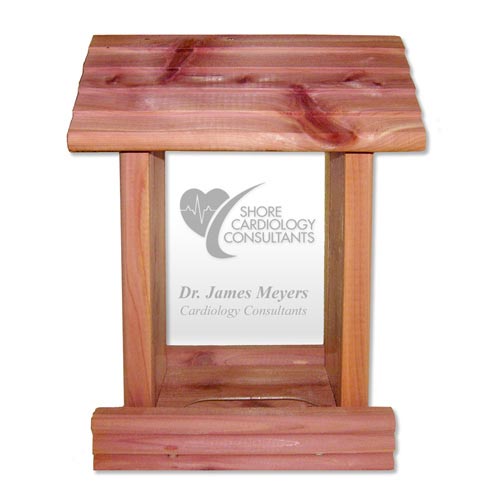 Another thoughtful gift idea brought to you from Northwest Gifts is this beautiful custom engraved bird feeder. Constructed from solid cedar wood, this sturdy bird feeder is made to endure the outdoor elements for years to come. The front and back panels of this bird feeder are made of acrylic, and can be engraved with any symbol, logo or text that you'd like.
Imagine seeing your nurse friend's face light up when they see that you got them this! This bird feeder would make a wonderful promotion, retirement, or even graduation gift.
19. Chill Pill Earrings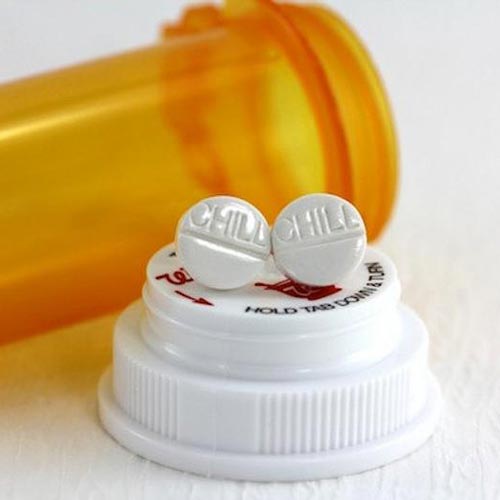 Looking for a funny gag gift for your nursing friend? Then how about these adorable "chill pill" earrings! These do not have to be just a gag gift, of course…they would make a fun graduation gift for the recent nursing school survivor, too!
The earrings are handmade from polymer clay with stainless steel stud posts. Each pair comes with soft plastic backings for secure all-day wear.
20. Firenze Fruit Gift Basket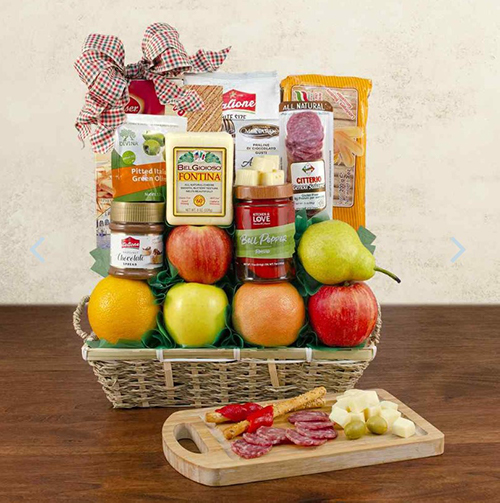 Nurses are so busy taking care of others that it can be difficult for them to find enough time in the day to take care of their own basic needs. This gift basket is filled to the brim with a variety of healthy snack foods, just waiting to be welcomed with open arms by your favorite nurse.
Give them this gift basket and they can also share with other nurses on their shift. A nutritious treat for everyone at the nurses' station!
21. My Quotable Patients Journal
The last gift featured on our list would also make a good nursing school graduation gift. But it's also a good "just because" gift.
Nurses hear a lot from all the different patients they care for throughout the years. Some things they hear are not always nice, some things are delightful, and some things are downright hilarious. But one thing's for sure: everything they hear is memorable.
In the future, your nurse friend will be able to look back through this journal and relive all the most memorable quotes from his or her patients…and either crack a smile or shed a tear.
Related: 21 Nurse Practitioner Gift Ideas
---
That's it for our list of 21 Nurses Week Gift Ideas! Thank you for reading, and we hope you were able to find some great gift-giving ideas for the special nurse in your life. (Speaking of "thanks," for more gift ideas check out our Thank You Gift Guide.)
For even more fun and unique gift ideas, head on over to Northwest Gifts. We have many more products for you browse through, not only for nurses but for anyone special in your life.