Let your man know how much you appreciate and love him by giving or sending him a military boyfriend gift. Defending our country is stressful and demanding work – he deserves a little something special!
Remind him of your feelings with a thoughtful gift. We have compiled a list of distinctive items for you to choose from. You are sure to find a just the right thing to let him know you are supporting him.
Best Military Boyfriend Gifts
Our website is supported by our users. We sometimes earn a commission when you click through the affiliate links on our website. See our privacy policy & disclosures for more information.
1. Personalized Pocket Knife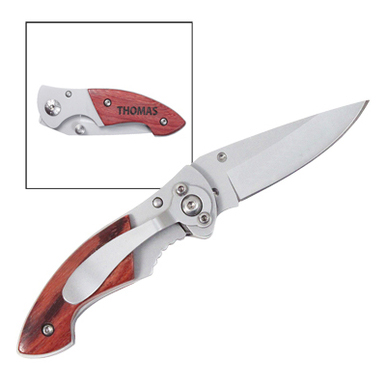 Your military man is always going to require a durable knife! Our pocket knives are made of the finest quality stainless steel for a sharp, clean blade. You can personalize the rosewood handle with words of love and encouragement?
He will be reminded of you every time he uses this knife! It won't matter how many miles separate you; he will carry your love with him.
2. Glass Decanter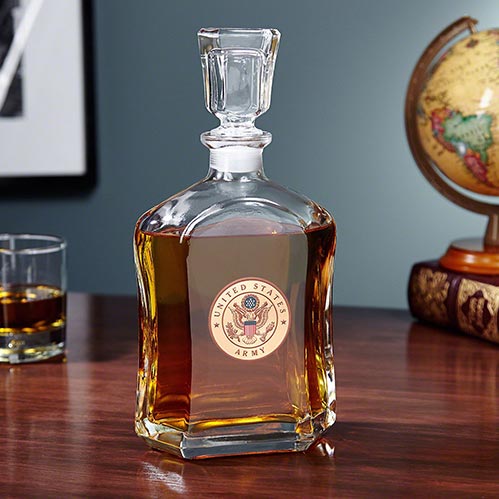 A classic gift for the officer in your life to proudly display the seal of The United States Army. Fill this decanter with his favorite spirits and say "thank you" for a job well done.
Skilled artisans handcraft this flawless keepsake. Measuring 10.75″ tall and 5″ wide, it'll fit beautifully on any desk. To take this military boyfriend gift to the next level, personalize a set of Glencairn Whiskey Glasses to go along with it.
3. Ultra-Thin Wallet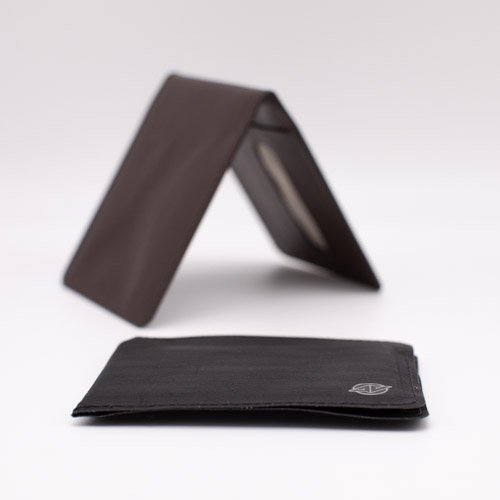 This wallet is called the "world's thinnest" for a reason. It can hold up to 8 credit cards with cash and still maintain its thin profile.
Proudly made in the USA with RFID protection. This Airo Collective Stealth Wallet was crafted to last.
No more uncomfortable, bulky wallets for your man!
Related: 21 Practical Gifts for Men
4. Personalized Watch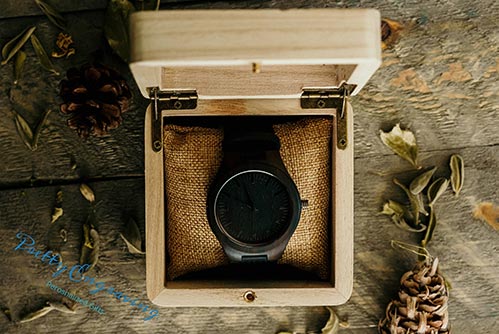 Hand-crafted from wood and genuine leather, this worthy watch will send your soldier off with a token of your love. Engrave the back of this watch with a personal message to let him know that time and miles have no power over your love.
Don't forget to engrave the unique gift box!
5. Vacation Before He Leaves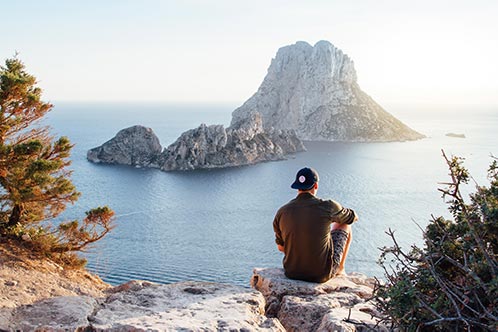 Why not plan that much-needed break? Take your man off on a whirlwind adventure that he will never forget. You can plan on a quiet weekend together or adrenaline-fueled time! The options are pretty much endless ?
This getaway could be a taste of what is in store for him when he returns safely from his deployment.
Here's how it works:
You purchase a gift package, which is essentially a gift card for the experience of their choice
Prices range from (give or take) under a hundred bucks up to about $300
They redeem for whatever adventure they choose, which could be rock climbing at a nearby gym, a wine tour within easy road trip distance or snorkeling in Hawaii/Mexico/Florida Keys (they'd just need to get themselves there)
Related: 10 Best Military Deployment Gifts
6. Army Tumbler
Who doesn't want to keep their drinks at the right temperature? Everyone can appreciate a stainless steel tumbler. This patriotic-themed tumbler is a thoughtful gift for your enlisted loved one!
You can choose from two sizes for this durable army mug. Your loved one will thank you every time they take a sip of a cold drink out in the heat. They will feel grateful on those chilly mornings as they enjoy a hot cup of coffee served up in this tumbler.
For fully-customizable options, see here.
Related: Proudly Patriotic Gifts
7. Plant a Tree in Their Honor ?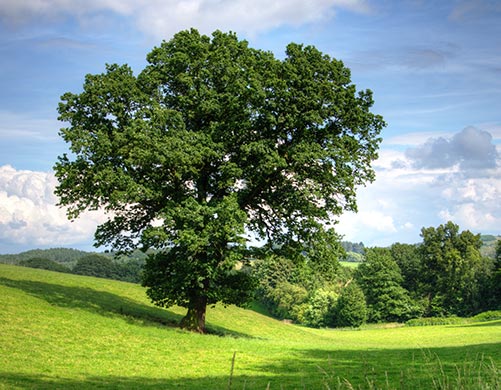 It truly is an honor to serve our country, let him know how much you appreciate him by planting a tree in his name!
Here is how it works- You purchase the tree for your brave military boyfriend then the US National Forestry will plant his tree in a forest that has been devastated by fire. So awesome and easy!
The US National Forestry will post all the information about where the tree is located online. This way, the two of you can even use a map to find it and plan a trip to visit it! This is a spectacular way to give back to our forests and our country.
8. Wall Clock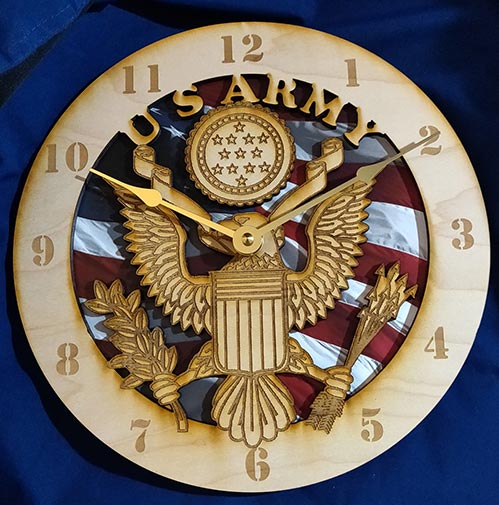 This US Army maple wood clock is a perfect gift that will decorate your boyfriend's living room or office with the symbol of what he dedicates his life towards.
These 10″ clocks are laser etched and can be designed for other branches of the military. Just check out their Etsy site! Patriotic beyond words and the perfect gift for your soldier.
Made in America.
9. Replica Swords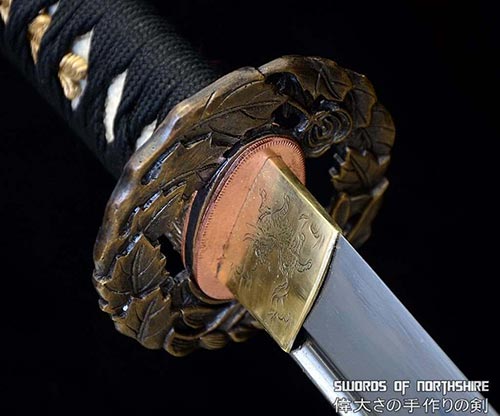 Give your man something he's always wanted. A fully functional and battle-ready sword ⚔️
These high-quality replicas are custom-made by hand and highly detailed. You can pick between any blade material, length, and sharpness!
You may have a hard time deciding which sword to choose; there is such a large selection! Come back again and again for that unexpected gift.
Related: 21 Quirky & Unusual Gifts for Men
10. Rare Beer Club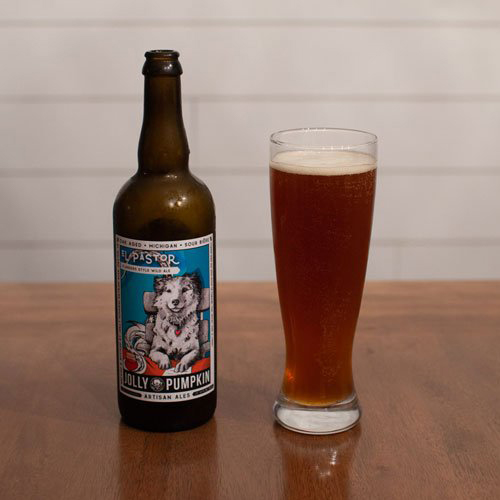 A thoughtful gift for that beer connoisseur in your life. The Rare Beer Club will give your special someone a beer delivery every month!
These brews are chosen on a 5 point quality proven scale and they are sending out only the best!
Customizable ordering for your convenience and a 100% money-back guarantee so you can purchase with confidence. All you have to do is sit back and enjoy ?
Check out our review!
Bonus Idea: Write a Letter to Your Military Boyfriend (Here Are Some Ideas)
Best Gift Ideas by Branch
Army Boyfriend Gifts: Shadow Box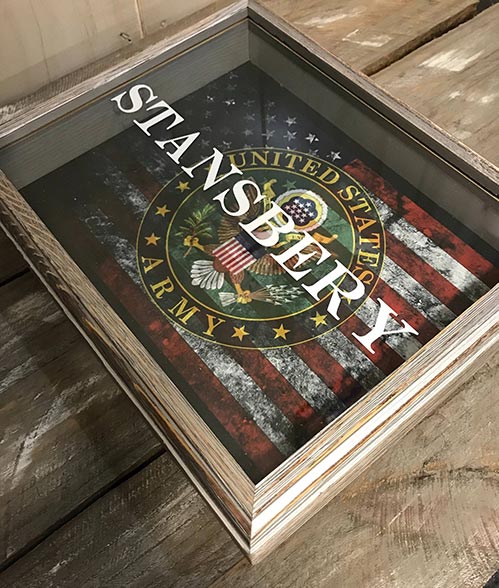 With the ability to engrave your boyfriend's last name and show off his most prized army possessions, this personalized shadow box is the perfect gift for your US Army soldier!
Not only does it display the United States Army Seal and US Flag, this box also has padding behind the graphics for an easy pinning experience. It is definitely a unique way to show off his medals and other cherished paraphernalia!
You have three sizes to choose from and, with all the boxes being made from rustic wood, not one will be the same!
Marine Boyfriend Gifts: Bottle Opener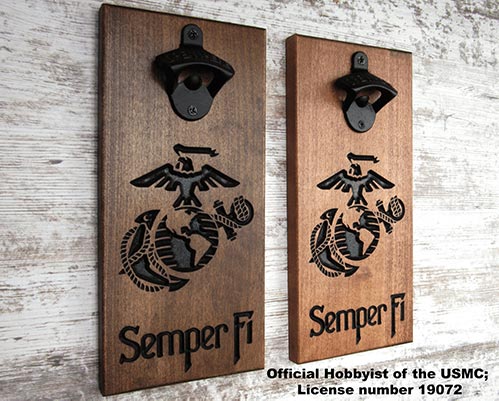 Raise a cold one and salute the Marine Corp. This wall-mounted bottle opener is a nice addition to any place you choose to hang it. While engraved with the Marine Corp emblem and Semper Fi, you are also able to personalize it with your Marine's name to add that special touch!
The opener is equipped with a "cap catcher." The cap catcher is a rare-earth magnet embedded into the opener (how neat!). It grabs the caps out of mid-air as they fall, so that bottle caps won't hit the ground.
You can choose from two different stain colors. This bottle opener measures 12″ x 5.5″ x 2″ and is ready to mount.
Navy Boyfriend Gifts: US Navy Coaster Set
This set of four US Navy coasters is a nice touch to any home. Sit those cold drinks down with no worry of making rings on your tabletops. Honor your boyfriend by displaying his US Navy logo on these stylish coasters.
Made for your Navy man by a US Veteran.
Air Force Boyfriend Gifts: Personalized Metal Sign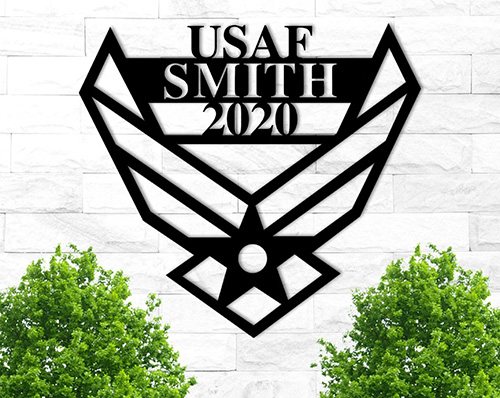 This personalized metal sign is perfect for the Air Force boyfriend! Whether he's graduating, celebrating a birthday, or if you're looking for the ideal Christmas gift, you'll never go wrong with the Air Force emblem laser cut along with his name and a special date.
Space Force Boyfriend Gifts: USSF Hoodie
Gift that special boyfriend with a United States Space Force hoodie. He'll feel a warm hug from you every time he puts it on.
Cool Fact– the US Space Force is the newest branch of the US Air Force!
Choose from five colors for your future astronaut. He'll appreciate your thoughtfulness and support in this new endeavor.
Coast Guard Boyfriend Gifts: Keep Sake Box
Here's a gorgeous heirloom keepsake box for a member of the Coast Guard. It boasts a stunning medallion on the hinged lid, which opens to reveal a felted bottom with plenty of space for special items, mementos, and of course all those romantic notes and letters from you to him.
National Guard Boyfriend Gifts: Personalized Metal Sign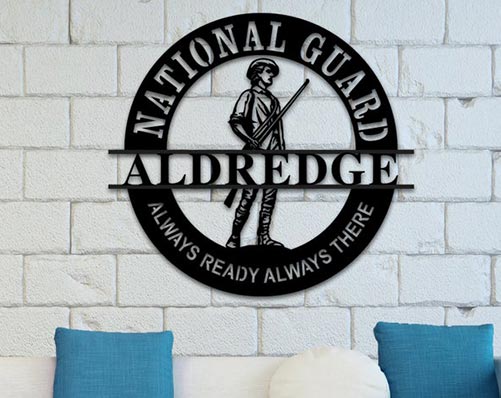 This handmade National Guard sign can be personalized with your loved one's name. Never let him doubt how proud you are of his service.
Laser-cut on powder coated 18 gauge steel. You can choose from three colors and five sizes. You are sure to find the perfect color and size for any room.
Deployment Gifts for Military Couples
Don't let distance come between the two of you. Here is a list of some thoughtful ideas for those weeks and months ahead.
1. Remember Me Bracelet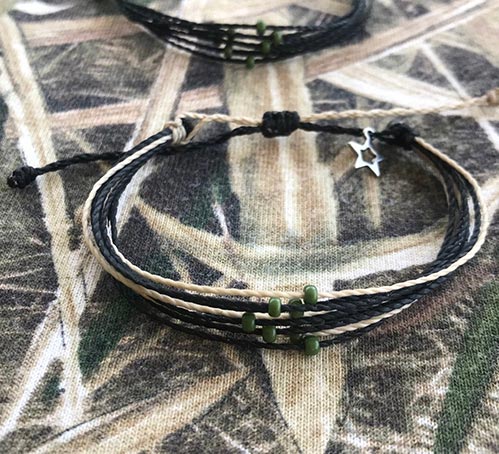 This original Army camo bracelet is a sweet gift for any couple going to be separated during deployment. You can order two, one for each of you!
Wear it as a reminder of your love for each other. You don't even have to worry about getting it wet because it is waterproof (bonus!)
You can choose from three variations and four color options. This bracelet is sure to bring a smile to your serviceman's face every time he looks at it.
2. Be Safe Pocket Coin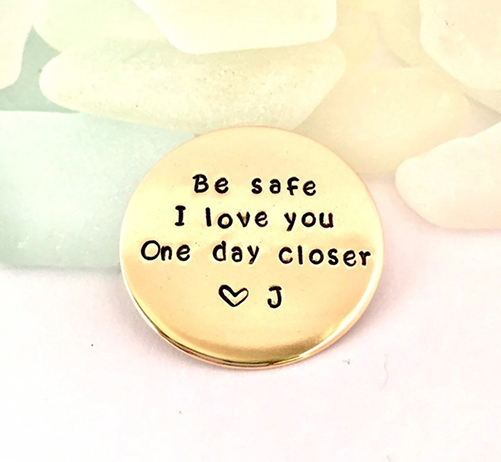 These pretty pocket coins will remind them that while you may not be with them physically, you're always close to their heart and thoughts.
Each one is handmade and custom stamped, and you can sign it with your initial. Add on a sweet little leather pouch to keep it safe and secure wherever they roam.
3. Stir Your Tea & Think of Me
This cute stainless steel teaspoon says it perfectly. He can't help but think of you every time he drinks a cup of tea or even coffee.
This spoon is an adorable little gift and one he will cherish for years and years.
4. Long Distance Notes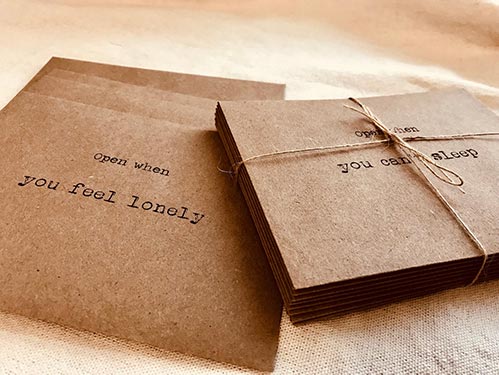 These long distance relationship envelopes and note cards are made from 100% recycled paper and ready to be filled with love!
Choose from an assortment of "Occasion Ideas" to be printed on the envelope. The notecards are blank so that you can write your own note to your sweetheart ?
He will appreciate it on his deployment or those hard twelve weeks of boot camp!
Related: 21 Incredibly Romantic Gifts for Men
5. Magnetic Couples Bracelets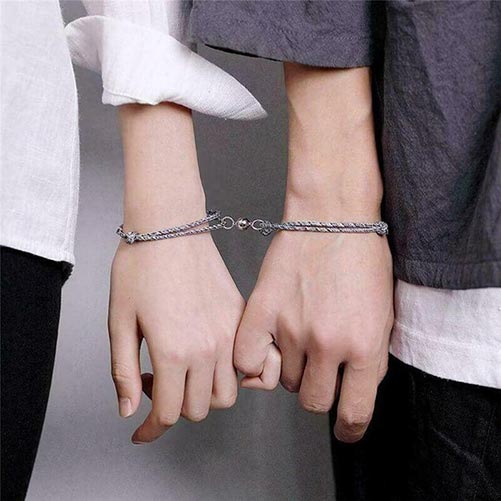 What a charming way to stay connected! Each order comes with two magnetized bracelets. Every time you and your love are near each other, the magnets will seek each other out.
This bracelet will remind you of the strong connection the two of you share! Distance doesn't diminish your love or relationship.
What You Can & Can't Send to Your Military Boyfriend
Sending things to your boyfriend in boot camp or on deployment can be hard to figure out. I have put a list together of some things that are "OK" to send to him.
Send, Please!
Dental floss
Unscented soap and deodorant
Black pens
Lined, white moleskin paper
Pencils
Envelopes
Unflavored lip balm
Laundry soap – unscented
Nail clippers
Toothbrush and toothpaste
Self-addressed stamped envelopes
Journal
Black markers
Good quality socks
Sunscreen
Foot powder
Sewing Kit
Do Not Send
This list will get your man in trouble. Best to save all of these items for home.
Aerosols or pressurized products
Pornography or adult entertainment
Drugs
Alcohol
Firearms
Ammunition
Perishable foods
I hope this gives you a few ideas for a DIY care package for your boyfriend.
A long distance relationship is hard work, but worth it. Make sure to let your man know you will be waiting with arms open for is return.
God Bless Our Troops!
Read next: Gift Basket Ideas for Men
Pin It