When it comes time to celebrate a graduation, we are so here for it! After all, it's the culmination of some of the best and toughest years of our lives.
So, whether it's graduating high school, trade school, beauty school, college, or hey… even kindergarten! We believe such an occasion deserves a party and, of course, some fabulous gifts to go with it.
But what to get that grad-to-be? To keep you from doing too much head scratching, we've compiled a list of our 40 best graduation gifts of all time. Read on for some great graduation gift ideas to ensure you don't arrive at the party empty-handed.
10 All-Time Best Graduation Gifts
Our website is supported by our users. We sometimes earn a commission when you click through the affiliate links on our website. See our privacy policy & disclosures for more information.
1. Class of Personalized Bottle Opener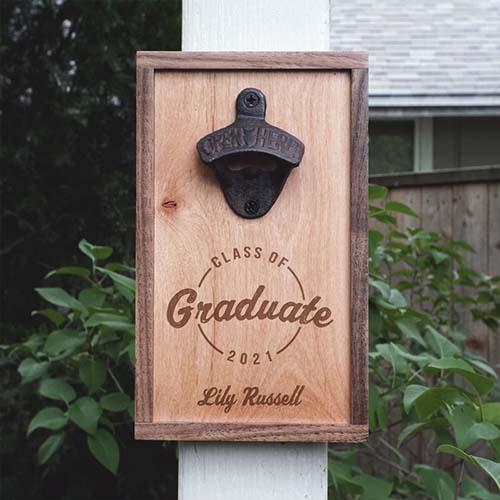 Perfect for the college graduate, this sturdy and handsome bottle opener is totally personalized so they can remember their big day fondly. Every time they open a new bottle, in fact!
It will be a total party saver, because who wants to remember where they put the rinky-dinky bottle opener each time they crack open a cold one?
2. Premium Kneading+Vibration Heated Foot Massager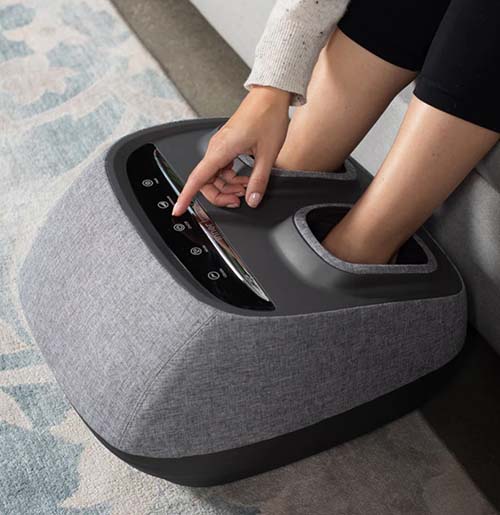 After stressful YEARS of studying, they will definitely want — no, need — a good foot massager! This is a great gift for anyone really, but we love it especially for health care workers, trade school grads, and the like. Anyone who is on their feet all the time!
And what about the waiters and waitresses who put themselves through school bussing tables? Actually, now that we mention it, we can't think of anyone who wouldn't love this great kneading and vibration, heated tootsie massager!
3. Custom Graduation Plaque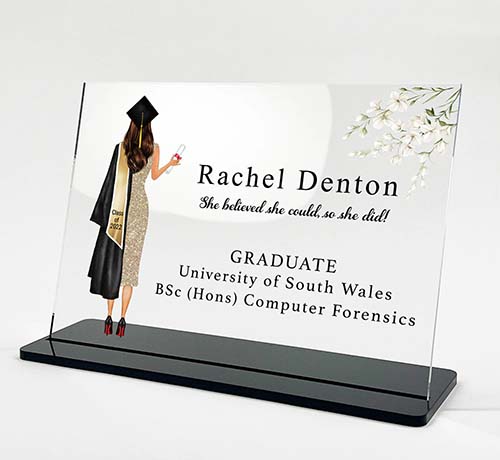 This custom graduation plaque has a nice modern touch to it, with its glass background and vibrant colors. The customization means no two are alike, which makes it such a lovely and thoughtful gift for your graduate. They'll love giving this a place of honor on their coffee table or new office desk!
4. Viking Hard Nonstick Cookware Set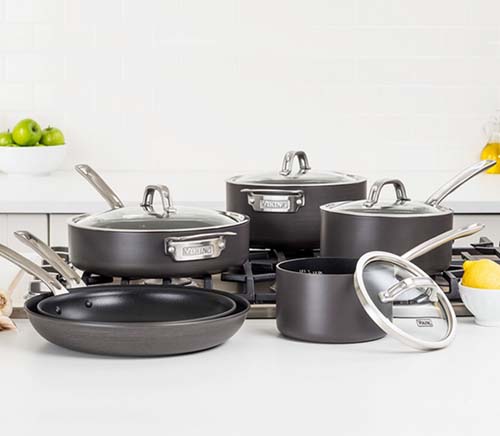 A good set of cookware, like this set from Viking, is a must-have now that they're out of school and don't have to live solely on Ramen noodles and cafeteria fare. This set is non-stick (such a time saver when you're washing) and will hold up to all sorts of culinary adventures. Time for a dinner party!
Whether they are entering college, or need a fresh new set afterward, say 'congratulations' with a nice cookware set like this wooden one! They're also perfect for the above-mentioned cookware set as they won't scratch and ruin the non-stick surface. Plus, they just look so nice in a crockery utensil holder! 
5. Funny Graduation Card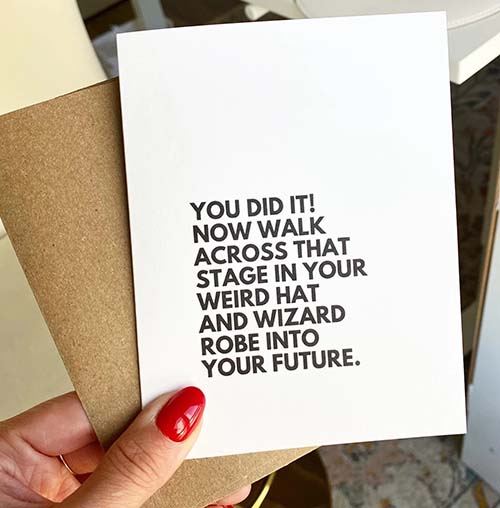 Make them laugh with this hilarious graduation card! They'll get a kick out of the "funny because it's true" sentiment, and you can slip a gift card or some cold, hard cash in the envelope as well. Easy peasy.
Related: Funny Graduation Gift Ideas
6. Star Registered in Their Name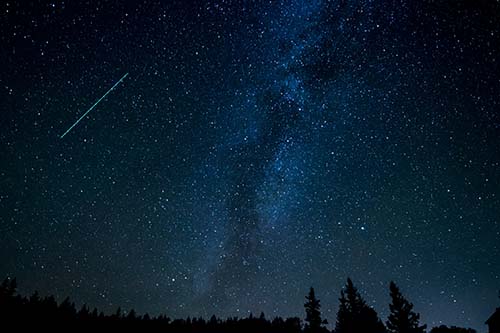 For an out-of-this-world gift (sorry/not sorry for the pun), get them a star registered in their name! For the person who has everything, or doesn't need one more knick-knack to complicate their move out of the dorm, this is truly a wonderful gift that will make them… well, have stars in their eyes.
7. Custom Leather Journal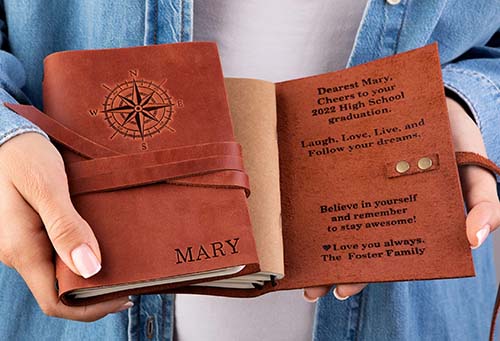 A pretty, custom leather journal like this one is the handiest thing to have around when inspiration strikes!
Whether it's for jotting down an outline for the next Great American Novel, penning poetry, writing a letter to a loved one, sketching, or simply having a place to write down a grocery list so you don't forget laundry soap AGAIN. This handsome journal is a go-to that they will love.
8. Luxury Pillows for a Good Night Sleep
A good night's sleep? What is that, asks the graduate? They'll finally get to relax and slumber away with a wonderful luxury pillow like this one. And no more fitful dreams about calculus and essays that are due!
They can trade those nightmares in for ones about job interviews and student loan payments… Just kidding! With one of these soft, luxurious pillows, they'll have nothing but good dreams and a solid night's sleep.
Whether they just finished high school and are preparing for college, or are about to start a new job after finishing their masters — they will need a good night's sleep. They will thank you for it, too, after you give them this comfy and soft pillow case to go over their new pillow!
9. Much-Needed Vacation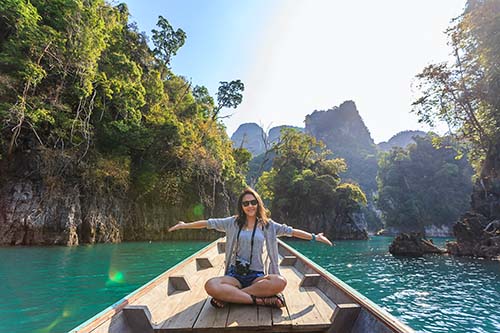 Who needs one more than a new graduate? Their life has been such a go-go whirlwind for at least four years. It's time for a much-needed vacation alright! When you're burning the candle at both ends, a tropical get-away, a cabin in the woods, or a beachy vacation is just the ticket.
10. Personalized Pacific Crest Profession Signs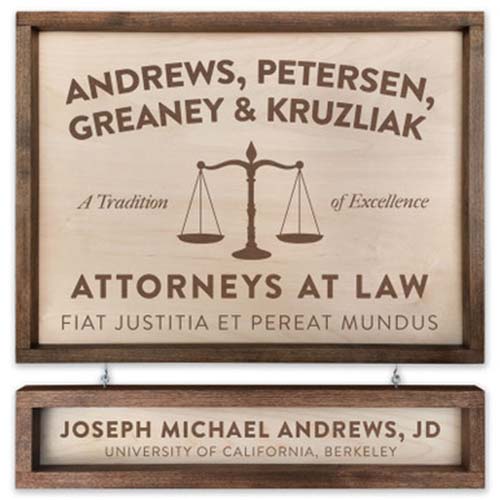 These gorgeous and personalized Pacific Crest profession signs will light up their world (not to mention their new office or lobby space!). They're handsomely crafted out of aldar wood and birch, and you can completely make it one-of-a-kind by adding their name and new title/profession. Proudly made in the USA.
Graduation Gifts for Her
11. Happy Graduation Champagne Gift Basket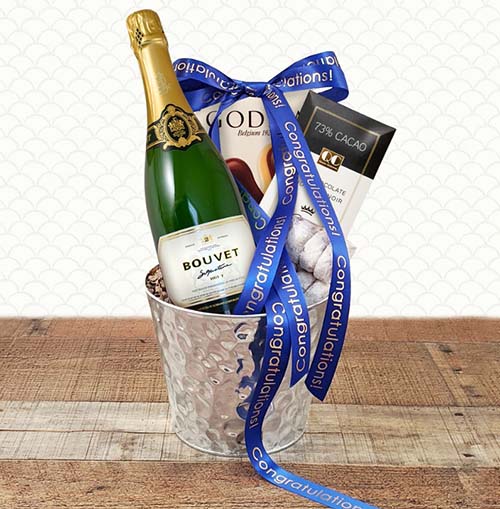 If there's ever a time to pop the bubbly and do a little day-drinking, this is it! She'll love relaxing with her friends and loved ones, all with a glass of the yummiest champagne. Did we mention chocolate?
This rich and delicious gift basket comes in a cute ice bucket that is sure to get more use long after the bubbly and chocolate is long gone. Cheers to her!
12. Go Where There is No Path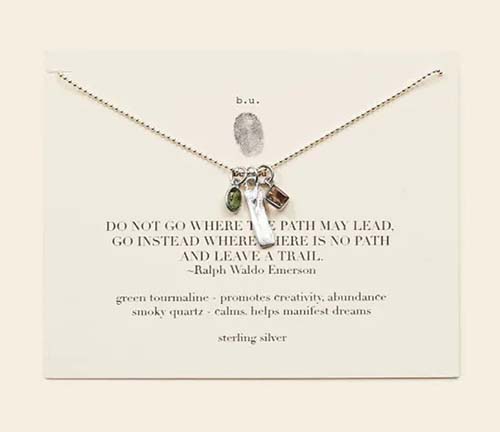 Uncommon Goods always have the best gifts, don't you think? This pretty necklace is definitely one of our favorites, with its Ralph Waldo Emerson quote and the most adorable of charms.
For the woman who forges her own path and loves adventure, this boho inspired pendant is the way to her heart.
13. Personalized Soap Flower & Cash Boxes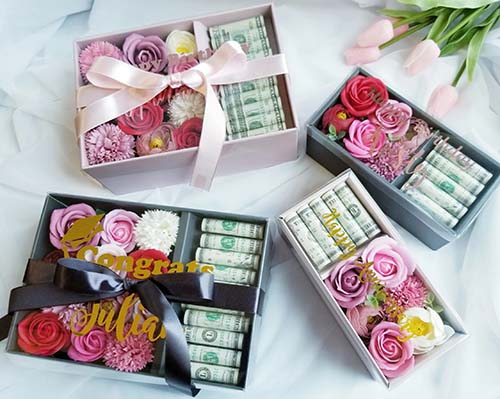 Giving cash is a traditional way to say "congratulations on your graduation," (after all, they probably need it!) but it can be a little… gauche. This pretty soap box takes the tacky out of giving money! You can roll and nestle your bills alongside the sweet-smelling flowers, giving the whole box a certain flair of sophistication and chicness!
Graduation Gifts for Him
14. Cigars & Company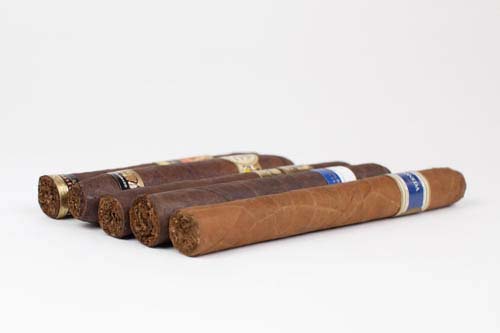 Celebrating with cigars and a glass of whiskey is a classic tradition! If he is a real fan of cigars (or would like to become one), sign him up for a subscription from this fun company. Now, he can celebrate not only on graduation night, but every month to come. These are hand-rolled, boutique cigars that will make him feel like a million dollars — plus, he'll love finding new favorites.
15. Inspirational Home Plate Paperweight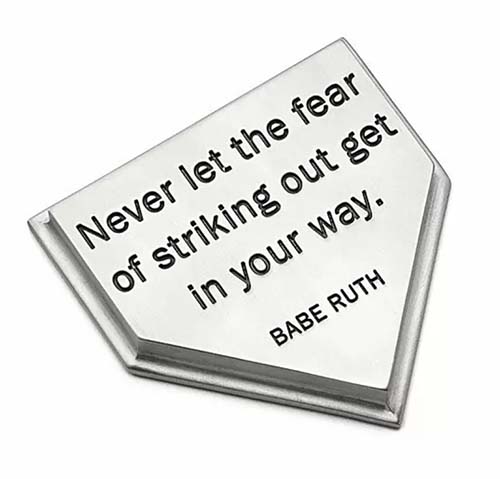 Swing for the fences with this great paperweight inspired by the one and only Babe Ruth! Baseball lovers will adore this unique and handsome paperweight. It will look amazing on his desk, or added to a shadow box of fun American baseball memorabilia.
He can be reminded of Babe Ruth's inspirational words every time he's having a tough day.
16. Graduation Candy Gift Box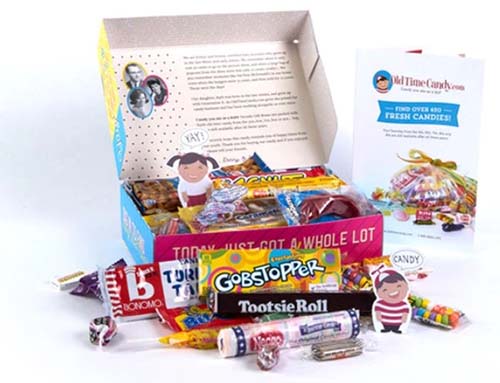 You can choose his favorite decade for this fun box of graduation candy! Sweet tooth lovers will rejoice over this two or four pound box of delicious and delectable munchies. Sure, it's time to leave college or high school and actually eat REAL food and all… but that resolve can start next week, right?
Personalized Graduation Gifts
17. Best Ever Tumbler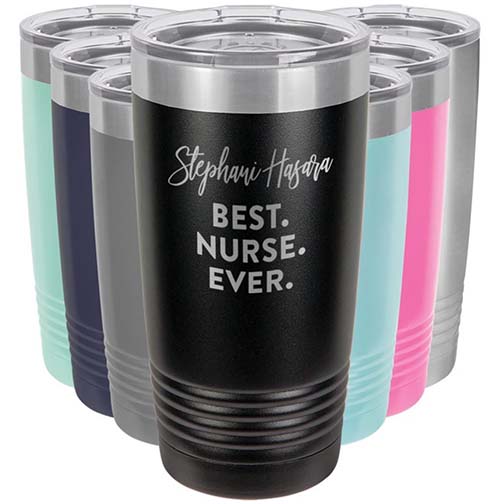 A good tumbler is anyone's best friend. Whether it's the dog days of summer or the freezing chill of winter, this Best Ever tumbler will keep everything hot or cold for hours and hours.
Customized however you like best — including the color! This will be your graduate's constant companion as they pound the pavement looking for work, or to bring to the office after they've found said work.
Related: Nursing School Graduation Gifts
18. Graduation Teddy Bear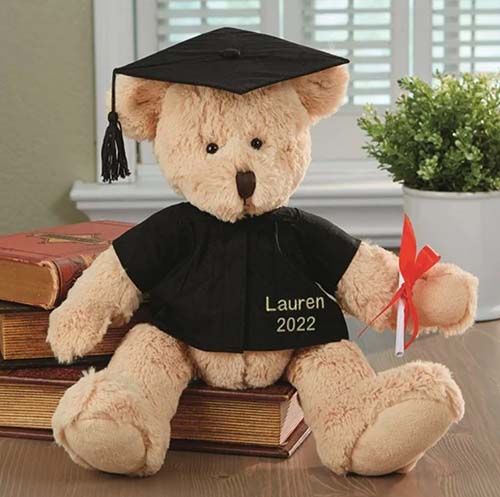 You're simply never too old for a squeezable, soft, loveable teddy bear! This graduation bear will bring a smile to their face, and we bet they'll give him the spot of honor right in the middle of the bed. Plus, they can have their name embroidered right on Bear's gown for a little bit of uniqueness.
19. Words of Wisdom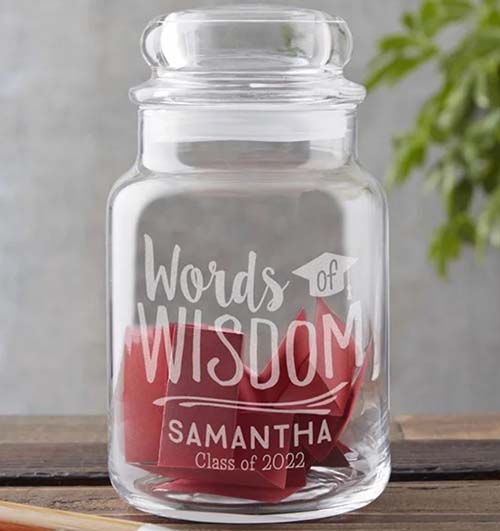 Fill up this personalized jar with words of wisdom that will help them succeed in the next chapter of their life! Sure, a blender would be a good gift, but they'd rather have your sage wit and guru advice.
The top will keep the dust from settling inside, and the jar is pretty enough to keep out in plain sight (so guests can also help themselves to your advice).
High School Graduation Gifts
20. Follow Your Dreams Blanket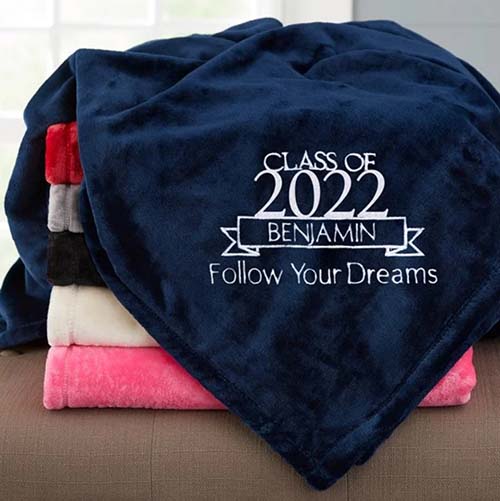 Personalized with their favorite color and two lines of text, this ultra-plush Follow Your Dreams blanket will be their new favorite fall and winter accessory! Can a blanket be an accessory? We think yes. Warm and oh-so soft, this throw will likely move around from the bed to the couch and everywhere in between — it's that delightfully cozy.
21. My Life so Far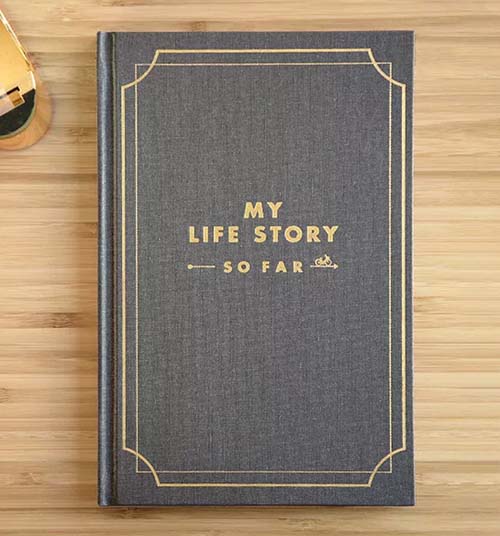 With writing prompts for memories and stories, this fun journal will be a hit for many years to come. Write as slow as you like, or fill it all up super-quick; there's no wrong way to do it!
Clothbound and made in Brooklyn, this pretty journal will be something to treasure for years to come, and their children and grandchildren will love flipping through it as well.
22. Personalized Graduation Metal Bucket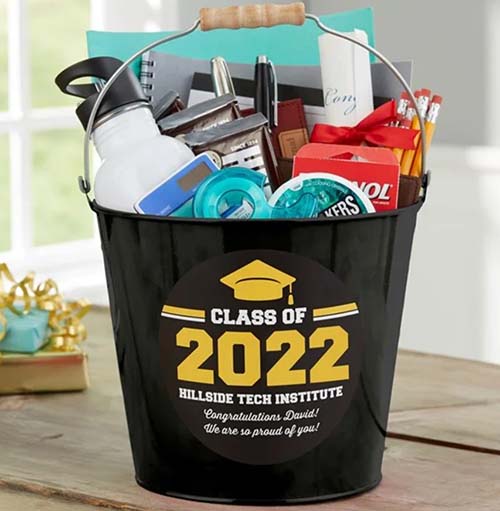 There are 15 different colors of buckets to choose from with this great gift "basket!" They'll love reaching in and finding all the treasures you handpicked for them. It's almost as much fun for you to fill as it is for them to unwrap! The bucket is generously sized and totally personalized with their proud graduation day and title.
It will be used for many years to come and will come in handy for everything from moving days and picnics to BBQs and storage!
College Graduation Gifts
23. The One Where They Got Their Masters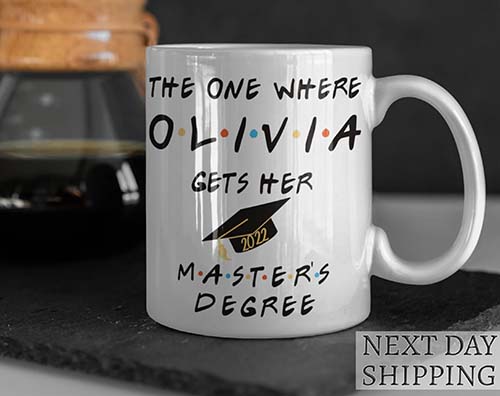 This fun mug is perfect for the Friends lover! They'll love having their own personalized mug to take with them to the office or wherever they've chosen to work after graduation.
The "magic mug" remains black until you fill it with hot liquid. Hand-printed by a small boutique in the USA.
24. From the Desk of… Personalized PHD Stationery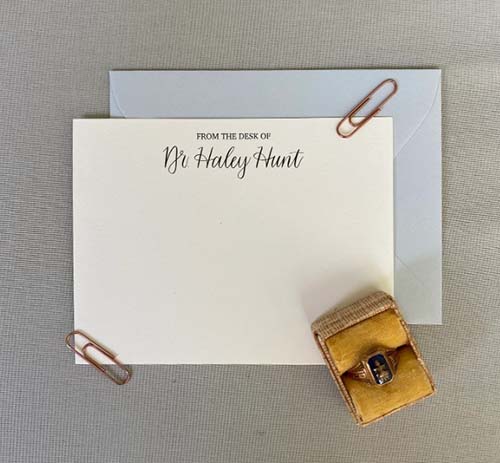 Make them feel grown-up and positively swanky with this set of personalized stationery! What's more adult-ish than that? We think they'll love this posh set, and use it on the daily for everything from important lists to thank you cards. Hey, maybe you'll receive one for gifting them this great present.
25. Custom Engraved Coaster Set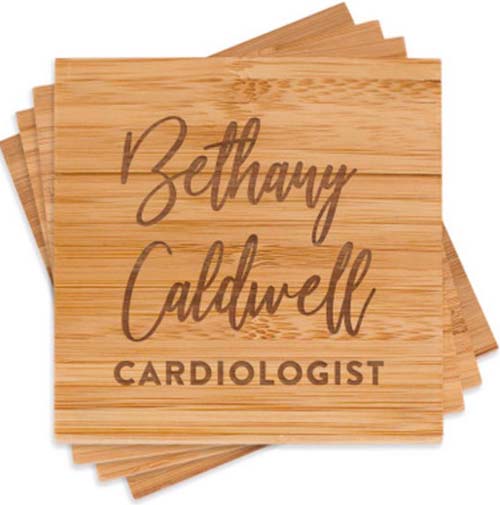 These great coasters are custom engraved with their name and either their graduation date or their new (hard won) title. They'll love the grown-up idea of having coasters and these ones are beautiful. They're high-quality and made of bamboo so they'll last a long time. No more water rings and condensation ruining their tables!
Boyfriend Graduation Gifts
26. Leather Messenger Bag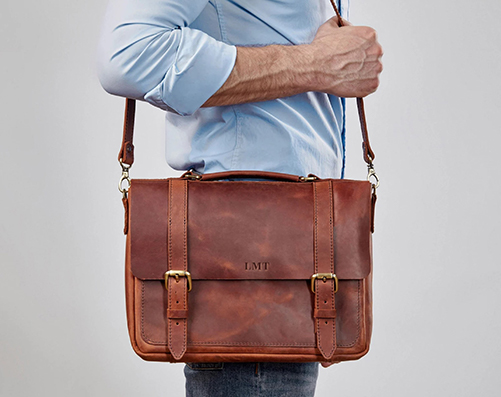 He will be head over heels for this awesome, leather messenger bag. Nothing says "I'm moving up in the world" like a great leather bag. They're classy, sophisticated, and added bonus — they smell really, really good.
You can have this stunner personalized just for him, too, so whether he's headed off to college or the big, bad world of business, he'll be ready to take on anything!
27. Now Hotter by One Degree
You thought he couldn't get any hotter, but then he went and graduated! This fun candle will make him chuckle and you'll have some lovely ambiance for your next date when you light it. Made of non-toxic, soy wax and scented like the Caribbean. What's not to love?
28. Personalized ManCrates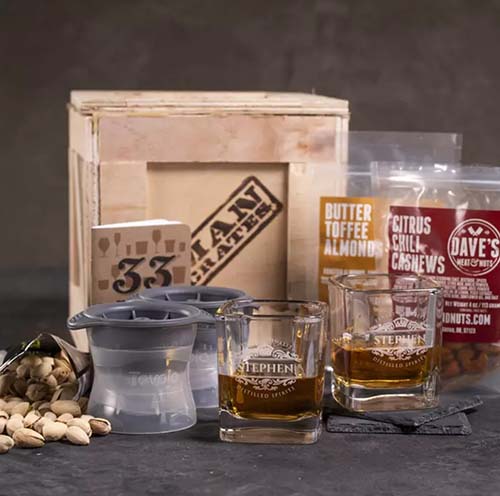 Your hunk of burning love deserves (and really, really wants) a personalized ManCrate! Trust us on this one! These wooden crates are filled with everything he loves: from whiskey and jerky to beer glasses, mixed nuts, hot sauces and everything in between. You'll love picking one and customizing it almost as much as he's going to love unwrapping and devouring it.
Related: Best Boyfriend Graduation Gift Ideas
Girlfriend Graduation Gifts
29. Pairs Well with Graduating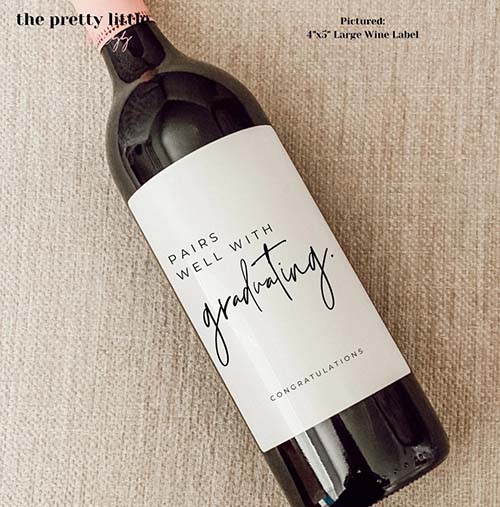 These ultra cute labels for her favorite wine bottles will be a hit at the graduation party, or at your next date night in. They're such a fun way to show her how proud you are of her!
They're water resistant and you can peel and stick (and also re-peel and re-stick). Just too cute for words.
30. Beautiful Floral Bouquet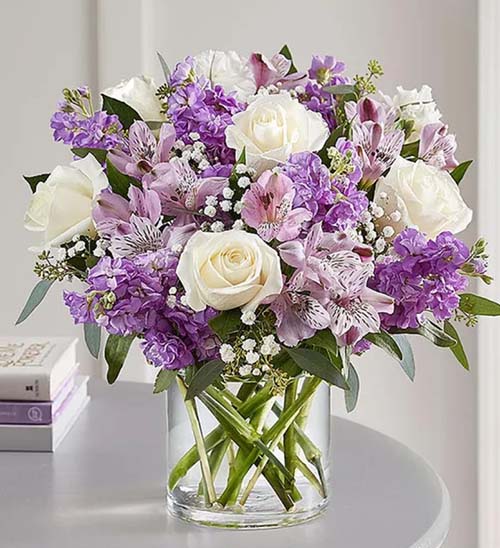 Flowers are a classic gift for a reason: they're gorgeous and smell delightful. Just like your lady! She'll love having a stunning bouquet delivered to her class, work space, or home. Pick her favorite colors and varieties and you'll have a real winner on your hands. So romantic.
31. Ultra Plush Robe
What girl doesn't want a luxurious plush robe? That's definitely a rhetorical question! She will feel like she's wrapped in your arms every time she puts it on, and will initiate full-on snuggle mode. A great robe to watch movies, sip her morning coffee, or take a nap in, or wear it all day on a lazy Sunday.
Does she love everything warm and cozy? She'll love these other gift ideas!
More: Graduation Gifts for Your Girlfriend
DIY Graduation Gifts
32. Gift Cards Galore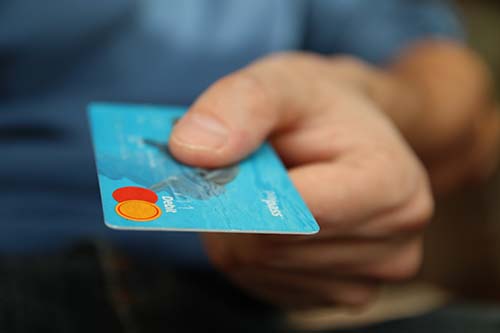 Everyone knows how financially difficult it is to enter college (or even leave… *cries, thinking of debt*). Help them survive their journey with gift cards to common stores and their favorite restaurants. You can't go wrong with places like Amazon, Costco, The Olive Garden, etc., but don't leave out the local small businesses so that everybody wins.
33. Money Lei with School Colors
Use their school colors and DIY a money lei! They'll be in awe over your creativity, not to mention your generosity. A fun way to personalize and be more thoughtful with the gift of cold, hard cash.
34. In Case of an Emergency Break Glass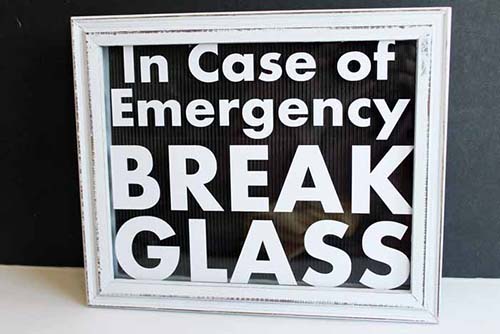 This cool idea of a money storing shadowbox is easily made, and they will love receiving it! Who knows how long they can hold out before breaking into this great gift. Will it be a week, a month, next year? Whenever they need a spot of cash they'll know they have it nearby, ready to spend, thanks to you.
Money Gift Ideas for Graduation
35. Money Cake Tower
Make a money cake tower that will blow their minds! Everyone at the party will be wowed by this celebratory cake, and you'll look like a rock star. Giving money is always so appreciated (and after graduating, so needed), but sometimes tucking a fifty into a Hallmark card just doesn't seem thoughtful or personal. Enter in this fun "cake."
36. Money Ribbon Box
An elegant and sophisticated way to give money! This swanky black box is full of red roses and LED lights, making it pretty much the most top-notch treasure box you can find. They'll love your thoughtfulness and generosity, and will talk about this amazing box for years to come.
37. Money Crown
All you need are nine bills and maybe a little practice and you can gift your graduate with a money crown they'll want to wear all throughout the party. A fun and clever little way to give money that is still laid-back and totally cute. Origami for the win!
Unique Graduation Gifts
38. Shattered Glass Ceiling Necklace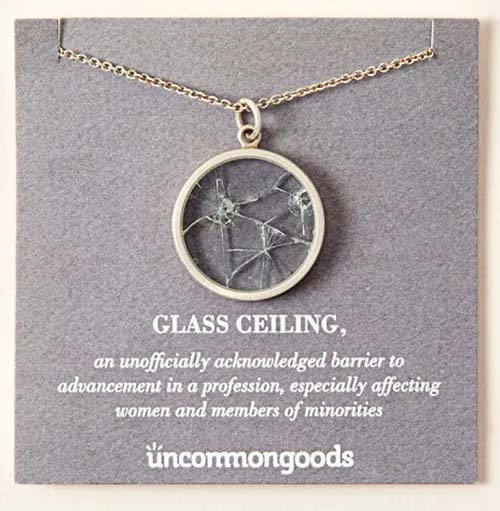 Empower your lady graduate with this stunning and clever shattered glass ceiling necklace. If she's in a profession dominated by males, she'll really love this pendant and want to wear it to work as often as possible. Every woman will see this, nod appreciatively, and want to know where in the world she found such a great accessory.
39. Wireless Weather & Alarm Clock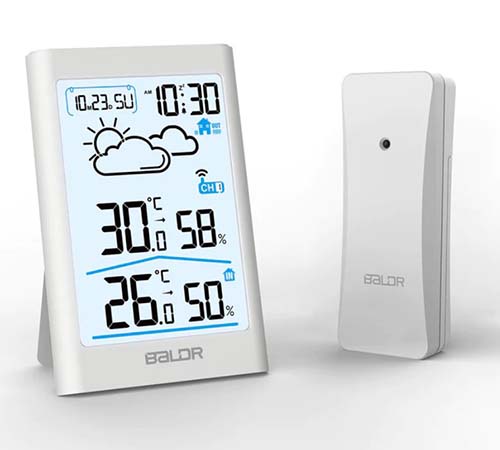 This wireless weather and alarm clock is super cool, and it's something they definitely use when entering college or the "real world."
They'll enjoy having this smooth, stream-lined clock right by their bedside so they can A. wake up in time, and B. know how to dress for the day and if they're going to need a jacket, an umbrella, or sunscreen!
40. Custom Engraved Bird Feeder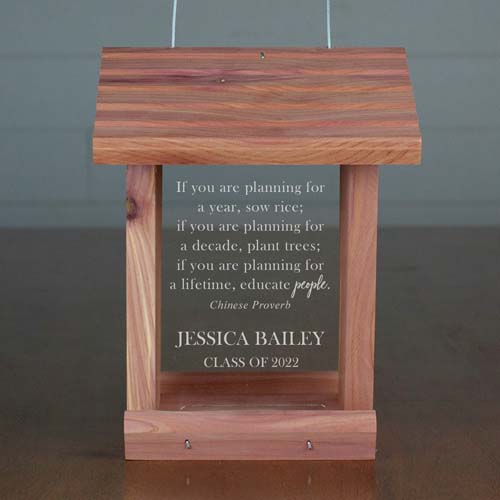 If you are planning for a year, sow rice; if you are planning for a decade, plant trees; if you are planning for a lifetime, educate people. — Chinese Proverb.
There's just one idea for customizing this great engraved bird feeder, but don't stop there! An inspiring quote is just one way to make this unique feeder just for them. Other ideas include their name and graduation date, their new title, or their school motto.
Read Next: Kindergarten Graduation Gift Guide