Today we're going to give you 101 graduation wishes to help you celebrate with a recent graduate.
Whether they just graduated from middle school, high school, college, trade school, or got that unbelievable set of initials after their name, graduations are totally a reason to give a card.
Hard work deserves some recognition! Your local shopping mall is full of graduation cards, but what to say inside? We've got some ideas for you to say congratulations to your grad.
What to Write on a Graduation Card
You can go witty and silly, sentimental and sweet, or a mix of all of those things when writing in a graduation card! You want it to be heartfelt though, that's for sure.
Some things to consider including in your card:
Congratulations on their hard work and achievement
Wishes on their future
Memories you've shared together
Wisdom and advice
Favorite quotes
Scripture verses
Jokes and humor
Expressions of love and appreciation
A good message for your friend or loved one will ensure they don't toss that card in the trash, but will in fact keep it for years and years to come. You wise sage, you!
Best Congratulations for Graduation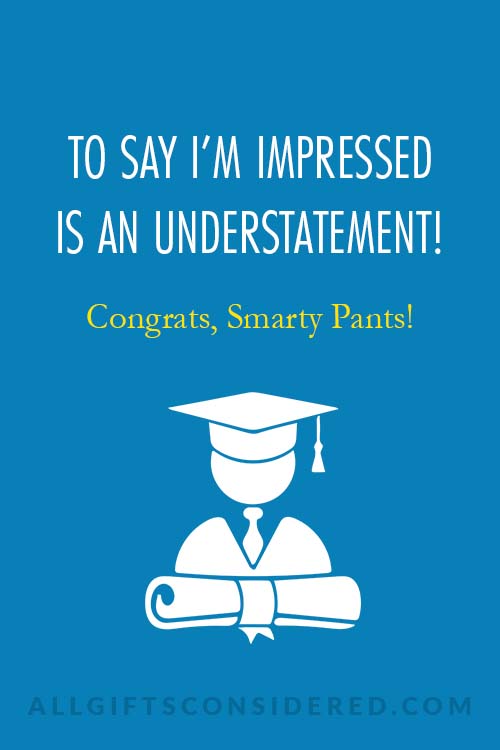 1. Congratulations on all you've accomplished thus far!
2. I'm looking forward to seeing where life's journey takes you!
3. Congrats on completing your adventure! Now, on to real life!
4. No one deserves more congratulations than you do!
5. Congratulations are in order — I'm so proud of you for making it this far!
6. I'm just gonna say it: CONGRATULATIONS! Today is a day to be proud of all you've accomplished!
7. 'Congratulations' aren't enough. You've reached a huge milestone and I'm so proud of you!
8. To say I'm impressed is an understatement! Congrats, smarty pants!
9. Congratulations to someone I'm in awe of! There's no limit to what you'll achieve.
10. To the rad grad — congrats! You've rocked for as long as I can remember, and I know you'll keep it rolling.
11. Can I shake your hand? Congratulations to the most impressive grad out there!
12. You did it (I knew you could)! Congrats from me to you on your special day!
13. You've been waiting for this day for so long! You worked hard and should feel proud of yourself.
14. Congratulations to my superhero! You're proof that hard work pays off. Keep soaring!
15. Congratulations, friend. Raise a toast to your incredible achievements. Cheers!
16. Congrats are in order! Wishing you the best of luck on this exciting new chapter.
17. Congratulations for a job VERY well done! Best of the best? That's you!
18. It's the next step of your adventure — congratulations! Keep dreaming, and keep achieving.
19. You never thought you'd see the day — congratulations! When they hand you that diploma, keep walking. (Just in case they try to take it back!)
20. Luck had nothing to do with it, but your time, energy, and dedication paid off. Congratulations!
Best Graduation Wishes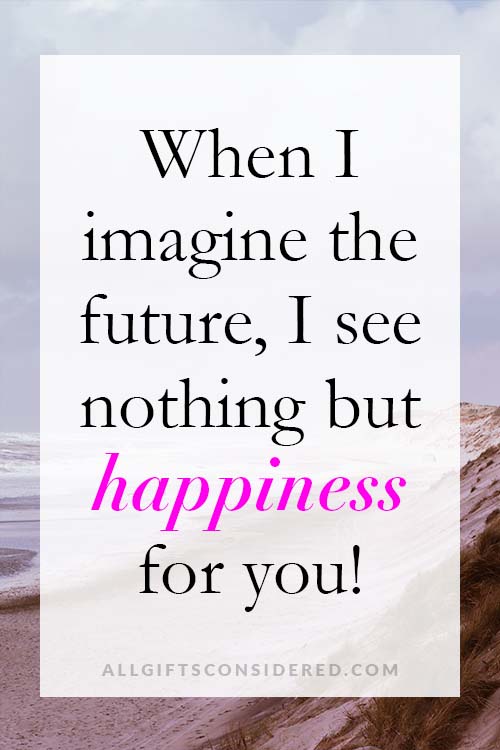 21. I wish you all the best for your future! Cheering for you!
22. All my wishes and all my love on your very special day.
23. I can't believe how far you've come, but I can dream about how far you'll go!
24. My wish for you is a lifetime of happiness and health!
25. On this next adventure, may you see nothing but love and joy!
26. Best wishes for one of the most darling people I know.
27. Your future is looking bright! Can't wait to see what life has in store for you.
28. When I imagine the future, I see nothing but happiness for you!
29. So excited to see where your next adventure takes you!
30. May all your dreams come true! Wishing you unparalleled success!
Best Graduation Quotes
31. A journey of a thousand miles begins with a single step. — Sun Tzu
32. Your education is a dress rehearsal for a life that is yours to lead. — Nora Ephron
33. Intelligence plus character. That is the goal of true education. — Martin Luther King, Jr.
34. Life is my college. May I graduate well and earn some honors. — Louisa May Alcott
35. To accomplish great things we must not only act, but also dream, not only plan, but also believe. — Anatole France
36. Always aim high and care deeply about what you believe in. — Hilary Clinton
37. The beautiful thing about learning is that no one can take it away from you. — BB King
38. Now go, and make interesting mistakes, make amazing mistakes, make glorious and fantastic mistakes. Break rules. Leave the world more interesting for you being here. Make good art. — Neil Gaiman
39. Kid, you'll move mountains. — Dr. Suess
40. Opportunity is missed by most people because it is dressed in overalls and looks like work. — Thomas Edison
High School Graduation Wishes
41. My wish for you is a happy and healthy life, full of love and laughter!
42. Now drive off into the sunset, kid!
43. Best wishes, for the best is yet to come!
44. I hope you slay it at your twenty year high school reunion!
45. All of my love and all of my wishes.
46. When it comes to your future, it's looking awfully bright!
47. You've done so well, I can't wait to see where life will take you next!
48. Whatever you do, wherever you go, I know it will be successful!
49. You did it, kid! Now go get 'em!
50. Those four years were the longest of your life — from now on, the years fly by!
College Graduation Wishes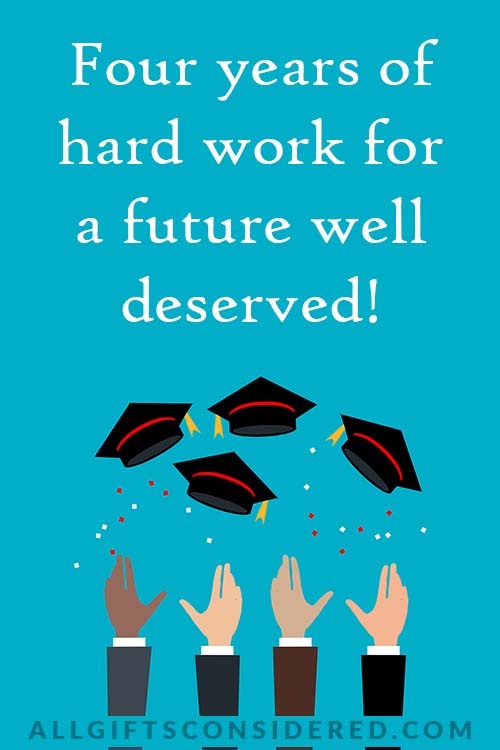 51. And you're off into the future! What an adventure!
52. These years were well spent. Can't wait to see where life takes you!
53. You've done it! You've gone and made me proud!
54. My wish for you is that you pay off those loans in a timely manner!
55. What a golden future you've laid out for yourself! Congrats!
56. Here's to a life supreme!
57. Four years of hard work for a future well deserved!
58. Now you can support me in the fashion to which I'd like to become accustomed!
59. My wish for you is a life of love that reflects your passions!
60. Best wishes for my favorite graduate, and know that your future is oh-so bright!
Graduation Wishes for a Friend
61. You did it! That deserves a toast (and I'm buyin')!
62. I'm in awe of you.
63. I'm so proud of my friend that my eyes are leaking.
64. Now you have more time for meeeeeee!
65. Here's to no more studying EVER!
66. You made it look easy! Congrats!
67. All this AND you're besties with a fabulously good looking person? You are living the dream!
68. No one I know deserves more well wishes and accolades than you!
69. You're officially smarter than I am now. Great.
70. I saw how hard you've worked and now it's time to let loose!
Graduation Wishes for Daughter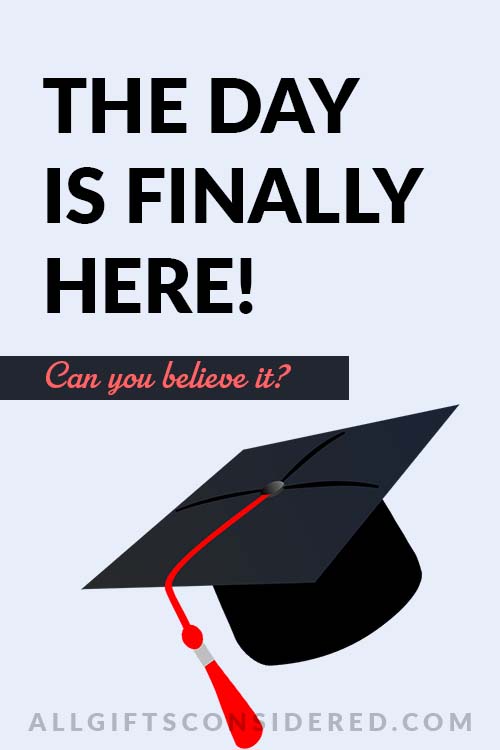 71. Is it too much to say I'm so proud I could cry?
72. What a woman you've become! I'm so proud of you!
73. You didn't think you could do it, but you did!
74. I never doubted for a moment that you could graduate! Well, there might have been one or two tiny moments, but let's not talk about that.
75. What a ride it's been! Thanks for taking me on it!
76. The tables are turned… Now I look up to you!
77. I thought I was proud when I graduated — that was nothing compared to how I feel now!
78. You sure are making me look smart — congratulations, daughter!
79. The day is finally here! Can you believe it?
80. Take a bow, princess! You've earned some applause!
Graduation Wishes for Son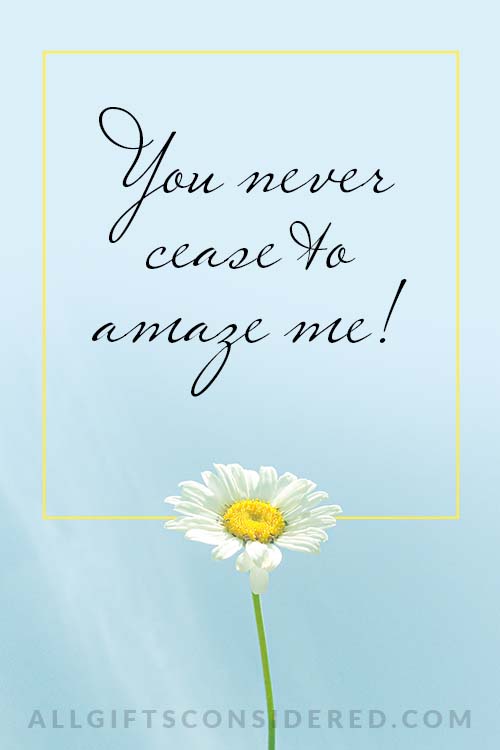 81. We never thought we'd get here and now look at you!
82. No one wears that gown better than you!
83. You never cease to amaze me!
84. From day one, I knew you'd do great things. Look at me being right again!
85. From learning to walk to learning to read — I'm always so proud of you!
86. You're always surprising me with how you tackle life!
87. Out of the nest and into the future with you!
88. Son, you make me so proud! Here's to you!
89. When I think of heroes, I think of you!
90. Congratulations on a job REALLY well done.
Funny Graduation Quotes
91. Nothing is impossible. The word itself says, "I'm possible." — Audrey Hepburn
92. Follow your fear. —Tina Fey
93. Success is to go from one failure to another with no loss of enthusiasm. — Winston Churchill
94. If you're willing to stand for what you believe in… you won't need advice from me. — Whoopi Goldberg
95. The fireworks begin today. Each diploma is a lighted match. Each of you is the fuse. — Edward Koch
96. Don't take life too seriously. No one makes it out alive. — Elbert Hubbard
97. If they can make penicillin out of moldy bread, they can make something out of you. — Muhammad Ali
98. I learned law so well that the day I graduated I sued the college, won the case, and got my tuition money back. — Fred Allen
99. The road to success is always under construction. — Lily Tomlin
100. Never follow someone else's path. Unless you're lost in the woods and you see someone else's path, then by all means, you should follow that path. — Ellen DeGeneres
101. Why waste time say lot word when few word do trick? — Kevin, The Office
Need a fun present to go with those graduation wishes? Check out our 50 Most Hilariously Funny Graduation Gifts for some ideas.
Read Next: 40 Best Graduation Gifts of All Time