Today we're taking a look at 55 boyfriend graduation gift ideas that he'll absolutely love.
When it comes time for your boo to graduate high school, college, graduate school, med school, boot camp — anything really — you'll need to show him how proud you are of all his hard work. And what a big deal he is!
It's the perfect time to shower him with love and, what we're here to help with, the perfect graduation gift. He'll be over the moon for these great gifts, and will love them almost as much as he loves you. You wonderful thing, you.
Whether he's headed for higher education or the real world, here are 55 perfect gift ideas for new graduates.
Best Graduation Gifts for Your Boyfriend
Our website is supported by our users. We sometimes earn a commission when you click through the affiliate links on our website. See our privacy policy & disclosures for more information.
1. Personalized Graduation Bottle Opener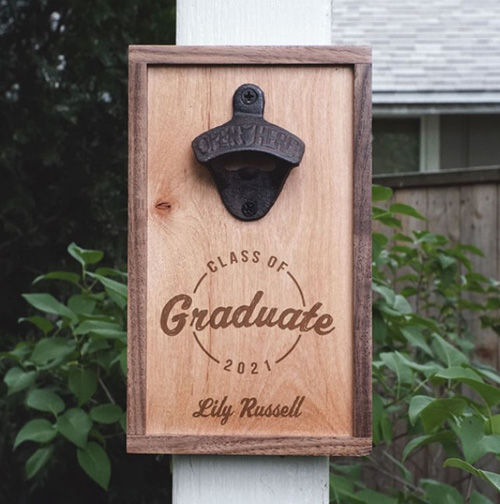 A great bottle opener like this one is worth its weight in gold! Customized until it's just *chef's kiss*, and he'll love knowing he has a one-of-a-kind and functional piece of art.
Made to last of high quality wood and cast iron, this will serve him well through a long, happy life of soda and beer drinking.
2. Custom Montauk Messenger Bag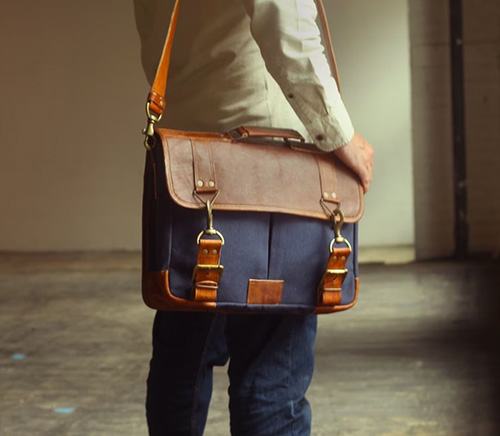 If he needs a good work bag, this custom Montauk messenger bag is here to the rescue!
Good looking (like him) and practical, this bag will hold all of his everyday essentials for the office. We love a useful graduation gift. I mean, who doesn't? You might find yourself wanting to borrow it…
3. Classy Watch
A timeless (get it?) and useful gift, a classy watch makes for a super meaningful and thoughtful graduation gift.
While they're more expensive, if you can afford to spend money on a higher-end watch, do some research and choose carefully. Your gift could easily turn into a great investment! Finance grads where you at?
4. Handmade Damascus Pocket Knife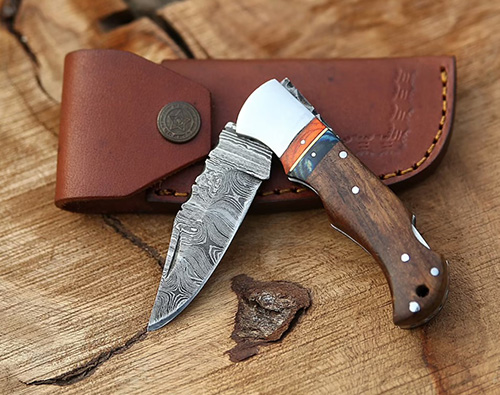 Just because he's working nine to five now (cue Dolly) doesn't mean he doesn't need a super cool handmade Damascus Steel pocket knife!
Like, he's finally made it to the stage of his life where he looks forward to planning camping trips with you rather than with mom and dad, so… This slick knife makes a great gift idea that can definitely come in handy.
5. Memory Film Keychain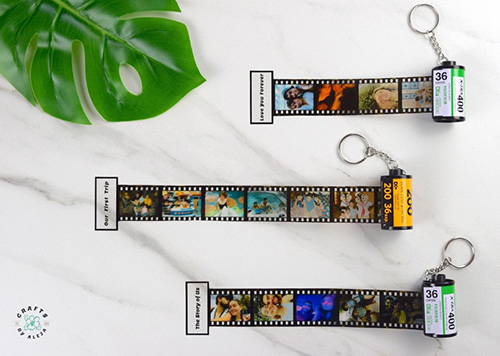 This memory film keychain will hold all of his favorite memories, so be sure to slide in plenty of photos of you!
The keychain itself is a nod to simpler times — like before we had cameras in our phones. It's a sweet, constant reminder of your special connection.
6. Motivational Books
He's always learning, even if he's graduated from school! Keep his education and gray matter sharper than ever with some great motivational books.
What could make a more perfect gift for your little bookworm than more books? And you can always write a special message or letter inside the front cover to make it more personal.
Here are some more motivational books to consider:
7. Calphalon Pots & Pan Set
If cooking is his happy place, he'll love having a great set of Calphalon pots and pans to practice his skills with!
A great graduation gift for the practical young man, these are a good place to start his culinary collection. And you'll love reaping the benefits, am I right? Yum. Do I smell pasta night?
8. Celebrate With Experiences!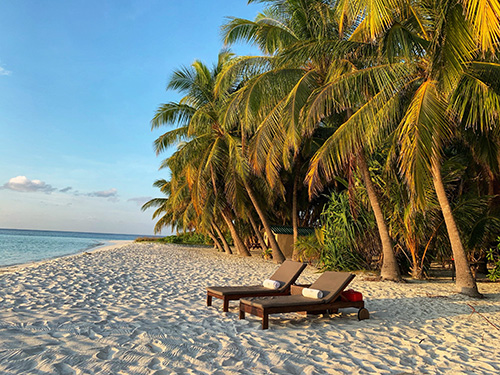 When it comes to making memories, you cannot go wrong with an experience gift!
Everyone else in his life will get him a graduation present wrapped in gift paper, which is fine. But you're looking for a unique gift that's more…extraordinary.
He is your best friend, after all, and deserves only the best gifts. Here's what to do:
Pick an experience gift from Giftory
Immediately receive an email voucher
Gift it to him
He picks where to go and what to do (near or far, anywhere at all!)
Together you go and make some memories!
So go all out and give him something he'll treasure for the rest of his life—an unforgettable experience that the two of you can share. 
9. Personalized Large Leather Mouse Pad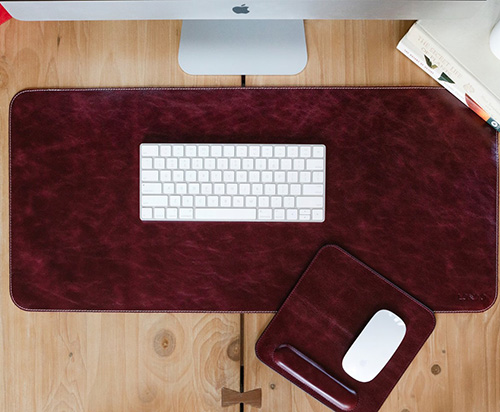 Spruce up his desk and help him stay organized and polished at work or at home! This personalized large leather mouse pad is really a cool piece. If what you're looking for is a useful boyfriend graduation gift, then look no further.
He'll love the way it streamlines his office space and gives his area some sophistication and polish. Such a good idea.
Related: Personalized Gifts for Him
10. Electric Hand Massager
All those long hours writing and typing? He's going to need this electric hand massager! Help him work the kinks out during his lunch break or in between meetings. A real lifesaver for sore muscles and cramps.
11. X7 Electric Scooter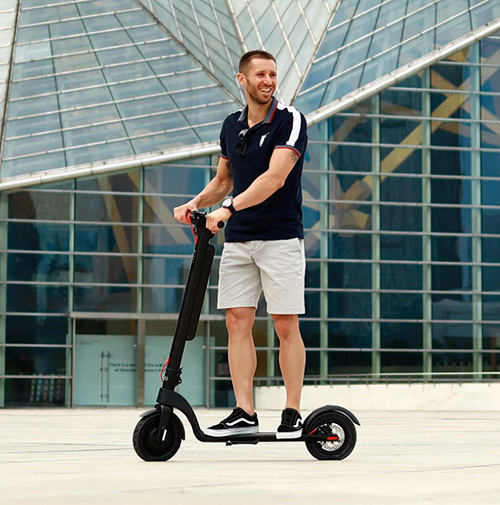 Make living on campus or in the big city just a bit easier with a cool boyfriend gift like this: an electric scooter!
No need to contribute to air pollution or set aside ridiculous amounts of gas money in his new chapter, no Siree. He can can easily get where he needs to go with one of these. You know how he loves his electronic toys, after all!
Plus it's so much better for the environment, which means you get bonus points from mother earth.
12. Celebration Wine Gift Basket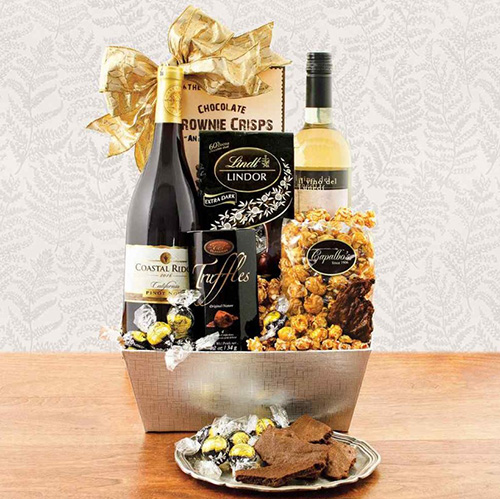 Celebrate in style with this great celebration wine gift basket! The best part? He's totally gonna share with you. Show him how proud you are of his huge accomplishment. Cheers!
13. Graduation Whiskey Labels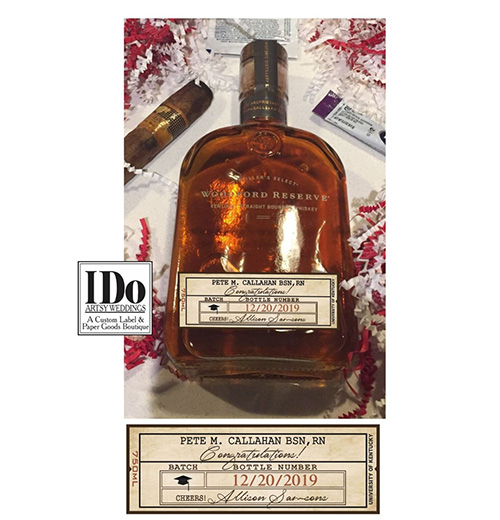 For a classy and sophisticated gift that would make 007 green with envy, try these graduation whiskey labels!
They're so much fun and are a great way to personalize a wonderful bottle of his favorite spirit.
Definitely a keeper, even after the bottle is empty!
14. Dear Grad Graduation Card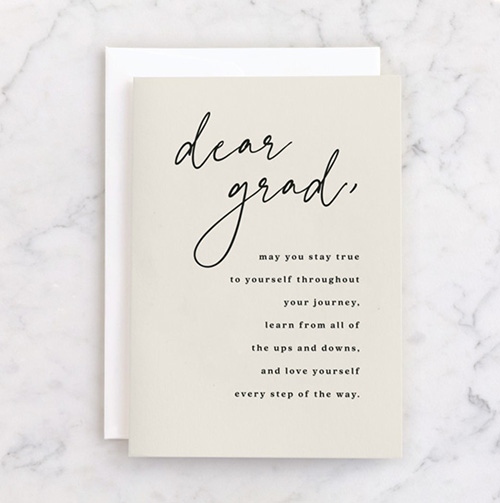 This pretty card is way too special to have been found in a supermarket or drugstore! With attention to fine detail and the timeless appeal, this card is just waiting for your personal touch — a handwritten love letter to your man. Oh, and maybe slip a gift card in there, too.
Related: What to Write in a Graduation Card
15. Best. Ever. Stainless Steel Tumbler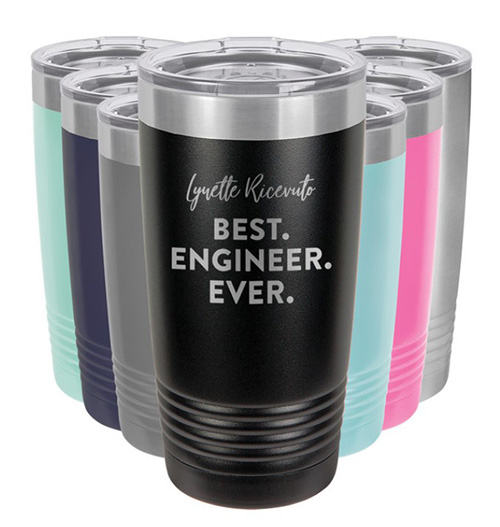 You can customize this great tumbler until it's absolutely perfect for him! He'll love having a great cup to take with him to the gym, to work, and to play. Not to mention it eliminates one plastic water bottle from the landfill with each use.
The vacuum sealed technology will keep all of his favorite beverages at the temperature he loves best. And you can pick the color. Now that's what we call a win.
High School Graduation Gifts for Boyfriends
16. Long Distance Touch Bracelets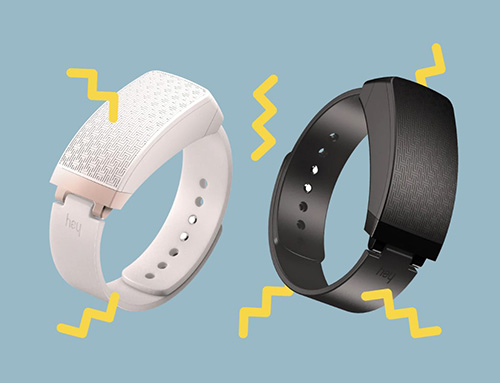 Long distance couples, whether it's work or school that keeps them apart, know how hard it is!
Stay connected in the most romantic way with these long distance touch bracelets. Now you can feel the love in a special and creative way, even from states or countries apart.
17. College Acceptance & Graduation Gift Buckets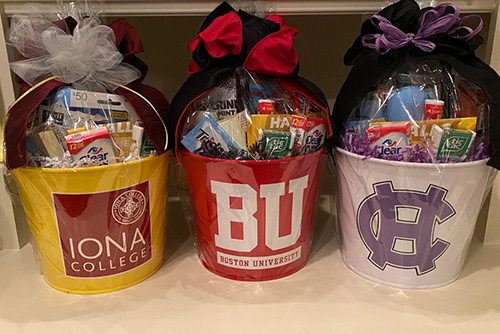 Show your school spirit even long after you've graduated with these fun buckets! Anyone can throw together a gift basket, but we are here for the bucket versions and these ones just can't be beat.
He'll love all the goodies inside, and he'll love having that bucket afterwards for organizing and tailgating.
18. Wireless Noise Canceling Headphones
You know the six love languages: quality time, gifts, words of affirmation, physical touch, acts of service, and electronic devices. Okay, that last one is made up…but not really!
He'll love having a wonderful set of high-quality, noise canceling headphones in today's busy world. And this set is super great quality, too, so they'll last him a long time.
19. Homesick Candles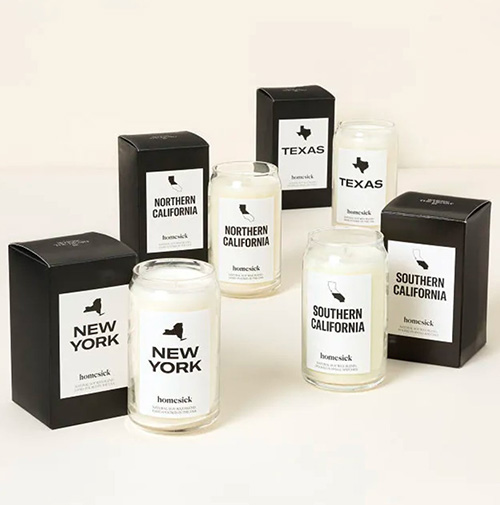 For those heading to out-of-state colleges or graduate school, these homesick candles really strike a chord! Pick your state and watch him melt faster than the candle does.
Great for relaxing in his apartment after long days in class, or those long sleepless nights of studying.
20. Personalized Bracelet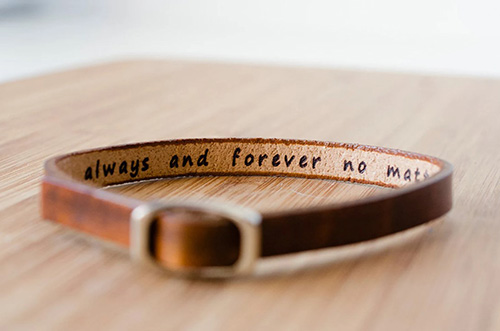 Personalize this amazing bracelet with some words just from you! Even if he's the strong, silent type, he might experience a sudden attack of allergies complete with watery eyes.
Show him how proud you are of him on his graduation day with something that will stand the test of time and make him look extra handsome. You can't lose with this gift!
21. Snack Subscription for College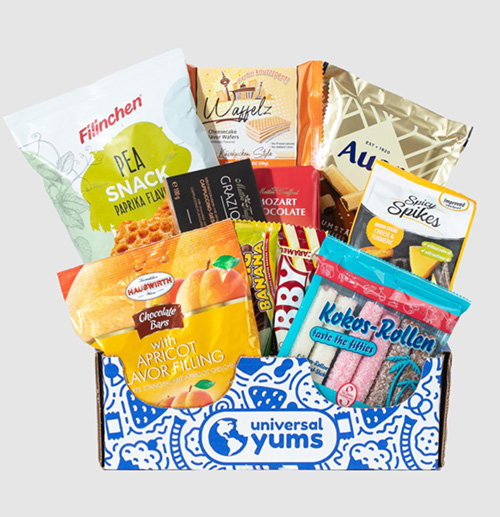 Whether he's off to college after high school, or he's working on that Master's Degree, he's gonna need some high quality snackage! Is snackage a word? Well, we like to think it is.
And we also like to think this snack subscription is totally the way to go. His tummy will thank you. And if you're lucky, maybe he'll share.
22. Personalized Rose Wood Fountain Pen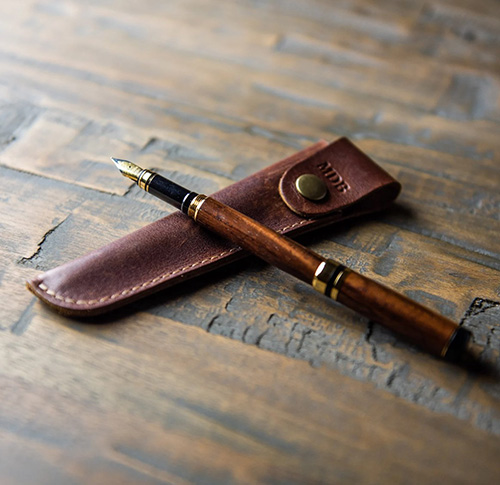 This gorgeous, personalized, rosewood fountain pen is absolutely a must-have if your man is set to be a writer, an accountant, a lawyer or, well, everyone needs a good pen!
This one is so handsome and rustic looking — it really is timeless. He's going to love it. And these make great keepsake graduation gift ideas.
23. Matching Custom Sweaters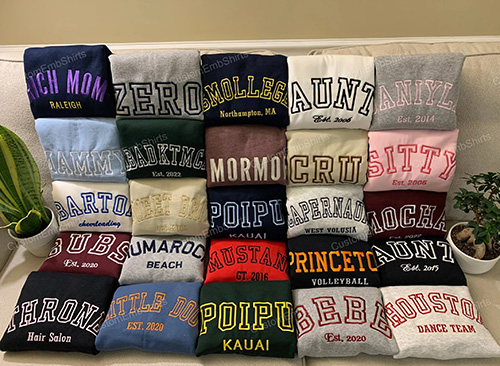 Even if you can't attend the same college or university, at least you can have some matching sweatshirts! You'll be so adorable together out to brunch, we can see it now.
These high-quality sweaters are so soft and comfortable you'll want to wear them each and every day.
24. Self-Heating Ceramic Mug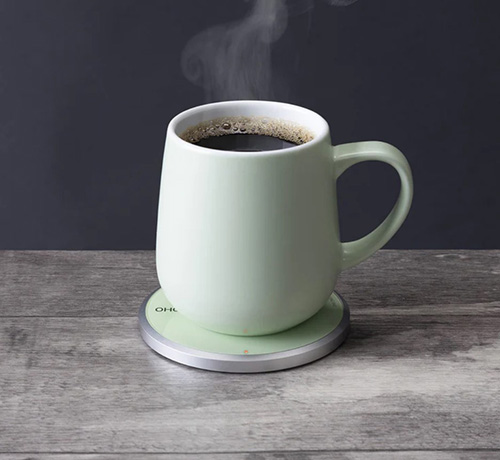 When you're studying or working, that neglected cup of coffee or tea can get cold real fast! But who wants to microwave it over and over again? Blech.
This self-heating ceramic mug is a God-send for those busy days with endless meetings, answering emails, and just living your best — yet hectic — life.
25. Book Nook Reading Valet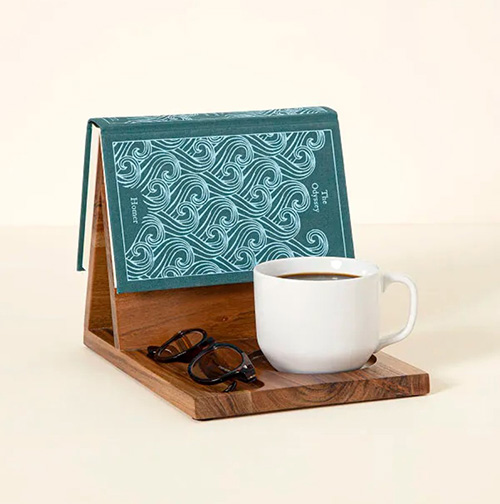 If he takes reading as seriously as we do, he's going to love this book nook reading valet!
It's perfectly perfect for a dorm room and will keep him well organized.
Doesn't matter whether we're talking a textbook or one of his pickings from that endless TBR pile. Keeps his glasses, phone, and a beverage at his fingertips, too!
26. Instant Pot Duo 7-in-1
How did we ever manage without a good InstaPot? God bless whomever invented this handy dandy kitchen accessory! Perfect for his new apartment, or even for his dorm.
This one is 7-in-1, making it a no-brainer choice for your hungry guy. It even comes with over 800 recipes, meaning that dreaded question, "Where do you want to go for dinner?" is nearly obsolete.
27. Beef Jerky Flower Bouquet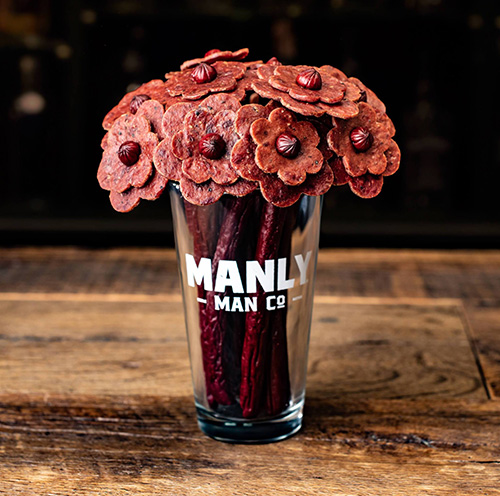 Sure. You could get him flowers and he'll pretend to be thrilled, but what he really wants is this amazing beef jerky flower bouquet!
Face it, he's a cave man / teenage boy in a modern suit. This funny but oh-so delicious bouquet of chewy, satisfying beef will calm his cravings.
28. Beginner Cooking Classes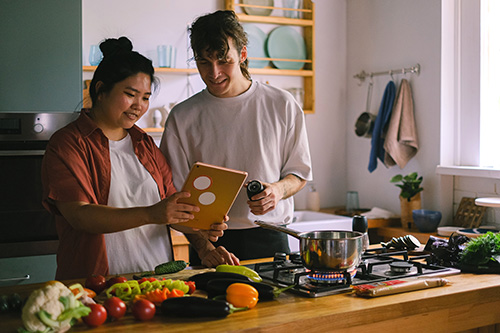 Graduation means no more Ramen, fewer drive-thrus, and less reliance on Mom and Dad's leftover game! Get him a "grown up" gift, like a beginner cooking class. You'll both reap the rewards!
This is a practical boyfriend graduation gift that will benefit him for years and years to come.
29. Dowinx Lumbar Support Chair
Support that body you love so much with this Dowinx lumbar support chair. He'll love easing his sore muscles and retaining great posture, all while simply sitting down.
Whether he is a gamer, an office worker, or simply a person who sits down (Hey! That's everyone!) this great gift will be a perfect fit and much appreciated.
30. Pikachu Graduation Card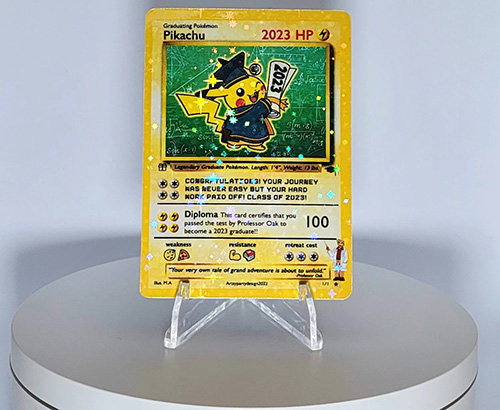 Go old-school with this cute Pikachu graduation card! This is definitely one he'll keep forever, and not just toss in the trash with all of those other generic cards he's going to receive during graduation.
So adorable, and once you write something meaningful inside, it becomes a unique and meaningful boyfriend graduation gift.
College Graduation Gifts for Boyfriends
31. Pacific Crest Profession Signs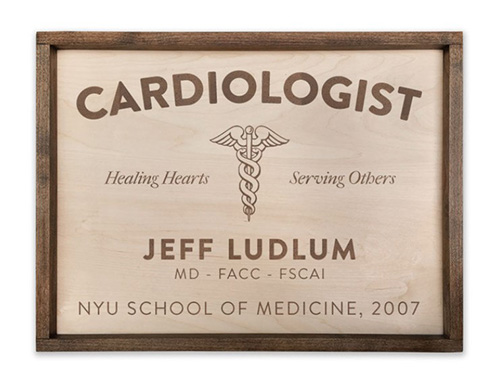 What's his career of choice after all that education? Whatever it is, you can represent it with one of these Pacific Crest profession signs!
He'll adore hanging this great sign up in his new office or lobby, or even at home. These signs look much more expensive than they actually are — just one of the reasons we love them.
32. Hyped Up Mixtape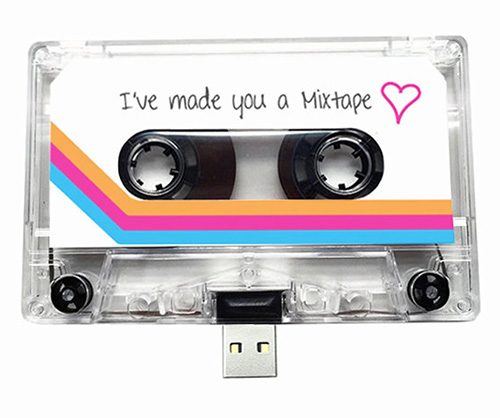 Electronic devices are always a hit with your guy, right? It's almost like we know him or something. This hyped up mixtape is so much fun he's going to be enthralled for hours!
Give him some old-school, flash-back kind of love, all packaged with a modern appeal.
33. Custom Engraved Straight Sided Tumblers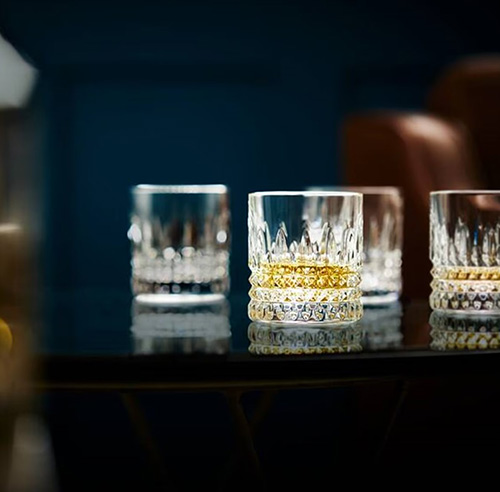 How about some grown-up, custom engraved, straight sided tumblers? These ones are the prettiest and most handsome we've ever seen.
They're from Waterford, so you know the quality is some of the best in the world. For a sophisticated boyfriend graduation gift, you cannot beat this gorgeous set.
34. Professional Attire for Job Interviews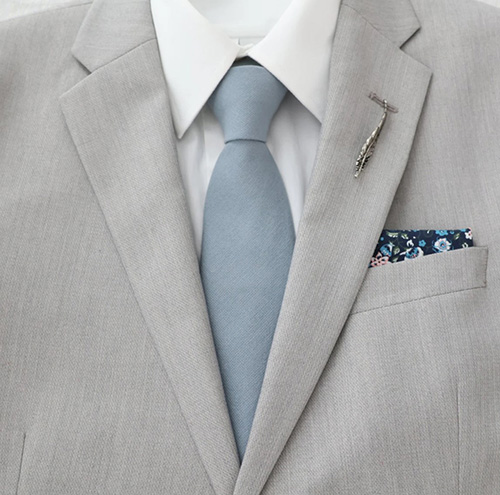 Help him out with his new job search by gifting him some super stylish and well-fitted clothes! Start out with a great tie and go from there.
He'll stand out in all the best ways during those upcoming interviews. (And he'll look amazing for date night, to boot.)
35. Future Chefs: Personalized Bamboo Cutting Board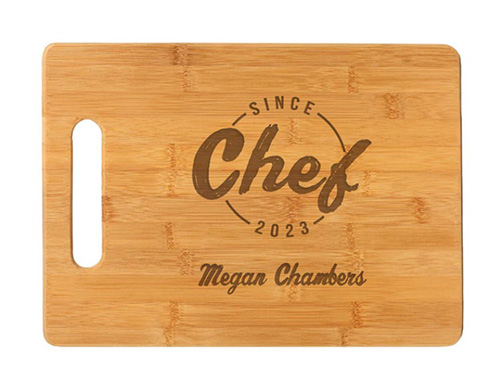 If he's fresh out of culinary school, he'll love this personalized bamboo cutting board! It's the perfect size and totally functional, but also romantic.
Think of all the yummy date night dinners this board will help him prepare. And maybe you can play sous chef and use it, too.
Related: Must-Have Gifts for Every Chef
36. Coffee Subscription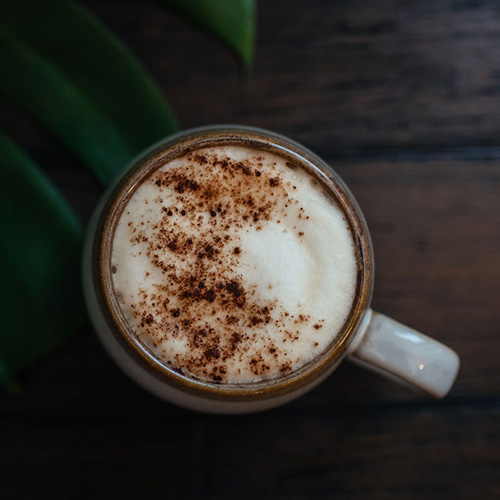 Help him stay up late – burning the candle at both ends — with a coffee subscription! Or maybe he's one of those odd but loveable morning people.
Either way, this delightful coffee subscription will endlessly fuel him. So delicious and smooth. Way better than what you'll pick up from the supermarket.
37. Business Leather Portfolio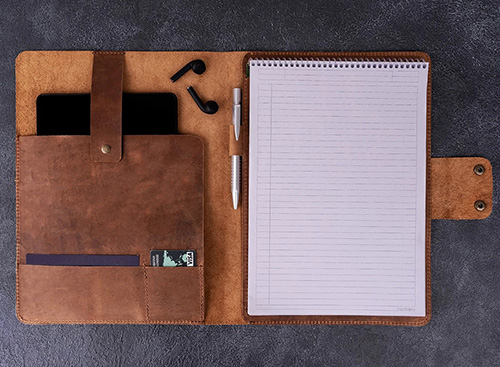 Looking good and staying organized? Say no more! Both your man and his office accessories will fulfill that wish with this leather business portfolio.
It's stylish and timeless as well as practical and functional, with a place for everything and everything in its place. It will be a welcome addition to his entourage.
38. Cigar Club Subscription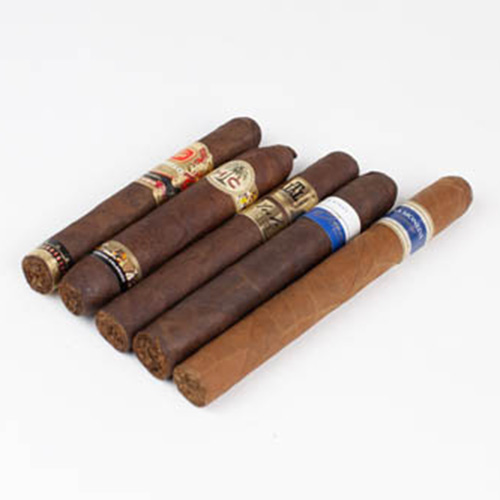 If he loves to smoke the occasional cigar, he'll be really excited for this cigar club subscription! Each and every month he can look forward to finding a new blend, each especially curated just for him and his tastes.
There's just something mysterious and appealing about a man with a cigar, isn't there?
Related: Graduation Gifts for Medical Students
39. Photo Golf Balls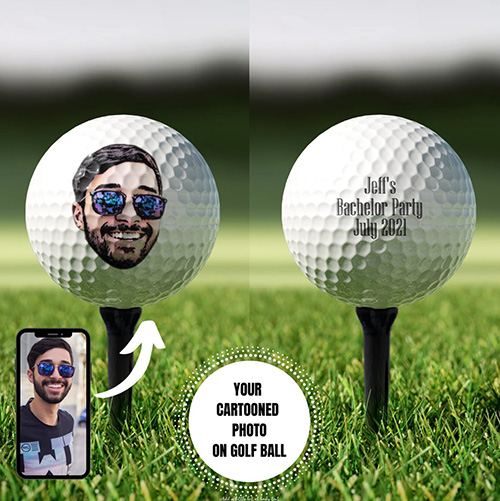 When the golf range is his happy place, these photo golf balls will crack him up! His buddies will appreciate them, too.
So cute and clever, he'll love whacking his own face up and down the green all weekend long. A perfect choice of boyfriend graduation gift if he's a bit of a comedian.
40. Sanibel 20 Piece Flatware Set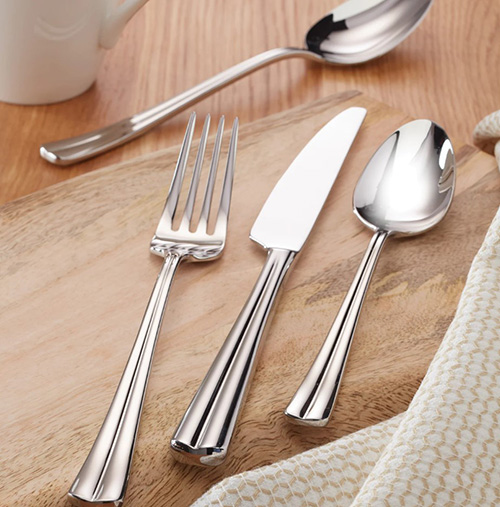 When you move out of the dorm you shared with a roomie, or out of your parent's house, you know what you realize you don't own? Flatware!
Take it from me, who ate every meal with a wooden spoon for a week or two after moving out. This Sanibel 20-piece flatware set is just the ticket for starting his own household out right.
Sentimental Graduation Gifts for Boyfriends
41. Personalized Leather Journal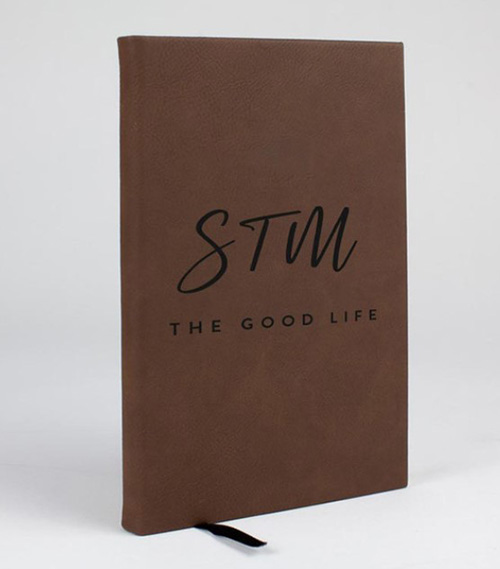 Once you've purchased this good-looking personalized leather journal, you can really make it special by hand writing a little note inside the first page for him.
So delightfully old-fashioned! If he's a young-at-heart, die-hard romantic, poet wanna-be, he'll love this pretty journal.
42. Handwritten Letter Blanket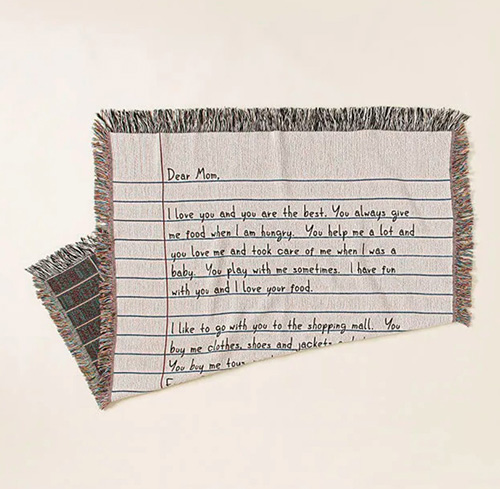 For a special time such as graduation, this handwritten letter blanket is so unique! Take a childhood letter he wrote, something inspirational from his favorite teacher, or a love letter from you and turn it into something one-of-a-kind.
He'll love snuggling with you under this perfect personalized boyfriend graduation gift.
43. Personalized Leather Watch Band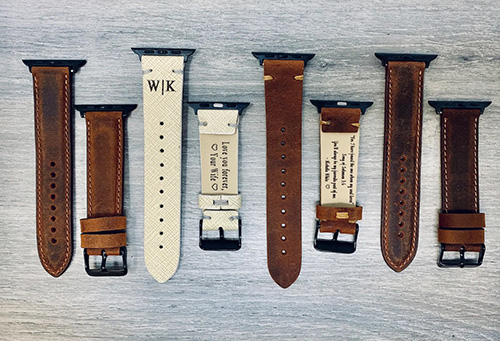 Give him something timeless yet modern at the same time with this handsome, personalized leather watch band.
It will make him feel put together and sophisticated and — big bonus — he won't be late for anything! The personalization really takes it over the top.
Write something romantic or cheeky for his eyes only!
44. Tree Planted in His Honor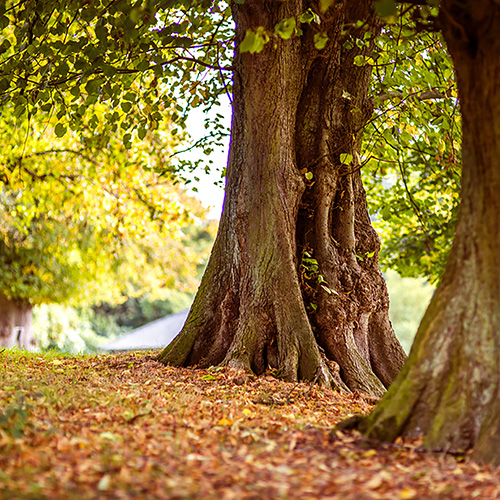 How fun will it be to visit a tree planted in his honor together? As it grows, he can think back on his roots and all that he has accomplished with you by his side.
A great gift for the nature lover and someone who doesn't need yet another "thing."
45. Watercolor Portrait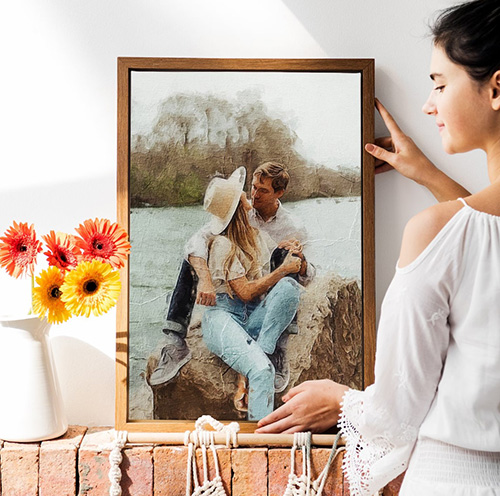 Turn his favorite photograph into a watercolor portrait! This great idea can be anything you like: silly or romantic, serious or cheeky!
Turn a favorite memory into something that will last forever and look wonderful on his wall. If you're looking for an artsy boyfriend graduation gift ideas, this takes the cake.
46. Stamped Wallet Insert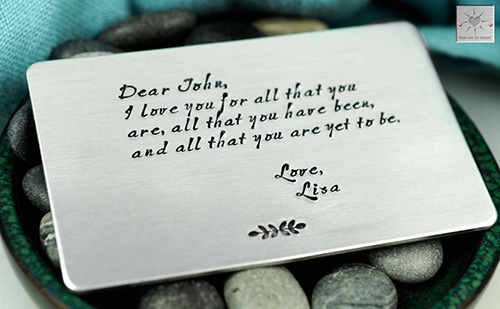 Romantic letters are wonderful but they don't exactly hold up well inside your man's wallet! Send him a personalized little note that will last forever with this stamped wallet insert.
He'll love the sweet gesture and will love looking at it during tough days when he misses you most.
47. Handwritten Leather Wallet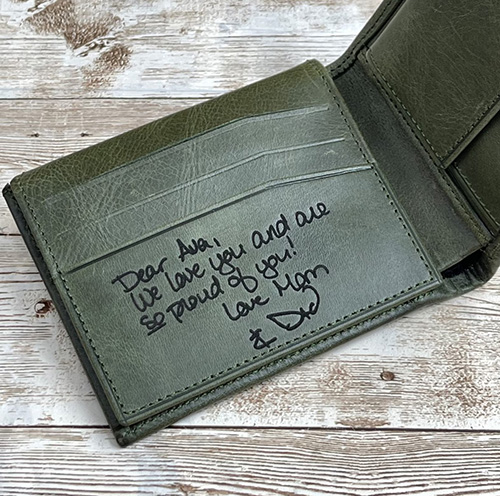 This handwritten, leather wallet is so unique and comes with so many customizable options! It's a great gift for the man who has everything already.
You can pick the color, the engraving, the handwriting, where it's engraved… Practically everything, making this totally one-of-a-kind.
48. Mini Photo Album Keychain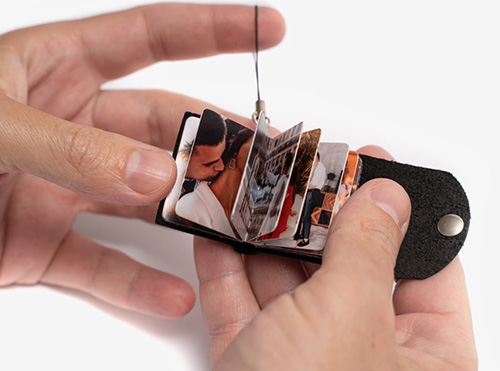 Men love showing off their pretty girlfriends, babies, parents, BFFS, and even photos of themselves!
This cute mini photo album is a keychain first of all, but it's also a great way to showcase all of his favorite memories. He'll be holding everyone captive at the water cooler with this one!
49. I Am So Proud of You Heart Token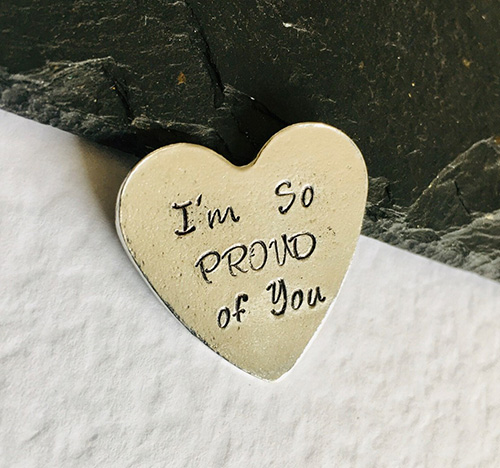 Keep it simple but heartfelt with this cute I Am So Proud of You token. This is such a cute boyfriend graduation gift idea!
He can easily slip it into his wallet, his pocket, his desk, or his glove box for whenever he needs a little pick-me-up on a rough day. Sweet and sentimental!
50. Graduation Keepsake Box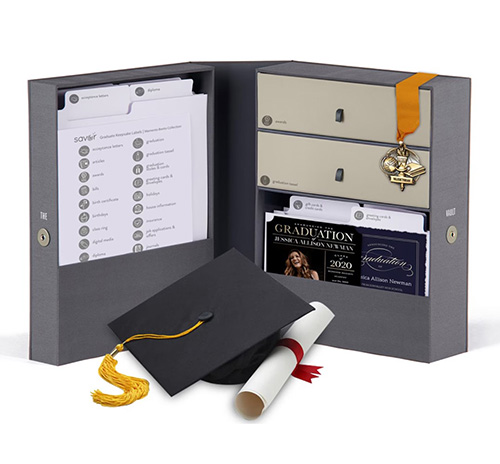 Keep all of that graduation memorabilia and important document stuffs organized and in one place!
He'll be surprised at how useful this gift is, year after year. It will hold everything that reminds him of that big day, whether important or simply sentimental.
DIY Boyfriend Graduation Gift Ideas
51. Memory Photo Book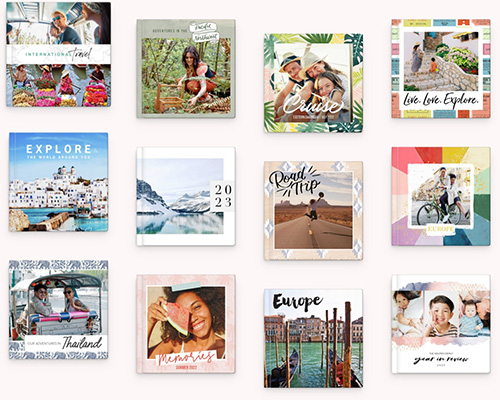 Create a photo scrapbook full of fond memories from high school or college. For creative boyfriend graduation gift ideas, this is definitely a favorite.
Whether you put it together all by your lonesome and then gift it to him, or you do it all together, this is a sweet gift that might bring a few tears to his baby blues.
52. Delicious Graduation Cookie
His tumbly is rumbly after all that graduatin'! Calm the beast inside with a yummy batch of homemade (or store bought) cookies.
He'll channel his inner Cookie Monster and love you forever. You know what they say: the way to a man's heart is through his stomach.
Want to print this cookie recipe? Check out the full recipe here!
53. Graduation Gift Basket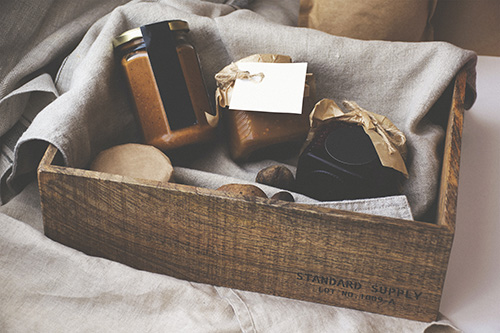 Fill a great basket with his favorite goodies and snacks, stuff he needs for college or for entering the workforce, or the things that reflect his hobbies.
Or all of the above… Make this transition just a smidge easier. Some ideas could be: candy, sodas, coffee, pens and pencils, notebooks, beer, socks. Anything goes, really.
54. DIY Graduation Card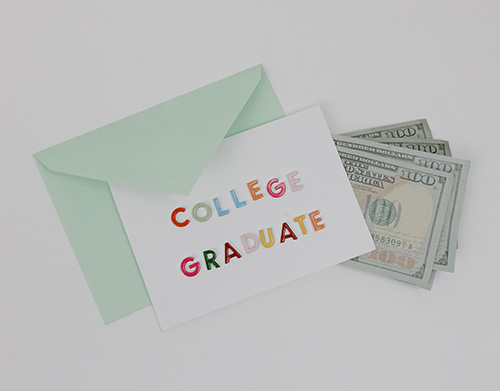 Make him a graduation card from scratch and spray your perfume for an extra touch of romance! Here's a fun idea: roll it up like a diploma! He'll love the old-fashioned touch.
Don't forget to put on a bit of lippy and give it a kiss. He'll melt for sure! Or laugh. Or Cringe…
55. DIY Money Cake
Let's get practical with this one! This easy to make, DIY money cake is one for the record books. His friends might get a little jealous…
It's easy enough to tailor to his favorite colors and styles. He'll greatly appreciate a little boost of help in the financial department as he enters into a new season after graduation.
Read Next: Best Graduation Gifts of All Time