Filling and giving Easter baskets can be one of the most special times of the year. Easter is a day to celebrate Christ's resurrection and commemorate his sacrificial love, and Easter baskets can help make the day special and exciting for little ones. And, let's be honest, for the whole family too!
That's why the way we fill Easter baskets is one aspect of this holiday that we can really use effectively to show love to our families. While most people tend to give gifts during the Christmas season, this is not always the case at Easter; instead, most baskets are stuffed with sugar-filled treats.
If you're going to give an Easter basket, why not stuff it with things that mean something? Gifts that surprise and delight, or even just candy that is tailored to the individual's tastes. Or, if you want to move away from junk food, there are many clever toys, books, and productive activities that you can encourage through the Easter basket stuffers you choose.
That being said, gifts don't have to be expensive or overly elaborate. We don't need to turn another Christ-centered holiday into a gift extravaganza! Still, Easter gifts are a fun tradition. The important thing is that anything you use to fill the Easter basket would be thoughtful, personal, and meaningful.
For example, you can find unique gifts that have a religious theme, emphasizing Jesus Christ and his resurrection. Bear in mind you don't have to only give Easter baskets filled with food.
If you're looking for something different, why not create a DIY Easter basket? There are lots of crafts, games, and activities that you can include, along with candy or home-baked goods if you prefer. You could also include meaningful Christian books, or books from authors that your kids love to read, or cute gifts that your children enjoy so that they look on Easter as a time of joy and delight.
There are many ways to expand your horizons and give thoughtful gifts to your loved ones throughout the Easter holiday season. To help make your sweetest celebration even sweeter, we've compiled a list of some fun Easter basket stuffers. So, whether you're planning your first Easter basket or your hundredth, these gifts will put an end to any last-minute scrambling.
Classic Gifts for Easter Baskets
Let's start out with some go-to favorites.
Chocolate Easter Bunny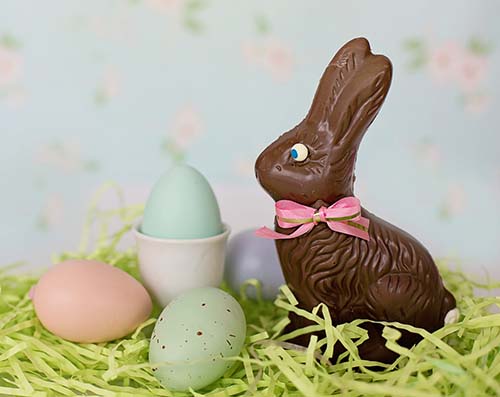 A chocolate bunny is a timeless addition to your Easter basket. They are a nostalgic choice because many people grew up finding these in their Easter baskets, so they associate Easter with chocolate bunnies. Plus, you can't go wrong with chocolate!
Gardening Supplies
Get creative with your Easter garden basket so that it is as functional as it is decorative!
If your friend, family member, or loved one works in the garden, you can choose to make their basket have a practical gardening theme. Include things like gardening gloves, seeds, and small hand tools. You can also add some garden gnomes to the basket to give it a whimsical twist. Consider cute little pots to put houseplants in, or maybe magazines about gardening.
Here are 40 more gardening gift ideas!
Stuffed Animals: Bunnies & Chicks
Stuffed animals are another popular Easter basket filler that children love. You can find them in many different sizes, styles, and colors to match your kiddo's personality! These are also a great addition because you can put them inside the basket with all other gifts.
You can add eggs, candy, or small toys to the basket and put the stuffed animal inside. The child will be delighted to see not only their favorite stuffed animal but also an egg with a message on top that says, "Happy Easter."
Grass: Real, Fake, or Edible
This is the perfect filler if you want to give your kids a realistic garden for their egg hunt. There are many grass options that you can get for your children that will help add to the overall experience. You can choose to either buy plastic grass or real grass.
If you buy or harvest real grass, make sure that it won't wilt during the few days that the Easter basket will be in use. If you want a more realistic effect, you should go with fake grass. Either way, this is a great way to go with your gift. Your children will love the fact that their garden is so realistic, and they will also be able to have some fun sifting through the grass for their eggs.
Colorful Eggs – Dyed or Filled with Candy
Make a few hard-boiled eggs and dye them with fun colors. Add special messages like "Happy Easter" or "He Is Alive." If you put plastic eggs inside your basket, make sure to hide them in the grass and fill them with little candies like jelly beans.
Reese's Peanut Butter Eggs
For another classic idea, you can also give your children a Reese's Peanut Butter eggs! This is another great way to encourage your children to have fun while competing with their friends in the egg hunt.
Small Toys & Knick Knacks
If you are looking for other things to include with your Easter basket, you can always add small toys like a yo-yo, playing cards, action figures, Rubiks cube, and the like. Or whatever fidget toy happens to be in Vogue at the moment!
Peep Marshmallow Chicks
Give your children some Peep marshmallow chicks. Every kid loves those little sugar bombs.
Seasonal Fruits
Want more health in the basket? Buy some delicious seasonal fruits! You can fill each Easter basket with carrots, watermelon, grapes, pineapple, oranges, apples, or strawberries. Whatever is in season really!
Easter Books
Books are wonderful! Give your child their first Bible, an Easter storybook about Jesus, or other fun reads like comic books, joke books, I Spy, activity and craft books, or an entire series from their favorite author.
For adults, choose books that reflect their interests (history, how-to, business), their favorite literature genres (fantasy, romance), or a devotional that inspires their worship of the risen Lord.
Easter Basket Stuffers for Kids
There are several items that you can choose to stuff into your child's Easter basket. You can do this by sticking it in or making them a basket with a removable lid. There are varieties that you can add to your child's Easter basket.
Spring/Bunny Themed Books
Consider filling the basket with Easter-themed books. This is a great way to encourage your child to learn about the holiday early on, especially when they can be re-read each year. Many have cute illustrations and fun stories such as these popular books:
Card Games
If you want to give your child a game to play over and over, you should consider stuffing their basket with some classic card games:
Related: Best Easter Games & Activities
Temporary Easter Tattoos
If you want to engage your child at the Easter egg hunt, you should consider buying some temporary tattoos for them. These are only about a dollar each.
They are easy to apply and have silly designs on them!
Crayons/Markers
For your artist kids, consider buying crayons or markers for them. This is a good idea because children love drawing and coloring all year round!
Water Sprinkler Toys
If you are on a budget, get some water sprinkler toys. They are great for your child and encourage them to stay active while participating in the egg hunt. You can often find these items at the dollar store, too.
Easter Bunny Ears
These are just plain fun. A set of Easter Bunny Ears inspires your child's creativity, and they'll have all the more fun while participating in the hunt!
Easter Basket Stuffers for Boys
There are many different toys that boy will love to find in their Easter baskets. Some ideas include:
Cool sunglasses
Sports balls– baseballs, golf balls, soccer ball
Sticky hands
Small tools
Kid instruments- harmonicas, drumsticks, plastic microphone
Collectible cards – Pokémon, baseball cards, Magic, etc
Easter Basket Stuffers for Girls
Girls love cute little Easter basket stuffers! You might consider wearable accessories and fun prizes like:
Temporary tattoos
Lip gloss/balm
Journals and notebooks
Cute socks
Jewelry – necklaces, rings, bracelets, earrings
Easter Basket Stuffers for Toddlers
Thankfully, toddlers are very easy to please! They love small and colorful toys, especially activities for the outdoors and interactive play.
Spring-colored chalk
Play rings
Stuffed animals
Arts & crafts supplies like glitter, glue, construction paper, paints, brushes, craft kits
Related: Family Easter Gifts the Whole Family will Love
Easter Basket Fillers for Grownups
Adults are a little harder to buy for during the Easter season. Consider filling their Easter basket with something that they can use around the house, something delicious to eat, or skip the basket and go with a small wrapped gift. Here are some ideas that adults love to receive!
Ingredient Filled Jars for Baking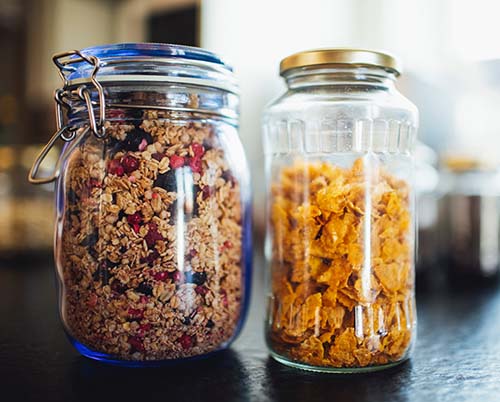 This is a fun DIY Easter gift. Get large Mason jars and fill them with the measured-out ingredients for cookies or muffins, along with an Easter card that includes directions on how to make it. Or keep it super simple and do hot cocoa mix for the whole family to enjoy!
Soft Blankets
A blanket will fill that Easter basket right up! Every grownup loves to kick back on the couch with a blanket, a snack, and a good book or TV show. They'll use the blanket regularly, so it will be a much-appreciated gift.
Lovely Candles
Candles always provide a nice scent. They're lovely to use, filling the home with warmth, light, and a wonderful aroma. Plus they're inexpensive. An all-around great idea for a stuffer!
$5 Bottles of Liquor
These are inexpensive, easy, and fun for sharing. Make it a night of mixed drinks with friends, and enjoy spending time with one another.
Adorable Coffee Cups
Everyone loves a nice coffee or tea, so a coffee cup comes handy every day. Try an Easter-themed mug, or personalize one with their name and fill it with their favorite coffee beans or tea bags.
Mini Syrup Bottles for Breakfast Fans
After that sunrise Easter service, everyone will be nice and hungry for a hearty breakfast. Make it a delicious tradition to include mini syrup bottles of specialty craft syrup (yes, it's a thing) so that everyone can enjoy an artisan take on waffles, pancakes, or Dutch babies.
Summertime Flip Flops
Comfort, relaxation, fun, whimsy, and an array of colors and styles. Everyone can use a pair of flip-flops, and maybe start a tradition of going to the beach every Easter!
Small Easter Gifts
Here are a few more little gift ideas to fill up the baskets of all your favorite people:
Popcorn & a movie
Little chocolate eggs
Vegetable seed packets for the garden
Easter Basket Fillers for Women
Women love things to make them feel pampered, so these types of fillers are always a great idea to include in an Easter basket:
Crochet needles & yarn
Lavish soaps and scrubs
Small succulents or other plants
Fun jewelry
Easter Basket Fillers for Men
Men are somewhat easy to satisfy. You have numerous options to pick from for Easter basket fillers. Here are some of the best ideas include:
Small tools
Energy drinks
Art pencils
High-quality pens
Hobby gear, like golf balls, fishing lures, paintballs
Premium imported cigars
Related: Best Easter Gifts for Every Adult
DIY Easter Basket Ideas
If you are like me, a do-it-yourself kind of person, and want to do something creative, you should consider making some of your own Easter gifts. You can add a lot of variety with some homemade Easter basket fillers!
Eggs in Your Basket: Thoughtful Notes of Affirmation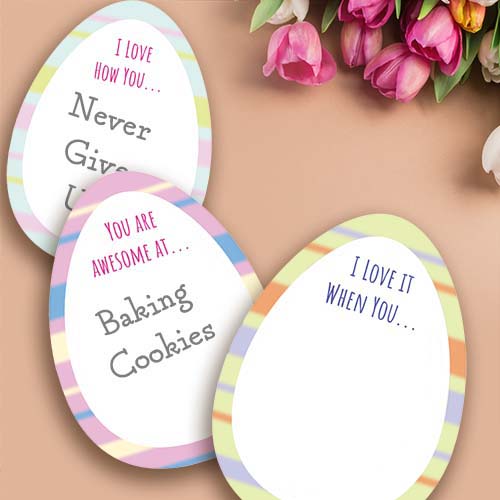 Print and cut out these Eggs in Your Basket notes which provide cute prompts for a thoughtful Easter encouragement. Spread love and warm wishes with your words as you write out ways that you appreciate your loved ones this holiday.
Hand-Picked Flowers
Pick flowers as you see them in parks or while safely walking along your street. You can wrap them in a bow right away, dry them, or frame them. Click here for more beautiful flower gift ideas.
Match the Eggs – Printable Card Game
Here's a cute and fun activity for Easter! Like the classic "Memory" game, this printable can be downloaded and printed instantly. Just cut out each egg for a fun Easter game that will stretch their minds and memories.
Check out our shop for more Easter activities!
Needle Felt Easter Eggs
Talk about adorable! For an affordable yet totally Instagram-worthy basket, make these DIY Needle Felt Easter Eggs. Get creative using different colors and patterns. These Easter stuffers will make each kid's basket "pop" with colorful fun.
DIY Journals
You can make a custom Easter journal out of an old book – here's how. You can make journals out of scrapbook paper, printer paper, construction paper, or even file folders. Get creative and use what you have! Each kid can have their own unique journal to take sermon notes – or, perhaps more likely, draw silly comics.
Paint Spring Scenes on Small Canvas
You can paint a blooming, vibrant spring scene on canvas and include it in the Easter basket. Try cutting out some leaves, flowers, or grass to place behind the Easter eggs and other gifts. You can add such clever and natural variety to your basket with this type of filler!
Crochet Egg Coasters
Here's how to crochet Easter-egg shaped coasters, which they will love to add to your annual decor.
Patterned Box Vases
Do you have some old glass jars sitting around and collecting dust? Turn them into a gorgeous Easter gift with this lovely tutorial.
Homemade Easter Egg Sugar Cookies
Bake these egg-shaped sugar cookies ahead of time to fill up your baskets. Or place the ingredients in jars in each kid's basket, and make them up all together for a fun, productive, and tasty family activity.
First Clue to an Easter Treasure Hunt
Check out this printable treasure hunt! It turns your Easter egg hunt into a ready-to-go scavenger hunt where the kids find eggs hidden all over the house. With the included instructions it's super easy, and the bonus is that you'll have a list of all the places that the eggs are hidden. Win-win!
Click here for more homemade gift ideas!
Why do we celebrate Easter?
Easter is a beautiful Christian holiday that celebrates the resurrection of Jesus Christ. Jesus was crucified and died on the cross on what we now call Good Friday. He was then laid into a tomb. But on the third day, an angel told Mary Magdalene and other women who came to his tomb that he had risen from the dead. From there, he appeared to the apostles and many other disciples, who testified that he had truly overcome the grave.
Every year, Christians worldwide commemorate this event by fasting for forty days or more before Easter Sunday in a tradition known as Lent. Some other traditions include a somber, cross-centered worship service on Good Friday, a joyful Easter Sunday service that celebrates the resurrection, and a feast with family and friends following the church service.
What is the best way to celebrate Easter?
The best way to celebrate Easter is to meditate on the great salvation God has provided in Jesus Christ. God created mankind to worship him, but we abandoned him in sin to follow our own desires. Left to ourselves, we would be separated from God for all eternity as we seek to find joy and peace in things other than God.
However, he did not leave us on our own! He sent his only Son to live the perfect life we should have lived and to die the death that we deserve. Jesus bore the punishment for our sins – death – yet, because he was God incarnate and therefore perfectly righteous, he conquered death and rose again from the dead to guarantee eternal life to all who believe in him. To learn more about this good news – the Gospel – watch this short video.
For Christians, there's nothing better than gathering with God's people on Easter Sunday to worship our Lord, celebrating the resurrection of Christ and proclaiming his goodness. That's why going to church is the central element to every Easter celebration.
Another way to celebrate the resurrection is… simply celebrate! Give Easter baskets stuffed with goodies, gifts, and treats. Bake wonderful delicacies, cook up a fine meal, pour out the best drinks and raise a glass to a wonderful celebration.
What are some other ways to celebrate Easter?
Prepare for your Easter celebration by putting together a special basket filled with some treat foods, special treats, and great things to play with. This is the perfect way to create excitement in children who are still too young to understand the meaning of the holiday. It's a refreshing and delicious way to embrace your Christian roots.
Just like when you visit a relative, you can include various things in your family Easter basket. You can include candy and treats for adults, too. We are always looking for ways to add nutrition to our children's diets, so we include nutritious items in our Easter gift baskets like these yummy breads from Fruitful Baskets. Then, you can include a variety of family-friendly toys that your children will love.
Read Next: Outdoor Toys for Every Kid