Easter is one of those holidays that just begs for some serious (and not-so-serious) family time together! Whether you're religious or not, Easter Sunday is made for brunches, scavenger hunts, cards, photo ops, and — what we're here for — Easter games!
A classic egg hunt in the backyard is pretty much a given, and for good reason! It's so fun to watch the kiddos' faces light up with each discovery. But don't be fooled into thinking the fun stops there! Exciting, Easter-themed games for kids (and adults) abound.
If you're hosting this year, or you just want to help out the host and hostess with some great ideas, here are our 40 best Easter games for kids and the whole family. Let's hop to it!
Easter Games for Kids
Our website is supported by our users. We sometimes earn a commission when you click through the affiliate links on our website. See our privacy policy & disclosures for more information.
1. Can You Find All the Easter Items?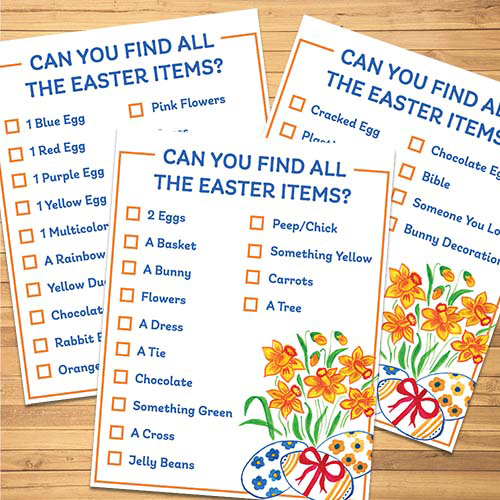 There's nothing like a good old-fashioned scavenger hunt, isn't there? This Easter version is perfect for keeping the Littles happy and hopping!
Easy to print out lots of extra copies (just in case the neighbor children want to drop by), all you need is a set of pencils and some fun detective work.
2. Roll a Bunny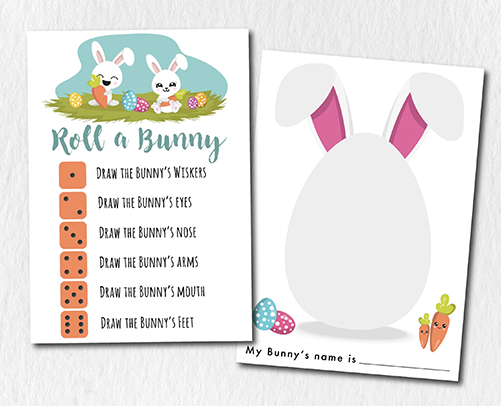 Get their creative, drawing juices flowing with this fun Roll-a-Bunny dice game! The little prompts help with creating an adorable rabbit they can then name and give away (or put on your fridge). So cute!
3. Raining Peeps
Simply buy some cans of shaving cream and several shower caps at the Dollar Tree, and you're halfway to some seriously funny fun with this Raining Peeps game! We've done this one with Cheetos, but Marshmallow Peeps are even more fun. Not to mention way more Easter themed.
Simply have the kids wear their caps covered in shaving cream, toss Peeps at them, and whoever has the most once time runs out, wins!
4. Inflatable Bunny Ring Toss
So cute and easy for all ages, this inflatable bunny ring toss is made for fun! With its soft edges and sweet colors, even the toddlers will love this game. You can make up all sorts of rules (ex. how far back to stand, etc) or just let their love of throwing things fly!
5. Bunny Says
Just like Simon Says, but it's with the Easter Bunny! An easy and effective way to get all the wriggles and energy out, any adult can be the Easter Bunny and shout out how to move. "Easter Bunny says — help Mom stir the gravy, and set the table!" may or may not be used— ahem.
6. Match the Eggs Printable Game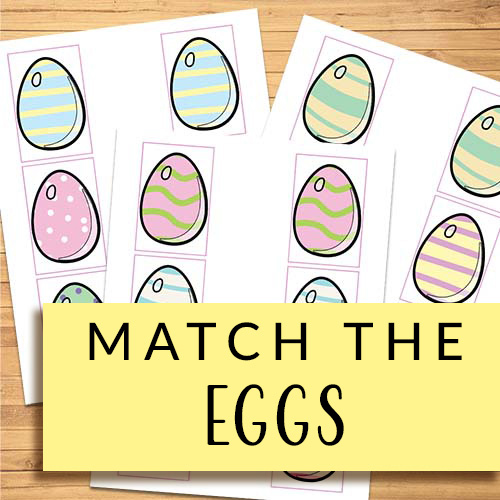 Keep them busy while the adults visit or cook together with this fun "Match the Eggs" printable game. It's simple enough for the young crowd, but even the older kids love to match things! A quick and easy way for the kiddos to settle down a bit after the sugar rush they're bound to get.
Click Here to find more printable Easter fun!
7. Who is Most Like the Easter Bunny?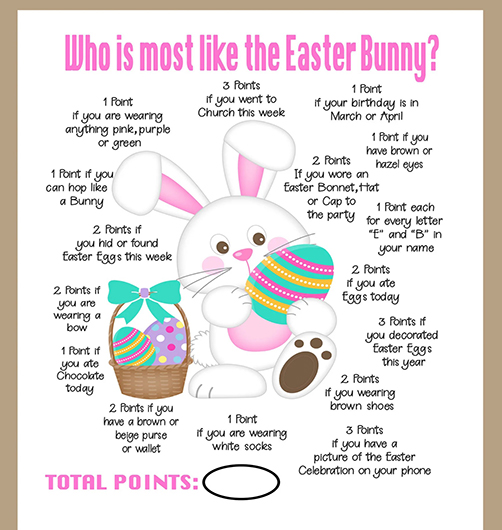 This one is simple, but unique! This game called "Who is Most Like the Easter Bunny," is such a fun little different game for the children. They'll love when they get a point for something they're wearing or doing!
8. Bunny Hop
The farmers are in a tizzy with this Bunny Hop game! Board games are so classic and fun, and this Easter themed one is no exception! Kids will love hopping and skipping 'round the board, testing their memories and spending time with one another.
Are you a board game family? You'll love this collection!
9. Easter Balloon Race
Place blown-up balloons between their legs and see who can run to the finish line first without losing their balloon! If it's warm enough where you live on Easter, do it with water balloons for some refreshing, laughter-inducing fun!
10. Pin the Egg on the Bunny
Just like Pin the Tail on the Donkey, Pin the Egg on the Bunny brings a fun splash of color to your Easter games! It can be played over and over, too. Don't forget the blindfold and maybe a prize for the winner(s)!
Easter Games for Adults
11. Glow-in-the-Dark Easter Egg Hunt
Easter egg hunts don't have to just be for the younger crowd! Stay up late and do a Glow-in-the-Dark Easter Egg Hunt! These great, glowing eggs will light up the night. Provide a few baskets or bags and, of course, a prize for the winner!
You could go with a classic assortment of Easter chocolates if you wish, but you could also shoot for more grown-up prizes like gift cards or a wine and cheese basket!
12. Tap & Crack Egg Game
Boil eggs and pass around so everyone has one. Everyone sits in a circle and has to use their egg to crack the egg of their neighbors without cracking their own. At the end, have everyone get peelin' so you can make some Deviled Eggs, stat!
13. Name That Bunny Trivia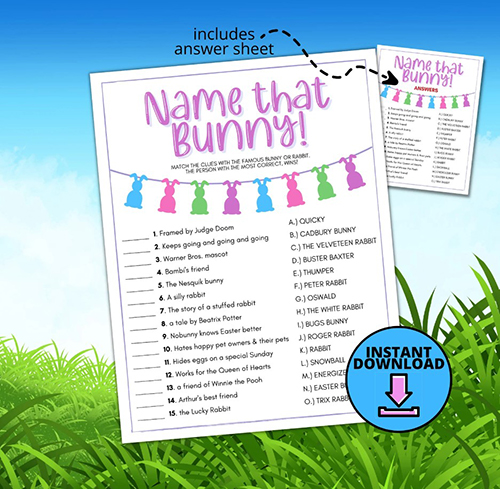 Who knew there were so many famous rabbits? Adults will love brainstorming with their kid-partners during this fun, printable game. It's an instant download, for instant laughter and bonding time!
14. Easter Costume Contest
Have friends and family dress up in Easter themes (chocolate bunny, peeps, eggs, Biblical references, etc.), and host a runway costume contest! Have judges pick winners for best dressed, most creative, worst costume, and more.
Of course, this one will want to be planned out in advance, so let your guests know as soon as possible so they can come prepared!
15. Guess the Jelly Beans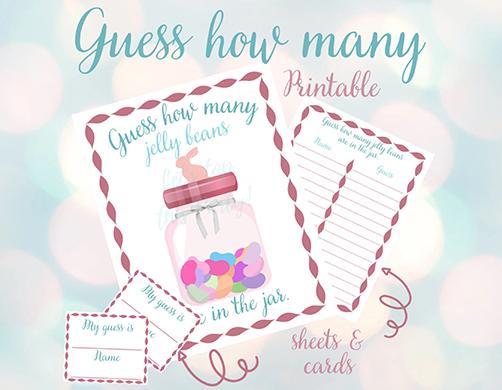 Can't go wrong with a classic game of Guess the Jelly Beans! Simply place them in a Mason jar or any see-through container (with a lid). Don't forget to count them as you put them in though! Winner gets to keep the jar, and if you're lucky maybe they'll share.
16. Beer Hunt
Instead of eggs, place beer bottles or mini liquor bottles around the yard for adults to find! Who needs eggs when you have craft beer or strawberry margaritas, am I right? Adults will love this fun twist on an Easter egg hunt.
17. Easter Word Scramble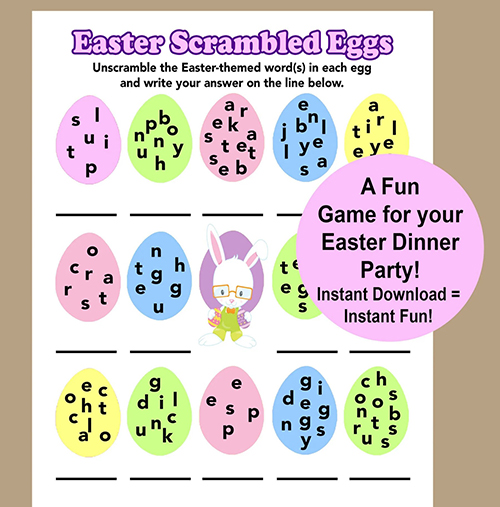 Use this download or make you own! Introverts especially need a little time and permission to stop socializing for just a minute, so they'll love the opportunity to do a fun Easter word scramble. This one is great for the whole family, too!
18. Capture the Egg
Just like Capture the Flag, but it's an egg instead! Adults will love reliving their childhood days with this throwback game. Prepare for the whole neighborhood to get involved, too! We think this one is bound to become a yearly tradition in no time.
19. Truth or Dare Egg Grab
Sit around in a circle with plastic eggs in the middle of everyone. The eggs will have a card inside that either reads "Truth" or "Dare" followed by a prompt (ex: TRUTH: "Do you actually love your spouse's cooking?"). They can either respond or take a shot! A super fun and festive spin on a classic drinking game.
20. Easter Scavenger Egg Hunt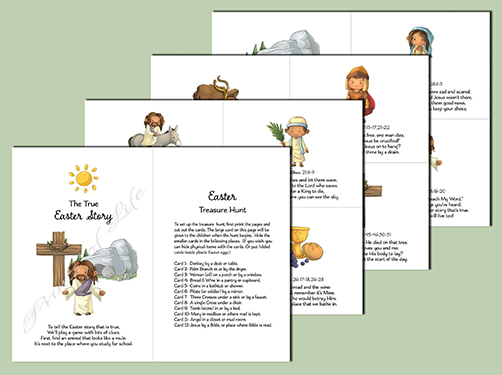 Scavenger hunts are definitely NOT just for the little ones! Adults love them, too! You can find so many good ones online to download, or completely make up your own for a one-of-a-kind experience. Have some prizes for the best "hunter."
For some scavenger hunts that DO include the kids, here are some more great ideas:
Related: Easter Gifts for Adults
Easter Egg Games
21. Spoon Race
This Spoon Race set is sure to become a tradition for many Easters to come! It's so fun and you might get a bellyache from all the laughing, whether you're participating or just watching. It can be played over and over again, making it a great one for the ol', "I get to play the winner!"
22. DIY Egg Popper Tree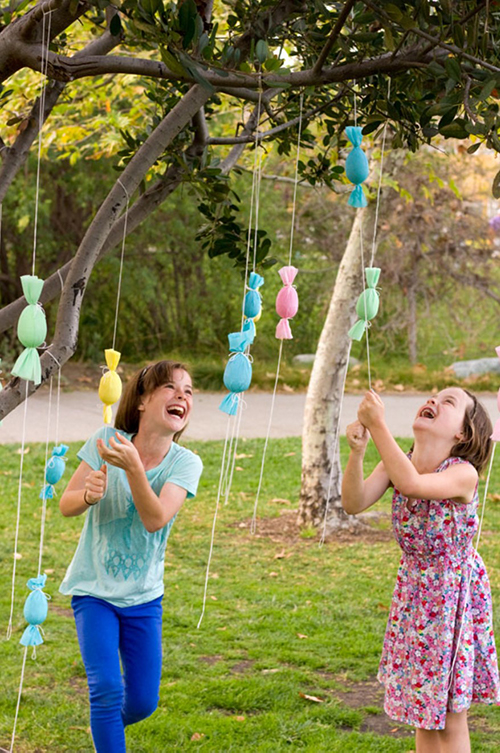 A throwback to the fun of Easters past, this DIY Egg Popper Tree will brighten up your yard, making it really feel like a traditional Easter celebration! Kids and adults will love seeing it as they pull up to the house. Make sure to take lots of videos and photos with the egg tree!
23. No Hands Egg Race
Divide everyone into teams, and place a basket full of empty, plastic eggs in front of each team and an empty basket on the other side of the room. First person must place an egg between their thighs and race to let go of it over the empty basket.
If they drop the egg outside the empty basket, they must start over. First team to empty/fill their baskets wins! Come up with some cute, Easter-themed prizes for the winning team.
24. Giant Outdoor Egg-Plunk
Kerplunk! This fun game is made even more fun (and more Easter themed) with the addition of super large eggs! All you need is a little knowhow and elbow grease to make your own DIY version, and this great tutorial will walk you through it all.
25. Egg Roll Race
Line up eggs on the ground with a player sitting behind them. Players must push the eggs with only their nose across the room! The first player to the agreed upon finish line wins the game! This one will get the adults and the kids to have real-live giggle fits upon giggle fits! So fun.
26. Easter Egg Tower
Break the plastic easter eggs in half, and try to stack them as high as you can! The highest tower before the inevitable collapse wins!
Bonus: it's not as noisy as Jenga when the tower tumbles! A festive twist on an all-time favorite.
27. Easter Egg Exchange Dice Game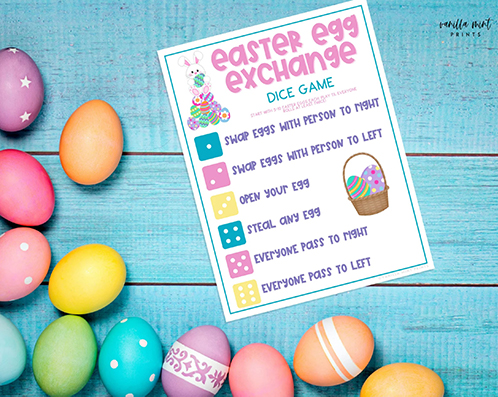 After the traditional Easter egg hunt, here's a fun way to share and swap all those hard-boiled or candy-filled plastic eggs! This Easter Egg Exchange Dice Game will have everyone at their most competitive and having a blast!
Easter Party Games
28. Party Passer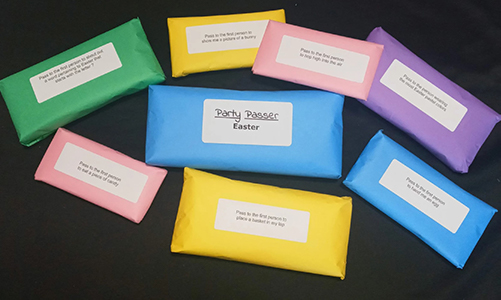 So hilarious to watch and participate in, this Party Passer game is from a small family in Oregon. Your guests will have so much fun, and the hilarity will really kick up a notch as you frantically pass packages back and forth with much abandon!
29. Easter Think Fast Party Game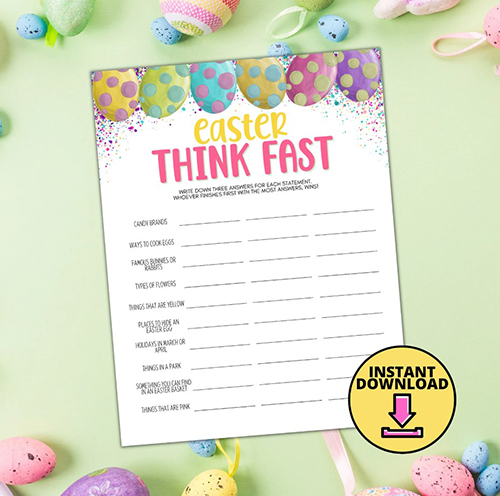 Print and pass out this simple but still challenging Easter-themed 'Think Fast' party game and set a timer! Your guests will be scrambling for the right answers to see who can beat the clock! How about a prize for the winner? They'll love that!
30. Large Outdoor Tumble Timber
Get everyone outside with this super fun and seriously big Outdoor Tumble Timber! Easy to play over and over again, it is sure to be a hit with all of your guests. The tower grows to over 4 feet tall before it will come tumbling down to a chorus of laughter.
31. Easter Bingo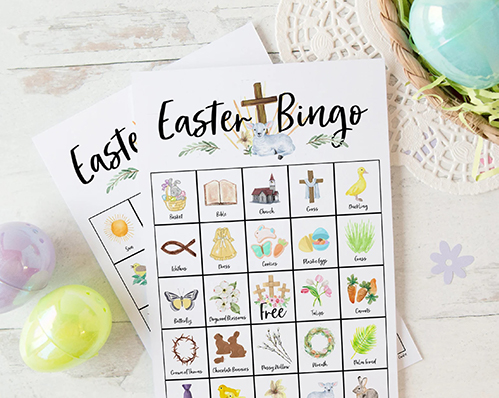 Everyone loves Bingo, from the old to the young! This Easter version is so fun to play, and brings a little bit of Jesus back into the holiday. Grandparents will love partnering up with the Littles for some bonding time.
32. Giant Yard Pong
Great for outdoor play, this Giant Yard Pong can be totally customized for your needs! You can make it super advanced and difficult, or easy peasy. Great for hand-eye coordination, and a huge hit for the competitive sports team lovers!
33. Egg Decorating Content
First figure out who the judges are and who the contestants are. Contestants will decorate their egg with the given crafting supplies (paint, markers, tape, stickers, glitter, etc) in a given time. When done, judges will hand out awards for the prettiest egg, the ugliest egg, most creative egg, funniest egg, etc
Fun Twist: have your social media followers be the judges so everyone can participate!
Easter Egg Hunt Ideas
34. Easter Egg Hunt Printable Clues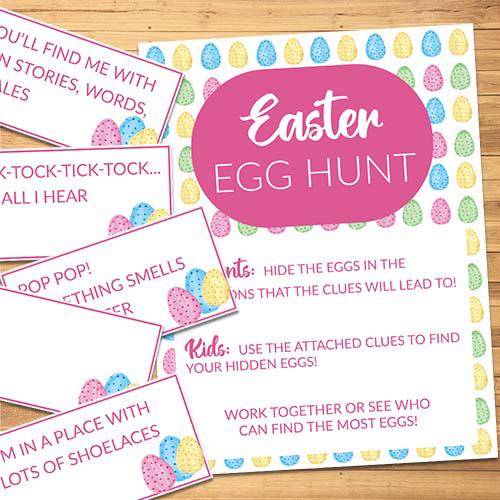 What is a better way to celebrate Easter than with a fun Easter egg hunt? Add a twist to your classic hunt with these colorful printable clues to direct the kiddos (and even adults) to where the eggs are! Comes with pre-made clues and empty clue cards for you to write your own fun riddles!
Need some ideas for the blank sheets? Use these-
| | |
| --- | --- |
| Riddle | Answer |
| Roses are red, violets are blue. Where I am the flowers bloom | Garden Bed |
| You can use me to play in or water the lawn | Water Hose |
| On a porch is where I sit | Porch Chair |
| I am where your clothes are warm and dry | Dryer |
| Look in the very back of where you find your snacks | Back of Snack Drawer/Pantry |
| I am in the pocket of something that keeps you very warm | Winter Coat |
| I am in plain sight as you watch me all the time | TV |
| I sit where you make this every morning | Bed |
| I am on something swings open & closed, locks, and feels the sun light | Fence Gate |
| I am near something with a round knob that people use to come inside | Front Door |
| I am surrounded by seeds and hanging from a tree! | Bird Feeder |
| Look close to where you rest your head | Under Pillow |
| I'm hiding where you love to nap and slouch | Couch |
| What is cold then hot then goes beep | Microwave |
| I have a red flag and am full of paper, what am I? | Mail Box |
| I move around but I am not electric, and you can direct me where to go. What am I? | Bike |
35. Wooden Token Prize Eggs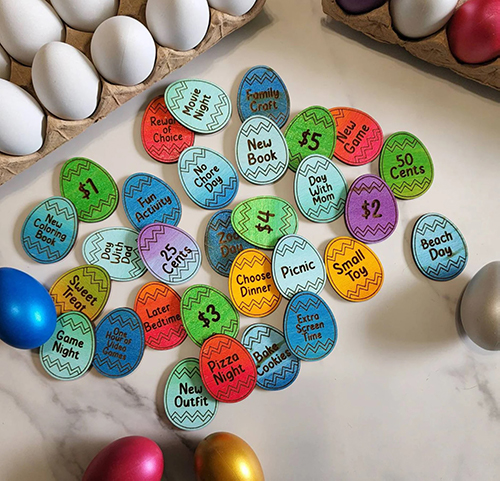 Fun for slipping inside the plastic eggs, or using in place of, these cute wooden token prizes take the (Easter) cake! You can get them in a set of 12 or 24. The prizes they promise are even better than an old chocolate bunny, right? We think so!
Related: Ultimate List of Easter Basket Stuffers & Fillers
36. Easter Scratch Off Prizes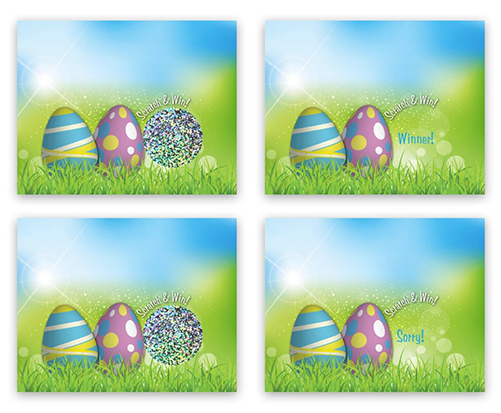 Kids will love scratching off these Easter tickets and seeing if they won a prize! Prizes can be anything you like, but you can't go wrong with stickers, temporary tattoos, balloons, and the like. After all, they've gotten plenty of candy!
37. Puzzle Hunt
Place puzzle pieces inside of the easter eggs; they must find all the eggs to complete the puzzle. Tip: For teams, color code the egg to the puzzle, teams must find their own colored egg to find their puzzle piece. The first team to do so wins!
38. Eggs & Tasks!
Inside the easter egg, place a task the finder must do when they find the egg! Ex: Hop three times, yell "Happy Easter!" in a high pitched voice, sing a song, wear bunny ears for 30 minutes, do the bunny hop, etc. These are loads of fun, and bound to produce plenty of belly laughs.
Easter Egg Hunt Ideas for Large Groups
39. Easter Egg Relay Race
Pair everyone into teams. Only one teammate goes out to find the egg at a time — once they find an egg they must run back to the group and tag the next person to go out looking for eggs. The team with the most eggs found wins!
40. Golden Egg
Hide just one golden egg which will contain the ultimate prize of your choice — money, lottery ticket, movie tickets, gift card, restaurant certificate, an Apple watch, earbuds, etc. Now, of course you want this egg to be hidden very well. After all, you don't want it to be found too quickly!
You can always start giving clues like hot/warm/cold/cool to get them in the right area if it turns out you really are a master egg hider!
Read Next: Family Easter Gifts for Everyone