Last Updated on July 31, 2020
Each year when Christmas season rolls around, we've found our list of families and individuals to whom we want to give Christmas gifts growing by several notches. This is a happy thing, because our extended family is growing as new spouses, significant others, and children are added, and new friends are being made. We love it!
But this expanded Christmas gift list does make affordable gift shopping a daunting task. One easy way to handle the task is to do "bulk gifts" – interesting and fun DIY gift packages we can create at home from a handful of relatively low-cost purchased items plus a few items we normally have around the house.
Picture this: instead of plunking down $25 or $50 for a generic gift card to an ice cream shoppe, how about a cute gift box with everything a family needs for spectacular ice cream sundaes, with a little note that says "just add ice cream"?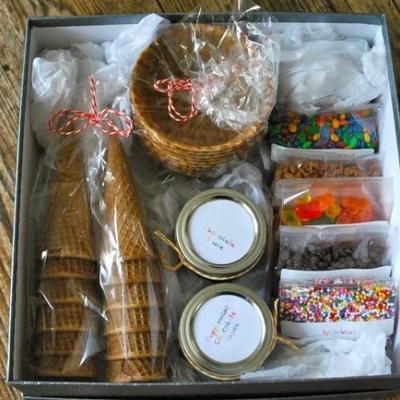 You can make five or more of these DIY ice cream sundae gift boxes for that same $25-50! Or what say you to the warm, cozy feeling of a hot cup of Christmasy Irish cream hot chocolate? For the cost of a few mason jars, a tub of cocoa mix, and a few mini bottles of Bailey's Irish Cream, you can have an easy and affordable DIY Christmas gift for your entire extended family. (See below!!)
Making Christmas gifts for others is fun, allows you the opportunity to throw in a personal touch or unique twist, and helps you keep finances in order. This is why we've created this DIY gift guide for simple, nifty Christmas gifts.
DIY Paper Plate Clock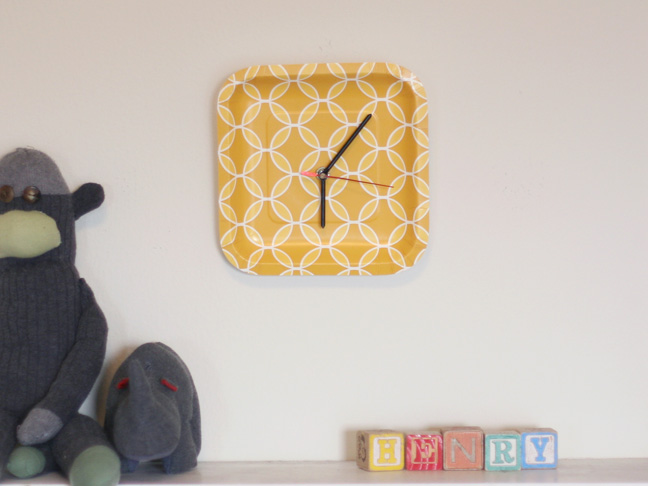 This is a good one to involve the kids in making their own gifts. Check out this simple tutorial for a fun Paper Plate Clock, great as a Christmas gift for a teacher.
Easy Paper Clip Earrings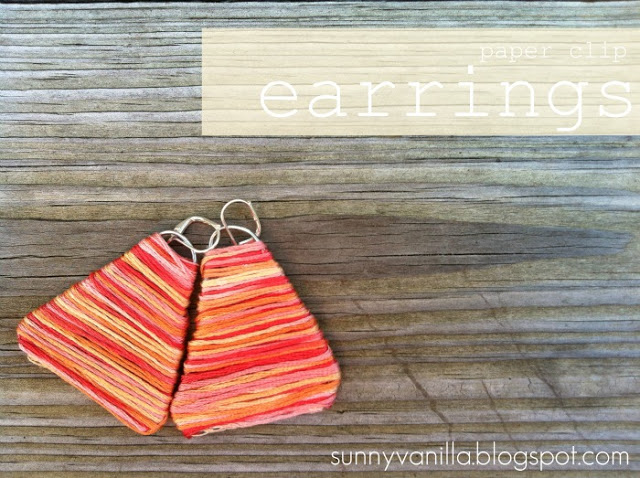 These paper clip earrings are adorably cute, and you can most likely make them using materials you already have on hand. All you need is embroidery floss, earring clips, paper clips, and glue. Check it out.
DIY Handwarmers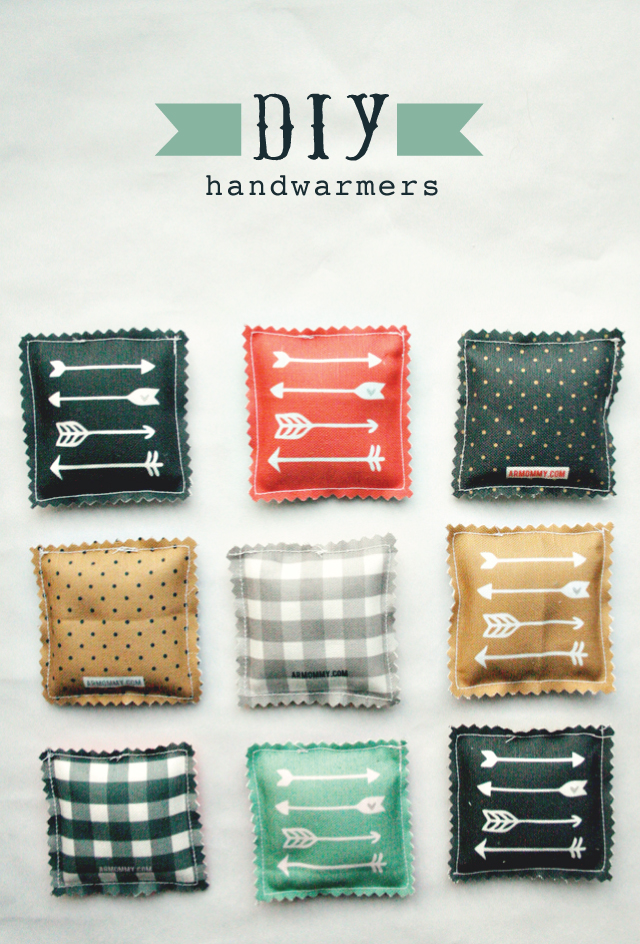 Adorable, simple, and useful during those cold winter months. Make a couple of DIY handwarmers to stuff in every stocking on your Christmas gift list.
DIY Teacup Candles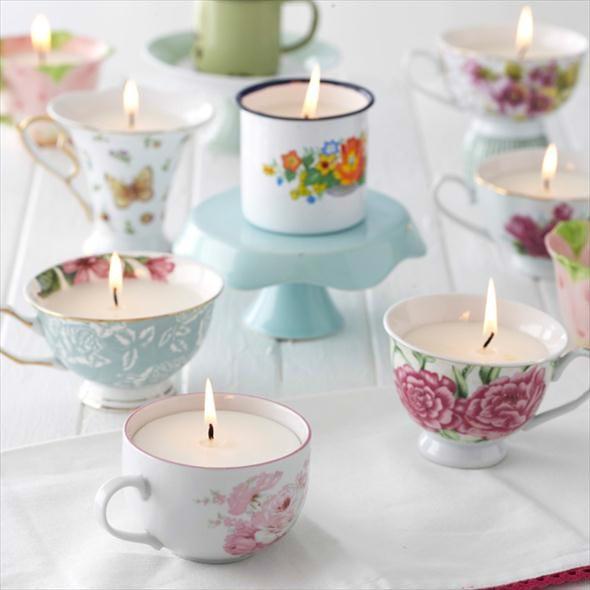 Turn old candles and thrift store teacups into a cute and simple DIY Christmas gift. This is an easy one to do in bulk for all the ladies on your list! Tutorial here.
Holiday Welcome Mat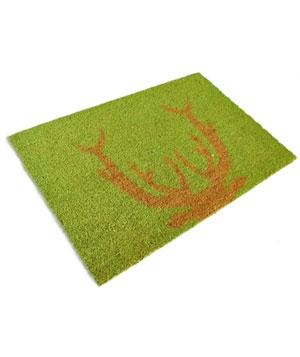 This fun holiday welcome mat tutorial uses a standard doormat, tape, and paint. Make any shape you like – snowflakes, reindeer antlers, "Ho Ho Ho" or anything else you can think of. An easy one to personalize for each recipient.
Reindeer Cocoa Cones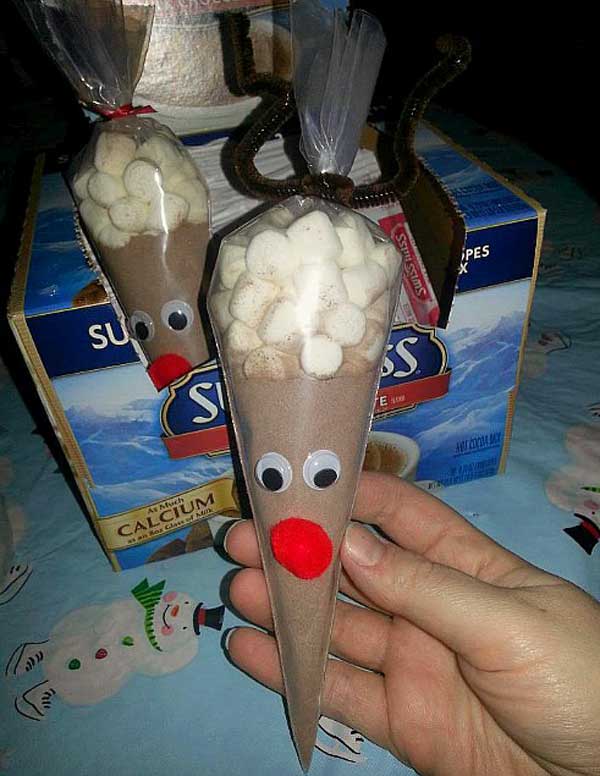 The whole family will enjoy a cup of hot chocolate when you give them these easy DIY Reindeer Cocoa Cones. All you need is cocoa mix with marshmallows in plastic piping bags, adorned with regular craft staples such as brown pipe cleaners, googly eyes, and red pom poms.
Dollhouse Coloring Book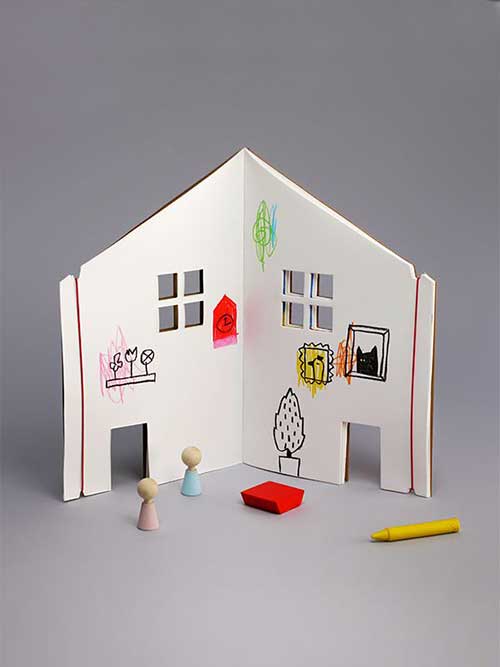 This is a nifty idea we spotted on Rock & Pebble. A journal-style book shaped so that when opened, it makes the outline of a house. Complete with cutouts for windows and doors, this dollhouse coloring book will provide hours of fun for kids who love to color!
Make it yourself using journals from your local arts & crafts store and an exacto-knife.
Cute iPad Case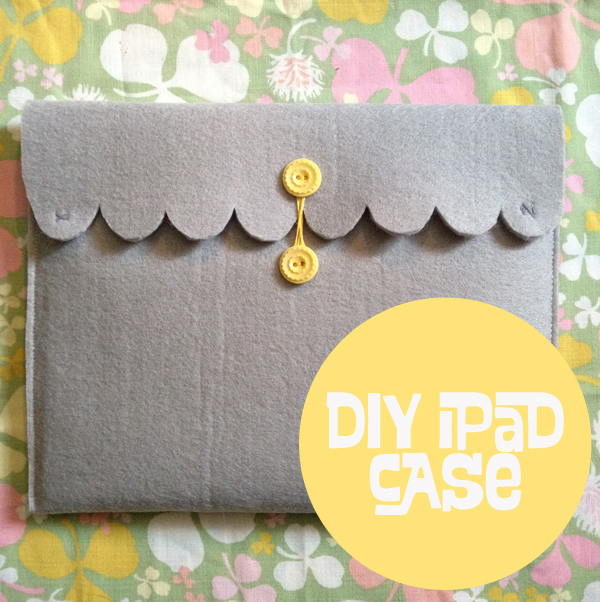 Check out this fun tutorial for an iPad case. Works especially well when given with an actual iPad.
DIY Candy Sleighs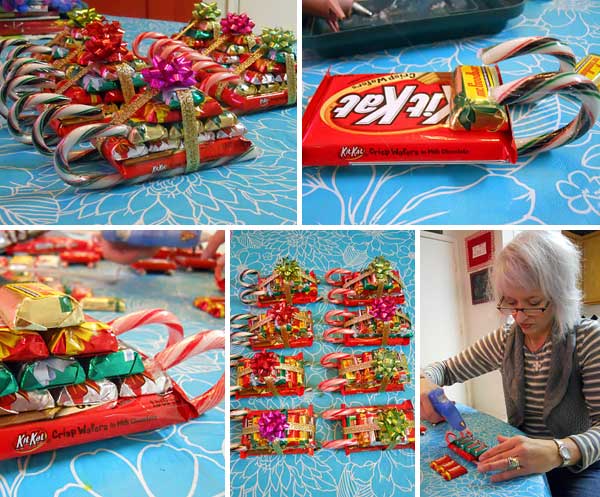 Use Kit Kats, candy canes, and select bonus candies to create these fun and festive candy sleighs. Perfect for giving to kids! Inspiration here.
DIY Gift Wrap for Kids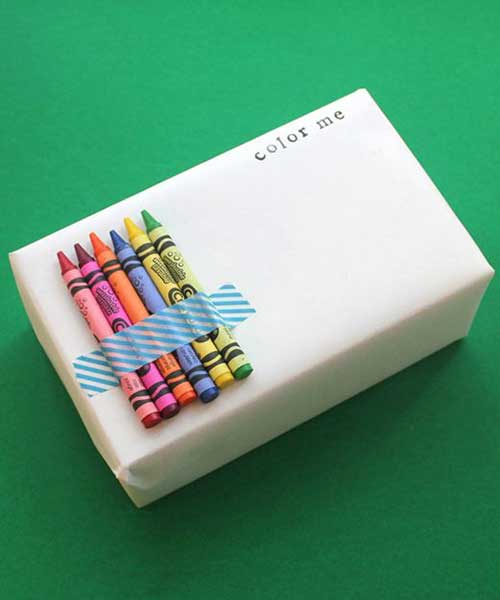 This is a great idea for those family get-togethers where kids have to wait to open presents. Give them a pre-present activity! All you need is white paper, some crayons, and a bit of not-too-sticky tape. (Source)
Vintage Tablet Holder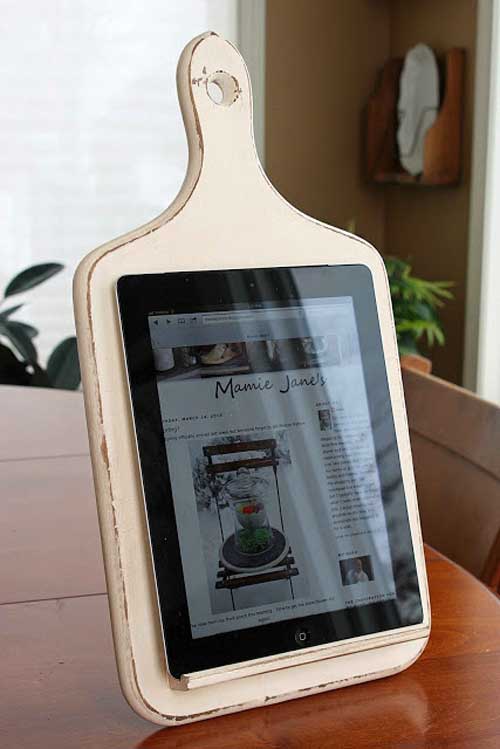 A simple how-to from Mamie Janes which involves a thrift store cutting board, Scrabble tile holder, a child's triangle wooden block, wood glue, and white paint sanded down for a vintage distressed effect.
Bailey's Hot Chocolate Mix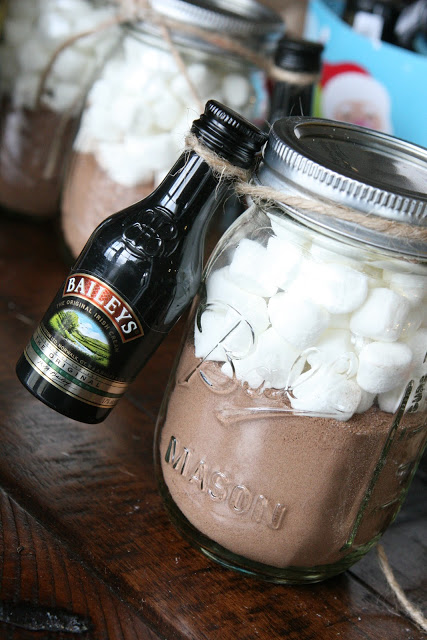 Brilliant, cozy, and simple. The perfect DIY Christmas-Chocolate gift: Fill a mason jar with cocoa mix and marshmallows, then tie on a mini bottle of Bailey's Irish Cream. Works well as a couples gift.
DIY Reindeer 6 Pack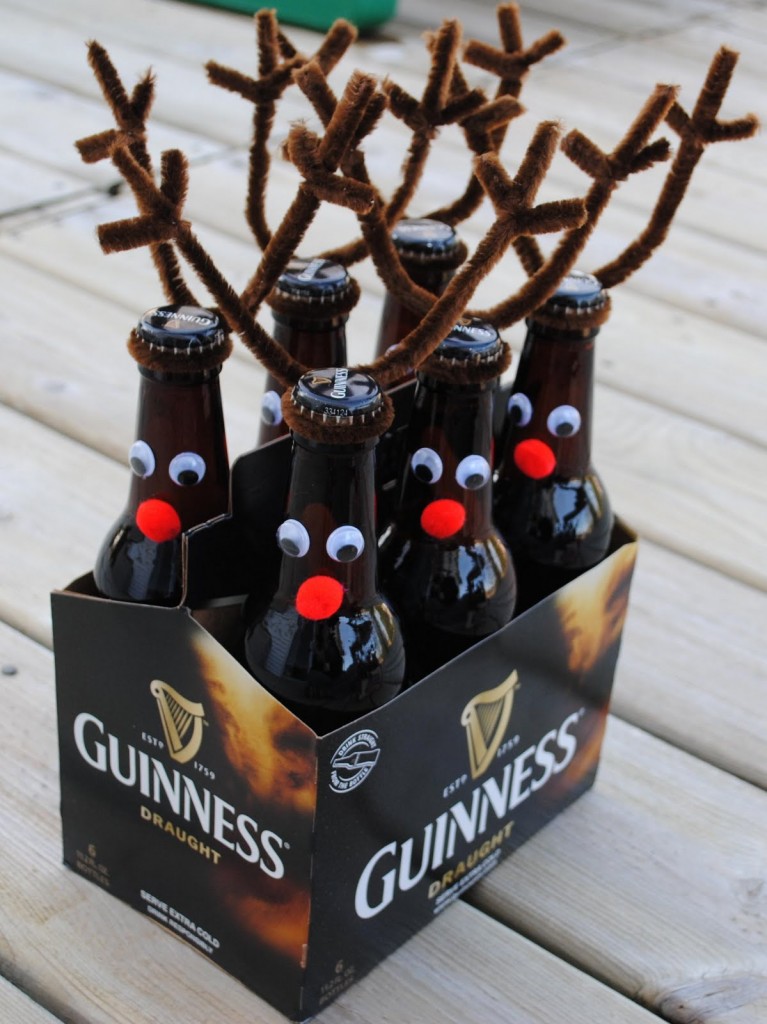 Turn a 6-pack into a festive version of Santa's reindeer, using a favorite craft brew or a family-friendly pack of delicious root beer. All it takes are some brown pipe cleaners wrapped around the caps and some googly eyes and red fuzzies glued onto the bottle and viola! Santa's six pack.
Funfetti Cookie Mix in a Jar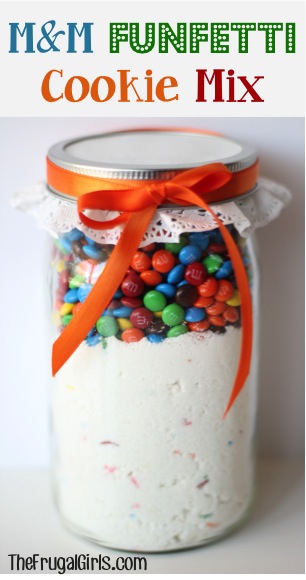 This great idea from The Frugal Girls creates a fun spin on the "cookie mix in a jar" theme by using Funfetti cake mix as the base for the cookies. As a bonus, it's ridiculously easy – all you need is a box of Funfetti mix, a package of M&Ms, a mason jar, and whatever decorative accents you want to add to beautify the gift. If Funfetti isn't your (or the recipient's) thing, here are 25 more mix in a jar DIY gift ideas.
In Case of Emergency Cash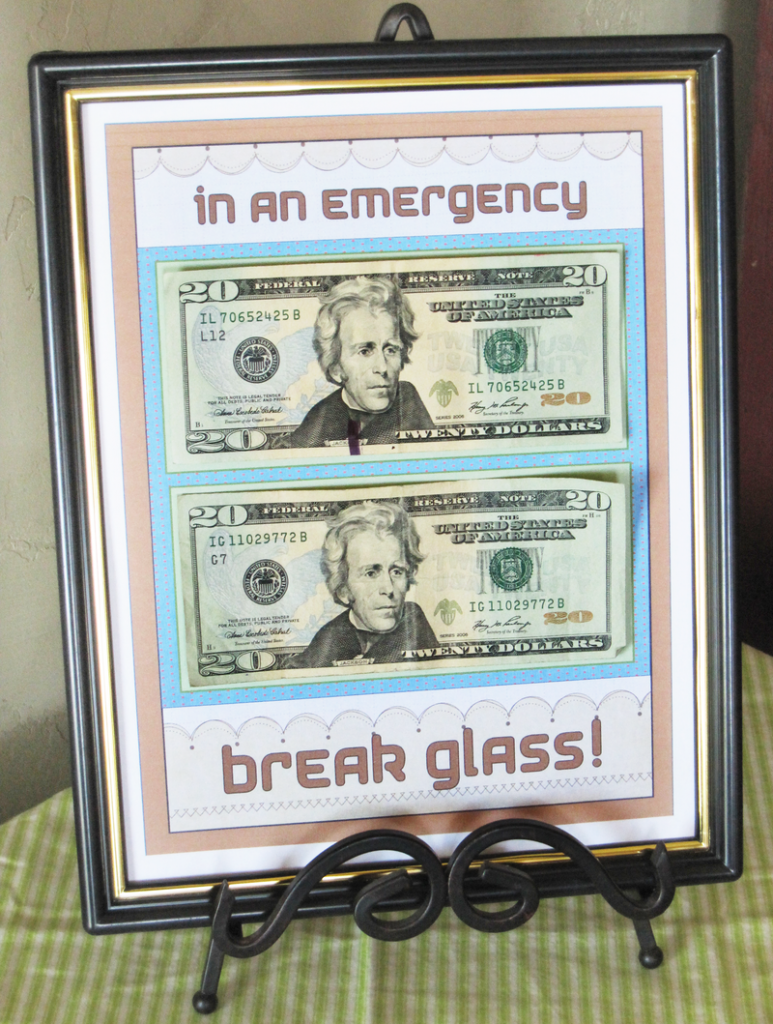 A fun way to avoid giving a card full of money. In case of emergency… well, you know what to do. (Source)
In Case of Emergency Chocolate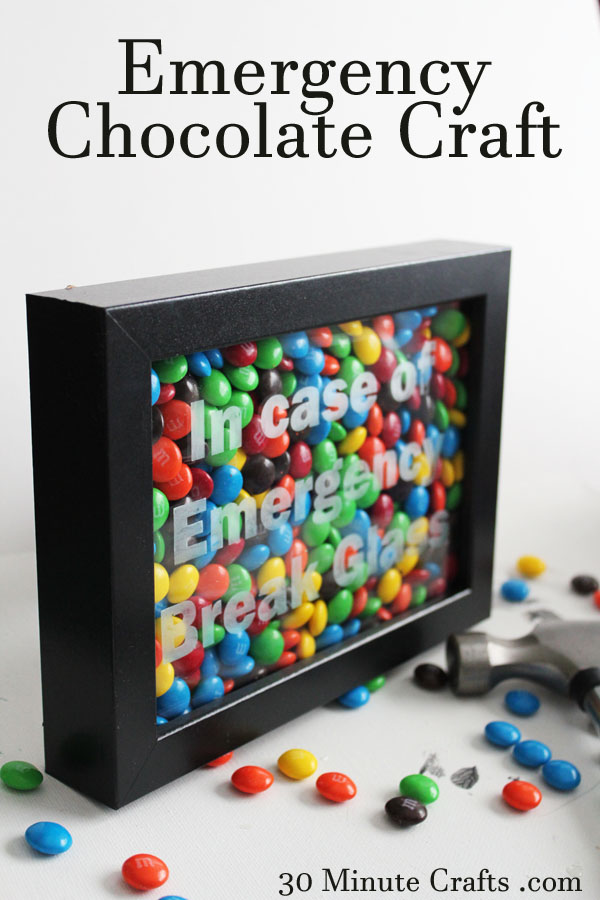 We all know there are different kinds of emergencies… this one is for the Chocolate variety. Handy tutorial for this fun gift idea here.
We Whisk You A Merry KISSmas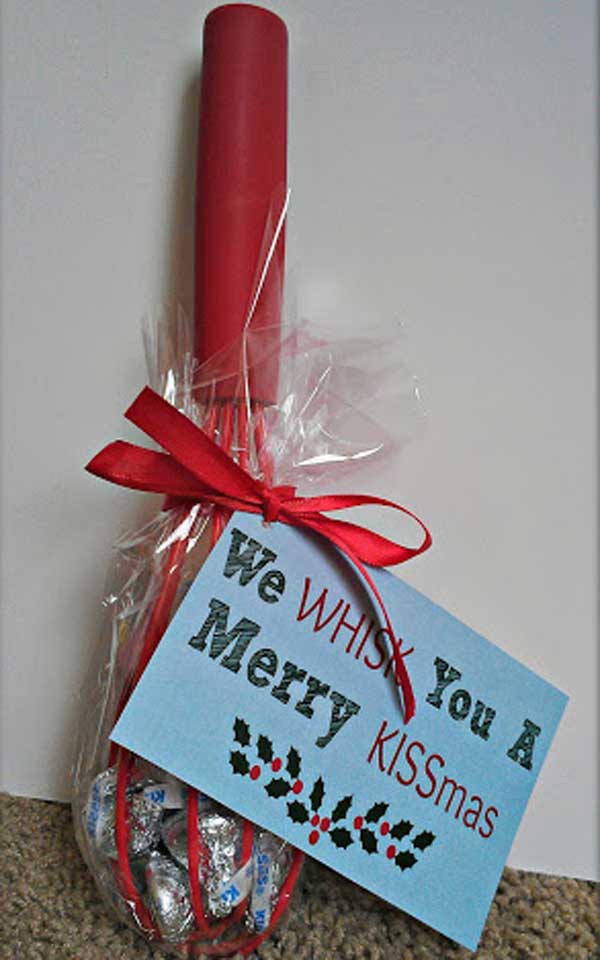 Fill up a whisk with chocolate kisses, wrap it up, and add a card with this super duper pun. Get the tutorial and printable card here.
A Year of Dates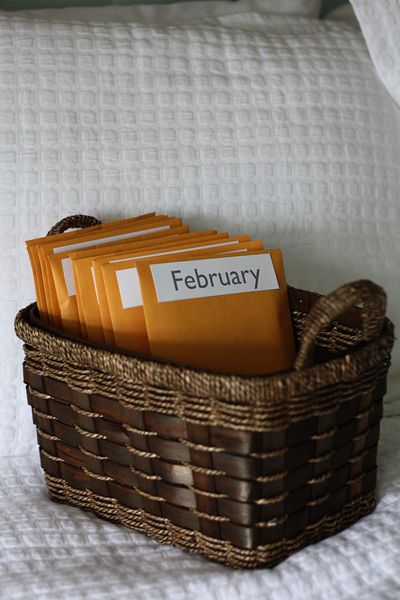 A truly thoughtful and creative gift idea, perfect for giving to your spouse as a token of your love and commitment, or as a gift to family members along with whatever else they might need to make these dates a reality (an offer of babysitting, loaning a car, etc). You can see some ideas for this "Year of Dates" here.
Sewing Kit in a Jar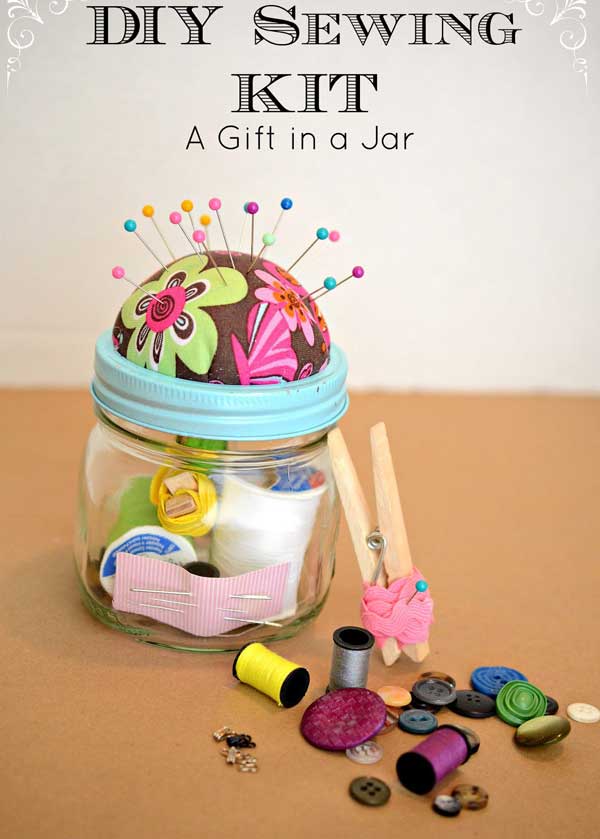 Create a pincushion  using a mini mason jar, and fill it with all manner of sewing accessories for a cute and useful DIY Christmas gift for someone who is crafty or just likes to sew. Tutorial here.
Dollar Oragami: Shirt & Tie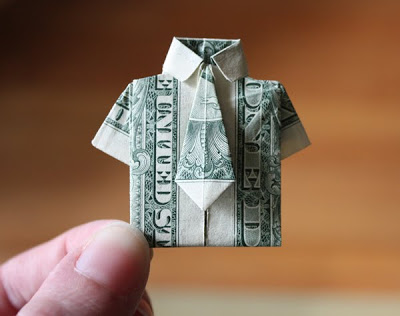 When you're running really late, this is how you fold a dollar bill into an oragami shirt and tie. You will need this skill at some point in your life, so: You're welcome.
DIY Fabric Scrap Keychain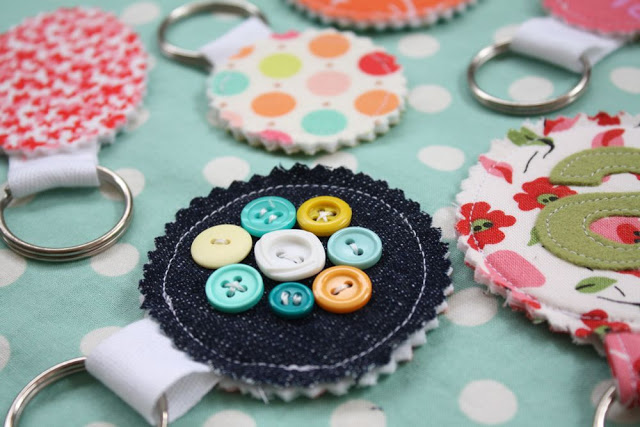 This is a good one for stocking stuffers, or as a bonus present attached to the outside of a bigger wrapped gift. These DIY keychains are made from tiny bits of fabric scrap, a regular ol' keychain, iron-on interfacing, and a few other odds and ends you'll probably already have to use as embellishments. Tutorial here.
What are some other ideas we're missing? Leave a comment directing readers to your favorite DIY gift, and if we love it we'll add it to the DIY gift guide!!