Let's find some treasure in the desert!
This collection of the best cactus gifts is designed for the cactus lover in your life.
A cactus is a great gift for special occasions, holidays, or housewarming – it's easy to keep alive, needs minimal water and care, and looks cool just about anywhere you put it.
If you're looking for a cactus, well, just go down to your friendly neighborhood garden center and you'll find all sorts of neat prickly plants.
(You already know that.)
But you're here because you're looking for something a little different. A little more special. Something to prickle their fancy, something that doesn't succ.
So we'll get to the point (… yeah… sorry, had to get one more cactus pun in there):
We've put together the ultimate cactus lover's gift guide, perfect for someone who is really into cacti or succulents.
Cactus Gifts That Don't Succ
Our website is supported by our users. We sometimes earn a commission when you click through the affiliate links on our website. See our privacy policy & disclosures for more information.
1. Cactus Soap Set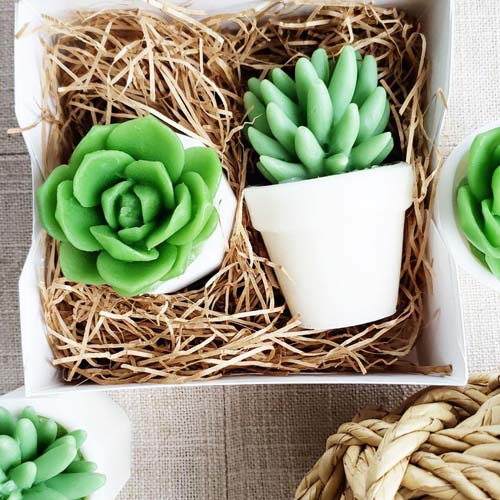 Here's a fabulous way to decorate a bathroom with cactus while washing your hands and staying clean and healthy!
Shaped like a cactus in classic ceramic pottery, all natural, handmade, scented with aloe vera, made in the USA and sold in a set of two.
2. Echeveria Succulent Living Wreath
Cactus are a type of succulent, but not all succulents are cacti. Still, succulents are some of the most beautiful and popular plants often associated with the cactus family.
We used to sell this gorgeous succulent wreath at our gift shop. Our local botanical source pivoted their business model, but we still think it's a great gift idea for the cactus lover in your life.
This type of wreath will look great anywhere – on the wall, as a table centerpiece – and it's living and beautiful cactus gift. Echeveria is actually in the Crassulaceae family, but who's counting?
You can find similar wreaths on Etsy. It's a popular alternative to a spring or holiday wreath, and is ideal as a housewarming gift.
3. Cactus Beach Towel
These microfiber beach towels are pretty amazing. We received and reviewed a similar (non-cactus) towel from Tesalate, and love it (see our review here).
The towel pictured above boasts a cute array of fun plants, and is the perfect cactus-themed gift for the cactus-loving beach bum in your life.
Related: 21 Practical, Fun, & Frisky Gifts for Beach Lovers
4. Cactus Napkin Holder
Kinda nerdy, slightly quirky, and definitely prickly. This cactus-themed gift idea is an adorable napkin holder that will complement any decor scheme.
It's the perfect way to hold mail in the office, napkins in the kitchen, or, uh, something else somewhere else.
5. Hand Embroidered Succulent Hoop Art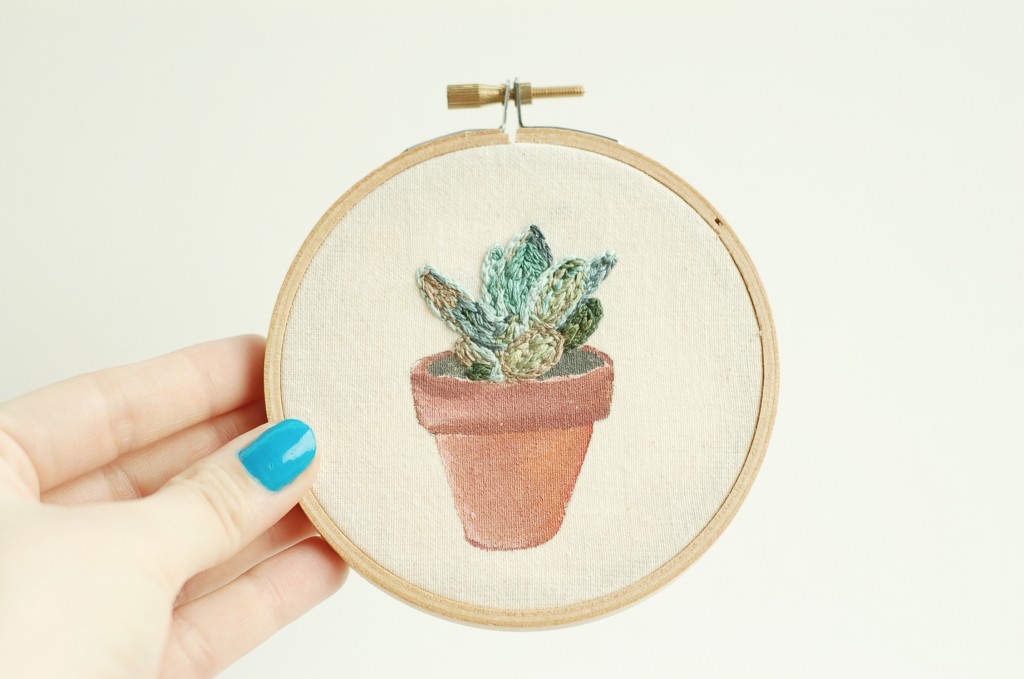 A succulent embroidered on a cute cotton canvas makes for a uniquely beautiful gift.
This one features a stitched mini cactus sitting in a hand-painted terracotta pot, artistically done with a combination of yarn and acrylics.
There are plenty of gorgeous cactus hoop art pieces available here.
6. Hanging Cactus Terrarium
A hanging cactus terrarium is a fun way to spruce up any room, patio, or office.
There are chic geometric sets like the first one pictured above, plus amazing glass orb terrariums like the second one. You can't go wrong with either style!
7. Cactus Cookie Cutter
A plate full of frosted cactus sugar cookies, tied with a cute bow and a fun cactus-shaped cookie cutter, will win you a friend for life. Guaranteed.
8. Cactus Wire Wall Art Set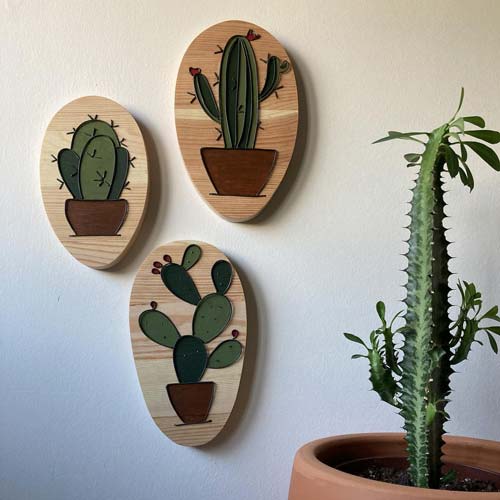 Here's a crafty spin on the cactus wall art genre! This handcrafted set of three wooden wall decor pieces is the perfect gift for your prickly friend.
Each design features a different plant outlined with wire and hand-painted with colorful acrylics on a lovely wooden oval. Available here, and arrives ready to hang.
9. Pretty Fly for a Cacti Cosmetics Bag
Even a cactus lover needs to get cute now and then. If she's totes fly, then this is the one. Get it here.
10. Cactus Birthday Box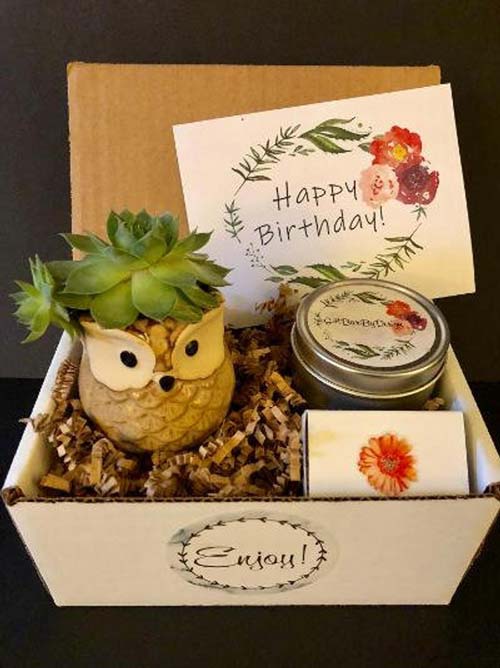 If your goal is to find the perfect birthday gift for a cactus lover, this is your jam.
The birthday gift box includes an adorable owl planter filled with a real, live succulent, handmade soy wax candle, matches for the candle, and a birthday card with hand-written note.
11. Cactus Toothpick Holder
This quirky cactus gift is a sort of DIY-cacti, which doubles as a toothpick holder.
Anyone who is really into toothpicks would like it, too. Just throwing that out there.
12. Cactus Leggings
Because, why not? She's going to wear leggings, that's a given. She loves cacti, so combine the two for the perfect gift.
Related: Cute Gifts for Your Cute Girlfriend
13. Cat Cactus Planters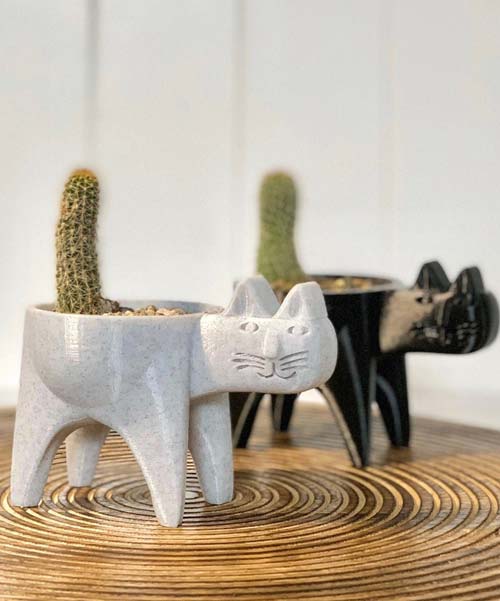 Cat lovers and cactus lovers unite with these ridiculously creative planters!
Yes, these are cactus planters shaped like a cat, with the cactus serving as the cat's tail. Adorbs. It's the perfect gift for both types.
More Like This: 21 Fabulous Cat Lover Gifts
14. Cactus Canvas Print Set
I love the simplicity of this three piece cactus art set. Several types of cacti are well-represented here, and the minimalist green watercolors on white canvas are sure to look great anywhere.
15. Ridiculously Cute Cactus Ring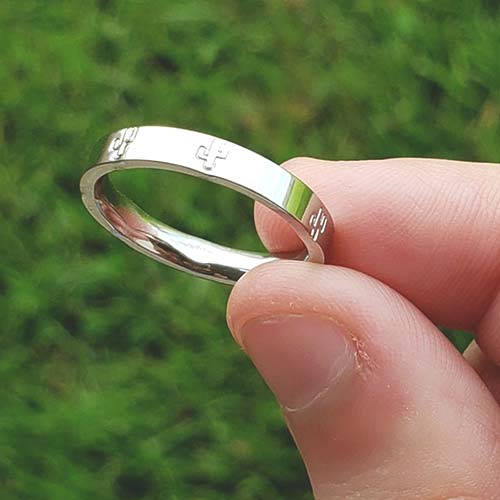 Give your friend a teeny tiny cactus ring and she'll love you forever. Seriously.
Here are the facts:
1) This ring is super-cute. 2) It comes in gold, rose gold, and silver. 3) It's really, really cute, and 4) If you haven't found the perfect gift for your cactus lover bestie, this is it.
Oh, and 5) You should get one for yourself too.
5+ More Cactus Gifts
Pin It