Today were going to take a look at some top picks for law school graduation gifts!
If anyone is exhausted and in need of a great gift, it's a law school graduate! They've been burning the candle at both ends all the way through school, and now it's time to enter into the workforce in their best duds.
A smart suit and a snazzy briefcase are a must (if all those episodes of Law and Order taught me anything, it's that you need a power suit and a briefcase of important documents). But there are lots of other things they'll need, too!
Here are 30 classy law school graduation gifts that will have them taking notice and giving thanks!
Best 30 Law School Graduation Gifts
Our website is supported by our users. We sometimes earn a commission when you click through the affiliate links on our website. See our privacy policy & disclosures for more information.
1. Allegedly. Sweatshirt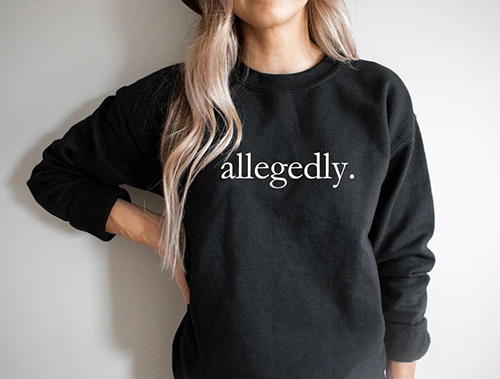 When you're not in court taking on the bad guys, you are likely gathering information, combing through papers, and practicing your speeches.
Enter in this cozy sweatshirt! It's a tongue-in-cheek nod to every lawyer's favorite word, and it pairs perfectly with joggers or jeans for a casual weekend look.
2. Custom Rustic Office Sign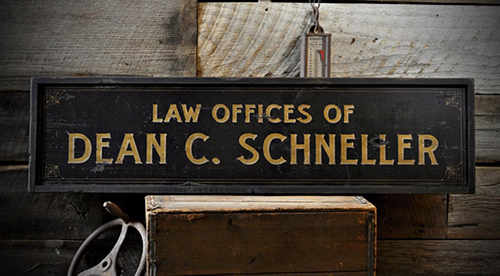 Handmade and totally personalized, this rustic custom office sign is a must-have! The new lawyer will love hanging it at home or in their office.
Whether they choose to hang it, it's a real show stopper. The distressed, black wood fits right in with any style of decor, and it has a vintage vibe they're sure to love.
3. Personalized Law Bottle Opener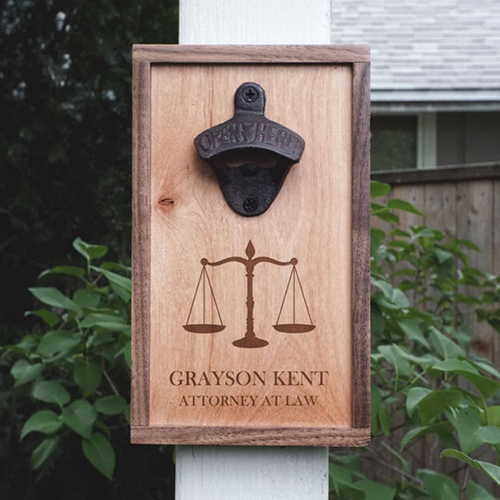 Personalize and customize this great bottle opener until it's absolutely perfect!
The law school graduate will love coming home for a cold beer or soda and not having to wonder where the bottle opener got left last time it was used. Sturdy and made to last a lifetime, it's the gift that keeps on giving every time they need a relaxing drink!
4. Est Esquire Mug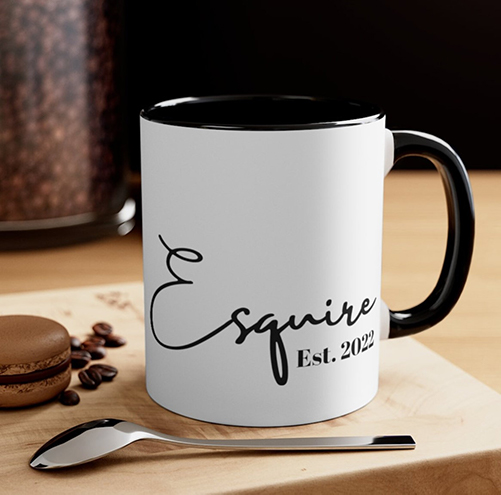 This classy looking mug is just the right size, and the sophisticated black and white colors mean they could even take it into the office and still feel large and in charge!
A fun nod to their graduation year, too. An easy pick among law school graduation gifts that they are sure to love and use often.
5. Gavel Earrings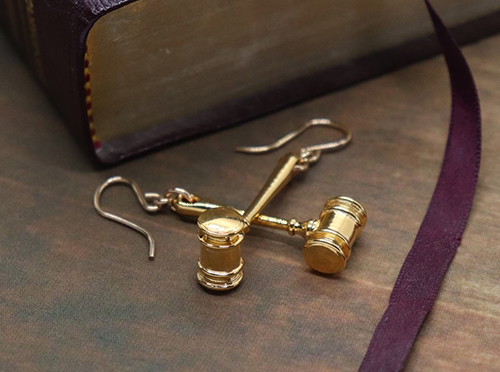 3D printed of real gold, these fun gavel earrings are great for the lawyer or the judge!
From far away, they're simply a cute pair of dangly earrings, but up close they're a cheeky nod to justice. She'll love wearing them on her days off.
The quality metals are great for sensitive ears, too.
6. LegalPad
This great LegalPad was designed by lawyers for lawyers, so you know it's practically perfect in every way! It's lightweight, yet sturdy and made to last.
You can toggle between the "normal" mode and the "lawyer" mode, making it easy to find even the most obscure legal-ese terms.
7. Born to Argue Shirt
We wager their mom and dad will get the biggest laugh over this great shirt! Now all that arguing and debating has finally paid off — they're getting paid to do what they love best.
This fun shirt will be their new favorite casual wear. Available in men's and women's sizing.
Related: Funny Graduation Gift Ideas
8. Handmade Leather Messenger Bag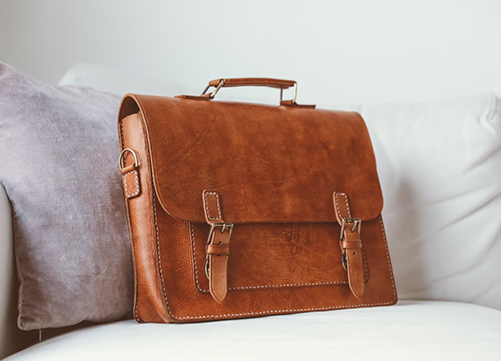 Lawyers carry a lot of important papers and documents — that is indisputable. They therefore need something handsome and well-made to carry said documents in, don't you think?
This beautiful leather messenger bag is handcrafted with care, and it will organize everything they need for a successful day in court.
9. Celebration Champagne Gift Basket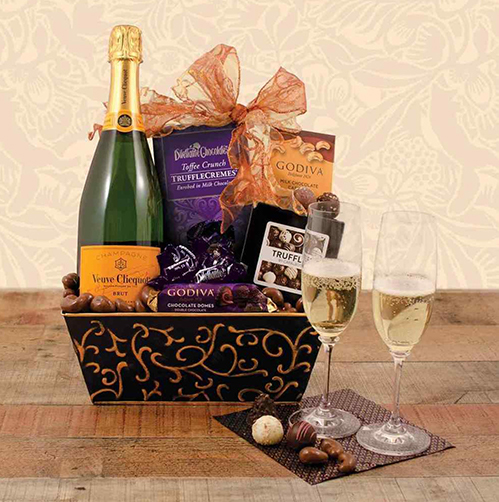 A big win (or a big graduation) needs a bit of bubbly and some toasts/cheers! Enter in this yummy, celebratory champagne gift basket.
It's a bit of pampering and it's much deserved after all of their hard work and dedication. Comes with an assortment of decadent chocolates, and you can change the ribbon color to make it their favorite.
10. Scales of Justice Tie Clip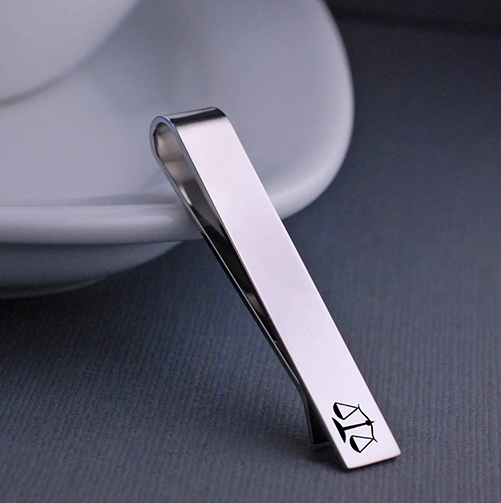 This great scales of justice tie clip is a fun way to add some style and whimsy to his classic ensemble. It's subtle, but a lot of fun, too.
And it's practical! He'll love it, and he'll love when people notice it and ask, "Hey, where'd you get that tie clip?"
Related: Graduation Gifts for Your Boyfriend
11. Personalized Leather Desk Mat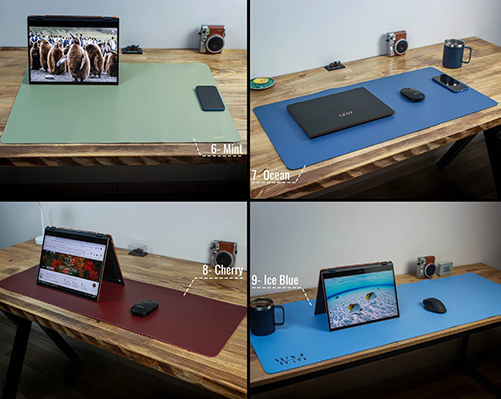 Keep his or her desk ultra organized and up to the minute (as it needs to be) with a great personalized, leather desk mat!
They'll be inspired to keep their clutter to a minimum. Choose from an assortment of colors, looks, and personalizations until it's just right.
12. Personalized Cedar Wood Lawyer Bird Feeder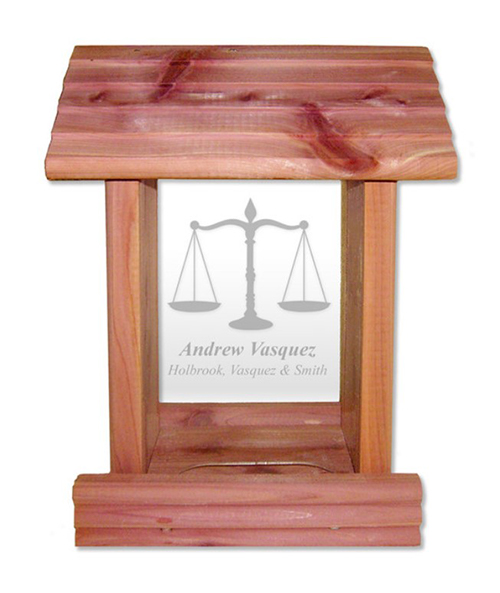 After a hard week of being in court, your lawyer would love some rest time. What's more relaxing than bird watching?
This wonderful cedar wood bird feeder is customized just for them. We're not sure who will love it more — your lawyer or his fine feathered friends!
13. Solid Wood Engraved Business Card Holder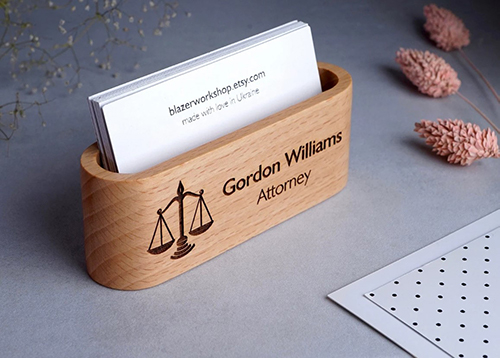 Finally, he/she has their own business cards! They really have arrived. This handsome looking business card holder is ultra chic and crafted of solid wood.
It will look perfect in the lobby, on their desk, or in a waiting area. Now, to get those business cards made…
14. Gateway to Peace Gift Box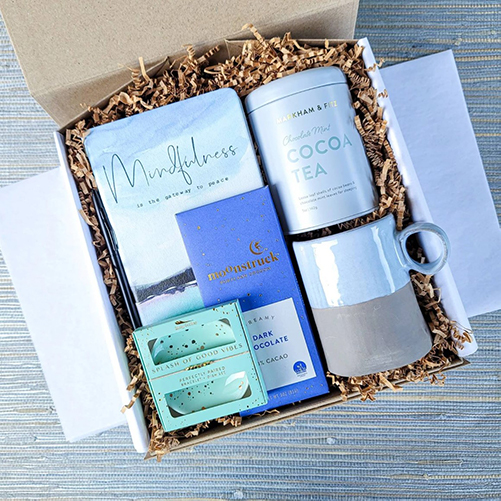 No one ever said graduating law school would be easy, peasy, lemon squeezy, right? Instead, it was likely hard, shmard, uber-duber hard…or something.
This gateway to peace gift box is just what the doctor ordered. It's part pampering luxury, and part much needed vacation in a box. Without ever leaving their house!
15. Coffee Subscription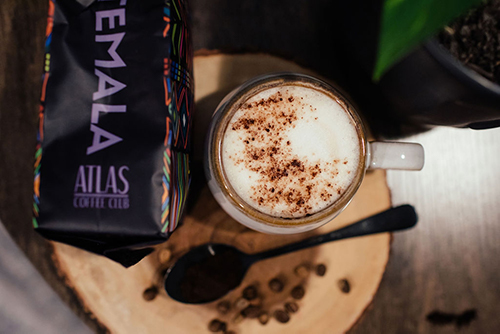 Lawyers are notorious for not getting enough sleep! A great coffee subscription like this one is just the thing for them.
They won't have to worry about running out and needing to go to the grocery store; instead delicious brews will be sent right to their house every month. Definitely one of our favorite picks for law school graduation gifts.
16. Reusable Acrylic Wall Calendar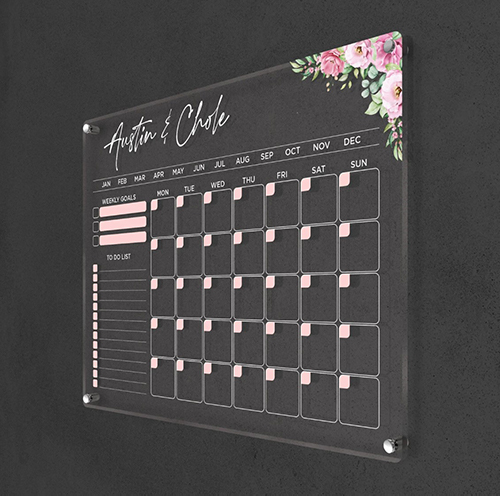 This reusable, acrylic wall calendar is wonderful for keeping organized! They can write in their to-do lists, their contacts, their appointments — anything and everything they need to be a successful lawyer.
There's also this blank version !
17. Stainless Steel Wine Chiller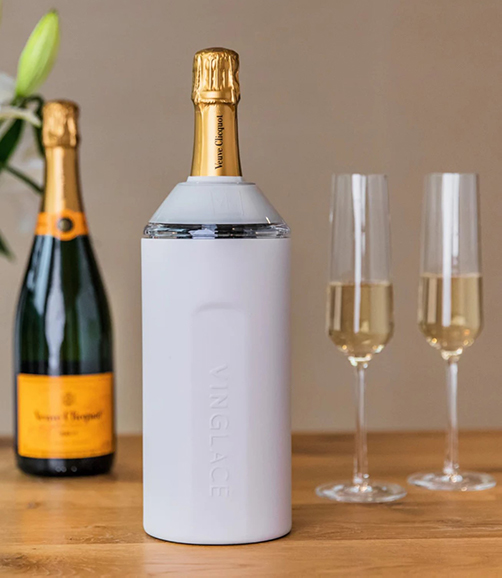 Up all night trying to prove a case? You're gonna need some chardonnay for that! Well, maybe after that… This stainless steel wine chiller is oh-so handy for combining work and a much-needed glass of wine. It will keep that bottle of Viognier, Pinot Grigio, or champagne chilled to perfection.
18. Personalized Leather Journal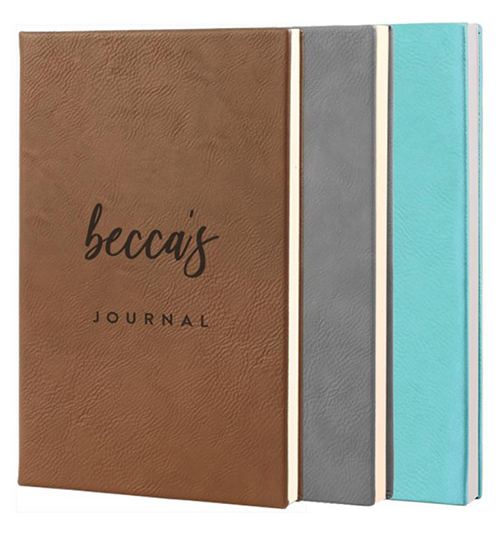 Lawyers deserve better than a spiral bound notebook from the grocery store, don't you think? This personalized leather journal is just begging to be written in! Whether they use it for lists, making notes, or even just doodling for some stress relief, they're bound to fill up the pages in no time.
19. You've Been Served Cutting Board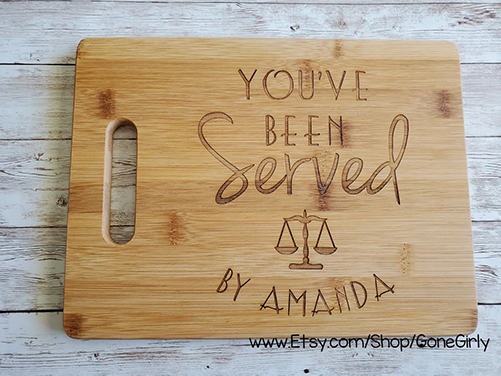 This adorable 'You've Been Served' cutting board is just the thing for the law school graduate. They'll love the bamboo cutting surface and the fun nod to their profession. You can pick from all sorts of sizes and layouts, too, so that it's just right. Great for serving charcuterie to guests as well!
20. Udemy Classes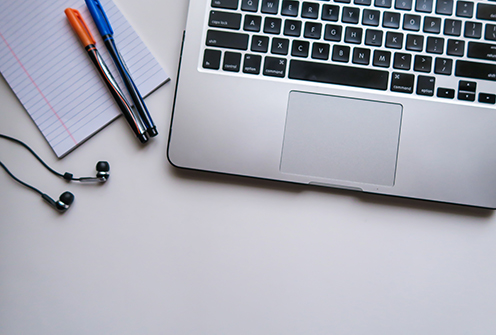 They may be out of school and all graduated and stuff, but there's still plenty to learn! Classes from Udemy are going to come in handy when they want to further their education at their own pace. Brush up on just about any subject they desire, and they'll be the sharpest person in that courtroom.
21. Monogrammed Notepad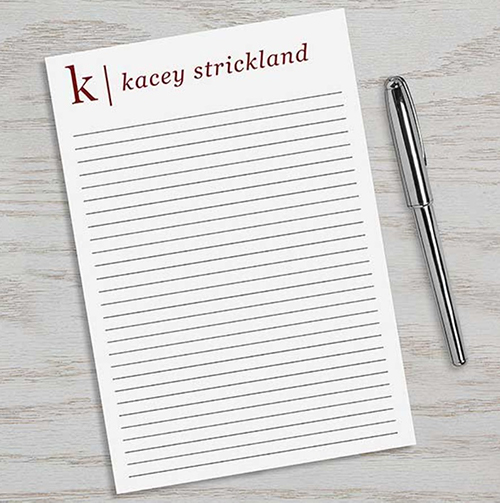 A good notepad is a must-have for their office or briefcase! This one is monogrammed, making it extra swanky and custom. They'll love having a place to jot down notes, phone numbers, lists, and the like. Keeping organized will keep them one step ahead of the rest.
22. Congratulation Flowers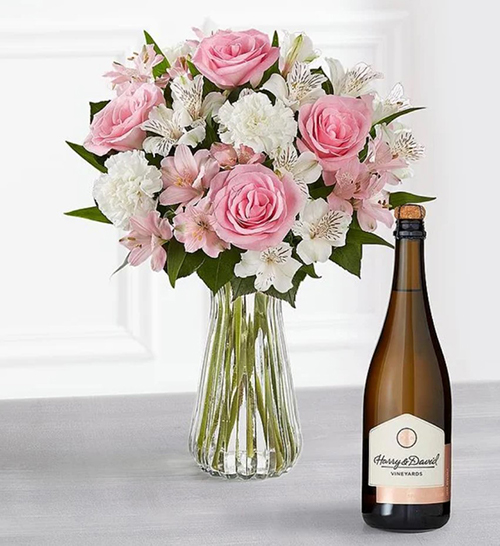 You can't go wrong with flowers, and these ones just shout "Congratulations!" Beautiful and fragrant, a flower delivery is always a great choice, especially if you live in different states from one another.
And did we mention this particular bouquet comes with a bottle of wine? Guilty, your honor. We plead guilty.
Related: Best Graduation Gifts of All Time
23. Engraved Pacific Crest Sign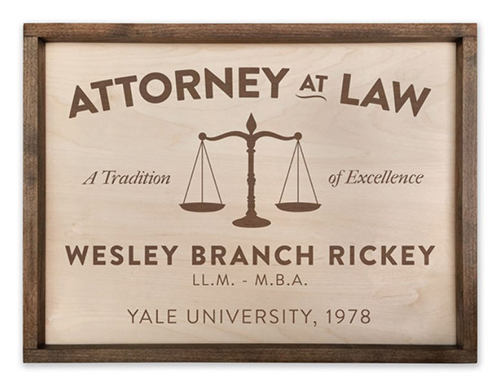 This great sign is engraved with their name and profession, and we know it will make their eyes widen with delight! Totally one-of-a-kind and unique, this sign can be hung at their home or in their office. Either way, it's an eye-catching piece of decor that they will treasure for many years to come.
24. Words of Inspiration Blanket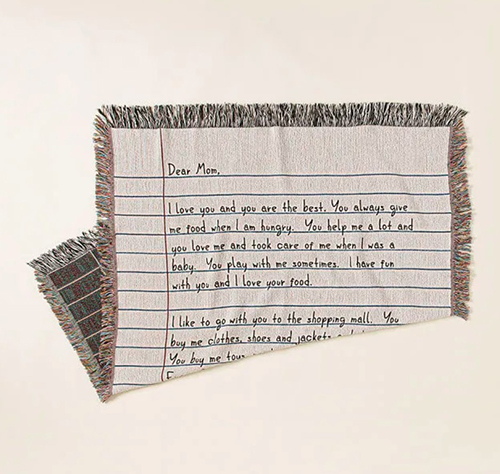 Use this blanket to tell them how proud you are of them instead of a boring old card. Words of inspiration, a sweet message, a few short lines of an inspiring poem, or a handwritten story from their childhood… There are a lot of possibilities with this great blanket!
25. Diploma Frame
It took seemingly forever to finally graduate law school, so not any old frame will do for displaying their hard-won diploma! No way. This great frame is as special and classy as they are, and it will instantly dress up their office wall in a wonderful way.
26. Plain English for Lawyers
Most lawyers will tell you this book is a must-have for your shelf! Easy to read and accessible, it will help your new lawyer navigate the strange new world they find themselves in. Get them a gift that will continue to help them years down the road with Plain English for Lawyers.
27. DIY Money Cake
Make a fun cake, but forget the sugar, flour, and butter! This fun, DIY money cake will make their day. After all, it's going to be a while before they start charging those big bucks for their services. Those law school loans aren't going to pay themselves…
28. Engraved Marble Keepsake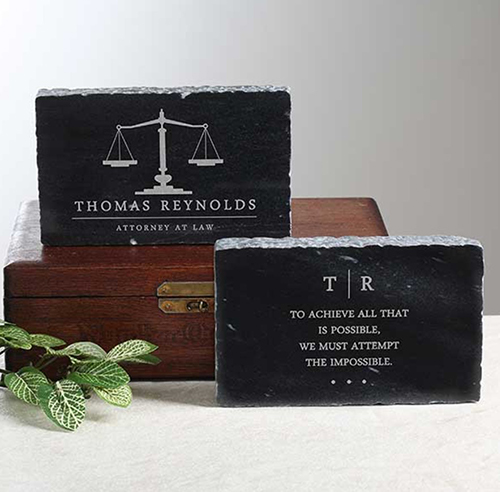 You can personalize this engraved marble keepsake front and back so it's completely unique and special! They can use it as artwork or even as a paperweight. Classy and sophisticated, not chintzy looking or cheap, it will really update and revive the look of their desk and office space.
29. Must-Have Relaxing Vacation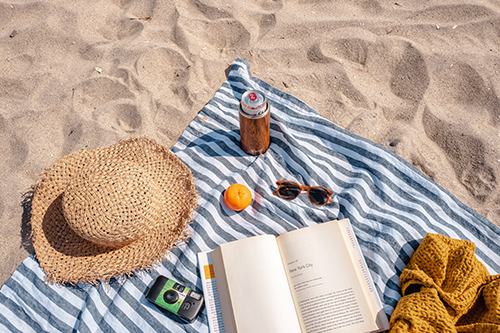 Give them what they really want! A walk on the beach? A tropical vacation? A cozy cabin getaway? A tour of Italy?
If you have the means and they deserve it (we know they do), a relaxing vacation makes for a meaningful and incredibly thoughtful gift. Experiences are so much more fun than wrapped "things."
30. Best Lawyer Ever Custom Tumbler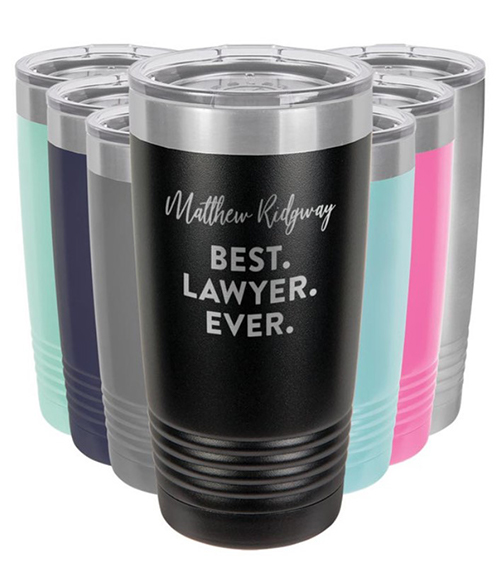 Keep them hydrated during those long, long hours in court — or studying for a case — with a great 'Best Lawyer Ever' custom tumbler! It will keep their drinks cold or hot all day long thanks to the vacuum sealing. You can even pick the color and feel free to customize the wording!
Read Next: Best Gifts for Lawyers, Attorneys, and Law Students