Today we're looking at the best personalized gifts for couples. These ideas are perfect for the lovebirds in your life whether they're dating, newlyweds or have been together for decades.
From ideas that they can enjoy together, to his-and-her gifts, in this post you'll find a little something for everyone.
Let's take a look!
Top 10 Personalized Gifts for Couples
Our website is supported by our users. We sometimes earn a commission when you click through the affiliate links on our website. See our privacy policy & disclosures for more information.
1. Hand Casting Kit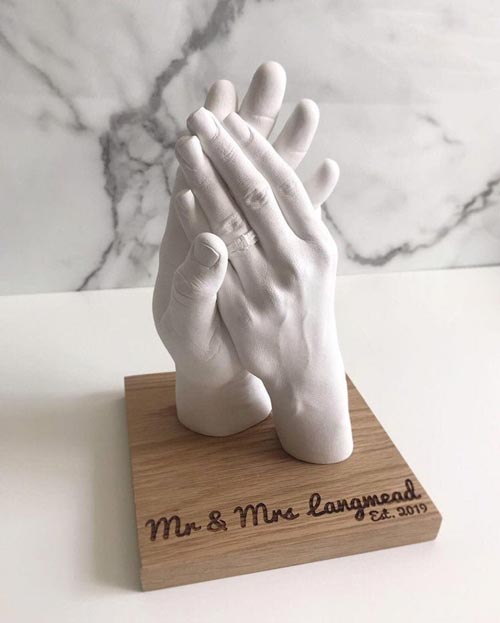 There's nothing quite as romantic as holding hands, especially when a romance is new.
For the couple in your life who loves reliving that "first date" nostalgia, give them something that they can make side-by-side. You'll be reminding them of those sweet early days together, which is a gift they will cherish forever.
This hand casting kit is the perfect gift for doing just that. The alginate molding captures the finest of details, including rings and even fingerprints, while at the same time washing off with ease once the cast is complete.
2. Cute Couples' Wall Art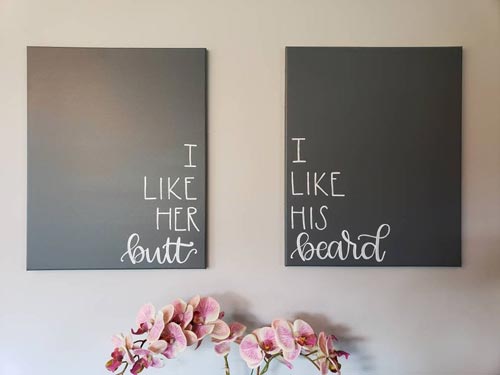 The fun of doing life together never ends when you really, truly, madly love the one you're with.
If these cute signs immediately make you think of a certain couple that you need to find a gift for, well, you may not need to look any further!
This sign set can be personalized to feature names, special dates, quotes, or anything else you'd like them to say… just send the artist a quick note specifying what you want.
Click here for every holiday you can give them a sweet gift.
3. Joshua 24:15 Pacific Crest Plaque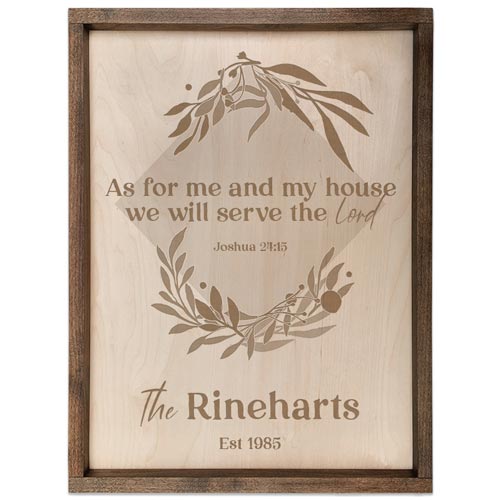 Crafted in the U.S.A., this Joshua 24:15 Pacific Crest Plaque is a Northwest Gifts original and features the familiar "As for Me and My House" Bible verse.
With the contrasting tones of stained alder wood and birch ply, and personalization included, this plaque will make a beautiful addition to the believing couple's home. Available in two sizes and three different designs.
4. An Experience Gift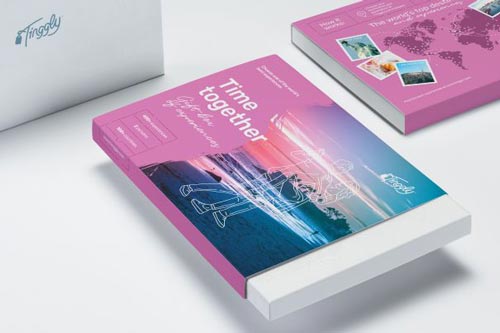 Experience gifts are just what they sound like – gifts that not necessarily tangible items, but rather an experience.
Think a vacation, a concert, a class, even a date night set up at home. Basically, if you can imagine it, you can experience it (or give it as a gift).
And you can also personalize your gift by thinking about where/what exactly this particular couple would love to experience.
If you need some help, here are some popular experience gift ideas for you to consider giving to the happy couple you know:
5. Custom Cartoon Portrait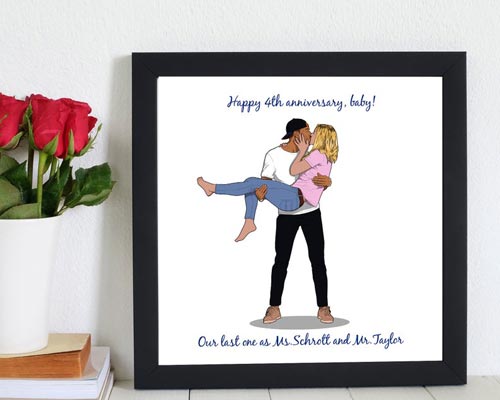 Unique personalized gifts for couples do not have to be hard to find!
There are lots of great options out there for you to consider… you just have to think outside the box a little. Take a close look at this adorable cartoon portrait from Make Me a Comic, and you'll see what we mean.
With Make Me a Comic, all you have to do is send them a photo of the couple you want "cartoonized," specify any other personalization you want, and they'll create a keepsake portrait worth treasuring forever.
6. Family Bible Keepsake Box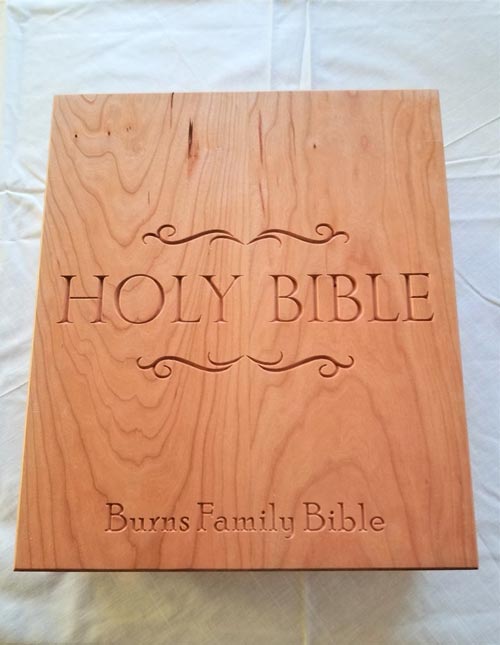 A personalized family Bible (like this one) is a wonderful gift to give to a couple, especially newlyweds or new parents.
If you give (or if they already have) a family Bible, consider taking it to the next level with something that not everyone has: a quality keepsake box in which to keep and protect this new family heirloom.
This Heirloom Bible Box from Bare Tree Woodworking is made to order. Have it engraved with a family name, choose between several different woods as well as sizes.
7. "We Go Together Like…" Custom Engraved Tumblers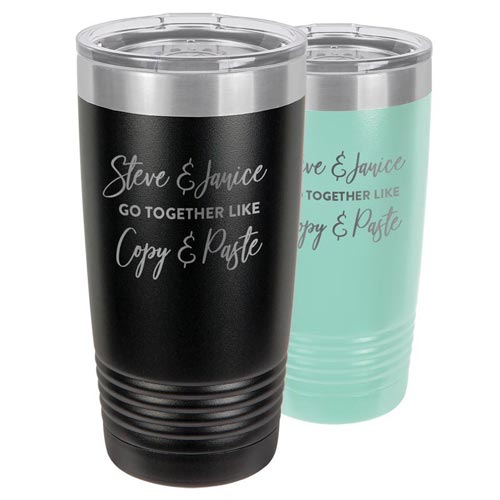 Another cute gift idea for the super cute couple! We bet that you can already picture your fave couple sitting together sipping their fave drinks from these adorable tumblers.
Your order will come with two Polar Camel tumblers, both custom-engraved with the happy couple's names as well as the "We Go Together Like…" saying of your choice.
"We Go Together Like Copy & Paste" is cute, but here are some more clever ideas for you to consider, too:
"Jim & Pam"
"Hugs & kisses"
"Red on a rose"
"Tacos & Tuesdays"
"Rock & roll"
8. Lovebirds Bamboo Wood Cutting Board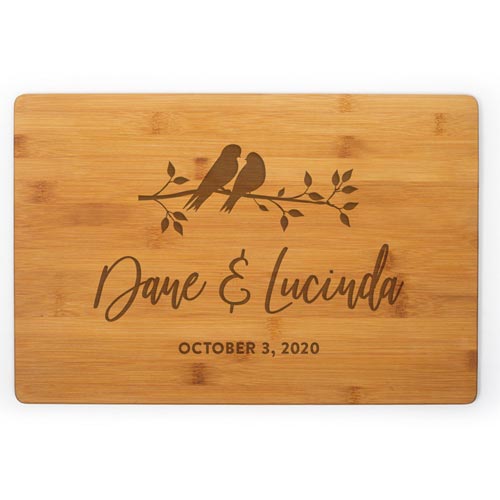 A great gift for the newlywed. Does the couple on your mind love to cook together? Do they spend hours in the kitchen or scanning Pinterest for delicious new recipes to try?
Then they'll really appreciate a gorgeous bamboo wood cutting board (personalized with their names) from Northwest Gifts.
The beautiful "Lovebirds" theme only adds to the elegance of this cutting board, which can be used practically and/or as a display. Measures 18″ x 12″.
9. Personalized Family Tree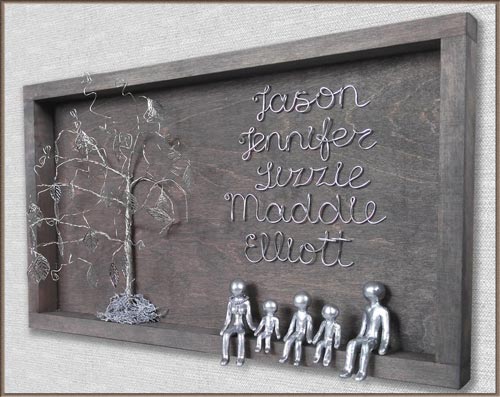 Need a gift for a couple who also has kids? If you do, you want to ensure that this gift lasts a while. Think heirloom or keepsake, right? Well, you can't go wrong with a stunning work of art from Digentus Craft.
This custom family tree will feature the couple and their children in wire form, a modern and yet somehow evocative work of art befitting any home or office space.
10. Custom Wood Map Art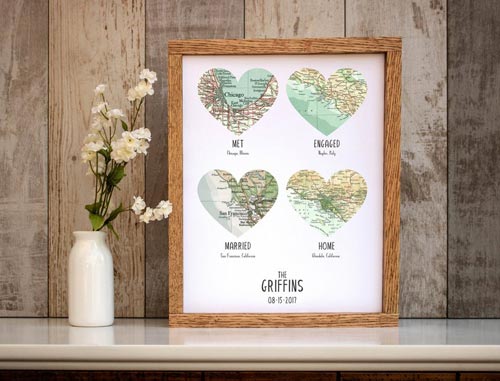 This one's for the sentimental couple who take pride in their story and will never be any other way.
The Four Hearts Custom Wood Map Art is made to order, customized to feature the locations of where the couple first met, became engaged, got married, and the place they first called home together.
You can personalize your map gift further with the couples' names and and and a date that's significant to them.
Available as a framed or unframed print, wood print, or as a download.
More Personalized Gifts for Couples
Are you more of the crafty, DIY type? Do you want to give a thoughtful gift to the special couple in your life but also don't want to spend an arm and a leg? Or maybe you just like the idea of experiences and want to venture more into that realm of gift-giving.
If so, let's take the focus away from products now and place it on gifts straight from the heart:
A themed couples gift basket. Personalize (fill it) with things they can do together. Do they like to garden? Fill the basket with seeds, tools, a bag of soil, some water bottles and all-natural sunscreen.
Do they love movies or Netflix? Fill the basket with popcorn bags, some "theater" candy, a couple drinks, a couple DVDs, etc. Find more DIY gift basket ideas here.
An "Our 1st Christmas" Ornament. A Christmas tree ornament to mark their first holiday together is such a special gift idea. To make one, all you'll need is some plain baubles, some paint or permanent markers, glitter, ribbon, or anything else you'd like to decorate with.
Also think of other "firsts." This includes their first anniversary, first Valentine's Day, first home, first trip together… lots of options!
A DIY hanging photo frame of special times spent together. Something they can display in their home, and look back on whenever they want to relive those memories. Here's a tutorial.
A custom couples' portrait, DIY style. Can you paint or draw yourself? Are you good behind a camera? A portrait or professional photo would make a wonderful keepsake gift.
A love letter jar. This makes a fun and sweet surprise. Take a Mason jar (or any old jar will do), create a letter design, throw in some paper pieces and a pen, and finally add some instructions:
"Write one another a love note every day for a year, even if you don't feel like it. The note doesn't have to be long. At year's end, open the jar together and take turns reading one another's notes."
So romantic!
Get them tickets to a concert, show, movie, play, or other entertainment venue you know they'd love to experience. Personalize the experience further by "wrapping" your gift.
Take this gift up a notch by offering to babysit the kids for them while they're gone…no need for them to pay for a sitter.
Still Looking?
That's it for now, but if you want to browse even more personalized gift ideas (or some just overall great gift ideas for couples), check out what else we have for you:
Pin It