Let's talk about the very best ways to say happy birthday to your favorite friends, your BFF, and any other favorite person in your life.
When it comes to friendship, especially those of the BFF variety, a birthday is a must-have celebration time. But if you think about it, parties come and go. What lasts a long, long time? And what means the most? How about a well-written card, full of sentimental wishes, nostalgic memories, or even a good ol' roast and toast!
When it's YOUR friend's birthday, you want to be prepared. Full stop. Here are some fabulous ways to say Happy Birthday (that ISN'T a generic "Happy Birthday"). This is one card that won't end up in the trash tomorrow – in fact, don't be surprised to find your little card framed and hung on the wall.
Simple Birthday Wishes for a Friend
1. Happy Anniversary of the day you were born! I am so glad that happened.
2. I wish the very happiest of days to the very sweetest of friends.
3. Has it been a whole year since we last celebrated your birth? Let's do it again!
4. Happy birthday to the peanut butter to my jelly.
5. We go together like salty and sweet (obviously, you're the sweet one).
6. It's my partner in crime's big day! How shall we celebrate? I've got the get-away car warming up!
7. Happy, happy, HAPPIEST of days, to you!
8. I'm so glad your mother went through hours of labor so I could have a best friend!
9. It's your day and I'm here for it!
10. Happy birthday, to the gal/guy who everyone considers their BFF (we all know you belong to me though).
11. Happy birthday to my pal, my hero, my friend!
12. Your present is my presence on this celebratory day.
13. Want to do some fun shenanigans in the name of birthday fun?
14. Happy birthday to my Thelma. Love, Louise.
Other variations might include:
Joey & Chandler
Bill & Ted
Buffy & Willow
Robin Hood & Little John
Lilo & Stitch
Maverick & Goose
Anne & Diana
Timon & Pumbaa
Frodo & Sam
Troy & Abed
Harry & Hermione
Calvin & Hobbes
15. There's no one I'd rather spend the day with! Happy birthday!
16. Remember when we used to celebrate our birthdays with a sleep over and pizza? Let's do that again!
17. Happy day to the best person I know. Of course, I don't get out much …
18. Happy birthday! You are the bestest of humans and I can't imagine life without you. I don't even want to think about how boring it would be.
19. Yay! It's your birthday! Let's party like it's 1999!
20. I'm so glad you were born – what a lucky thing for me!
Related: 200 Simple Birthday Wishes
Birthday Wishes for Your Best Friend
21. There's no one quite like you! I know. I've looked. It's terrible out there.
22. When it comes to friends, I totally won the lottery!
23. Those poor losers out there without you for a best friend! It's sad, really.
24. Happy birthday to the SHE to my NANIGANS!
25. You're the best. That is all.
26. Happy birthday! What would I do without you?
27. Without you, I'd be so lonely (cue "All By Myself").
28. It's like Rick Astley says, Never Gonna Give You Up!
29. Happy birthday to the best of the best of the besties!
30. When it comes to people, you take the cake! (There will be cake, right?)
31. It's party time – raise a glass to my best friend!
32. Have you ever thought to yourself, man, I really have the best friend ever? Well, I have.
33. Happy birthday to the smartest person I know (I mean, you're BFFs with me, so it's obvious).
34. Happy birthday, my funny, beautiful, sweet, adorable friend!
35. Happy birthday to the sister/brother of my heart.
36. It's your day and I'm coming for you! Wow, that sounded way more threatening than I meant it to …
37. Without you, my life would be so dull! Thanks for brightening my days.
38. Happy birthday to the best person in my whole life. I'm spending all day celebrating YOU!
39. It's a reason to celebrate, alright! YOU were born!
40. I'll bring the sprinkles, you bring the ice cream. It's a party kind of day!
41. Do you ever pity all the people who aren't us?! For real!
42. I've been looking forward to this day for, well… a whole year since your last birthday!
43. Happiest of birthdays to the happiest of people. You're a treasure!
44. It's your best day and I'm here to enforce it! Let's go find some trouble together!
45. Happy birthday! You're the Patrick to my SpongeBob.
46. Never have I ever… found another friend like you.
47. Happy birthday to my other half – platonically speaking, of course!
48. I don't think I tell you enough, but I want you to know that you're my favorite person in the whole world. I'm glad we get a day to celebrate you. Happy birthday, my dearest friend!
49. Happy birthday, and you'd best believe I'm shouting it from the rooftops over here!
50. When it comes to best friends, you really take the cake! (Please share a slice?)
Related: Birthday Captions for Social Media
Funny Birthday Wishes for Friends
51. You're only young once … but you can stay immature indefinitely. ~ Oscar Wilde
52. Age is an issue of mind over matter. If you don't mind, it doesn't matter. ~ Mark Twain
53. The secret to staying young is to live honestly, eat slowly, and lie about your age. ~ Lucille Ball
54. The really frightening thing about middle age is the knowledge that eventually you'll grow out of it! ~ Doris Day
55. You can live to be a hundred… if you give up all those things that make you want to be a hundred. ~ Woody Allen
56. Just remember: once you're over the hill, you begin to pick up speed! ~ Charles Schultz
57. Looking fifty is great. If you're sixty. ~ Joan Rivers
58. As you get older, three things happen. The first is, your memory goes. I can't remember the other two. ~ Sir Norman Wisdom
59. I believe in loyalty. When a woman reaches an age she likes, she should stick with it! ~ Eva Gabor
60. I'm at an age where my back goes out more than I do! ~ Phyllis Diller
61. The older you get, the better you get! Unless you're a banana. ~ Betty White
62. I was brought up to respect my elders, so now I don't have to respect anybody. ~ George Burns
63. Put candles in a cake, and it's someone's birthday. Put candles in a pie, and someone is drunk in the kitchen. ~ Jim Gaffigan
64. You're aging like a fine … cheese? Milk? Wine. That's it!
65. Hey, let's grow old together! You go first.
66. Well, at least we can embrace the whole grumpy old men vibe together.
67. Hey, at least you're not as old as you will be next year!
68. The late Jurassic age called. They said you need to be home by 4.
69. Condolences on the loss of your childhood.
70. You're old AF. Happy birthday.
Related: 101 Best Old Age Birthday Jokes
Happy Birthday Quotes for Friends
71. From our birthday until we die, is but the winking of an eye. ~ William Butler Yeats
72. May you live all the days of your life. ~ Jonathan Swift
73. Grow old along with me! The best is yet to be! ~ Robert Browing
74. With mirth and laughter, let old wrinkles come. ~ William Shakespeare
75. Most friendships begin with a compliment. ~ Peter M. Brown
76. Friendship is one mind in two bodies. ~ Mencius
77. Walking with a friend in the dark is better than walking alone in the light. ~ Helen Keller
78. There is nothing on this earth more to be prized than true friendship. ~ Thomas Aquina
79. Friendship is always a sweet responsibility, never an opportunity. ~ Khalil Gibran.
Related: 21st Birthday Wishes, Quotes, and More
Other Ways to Say Happy Birthday to Your Friend or BFF
Consider new and fresh ways to express your appreciation and well wishes to your BFF. Here are a few creative ideas:
81. Text message. Send a sweet and thoughtful message wishing your BFF a happy birthday (use the birthday wishes from above), or blow up their phone with a million GIFs, birthday memes, and pics of you dancing in celebration.
82. Coffee date. Take your friend out for coffee and enjoy some quality time together.
83. Say "Happy Birthday" with (jerky) flowers. Yes, this is a real thing. Give your BFF a bouquet they'll never forget – for instance, Beef Jerky Flowers. Fun AND tasty!
84. Create a coupon book. Fill it with fun experiences for the two of you, or just for them!
85. Dinner and a movie. It's a classic for a reason! Tuck your movie tickets into the card and let them pick the restaurant.
86. Plan a scavenger hunt. They're not just for kids! Especially if you include hunting for things like locally crafted ale, a fine cigar, or a lottery ticket!
87. Bake them homemade fortune cookies, with handwritten fortunes inside. Such a fun way to show you care!
88. Take a painting class together. Paint and sip classes are so much fun, and the end result is their gift!
89. Find your inner child again! Spend the day at the zoo, going down the slides at the park, and petting every little doggo you come across.
90. Fulfill a bucket list item. What's something they've always wanted to do, but haven't yet? That's the thing! Go and make a day of it!
91. Have a murder mystery party. Because nothing says happy birthday like getting (fake) murdered!
92. Clean their house. If life is overwhelming them right now, the last thing they need is cake and a balloon! Why not come over and spend the day cleaning with them (or surprise them when they're at work).
93. Support local businesses. From getting your hair done together, to seeing what all the fuss is about that new winery, spend all day supporting your bestie and your community.
94. Get a mani-pedi together. A day of pampering is always a good idea!
95. Take them fishing. A relaxing day on the lake? Yes, please!
96. Put together a collage of photos of the two of you. They'll be misting up over this sentimental and one-of-a-kind gift.
97. Make a time capsule and bury it together. Sure, it's a little juvenile, but how much fun will it be to open it ten years from today?
98. Plan a vacation together. And then take it!
99. Beginning a week or so before their birthday, start sending handwritten letters to them via snail mail. When was the last time checking the mail was actually fun?!
100. Have an old-fashioned surprise party! We're talking about all the trimmings: friends staying hidden only to jump out and yell SURPRISE, a full dinner, lots of embarrassing stories and photos to pass around.
101. "Kidnap" them for a day out. Get their boss's or spouse's approval and whisk them away on an adventure of your choosing! Whether it's a picnic, a party, a road trip, or just a fun lunch, make it special by making it a surprise.
Related: 21 Last-Minute Birthday Gifts
Best Birthday Cards for Your Best Friends
Birthday Captions for BFFs
Let's Party Like it's 1999!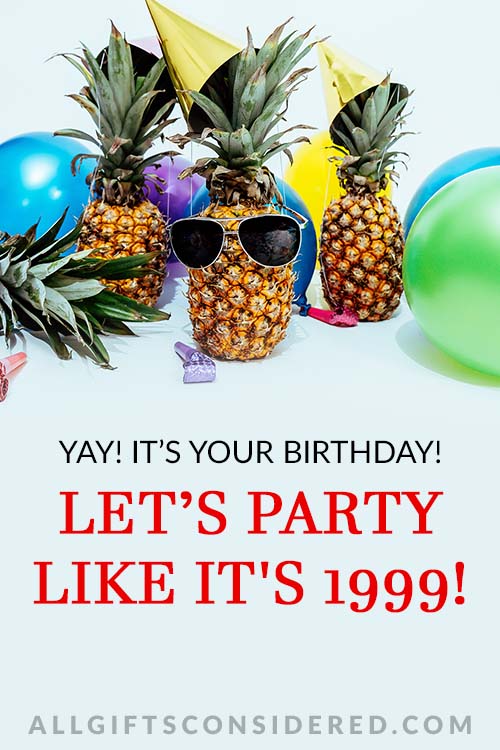 Peanut Butter to My Jelly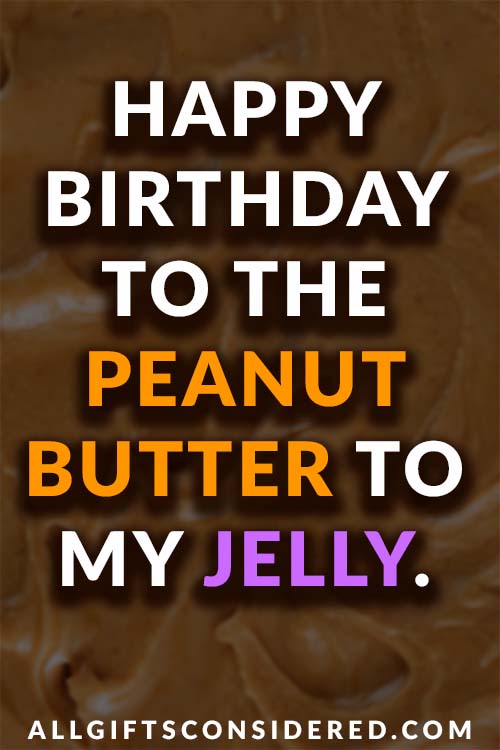 It's Party Time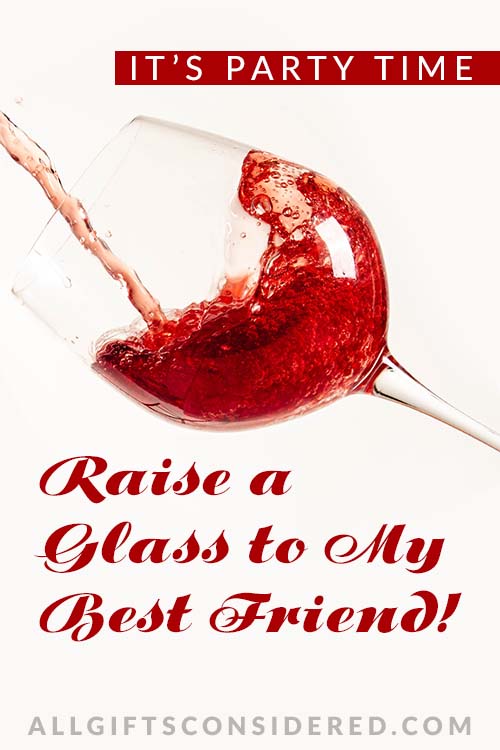 Never Have I Ever…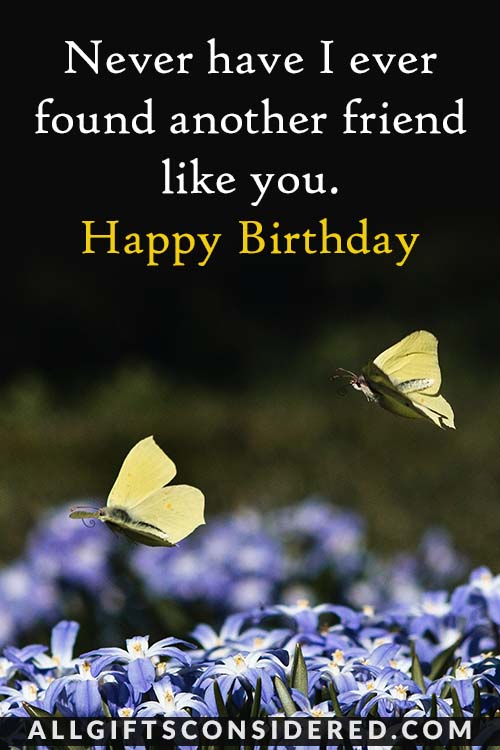 You're Old AF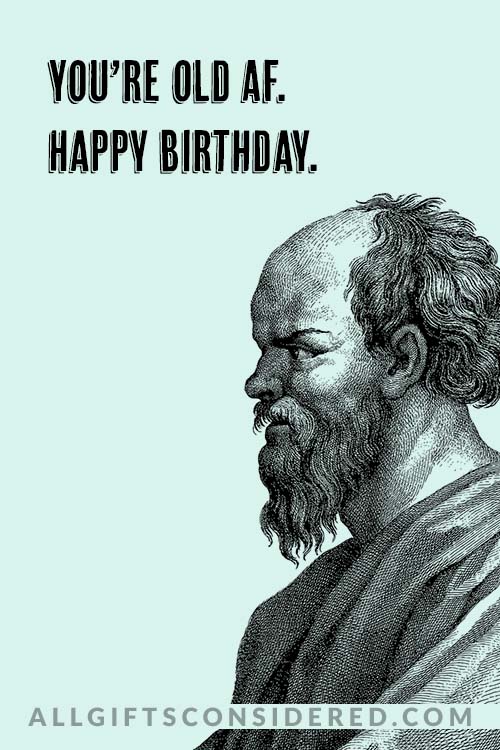 You're Not as Old…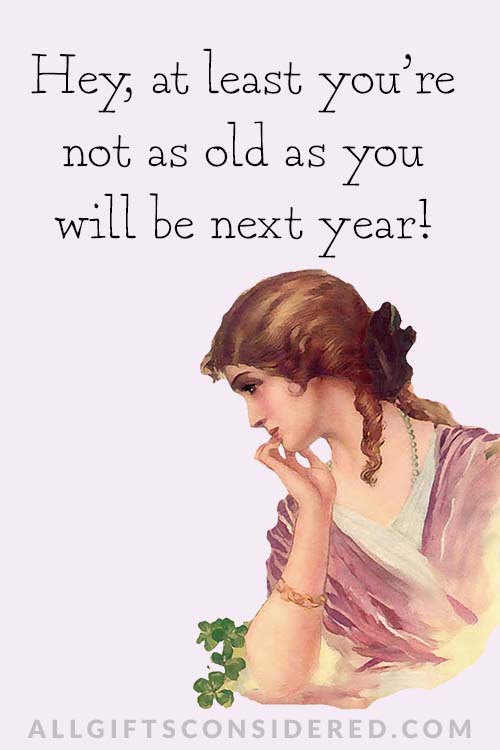 What Would I Do Without You?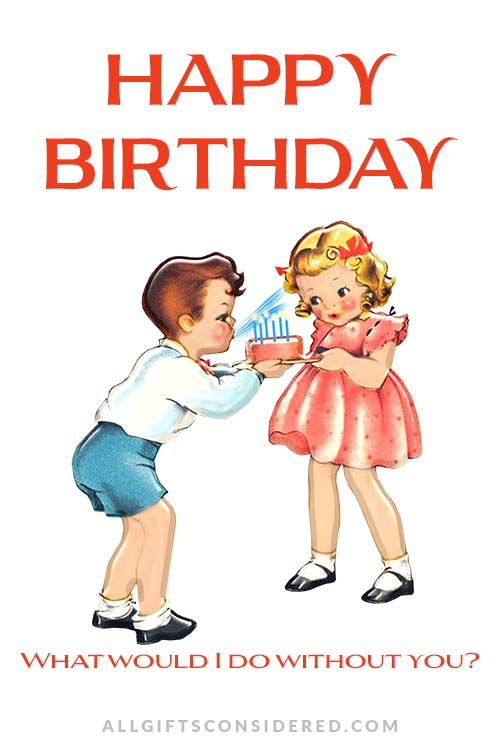 It's Your Day
There you have it: 101 ways to say Happy Birthday to a friend or BFF. Say it in different ways, using text messages and memes, a sweet handwritten card, a gift that represents what they mean to you, and words spoken in person over birthday coffee.
It's your bestie, and they're worth the time and effort to think through exactly what you want to say. Now you have some great ideas – go do it!
Read Next: Happy Belated Birthday: What to Do & Say When You've Blown It
Pin It