Last Updated on November 22, 2022
Looking for a little something special to put in your wife's stocking this Christmas? Perhaps some stocking stuffer ideas for your wife that she really wants?
Let's jump in and really consider the best stocking stuffer ideas for the wife.
Our website is supported by our users. We sometimes earn a commission when you click through the affiliate links on our website. Learn more here.
Characteristics of The Best Christmas Gifts
The best kind of gift is something that simply says, "Hey. I see you, and I love what I see."
"You are important to me, and this is one way to show it."
"You touch my heart, here's my attempt to touch yours."
It doesn't have to be fancy. Nor does it have to be expensive. It just has to be real.
You can figure this out by:
Listening to, and
Watching your wife.
Listen to what she wants, and take it seriously. Watch her to know better who she is, and look to give something that inspires her in her own unique way.
Stocking Stuffer Ideas for Your Wife
Here are some ideas to help inspire you to figure out what your wife really wants for a stocking stuffer this Christmas.
These stocking stuffer ideas for your wife are written for women, but work equally well for men.
Remember, the main this is to take the time to look at your spouse, appreciate who they are, and find a way to celebrate them in a special way.
Ready? Here we go!
1. Stocking Stuffer Ideas for the Wife Who Loves Quality Time
Does she appreciate spending quality time with you?
Does your wife value quality time together with you? Here are some ideas, all of these can be conveyed by a card in the stocking:
Get a gift certificate to your spouse's favorite restaurant
Arrange for the kids to stay at grandma's so you can have a night in with Netflix and a favorite snack
Book a weekend getaway
Load a gift card to their favorite sit-down coffee shop and write a note saying it has to be used on coffee dates
Go bowling together
Get a small game to play together – Playing cards and dominoes are classic, Jaipur and Sushi Go are some newer fun ones
2. Stocking Stuffer Ideas for the Romantic
Does she love to be romanced?
Some spouses appreciate nothing more than being romanced. Those special gestures that simply say, "I adore you." Here are a few ideas to make her stocking extra-special this year.
Write her a love letter
Send her on a "memory" scavenger hunt
Cook and serve her a candlelit dinner
Plan a trip to place she's always wanted to go
3. Crafty & Active Stocking Stuffers
Does she love to keep busy?
Some people just can't hold still. They always have to be doing something. Making, painting, cleaning, cooking, working, re-doing, or just fidgeting… if that's your wife, you know this full well. Here are some creative ideas for the active, crafty, busy, always-accomplishing-something woman:
4. Stocking Stuffer Ideas for a Great Mom
Does she spend all day with the kids?
Some moms love spending all day with the kids, and can't get enough of it. For others, it's a daily grind. And probably for most, it's somewhere in between.
If your wife is the primary caretaker for the kids most of the time, she will enjoy gifts along the lines of these ones:
Give her a trip to the masseuse
Send her to a day spa
Take the kids for the day to give her a relaxing day around the house
Give an "in case of emergency" cash stash keychain for those crazy days when your spouse just needs to order take-out instead of cooking, or get the kids out of the house and get to a movie, etc.
4. Stocking Stuffer Ideas for the Chef
Does she like to cook?
Cooking, baking, and creating in the kitchen… these things are a fun hobby for some, and a lifelong passion for others. Here are some kitchen-themed stocking stuffer ideas for your wife who loves to cook:
Give her a subscription to a favorite cooking magazine
Get her a premium chef's knife
Give her some fun kitchen utensils
Give her a nice mortar & pestle
Related: Must-Have Kitchen Accessories That Are Actually *Brilliant* Gift Ideas
5. Wine Connoisseur Stocking Stuffer Ideas for Your Wife
Does she love wine?
Wine is one of the great pleasures in life. A true wine connoisseur will always appreciate receiving anything related to wine. Here are a few ideas that will fit into your wine-enthusiast wife's stocking:
Give her a bottle opener engraved with a special note
Give her these chocolates made to pair with wines
Schedule a wine tour of local wineries or vineyards
Fill her stocking with mini bottles of wine
Fill her stocking with one really nice bottle of wine
6. Stocking Stuffer Ideas for a Hard Working Wife
Does she need a break from work?
If your wife is always on the go, whether from one job, multiple jobs, school, kids, or (most likely) a combination of several of those things, she definitely needs some down time. This can be regular activities, a night out, or a new hobby.
Any of the gift ideas below can be written onto a card if there isn't some sort of gift card option. Also consider giving a small accessory related to the activity; for instance, a carabiner to represent a rock climbing gym membership.
Arrange a night on the town with friends
Give her a membership at an archery range, rock climbing gym, etc.
Take dancing lessons together
Sign up for a class together
Get her running/biking/hobby gear
7. Sweetheart Stocking Stuffer Ideas
Does she like sweet little gestures?
Sometimes it's the gift with a little personal touch or the extra-thoughtful consideration that really counts. Here are a few creative ideas to get you going in the right direction:
8. Stocking Stuffer Ideas for the Wanderlust Wife
Is she a free spirit?
Some people love travel, adventure, and wandering wherever the wind may take them. If this describes your wife, here are some stocking stuffer ideas to consider:
Arrange for horseback riding on the beach
Book a cruise
Plan a backpacking trip
Give her a pink stun gun. Fun to have and keeps her safe in her wanderings. Also comes in black. A great way to show that you care for her safety
Along the same lines, how about this police-strength pepper spray
9. Stocking Stuffer Ideas for the Avid Reader
Is she a bookworm?
Reading is a great hobby. Here are some bookworm gift ideas for your wife's stocking:
Get her a signed or vintage copy of her favorite book
Find new books in her favorite genres. For instance, as fans of Harry Potter, my wife and I loved this series
Personalize a book embosser to mark her personal library
She might love a weighted bookmark that holds the book open while reading
Get an e-reader gift card
More Stocking Stuffer Ideas for Your Wife…
Here are additional ideas!!
Make "love coupons" for date night, run to the store for a favorite snack, do the laundry, massages, etc.
Create a list of 100 things you love about your spouse, print it & frame it
Write specific compliments on sticky notes and put them in a jar
Compose a poem for her
Write her a song and print the lyrics for the stocking
Make this fun DIY "7 Days of Love" using one of those daily pill boxes
Make this sweet and creative Exploding Love Box
Create this fun "Passport To Love" date kit and take your spouse on an "international" date night each month. Helps get in the regular habit of date night!
And here's the same thing, with all the dates already planned for you
Promise to watch her favorite show together – then actually do it!
Get her a quirky t-shirt with a quote from her favorite show or book
Get a photo shoot of the two of you together
Give her some self-care gifts for ultimate relaxation
Read Next: 150 Best Women's Stocking Stuffers for Christmas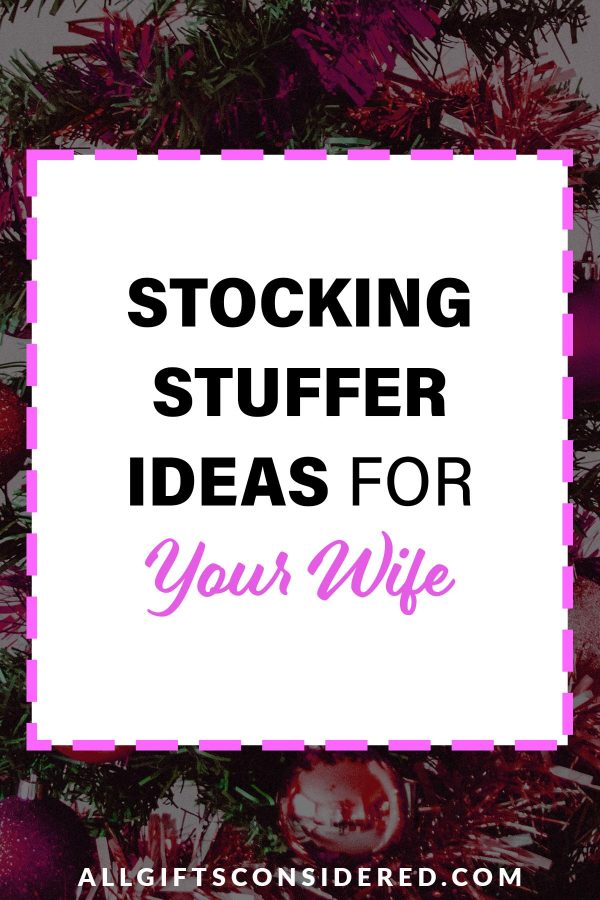 What are some of your ideas for fun, unique, and creative stocking stuffer ideas for your spouse? Something that really "gets" her or him… leave your answer in the comments below!