Today we're looking at the best stocking stuffer ideas for your wife that she would actually be happy to find in the toe of her sock.
That's right. There's not a pack of gum or a toothbrush in sight…
Full of helpful insight, great tips, and — of course — gift ideas, she's sure to be delighted by your final (and expertly guided) picks.
If you're the type to be scratching your head and asking, "what would make good stocking stuffers for my wife?" each and every year, then go ahead and bookmark this super savvy article for now and future you.
Our website is supported by our users. We sometimes earn a commission when you click through the affiliate links on our website. See our privacy policy & disclosures for more information.
To help make this article easy-breezy to navigate, consult this convenient table of contents to find exactly what you're looking for:
Characteristics of the Best Christmas Gifts (including stuffers!)
The best kind of gift is something that says,
"Hey. I see you, and I love what I see."
"You are important to me, and this is one way to show it."
"You touch my heart, here's my attempt to touch yours."
It doesn't have to be fancy, nor does it have to be expensive. It just has to be genuine and thoughtful.
You can figure this out by:
Listening to what she says
Watching what she does and how she does it.
Listen to what she wants, and take it seriously. Be attentive to what she does to know better who she is, and look to give something that inspires her in her own unique way.
Stocking Stuffer Ideas for Your Wife
First things first, what to get your wife for a stocking stuffer?
Here are some ideas to help inspire you to figure out what your wife really wants for a stocking stuffer this Christmas.
These stocking stuffer ideas for your wife are targeted primarily for women, but some of them work equally well for men.
Remember, the main thing is to take the time to look at your spouse, appreciate who they are, and find a way to celebrate them in a special way.
Ready? Here we go!
1. Stocking Stuffer Ideas for the Wife Who Loves Quality Time
Does she appreciate spending quality time with you?
Does your wife value quality time together with you? Here are some ideas, all of these can be conveyed by a card in the stocking:
Get a gift certificate to your spouse's favorite restaurant
Arrange for the kids to stay at grandma's so you can have a night in with Netflix and a favorite snack
Book a weekend getaway
Load a gift card to their favorite sit-down coffee shop and write a note saying it has to be used on coffee dates
Go bowling together
Get a small game to play together — Playing cards and dominoes are classic, Jaipur and Sushi Go are some newer fun ones
2. Stocking Stuffer Ideas for the Romantic
Does she love to be romanced?
Some spouses appreciate nothing more than being romanced. Those special gestures that simply say, "I adore you."
Here are a few ideas to make her stocking extra-special this year.
Write her a love letter
Send her on a "memory" scavenger hunt
Cook and serve her a candlelit dinner
Plan a trip to a place she's always wanted to go
3. Crafty & Active Stocking Stuffers
Does she love to keep busy?
Some people just can't hold still. They always have to be doing something.
Making, painting, cleaning, cooking, working, re-doing, or just fidgeting…if that's your wife, you know this full well.
Here are some creative ideas for the active, crafty, busy, always-accomplishing-something woman:
4. Stocking Stuffer Ideas for a Great Mom
Does she spend all day with the kids?
Some moms love spending all day with the kids, and can't get enough of it. For others, it's a daily grind. And probably for most, it's somewhere in between.
If your wife is the primary caretaker for the kids most of the time, she will enjoy gifts along the lines of these ones:
Give her a trip to the masseuse
Send her to a day spa
Take the kids for the day to give her a relaxing day around the house
Give an "in case of emergency" cash stash keychain for those crazy days when your spouse just needs to order take-out instead of cooking, or get the kids out of the house and get to a movie, etc.
4. Stocking Stuffer Ideas for the Chef
Does she like to cook?
Cooking, baking, and creating in the kitchen…
These things are a fun hobby for some, and a lifelong passion for others. Here are some kitchen-themed stocking stuffer ideas for your wife who loves to cook:
Give her a subscription to a favorite cooking magazine
Get her a premium chef's knife (or a whole set of them)
Give her some fun kitchen utensils that are useful
Give her a nice mortar & pestle
Related: Must-Have Kitchen Accessories That Are Actually *Brilliant* Gift Ideas
5. Wine Connoisseur Stocking Stuffer Ideas for Your Wife
Does she love wine?
Wine is one of the great pleasures in life, and a true wine connoisseur will always appreciate receiving anything related to wine.
Here are a few ideas that will fit into your wine-enthusiast wife's stocking:
Give her a bottle opener engraved with a special note
Give her these chocolates made to pair with wines
Schedule a wine tour of local wineries or vineyards
Fill her stocking with mini bottles of wine
Fill her stocking with one really nice bottle of wine of her favorite vintage
6. Stocking Stuffer Ideas for a Hard Working Wife
Does she need a break from work?
If your wife is always on the go — whether from one job, multiple jobs, school, kids, or (most likely) a combination of several of those things — she definitely needs some down time for recreation and fun.
This can be regular activities, a night out, or a new hobby.
Any of the gift ideas below can be written onto a card if there isn't some sort of gift card option.
Also consider giving a small accessory related to the activity; for instance, a carabiner to represent a rock climbing gym membership.
Arrange a night on the town with friends
Give her a membership at an archery range, rock climbing gym, etc.
Take dancing lessons together
Sign up for a class together
Get her running/biking/hobby gear
7. Sweetheart Stocking Stuffer Ideas
Does she like sweet little gestures?
Sometimes it's the gift with a little personal touch or the extra-thoughtful consideration that really counts.
Here are a few creative ideas to get you going in the right direction:
8. Stocking Stuffer Ideas for the Wanderlust Wife
Is she a free spirit?
Some people love travel, adventure, and wandering wherever the wind may take them. If this describes your wife, here are some stocking stuffer ideas to consider:
Arrange for horseback riding on the beach (or in the mountains if you're landlocked).
Book a cruise
Plan a backpacking trip
Give her a pink stun gun. Fun to have and keeps her safe in her wanderings. Also comes in black. A great way to show that you care for her safety.
Along the same lines, how about this police-strength pepper spray
9. Stocking Stuffer Ideas for the Avid Reader
Is she a bookworm?
Reading is a great hobby. Here are some bookworm gift ideas for your wife's stocking:
Get her a signed or vintage copy of her favorite book
Find new books in her favorite genres. For instance, as fans of Harry Potter, my wife and I loved this series
Personalize a book embosser to mark her personal library
She might love a weighted bookmark that holds the book open while reading
Get an e-reader gift card
Best Stocking Stuffer Ideas for Wife
We know wives can be a little tough to shop for, historically speaking. But don't you dare use that as an excuse!
Below, we've done the hard work for you — all you have to do is narrow down this list of the best stocking stuffer ideas for your lovely lady and voíla. You're practically Father Christmas.
When it comes to your wife's stocking, you want it stuffed to the brim with the absolute best stocking stuffers of the holiday season.
Trust me when I say (as a wifey), nothing brings a disappointed look to her face more quickly than an empty or nearly empty stocking…unless it's only full because she stuffed it herself.
So, this year make it extra special by playing the big jolly elf yourself and picking some of these unique stocking stuffer ideas for your wife.
And who knows? The kids just might see Mommy kissing Santa Claus…
10. Mini Leather Notebooks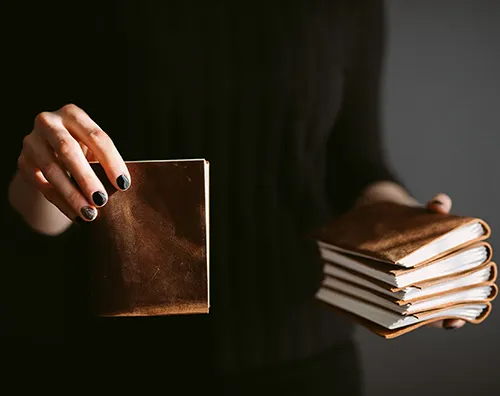 These mini notebooks are just like adorable tiny versions of the ones she loves best for her journals! So compact and cute, they're kind of addicting to collect.
Great for slipping in her purse, keeping in the car for when inspiration strikes, or for putting in her pocket. Cuz you know how much she loves pockets.
11. Cooling Satin Pillowcases
Satin pillowcases are so awesome for both your skin (reducing wrinkles while you sleep) and for keeping unruly, curly hair frizz-free.
As a curly girl, I would run into my burning house to retrieve my satin pillowcases…
These cooling ones come in different colors so you can match them to your bed set for a perfect stocking stuffer.
This option is even more lavish and luxurious — two words we are quite fond of during the holiday gifting season. These sets pass the burn test so you know the quality is super high, plus look at all of those colors!
Want to really impress your wife? Get her two sets: one for your winter bedding and one for your summer (yes, we are quite certain she owns both even if you've never noticed).
12. Personalized Book Stamp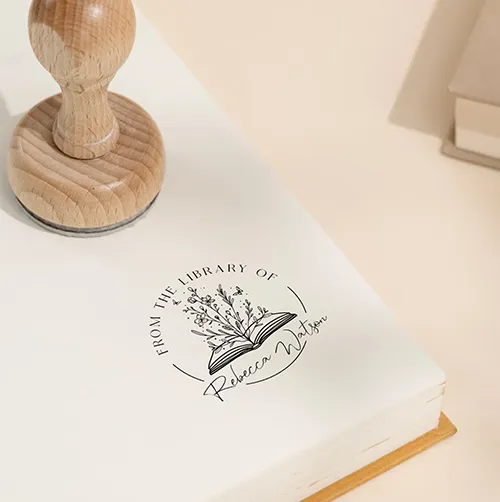 Book lovers, it's our time! This personalized book stamp is going to delight your wife, and will make a really good stocking stuffer.
It looks so adorable and vintage-like on her bookshelf, and she'll love using it when she loans out her favorite reads. It will completely enchant her inner librarian.
You can pick out your favorite style and font so it's absolutely perfect.
13. 3D Photo Crystal Necklace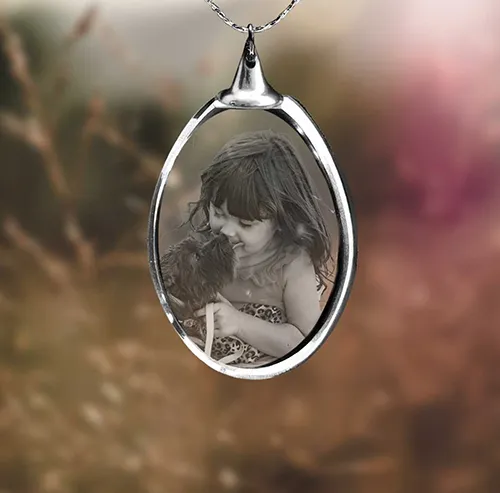 The best thing about small gifts? It's usually jewelry! We think that's a winner in just about every case, but definitely with this 3D photo crystal necklace.
Put it down low — first in the stocking — so she finds it last, because it's definitely a show-stopper, and is bound to be the best part of her Christmas. (Other than you, of course.)
14. All Natural Bath Salts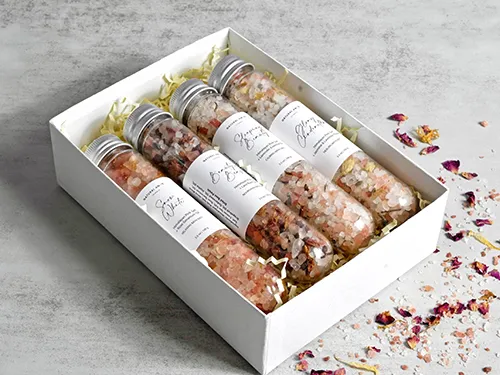 A relaxing soak after the holiday season has finally come to a close is a must-have for your wife.
After all, she has worked so hard for weeks and months to make the holiday season special for her family! That calls for some all-natural bath salts like these fragrant and luxurious ones.
She'll feel renewed and rejuvenated after an hour or two in the tub, thanks to you and these yummy salts.
15. Personalized Mini Heart Token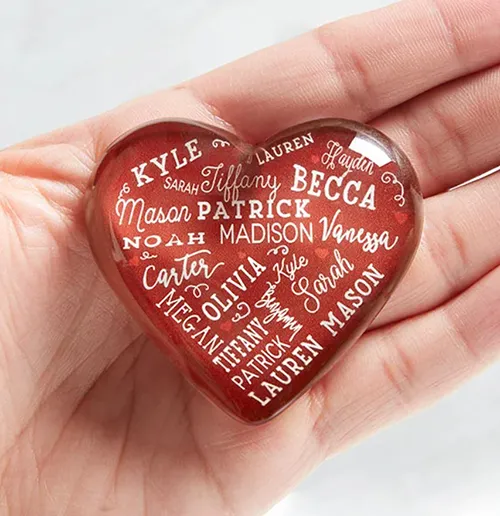 This personalized mini heart token is special because you obviously didn't buy it at a big box store or a gas station.
Nay nay, this one took some effort on your part and it won't go unnoticed. These also make great stocking stuffers for a mother, a grandmother, or a daughter. So sentimental!
16. Luxury Tumblers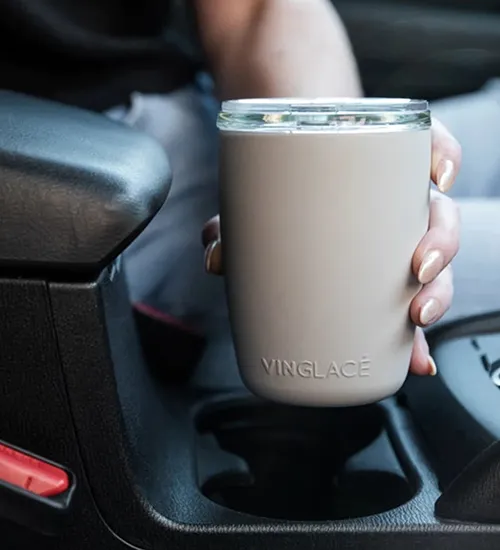 Does she love tumblers but not so much the metallic aftertaste they leave behind? Then this fabulous tumbler is here to save the day!
It will keep her beverages at just the right temperature for hours, and it looks amazing doing so. The glass insert comes out for easy washing, so this is a win-win.
17. Custom Shirts for Dog Moms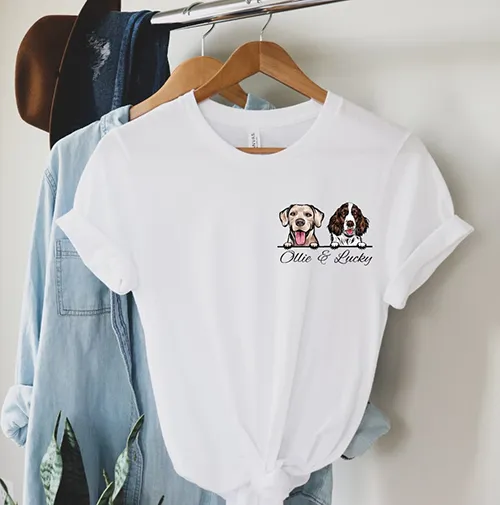 She might already have a 'Dog Mom' tee, but I bet it doesn't have the pictures and names of her fur babies right on it, right?
This one is so adorable and she'll want to wear it all the time: at the dog park, on walks, on playdates with the kids, camping…you name it! So clever and witty — we are here for it.
18. Christmas Flowers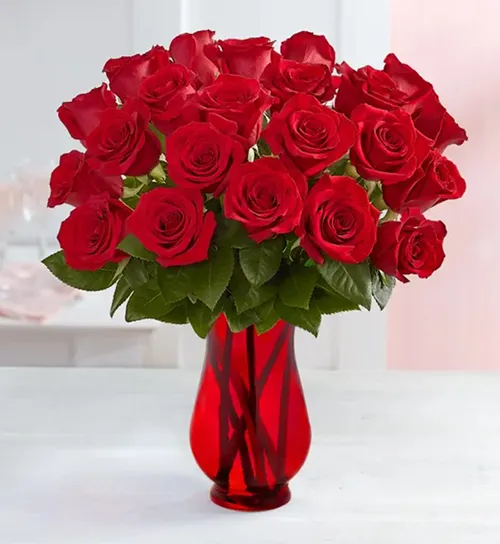 Use the stocking as a vase and have a bouquet of flowers popping right out of the top. How romantic and grown-up that would be for a hard-working momma and wife?
These Christmas flowers are so unique and sweet. We can smell the beautiful aroma from here!
19. Portable Ring Cleaning Pen
Make her diamond shine like new again, even if you've been married for ten, twenty, or fifty years!
This portable ring cleaning pen works like a charm and will make her fingers sparkle again. She'll feel like a newly married, young bride! A great gift that fits perfectly inside of her stocking.
20. Essential Oil Bath Bombs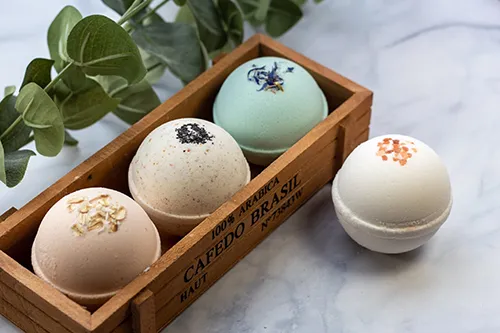 These bath bombs are made from essential oils so they're good for her skin and smell amazing, too!
She'll love soaking in a tub full of hot water all evening after a long day of unwrapping gifts and enjoying the holiday.
All she needs now is a yummy candle and a book, and you just might not see her for a couple of hours!
Related: Fun Gift Ideas That Start with the Letter E
21. Self-Heating Ceramic Mug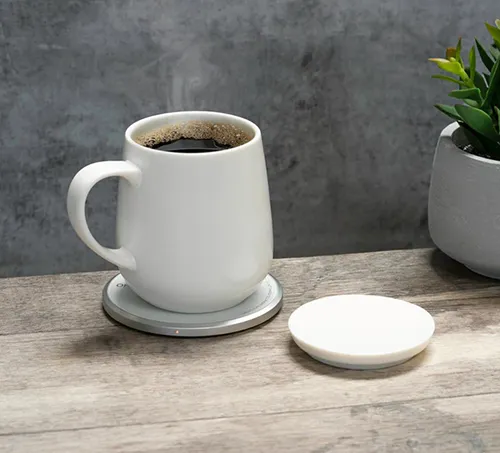 Carefully wrap this self-heating ceramic mug and place inside her Christmas stocking for a perfect gift!
It's cute enough all on its own, with its understated color and timeless design and shape, but once she realizes it also charges her phone? She'll be over-the-moon!
22. Exploding Kittens
Fast paced card games are the most fun for the family! This one became an instant classic, and it's easy to see why: all ages love the silly and witty humor.
Hours will fly by when the whole family gathers around the table to play Exploding Kittens.
Already have the classic edition? Then pick up this full party pack! The fun never ends.
23. Floral Robes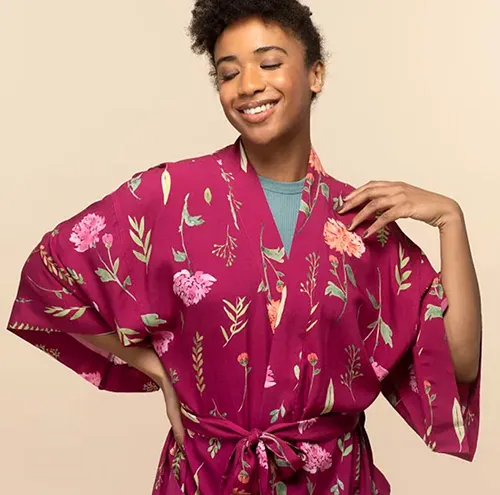 These gorgeous robes are so lightweight and easy to fold down into a little package that you can totally put it in her Christmas stocking!
She'll be so surprised to find something so lovely and luxurious (and romantic) in the morning.
You're gonna earn some love points for this one… Bonus: you can choose her birth flower to make it even more special.
24. Gift Cards Galore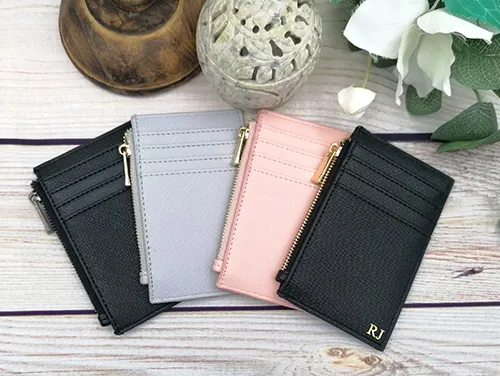 Fill up this monogrammed wallet with gift cards to all of her favorite places.
You can enjoy them together or she can use them to spend time with her best friend. And let's not underestimate the joy of shopping and eating out by herself occasionally!
25. 18k Gold Hummingbird Earrings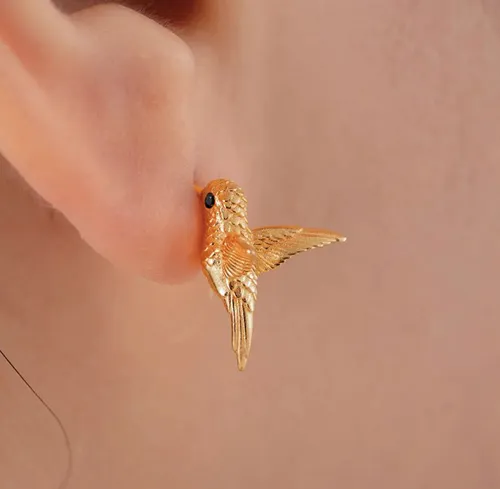 A beautiful and stunning piece of jewelry is always the answer.
Wait, what's the question again? It doesn't matter!
These hummingbird earrings are made of 18k gold and are so unique. If your wife is a bird lover, nature reveler, outdoor enthusiast, or just the most stylish lady on the block, she'll love these.
26. Beautiful Christmas Tree Ornament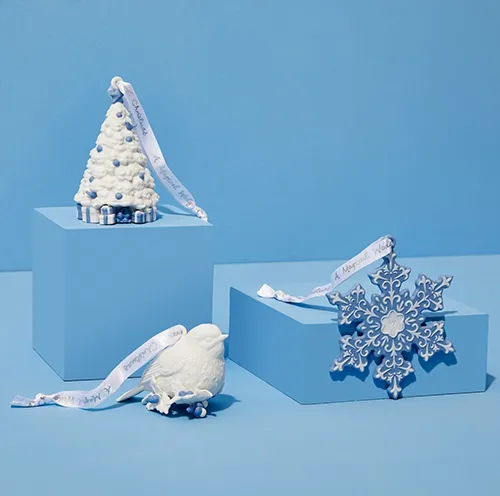 We bet she's been collecting Christmas tree ornaments for years for both you and her, not to mention your children, right?
It's time to add to your collection with something chosen especially for her. This beautiful little robin is so adorable and is like a mini work of art.
We think you're onto something here, and it just might become a yearly tradition for her stocking.
27. Nostalgic Candy Bags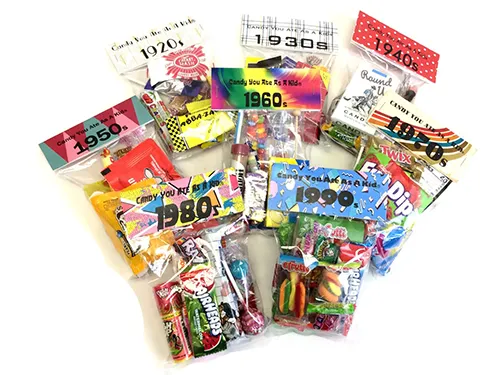 Pick her favorite decade and your sweet wife is about to get a sweet treat for her sweet tooth!
These adorable and clever bags of nostalgic candies are going to get a few claps and an exclamation of delight. Now, let's hope she shares, right?
28. Adult Mad Libs
This adult version of the classic kid's write-in game is turned on its ear!
So much fun to do together in bed after the kids go to bed, or on a double date, this Mad Libs book centers around our favorite things to do: sip wine and eat fine food.
What a fun gift to slip inside her Christmas stocking.
29. Wine Bottle Stopper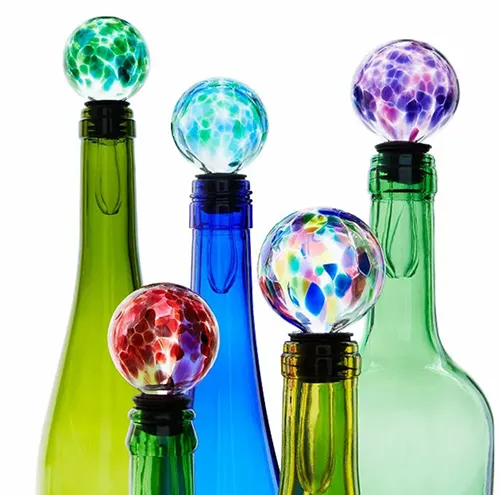 Keep her open bottle of wine fresh in the most stylish and beautiful of ways with a pretty bottle stopper like this one.
You can pick her birthstone so it's even more magical. Pair with a bottle of vino and voila. Her Christmas stocking is practically one and done and you'll look like a hero!
30. Neutrogena Hydro Boost Face Masks
We love winter, but boy, it sure brings out dry skin like no other!
This face mask is ultra hydrating thanks to hyaluronic acid and yummy, luxurious ingredients.
Go ahead say "hyaluronic acid," and watch her be impressed by your know-how and thoughtfulness!
31. Olive Wood Herb Stripper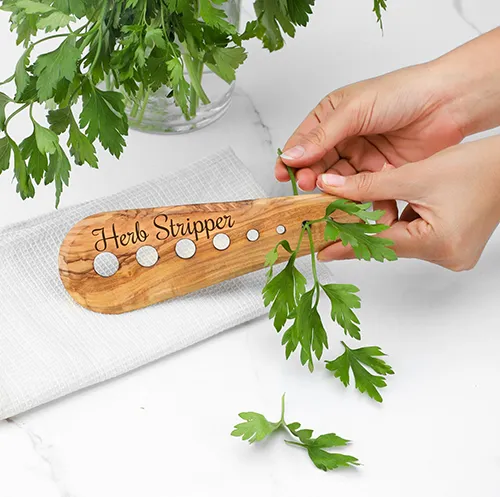 We love luxury items in our Christmas stockings, but sometimes you really want a handy little gadget like this one!
This olive wood herb stripper is a genius little invention she probably doesn't even know she needs until she opens it on Christmas morning!
32. Pocket Scrunchies
Must-have accessories, small items, itty-bitty baubles? They're all good for Christmas stockings, but we really like the look of these ponytail holders!
These pocket scrunchies are going to come in handy at all the right times. Don't be surprised if you find them in the car, on the nightstand, in the kitchen…
Super soft so they won't pull her hair, these are a must-have.
33. Handmade Shower Steamers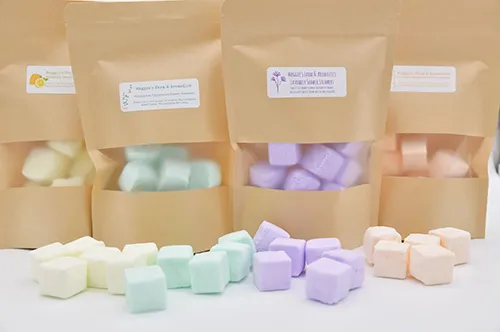 These shower bombs are handmade and come in the yummiest of four different scents!
Great for ladies who don't own a tub or just don't enjoy a bath, these transform your showers into a luxurious and pampering spa-like experience.
34. Cashmere Wool Socks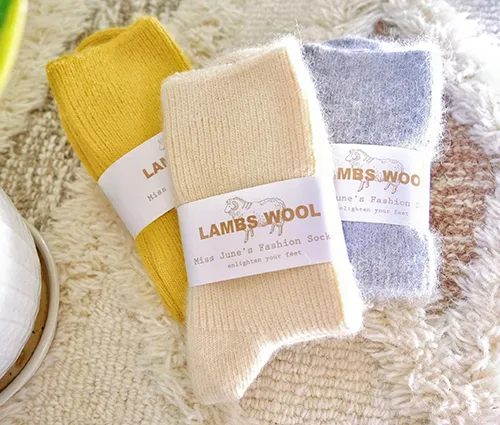 It's that time of year again! What time is that? The time for fuzzy and cozy socks, of course.
These cashmere wool socks are so thick and warm; they will hug her feet all day. That's good for you, because you know how she loves sticking her ice-cold feet on you to attempt warming them up. It's a gift that will benefit both of you, really.
35. Forever Rose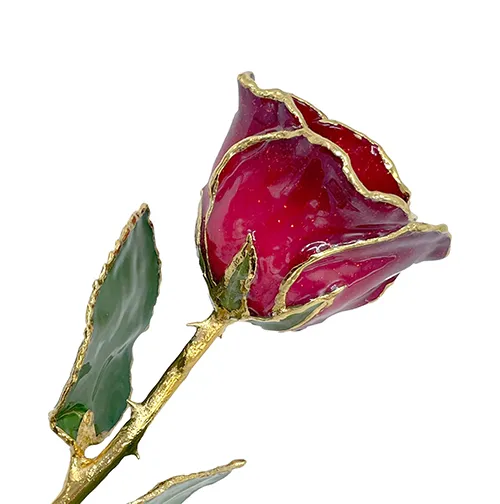 This Forever Rose will appeal to her romantic side! It's such a lovely gift to slip inside of her Christmas stocking and she'll love finding it.
So different from the typical candy, or baubles that don't make an impression.
36. Clear Reusable Straws
A practical and functional gift that she can use again and again, these clear straws are great for the mom on the go!
Keep her hydrated and guilt-free about using so much plastic. Easy to clean, too. These are wonderful for keeping in the car, at home, and in the office.
37. Coconut Oil Hair Treatment
Her beautiful tresses need some loving this Christmas season, too! This coconut oil treatment is here to save her tired, lackluster, dry hair.
She'll love how thoughtful this gift is. It's an all-in-one treatment that she will use again and again.
38. Pinafore Apron Dress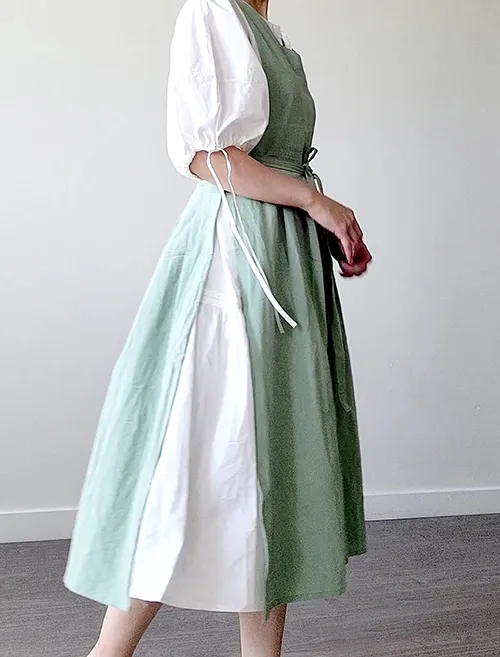 Available in four different colors and plenty of sizes, this pretty pinafore apron dress is just the thing for a woman who loves the romantic and vintage style!
She'll love the soft fabric, the feminine shape, and the way it protects her clothing when cooking, gardening, or creating art.
39. Romantic Mixtape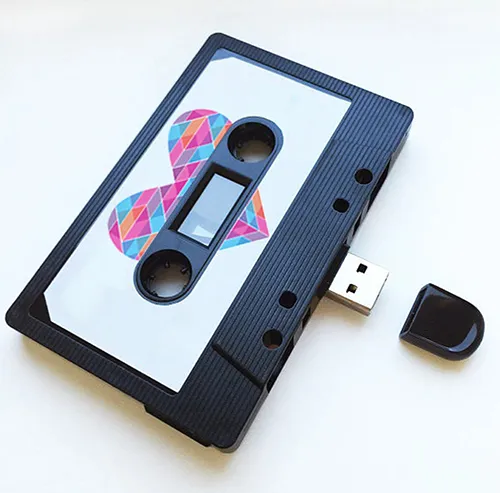 Create a romantic mixtape for her, just like you used to do when you were dating!
This nostalgic throw-back to the '80s and '90s is fully updated for today's technology. You'll have just as much fun picking out the songs as she will listening to it!
40. Athleisure Clothes
Does she love lounging around in cozy clothes? Athleisure outfits offer the perfect balance for relaxing, yoga, and shopping!
Consider rolling these into her stocking this Christmas:
41. Cute Garden Decorations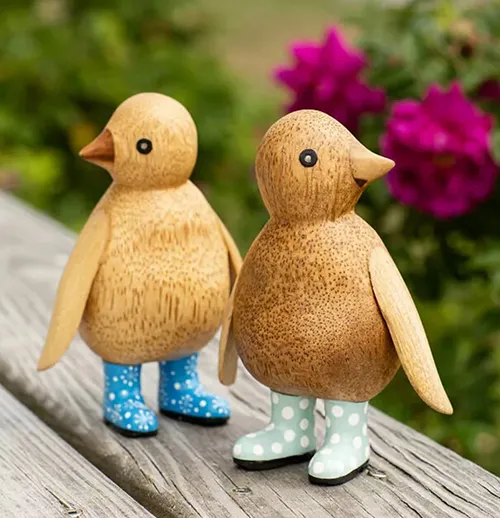 It might be snowing outside this Christmas morning, but that doesn't mean she doesn't want to start planning next year's garden!
These utterly adorable garden decorations are going to make her day. They'll transform her dried out, brown backyard into something cute and sweet. Bring on the rain — these little birdies are ready.
42. Custom Watch Charms
These little custom watch charms are perfect for her. She'll adore "gussying" up her Apple watch with these personalized little photos that will make her timepiece stand out in a crowd.
So thoughtful of you! Where did you get such a great idea? Oh, shucks, that's right. You're welcome.
43. A Personal Box Cutter
If she's an avid online shopper or is constantly purchasing for her small business, she'll love this personal box cutter!
No more grabbing whatever sharp object is nearby to open her latest delivery box (why do we do that?). Now she can be safe and efficient all day long.
44. Cherry Blossom Pocket Bottle Opener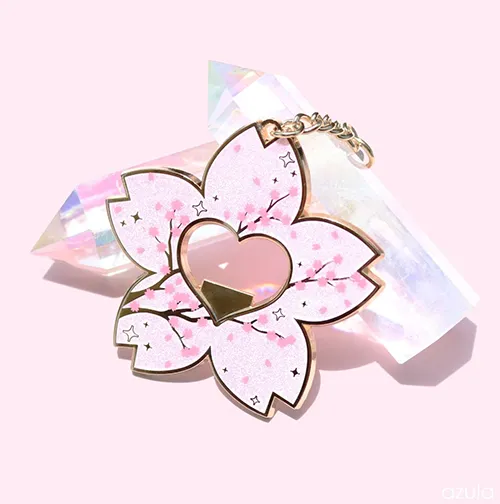 This pretty cherry blossom pocket bottle opener is so dainty and charming! We love the pink shade and think she will, too.
A practical gift that is still feminine and romantic looking. It's also a keychain so she won't misplace it in the junk drawer!
45. Delicious Dove Chocolate
I mean, can you really go wrong with a year's worth of delicious Dove chocolate in her stocking? We think not.
This dark chocolate is so decadent and yummy, she might have trouble pacing her snacks! We just hope she'll share (no guarantees, though).
This is also perfect if you…um, are a last minute shopper who needs a last minute gift.
46. Tinted Lip Balm
Beauty products are always wonderful for stocking stuffers! This tinted lip balm is so soothing and luxurious for dry, winter skin.
I love it for touch ups at work when I don't have a mirror to apply lipstick, too. It's made with high-quality ingredients for kissable lips. 
Related: Christmas Gifts that Start with T
47. Custom Music Box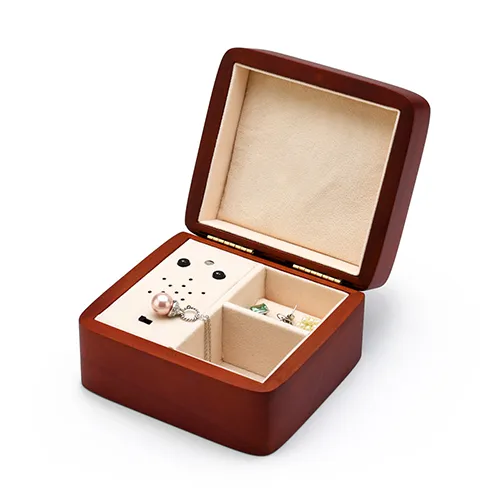 Really surprise her this Christmas morning with something she doesn't fully expect like this gorgeous and stunning custom music box!
It doesn't matter what else is wrapped under the tree, we think this is sure to be her favorite present.
You can pick out "your song," for a super romantic touch.
48. Mini Ring Dish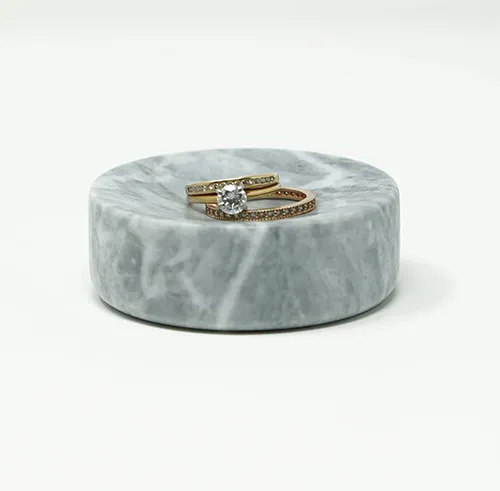 Gift her this stylish and modern mini ring dish so she has somewhere to put her wedding ring when she's washing dishes, painting, working with machinery, or going swimming.
She'll love the classy design and look of this simple, yet stunning piece.
49. Cozy Candles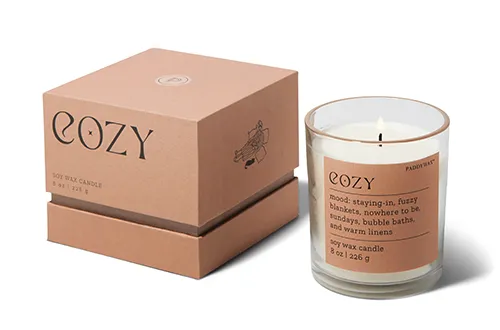 At the risk of sounding too general or stereotypical, ladies really like candles. We can't help it! They add so much ambiance, appeal, soft light, and oh, that smell…
This one is just right for her and her Christmas stocking. It's made of high-quality ingredients that won't give anyone a headache when lit, and will light up the holiday season with a cozy mood that cannot be beat.
More of the Best Stocking Ideas for Wife…
Here are additional great ideas for stocking stuffers for wife!
Make "love coupons" for date night, run to the store for a favorite snack, do the laundry, massages, etc.
Create a list of 100 things you love about your spouse, print it & frame it
Write specific compliments on sticky notes and put them in a jar
Compose a poem for her
Write her a song and print the lyrics for the stocking
Make this fun DIY "7 Days of Love" using one of those daily pill boxes
Make this sweet and creative Exploding Love Box
Create this fun "Passport To Love" date kit and take your spouse on an "international" date night each month. Helps get in the regular habit of date night!
And here's the same thing, with all the dates already planned for you
Promise to watch her favorite show together – then actually do it!
Get her a quirky t-shirt with a quote from her favorite show or book
Get a photo shoot of the two of you together
Give her some self-care gifts for ultimate relaxation
Read Next: 150 Best Women's Stocking Stuffers for Christmas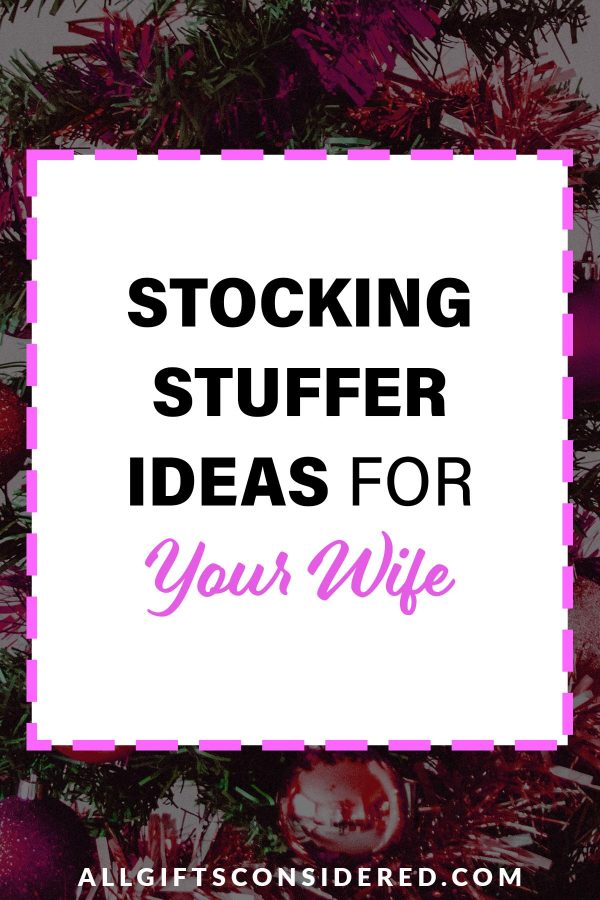 What are some of your ideas for fun, unique, and creative stocking stuffer ideas for your spouse? Something that really "gets" her or him… leave your answer in the comments below!