Physician assistants can be tough to shop for, especially if you're trying to find that perfect PA gift.
Your physician assistant is a qualified medical provider – highly trained, competent, professional. A PA can diagnose illnesses, develop and manage treatment plans, prescribe medications, and serve as a primary healthcare provider. Not to be mistaken for a doctor, a PA is still an integral part of our healthcare system.
What sort of gift can you give to such an impressive individual?
We've curated some of the best, most thoughtful, and most appreciated physician assistant gifts for any occasion. Let your PA know they are truly treasured for all they do!
Best Gifts for Physician Assistant
Our website is supported by our users. We sometimes earn a commission when you click through the affiliate links on our website. See our privacy policy & disclosures for more information.
Custom Stethoscope Charm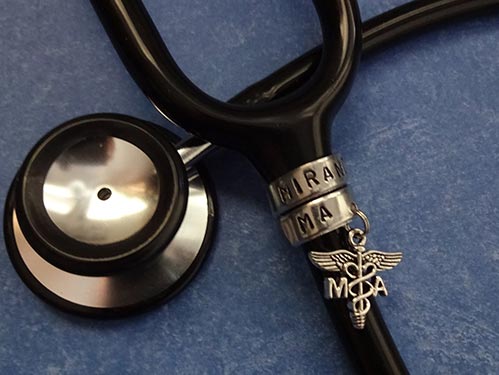 This personalized Stethoscope ID Wrap comes with a hand-stamped name band and a charm of your choosing.
Show your particular practitioner a little love by presenting them with this personalized ID wrap. They will appreciate it for years to come.
Pacific Crest Sign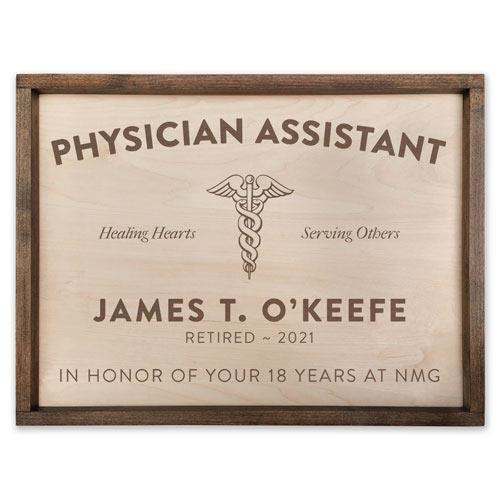 For the perfect personalized physician assistant gift, look no further. This sign is hand-crafted in our Oregon workshop with care and precision; and will arrive ready to hang. Available with an optional hanging name board.
This sign is sure to add a touch of class to any office or waiting room.
Luxurious Weighted Blanket
Give them the gift of a fantastic night's sleep and a beautiful blanket all rolled into one! These weighted blankets from Luxome are so luxurious, and are also proven to promote deep, restful REM sleep.
Choose from eight stunning patterns and versatile colors to perfectly suit their decor.
Unique Book Art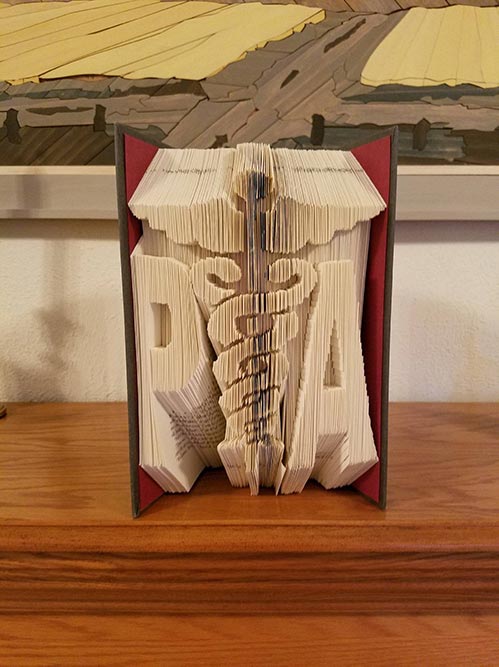 This "PA Caduceus" book is the ideal gift for that special physician assistant. Every page of this hard-covered book has been cut, folded, and finished to create the design.
This decoration is the perfect accent for your book-loving physician assistant's home or office.
Related: 21 Best Gifts for Book Lovers
Personalized Jacket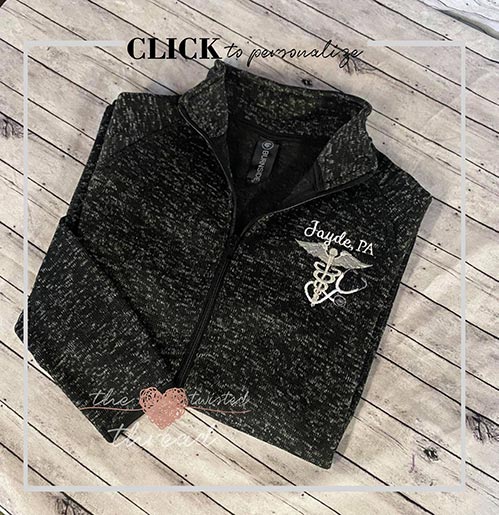 This beautifully embroidered full zip jacket is complete comfort. Each sweatshirt is hand-decorated with professional equipment for a durable design.
With such a wide variety of thread colors to choose from you will indeed find your favorite. A warm, comfortable, and personalized jacket is excellent for those cool spring or fall days.
Related: How to Give Thoughtful Gifts
Physician Assistant Graduation Gifts
Graduation is the perfect time to give your favorite scholar and student – and now, finally, certified professional – a gift to commemorate their achievement.
I'll Be There For You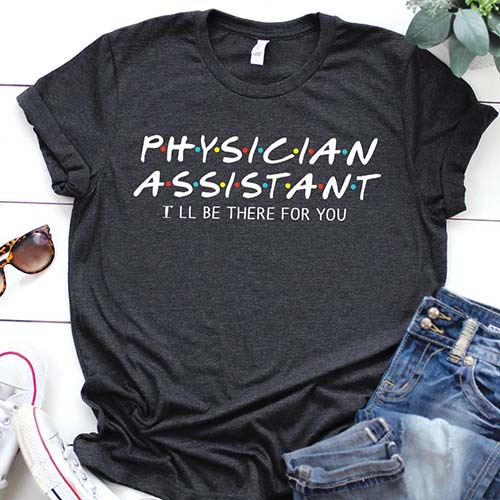 These comfy T-shirts are just what the PA ordered! Treat that special someone to this cute T, paired with some jeans, and it's the perfect outfit for some downtime.
Surviving PA School Wine Label
Cheers to you for surviving PA School!
The perfect graduation gift for that special PA. Attach this label to a bottle of wine, champagne, or sparkling grape juice to help celebrate the momentous occasion.
Once the bottle is empty, the label can be removed and treasured as a keepsake.
Personalized Keychain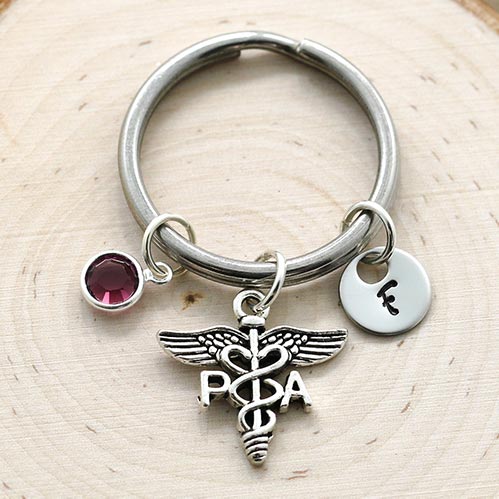 This physician assistant keyring features a Swarovski crystal birthstone, caduceus, and initial. A cute way to keep your keys safe and together.
Makes a nice graduation, birthday, or "just because" gift.
Definition Print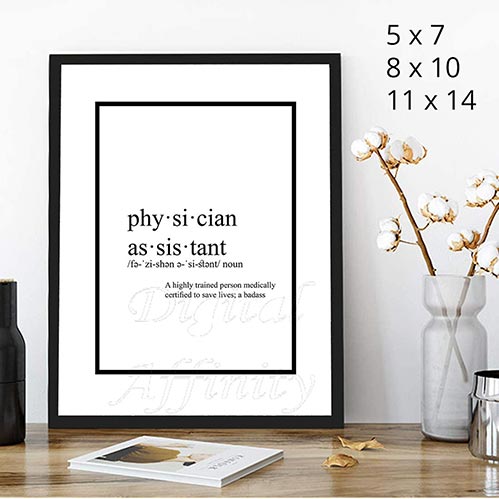 This tasteful, minimalist design is a great addition to any office, staff room, or reception area. This handmade print comes in four sizes. You can order a "hard-copy" already framed, print it yourself, or take it to your favorite printer.
Your PA will be proud to display this accurate definition of their job!
Personalized Bottle Opener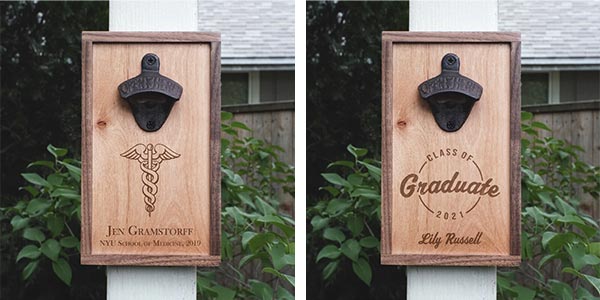 This rustic personalized wooden bottle opener is a creative gift for the medical professional in your life! If they are graduating, we recommend the classic "Class of" personalized bottle opener. This opener can be mounted in a kitchen, garage, or even on the patio.
Every time they pop a top off of an ice-cold soda, beer, or any bottled beverage, you are sure to cross their mind.
You may also enjoy: 10 Awesome Nursing School Graduation Gifts
Funny Gifts for the Physician Assistant
Here are some killer ideas for the PA with a great sense of humor.
Funny Notepads
This set of four funny doctor, nurse, and PA memo pads will keep your medical worker friends and co-workers chuckling during their workday.
Brighten up your PA's day with this assortment of funny medical humor that they are sure to appreciate.
Because School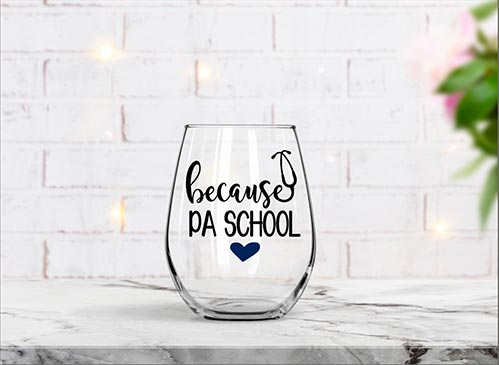 "Because PA School" speaks volumes. This stemless wine glass is "just right" for an evening glass of wine after a long day of studies.
This hand-made glass holds up to 15 oz. of pure relaxation and is made using high-quality vinyl. There is nothing left to do, but enjoy!
DIY Gag Gift: Stress Relief Bubble Poppers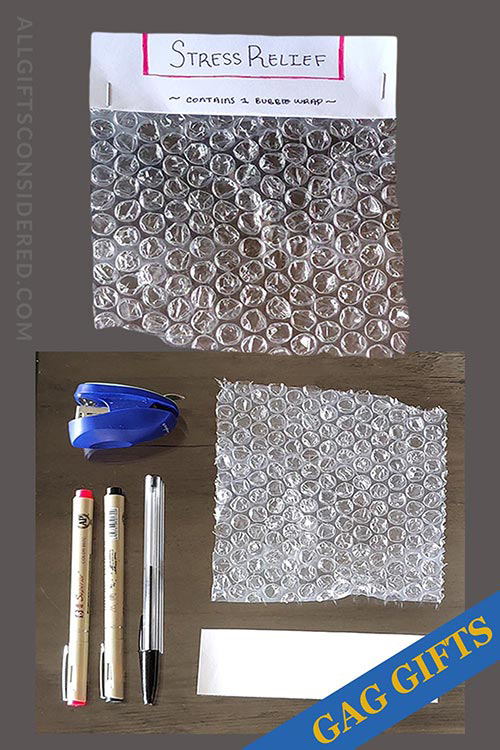 Our gag gift guide has 100 unique gift ideas, including the one you see above. For some of us, popping bubble wrap truly is a stress reliever! Look into our silly gag gift list and enjoy some clever and funny ideas.
After all, laughter is the best medicine. And we are pretty sure your PA will agree.
Cartoon Portrait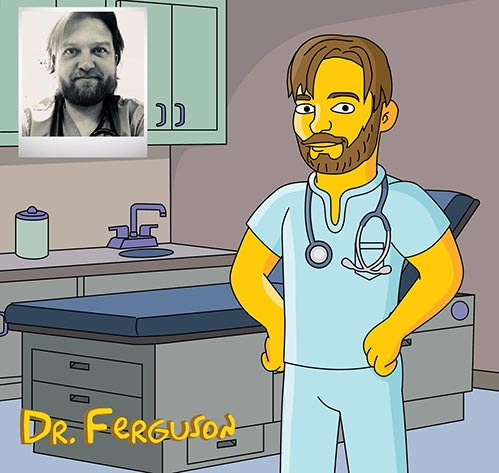 This hand-made cartoon portrait is a cute way to honor your PA.
Upon payment, you will receive a digital file with a yellow cartoon-style portrait. You can print your JPEG file on a poster, canvas, t-shirt, mug, or just about anything else.
This is a fun gift for anyone who loves those famous yellow cartoon characters.
Nothing Scares Me
This funny ceramic mug that will hold up to 11 oz. of coffee or any other drink. A cute and humorous gift for your PA. They will think of you every time they use it.
The custom printed text is dishwasher and microwave safe.
Related: 50 Clever Graduation Gift Ideas
Physician Assistant Retirement Gifts
Honor the years of dedicated work and service with the perfect retirement gift.
Retirement Flower Bouquet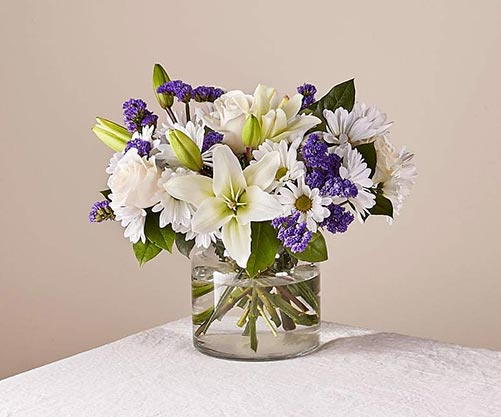 Everyone, men and women, enjoys receiving a beautiful bouquet of fresh-cut flowers.
ProFlowers has a huge variety of cut flowers, live plants, gift baskets, and gourmet foods. You will be able to find a gift to fit your special occasion.
Professional Sign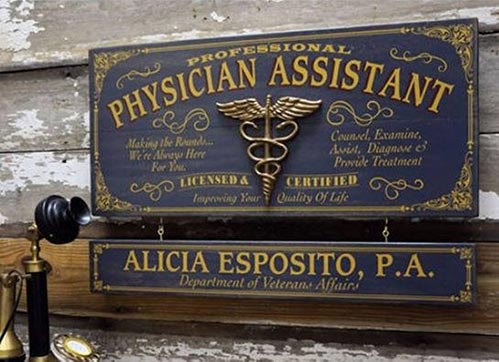 This hand-made wooden sign has a hand-cast 3D resin relief of a medical caduceus. This sign brings a nostalgic feeling to your home or office. Perfect for a graduation gift or retirement.
The back of this sign is unfinished wood; you can have everyone at the party sign and add a personal note with a permanent marker.
Relaxing Candles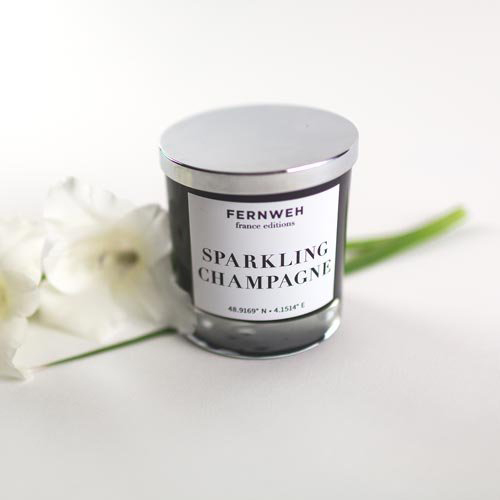 Candles made by Ferweh are a special treat. They are hand-poured in small batches and are made from soy wax.
With so many fragrances and collections to decide from, you might have a hard time choosing just one.
With each strike of a match, a Feweh candle will take you on a journey. Travel from Cascadia to France or from New England to the Pacific Islands.
Coloring Book
Working in the medical field as a PA isn't easy and can be and can be pretty stressful.
Studies have shown that coloring is a stress-relieving activity. It can help you stay inspired and motivated. This coloring book contains humorous PA-related designs that are sure to bring a smile to their face.
Personalized Retired Birdfeeder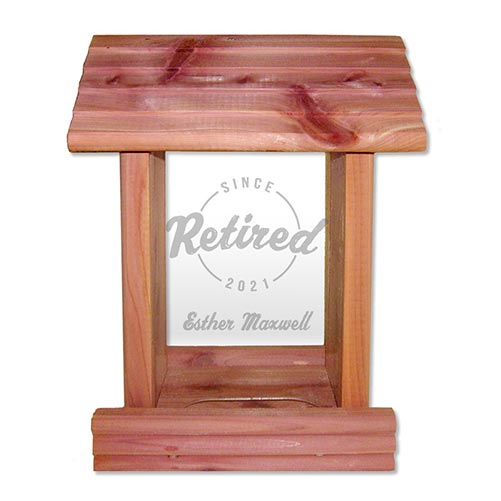 Our bird feeder is made from cedar wood and acrylic. The transparent acrylic front panel is perfect for personalized laser engraving.
Your newly retired PA will now have some free time to enjoy watching the birds that congregate in their backyard. Bird watching is one of the most relaxing pastimes the new retiree will enjoy.
Related: 13 Best Retirement Gifts for Doctors
Best Thank You Gifts for Physician Assistant
Of all people, PAs deserve to be thanked. They work hard and are always, you know, assisting. A good physician's assistance has earned high praise – and an incredible gift! Here are some good ideas for your consideration.
Thank You Card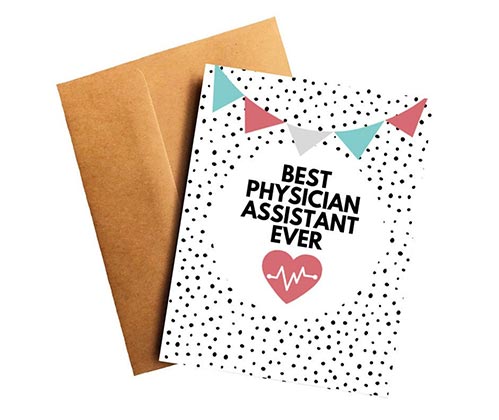 This hand-made thank you card is a sweet way to say "Thanks!" to your physician assistant for all they do.
They are often the unsung hero of the medical world. Let them know that you appreciate them by writing a personal note on the inside of the card.
It's a simple way to brighten anyone's day!
Best Physician Assistant Ever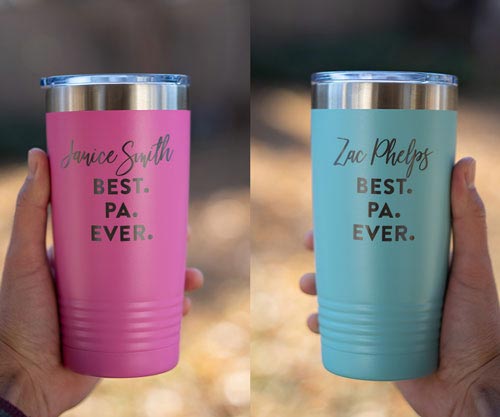 Honor that PA in your life with this personalized tumbler.
This tumbler is crafted from stainless steel: it keeps your cold drinks feeling icy and your hot drinks piping for hours to come.
Choose from stainless steel or six colored vinyl wraps. This is a gift your PA will value for quite some time.
Gift Box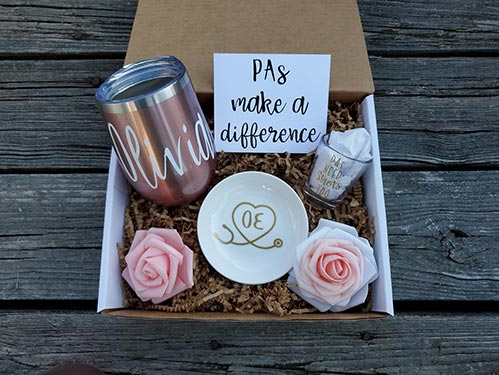 You can make a difference in a PA's life by sending them this delightful gift box. This box contains a variety of sweet gifts that will make her smile.
It's true… PAs need shots too!
Vacation of a Lifetime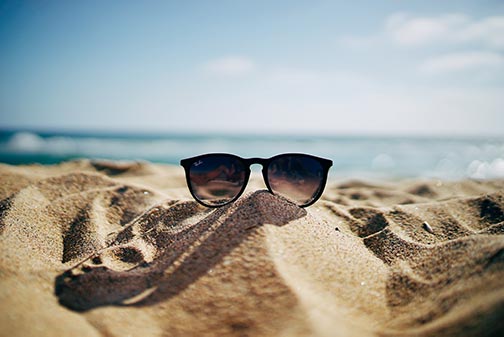 Whether it's an "experience or a getaway" vacation, Tinggly will get you there.
Your hard-working PA deserves a break. This trip could be the vacation package of a lifetime – offering memories that they will cherish for years to come.
Here's how it works:
You purchase a gift package, which is essentially a gift card for the experience of their choice
Prices range from (give or take) under a hundred bucks up to about $300
They redeem for whatever adventure they choose, which could be rock climbing at a nearby gym, a wine tour within easy road trip distance or snorkeling in Hawaii/Mexico/Florida Keys (they'd just need to get themselves there)
Just for You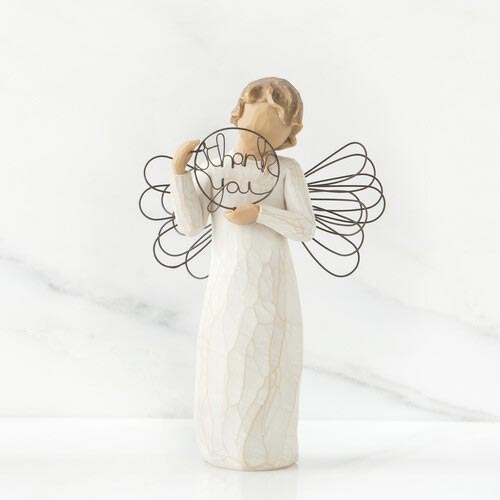 This standing angel holding a "Thank You" in her hands says it all. Thank you to your PA, who is always there, has the answers, and cares about your well-being.
This hand-painted resin figure will fit nicely into any decor; on a desk, shelf, or side table.
More "thank you" ideas: 21 Great Thank You Gifts for Doctors & Other Medical Professionals
---
The road to becoming a PA is rigorous – requiring 2,000 hours of clinical rotations. That sort of dedication deserves a "surprise gift" every once in a while. Have fun shopping for your PA!
Read Next: 21 Nurse Practitioner Gift Ideas