Looking for that special present for this Grandparent's Day? Or are you looking for the perfect birthday or Christmas gift for gramps and grams? We've put together not just one but three "10 Best Gifts" lists for you!
Whether you are looking to celebrate them together, or you need unique gifts for each grandma and grandpa, we've got you covered.
We found gift ideas that include custom and personalized options to make sure grandma and grandpa are getting something truly unique this year. Check out these creative suggestions and get inspired for this Grandparent's Day.
Bonus: Read to the bottom to check out some ideas for how to celebrate Grandparent's Day with the whole family!
Our website is supported by our users. We sometimes earn a commission when you click through the affiliate links on our website. See our privacy policy & disclosures for more information.
10 Best Gifts for Grandparents Who Have Everything
We'll kick things off with our all-time top 10 list. These gifts are ideal for any grandma or grandpa, and also work perfectly as gifts to give both of them.
1. Grandparent Est. Date Personalized Tumbler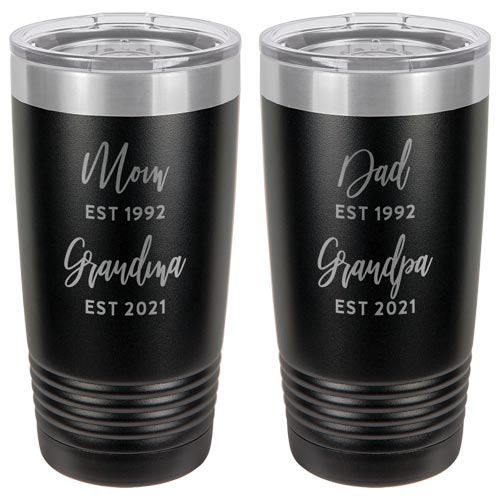 For the grandparents-to-be: why not give them something they will see and use every day? A customizable tumbler is the practical and thoughtful gift for everyone.
Are your grandparents hot coffee aficionados? Or ice tea southern sophisticates? This quality tumbler is double walled and vacuum sealed to keep any drink hot or cold.
Remind each grandparent in your life of how awesome they are, how much they mean to you! Personalize the message on the front of the tumbler and make this gift something special.
2. No Place Like Nana & Pappy's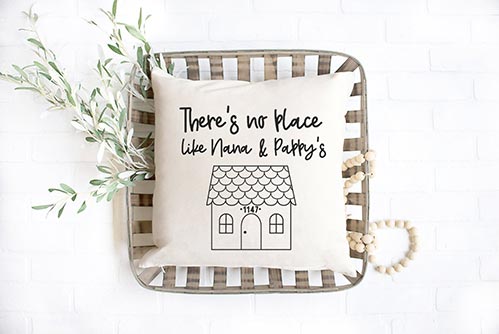 Everyone knows there is no place like Nana and Pappy's. Make it official with this handmade, customizable cushion pillow.
Include the house number in your order for a one-of-a-kind gift. This pillow will definitely have a special place in the home of your special grandparents.
3. Skylight Frame
Skylight is a modern picture frame for modern grandparents.
Too many cute photos of the grandkids for Grandma and Grandpa to choose from? The Skylight Frame gives them the chance to show off their family in as many photos as you can send them.
It's as simple as sending an email. After setting up a free account and creating their unique Skylight email address, Grandma and Grandpa snap a pic on their phone, then attach it to an email sent to their Skylight. The picture will then be added to their digital slideshow.
The extra cool part is that they can share the email address with the whole family, so that any family member can send photos from any part of the country, at any time. This way your grandparents can have fresh, new photos all the time!
4. Custom Wooden Picture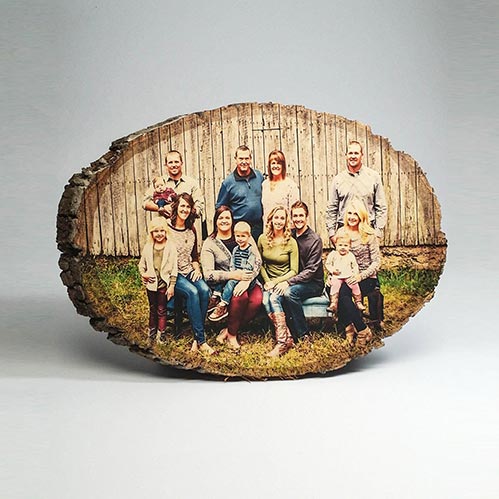 Add a rustic flair to your grandparent's home with the gift of a custom wooden picture. This customized oval is a great way to print and preserve your favorite family photo, or any photo featuring your beloved grandparents, in real natural wood.
Don't know what gift the grandparents who have everything? A photo print on wood is sure to grab attention and be a favorite gift for many years to come.
5. Grandest Parents Ever Personalized Bird Feeder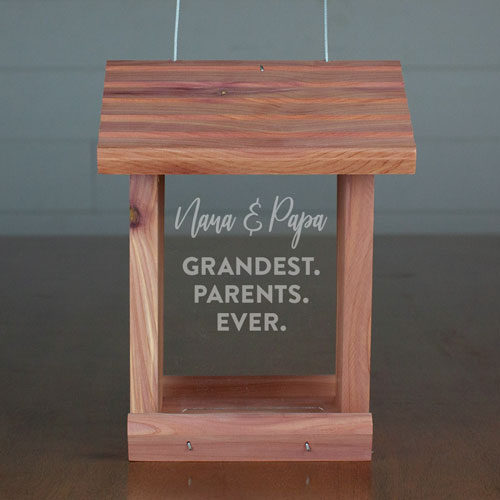 Bring beauty and life to your grandparents' yards and lives, with this "Grandest Parents Ever" custom engraved wooden birdfeeder.
Aromatic cedar wood is selected to last and and crafted withstand weather conditions. This is a gift to impress and cherish.
Related: 10 Bird Feeder Gifts for Backyard Bird Watchers
6. Personalized Grandma & Grandpa Doormat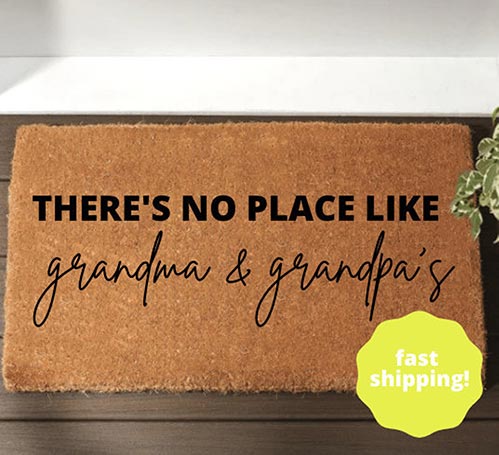 Welcome home! Grandparents get lots of gifts, but have they ever had their own custom doormat? Surprise your loved ones who have everything, with a "Grandma and Grandpa" welcome mat.
This is a high quality door mat that is handmade, will not peel, and will last many years of visits to grandma and grandpa's house.
7. Admission: One Hug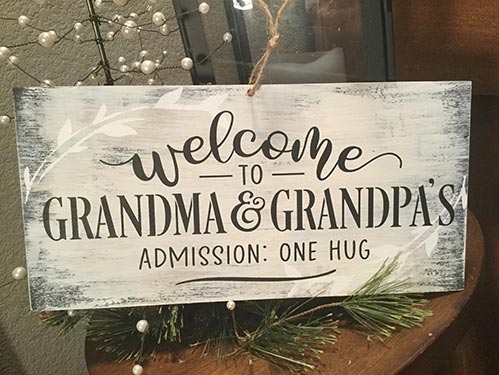 Price of admission: Grandma gets a hug!
Make a game of coming to see the grandparents with this rustic wooden sign. Featuring Birch wood, you can choose between a free-standing box design, or a hanging jute tassel.
8. 3D Crystal Portrait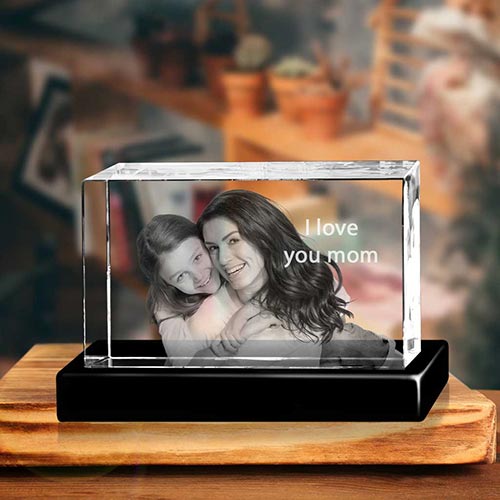 Turn a cherished photo into a work of crystal art with a 3D Crystal Portrait. Add 3-dimensional depth and preserve your favorite family photo for the beloved relatives in your life.
This is the perfect Grandparents Day gift for grandparents who have everything. It's a beautiful crystal centerpiece, celebrating the family they have nurtured and loved for many wonderful years.
9. Engraved Handwritten Blocks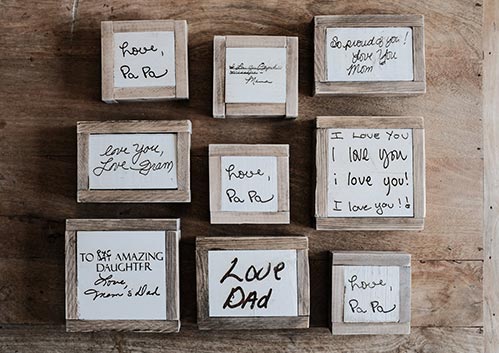 Let the grandkids show Grandma and Grandpa how much they are loved by preserving their handwritten notes or drawings forever.
Any drawing or handwriting can be engraved onto this wooden block, making this set a cherished gift out of grandkids' art or special messages.
10. Personalized Blanket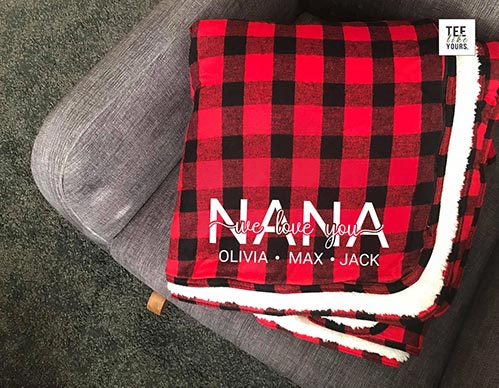 Keep your loved ones warm and cuddly with this extra-soft Grandparent Blanket. Featuring a classic buffalo plaid pattern, you can be sure to share the love and warmth no matter the season!
Add the customized nicknames and grandkids' names for a personal touch, and give your grandparents the gift of many future fuzzy cuddles.
Related: Thoughtful Gift Ideas for Elderly Parents
Personalized Gifts for Grandma
Let's get a bit more specific – here are our ten favorite gifts for Grandma on Grandparent's Day.
11. Personalized Tote Bag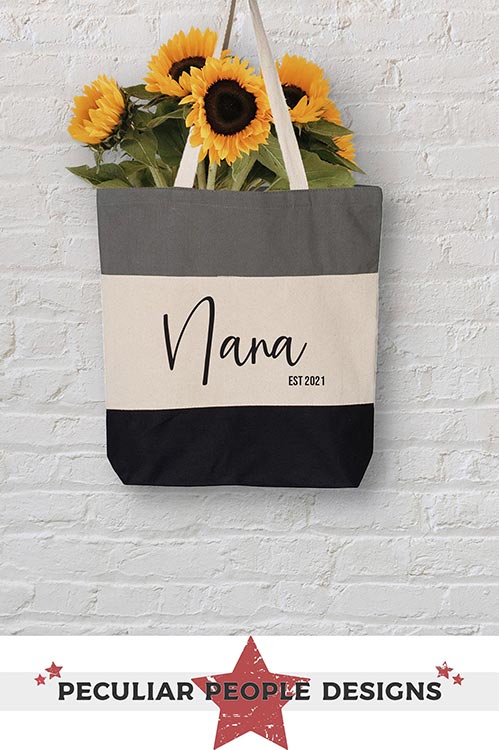 Check out these awesome color options and get Grandma the tote bag that she will totes love.
Sorry… had to do it!
Whether she will be carrying diapers, toys, or some picnic goodies, these large canvas tote bags will let everyone know who's got the best Grandma around.
12. Handwritten Recipe Cutting Board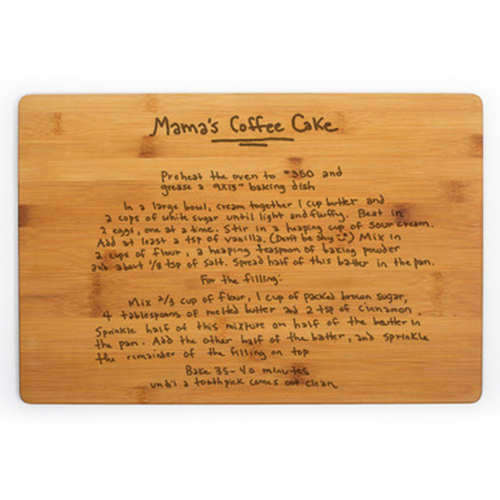 Who's got the best recipes in the family? We all know it's Grandma, so let's celebrate her top talents with this handwritten recipe cutting board.
Personalized with an etched-in recipe in Grandma's own handwriting, this bamboo wood cutting board is a great way to show her some appreciation for her baking skills this Grandparent's Day.
13. Personal Leather Bracelet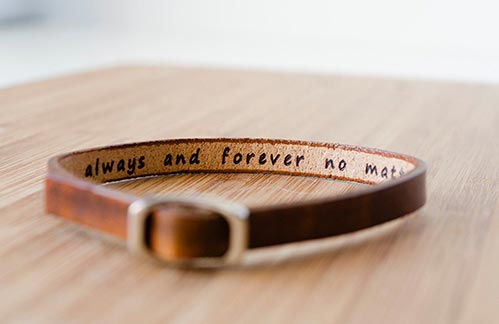 Send Grandma a message of affection with a personalized leather bracelet. Choose from multiple beautiful color options for leather staining, and add the charm of a secret message for Grandma's eyes only.
This is a bracelet certain to be cherished, and a thoughtful gift idea that will definitely not seem "off-the-cuff!"
14. Grandma's Plant Pot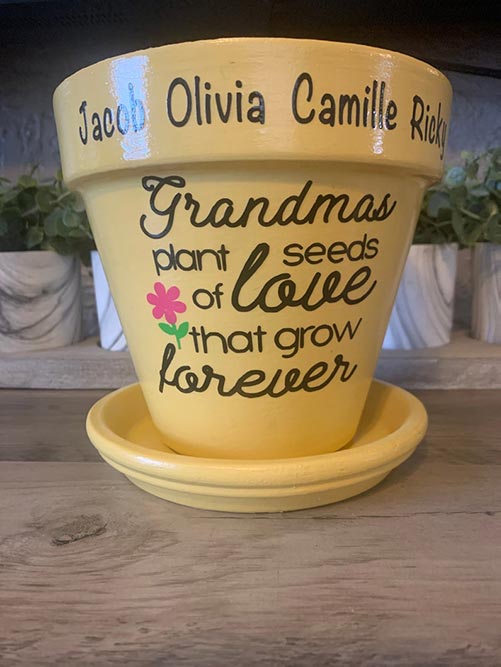 Grandma's got a green thumb, and this personalized plant pot will look beautiful housing Grandma's succulents or other house plants.
Just add her favorite nickname to the order, and send Grandma a message of appreciation for her nurturing care.
15. Personalized Keychain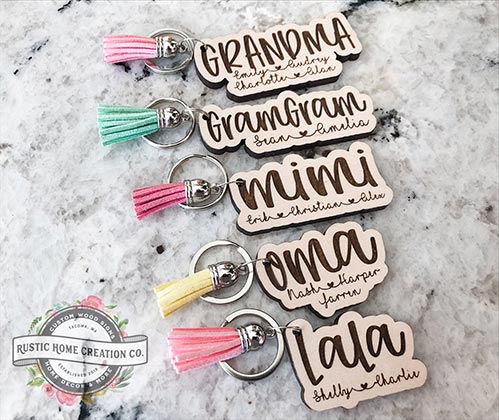 Who doesn't love showing of their Grandma status with some colorful tassels? These keychains come with Grandma's name etched into maple, for a personal and fun gift.
16. Very Best Grandma Mug & Bracelet Gift Set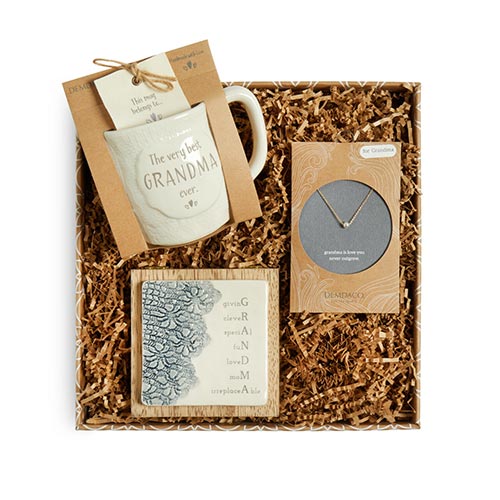 If you want to let Grandma know she is the very best, why not just say it? This set is a perfectly elegant way to let her know what's on your heart.
The gift box comes with a "Very Best Grandma Ever" coffee mug, a wooden Grandma Forever hinged display card, and a semi-precious stone necklace.
17. Yarn Heart Bird Feeder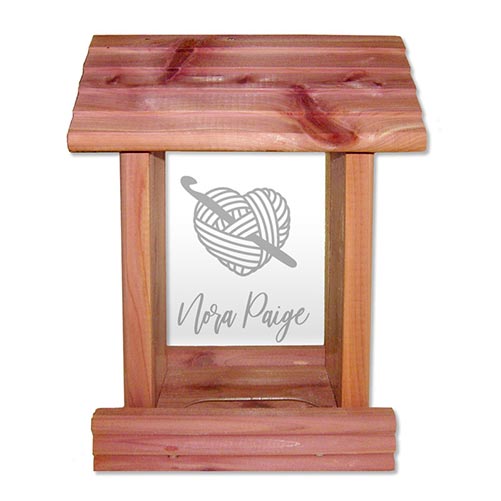 For the grandmas out there who love to knit or crochet and are in touch with the wild of their own backyards, this cute and personalized bird feeder makes a great gift.
The bird feeder is crafted in the USA from aromatic and lasting cedar wood. It features a lovely etched heart of yarn and grandma's name (or anything else you want) etched onto the front panel.
18. Flower Coaster Set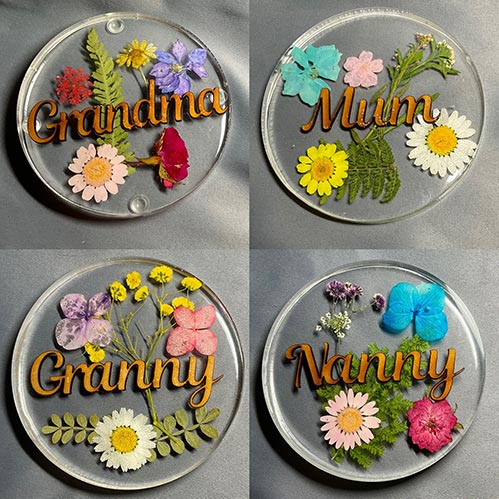 Show Grandma some love with the gift of flower power! Her personalized coaster will contain pressed flowers and custom wood lettering.
Sure to brighten any Grandma's day, as well as her tabletop, this Grandparent's Day gift is perfect for the forever flower child.
Related Article: 21 Perfectly Personalized Gifts for Her
19. Kids Drawing Necklace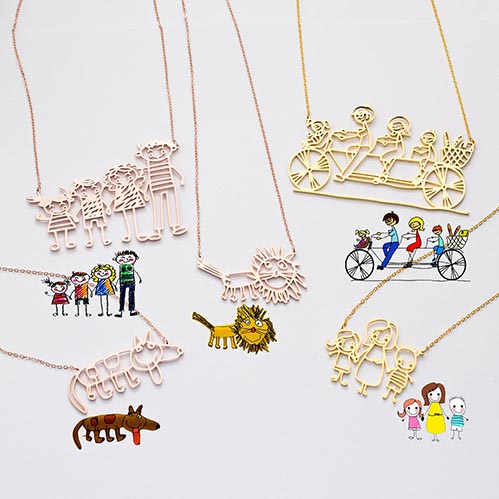 Convert the kids' drawings into a personalized gift for Grandma with the Actual Kids Drawing Necklace. Made with sterling silver and 18K gold.
This cute and quirky gift will be treasured and lovingly worn every day. A great way to let the kids participate in a personalized gift for Grandma!
20. Brag Book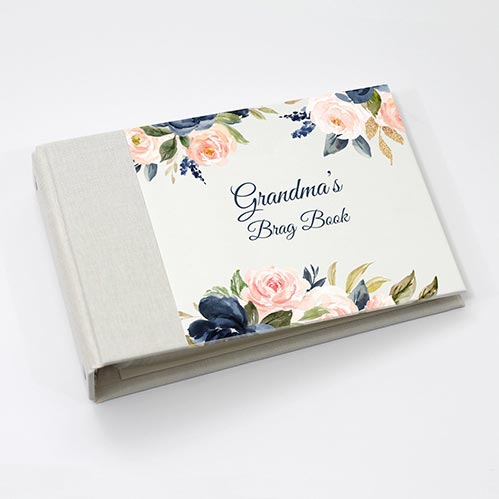 Let Grandma be the show-off this time with a personalized Brag Book for the family photos. Holds either 50 or 100 photos, and has a lovely flower print front cover with Grandma's favorite nickname.
Trust us – Grandma doesn't want just any old photo album. She wants a Brag Book!
Personalized Gifts for Grandpa
Grandpas are the best. They love their dumb jokes, their special chairs, their quirky hobbies, and, most of all, their grandkids. Return the love this Grandparent's Day with one of these unique and personalized gifts just for him.
21. What I Love About Grandpa
Fill in the love story and let Grandpa know what you love about him. Encouraging and easy to do: each page contains prompts to inspire as you think about all that he means to you.
Grandpa gets a personalized hardcover book to remind him how much he is loved. For extra fun, let the kids help out— do it Mad Lib style!
22. World's Best Grandpa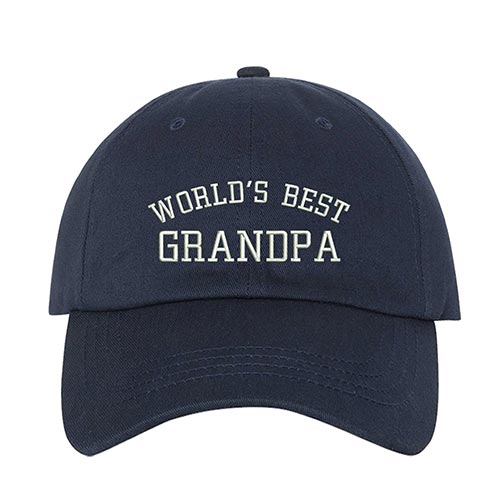 Who's got the world's best grandpa? Of course you do! Let the whole world see, with a "World's Best Grandpa" baseball cap.
Made with 100% soft cotton and an adjustable strap. Pick your color and watch him wear it to every ball game, fishing trip, or hardware store run.
23. Grandpa Can Fix Anything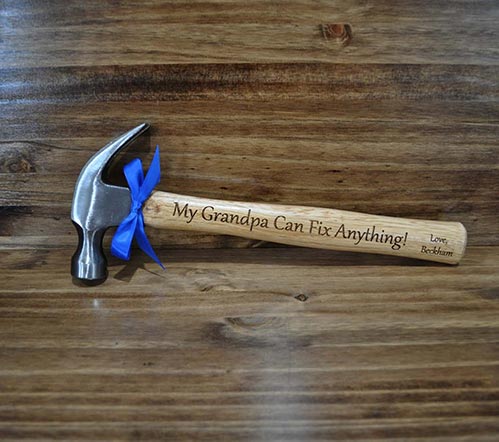 The family handyman: if anything needs a fix, give Grandpa a call!
The "My Grandpa can fix anything" personalized hammer is handy, practical, and beautiful. A great way to let Grandpa know how much his skills are appreciated.
24. Best Dad Ever Bottle Opener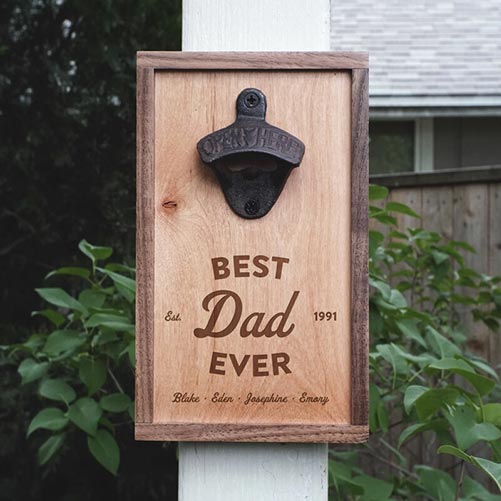 Personalized for the best Dad/Grandpa ever, and handcrafted with real wood and cast iron. What's not to love about this hanging bottle opener?
Put it out by the grill, hang it in the garage, or keep it in the kitchen— so guests know who is the Best Dad Ever!
25. We Are Hooked on Papa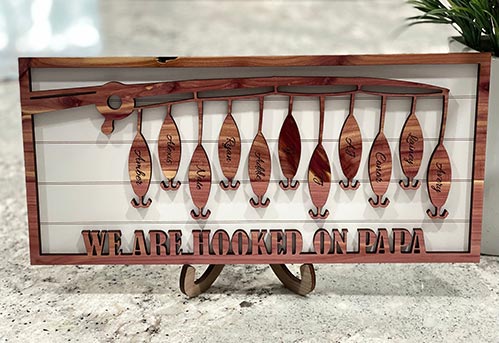 For the man that can appreciate a good day of fishing, as well as a good pun. Personalize this wooden sign with up to 15 lures, engraved with the names of everyone who Grandpa's got on the hook.
Related Article: 10 Perfect Fishing Retirement Gifts
26. Custom Grill Accessories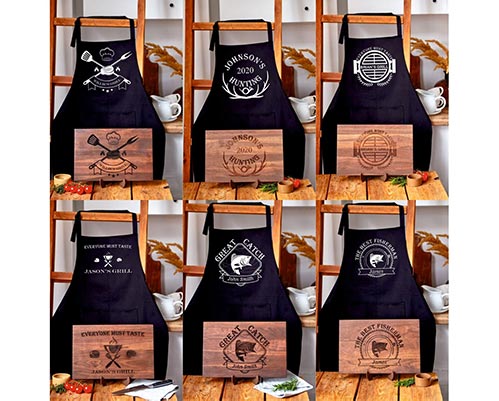 Complete the outside BBQ and grill setup with this personalized apron and cutting board!
Choose from several designs or submit your own custom design. Let's make sure Grandpa is ready for the next family barbecue!
27. Grandpa's Irish Whiskey Barrel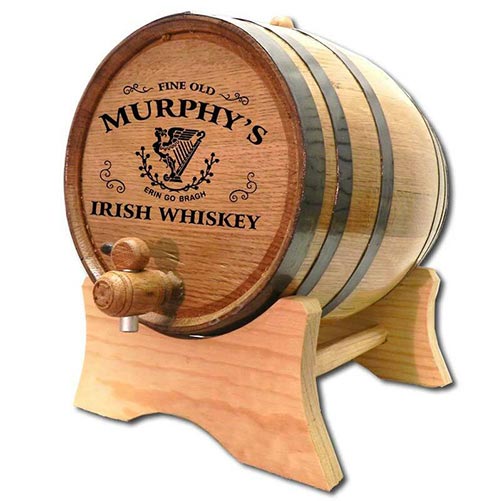 For the Grandpa who has everything – except his own Irish whiskey barrel! With size choices up to 20 liters, you can get grandpa something that will preserve his favorite whiskey the way it was originally batched.
Includes personalized name etching, as well as the classic Celtic Harp symbol and motto "Erin Go Bragh" ("Ireland 'Til the End").
28. Personalized Shirt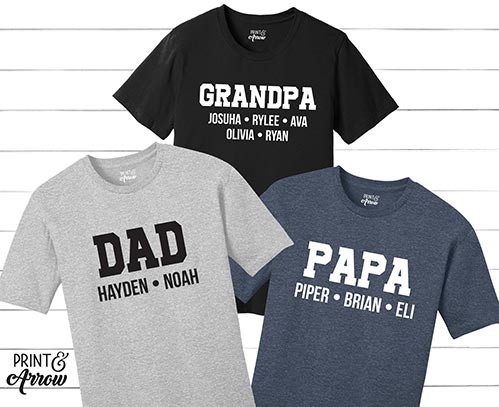 Grandpa is always proud to rep his family! A custom t-shirt is a great option for Grandpa to wear to the ball games and holiday get-togethers.
You can personalize with the kids' and grandkids' names. Don't forget to pick Grandpa's favorite color!
29. Grandpa & Me Picture Frame
Grandpa loves getting photos, and you love sharing them. This frame is the perfect way to capture and preserve a memorable moment for Grandpa to keep forever.
30. Papa's Work Shop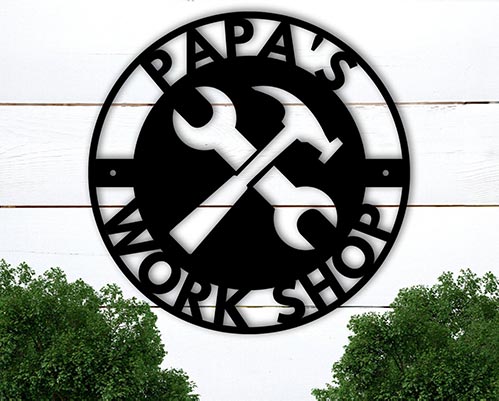 Put the finishing touches on Grandpa's work space with a custom steel sign. Choose from multiple sizes, customize it with the text of your choice, and give Grandpa a gorgeous plaque he can happily display at the shop.
When Is Grandparents Day?
Grandparents Day is an official national holiday which takes place every year on the first Sunday after Labor Day.
That puts it in the 2nd week of September, sometime between the 7th and 13th day of the month.
How to Celebrate Grandparents Day
Grandparent's day is always fun for the family. It's easy to think of things to do to celebrate. Often, the hardest part is letting yourself believe that coming up with ideas is actually easy – which is why we're here to help.
Grandparents can go to the kid's schools to surprise them for lunch. Or get everyone together in the evening for some good ol' backyard grilling. Grandpa needs an excuse to show off his new BBQ accessories, and Grandma wants to get her new bird feeder filled!
Or grab your lawn chairs and head to the local drive in theater for a classic movie night, and give the kids a few bucks for the concession stand.
Whatever you do, know that it's about spending time together and having those memories. Here are some more of our favorite ideas for Grandparent's Day and family get-togethers:
Backyard BBQ
Invite them over for dinner
Buy them breakfast, lunch, or dinner at their favorite restaurant
Bring over some juice boxes or sodas for the kids, and wine or bourbon for the grownups
Surprise them at work by bringing the grandkids and a gift
Go on a walking trail, a hike, to the river, or to a beach
Pack a picnic and have a park playdate – be sure to bring comfy folding chairs for the grandparents!
Create your own Jeopardy game, with facts and opinions such as:

Liverpool, England – "Where did Grandma go to college?"
Die Hard – "What is Grandpa's favorite movie?"
1973 – "What year did Grandma and Grandpa first meet?"
19 – "What is the total number of grandkids and great-grandkids?"
Add a little extra fun with a disposable or instant camera and let everyone bring their memories home!
More Great Ideas for Grandparent's Day
Last-Minute Grandparent's Day Gifts
Vacation Package – Easy to do and lots of great trip packages to choose from. Do they love adventures, or could you see them settling down in Napa Valley with a glass of wine?
Custom Portrait Print – With plenty of customizable options, this portrait print is a great last-minute gift to show you care.
Take Them to a Favorite Restaurant – Treat them to the best food in town this Grandparent's day. Simple, easy to cover last-minute, and no one dislikes a great meal!
Hand Casting Kit – Another "fun for the whole family" option. Get the kids involved and create cute hand casts for Grandma and Grandpa.
Tree in Their Name – Plant a tree in their honor as an eco-friendly and down-to-earth gift. Includes details on your tree's exact location and photos.
Gifts for Grandparents from Adults
Beer and Wine Monthly Subscription – Let the beer flow like wine at Grandma and Grandpa's house. Check out these monthly wine and beer subscriptions.
Grandma's Kitchen Cookbook Holder – A nice last-minute gift for the best cook in the family.
Travel Inspired Candles – Bring the aroma of far-away places to your grandparent's home. Adds heaps of cozy and comfort.
Promoted to Grandma & Grandpa Shirts – Ready to surprise Grandma and Grandpa? Or just make it official?
Book of Yourself – A DIY autobiography would make a fun project. Give Grandma and Grandpa a chance to write down their story.
DIY Grandparents Day Gifts from Kids
Snack Jar – Paint a jar filled with the grandparents' favorite snack (pecans, jolly ranchers, whatevs). They'll think of your little one every time they grab one.
Signed Shirts – Have all the grandchildren sign their name and write a little message onto a shirt for the grandparents to wear
Homemade Cookies – Children bake and decorate sugar cookies just for the grandparents. Use icing to write special messages!
Decorate Coasters – Here are some great ones that are easy to paint and decorate. Or you could completely DIY it by using some of these ideas from around the house.
DIY Hand Print Tray – Trays will always be put to good use in the kitchen or around the house. Here's a tutorial on how you and the grandkids can personalize your own with hand prints.
What Do You Give to An Elderly Grandparent?
Custom Plush Robes – Everyone wants to stay warm and comfy in the winter months, or after a nice hot shower.
Brain Games – Work that brain muscle and keep it top shape. Brain games are a great way to pass the time and stay sharp.
DIY Memory Quilt – Create a quilt, personalized with favorite old clothes or memorabilia from family trips. Customize with decorated quilt squares that signify special events from their life.
Bake Them a Meal – Always a fun option to keep in mind, and no restaurant can top a good home-cooked meal.
Personalized Glasses Stand – A nice way to send your grandparents a message of love that they will see every morning. Well, right after they put on their glasses!
Personalized Magnets – Something decorative for the fridge or office space. Customize your magnet with your own writing, or have the kids write their own!
Read Next: 90th Birthday Gifts: Traditional, Meaningful, & Funny Gift Ideas