Looking for some exciting gift ideas for train lovers? Let's go for a ride together. Below we'll take a look at some of the best train gifts on the interwebs for the ferroequinologist in your life.
But first, a few notes on quality gift-giving. When you're looking for something niche like this, keep in mind that a true aficionado will have a different perspective on what is interesting to them about trains, and thus what would make a good gift idea. Just because something says "train" doesn't mean they will like it.
The key is to think things through with their point of view in mind. Make sure you are well aware of several key things:
What specifically about trains do they like?
Have you taken a good look at their collection?
What do they talk about, or wish they had?
Is there a particular era, railway line, train type that is of interest?
What sorts of things, in general, do they like? Would a trip to a museum or a good book be better? Do they like wall decor or t-shirts? That sort of thing.
As always, if your gift is truly about and for the railroad lover, you won't go too far astray. So without further ado, here are the 17 best train gifts for locomotive, railroad, and train enthusiasts.
Please note that this post includes affiliate links. Read our full disclosure here for more information.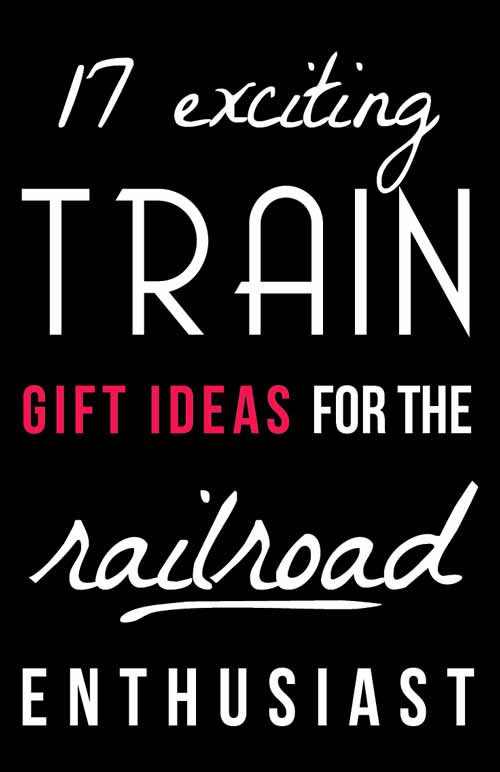 17 Exciting Train Gift Ideas for Railroad Lovers
1. A Train Trip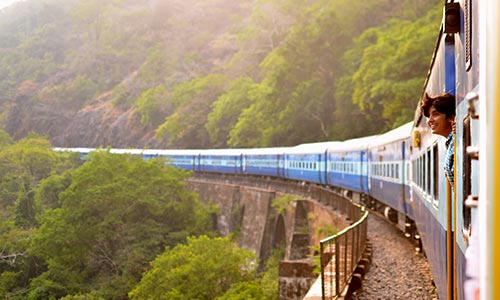 For geniune train lovers, nothing can be more exciting than the whistle and call of, "All aboard!" that signals the start of their very own train journey.
2. Vintage Personalized Train Depot Wood Sign
Here is a gorgeous, old-fashioned sign in the antique style beloved by train aficionados. What sets this train gift apart is that it is made in the USA from solid furniture grade wood and personalized to order. How cool is that?!
Here's what this Old Fashioned Personalized Train Depot Sign says:
All Aboard the
[Your Name/Text]
TRAIN DEPOT
The Most Splendid New Sleeping Cars
Through Tickets at Reduced Rates!
Luxurious Dining Parlor
Denver 790 Miles – By Rail – Atlanta 775 Miles
The Most Popular Route
Avoid the Dangers of the Sea
This is a classy, fun, and timeless gift that will be treasured by any railway enthusiast or model train collector.
3. Train Movies
Some of the all-time classic thrillers and mysteries are set on trains. I love train movies. Here are a few new and old films set on the railways:
There are plenty more titles available; check out the 31 Greatest Train Movies of All Time for further train gift ideas.
4. Model Train Accessories
Here is a gorgeous wall-mounted Oak wood display case, made in the USA, designed to showcase your train lover's model locomotive collection.
This is just one of many ideas for model train collectors. We're trying to keep this list from devolving into a model train aficionado gift list, so we'll only mention a few items in this vein.
5. Warning! May Talk About Trains T-Shirt
Give the world fair warning about your love for trains and propensity to talk about your favorite subject. This locomotive warning t-shirt is the perfect railroad gift idea for train lovers.
6. North American Railroads: The Illustrated Encyclopedia
This richly illustrated encyclopedia of classic and contemporary American railroads features concise histories of 101 U.S. and Canadian railroads past and present.
Over 400 stunning images include period and modern photography in both color and black and white, evocative print ads, and system maps.
7. Train Parking Only Sign
Train parking only – all others will be side-tracked.
8. Personalized Metal Train Plaque with Family Name
This large personalized train sign measures 20 inches in diameter, perfect for the first, last, or station name of any train enthusiast.
9. Train Conductor Pocketwatch
This old-fashioned train conductor pocketwatch is just the thing for an old-timey train gift. Affordable, yet fun, useful, and super-cool!
10. Personalized Railroad Spike Knife
Hand-forged and custom engraved railroad spike knife. This beast of a blade is handcrafted out of a real railway spike, and can include your custom text hand stamped onto one or both sides.
11. Train Conductor Hat
What is there to say about a conductor hat other than: If they don't already have one, get it. If they don't already have one, they will probably need a spare. The perfect train gift.
12. Hogwarts Express Poster Print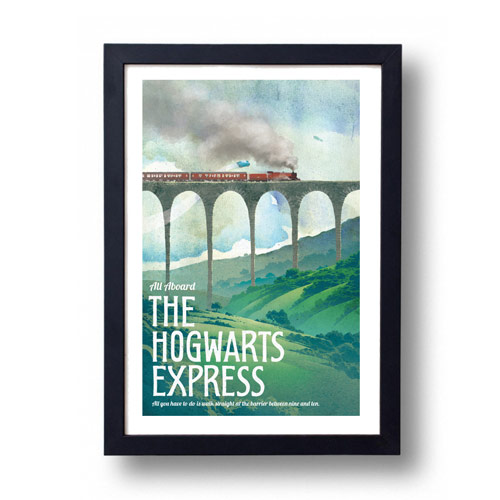 Double-dip with a train and Harry Potter themed gift idea, for someone who is into both trains and the Hogwarts universe.
13. Nothing Like It In the World: The Men Who Built the Transcontinental Railroad 1863-1869
Nothing Like It in the World, bestselling author Stephen E. Ambrose spins the tale of the building of the transcontinental railroad – an unprecedented feat of engineering, vision, and courage.
It is the story of the men who built the railroad—the investors who risked everything in hopes of making it rich; the handful of politicians who truly grasped its significance; the engineers and surveyors who risked (and sometimes lost) their lives; all the immigrants, ex-slaves, hard-luck Civil War soldiers, and other laborers who did the backbreaking and dangerous work of physically laying the tracks.
14. Personalized Train Travel Bag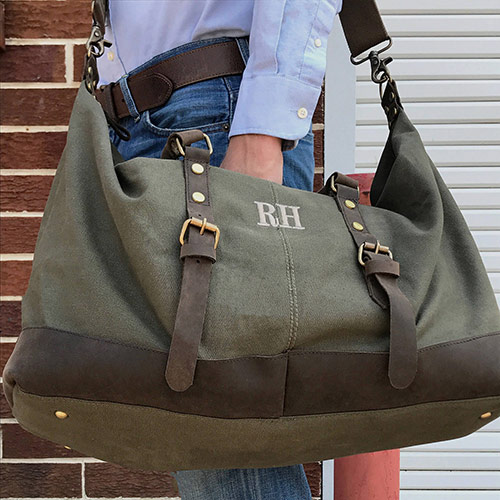 Anyone who takes a train journey needs a trusty travel bag. Bonus points for being personalized, with custom embroidery of monogrammed initials, this military-style travel bag is just the thing.
15. This Is How I Roll Train T-Shirt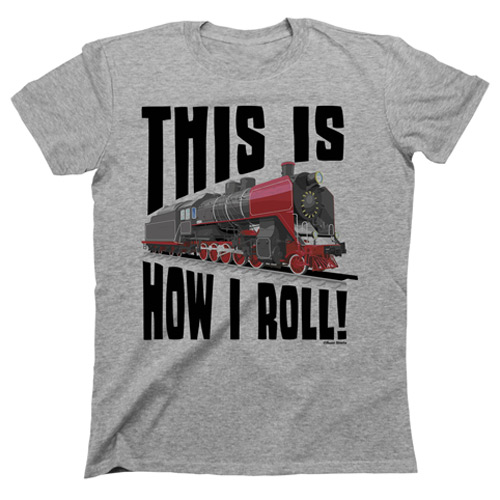 Aws yeah, this is how I roll. Like a train.
16. Train Conductor Hat Photo Print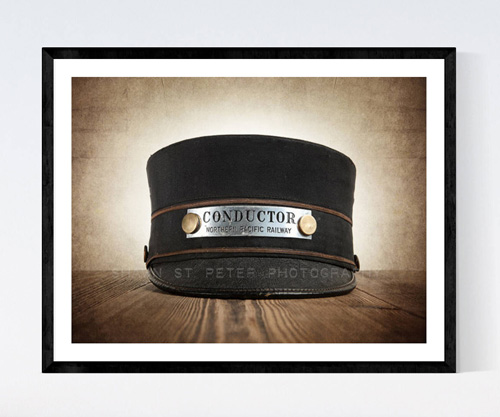 Choose photo or canvas print of this lovely old-fashioned train conductor hat photography art piece. The ideal decor accent for a model train display room.
17. Locomotive Clock
Hand-cast using real crushed stone bonded with designer resin and then hand-painted by in-house artisans, this train locomotive clock is a wonderful railroad gift idea.
PIN IT