When you searched for "podiatrist gifts" just now, hoping to find the perfect gift for the amazing doc in your life, you may not have been very confident that you would find many great ideas.
Podiatry is such a specific field of medicine, after all, and there are only so many foot and feet-themed gifts to be had before things start to get a little mundane.
For that reason, we're attempting to reach to the next level in gift-giving creativity and thoughtfulness. We know that podiatrists are people just like you and me who have more than one interest. Your podiatrist gift can reflect this!
So below, you will find not only unique "foot" themed gifts (because they're still cool!), but gift ideas that your podiatrist is sure to enjoy outside of the work life, too. Think personalized gifts, relaxation, hobbies, etc.
In fact, one of the reasons those in the medical profession often choose to specialize in podiatry is because it affords a much more flexible schedule than other medical fields.
With that in mind, here are our top 10 picks for podiatrist gifts.
Top 10 Podiatrist Gift Ideas
Our website is supported by our users. We sometimes earn a commission when you click through the affiliate links on our website. See our privacy policy & disclosures for more information.
Spoiler alert: Be sure to keep reading beyond the top ten gift ideas – we couldn't limit it to just ten, so we've got even more gift ideas to share with you below!
1. Custom-Engraved Medical Doctor Sign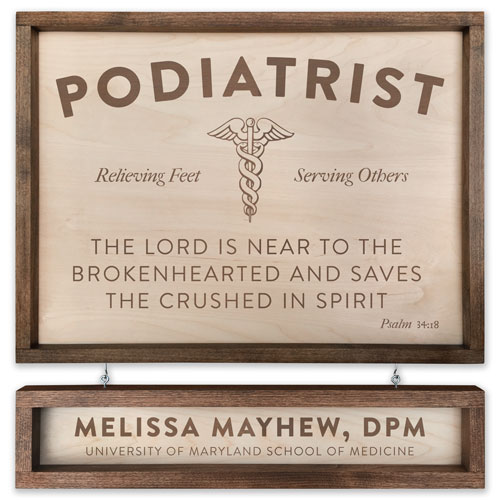 Personalization is a wonderful thing, especially when it comes to gift-giving. So when your podiatrist can proudly display in their office or home this custom-engraved sign showcasing his or her name and specialization, you know you've done good!
This is a Northwest Gifts original. We handcraft each piece right here in the USA from stained alder wood and birch ply, and personalize it to order just for you,
It's available in two different sizes (12″x16″ or 18″x24″) and comes ready to hang. The hanging name board you see in the picture above is an optional addition, and you can customize the text to read anything you like.
2. Custom Physician Bobble head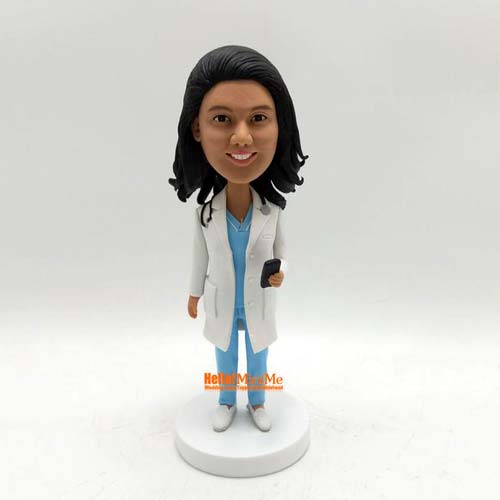 Podiatrist gifts (or gifts for anyone, for that matter) that are on the quirky side always make for a fun time!
Case in point: this hilarious physician bobble head.
Simply send a photo of your doc to the artist, and they will create for you, from a high-quality polymer clay, a one-of-a-kind bobble head doll that looks oddly familiar.
3. Silver Footprint Stud Earrings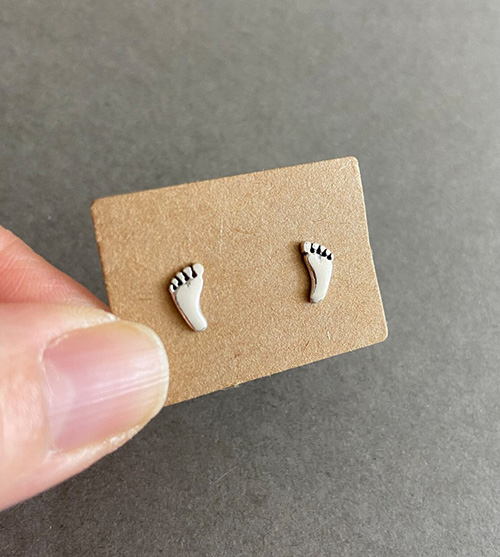 These little feet are perfect for your favorite foot doc! Made from sterling silver, these lil tootsies are crafted to last her (or him!) a lifetime. Simple and small enough to wear everyday, but pretty enough to wear proudly for a night out. We're all for happy feet and well-dressed ears.
Related: 21 Thank-You Gifts for Doctors (To Show Your Appreciation)
4. Gifts Pertaining to a Favorite Hobby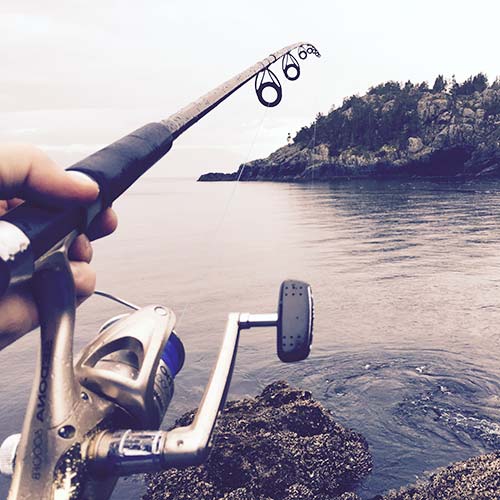 If you happen to know what your podiatrist likes to do in their down time, this is a great idea to consider. Show them that they mean more than just their job to you.
This gift can truly be anything and is totally up to you!
Does your doctor like to paint? Get them a paint set complete with canvas, easel, brushes and an array of colors (check out this one for inspiration).
Are they into sailing, fishing, hiking, bird-watching, or another outdoor activity? A pair of high-quality binoculars may be most appreciated.
Do they prefer to simply relax at home with a good book or two? Indulge them with a new addition to their reading list.
You get the idea here. The possibilities are endless!
5. "Best Podiatrist Ever" Custom Engraved Tumbler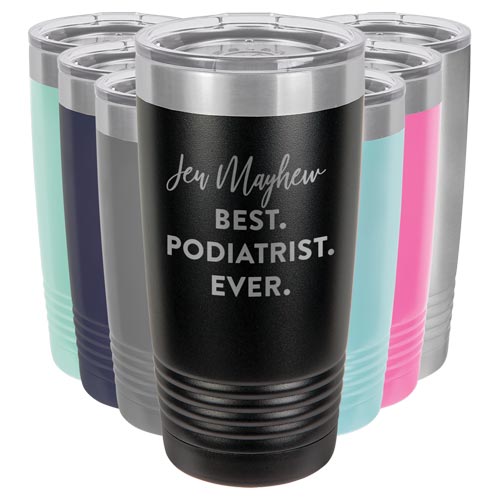 Doctors are on-the-go all the time. They can get so busy caring for everyone else that they may easily forget to take care of themselves. So why not surprise them with this custom-engraved tumbler to help them remember?
This "Best Podiatrist Ever" tumbler is available in four different sizes and an array of colors, and comes custom-engraved with their name. It's double-walled and vacuum-sealed, as well, making it a superior choice to keep beverages hot (or cold) all day long.
6. Michelangelo Foot Sculpture Replica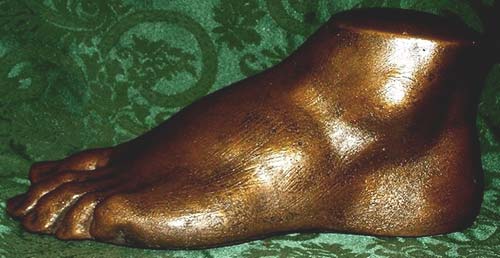 Is your physician one for fine art? Does he or she have sculptures sitting around on desks and tables all throughout their office?
You know this artsy type, and so do we… so we found just the gift that fits that bill.
This stone foot sculpture, made to resemble the foot from Michelangelo's David, is painted in antique gold or pewter and measures an impressive 12″ wide.
7. Personalized Podiatrist Cartoon Print
How sweet is this adorable cartoon print?!! Your podiatrist will love seeing their likeness in a cute, personalized cartoon print, which is also available as a smaller magnet or keychain.
Its gentle attributes will not only put a smile on their face, but will also help to put any patients who walk into their office immediately at ease.
8. Custom Engraved Bird Feeder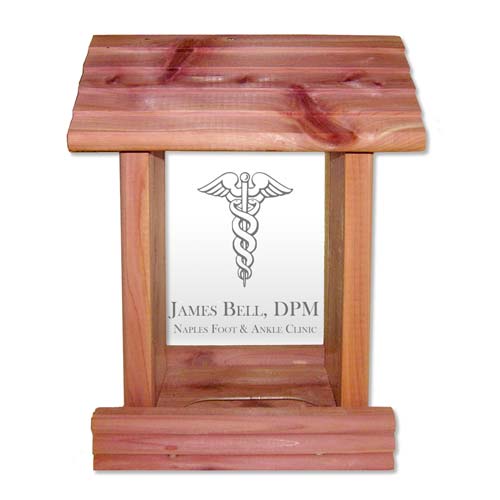 If you're hitting a rut while looking for the best podiatrist gifts, sometimes it can help to think outside of the box. Or rather, outside of the house.
This cedar wood bird feeder comes custom-engraved from Northwest Gifts. It's a great example of a creative, outside-the-box gift. It's one of those ideas that falls into the relaxation/hobby/anything-else-outside-of-work realm, so it's really perfect for anyone.
Our durable bird feeder will provide your doctor with years of porch side bird-watching. You can get the one above with the caduceus design, or a fully customizable feeder with both front and back panels are etched with any text and logo you want.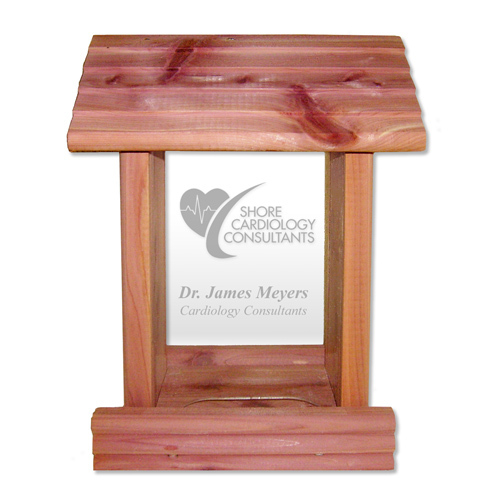 Oh! And we also offer the bird feeder with our crazy-popular "best ever" design, which you can get here. It will include the recipient's name plus "BEST. PODIATRIST. EVER." or any other quote you like.
9. Getting to Good: A Guided Journal
Doctors have one of the most stressful jobs on the planet. They have a heavy responsibility to care for their patients, and a very heavy burden to bear when things don't turn out as they hoped.
Let your doctor know that you realize this truth, and also appreciate everything they do for you, with this thoughtful journal.
With simple prompts and guided writing therapy, this journal will help your doctor turn around any less-than-good days they happen to experience.
10. Atlas Coffee Club Subscription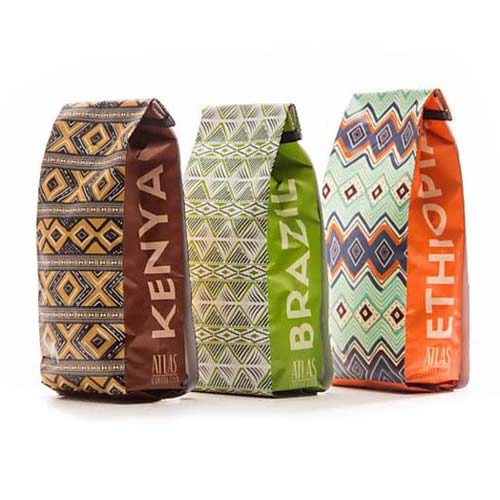 Just like the rest of us, doctors have to get up early and get their day going somehow. Help them get their morning caffeine fix with this super cool idea: a monthly coffee subscription.
This isn't just any coffee subscription. Atlas Coffee Club offers a "coffee of the month" experience in which they will ship, right to your doc's office or home, specialty coffees to try from different countries all over the globe.
More Podiatrist Gifts
We hope you were able to find some great gift ideas for the amazing podiatrist in your life!
Did you like what you saw but are still wanting to browse through even more gift options for those in medicine (whether they be doctors, medical students, or retired)? Over at Northwest Gifts we have plenty more terrific gifts for medical professionals here.
In the meantime and for your convenience here are just a few more podiatrist gift ideas for you to consider:
Foot Whisperer Podiatrist Shirt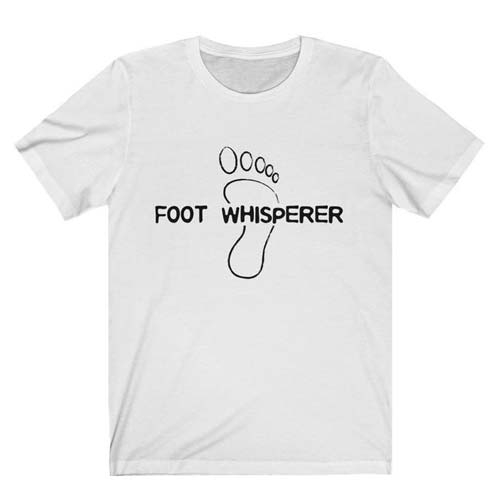 This t-shirt is the perfect way to show your appreciation to "the foot whisperer."
Stethoscope Necklace
Jewelry is always a great gift choice.
STemless Wine Glass Podiatrist Gift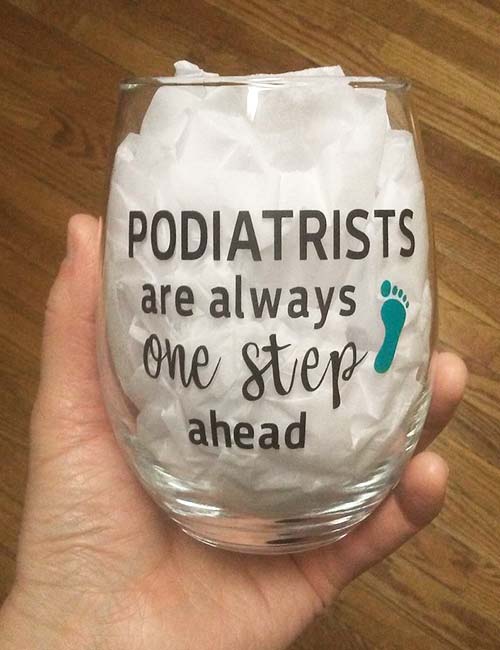 This cute wine glass will probably get a decent amount of usage.
Luxurious Foot Spa Gift Set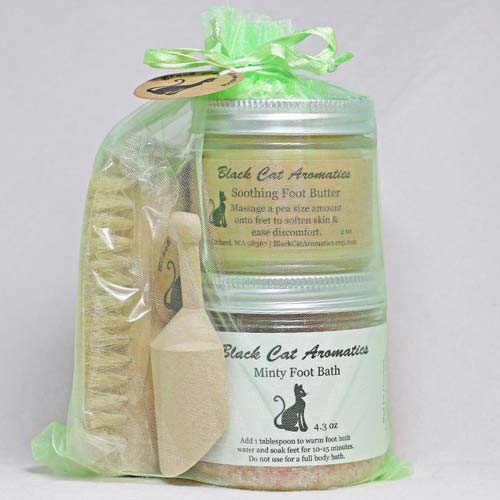 Podiatrists need pampering too, right?
Skeleton Bones Socks
For the foot doctor who appreciates a good joke, even if no one sees it.
Will Treat Feet for Wine Podiatrist Shirt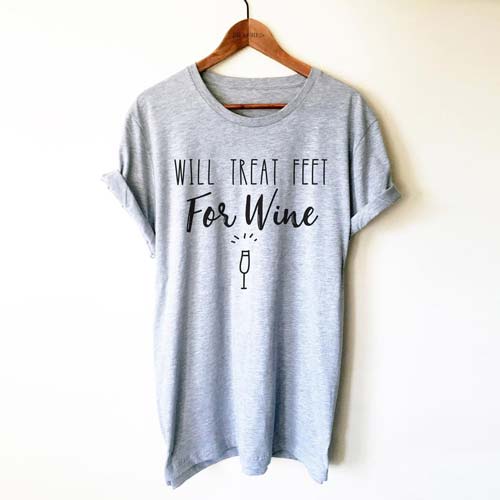 It's probably true, right? Will treat feet for wine, tacos, or coffee. One of those should do the trick.
Also, speaking of coffee….
Podiatrist Coffee Mug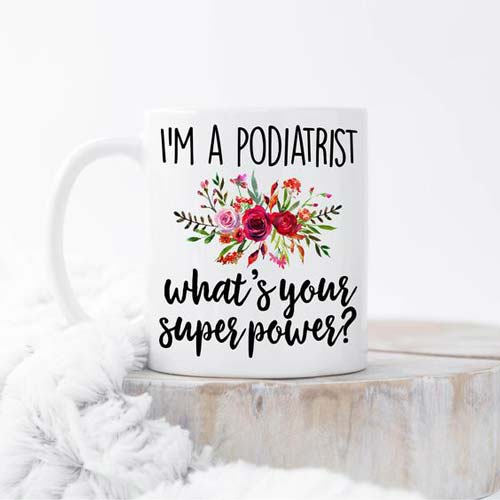 Totally adorable.
Podiatrist Retirement Gift Bottle Opener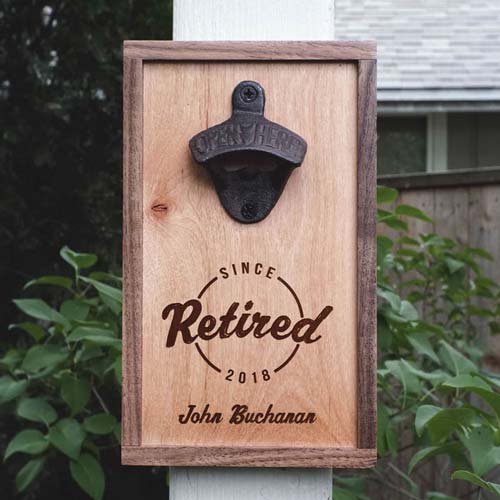 The perfect retirement gift. If the doctor isn't retiring, this opener is also available with a medical theme perfect for any occasion.
Still looking? Try these gift lists:
Pin It