It's time to show appreciation for the genius teacher in your life with the very best gifts for math teachers!
Every teacher has a hard job, and ofttimes it's a thankless one. Maths teachers have it even harder, because let's face it: Math is hard!
Yet that special math teacher in your life still has a love for numbers and a passion for teaching. Why not express your thanks with the gesture of a thoughtful present?!
We've put a list together of some great math teacher gifts for your favorite teacher, math nerd, or math lover.
Go ahead and take a look!
Best Gifts for Math Teachers & Math Lovers
Our website is supported by our users. We sometimes earn a commission when you click through the affiliate links on our website. See our privacy policy & disclosures for more information.
1. Handcrafted Wooden Chess Set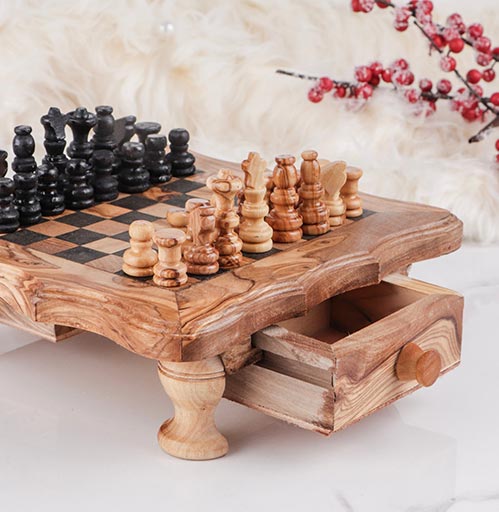 Here is an exquisite handcrafted wooden chess set that is carved from Tunisian olive wood. They can conveniently store the playing pieces in the drawers underneath the board.
Not only a beautiful set to play on but also a nice piece to display for decoration. Everyone is going to enjoy hours of challenging entertainment with this chess set.
2. Engraved Mathematician Clock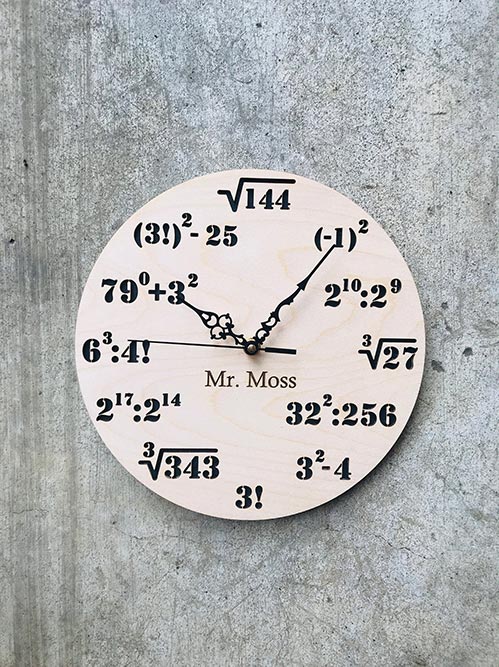 The hand-made, wooden engraved mathematician clock is a great addition to any math teacher's office, den, or classroom. Each of the equations around the clock solves to be the correct number/time.
This is a thoughtful gift for your favorite math teacher or algebra whiz.
3. English Is Important but Math Is Importanter Math Humor T-Shirt
Get everyone laughing, students and faculty alike, with this witty T-shirt. The head of the English department may take issue with it, but they could use a little lightening up. They'll love sporting this on weekends or even in class on casual days.
Available in men's and women's cuts, sizes Sm-3XL.
4. Self-Heating Ceramic Mug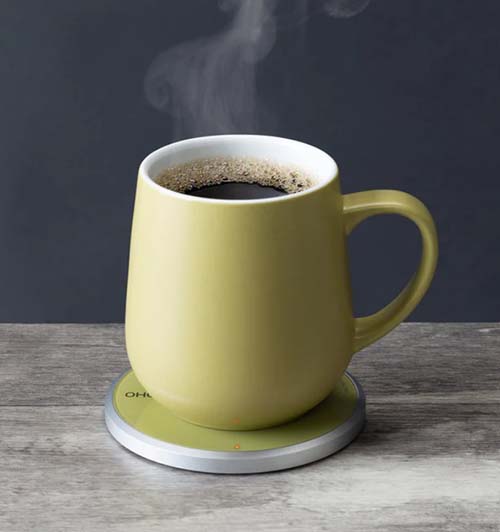 Long days and even longer nights spent writing and grading tests calls for significant amounts of coffee and tea. Help them keep their beverage of choice hot with this fantastic self-heating ceramic mug.
Never again will they have to worry about making trips back and for the microwave, wasting precious time.
5. Safecracker Puzzle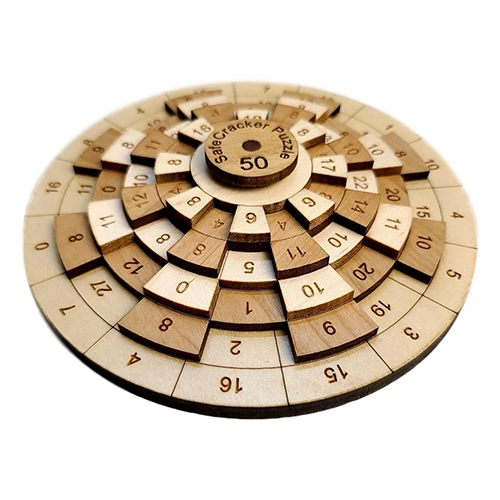 One thing about math nerds is that they love to nerd out about mathy things.
For this Safecracker Puzzle, the goal is to line it up so that all 16 columns add up to fifty. Impossible, you say?
Give this gift to your math teacher and find out!
6. Humble Pi: A Comedy of Math Errors
Humble Pi: A Comedy of Math Errors is the first math book to be a number-one bestseller. This comedy of errors will answer the question, "What happens when math goes wrong in the real world?"
Our modern lives are built on mathematical principles. Numbers and equations are used in computer programs, finance, engineering, and more. And most of the time this math works quietly behind the scenes, until… it doesn't.
This delightful book is fun and entertaining for anyone that picks it up.
7. Funny Math Stickers
Here's one hundred math-related stickers with cute slogans, puns, and creative references. It's the perfect funny math gift!
What a great way to decorate water bottles, coffee mugs, lockers, and more.
8. High Precision Cutting Board
Here is a high-precision cutting board to help them to achieve all of their cutting goals. Squares, cubes, ovals, and more. Whether they love to cut their food into precise squares or you simply enjoy geometry, this board is a fun and creative kitchen tool.
The perfect cutting board for any math lover you know.
9. Math Bottle Opener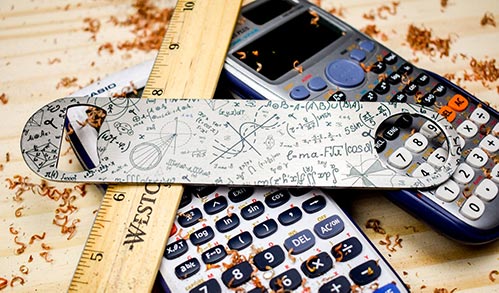 This math bottle opener is simply cool. If non-Euclidean Geometry is your interest then this bottle opener is a must-have.
Let's be serious for a second, there's nothing better than cracking open a cold one after spending the day trying to prove the mysteries of mathematics.
10. Pi Cookie Cutters
Include the Pi cookie cutter in a fresh batch of cookies for that special teacher. With this cute cookie cutter, it's easy to celebrate Pi Day or any other special day for that certain math genius.
The Pi cookie cutter is proudly made in the USA from high-quality materials.
11. Best Math Teacher Ever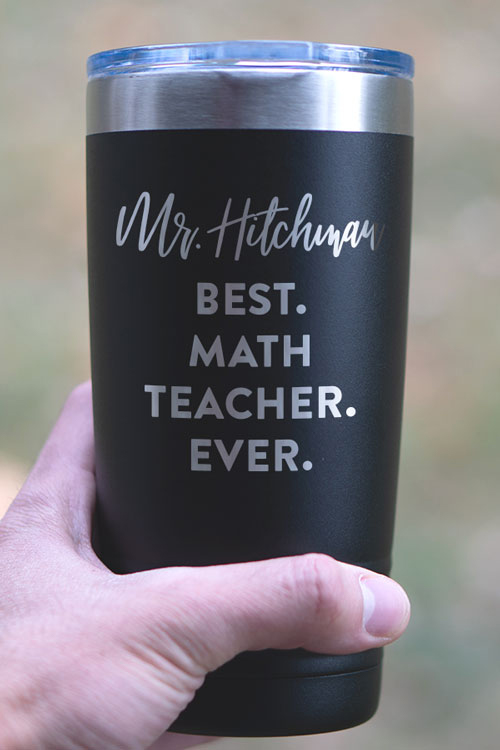 How to honor the best math teacher ever? With this customizable thermal mug, of course.
It is a wonderful way for them to keep their hot drinks piping and their cold drinks icy.
Our Polar Camel tumbler mugs are comparable to the much more expensive YETI-brand tumblers- in looks and quality. We offer your choice of stainless steel along with six additional vinyl-wrapped colors. It's proven to be one of our most appreciated math teacher gifts.
Related: Say Thanks with These Teacher Thanksgiving Gifts
12. Sir Isaac Newton Bust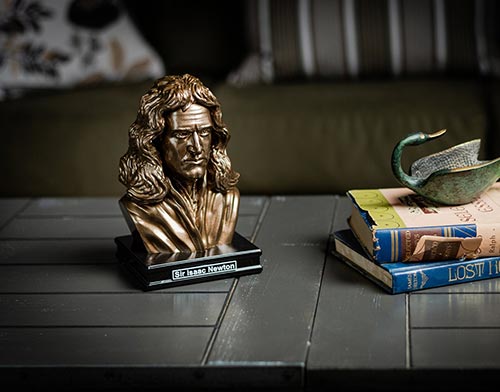 What mathematician wouldn't want this Sir Isaac Newton bust on their desk?!
Sir Isaac Newton was an English mathematician, physicist, astronomer, theologian, and author. He is widely recognized as one of the greatest mathematicians and most influential scientists of all time. Anyone who loves math would be honored to display a handmade plaster, plastic, and acrylic likeness of this great man of science.
13. Cowculus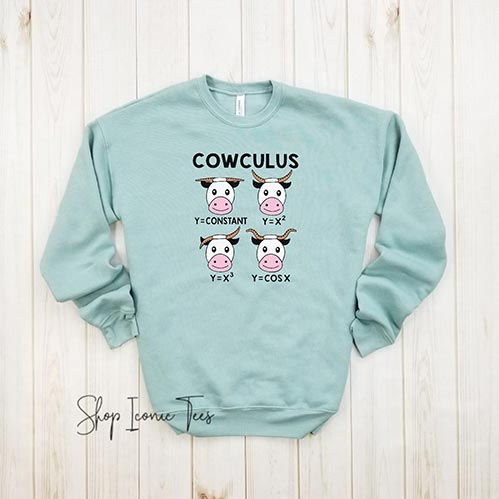 What could be cuter or funnier than a cowculus math sweatshirt? Nothing, that's what!
You can choose from various colors and sizes, so you will have no problems finding the right one for your calculus-loving friend!
14. Proof! Math Game
Proof! Math Game is an exciting, fast-paced game and helps anyone to practice multiplication, division, addition, subtraction, and square roots.
It's fun for the whole family or classroom and only takes 15 minutes to play, yet will stretch the minds of young learners as they begin to grasp the way numbers can relate to each other.
15. Casino Calculator Watch
What's one of the first things that comes to mind when you think of math and numbers and such?
For me it's definitely calculators. Your math teacher honestly might geek out a bit too much over this fantastic calculator watch. It's the ultimate math gift.
Sure, they could use a traditional calculator or even their phone, but this retro-styled option is super cool and convenient to have on hand. (See what we did there?)
16. Proof is in the Pudding Bowls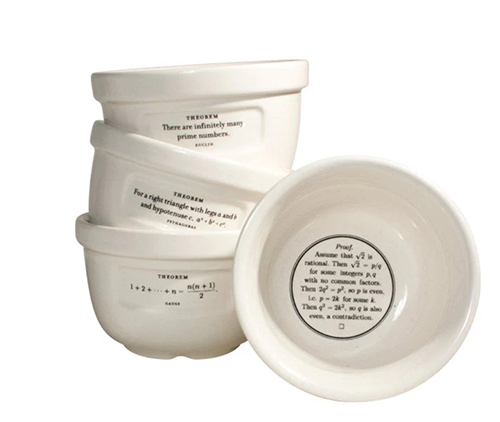 Functional and funny, these 'Proof is in the Pudding' bowls are a winner in our book. For that special teacher that has theorems and formulas on the brain 24/7, these will take the cake — or pudding, I guess — once they're put to use…
Carefully crafted, each 8oz ceramic bowl is printed with theorems from Gauss, Pythagorus, Euclid, and Hippasus.
17. Much Needed Summer Vacation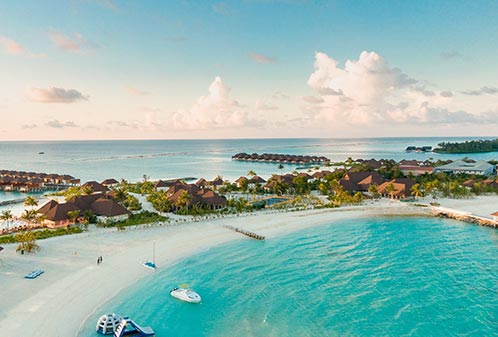 You need to book that much needed summer vacation with Tinggly. You and your mathematician can enjoy the vacation of a lifetime.
Tinggly is a cool service because it allows you to purchase a (mini) vacation and give it to someone as a gift. Essentially, they receive a gift card that they can redeem for one of a vast number of exciting and fun experiences. All they need to do is get there!
With so many options all across the USA and around the globe, they'll be sure to find something within driving distance, or that they can incorporate into a previously planned vacation.
Take advantage of the "summer off" with Tinggly with the world's best experience vacations.
Related: 50+ Incredibly Creative Experience Gift Ideas
18. Geometric Terrarium Container
Made from glass and metal, the geometric terrarium container is the perfect size terrarium for a teacher's desk. Celebrate that special geometry teacher by presenting him/her with this specially shaped décor.
This adorable terrarium is a perfect size to set on any desk, table, or shelf.
Related: 15 Best Cactus Gifts for Cactus Lovers
19. Always Right Mug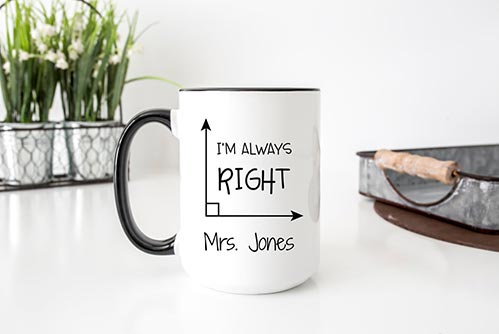 The Always Right mug is a wonderful and silly gift for any coffee-guzzling math teacher.
The math mug will make your teacher smile and appreciate you every time they use it. They will enjoy their morning cup of coffee even more with this special cup.
20. Monthly Beer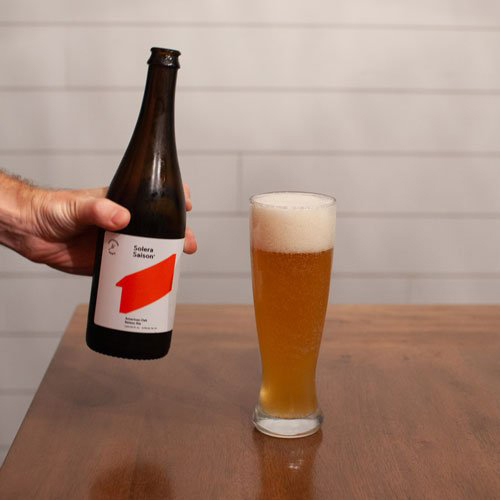 The Beer of the Month Club will be enjoyed by your math teacher at the end of the school week.
Your special teacher will receive twelve, 12 oz. hand-crafted beers each month. The beers will be from both U.S. craft microbreweries and international breweries. (Check out our review and unboxing here.)
What math-loving beer teacher (wait, is that right…?) wouldn't enjoy this fantastic gift!
21. Will Give Math Advice for Tacos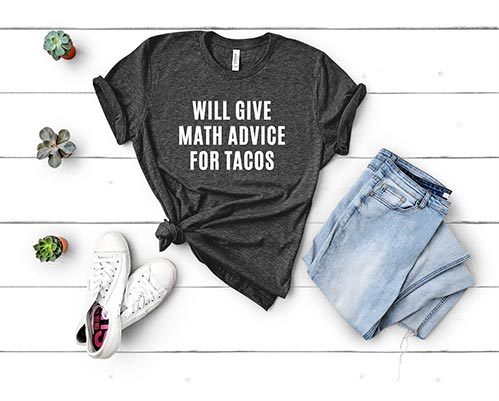 File this one under #thetitlesaysitall.
Will Give Math Advice for Tacos t-shirt is an adorable way to honor your math teacher.
Your math teacher/math lover will enjoy some downtime in this 100% cotton, comfy T. You can choose from several colors and sizes and find the ideal one.
Editors note: I'm no math lover, but even I want one of these. Not that my advice would be good or even accurate, but I'll dispense any sort of advice for tacos.
22. Copper Cow Coffee (perfect for the classroom!)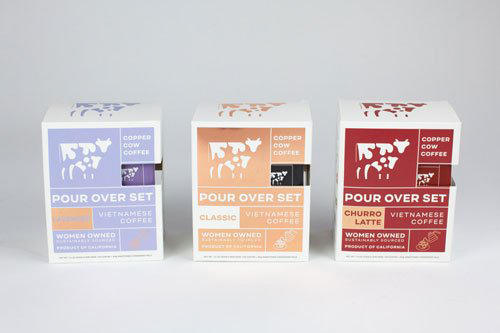 What if you could have Vietnamese coffee pour over – anywhere? All you need is hot water when you have these little coffee kits!
The maths teacher in your life – or anyone on the receiving end, really – will greatly appreciate their Copper Cow Coffee pour over kit during those long, slogging afternoon hours before the final bell rings.
If they are more into tea than coffee, they will enjoy these gift ideas instead!
23. Fibonacci Spiral Poster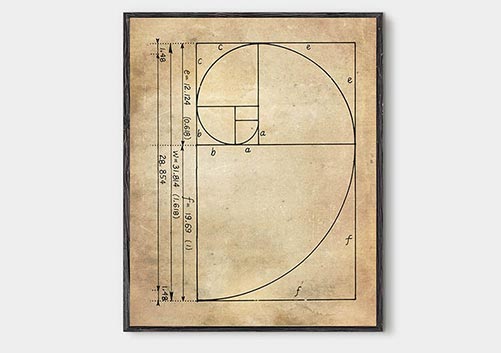 The Fibonacci Spiral poster is a wonderful accessory for any math teacher's office or classroom.
I mean, who doesn't appreciate the golden ratio? Certainly, anyone that appreciates this print will appreciate everything it represents.
24. Fibonacci Bottle Opener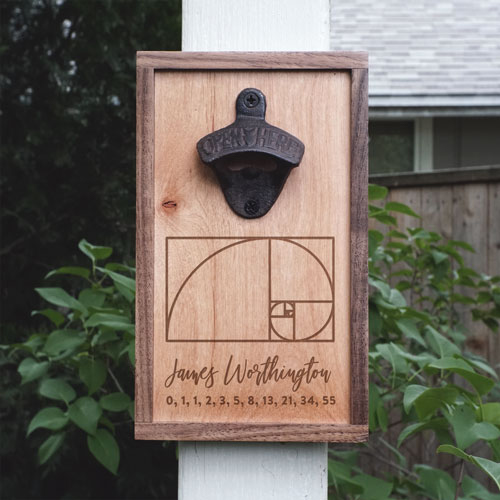 Our custom Fibonacci bottle opener is made from walnut and maple with a cast iron opener.
Add your favorite math lover's name to make it extra special. Every time they pop the top off of a cold one, they will think of you.
A nice addition to any game room, home bar, or back patio. Salud!
More Gift Ideas for Math Teachers
Pencil bag
Tote bag
Math puzzle books & brain teasers
Classroom decorations
Calendar
Mousepad
Phone case
Keychain
Coasters
Desk organizer
Jewelry
Board games
Subscription to math magazines or journals
Quality pencils or pens for grading
Office plants, especially succulents
Gift cards
Perhaps there's no greater gift for a math teacher than a simple handwritten thank you note.
So, whether you choose one of the gift ideas above or not, be sure to express your thanks with a thoughtful card that tells your teacher how much their efforts mean to you.
Thank you for taking the time to peruse our list of gifts for math lovers. We are sure that you will have found at least one or more fun gift for maths teacher in your life.
Read Next: Let's Plot Out the 10 Best Gifts for Statisticians