Today we're taking a look at 100 amazing gift ideas that start with A!
Why give a gift that starts with the first letter of the alphabet?
Well, it's creative for one thing! It's also really fun if your gift recipient's name starts with an "A" as well. Or maybe you just want to do something outside of the box?
There are so many reasons to use this neat idea when it comes to buying something for that special someone!
The best gifts are the ones that are unique, unusual, and unexpected (hey, maybe we'll do a "U" list next, huh?).
If your loved one is an Anna, an Allen, an Anastasia, or an Albert, then this list is right up their alley.
Read on for some really fun and intriguing gift ideas that start with the letter "A." 100 to be exact!
Our website is supported by our users. We sometimes earn a commission when you click through the affiliate links on our website. See our privacy policy & disclosures for more information.
100 Gifts That Start with the Letter A
We'll kickstart this post with 100 great ideas that start with "A."
Further on down, we'll highlight our favorites along with some specially themed gifts for things like a white elephant gift exchange, Secret Santa gift exchanges, and more!
1. Adventure Challenge activity books for couples and families
2. Atlas Coffee Club (monthly coffee delivery)
3. Art lessons
4. Aprons (like these adorable old-fashioned ones)
7. Antiques
8. Aloe vera skin care products
9. Arcade games
10. Airplane tickets
11. Albums from favorite music or artists
Related: Best Gifts for Music Lovers
13. Amethyst (these heart paperweights are cute)
14. Astronaut food
15. Amusement park tickets
17. Appliances (anything new homeowners or newlyweds need such as coffeemakers, mixers, or microwaves!)
19. Almonds (fill a gift box with everything almond – chocolates, spread, granola bars, nut packages, etc.)
20. ASMR (autonomous sensory meridian response) gifts and products
22. Apple products
23. Aqua Notes waterproof notepad (fun for shower thoughts!)
24. Autographs for memorabilia collectors
25. Avatars (custom profile photos)
26. Apple cider
27. A-shaped keychains (she'll love these floral ones)
28. Apparel (think of luxury textures such as silk, cashmere, linen, etc.)
29. Absinthe (or at least these candles infused with absinthe essential oils)
30. Apples to Apples party game
31. Address book
32. Alyssum flowers (or plantable seeds)
Related: Best Gifts for Gardeners
33. Abstract artwork
34. Anti-gravity hammock for yoga
35. Amber jewelry
36. Arm massager
37. Area rugs
40. Alert alarms (such as this window alarm)
41. Audio streaming service subscription (e.g., Apple Music, Amazon Music)
42. Aquamarine jewelry, crystals, and gemstones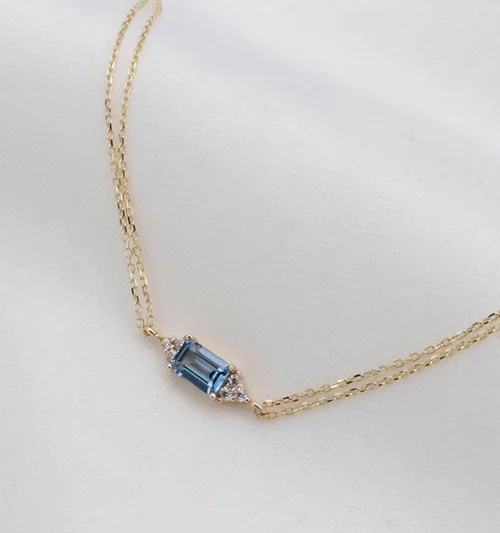 43. Agriculture books (for the sustainable farming enthusiast)
44. A-shaped cookies (with these cookie cutters)
45. Abominable Snowman pajamas for grownups (and kids, too!)
46. Agate jewelry (this Moss Agate Ring is a stunner)
47. Air Pump (for car enthusiasts or bicycles)
48. Albums for photos
49. Awards (how about a Lifetime Achievement Award?!)
50. Advent calendars
51. Acoustic guitar
52. Alphabet puzzle (for littles)
53. "Ask me about my ninja disguise" t-shirt
55. Anime (shows, merch, these embroidered sweaters)
56. Agate coasters
57. Aquariums & accessories
58. Angels (angel tree toppers, angel figurines, angel art)
59. Acorn squash dessert (this recipe is a classic)
60. Art supplies
61. Air bubble suit (for those who love to pop!)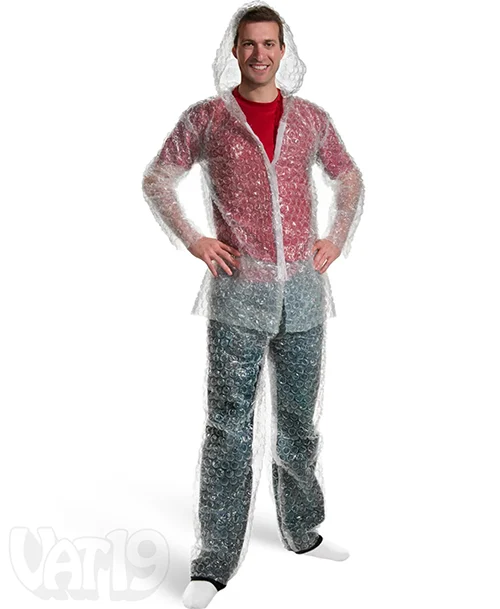 63. Agave (potted plants)
64. Army and/or Army Wife shirts
65. Ale (bottles, drinking glasses, & don't forget the bottle openers)
69. Ankle Boots
70. Alexander and the Terrible, Horrible, No Good, Very Bad Day (classic picture book)
71. Archery kits for kids
72. Acrylic nails, powders, and accessories
73. American-made products (put together a basket of things made in the USA)
74. Accordions (this one is perfect for beginners)
75. Apron for beer-loving grillmaster
76. Aromatherapy (check out this bath set)
78. Ant farm
79. Air purifier
80. Alarm clock (the Echo Dot is a good choice)
81. Aging barrels for wine
82. Armchairs
83. Arcade games (micro pocket-sized)
84. Amps (this one is great for musicians)
85. Aromatherapy heated stuffed animals
86. Ashtray (for smokers and cigar lovers)
87. Axes (like this Viking-style throwing axe)
88. Activity books (there is one for adults too!)
90. Almanacs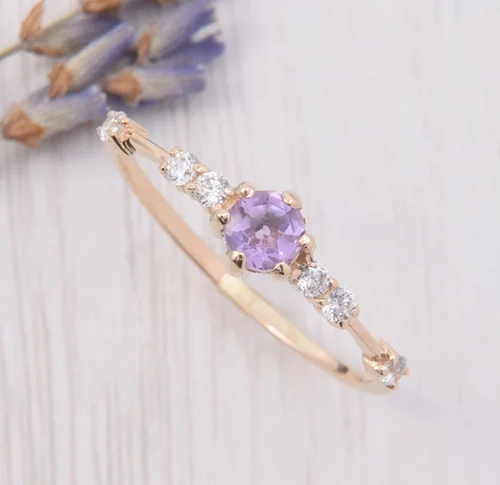 93. Assortment of gift cards for stores and restaurants beginning with 'A' such as:
A&W Restaurant
Abercrombie & Fitch
Ace Hardware
Adidas
Aéropostale
Amazon
American Girl
AMC Theaters
Anthropologie
Applebees
Apple Store
Arby's
Armani
Asian BBQ
95. Anklet bracelets
96. Armoire
97. Address stamps customized for their correspondence
98. Acupressure tools
99. Adopted animal from a local shelter
100. Air mattress for campers
Related: Best Gifts for Campers
Best Gift Ideas That Start with A
Now these ones really think outside the box! We love these best gift ideas that start with "A" for a variety of reasons.
Your friend or family member will get a kick out of some of these — almost as much as you had when you found them and purchased them.
What an adventure! Hey, it's another "A" word… We just can't stop!
Alien & UFO Suncatcher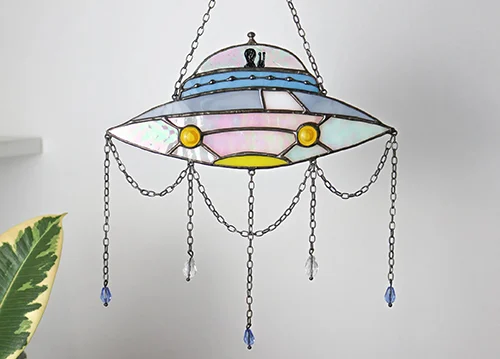 This dreamcatcher-style alien and UFO suncatcher is simply ideal for the budding astronaut, star-gazer, or sci-fi fan.
It's both a little nerdy and totally whimsical all at once. We love the soft colors that will reflect the sun perfectly, and get a load of who's driving! It's our favorite little green men, of course.
This gift is going to elicit so many smiles from all who see it. How cute would it be in a greenhouse as well?
Alder Wood House Plaque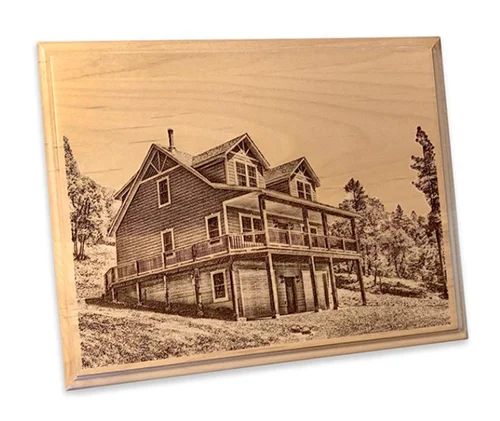 A custom gift is always a wonderful idea to show your thoughtfulness!
This alder wood house plaque just can't be beat when it comes to a personalized present. All you have to do is upload a photograph of their/your house, and the artists will do the rest.
The result is a stunning depiction of their childhood home, their dream house, their ancestor's building, or whichever construction they love most.
Such a great gift idea for housewarming, as well, or for special occasions like a wedding when the happy couple is just moving in together.
Ammo Can (w/Snacks)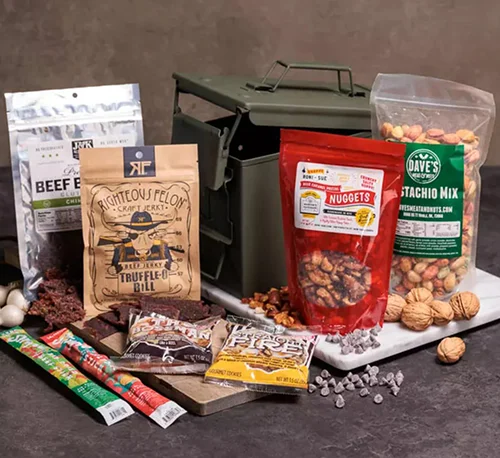 ManCrates always makes the best gifts for men, am I right? Well, don't leave out the women, for crying out loud — we love a good snacko, too!
This ammo can with the yummiest of snacks for noshing on is a great way to spoil them.
So savory and delicious we want to reach right into the interweb and pull some out for a little snacky-snack.
From booze-infused cookies to mouth-watering jerky and Italian truffles, all these swoon-worthy snacks come packaged in an ammo can to keep in all that delectable flavor sealed in tight.
Related: Letter C Gift Guide
Apparel for Doggos & Pet Parents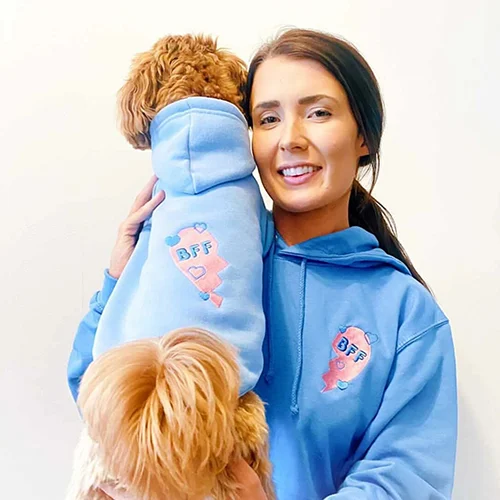 "A" is for apparel, Airedale Terriers, Afghan Hounds, and Australian Shepherds! When your little buddy is man's best friend, you need some outfits that fit the bill. These adorable matching hoodies will make you both the talk of the dog park.
So cozy and warm and they're available in so many sizes, everyone from Anita the Akita to Aspen the American Water Spaniel can be stylish and comfortable.
Tons of different colors are available, too, so you can really get them both the best gift they've received all year.
"As for Me & My House" Personalized Gifts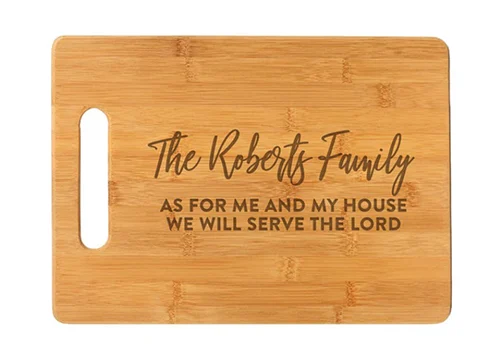 This cutting board is such a perfect present! Great for housewarming parties, hostess gifts, or just a random "hey, I appreciate your friendship" present, this bamboo board is totally customized just for them.
So special and thoughtful. The size is just right, and the engraving is so intricate and well done we kind of want to order one for ourselves.
Excellent for chopping, dicing, slicing, mincing, or arranging some cheese and crackers on, your friends will be using this board for many, many years.
In fact, we can see it lasting so long that it could be passed down to the next generation. Now that's an amazing gift!
Agate Bookend Set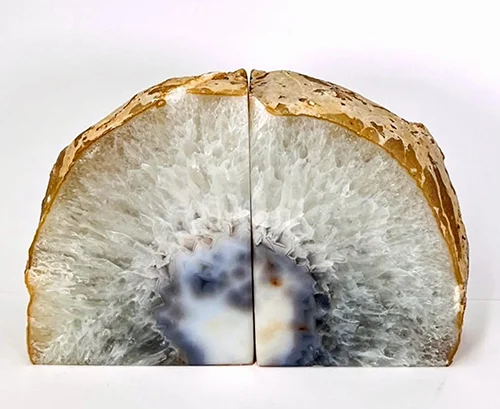 This agate bookend set is made of the prettiest geodes you can find! We don't know who will love it more: the bibliophile or the geologist.
Whoever gets this set of bookends for an awesome gift will feel special and loved, that's for sure.
The colors of these will blend in nicely with any decor, no matter their personal style, and they will really bring a pop of sophistication to the bookshelf. A great addition to offices, libraries, or just a home shelf.
Since they're made of natural rock, no two are alike, making this wonderful gift even more one-of-a-kind and unique. We are here for it!
Astronomy Telescope
A good-quality telescope is a must-have for any family! Turn off the TV, put away your phones, stay up late, and discover the night sky. What better way to spend some quality time together?
This is the gift that keeps on giving for years and years. Adventure and inspiration will abound when you have a wonderful telescope like this one.
Some can be overwhelming and hard to use, but this version is more portable and user-friendly, even for beginners!
It even has a wireless camera and a smartphone adapter (okay, you don't have to put your phones away after all).
So great for budding astronauts and astronomers alike, or as a family Christmas gift from one group to another.
Activity Mat for Babies
Keep that little tyke occupied before he learns to crawl! These fun activity mats are just the thing for Baby's mind to develop all while lying on the floor.
Mom and Dad can get a little work done, or a little shut-eye on the couch, while the little nugget is enveloped in a world of color and textiles.
Soft and easy to clean, too — you know how important those things are in the life of an infant.
Avocado Toast Fridge Magnets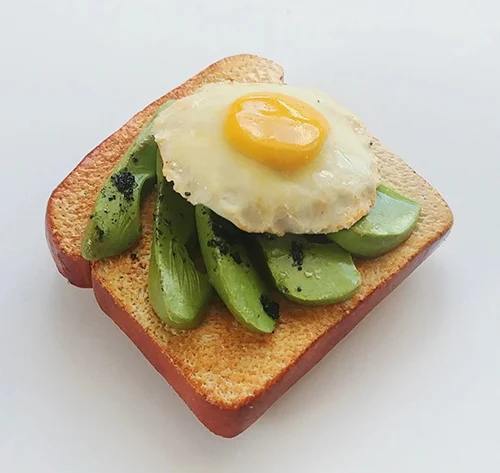 Need something a little bit weird? Something unusual? Something that will…uh, inspire snacking?
Then these avocado toast fridge magnets are here as just the right choice! So cute and funny, they will hold up all those to-do lists and crayon drawings with ease and style.
A cute little way to say you care to a pal who loves some avocado toast.
Wedding & Anniversary Gifts That Start with A
If Anthony and Alice are finally tying the knot, or Amy and Adrian are celebrating many years together, having a theme for your gift (like the letter "A") is such a fun idea!
These "A" gifts are fun and practical, witty and thoughtful. We are sure your couple will be awe-struck, amazed, amiable, admired, and you'll feel accomplished.
How's that for alliteration? Enjoy these great options we've hunted down just for them!
Air Fryer
The last few years have given us some pretty great new kitchen inventions and options, but we gotta say: the air fryer beats them all! They really are one of the best things since sliced bread.
For bomb-diggity tater tots, juicy salmon, crispy bacon, perfectly reheated leftovers…well, we could go on and on. Mine gets used on a daily, and I'm not sure how we got along without it honestly.
Give your microwave a break (who wants soggy pizza anyway?), turn off the oven in the summer heat, and get thee (or them) an air fryer.
A perfect gift for new couples, wedding gifts, house-warmings, or holidays.
Adventure Challenge Connection Cards
The couple in your life will love these Adventure Challenge connection cards! Such a fun way to spend a date night, even if you've been together for years and years.
You'll learn new things about one another, laugh a ton, get a bit romantic (swoon), and become closer than ever before.
They're easy to do, too: no pages of rules and complicated scoring like some board games. Just the right gift for an anniversary, or just to give your partner instead of a run-of-the-mill bouquet of flowers.
Around You Willow Tree Figurine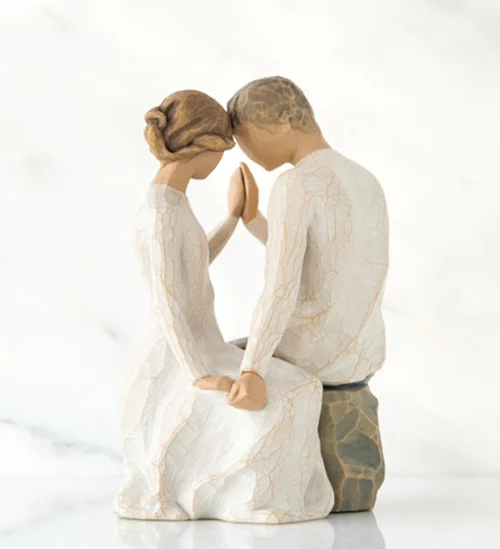 Just being close is sometimes enough, isn't it? This graceful figurine from Willow Tree is all about that feeling.
So sweet and romantic, it will look lovely on a bookshelf in the living room, near your nightstand, or even at the office. The gentle lines and soft color palette are so soothing and beautiful to look at.
This could be the start of a gorgeous collection for you or your friend!
Anniversary Date Afghan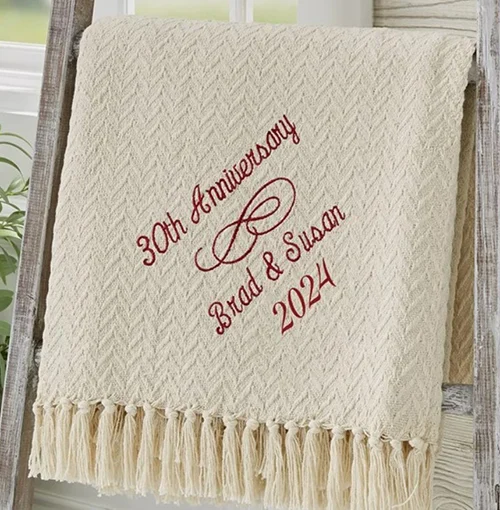 For an anniversary, why not consider this dated Afghan? It's so cozy and warm and practically begs to be snuggled and cuddled under! We love the soft ivory color and the bright cheery embroidery.
Totally personalized so there's never another just like it, this practical gift is a keeper for sure. Great for a wedding gift, too!
Best White Elephant Gifts That Start with A
Have a White Elephant party where everything starts with the letter "A!" Why not?
It's so fun to be creative and think outside of the box. These gifts are totally quirky and perfect for a game of White Elephant.
Or maybe we should rename it Aquamarine Aardvark? What? Too far? We've scoured the land of the internet to help bring you the best silly "A" gifts ever.
Any one of these is perfect for a white elephant exchange, or even as a great Secret Santa gift!
Once you hit that party, you're going to have a reputation to live up to!
Air Conditioner for Your Neck
Hey, don't knock it till you've tried it, right? This funny gift is a great choice and bound to actually get some use. Especially on those hot, hot summer days!
Play basketball without breaking a sweat, go for a run without getting overheated, or just strap this AC on whenever the hot flashes take over. Fun and functional!
Alaskan Forest Edition Candle Set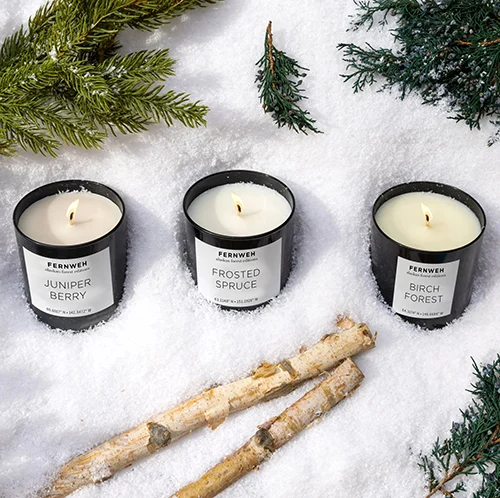 Mmmm, we can smell the freshness of this yummy Alaskan forest edition candle from here! This is one White Elephant gift that everyone will want to take home.
Who doesn't love the soft ambiance a candle provides? Plus, being a set of three means you can gift them all, or sneakily keep one for yourself! That's a win-win in our books.
Alexa Echo Dot
Give the gift of Alexa and be known as the Gift Giving Queen or King from here on out! So much fun to use, and easy to learn. You'll wonder how you ever got along without Alexa's help.
It's the 5th generation, so you know the sound quality simply cannot be beat.
Play your favorite music, blast an educational podcast, ask about the weather or the traffic, and turn up your lights…there's not much this little lady can't do!
Adult Coloring Books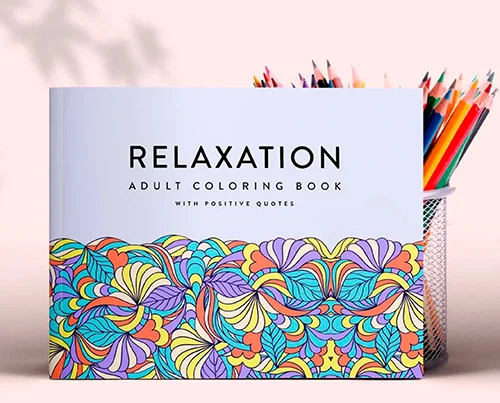 Adults like coloring too, so why not give some fun adult coloring books? These ones are just the ticket for relaxing, letting go of stress and anxiety, calming your brain, and just plain working on your hand-to-eye coordination!
Pair with some good-quality markers or colored pencils for an absolute gem of a fun gift.
Stocking Stuffers That Begin with A
And next year you can do "B!" This could turn into a really fun tradition. As the holiday season approaches, consider picking from this great stocking gift guide.
These stocking stuffers are so nifty on their own, but once the kids realize the theme of the letter "A" they get even more fun.
Easily tucked into their stockings, these are things that will entertain, educate, make them smile, and are sure to get you all the thank yous and hugs.
Great work, Santa and Mrs. Claus. That's the holiday spirit.
"Alice in Wonderland" Mini Book Necklace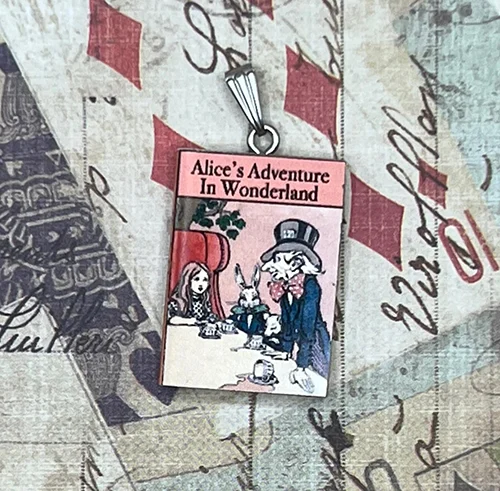 If Alice is your little girl's favorite heroine and Wonderland is her go-to place, this mini-book necklace is going to charm her!
In fact, it might be her favorite present yet. Having a favorite book magically turn into earrings is a genius idea and we absolutely love it. Do you have a different favorite book title that still begins with "A?"
No problem — they'll do a custom order for you.
Andy Warhol Enamel Pin Set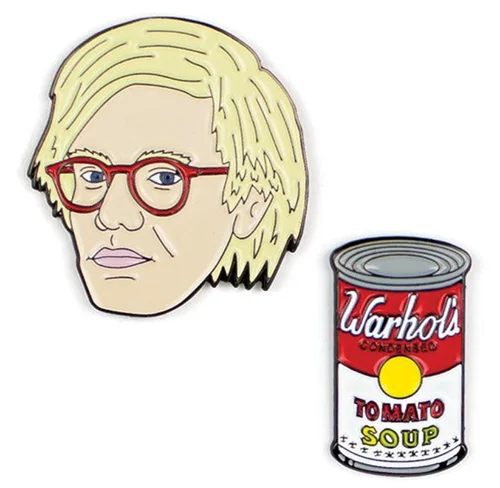 Wear your love for Andy Warhol (and soup) on your sleeve, your backpack, your purse, your uniform…anywhere you like!
This fun set is totally unique, and your Andy lovers will get a kick out of the out-of-the-box thinking on this one. Just a little different, and we like it that way.
Airo Collective Ultra Thin Wallets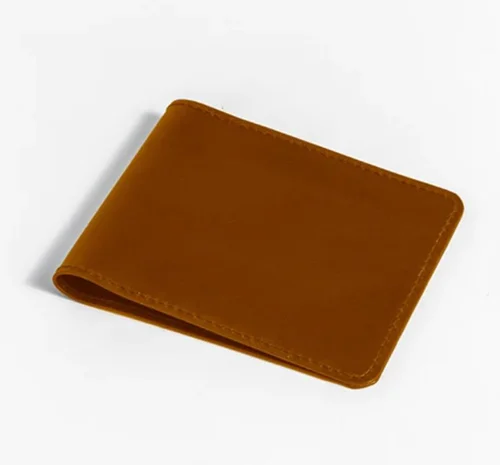 Forget those bulky wallets that crease and break in no time! These Airo Collective ultra-thin wallets really are ultra-thin.
They won't cause a weird bulge in your back pocket, but they still hold all of your essentials, from debit cards to credit cards, photos, coupons, and money.
These could make top marks on just about any list of great gift ideas.
Air Fryer Magnetic Cheat Sheet
I don't know about you, but I'm forever googling how long to air fry something! This takes the guesswork out, and all you have to do is walk to the fridge to take a peek.
Perfect for when your hands are coated in flour and you can't reach for the phone!
Fandom Gift Ideas That Start with the Letter A
Are you the president of a fandom that starts with the letter "A?" Or know someone who is absolutely obsessed with one of these magical worlds?
Then we've got some gift ideas for you, by golly! Read on to get some inspiration and fabulous ideas.
Read Next: The Letter B Gift Guide