Sometimes it can be hard to find a gift for the whole family. Everyone is at different ages and has different tastes.
So how do you find a family gift that will please adults, teens, tweens, and little ones, all at once? We've thought long and hard about this, and have compiled a list of gifts that everyone will love.
Ready? Let's dive in!
10 Best Gifts The Whole Family will Love
Our website is supported by our users. We sometimes earn a commission when you click through the affiliate links on our website. See our privacy policy & disclosures for more information.
1. Family Portrait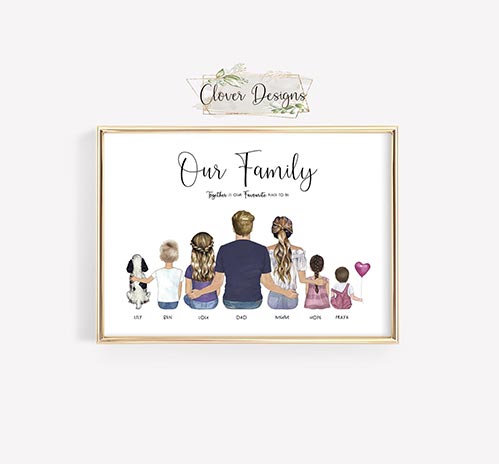 This customizable print is a beautiful family gift or housewarming present. Keep those precious moments forever with gorgeous and super-cute artwork!
You can pick from six printable options with up to twenty people per portrait.
Your portrait will be printed on archival matte paper and ready for framing, or emailed directly to you as a digital file.
2. Box of Family Activities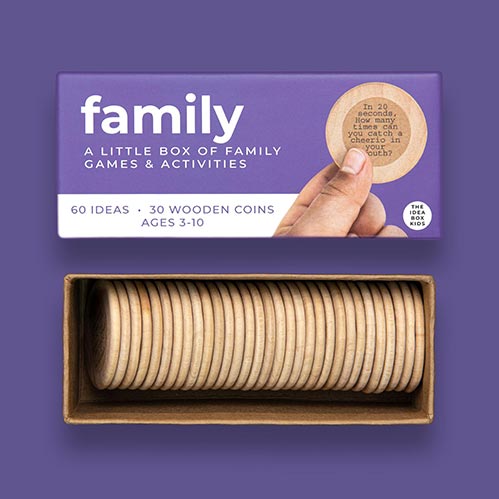 This box of fun is designed to inspire children and parents alike on family game night! Each child will have a blast choosing a coin and leading the family. They will learn the importance of good sportsmanship and teamwork.
You will be making memories that will last a lifetime, playing and laughing together as a family. There are 60 games and activity ideas included in this box, so it will be a new experience each time you play.
3. S'mores Maker
Outdoor fun for the indoors! The whole family will love roasting marshmallows to perfection over this tabletop electric flameless heater. With the spinning lazy susan design, you can supply all the ingredients for s'mores right in front of you as the whole family gathers 'round.
It comes with four stainless steel roasting forks. You can make anytime a party because this set is durable and easy to clean.
What a yummy way to enjoy some quality family time! The only other thing you'll need is a great family-friendly movie to watch as you cook your s'mores.
4. Personalized Family Dart Sign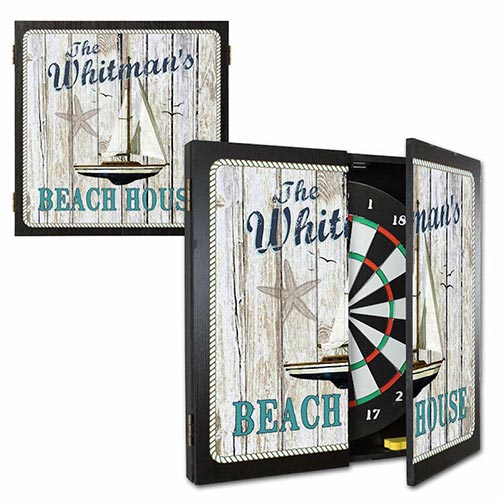 Our personalized dartboard cabinet is a nice addition to any game room. The beach house theme will complement most decors, but especially so if the family lives near the beach… or wishes they did!
The dartboard is double-sided. On one side, you can play a traditional game of darts; on the other side is an exciting alternative called baseball darts. Printed on the doors are scoreboards for both Darts and Cricket.
The cabinet has a coated finish meant to absorb the stray dart. The cabinet measures 21.5" x 21" x 2.125". Mounting hardware is included.
5. Soft Serve Ice Cream Maker
You'll be the favorite family on the block with this 1.5-quart soft service ice cream maker.
The freezer bowl contains cooling liquid within a double-insulated wall to create fast and even freezing. Double-wall keeps the bowl cool and at an even temperature. You and your family will be eating ice cream in no time!
Professional-quality soft ice cream, yogurt, sorbet, and sherbet are now available right at home. Not only can you make everyone's favorites, but with three built-in condiment dispensers, you can make them extra delicious. Enjoy!
6. DIY- Movie Night Box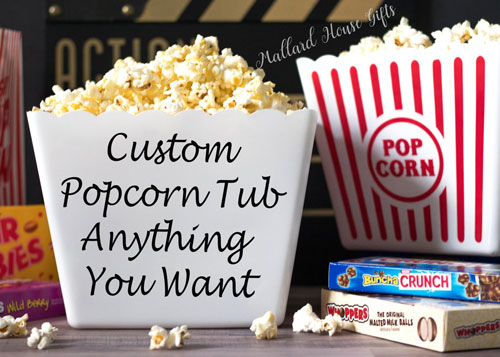 These old-fashioned-looking plastic red and white striped popcorn containers are perfect for movie night. And you'll take it up to the next level by personalizing one for each member of the fam!
Pick out that favorite family movie, pop some corn, sit back and relax. These containers are made from durable plastic that you can wash and reuse again and again.
Related: 12 Amazing(ly) Clean Movies You Probably Haven't Seen
7. Classic Family Games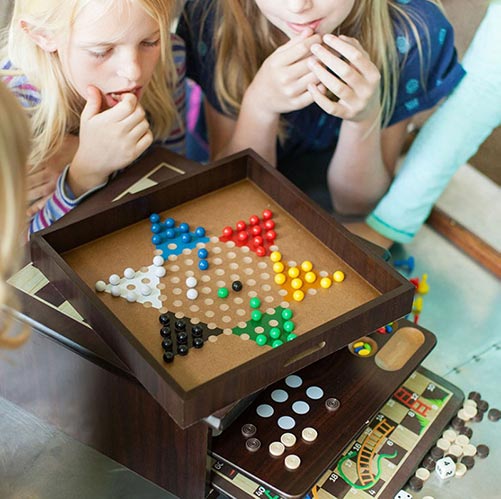 All of the classic board games you remember are included in this set. This is a sturdy wooden game set packed with ten classic games.
Board games never go out of fashion. Included in this set are Chess, Checkers, Backgammon, Mancala, Tic-Tac-Toe, Chinese Checkers, Snakes and Ladders, Parchisi, Solitaire, and Pass out. Instructions and rules for every game are included.
High quality and lasting durability will make this a family favorite for years to come.
8. Do You Really know Your Family?
Get ready for the best family game night you've had. You'll laugh and learn new things about each other with this fun card game.
This is an easy game to learn and play; you'll enjoy hours of entertainment as you create great memories. Compete in teams or individually. Find out just who knows whom the best.
This card game is sure to become a family favorite.
9. Family Vacation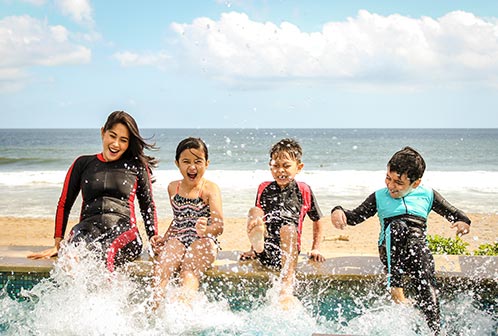 Who doesn't deserve a get-away?
Send a family you love an adventure that they've never experienced before. Browse our list of experience gift ideas and you will come up with a delightful list to pick from; oceans to desert or mountains to plains to the quirky museum down the street or growing something incredible in your backyard.
The perfect family gift is an experience with memories to last a life time.
One great way to do this as a gift for the whole family is through Giftory. This is a company that provides a pre-purchased gift card that you send to the family, which they can redeem for an amazing experience! All they'll have to do is get themselves there.
With thousands of options all over the world, they can find some choices within easy day-trip driving distance, or maybe your gift will inspire them to take that long-planned for vacation abroad!
Either way, you'll spend a set amount and provide them with a fun activity, from horse riding on the beach to zip lines in the mountains to everything in between.
If you do a Giftory gift card or plan a semi-local activity, you might want to include this fun push-pin travel map so they can log their adventures!
10. Personalized Family Name Pillows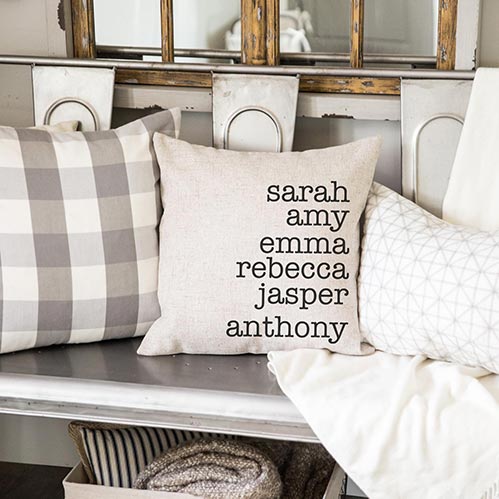 Show your family some love with this cute personalized pillowcase. This custom-made throw pillow case is made from 100% cotton and fits an 18″x18″ throw pillow.
You can choose from two different design options. Why not get one case for each child? A throw pillow would be a comfy addition to their bedroom.
We feel confident that you will find a perfect family gift from our list. But if you're still searching, check out our list of 50+ Experience Gifts That Will Elevate Your Gift-Giving.
Pin It