Bridesmaid gifts are the perfect way to show appreciation for your bridal party. After all, dearest and most beautiful of brides, your bridal party has likely done so much for you.
Sure, the wedding is your day, but before that day comes, your bridesmaids put a lot in to make it happen. Even if all they do is show up, their support means a lot and you want to show your gratitude with a lovely and memorable present.
Our website is supported by our users. We sometimes earn a commission when you click through the affiliate links on our website. See our privacy policy & disclosures for more information.
Bridal Party Gifts for Everyone
When you need to find the exact perfect gift for your besties, whether small or big, inexpensive or more over-the-top, we've got you covered. Read on for some great bridesmaid gift ideas to delight your bridal party!
1. Best. Bridesmaid. Ever. Tumblers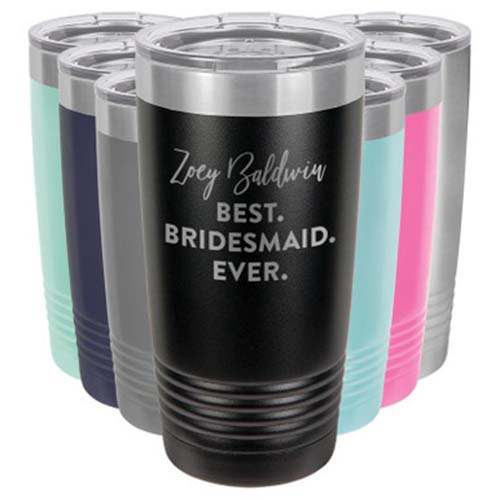 These tumblers are just begging to be in every selfie taken on your special day! They come in bright, vibrant colors, so everyone can get a different hue, and they are personalized with just the right sentiment.
Your bridesmaids will love staying hydrated throughout that outdoor summer ceremony, or filling them up with hot coffee to get them through that long rehearsal dinner.
2. Will You Be My Bridesmaid Macarons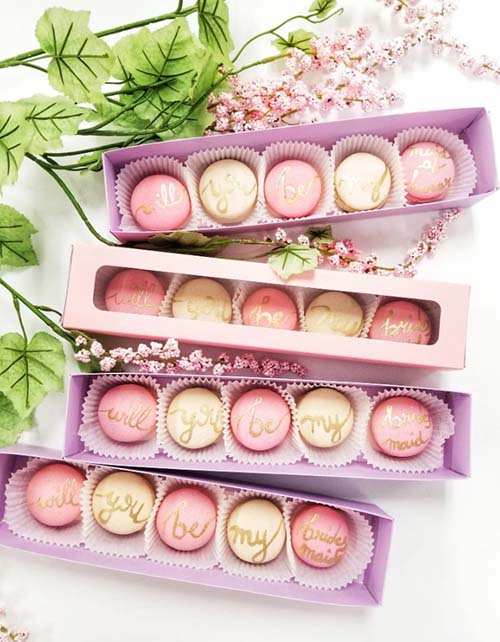 Ask the big question in the cutest and yummiest way possible with these adorable bridesmaids treats! They're almost too sublime to eat (but let's be honest, you don't want them to go to waste).
Your pack of BFFs are going to be so over-the-moon about receiving these from the bride-to-be.
Related: Best Bridesmaid Proposal Gifts
3. Group Party Hats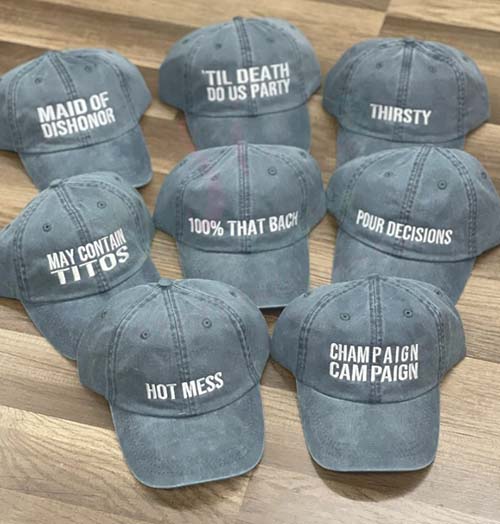 These bridesmaids hats are just the thing for going out on the town together and lookin' adorbs while you do.
Personalized with witty and tongue-in-cheek expressions and words, you can do the honors of choosing which hat to rest atop which head, or make it the luck of the draw. It's up to you!
4. Will You Be My Bridesmaid? Heart Necklace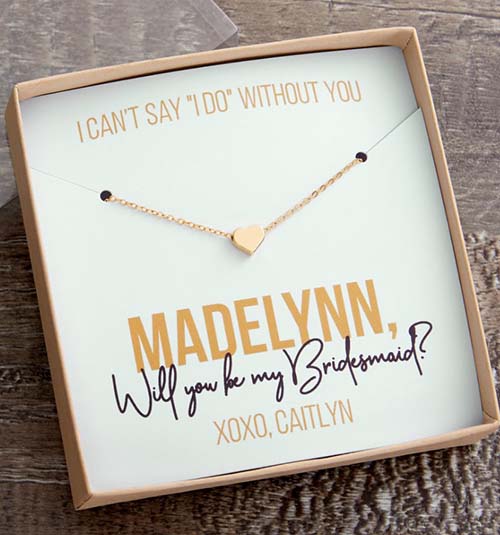 Asking your bridesmaids to be… well, your bridesmaids in new, remarkable, and creative ways, has become a modern tradition/trend, and we think it's here to stay!
You'll have so much fun bestowing these lovely gold necklaces as a way to ask your bridal party to be there in a big way on your big day! Get your video ready to roll when they open these sweet boxes up to capture their reaction.
5. Custom Luggage Tags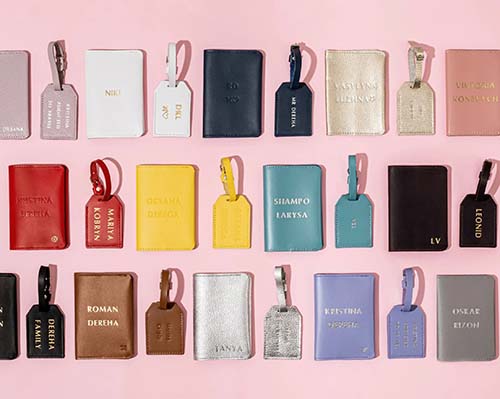 These custom luggage tags are such good gifts for destination weddings! They're practical and useful, not to mention fetching and refined.
No one wants lost or misplaced luggage on the big day (ack, the dresses! The shoes! The gifts!) so giving luggage tags for your destination wedding is a no-brainer.
6. Bridesmaid Sweatshirt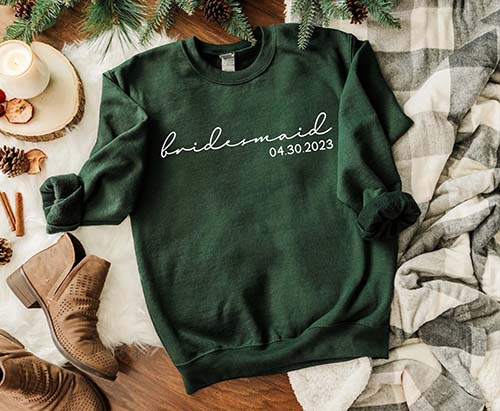 Perfect for fall or winter weddings, the girls can all wear these adorable matching bridesmaids sweatshirts while shopping for the dresses, getting their nails done, or meeting up for some wedding day planning.
And just think how cute they'll look for the rehearsal dinner or bachelorette party!
7. Personalized Macrame Name Keychains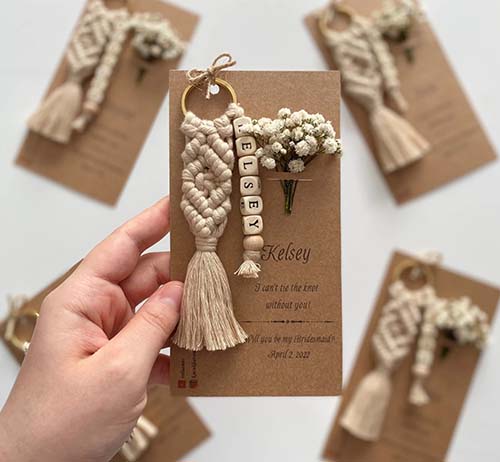 These winsome little boho macrame keychains do double duty! They are personalized with each bridal party member's name in beads, plus they ask the oh-so important question: will you be my bridesmaid?
Such a sweet way to honor your besties. They'll be pleased as punch to give their answer. We think we know what it will be!
8. Bridesmaid Pajamas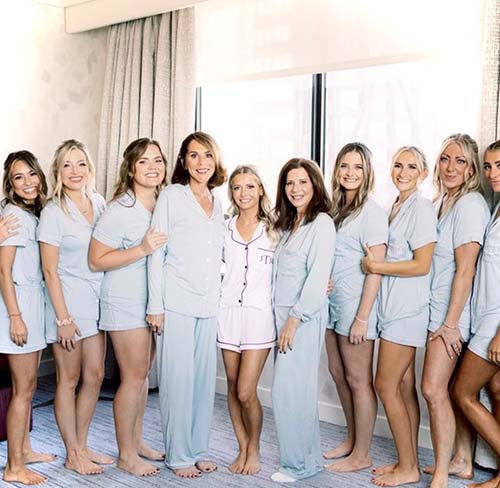 These soft and cozy matching pajama sets are perfect for taking selfies and group pictures the morning of the wedding. Maybe you'll have a good old-fashioned sleepover the week before, or maybe the bachelorette party is designed to be an all-nighter.
No matter the occasion, these PJs are so cozy and comfortable that your bridesmaids will still be wearing them years down the road.
9. Floral Hand Embroidered Compact Mirrors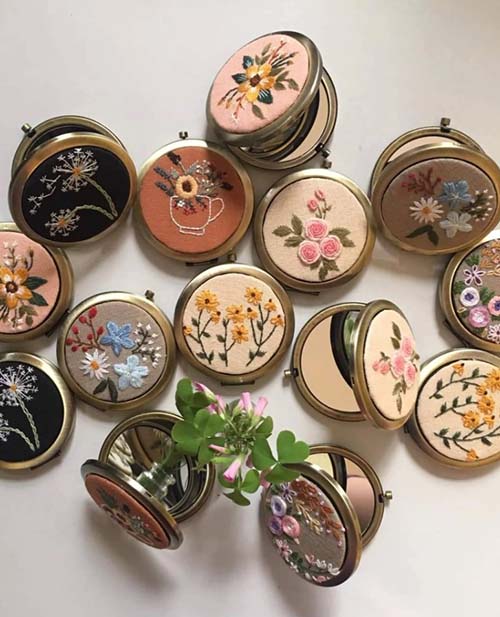 Compacts are essential for destination weddings, overnight bachelorette parties, or for those girls who love to look their best at all times. These super pretty linen compacts are exceptional because of that hand-embroidered touch of whimsical vintage vibes.
They're such lovely little works of art. That's why this might just be the perfect bridal party gift! How cute will the selfies be with the girls checking their big day makeup in these sweet mirrors?
10. Godiva Chocolate Truffles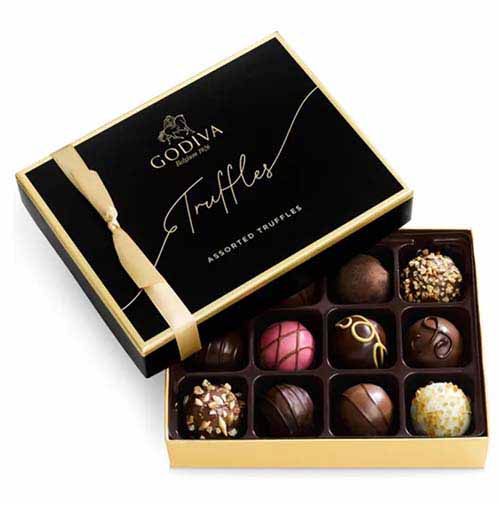 What bridesmaids or groomsmen wouldn't want a delightful and decadent box of chocolates from Godiva?! This assortment of truffles will rock their world, with their intricate decorating and luscious taste. It's a no-brainer!
11. Rose Gold Champagne Flutes
These elegant matching rose gold champagne flutes will be the belle of the ball when raised to toast the bride and groom! Each bridesmaid will love getting to take hers home as a keepsake of the special day. Cheers!
12. Matching Pearl Bracelets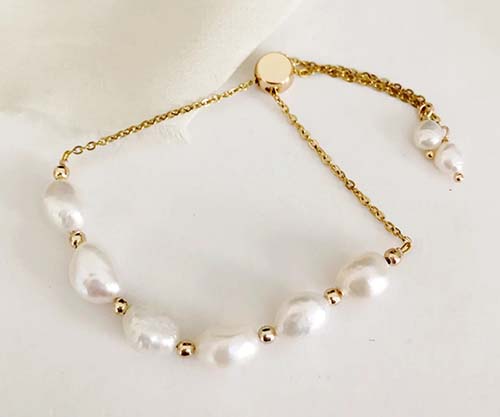 These charming pearl bracelets just might outshine the bridesmaids dresses. They're that lovely! Gifting each bridesmaid one of these will light up her day, and we can definitely see a closeup of everyone's hands clasped, along with the bride's new wedding band.
13. Squad Straw & Drink Pouch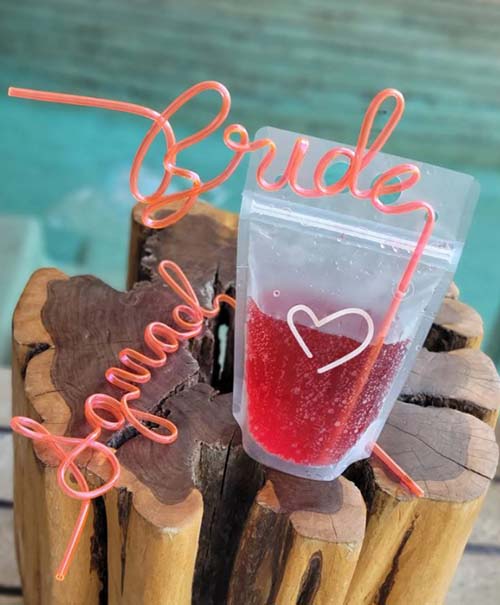 Grown-up Capri Suns? Um, sign us up! Perfect for beach weddings or poolside bachelorette parties, these crazy straws read "squad" or "bride" and are paired with plastic pouches to hold the beverage of their choice. Let the party begin!
14. Personal Dress Bag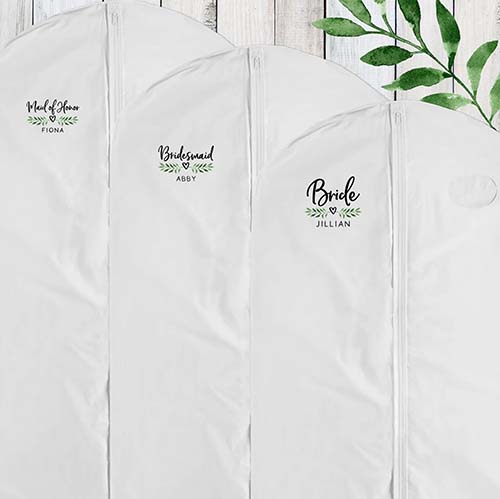 It took forever to find and choose the right dresses for the wedding day. Now keep them safe and secure in these sophisticated personalized dress bags! How captivating will they be lined up in the closet for a photoshoot? These are practical and yet adorable at the same time.
15. Can Coolers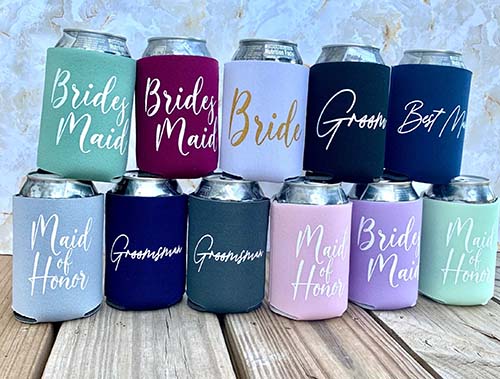 With tons of bright colors and personalizations to choose from, these lighthearted can coolers are just the thing. Your bridal party will love having their own to easily locate their beverage.
Great for more laid back weddings, such as farmhouse or barn venues, camping (glamping?), outdoors, or beach themes.
16. Spa Package Sets
Face it: the only ones who worked anywhere close to as hard as you did to put together this wedding day is your bridal party! So thank them, spoil them, and pamper them with a great spa gift set.
The packaging is so fetching on these spa essentials that they won't want to throw them away once they use up all the delightful lotions and potions.
17. Satin Hair Scrunchies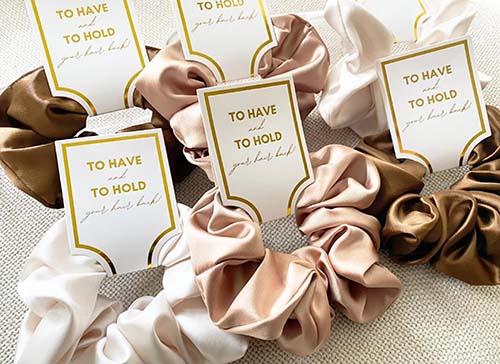 Keep your bridesmaids' hair out of their faces in style! These sets of matching scrunchies are just the thing for applying makeup, soaking in a face mask before the ceremony, or keeping their necks cool during a hot summer wedding.
For the girls who don't like big old scrunchies, get these fashionable hair ties.
18. Let's Toast Candles
With the most delightful scent of grapefruit and mandarin, these candles will be burning the midnight oil – so to speak – the night before the wedding as everyone plans, gushes, gossips, and enjoys their time together.
19. Lasting Forever Rose Boxes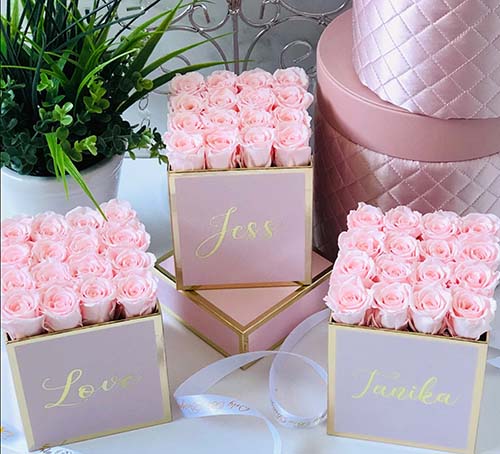 These sweet-smelling and ornate-looking mini roses will last a whole year! Personalized in tiny gold-embossed boxes, this is a perfect gift for your bridal party that will make them feel like a million dollars. You could even set them up in their hotel room, or have them arranged on a table to take home later.
20. "Thank You" Trip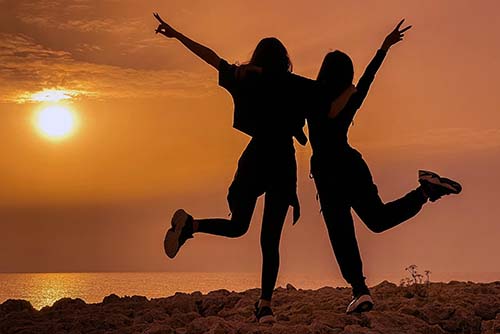 Send your favorite ladies on their own adventure as a thank-you! All you do is select the gift package, then each bridesmaid can plan and choose her own experience, ranging from wine-tasting to skydiving, at thousands of locations near and far.
You can pick one night or more, as well as "Trip" or "Experience" options with this memorable gift from Tinggly. Truly a one-of-a-kind gift, this will knock their socks off!
Ideal for the bridal party who went above and beyond, this is one thank-you present they'll never get over because it will help them create memories.
Related: 50 Best Experience Gift Ideas
Personalized Bridesmaid Gifts
21. Bridesmaid Wine Glasses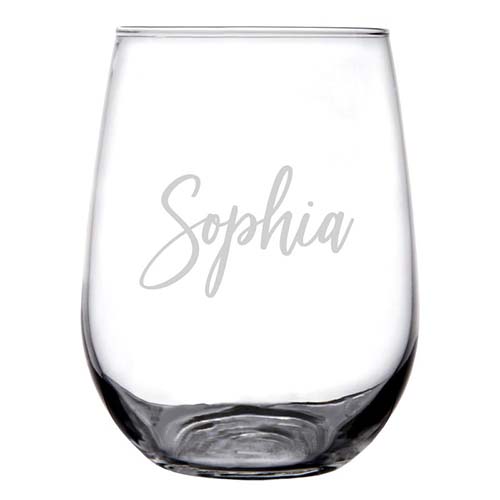 These personalized stemless wine glasses make flawless gifts for your bridesmaids. They'll love sipping out these, toasting your new married life, and taking it home at the end of the night as a memento (one they'll use all the time). Clink and cheers to the best day and best bridal party ever!
22. Silver-Plated Photo Frame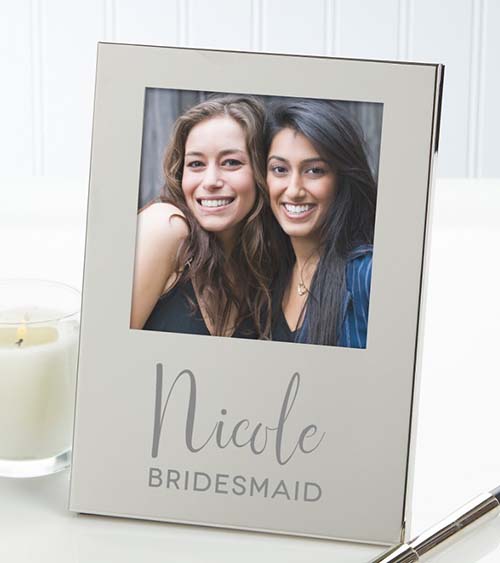 Having a great photo frame to put the best photo of the big day in is a must-have. Get the girls matching silver-plated ones as a thank-you gift for all the hard work they put in. They were there for you, now you can be there for them!
23. Initial Diamond Rings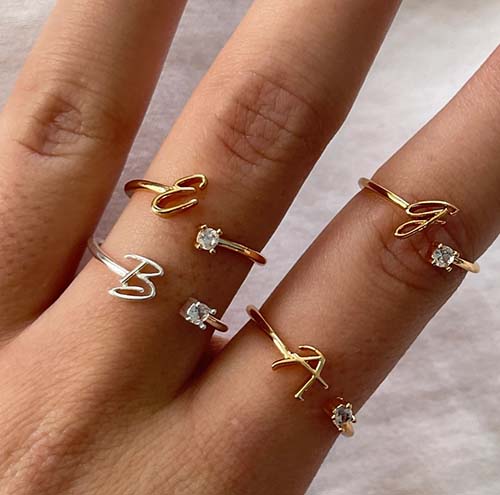 These trendy diamond rings have your bridesmaids' initials incorporated into the design! They'll love wearing these sweet mementos together, especially on the big day. Inexpensive, yet they appear decadent and sophisticated.
24. Hair Clip Accessories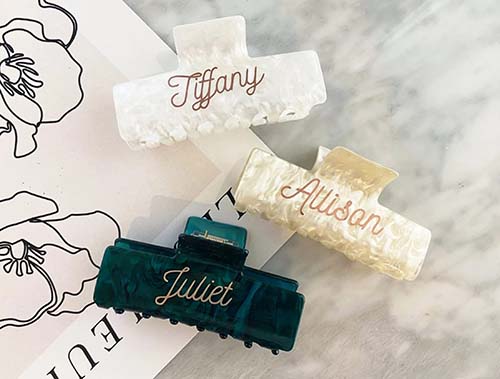 Hair claws are "in" in a big way! These ones are personalized with their name, so no one will accidentally reach for the wrong one in the dressing room. The vibrant colors will stand out against their hair in all the best ways. Make sure to give some thought about which hue goes with which girl!
25. Wooden Engraved Hangers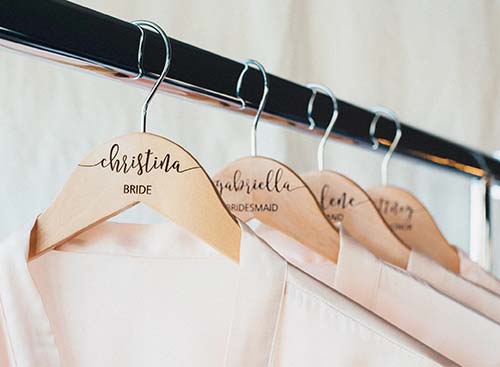 No one wants a wrinkled frock on the morning of the wedding! Who has time to iron? These wooden engraved hangers have their names and title right on them, making them a shoe-in for a great bridesmaid's token.
26. Glitter Ornaments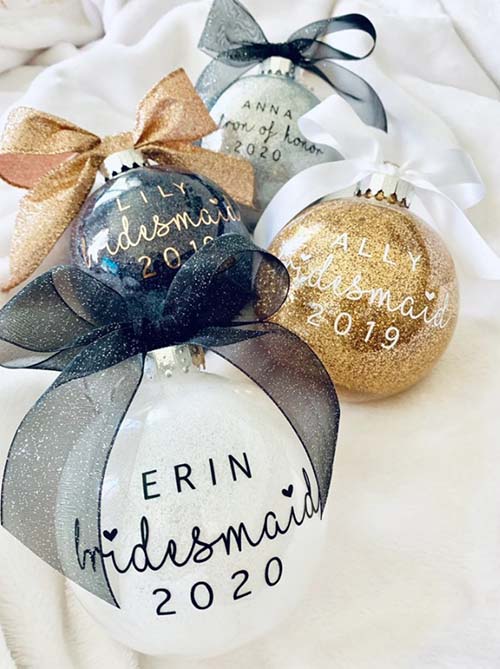 Perfect for a winter wedding! These glitter ornaments are sure to elicit sweet memories every time they hang them on their tree. So glittery and full of cheer!
And the best part is, they're shatterproof. Take it from me, as one who had a Christmas wedding and gave out ornaments as take-home gifts, each time one breaks, we want to cry as the collection dwindles!
27. Initial Mug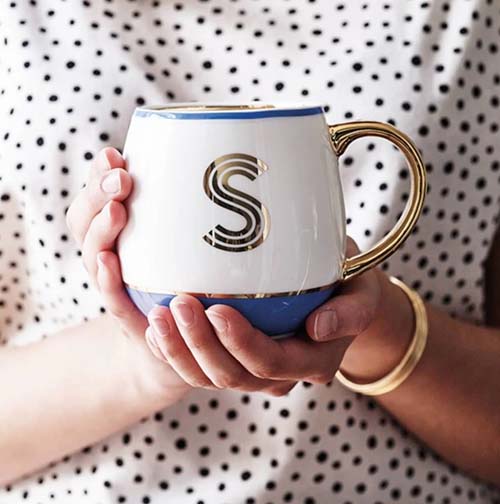 Choose one that matches your wedding colors, and one that matches your vibe! Whether flowery and girly, or sophisticated and modern, these personalized initial mugs will be absolutely perfect for a strong cup of coffee before the ceremony.
28. Message in a Bottle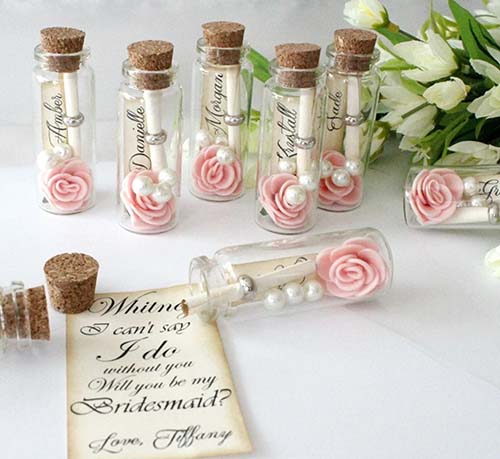 These adorable little tokens and invites are nestled inside the tiniest of bottles! Once unrolled, the scroll asks the ever important question of: Will You Be My Bridesmaid/Maid of Honor? Such a cute memento they will keep forever.
29. Party Tribe Fanny Packs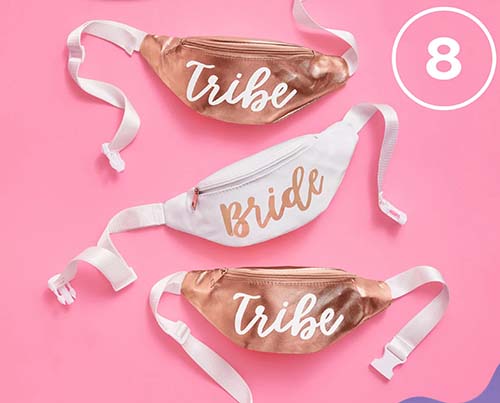 These retro fanny packs in rose gold and white are great for going out on the town to celebrate! No pesky purses to lose, sit down in a puddle, or fall off your shoulders! With these, your squad will look adorable and ready for shenanigans.
30. Bridesmaids Wedding Flasks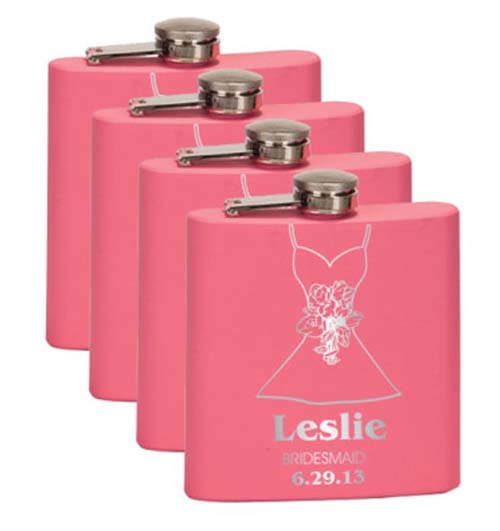 When a shot of espresso just won't cut it, these adorable flasks will save the day! In a bright and cheery shade of pink and personalized just-so, these flasks will certainly be put to good use on the significant day. The groomsmen are going to be sooooo jealous!
31. Turkish Beach Towels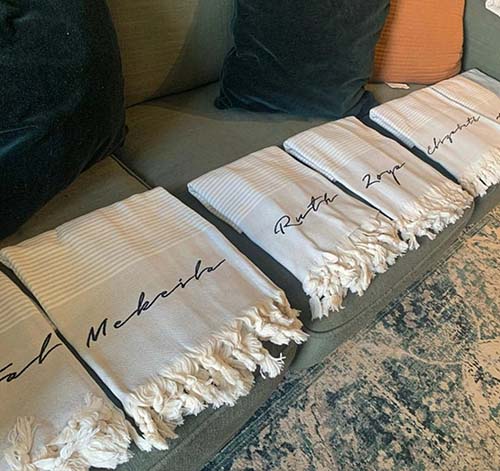 These classy Turkish beach towels are absolutely made in the shade for a beachy wedding! Or for a poolside party the night before. However they get used, they will be so appreciated by your wedding party. The embroidered font with their name looks amazing against the soft creamy cotton.
32. Starbucks Coffee Box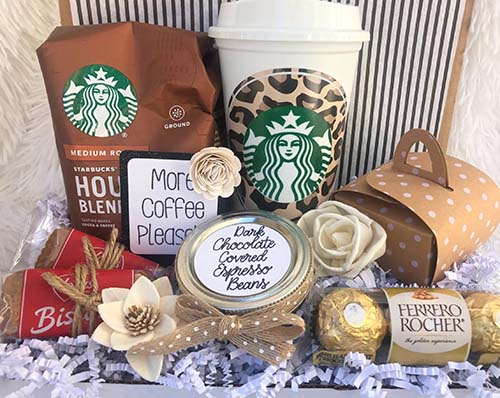 Totally the thing for a destination wedding where the travelers get in late or suffer from jet lag, this great Starbucks coffee box comes with everything they need to perk up the morning of the wedding. They'll be bright-eyed and bushy-tailed in no time at all!
33. Burlap Tote Bags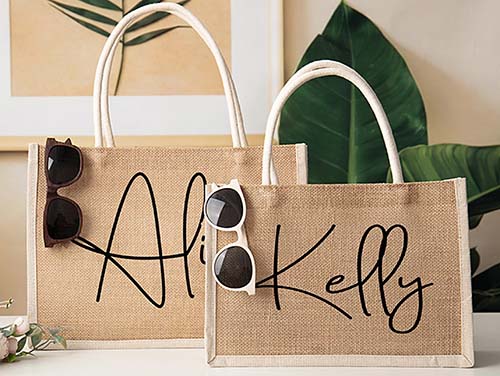 These jute totes are great for a quick overnight wedding trip, or a scamper down to the beach! The girls will love having their names on their own bag, and they're an impeccable size for everything they need for the bachelorette party or the rehearsal dinner.
34. Yoga Mats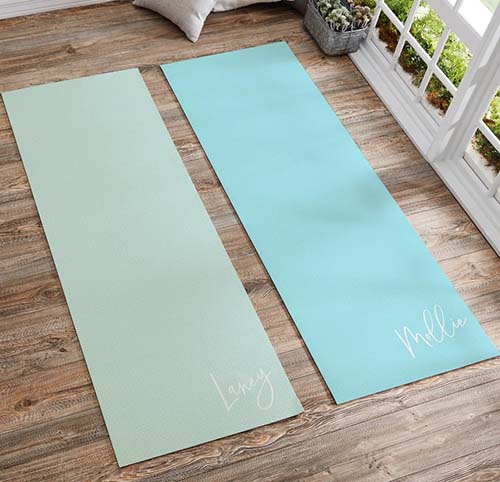 If your bridesmaids are the health and fitness types, they'll love having new, matching, personalized yoga mats! They'll be put to good use for years to come, and will think of you fondly each time they roll them out.
35. Acrylic Clutch Purse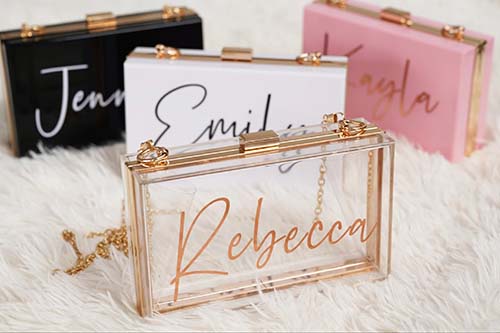 No one wants an everyday purse to ruin the glamorous bridesmaids dresses on the big day. But a gal needs her lipstick, keys, and phone…
Enter in these adorable and useful little acrylic clutches! They're personalized with their names and will match any dress. Your bridal party love having these at the reception instead of their clunky old purse.
36. Custom Etched Shot Glasses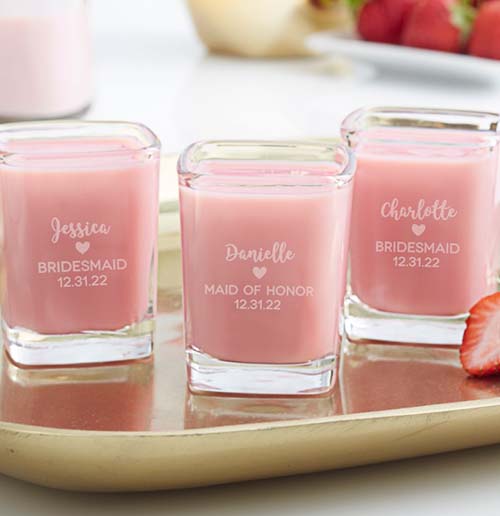 Gift these custom-etched shot glasses the night before so everyone can have a little fun together at the hotel bar or getting together at the maid of honor's house. You know that shot glasses are just the thing to remember the ride you've all been on together!
Your BFF crew will love tasting a variety of delectable little cocktails out of these, or tossing back something strong together right before the ceremony.
37. Cosmetic Bags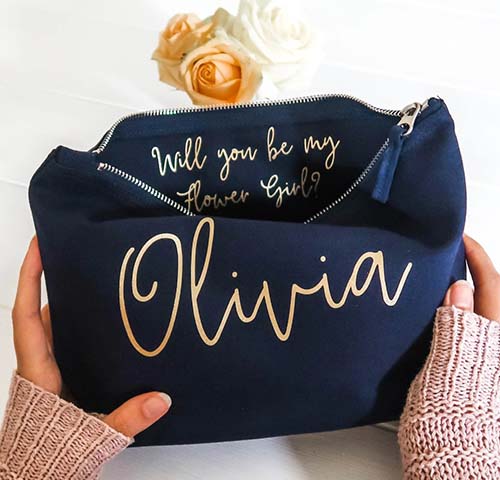 These handmade cosmetic bags are cute enough all on their own. But once you add in the addition of your friend's name and then the hidden message inside? Well, they really take the cake!
You can use these to ask your gal pals to be in your wedding party, or simply say "thank you" after it's all said and done. Any way you go, each bridesmaid will love these functional and sweet gifts.
38. Bridesmaid Slippers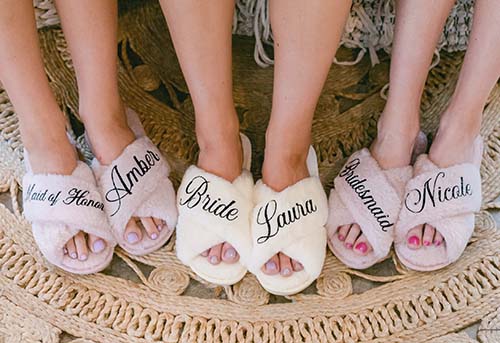 She's been running amuck for you lately – put those hardworking feet to rest with a set of pampering bridesmaid slippers! Everyone will want to have a good old-fashioned sleepover together once they see their matching slip-ons. Great for showing off their pedi, too!
39. Illustrated Thank You Portrait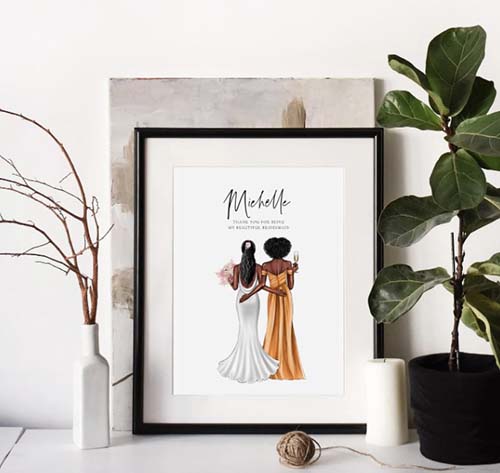 Make it a little more sentimental with a personalized and illustrated thank you portrait. This gift is really one for the record books, with its colors and distinctly different look. Truly one-of-a-kind! They're sure to cry happy tears with this gift.
40. Wooden Jewelry Box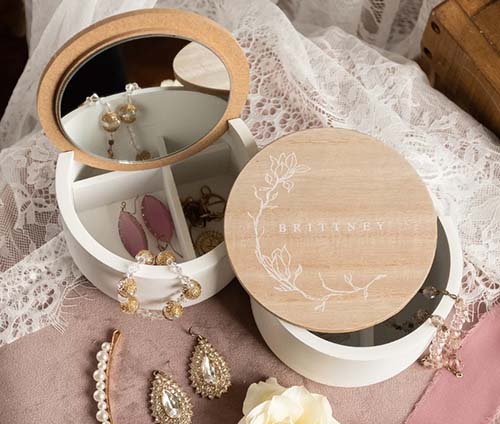 What an exquisite bridesmaid gift! These round jewelry boxes boast a contemporary white color that pairs so well with the embossed wooden lid and built-in mirror.
Accents of a personalized wax tag, gold mini kilt pin, and chiffon ribbon tie complete this set. Once you receive these, you can decide if you want to add jewelry or other bonus prizes inside.
Gifts for Maid of Honor
41. "Maid of Honor, Obviously" Stemless Wine Glass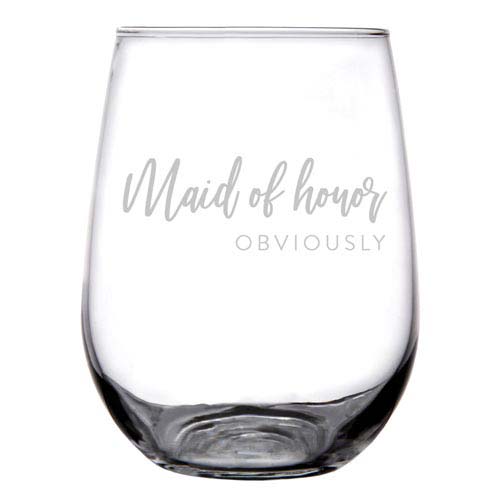 Make her feel extra special (because, naturally, she is) with this "Maid of Honor, Obviously" stemless wine glass! Or personalize it however you like: Best Maid of Honor Ever, Maid of Honor and Worth Her Weight in Gold, Bride's BFF. Anyway you go, she'll love feeling like she's the center of attention for a minute!
42. Pairs Well with Maid of Honor Duties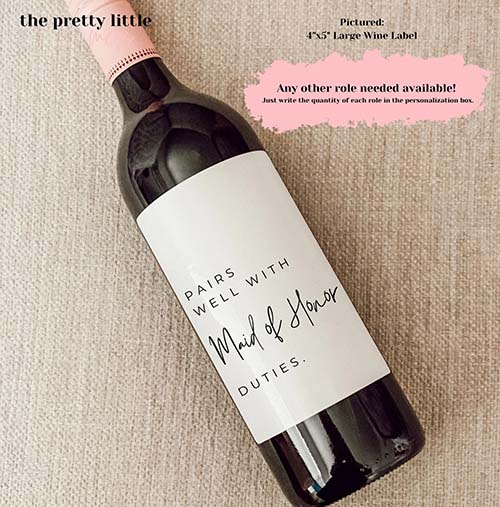 This funny wine label will fit perfectly on her favorite bottle of vino and is sure to make her smile! She deserves a sip of wine while she finally gets to relax after a hard day (or week… month… year(!!)) of helping you plan your wedding.
43. Rose Gold Gift Set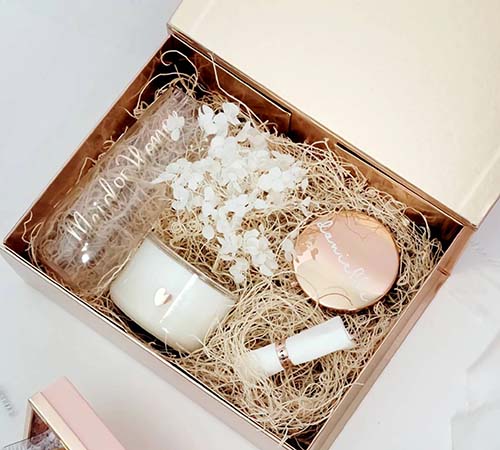 This boxed set is all done in the loveliest of rose gold hues, and is everything she needs to feel pampered and appreciated! She'll love how much care went into this box, from the champagne flute to the yummy candle to the ring to the compact and flowers. So posh.
44. Maid of Honor BFF Picture Frame
The best gifts are the sentimental ones. This Maid of Honor BFF picture frame for displaying a photograph of the two of you. She'll love the touching tribute almost as much as she loves you. And if you've known each other your whole lives, a childhood photo might be even more delightful!
45. Maid of Honor Candle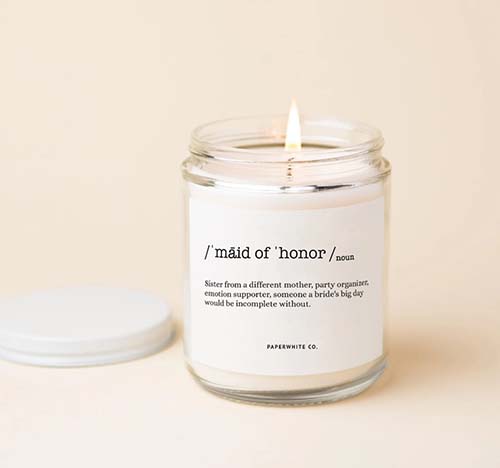 This candle will definitely be on her list of favorite sentimental items! The adorable label is clever and sweet. An adorable gift to tuck into her suitcase, or leave on her nightstand in the hotel to find.
46. Sister Maid of Honor Shirt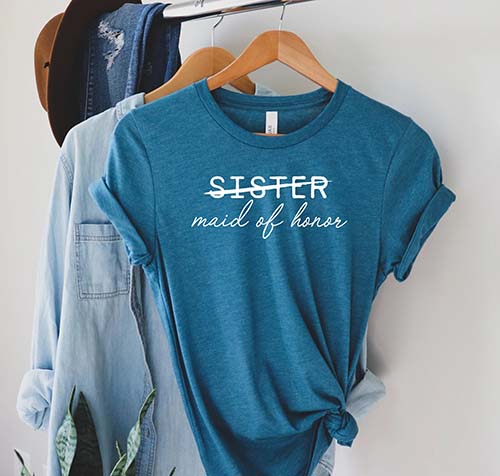 This tee shirt is a gift exclusively for your sister who is also your maid of honor. It comes in 8 different colors so you can pick her favorite!
She'll love wearing this to the rehearsal dinner, the bachelorette party, and for many other days to come. It's comfy and cozy and will remind her of that time her sister found her soulmate.
47. Maid of Honor Wedding Planner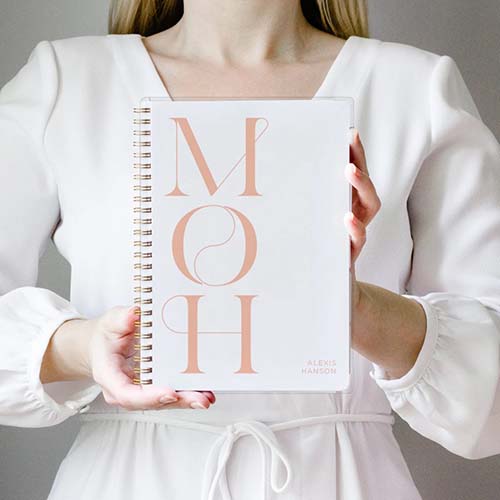 Staying organized is a no-brainer for every maid of honor! This great planner will keep all her notes and ideas and contact info all in one clever spot.
She will easily remember which bakery had that heavenly cake, the email of the wedding planner, the time of the bridal shower, all those oh-so important details.
48. My Sister Forever Silver Bracelet
This pretty silver band is gorgeous, outside and inside alike. It's engraved on both sides, with the inside featuring the all-important question, Will You Be My Maid of Honor? Whether she's your sibling or a sister from another mister, she'll love slipping this on and of course, answering the question with a resounding YES!
49. Enamel Pins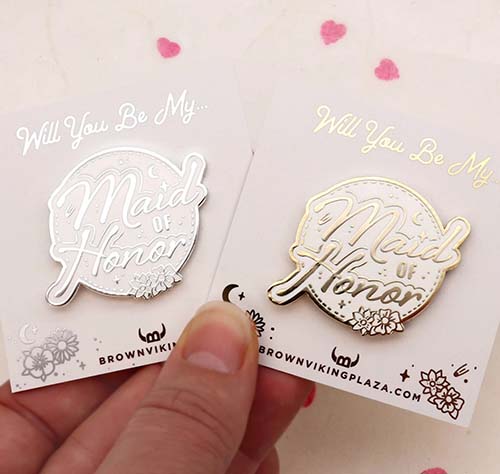 These stunning little pins will make her outfit even better! Made of enamel, they will shine and sparkle just like the light in her eyes at the thought of being your maid of honor. A dainty little pin that will last forever.
50. Maid of Honor Engraved Wine Stopper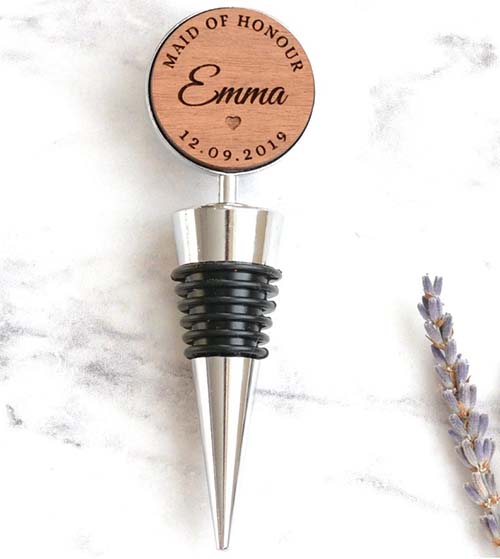 In case you don't drink the whole bottle… this adorable wine stopper will keep it fresh! Engraved with Maid of Honor, it will be the star of the show. A great memento and keepsake for your bridal party VIP.
Related: Best Gifts for Every Made of Honor
Bridesmaid Gift Box Ideas
51. Bath Lover Gift Set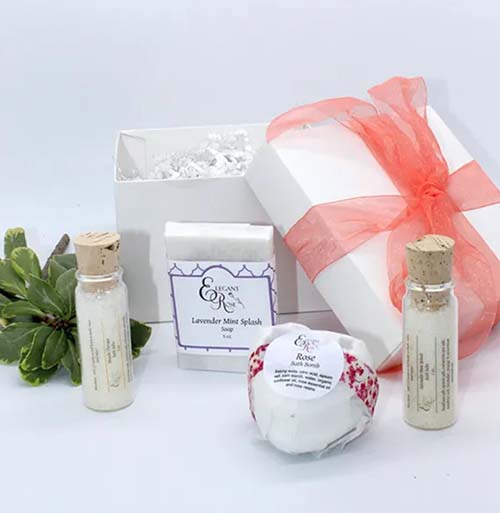 If she loves nothing better than a bath with bubbles up to her ears, she'll be all for this great gift box. Filled to the brim with pampering items like salts and soaks, she might use up all the hot water in the hotel! That's okay – she deserves it.
52. Floral Filled Custom Gift Box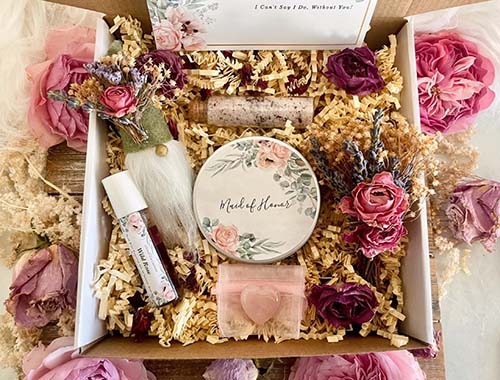 Your maid of honor or bridesmaid to be will be floored with this handmade box of floral delights. It's so pretty we can smell the beautiful fragrance from here! She'll love having these keepsakes as you make her feel special and loved.
53. Personalized Blush Gift Box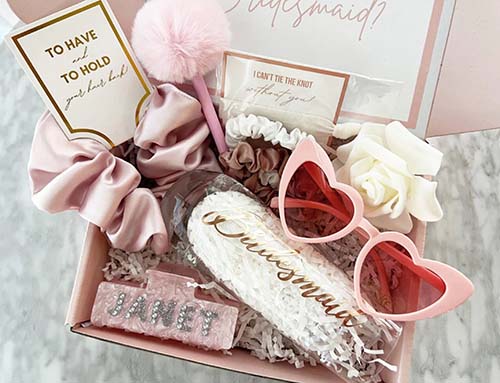 Personalized with her very own name or nickname this boxed set asks the question, Will You Be My Bridesmaid in the best way. They'll love their new hair claws, wine glass, scrunchie, and sunglasses.
54. Custom Rustic Proposal Box
You get to pick the colors in this rustic proposal box! Engraved with her name, this set comes with hair elastics, a compact, sunglasses, lip balm, chocolates, wine stopper… honestly, this list keeps going with this generous gift box that is all personalized.
Related: 55 Best Bridesmaid Proposal Boxes & Ideas
55. Friendship Joy Box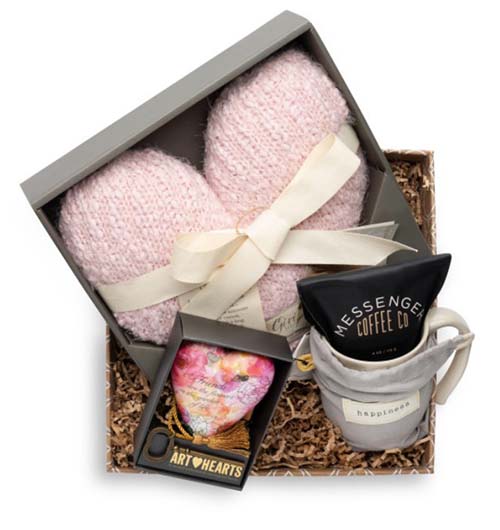 The heart-shaped pillow in this gift box is weighted, so it feels like a hug from you. This little box will light up her day and she'll find herself reaching for the contents often. Too snuggly and cuddly for words!
56. Welcome Tote Bag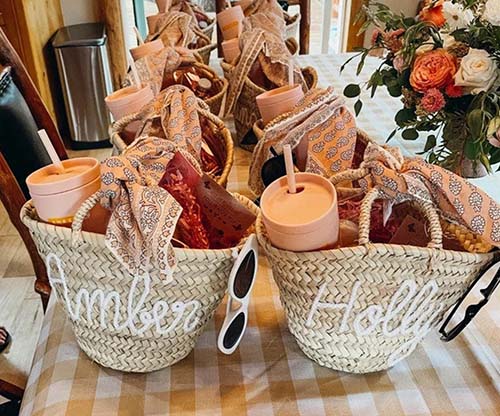 These personalized tote bags are great for a beach wedding! Or a cabin getaway, a mountain venue… Actually, anywhere you head with your new personalized tote you'll be looking great. A great size for slipping in a book, a camera, sunglasses, maybe a snack. Anything at all!
57. Pajama Package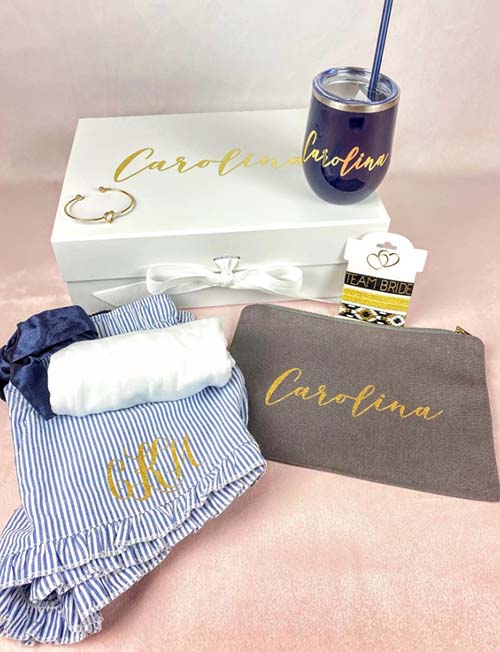 This customized pajama box comes with PJ shorts, a wine tumbler, and more – so many fun items! Your bridal party will love everything that comes inside a box of your color choosing. Such a cozy way to say "thank you" and "I love you" to the girls who made your day so special.
58. Sage Green Maid of Honor Gift Box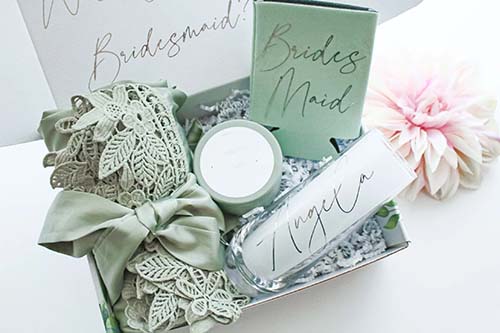 This box is in the prettiest shade of green we've ever seen! The lacy robe is something else, too. She'll love this box and want to know where in the world you found it. It actually comes in a ton of colors so if green doesn't float your boat, there's another hue that will!
59. A Moment of Love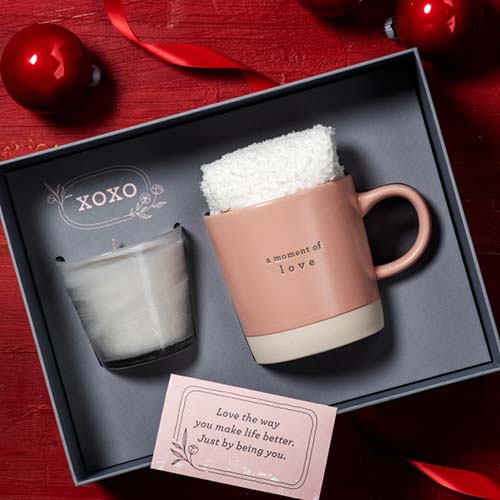 Who doesn't love fuzzy socks? No one, that's who! This great box is a wonderful gift for a hard working maid of honor or bridesmaid, with its socks, mug, and candle. Definitely three things she'll be reaching for at the end of a long day.
60. Boho Bridesmaid Gift Box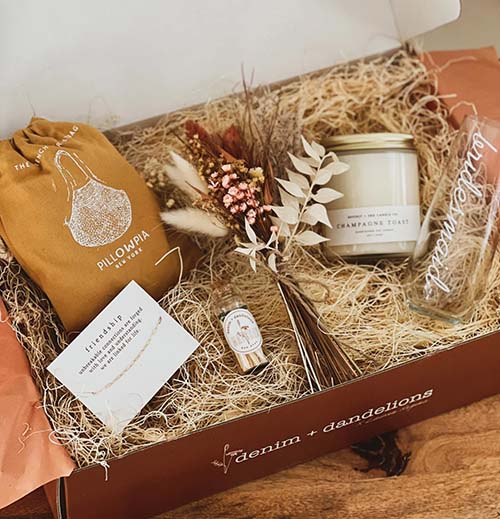 This boho gift box is perfect for your rustic wedding! They'll love the farmer's market bag, the dried flowers, safety matches, candle, and champagne flute. It even comes with a handwritten note!
61. Plantable Proposal Cards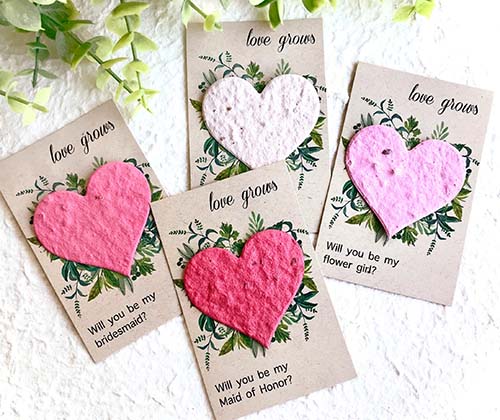 These clever little hearts aren't just cute, they're 100% biodegradable and will bloom when planted! What a nifty gift and a natural way to ask the question, Will You Be My Bridesmaid… or Maid of Honor… or Flower Girl. A no-brainer for the environmentally friendly bridal party.
Related: Eco-Friendly Gift Ideas
62. Minimal Gift Box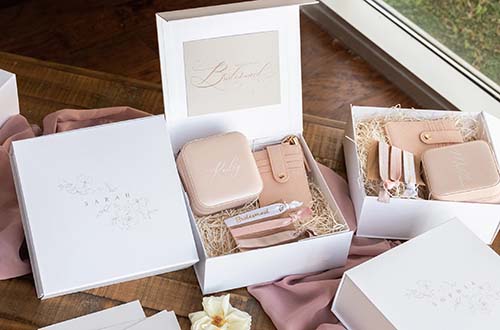 Keep it simple with this minimal gift box! No one needs too many silly items to clutter up their shelves or suitcase. She'll love this one with only the best and most needed of wedding things!
Love giving minimalistic gifts? Click Here for some more ideas.
63. Rose Gold & Black Custom Gift Box
This black and rose gold box really stands out amongst the rest, doesn't it? It's personalized from head to toe with all sorts of intriguing goodies: from a champagne flute for toasting the bride and groom, to a yummy candle, to sunglasses and lip balm.
64. Navy Gift Set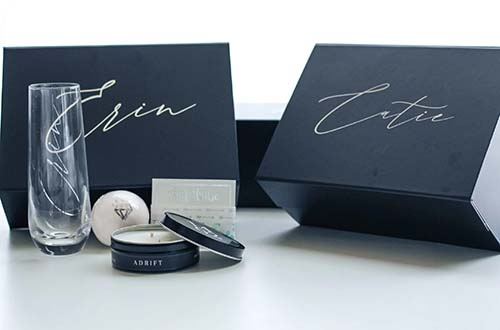 This posh set is for the sophisticated crowd only! If being chic is her thang, she'll love this gift box with its deep shade of black and silver, its contents include a personalized flute, candle, and hair tie.
65. Burgundy Rose Personalized Box Set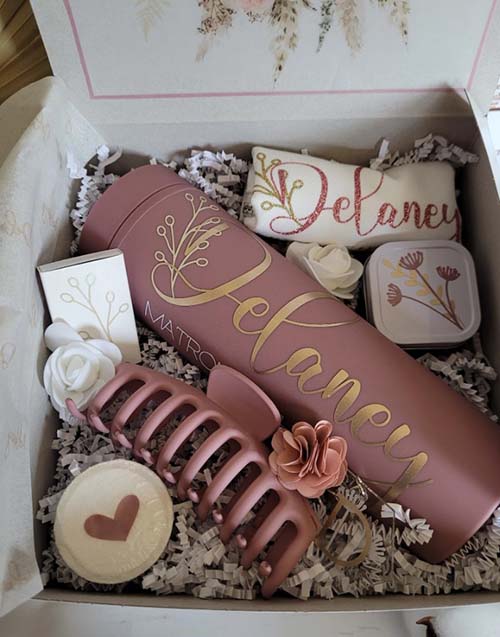 This enchanting Burgundy Rose Personalized Box Set includes all the best stuff, and exudes boho charm while asking the all-important question. She'll definitely want to be on your team when she receives this bridal gift package!
The set includes a personalized makeup bag, a personalized tumbler, scented candle and matches, keychain with your bridesmaid's initial, hair claw, and a bonus shower fizzie.
DIY Bridesmaid Gifts
66. DIY Sangria Kit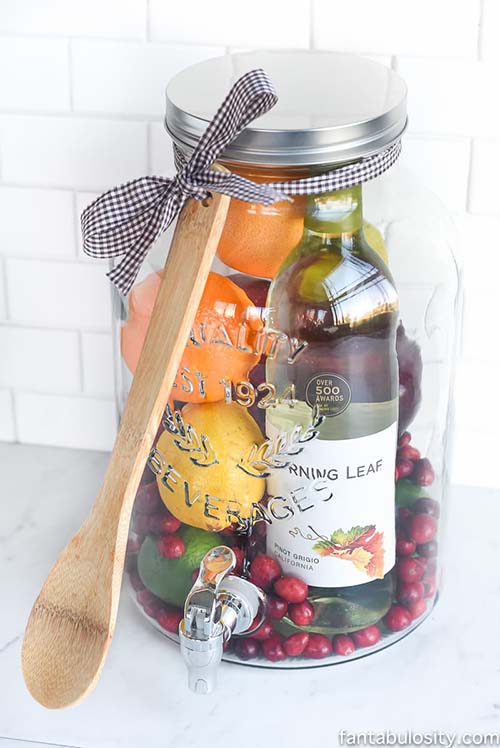 For your favorite ladies, put together this DIY Sangria Kit. All you need is a drink dispenser jar to serve as your gift box, then fill it with a bottle of wine, lemons, and cranberries, then tie a ribbon and wooden spoon together as an accent. Lovely!
67. DIY Praline Rose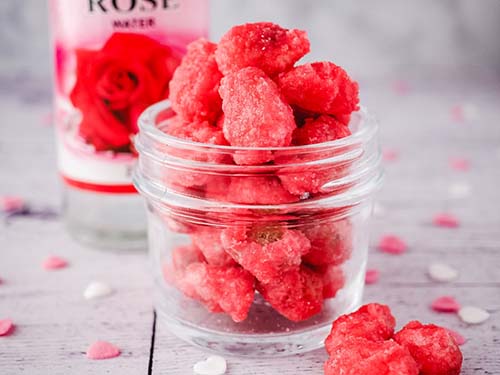 These pralines roses or pink pralines are a delicious combination of roasted almonds caramelized in pink sugar. They are pretty as a picture and make fabulous homemade gifts. Ideal for your bridesmaids who appreciate knowing that you made these yourself.
68. DIY Sugar Scrub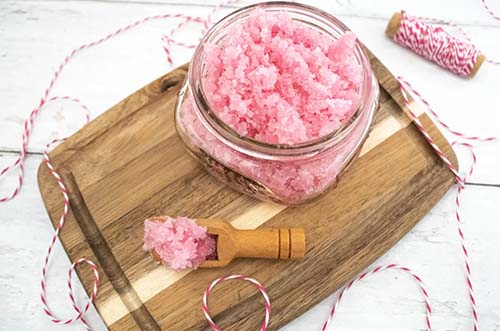 Make a tub of this pretty pink cherry sugar scrub for each bridesmaid as a thoughtful DIY pampering gift!
69. DIY Rose Bath Salts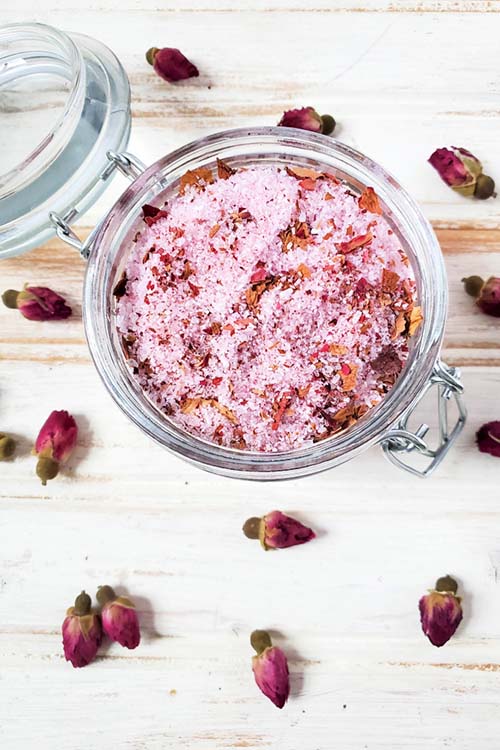 Gorgeous Rose Bath Salts are not only beautiful but romantic as well – the consummate wedding thank you gift for bridesmaids and other special people!
70. DIY Spa in a Jar Gift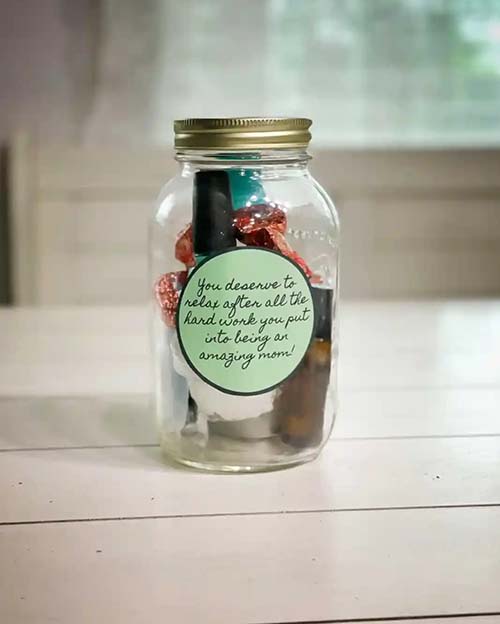 Combine a couple of homemade beauty products into a pampering goodie jar that your bridal party will love. A Spa in a Jar makes a great gift that you can easily customize to fit any gifting needs.
How Much to Spend on Bridesmaid Gifts
Your bridal party gift budget is ultimately up to you. How much you spend on bridesmaid gifts may depend on how many bridesmaids you have, how close they are to you, and how much you have in your overall budget.
This can be as little as you like for a wedding on a budget, for the bridal party with very few duties to perform, or if your lifestyle and personality (and thus, your wedding) is simple and minimalist. You can find (or make) thoughtful and fitting gifts for as little as $5-10 each.
Or the gifts can be completely decadent, especially for a wedding that took a very long time to plan, was extravagant, or destination-themed. It's not really about how much money you spent on them, as it is about how much you love and appreciate them and can communicate that with a great gift!
For those of you who need hard numbers, $10-25 per gift is a pretty typical range. You'll find plenty of great options near that price point on our list above. And you know that number can go up as high as you like.
Click Here for more gift giving etiquette tips.
When to Give Bridesmaid Gifts
When you have bridesmaids, of course! In all honesty, not every bride gives a gift, but we think it's the least you can do for a bridal party who went above and beyond for you.
Even a little DIY gift is better than nothing and will show you care and adore them. So, whether it's extravagant or small, expensive or homemade, your bridesmaids will melt when given the perfectly chosen token of your endless thanks.
There are three occasions that are most typical for giving bridal party gifts:
When you ask her to be your bridesmaid
At the bachelorette party (typically 1-4 months before the big day)
After the rehearsal dinner when the bridesmaids traditionally gather for drinks and fun times
Read Next: 60+ Bridal Shower Ideas
Pin It