Bridesmaid proposal boxes are totally in right now.
Of all the trends that have popped up over the last few years, some are better than others. But "proposing" to your bridal party? We kinda love that.
How wonderful to make your favorite people feel special and valued like that! So, when you're ready to pop the question to your bridesmaids-to-be, here are our 55 best proposal boxes and ideas to get you started.
Bridesmaid Proposal Boxes
Our website is supported by our users. We sometimes earn a commission when you click through the affiliate links on our website. See our privacy policy & disclosures for more information.
1. Will You Be My Bridesmaid Box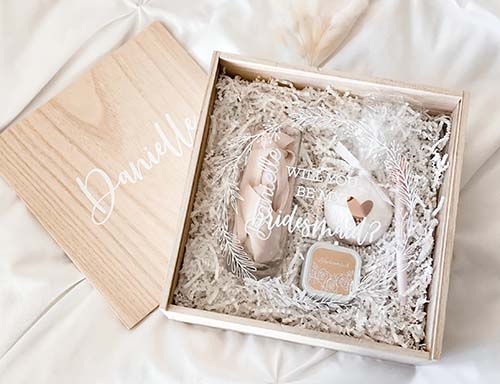 This unfinished wood box has a rustic, almost boho vibe to it. It will arrive with your friend's name engraved in a swirly font right on top, and has a personalized card as well. You can put mementos inside, too, or leave it for your bridesmaid to fill up with treasures.
2. Navy Blue Personalized Bridesmaid Proposal Box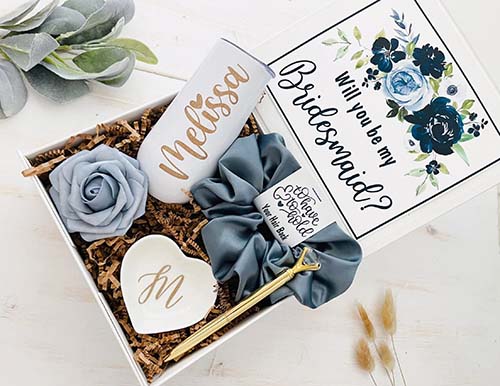 This beautiful box is a delight from top to bottom! Or should we say, outside to inside. Your friend's name is right on top, but that's not where the personalization ends. The champagne tumbler has her name as well.
And how cute is the tag on the scrunchie? "To have and to hold… your hair back." The artificial rose matches the scrunchie color, and you can also upgrade to have the box include a pen and a ring dish as well.
3. Terracotta Bridesmaid Proposal Box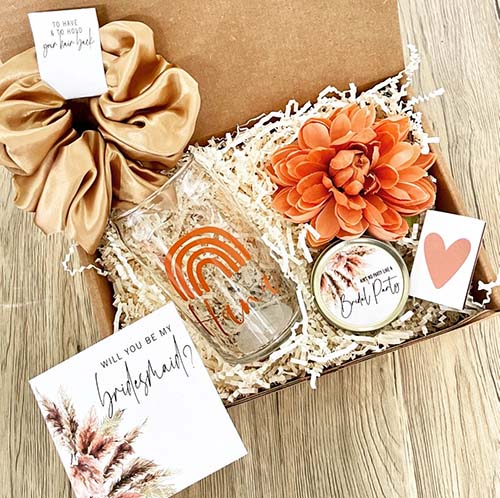 This terracotta proposal box is perfect for when you're having a rustic barn wedding, or maybe a forest theme! It's personalized with a fun wine glass that also comes with a straw, a card, ribbon, scrunchie, and a candle. Everything you need to propose to your bridal party.
4. Blush Pink Proposal Box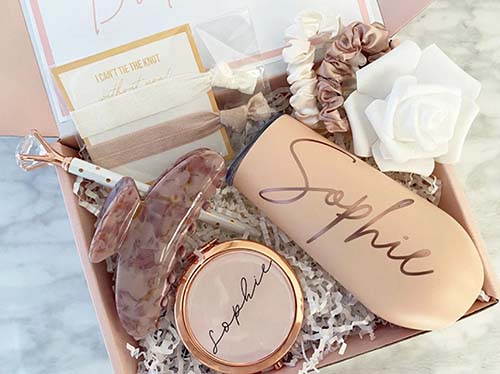 This pretty box brings to mind a blush wine or a rose gold hue. If pink is your color, this box is going to be perfect. It comes with a personalized card and champagne flute, a scrunchie, a polka-dot pen, hair ties, a foam rose, a claw clip, and a personalized mirror.
5. Bridesmaid Proposal Photo Box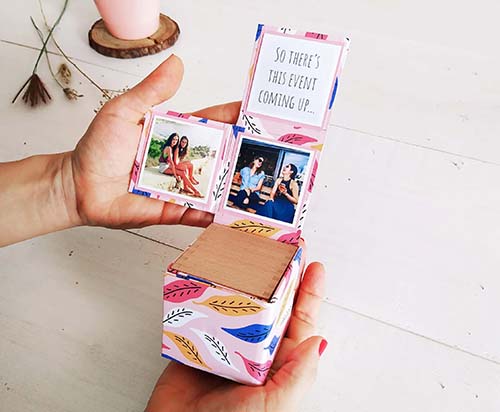 Now this one is just so clever and unique! We're obsessed. This little bitty box becomes larger than life when your friend begins to unfold it. Inside, she'll find photos of the two of you and her bridesmaid proposal. Once it's all unfolded, she can hang it on her fridge to admire.
6. Black and Rose Gold Bridesmaid Box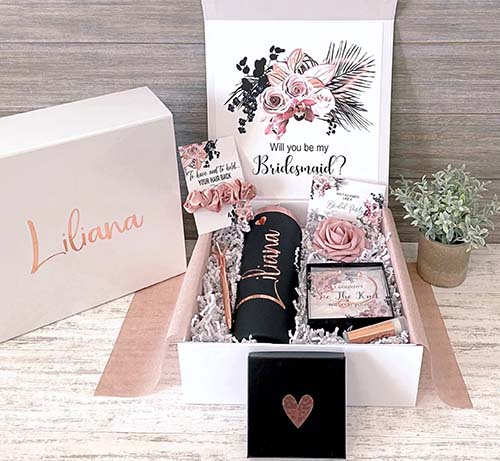 This black and gold version of the classic bridesmaid box is really stunning and sophisticated. You can purchase just the box itself if you like the idea of filling it on your own, or you can buy the contents which include: a pen, lip balm, bracelet, mirror, and a personalized tumbler or champagne flute.
Related: Sweet Personalized Gifts for Her
7. Bridesmaid Proposal Tote Bag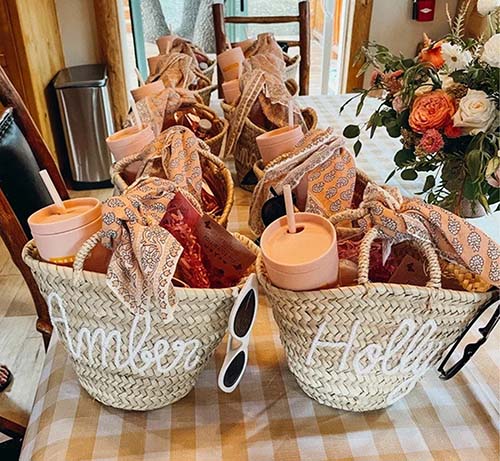 We love these beachy boho proposal totes! They have your girl's names right front and center, and are handmade in Morocco. They will be so fun to stuff full of goodies for your bridal party, and they'll be so useful for them to use before, during, and after the wedding.
8. Greenery Wedding Bridesmaid Proposal Box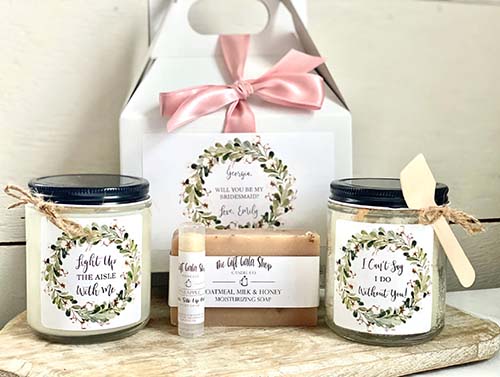 This lovely box comes in a wide variety of scents, making it even more fun to pick out, order, and enjoy! The labels are adorable and witty, and the soaps and sugar scrubs mean an evening of pampering after she helps plan the big day with you. And it's all wrapped up prettily with a satin ribbon.
9. Personalized Tumbler Proposal Box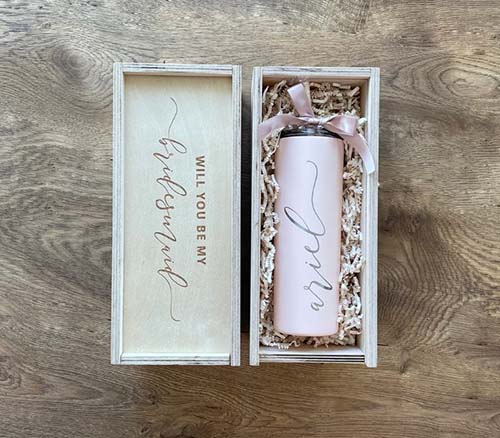 This pretty and practical tumbler comes in blush pink, marble, white, or black, and has her name engraved on the front. It's vacuum sealed so her beverages will stay either hot or cold while she helps you shop for a wedding dress. And you know how long that will take!
The tumbler comes nestled in a wooden box with a sliding top, with the "proposal" inscribed.
10. Purple Florals Bridesmaid Proposal Box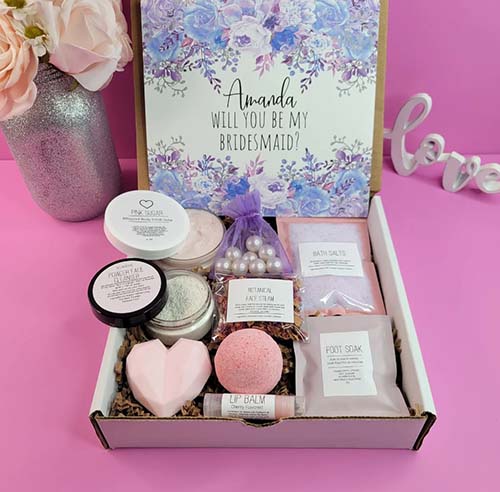 These gorgeous floral bridesmaid boxes come with a lot of options, so you can really finetune them to meet the needs and wants of your girls.
Whichever box option you choose, you're bound to be delighted with all of the pampering items inside. There's everything from goat's milk soap, to lip balms, to sugar scrubs and face masks.
11. Champagne Pink & Silk Robe Proposal Box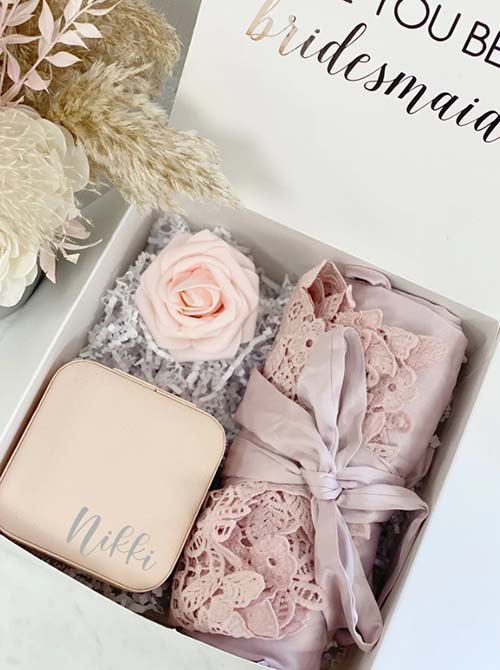 Your wedding day "getting ready" photos will be made even sweeter and cuter when you all have matching silk robes like these! This proposal box comes with a beautiful robe, a personalized jewelry box, the ever-important card/proposal, and a faux flower.
12. DIY Bridesmaid Proposal Box
When you're planning a wedding, you are on a serious budget. If you're even just a little bit crafty, you can put together your own DIY bridesmaid proposal boxes.
Haylie teaches you all her clever ways to save some money but still end up with high quality, totally unique boxes for your friends. They all clock in at around $10 each -— so affordable!
Maid of Honor Proposal Boxes
The maid of honor is a special position, one which can only be filled by the most special person in your life! (Well, maybe second most. After all there's that someone you're getting married to….)
Show her how much she means to you with an exquisitely personalized proposal box designed just for her.
13. Maid of Honor Photo Proposal Box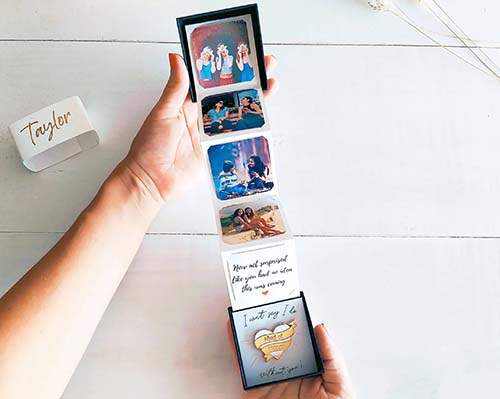 These little colorful boxes (choose your color) look ordinary… until you begin to unfold the layers! Personalized photos take the cake as your soon-to-be maid of honor unfolds this clever invention.
You can nestle a tiny gift of your choosing at the bottom, or you can add-on one of their wedding pins. And there is a magnetic strip included, so she can hang her photo strip up on the fridge to make her smile each time she sees it.
14. Champagne Pink Proposal Box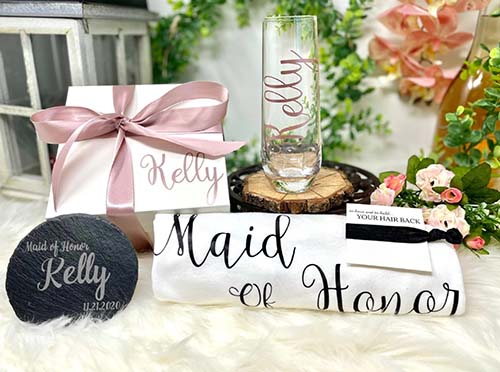 This classy proposal box comes with a satin pink ribbon, a racer-back tank or tee, a glass champagne flute, a coaster, and hair ties. Plus, of course, the card asking the big question! And everything is personalized with her name.
Such a lovely selection — and if pink isn't your color, there are others to choose from.
15. Something Blue & Gold Proposal Box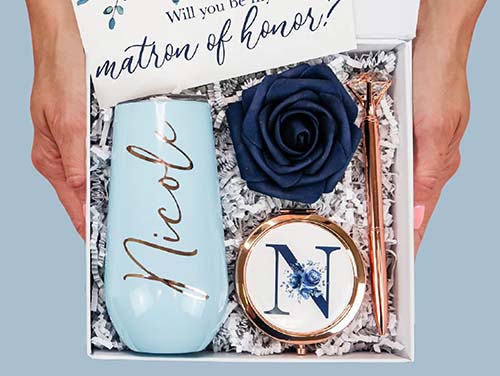 There's just something swanky about this blue and gold proposal box. It really catches the eye. This box comes with a tumbler, milk chocolate candies, a fancy pen, a dark blue rose, and the ever-important proposal card. You can almost hear her say "yes, I will!" from here.
16. Wooden Card & Succulent Maid of Honor Proposal Box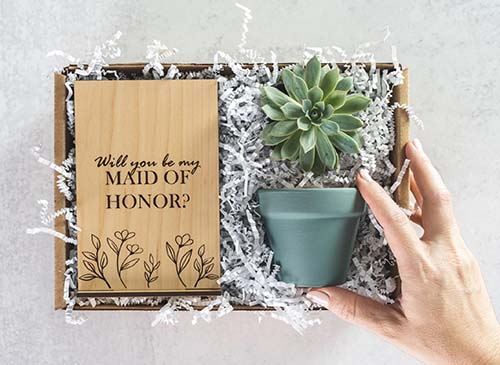 This pretty wooden box comes with a wooden card as well! It's personalized with your hopeful maid of honor's name, and has a lovely little succulent along with it. We love the old-fashioned and vintage feel of this one. You can pick the color of the pot for the succulent, and there are a ton of add-ons you can choose from, too.
17. Personalized Boho Maid of Honor Gift Box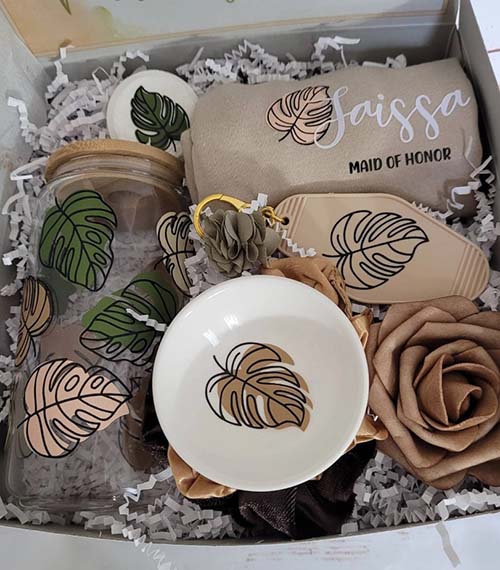 This personalized boho maid of honor gift box is totally fun! She'll love answering your question with a resounding "yes," as she puts on her new shirt. The box also includes a soda can glass, a custom keychain, a ring dish, 2 scrunchies, a shower fizzie, and a flower. 
Related: Best Gifts for Your Maid of Honor
Boxes for Bridesmaid Gifts
These gorgeous proposal ideas come with all the elegance and creativity, but at a fraction of the price.
18. Cheap Proposal Boxes for Bridal Party
They may be "cheap," but they don't look like it! This set of 10 boxes are charmingly decorated and ready to be filled with whatever treasure you deem fit. They'll be so fun to pack, and even more fun to give out to your bridal party.
19. Olive Green Personalized Box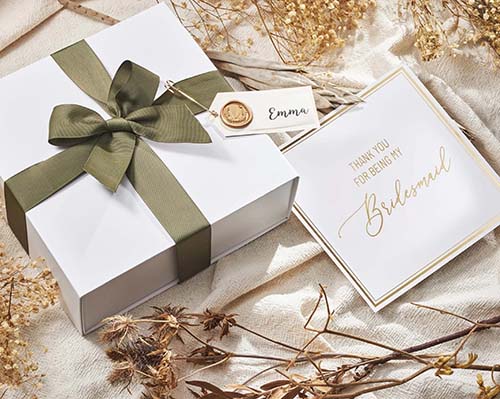 These simple white boxes are made extra special with the addition of a luxury ribbon. The olive green is soothing to the eyes and has a botanical feel, however there are other colors to choose from. Also comes with 9 different choices for message cards.
20. Ivory Proposal Boxes
This pink and ivory watercolor style box is so pretty! Unique too, with its swirl of soft colors. You can buy just one, or purchase a set. A navy silk ribbon completes the ensemble. Have fun packing this beautiful box with all sorts of mementos and useful treasures.
21. Personalized Gold Box
This gold version is so fancy looking! The box itself is personalized with your bridal party's name in pretty, bold lettering, and is sturdy and large enough to fit all of your treasures inside. The white ribbon adds a nice, classy touch.
22. Engraved White Wooden Box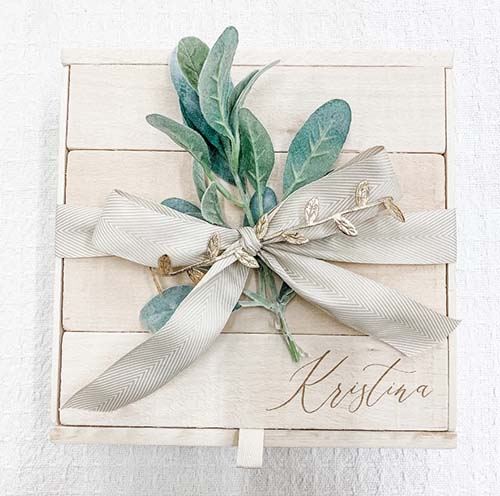 This wooden box is so pretty! It's engraved with their name and is just begging to be filled with all sorts of goodies for your bridal party. We like it as-is, but you could add some more decorative touches if you like: from ribbons to flowers to whatever you like.
Bridesmaid Proposal Cards
A box might feel like a little much. It's good to know that there are plenty of wonderful bridesmaid proposal cards for you to use! Here are some of our favorites.
23. Flower Seeds Proposal Cards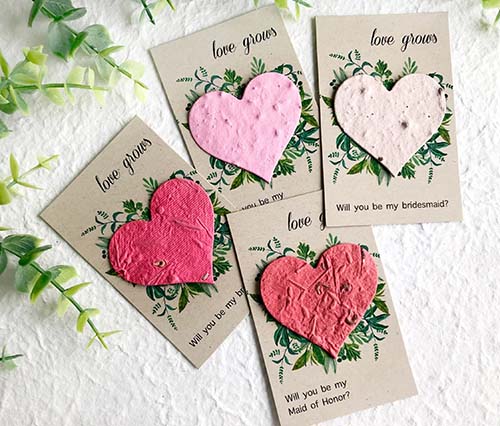 These seed paper flower cards are sustainable and friendly to the earth, making the perfect choice for a "green" wedding. These fresh seed cards come in whatever color you choose and are a set of 8. After they've been planted, your girls will enjoy pink and red poppies, black-eyed susans, marigolds, snapdragons, blue bachelor buttons, shasta daisies, pink cosmos, columbine, and godetia!
Related: Beautiful Flower Gifts for All to Love
24. Calendar Date Proposal Card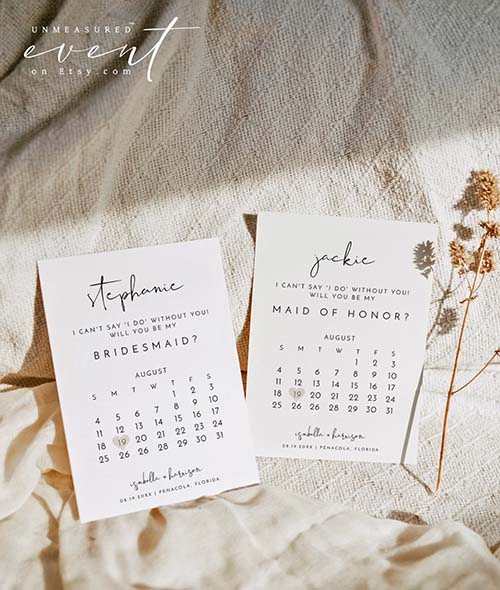 A sweet and simple way to ask the big question, these calendar date proposal card templates fit the bill. It has a minimalist design and they're so easy to print out. Plus, they will look great pinned up on your girl's wall or hung up on the fridge until the big day arrives!
25. Photo Proposal Card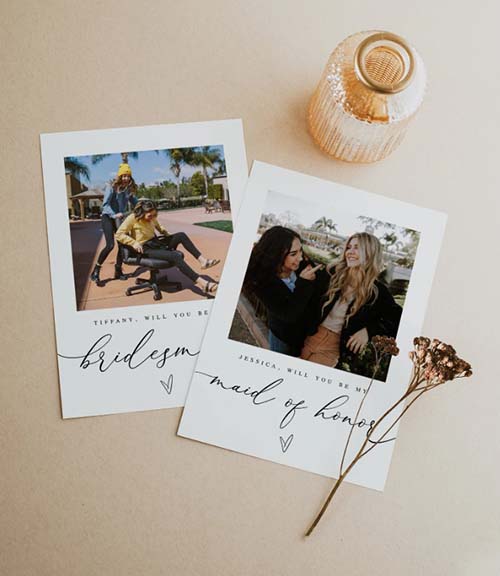 These photo proposal cards will melt their hearts. They look like a Polaroid photo, and you can try before you buy so you're completely satisfied. Such an inexpensive and fun way to propose! And easy enough to mail as well, if your bridal party is scattered.
26. Now Act Surprised…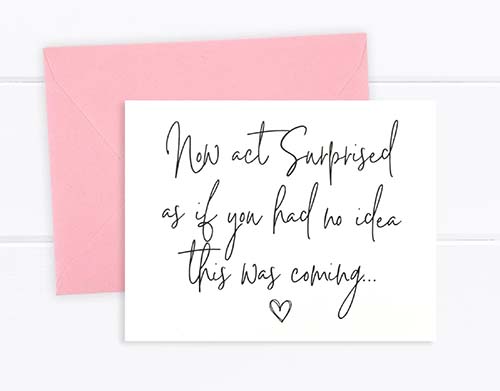 These cards are soooo cute! Your bridal party will love opening this card and practicing and perfecting their "surprised" faces. They're inexpensive, so if you are planning to have a huge wedding party, these are the way to go.
27. Scratch Off Proposal Card
This card of navy blue and gold is swanky, but also witty. Your girls can scratch off the big question just like they'd scratch off a winning lottery ticket, only this is even better! You can choose the envelope color, too.
28. Minimal Stamped Proposal Card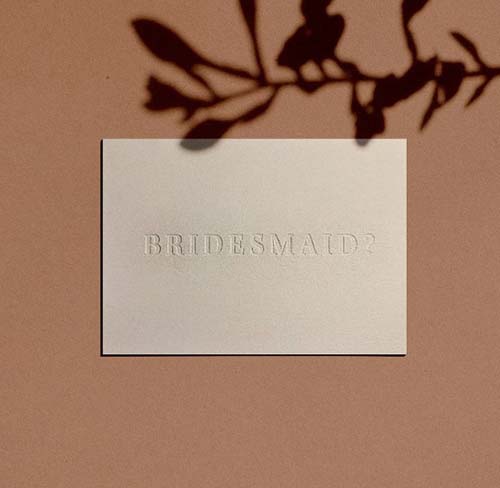 These 100% cotton paper stamped proposal cards are pretty as a picture! The inside is blank, meaning you can really personalize what you want to say to your bridal party. Comes with a matching cotton paper envelope as well.
29. Pop The Questions Proposal Card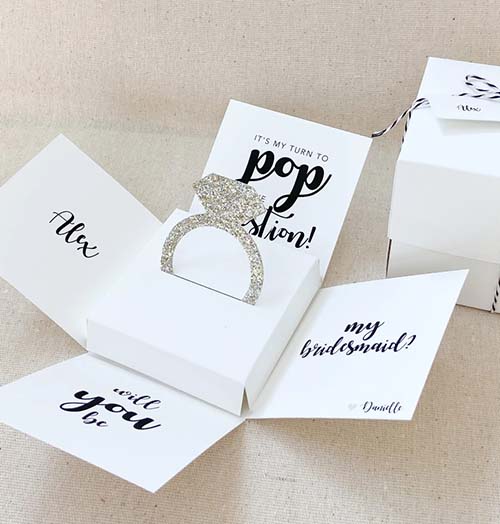 This clever little box contains not only the question of the day, but a fun glitter paper pop-up ring and, if you like, a necklace with her initials in rose gold. The box card comes in white, pink, or gray.
30. Floral Terracotta Proposal Card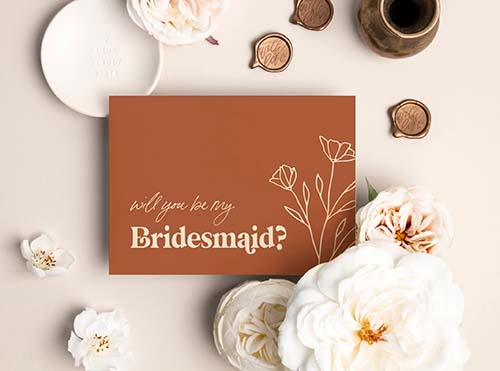 When it comes to this terracotta color, we're obsessed! This proposal card is way too pretty to ever toss in the trash — she's going to want to keep it long after she says "yes" to your proposal.
Bridesmaid Proposal Quotes
What should you say in your bridesmaid proposal? Here are some wonderful wording ideas for you to borrow, adapt, or straight-up swipe.
31. I promise no ruffles or puffy sleeves, but will you be my bridesmaid?
32. Turns out I like him more than I initially thought. Will you be my bridesmaid?
33. All you have to do is show up! And maybe help me pick out a dress.
34. I found my man, but I still need my girls! Will you be my bridesmaid?
35. Obviously, you're going to be my bridesmaid, right?
36. He's marrying me, but he's stuck with us!
37. I promise I won't make you wear an ugly dress.
38. I said yes to my man, now will you say yes to me?
39. I can't say I Do without you!
40. You're going to be my bridesmaid. Ok. Good talk.
41. Just don't look prettier than me. Will you be my bridesmaid?
42. The best day ever must include you!
43. I got my ring — now let's do this thing!
44. The One Where You're My Bridesmaid.
45. I CAN'T EVEN without you.
Creative Bridesmaid Proposal Ideas
Here are some ways to make "popping the questions" extra-special.
46. Take Them Out for Brunch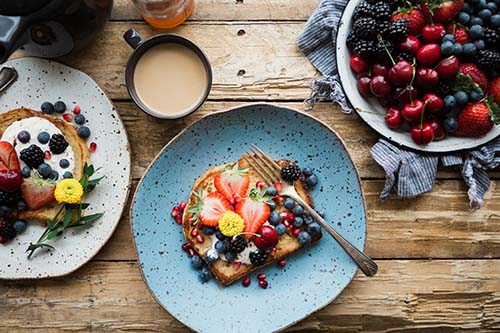 Take them all out for brunch together or one by one, and present them their bridesmaid proposals! Don't forget to have the video recording their reactions.
47. Bridesmaid Movie Night Sleepover
Invite all your gals over for a wine-filled, wedding movie marathon! Pop the question to each of them all at once sometime during all the fun.
48. Hire a Celebrity Cameo
Hire a celebrity to make the proposal even more special! C'mon. How cool would that be?
49. Photo Book Surprise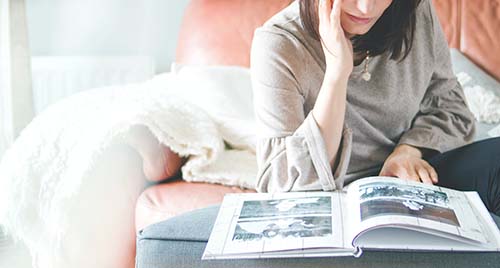 Place photos of you both together into a photo book! It will seem a sentimental gift out of the blue until they get to the end of the book: that's where you ask the special question.
50. Put Together This Custom Puzzle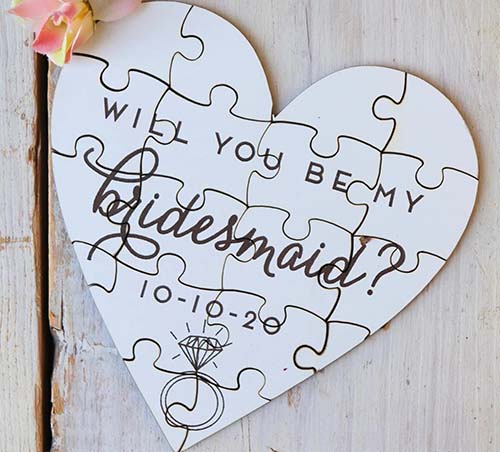 Have them put this fun puzzle together right in front of you so you can see their reaction when they uncover the words! Watch their puzzled expression turn into a smile as bright as your big day will be.
51. Propose with a Fortune Cookie
Now here's a fun idea! Propose to your bridal party with these adorable fortune cookies! I have a feeling Confucius will be saying the same thing to each of them…
52. Bridesmaid Proposal Glamping
Whether it's in the backyard or at your favorite campground, take your gals out for a fun night of camping, s'mores, and proposal boxes! What a great excuse for some quality time in the fresh air.
53. Destination Wedding?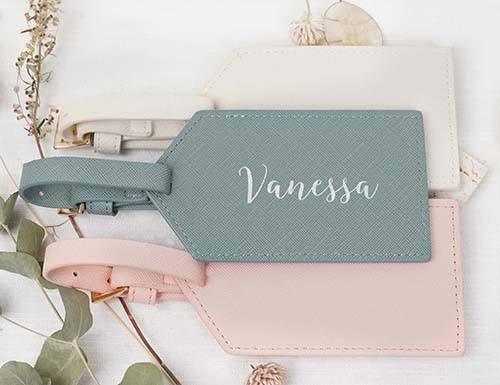 When you ask for them to be a bridesmaid/maid of honor at your destination wedding, ask with something personal like a personalized luggage tag or passport cover. They're going to need them once they say yes!
54. Proposal Sugar Cookies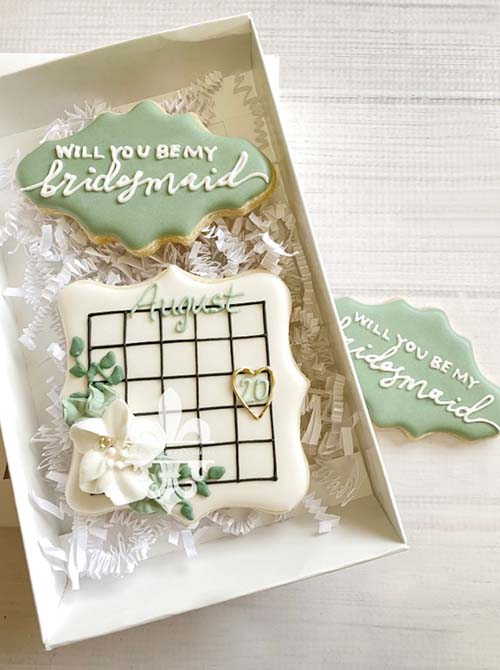 Bake some sugar cookies for them with the phrase "Will you be my _____" written on top in icing, or save yourself the trouble and just buy them these!
55. Engraved Wine Glass Proposal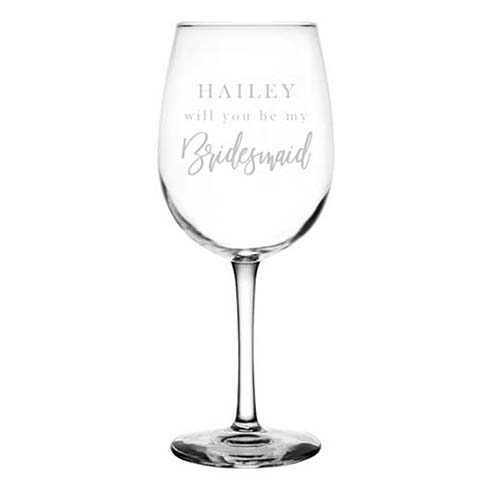 Invite your friend over for girl time or drinks and instead of a regular glass, hand them this wine glass that reads "Will you be my____?" What a fun keepsake for life!
Read Next: Bridesmaid Gifts for Everyone