She's done so much for you, the bride, ever since you asked her to be your maid of honor…
We're talking bridal showers, dress shopping, talking you off the ledge (so to speak), and that's really just the tip of the iceberg. It's time to honor your maid of honor with something special that will get you both down that aisle with smiles!
But where can you find such an extraordinary gift? Look no further! We've gathered 50 maid of honor gifts that are sure to take her breath away.
50 Best Maid of Honor Gifts
Our website is supported by our users. We sometimes earn a commission when you click through the affiliate links on our website. See our privacy policy & disclosures for more information.
1. Forever Rose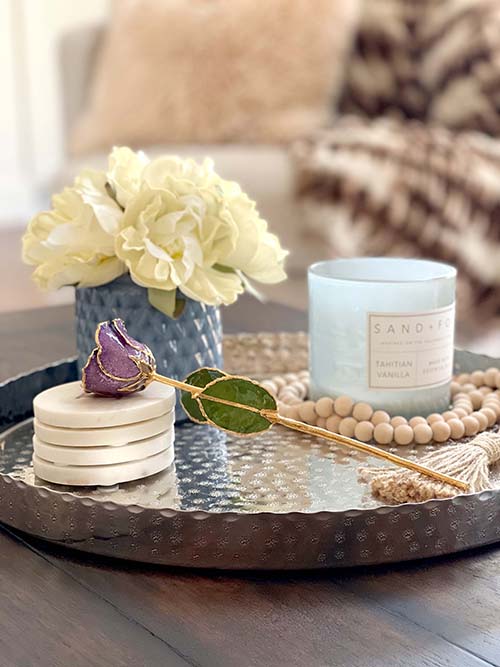 This Forever Rose is one in a million! She'll love having something to keep for all time after the big day finally comes to a close, and this elegant long stemmed rose is just the thing.
It's exquisitely crafted of the prettiest colors and fine metals, all resulting in a breathtaking flower that will last as long as the title implies: forever.
2. 10 Reasons You're My Best Friend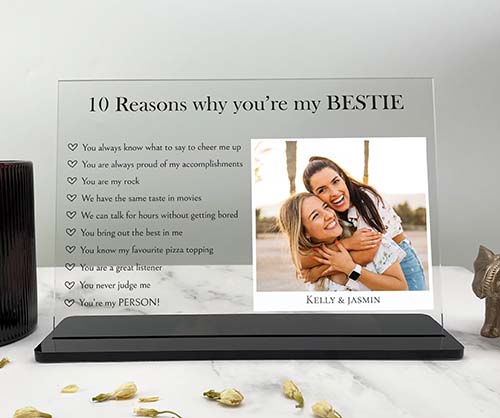 Let your maid of honor know why she has such an honorable role with 10 personalized reasons engraved into a frame she'll want to keep forever! She'll be so touched by this special keepsake.
3. Personalized Song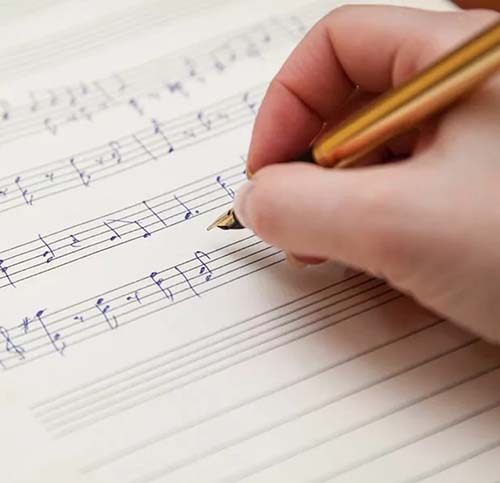 It's a little like an old-fashioned mixtape, only much, much better! This personalized song takes your favorite memories of you and her and turns them into one-of-a-kind music and lyrics!
She'll be absolutely blown away at the thoughtfulness of this special and totally unique gift.
Related: Bridal Party Gifts for Everyone
4. Pairs Well with Maid of Honor Duties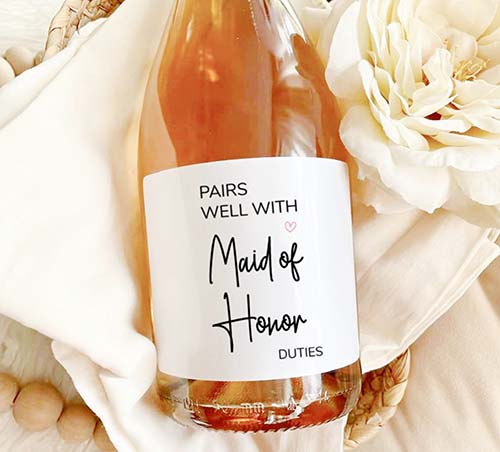 These adorable wine bottle labels are too cute! An easy way to transform her favorite bottle of wine, liquor — any beverage, really— into the sweetest treat on the table.
After all the work she's been doing and the errands she's been running to make your big day extra special, she definitely deserves a nice glass of wine! Or three…
5. Hanging Heart Maid of Honor Thank You Gift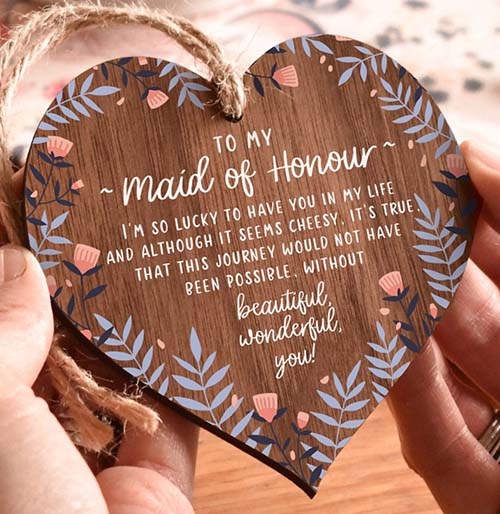 This walnut wood heart is perfect for letting your maid of honor know just how much she means to you! The sweet words fit perfectly onto the little heart, and the jute string means she can hang it from her Christmas tree or car rearview mirror. So adorbs!
6. Thank You Roses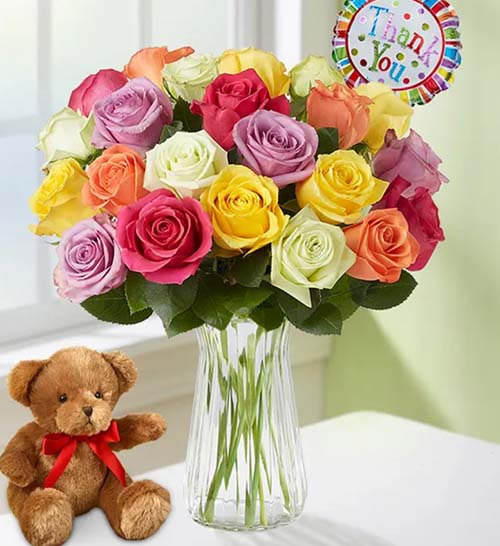 These beautiful roses will say it all without saying a word! Pick her favorite color and make her feel spoiled rotten with a gorgeous bouquet. She's used to seeing you have flowers delivered from your fiancé — now it's her turn to be the center of attention!
7. Grateful Heart Mug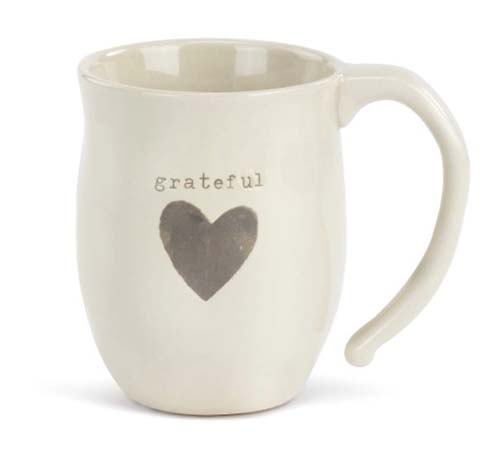 This sweet little mug says it all right on the outside! Pair it with a bag of her favorite local coffee, a box of tea, or some decadent hot cocoa for a little pick-me-up. The size is just perfect for wrapping her hands around on a chilly day, and it's bound to become her new favorite cup, used on the daily!
8. Thank You For Your Part in My Journey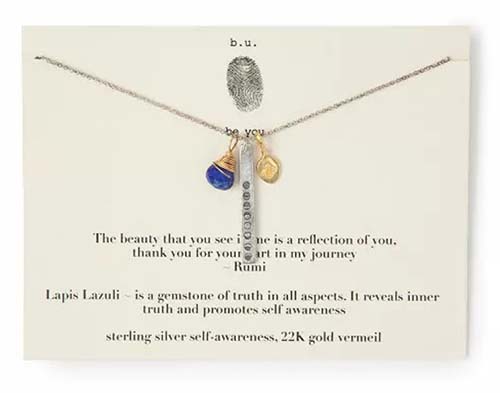 Made from sterling silver, gold vermeil, and stunning blue lapis, this darling necklace is truly unique! She'll love wearing it with every outfit, from a casual tee shirt and joggers, to a little black dress. The sentiment written on the box is so sweet and apropos, too.
Handmade in Pennsylvania.
9. Personalized Relaxation Spa Gift Box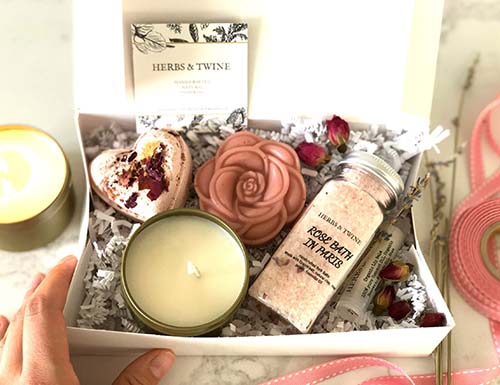 It is DEFINITELY time for your maid of honor to relax, put up her tired feet, and get down with some serious pampering! This pretty box has everything she needs to get started transforming her bathroom into a mini spa. It's handmade, hand packed, and made from 100% real roses.
10. REI Ottoman Massager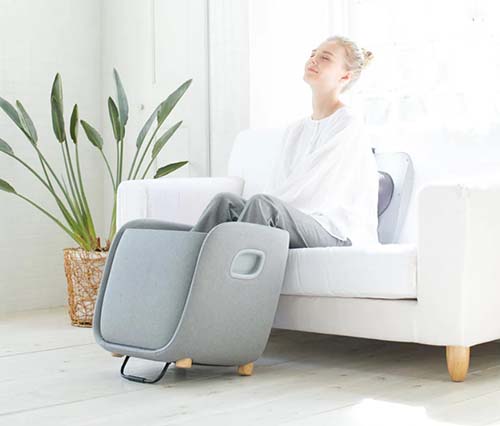 All of those chores and errands she's been running in her maid-of-honor duties surely have her leg muscles and feet feeling the pain! Pamper her lovely legs with this amazing REI ottoman massager. It's the gift that will keep on giving for a long time!
Now, she's ready to walk down the aisle with you, and dance the night away at the wedding.
11. Today My Maid of Honor, Forever My Sister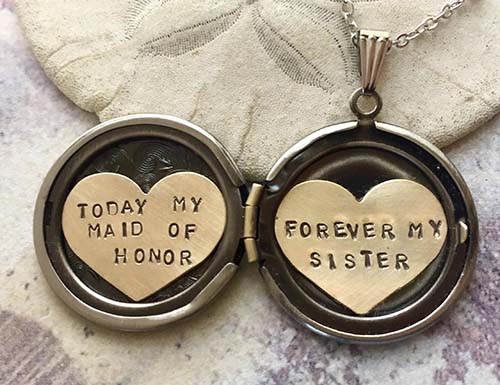 This gold heart necklace is so pretty! Uniquely crafted and with a sweet and special message engraved right on it, this pendant will make her smile (and possibly tear up too). She'll love this thoughtful gift that tells a story.
12. Relaxing Luxury Candles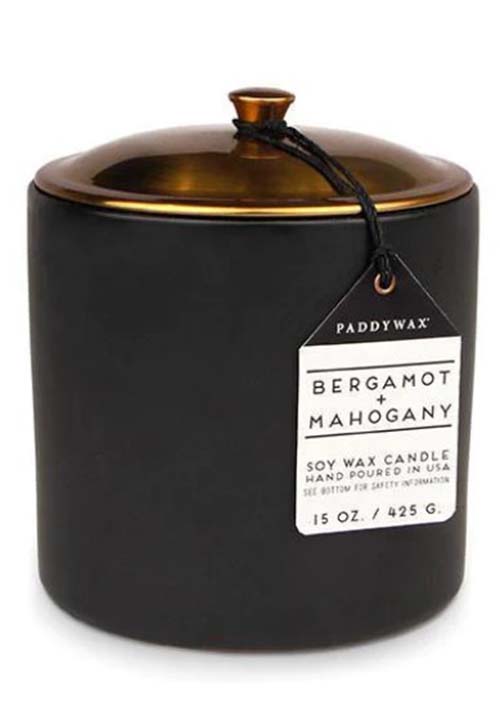 What's Hygge? It's the Danish word for coziness, of course! And there's nothing cozier than curling up in the evening after a long day, with a nice beverage and a burning candle.
These luxury candles will do the trick nicely: they come in tantalizing scents, have a long burn time, and will transform your maid of honor's living room or bedroom into a spa-like, tranquil atmosphere.
13. DIY Gift Basket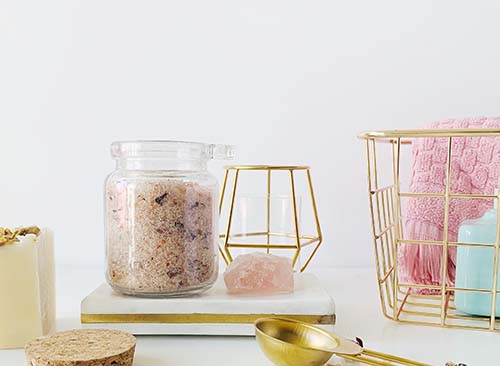 Fill up a gift basket with everything she loves — from candies to nail polish, gift cards to snacks, coffee mugs to scrunchies… The list goes on! There is no way she won't love all the extra special items you handpicked just for her!
14. Yana Sleep Pillow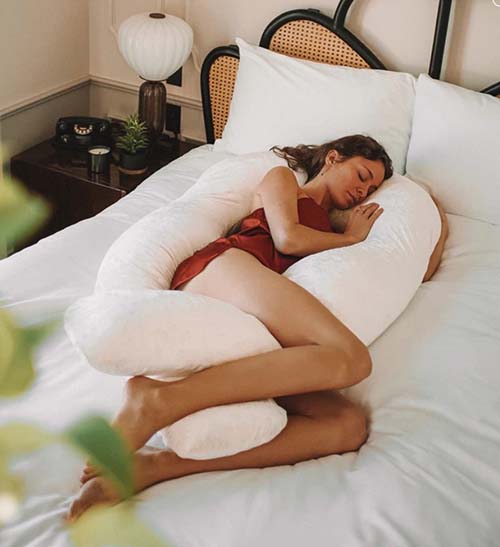 She'll never want to sleep with a normal pillow again! Not after she's snuggled up with this amazing Yana sleep pillow. It's like cuddling up with soft, puffy clouds, but also offers support for sore necks and muscles. Get ready for a huge hug when you give her this one!
15. You Are My Rock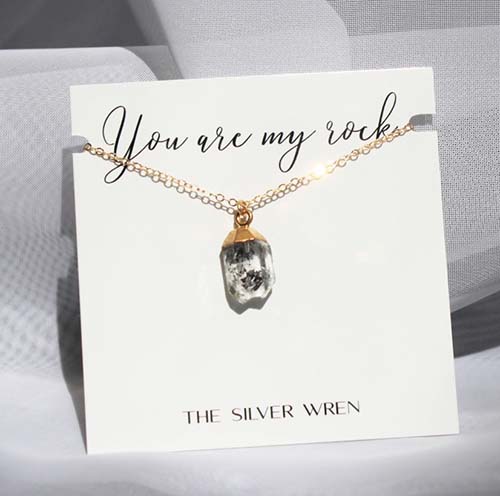 This slide necklace — made from gold, agate, and sterling silver — is going to look so pretty against her maid of honor dress! A lovely trinket that shows how much you care, and how instrumental she has been throughout this wedding process.
16. Shower Steamers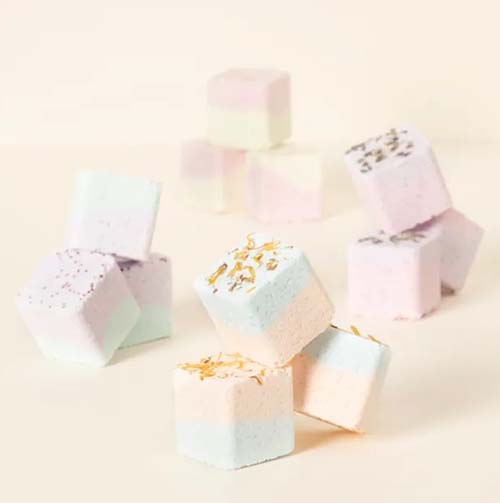 Nothing is better than a hot shower at the end of a long day. Unless, of course, you add some of these wonderful shower steamers!
They come in scents like lemongrass and lavender and are made with essential oils, making them such a great gift for the whole bridal party. But especially your hard working maid of honor.
17. Engraved Keepsake Box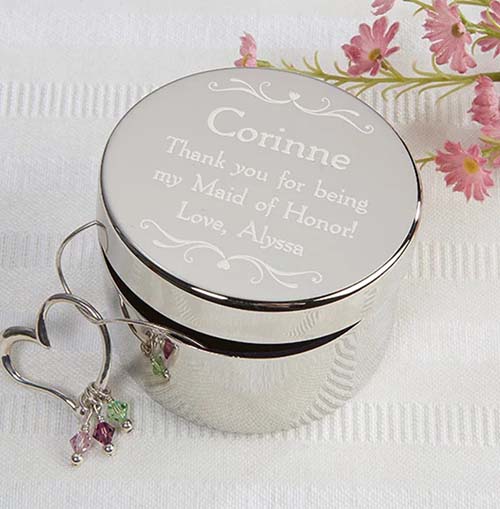 Personalize this beautiful box for a one-of-a-kind treasure to gift to your maid of honor! She'll love having somewhere safe and secure to stash her rings, earrings, trinkets, and keys.
Customize what you want to say to really "fit the bill." And it is a nice way to memorialize the day as well, once you add in the date!
18. Cute Friendship Face Socks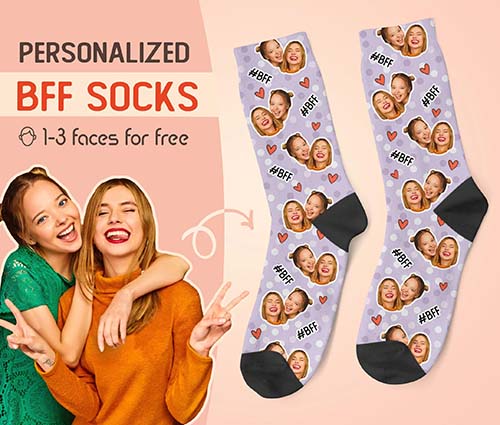 Make her laugh with these winsome socks featuring none other than her cute face! Pick a photo of the two of you together for extra giggles. She's definitely going to wear these often — how could she not?
19. Vera Wang Diamond Mosaic Goblet Pair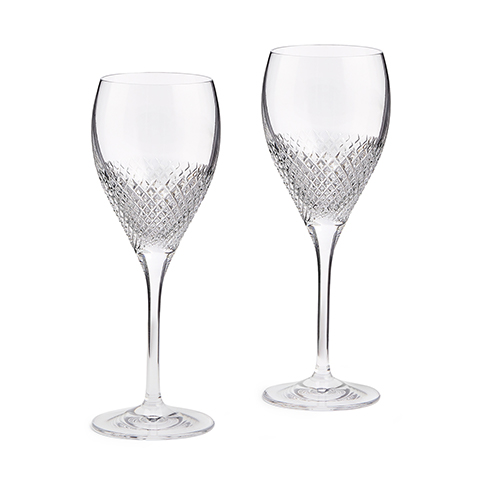 Is your maid of honor a high-end gal that loves a good glass of wine? This pair of diamond mosaic goblets will quickly become her favorite as it will always remind her of how much she means to you.
20. Does She Love Audible?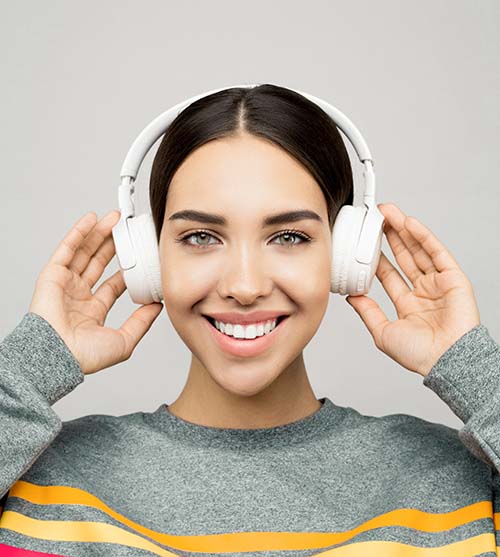 Give the gift of literature to your favorite reader! You can pay for up to 12 months of audible for her. It's the gift that keeps giving every time she wants to listen to something from her TBR pile!
21. Photo Frame Music Jewelry Box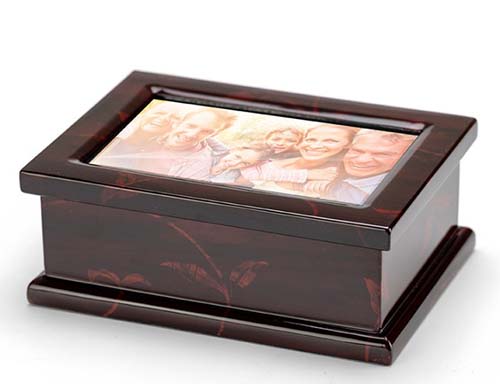 Place your favorite photo of you both on the top (it can be swapped out anytime), and have it play her favorite songs (customized by you)! This is a wonderful gift that is totally personal and thoughtful. Every time she takes off her jewelry, she'll think of you.
22. Giving Shawl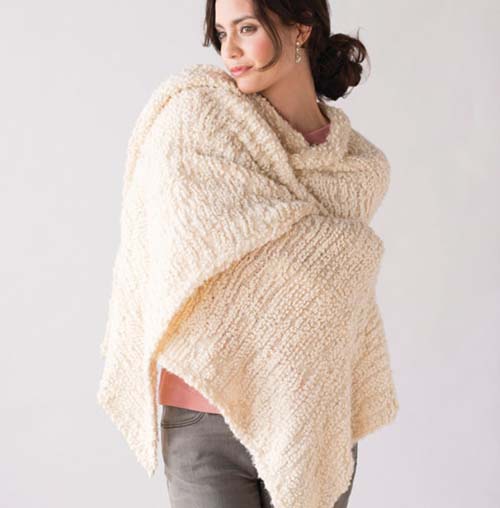 These shawls are ultra plush and soft, but that's not even the best part! The best part? They come with two deep pockets! Umm, yes please. How handy to have a place to store your snacks, phone, or your cold hands on a chilly evening.
23. DIY Whipped Rose Sugar Scrub
Mix up a batch of this delightful rose sugar scrub and your maid of honor will be sitting pretty and smelling wonderful for the big wedding day! It's easy and inexpensive to make, and a DIY homemade gift is always more meaningful than something store bought.
24. Take Her Out to Dinner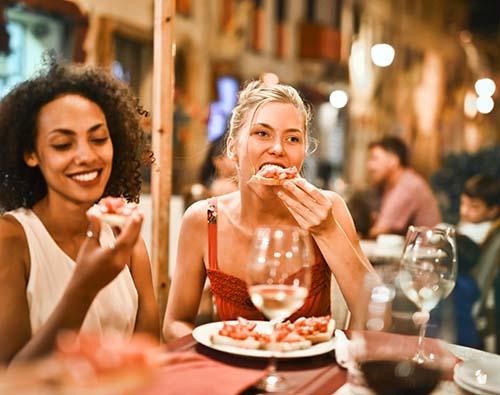 Whether you keep it simple or luxurious, take her out to an all-about-her 'thank you' dinner to show your appreciation for all she's doing for you! It can be swanky and include wine and your best dresses, or it can be her favorite fast-food joint where you toast each other with milkshakes.
The key and point is: it's all about her and your friendship!
25. Monthly Subscription Club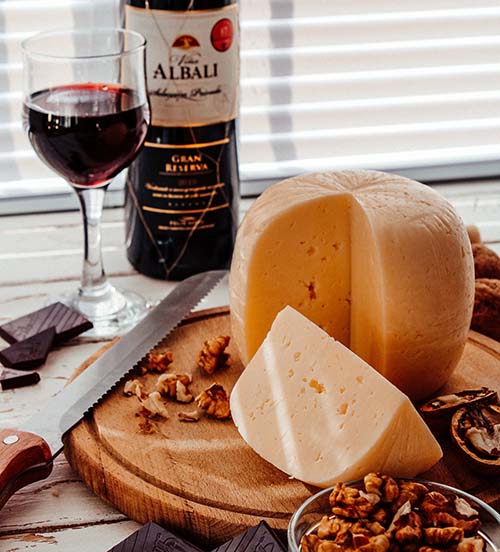 Send her the best chocolates, wine, or flowers every month to remind her how thankful you are of her! It's easy to find a monthly subscription club that she'd enjoy, and the gift keeps coming month after month, making this idea extra special.
26. Personalized Rose Gold Heart Bracelet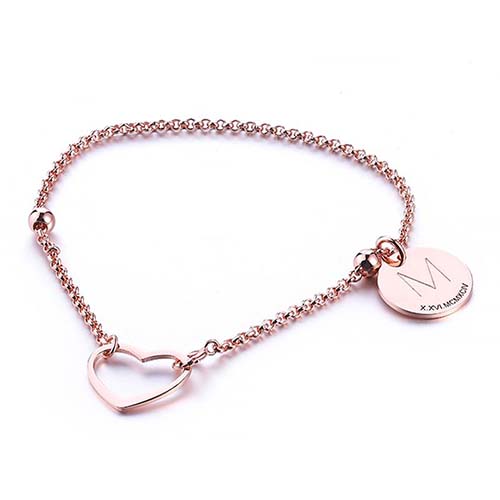 Personalized with her initial, this dainty, rose gold heart bracelet gives us all the feels! It's so charming and sweet, and it will go with all sorts of outfits (even her maid of honor dress). A lovely way to show you care for and appreciate her.
27. Luxurious Weighted Blanket
These luxurious weighted blankets come in a variety of colors and weights, so it's easy to choose the best one for your maid of honor!
Related: Warm & Cozy Gift Ideas
28. Personalized Rhinestone Flask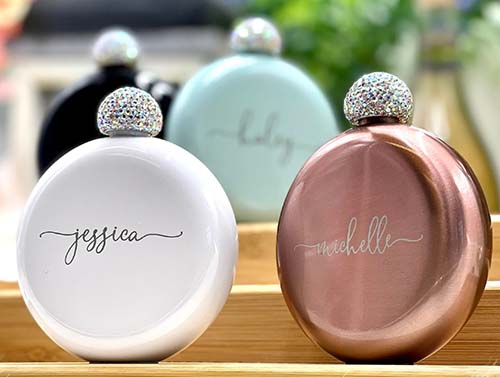 These flasks come in different colors and have rhinestone tops, making them over the top and extra — just the way we like it!
Customized with her name right on the front, she'll love having this cute flask in her purse for the wedding day (especially right before her toast)!
29. Personalized Engraved Mug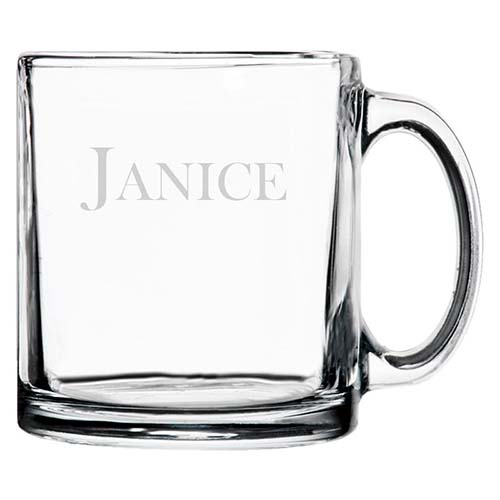 Personalize this great glass mug for a special gift! It holds just the right amount of coffee, tea, or cocoa, and no one else will take off with it since it has her name etched right on the front! Sure to be her new favorite mug that is used on the daily.
Related: Coffee Lover Gift Guide
30. SkinFood Beauty Products
What with all of the planning, errand running, partying, cake testing, shopping, and the like, your poor maid of honor may have some skin issues that are popping up! Get those taken care of with some love from SkinFood. They have natural products with ingredients so good you could eat them up!
31. Luxury Travels Bags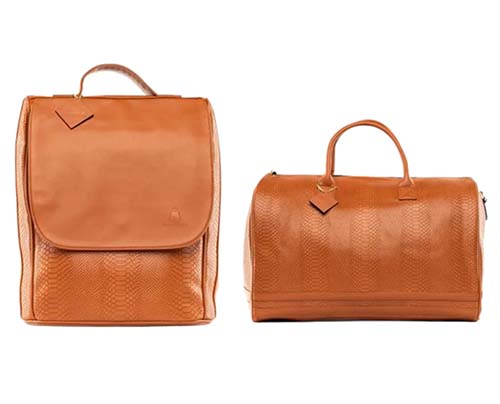 Perfect for destination weddings, or an overnight bridal shower party, these luxury travel bags are just the thing for that busy maid of honor! She'll love having these for years to come and will thank you each time she travels!
32. A Little Sparkle Monogram Ring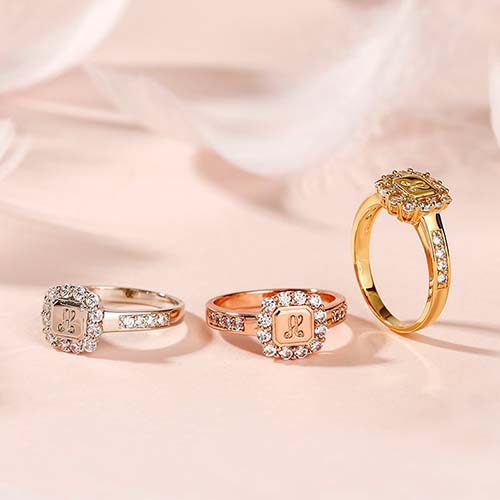 This pretty monogrammed ring really sparkles! You choose her favorite type of metal: silver, yellow gold, or rose gold. And the monogram adds a burst of sunny twinkle and a thoughtful gesture.
33. Personalized Thank You Candle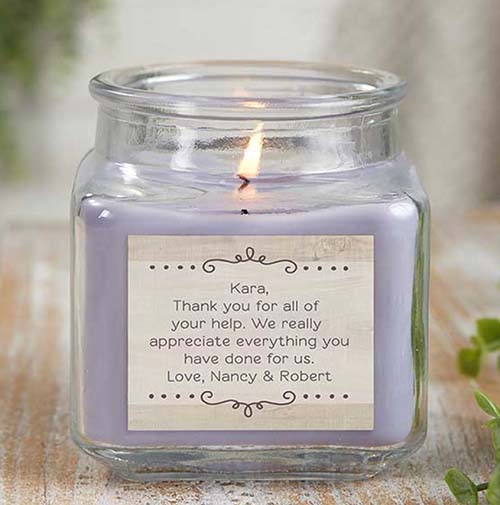 Personalize a candle just for her! Every girl loves a sweet-smelling candle in every room (this is practically a scientific fact!) so you can't go wrong with a good looking and dreamy scented candle with a personalized label, just for her.
34. Frozen Wine Slushie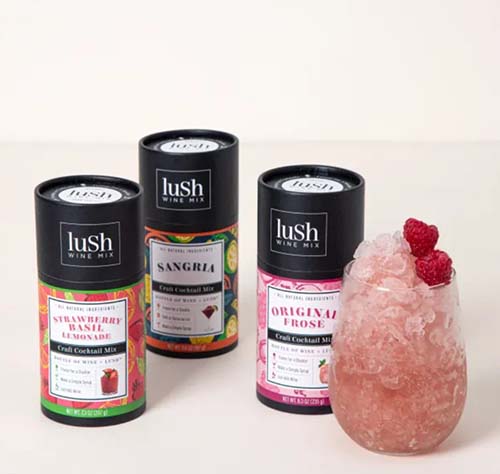 Keep the party going, or get it started with some frozen wine slushies! These are so yummy and light and refreshing. Great for all of the girls in your party, but let your maid of honor get the first pick of flavors!
35. Luxury Cashmere Clothing by Gentle Herd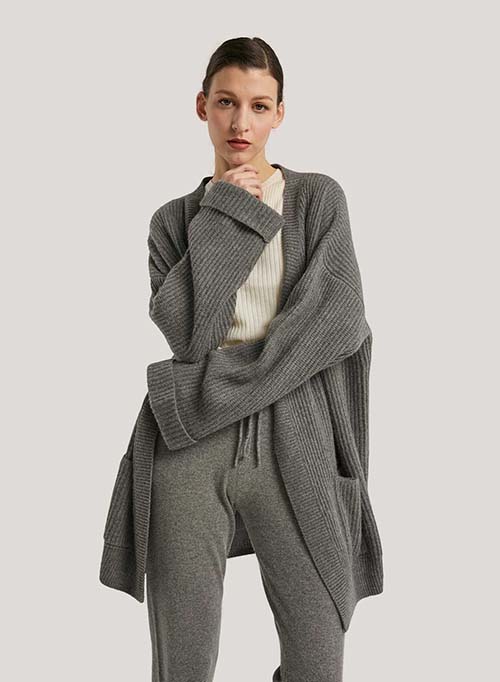 What is more fun: picking out the perfect outfit for her or watching her face light up as she opens it? We think both!
The clothing from Gentle Herd is perfect for your one and only bestie, and she will practically swoon at the softness and luxuriousness that comes through with whatever item(s) you choose for her.
36. Personalized Journal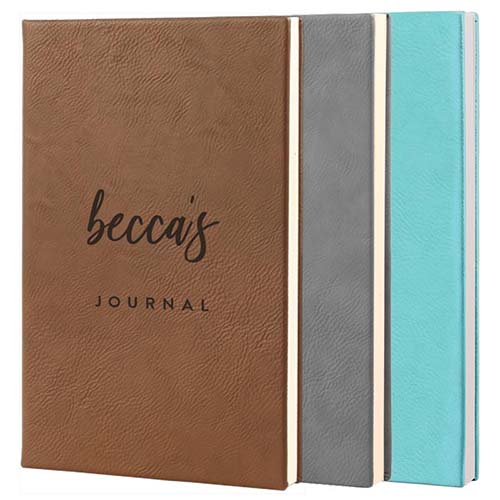 These sophisticated looking journals are great for the list maker, the doodler, the sketcher, the artist, and the writer in your life! She'll adore having this sweet journal at her fingertips when inspiration strikes.
37. Getaway Trip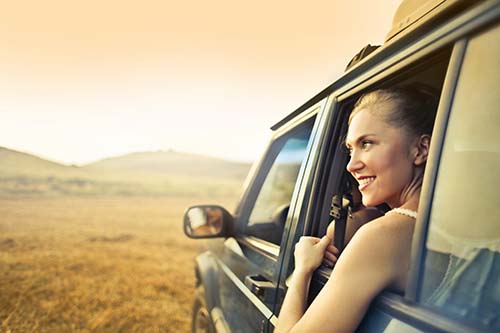 Say thank you (and take a break from the wedding planning!) with a weekend getaway trip — destination unknown!
Well, not to you.
Swooping her off her tired feet and giving her a little R&R is a great plan that will be highly appreciated.
38. Bake Her a Thank You Strawberry Cake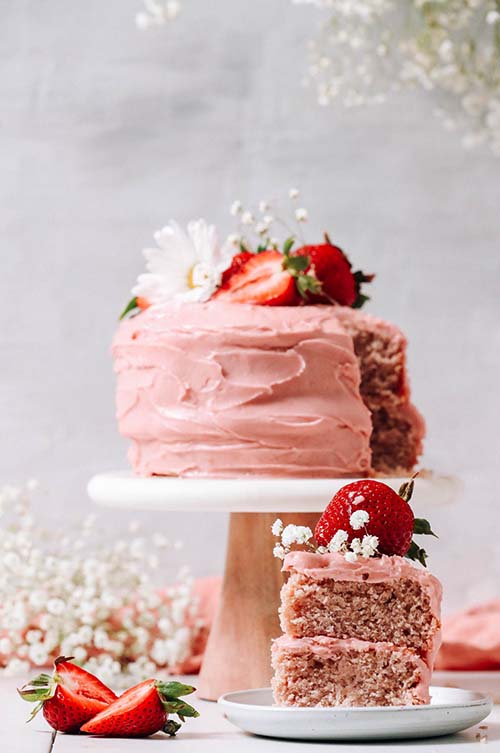 How could she ever say no to a second piece of this beauty? This strawberry cake tastes just as scrumptious as it looks, and that's saying something… Because it's pretty gorgeous! And did we mention it's vegan as well?
On that note: 18 Vegan Gifts for the Herbivore in Your Life
39. Photo & Message Keyring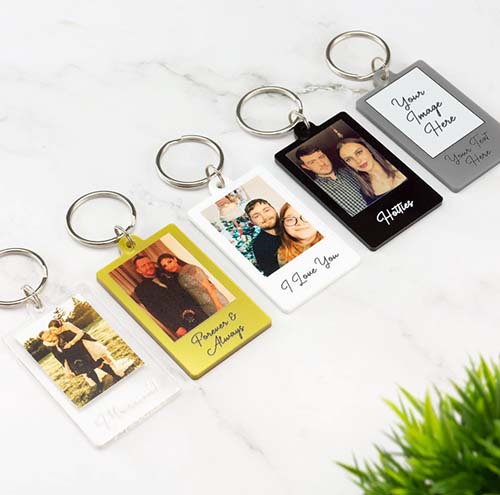 These custom keyrings are a fun and easy way to say thank you and to showcase your friendship! Choose your color and your photo and you're on your way to a great gift!
You can also add text — whether you go silly and funny or from the heart, she's bound to love it!
40. Bellabeat Smart Jewelry Health Tracker
If she cares about her reproduction cycles, sleep, and all-around mental health as much as we think she does or should, then check out this cool Bellabeat Smart Jewelry Tracker!
It syncs with the app and with her phone, keeping track of everything from her periods to ovulation to sleep schedules to a gentle nudge to fit in some exercise! How cool is that?
41. Have a Girls Night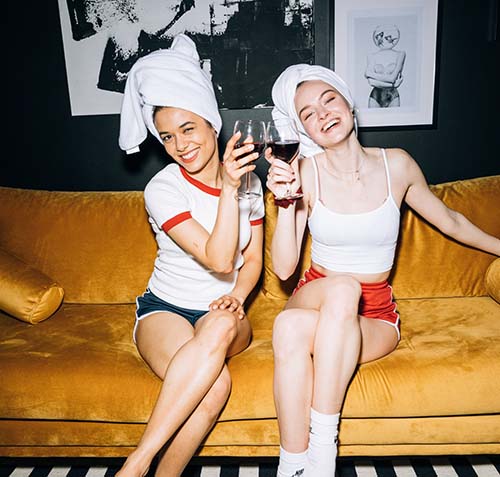 Spend the night having fun just being girls, the way it was when you were all single! Get your nails done, hair styled, and pour the wine while watching rom-com movies for the rest of the night (all paid for by you of course).
42. Weighted Pink Heart Pillow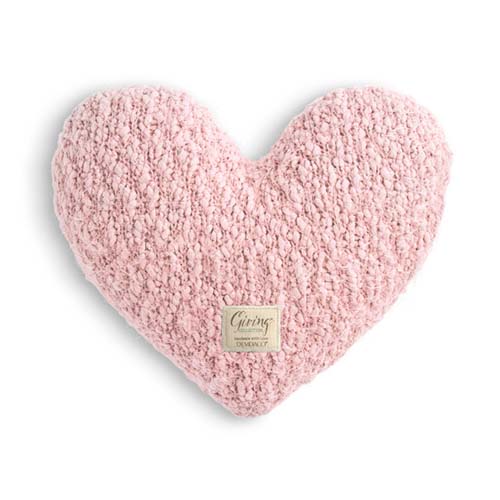 This weighted pink heart pillow is like a hug when you can't be there for her in person! It's soothing and ready to squeeze and great for snuggling. The soft pink makes it so feminine and appealing and the heart shape shows how much you love her.
43. Custom Illustration Mug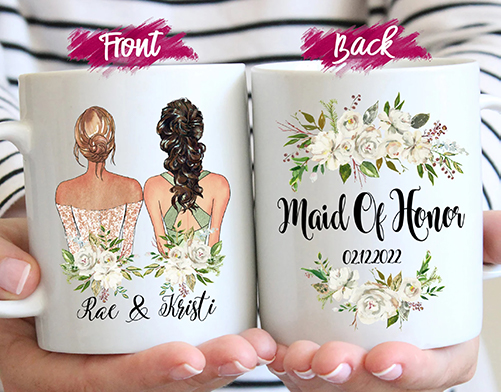 These custom mugs are so, so special. She'll adore how personalized the sweet illustrations are (you can choose skin tones, hair color, dress style and more), and will cherish it as a precious memory. She'll think of you each and every time she takes a sip!
44. Minute Mimosa Sugar Cube Trio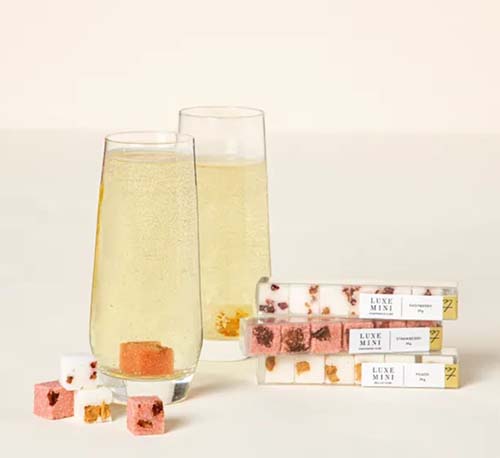 These ingenious sugar cubes turn any ordinary glass of bubbly into an instant mimosa or Bellini! They're great for transforming a boring glass of champagne into something more festive. So cute and clever!
45. Dyson Airwrap
A Dyson Airwrap is every girl's dream wish! If she has mermaid-goddess, angel hair, she'll love to own one of these. They cut down on dry time, and make her tresses shine!
If the Dyson is a little out of budget, then check out the Revlon's Hot Air Brush that everyone has been raving about.
46. Thank You Covered Strawberries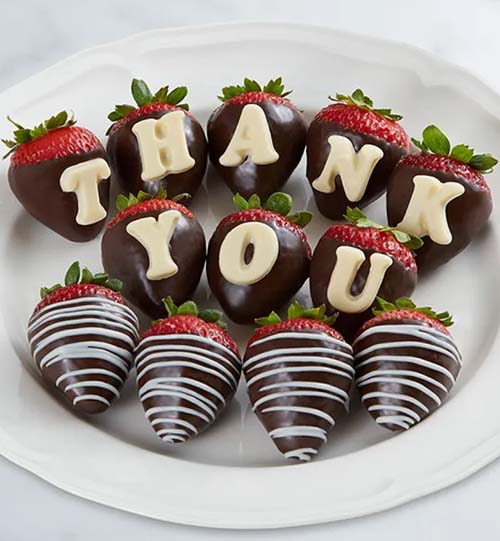 Yummy and decadent chocolate covered strawberries spell out thank you in the cutest way possible! She'll love receiving and then devouring these delightful treats! If you're lucky, she might share one, but we can't guarantee it.
47. Grateful Willow Tree Figurine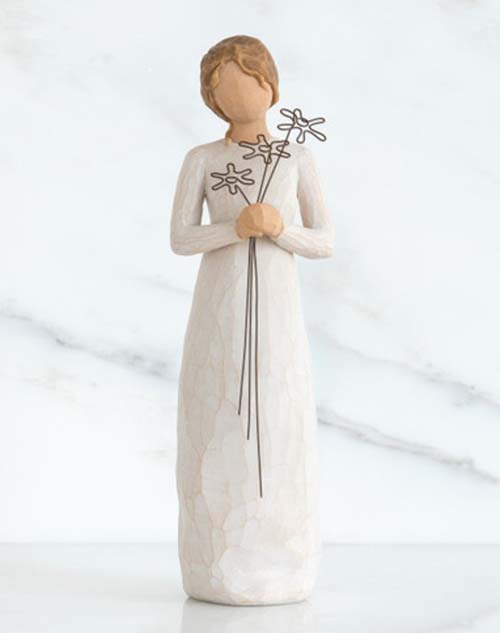 A figurine from Willow Tree is a wonderful way to mark the occasion of your wedding. Not to mention how appreciative you are for everything your maid of honor did to make it happen!
The gentle lines and soft color palate mean this little figurine will fit in wonderfully with her decor, and she'll treasure it for years to come.
48. Maid of Honor Retro Sweater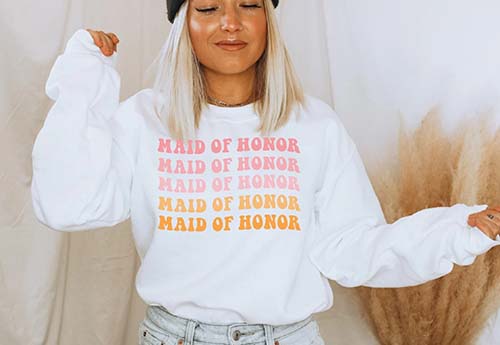 These cute maid of honor retro sweaters are perfect for slipping into after a long day at the office, or a long day of wedding planning! They're oversized and comfy, and the design is a little bit '80s, making them even more adorable. Pick your color too!
49. Digital Picture Frame
Pre-upload images of the two of you before gifting this digital picture frame for a wonderful surprise! And once the wedding is over and you've gone onto married life, show her you're still thinking of her by adding more photos whenever you like, from wherever you are!
50. Ultra Plush Robe
This ultra plush robe will be her favorite outfit for snoozing during the day, Netflix and chillin', or sipping coffee in the early mornings. It's so plush and soft and is like wearing a cloud! It's available in the colors charcoal, gray, or blush, so pick the one you know she'll like best!
Read Next: Best Bridal Party Proposal Ideas