When the most awesome guy in the world is celebrating this milestone birthday, you really want a gift that will knock his socks off. Enter this list of the very best 50th birthday gifts for Dad!
Our team of gift experts has scoured the worldwide web for you so that you can be the hero on Dad's big day. Or if you're a father turning fifty, here is a list you can print out and leave strategically around the house as a not-so-subtle hint…
Best Birthday Gifts for Every Father
Our website is supported by our users. We sometimes earn a commission when you click through the affiliate links on our website. See our privacy policy & disclosures for more information.
1. Best Dad Ever Tumbler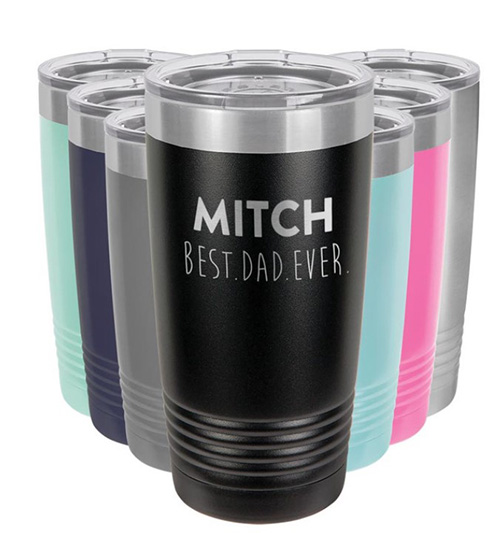 This stainless steel tumbler is vacuum sealed so it will keep his coffee hot or his brewski cold all day.
A great personalized gift that you can inscribe however you like best: "Best Dad Ever" or maybe "My Favorite Kid Got Me This Tumbler." It's entirely up to you!
2. Custom Hunter Watch Box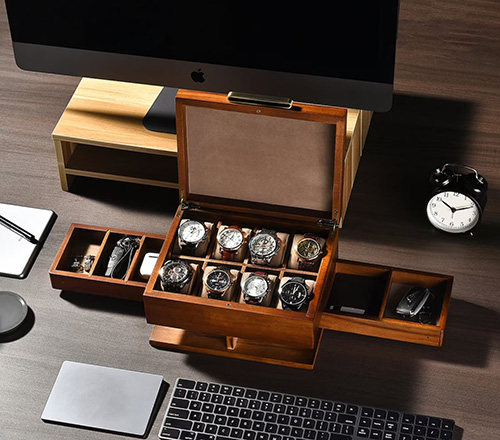 If Dad loves his wrist watch collection, then he is going to go bananas for this gorgeous, custom hunter watch box!
A perfect way to keep his whole collection (or maybe his favored few) clean, organized, and safe. This is the type of classic dad gift that he will really appreciate.
3. Engraved Divot Tool Set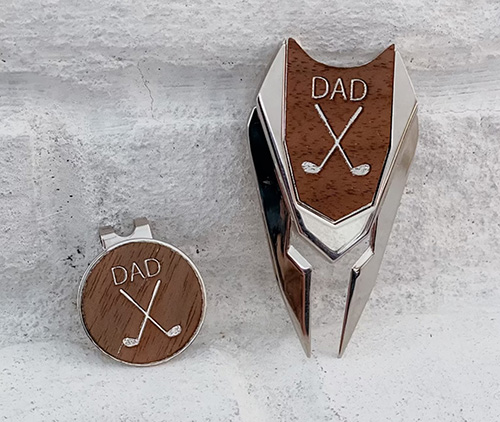 For your favorite golfer may we suggest this amazing engraved divot tool set? His golf game is going to go through the roof with this great set, and everyone on the green will want one, too.
He'll wonder how he ever got along without it! Hobby sets like these make great 50th birthday gifts for dad, and we know he'll get plenty of use out of them.
Does he love golfing more than anything else? Then check out these gifts!
4. Ultra Thin Wallet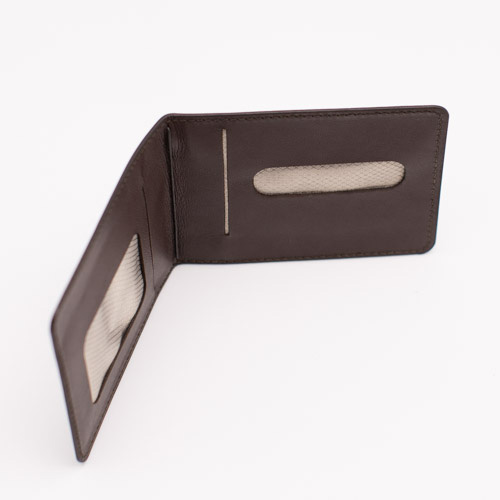 This ultra thin wallet has such a wonderfully sleek design. With this he can say goodbye to those bulky, cracking, splitting wallets tearing up his jean's pocket.
Designed from durable, high-quality materials, this may just be the last wallet he ever uses. Practical and ultra suave, he'll be so excited to make the switch!
5. Cozy Clothes for Him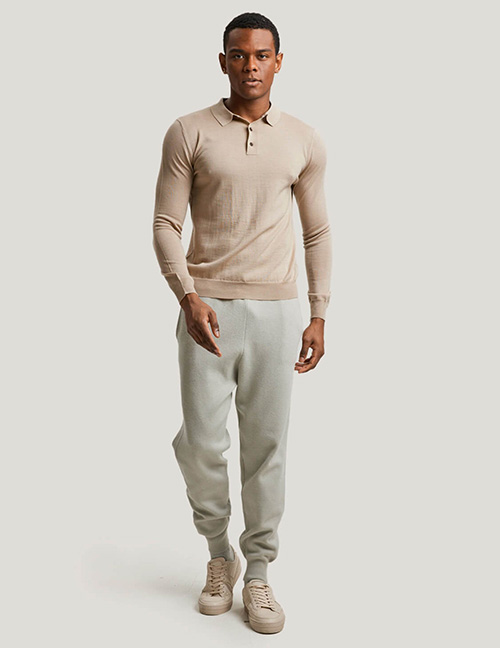 Is he still sporting the same outfit he wore on his 40th birthday? 35th birthday? Then it's time to upgrade!
Get him some cozy clothes that he will look ultra studly in. The threads from Gentle Herd are super high quality, ethically sourced, and luxurious to the max.
Check out that look in Mom's eyes! She's never seen her birthday boy look so good. Some new duds are the perfect pick of 50th birthday gifts for dad.
6. Birthday Ice Cream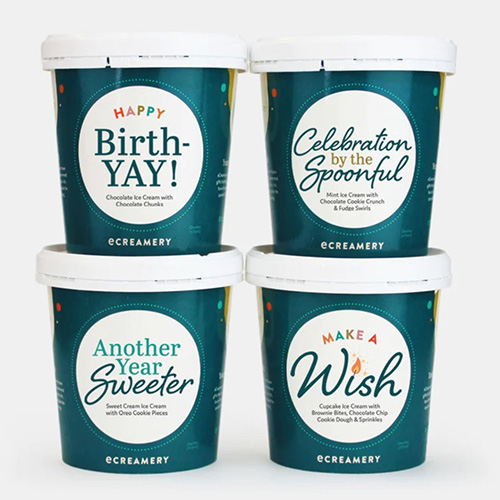 Forget cake, everyone knows the ice cream is the best part of a birthday party right? This fun birthday ice cream is totally customized just for him by darling you. He'll love this unique birthday gift!
7. Engraved Solid Copper Bracelet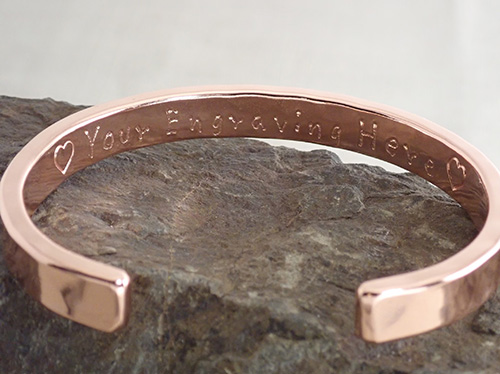 This engraved solid copper bracelet is a real show stopper! Its design is totally sharp and masculine, and the quality is so high he'll be able to pass it down to the next generation many, many years from now.
Have it engraved with a message of your choosing for a sweet, personal touch.
8. New York Times Custom Birthday Book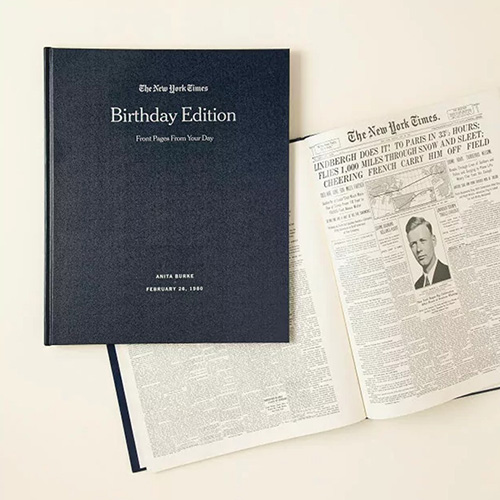 This is not your normal coffee table book, but one made especially for him on his birthday. Cover to cover it's an absolute delight to read.
A thoughtful gift that he and everyone else will love flipping through and reading for years to come. A perfect gift idea for the history buff, too!
9. Bonfire Fire Pits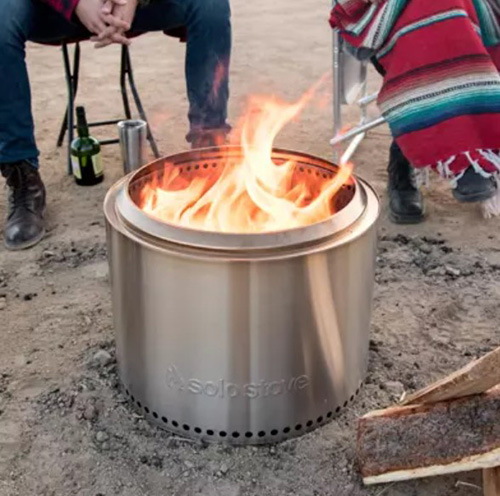 Nothing beats sitting around a fire pit in the evenings with your kids and grandkids!
There's just something about men and their fire pits, and this fantastic one from Solo Stoves makes an ideal 50th birthday gift to create memories around. Don't forget the S'mores!
Related: Best Gifts for Campers
10. Classy Watch
This watch has such a classic design that it will never go out of style! Made for the sophisticated gentleman with good taste — like your dad — it will be the new pride of his collection.
Now he can leave that phone in his pocket and instead rely on this beauty to keep him on schedule. Plus, a watch always makes for a special gift,
11. RFID Protected Engraved Wallet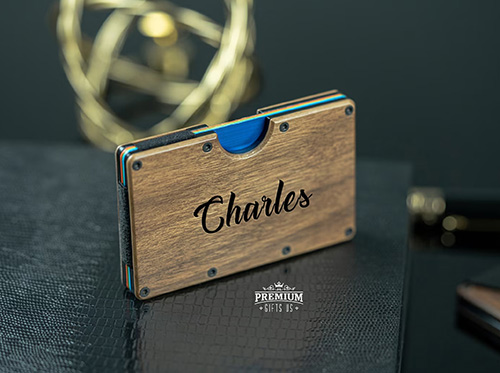 You can fill up this engraved wallet with gift cards to his favorite places. Or perhaps that handy gift card from Visa that he can use wherever he wants? What a great idea!
The sky's the limit: restaurants, pubs, movie theaters. So fun and so easy. The wallet itself is a perfect blend of style and security, too.
12. Instant Pour Over Coffee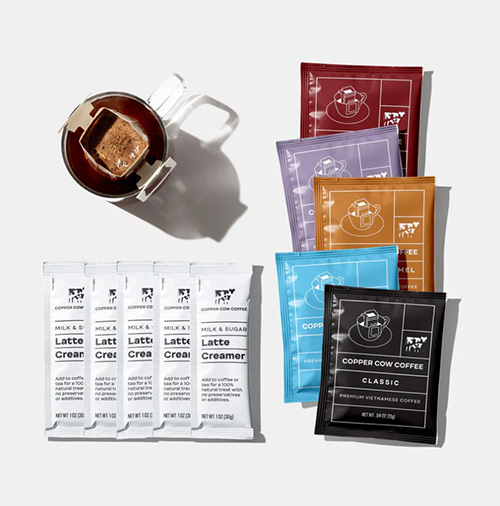 For the busy dad (and is there one out there that isn't busy?) this instant pour over coffee is a swing and a hit. It takes almost no time at all, which is good, because he has things to do!
13. Anti-Slip Couch Arm Table
If his favorite spot in the evening is his LazyBoy recliner, then we're about to make his day! This anti-slip couch arm table is so great for getting his relaxing vibe on.
Holds all of his necessary items like snacks, drinks, remotes and more, making getting up and for things repeatedly yesterday's news. A perfect choice if you're looking for useful 50th birthday gift ideas.
14. Cypress Glider Swing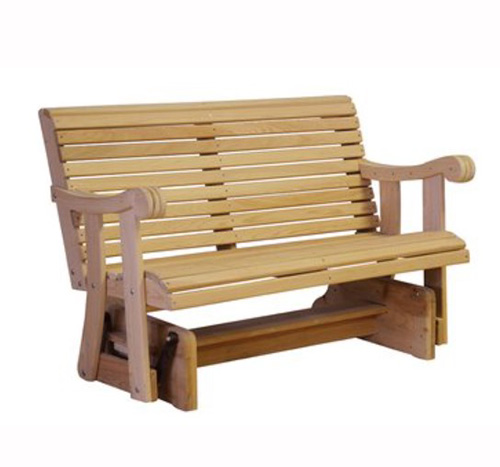 Now he can shout at the kids to "get off the lawn!!!" in style and in comfort with this cypress glider swing!
Perfect for porch sitting and snuggling with wifey, the grandkids or his favorite pooch. High-quality and made to last for years and years to come.
15. Puffin Drinkware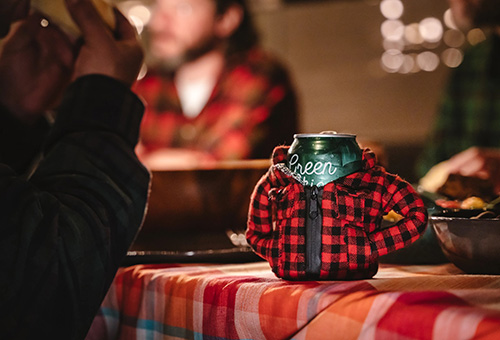 Pick out the just-right one for dad! There are so many funny and clever drink wares to choose from it might be challenging.
Is he a fisherman? A golfer? An outdoorsman? A river rat? One thing is certain, you'll find the perfect outfit for his cans at Puffin.
16. Parker Sonnet Ballpoint pen
Luxury pens? Yes, please! This Parker Sonnet ballpoint pen will be his absolute go-to whether for signing important documents at the office, or penning a love note to his beautiful wife.
Smooth, capable and flows with the just perfect amount of ink. Small but packing a huge punch, things like this make great 50th birthday gifts.
17. Engraved Bar Necklace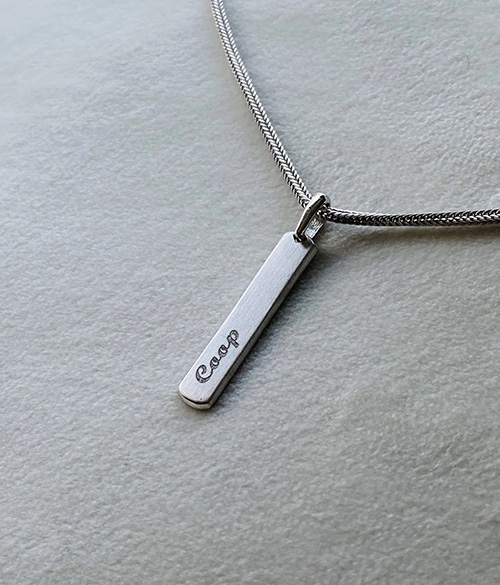 There's nothing wrong with sporting some bling around! This engraved bar necklace is both masculine and handsome.
It comes in three different metal choices and also several lengths of chain so you can make it custom in almost every way. Perfect for dad's special day.
18. Custom Leather Dad Keychain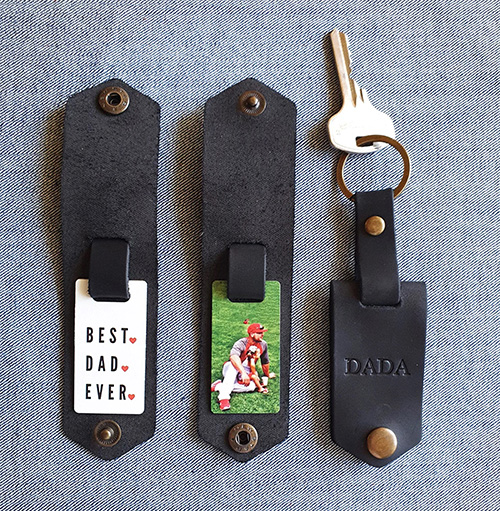 How can a simple keychain be so heart-tugging? This leather keychain is customized with his favorite photos, making it even easier to show off his sweet family to all of his buddies and coworkers at the drop of a hat.
19. Shark Robot Vacuum
There's something about a man and his vacuum cleaner… Isn't there? There definitely should be if not. Indulge him with a Shark Robot vacuum!
He'll love sitting back and letting this powerful sucker do its work throughout the house, from the kitchen to the living room and back. It's kind of a gift for everyone, really. We aren't complaining.
20. Personalized Bird Feeder for Dads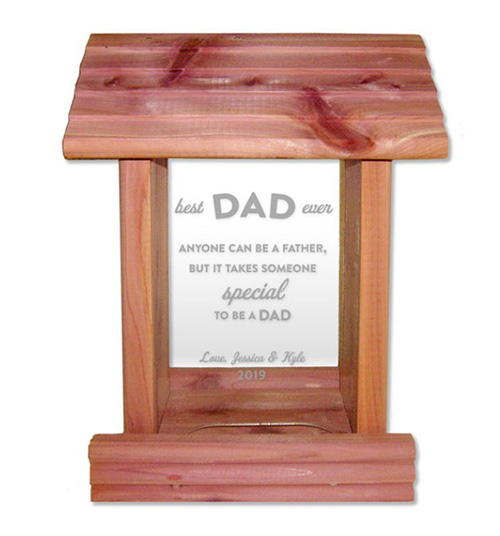 If he loves nothing more than sitting on the back porch watching the birds (Trust us, it's a thing. Once you hit 45, birds become fascinating), then he needs this personalized bird feeder!
You can have it engraved however you like best, and he and his fine, feathered friends will get to enjoy it for a long time.
Related: Best Gifts for Bird Watchers
21. Tile Item Locator
"Where's my phone?" "Where'd I put the car keys?" "Anyone seen my wallet?"
If these are familiar questions in your house, then we'd say he needs one of these stellar tile item locators! He'll be ready to jet in no time now, saving him time and energy.
22. Long Distance Photo Frame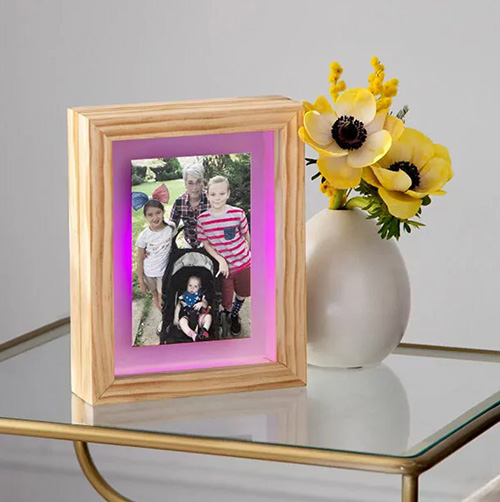 Have his kids grown up and moved out of the house? So selfish. He needs this long distance photo frame to keep the lonely tears at bay! Not that mom isn't good company, but missing your kiddos gets real.
So easy to set up and use, and so simple to add more photos any time you're thinking of your old man. These neat Skylight frames make such a great 50th birthday gift idea.
23. Photo Collage Tie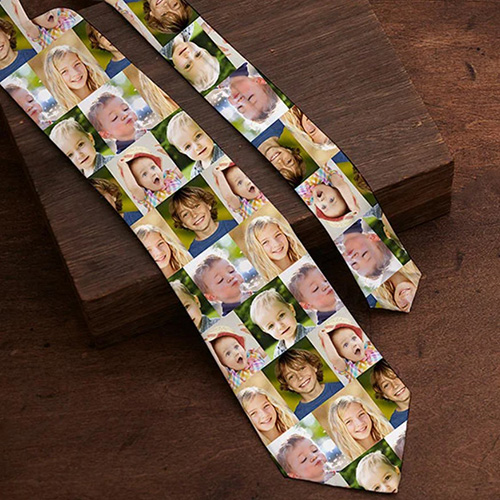 If he's an office man and ties are his jam (or it's tradition to get him new ones on his birthday), go a little rogue and get him this fun photo collage tie!
He will be proud to wear it to church and work. What a trend setter!
24. Old-Fashioned Bar Mirror Signs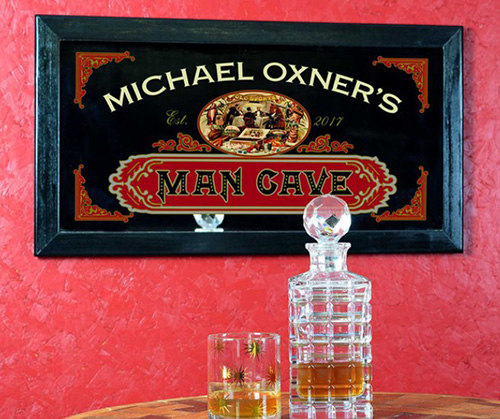 For the man cave or the den, this old-fashioned bar mirror sign is a real eye catcher! The colors are so vibrant and deep, and the personalization means all his friends will be jealous.
These are a win-win and make unique 50th birthday gifts!
25. Leather Charging Mat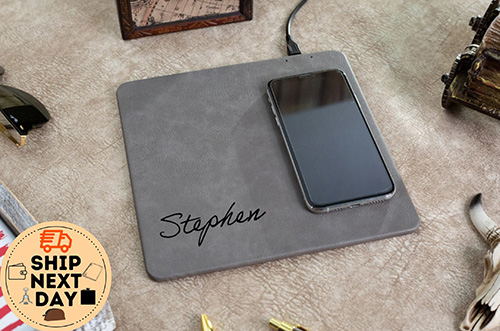 Keep his phone charged and his desk organized and clean with one fell swoop. This leather charging mat not only looks really good, it's totally functional and practical, too. No more searching high and low for that phone charger!
Related: Fun Gifts That Start with the Letter M
26. Bed Wedge for Comfortable Reading
Extra comfort for the avid reader or tv watcher, this bed wedge is a dream! He can get comfy and stay that way for hours while he finishes up his TBR pile or binges that latest season of Ted Lasso.
Helps with back pain and leg pain and all those aches in between, too.
27. Magnetic Wristband for Handyman
Remember when Ralphie knocked off all those important pieces while helping his dad change a tire? No more of that nonsense.
For your favorite garage monkey comes the amazing invention of a magnetic wristband. Handymen everywhere, rejoice!
28. Custom Desk Mat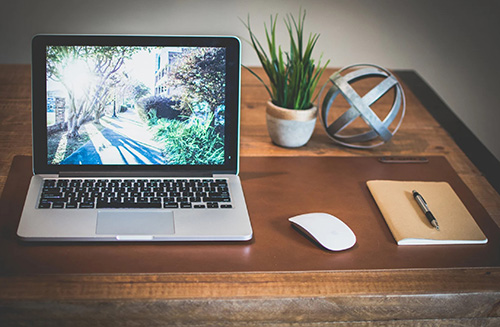 Help Dad stay organized and clutter-free with this custom desk mat. It looks so good he won't want to be messy ever again. Great for home offices and traveling, too!
29. DIY Best Dad Candy Mug
The best gifts are the ones you made yourself, you DIY lover, you! Dad will love a mug full of his favorite candy as a fun gift. Not a candy lover? No worries. Just substitute beef jerky, gum, hot sauce, or whatever else floats his boat.
Here's a great mug you can use!
30. Engraved Smoker Cutting Board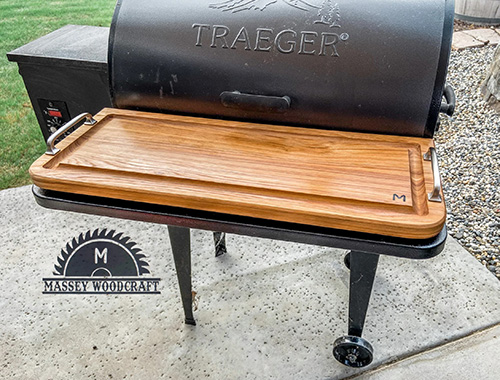 This personalized cutting board is engraved to make it extra special and unique, and is just the thing for his Traeger! He'll love getting this baby out every weekend to grill up his famous ribs or burgers.
31. Compact Beard Straightener Brush
Facial hair is back, baby! Help Dad keep his wild man looks under control with this compact beard straightener brush. He'll be dapper and ready for a date with Mom in no time.
32. Minimalistic Wooden Charging Station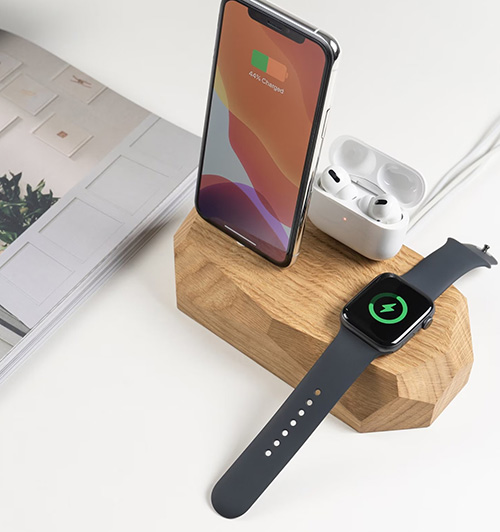 Sleek and minimalistic in its design, this wooden charging station is a great gift for him!
He can keep his most used daily items together in one spot, so he can say goodbye to constantly muttering, "where did I put that? I JUST had it!" Items like this make the best 50th birthday gift ideas as they're both thoughtful and practical.
33. Custom Bobbleheads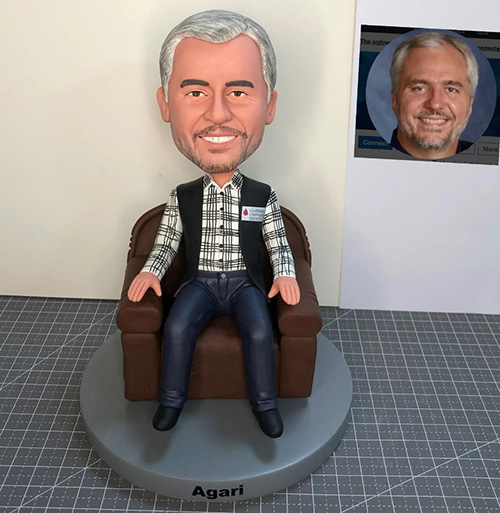 Get him a doppelganger bobblehead and watch him (and everyone else) laugh their heads off!
He'll love showing off such a silly and fun present to everyone at the office, or he can glue that puppy right to the dashboard where he can admire it every day. Hawaiian hula girl who?
34. Engraved Silver Keepsake Box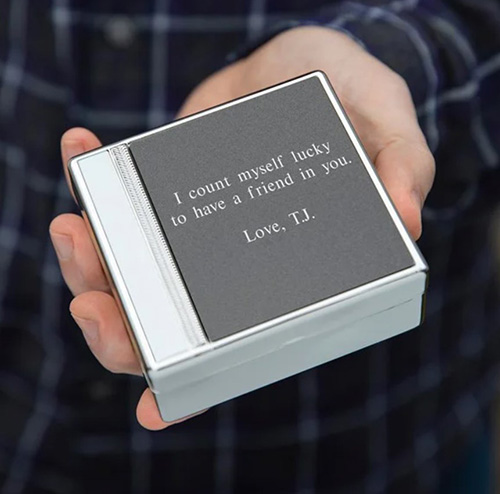 Put your own special message inside this engraved silver keepsake box for an ultra thoughtful, sentimental gift that he will cherish.
Great for keeping his most precious of mementos and treasures, rings, letters, fishing lures — you name it — safe and sound.
35. Dad's Spot Pillow
So move it! This pillow will actually get a lot of use if we know him, right? It makes for a funny gift that the whole family will appreciate and get a kick out of.
The useful pockets are labeled for "Phone" and "Remote" but there's no law that says he can't keep snacks and candy in one.
36. Dad & Me Best Pals for Life Frame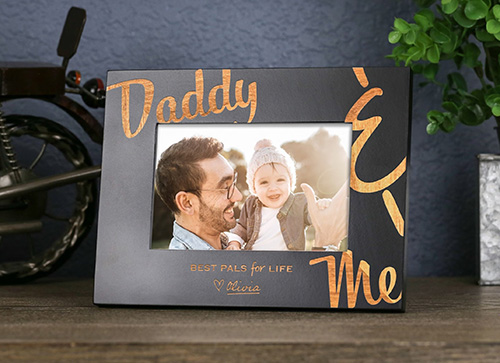 Is Dad your best friend? He'll be gobsmacked and a little misty eyed over this great "Best Pals for Life" frame. All it needs now is a great photograph of the two of you together!
A sentimental gift that will make its way into his "most treasured" stash in no time. Every dad has one of those, after all.
37. Gardeners Tool Seat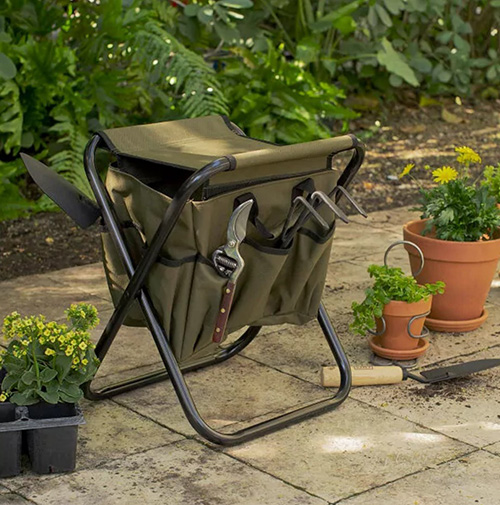 That yard isn't going to weed itself now that the kids are grown and gone! But it's murder on knees and backs, right?
This gardener's tool seat is just the ticket. Keep all of his outside tools accessible and right at his fingertips as he sits and gardens away to his heart's content.
38. Marshall Stanmore Speaker
Music lovers adore this Marshall Stanmore speaker and for good reason! It's so high-quality and made to last.
He'll love having his friends over to grill out in the backyard or have a Poker Night, all while their favorite tunes blare in the background.
Related: Best Gifts for Music Lovers
39. Engraved Old Fashioned Wood Pocket Knife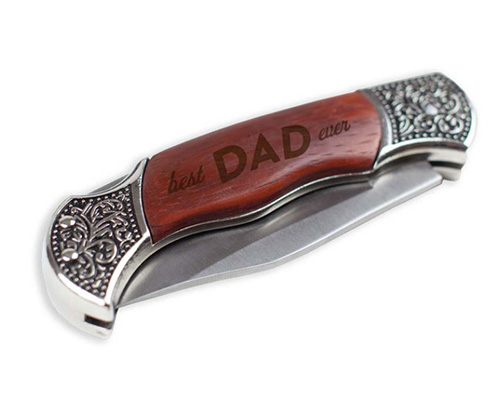 A good knife is hard to find and so important to have on hand! This one is old-fashioned in all the right ways, but high quality and sharp to handle all of his tasks.
It can be engraved, too, so consider if you want to add a sentimental message or just his name. Either way you go, perfection!
40. Modern Glass Hip Flask
So sleek and modern looking, this glass hip flask is for the swankiest and most suave of gentlemen! Pair with his favorite whiskey or spirit, and you have the perfect gift with which to wish dad a happy 50th birthday.
41. Leather Mouse Pad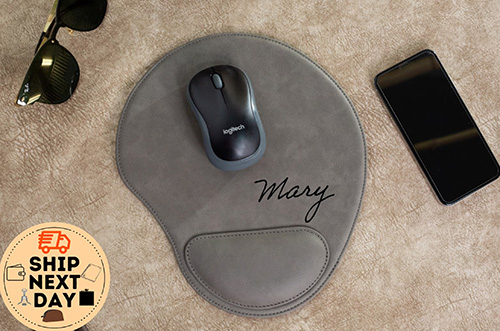 With its ergonomic design, this leather mouse pad is great for the hard working office man!
It will help keep his desk clean and organized, too, because he won't want such a good looking mouse pad to get buried underneath a pile of to-do lists. Now that's what we call a win.
42. Custom Engraved Bottle Openers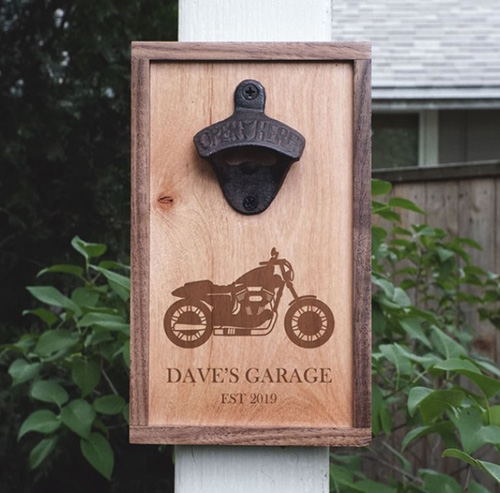 So great for Dad's birthday, and especially on his 50th! This custom engraved bottle opener will last for many, many years to come. And he and all his guests will love not having to search forever for that pesky little bottle opener with this great one front and center.
43. Portable Neck Fan
Help Dad keep his cool everywhere he goes! Great while traveling in hot climates, or working outside in the summertime, this portable neck fan is a pretty cool invention if you ask us. Sign me up for one.
44. Digital Tape Measure
Time-saving and weather resistant, this digital tape measure is something he'll love adding to his tool collection! It has an old-fashioned look but there's nothing old-fashioned about how it functions.
Accuracy and style is the new name of the game.
45. Personalized Paper Photo Note Cube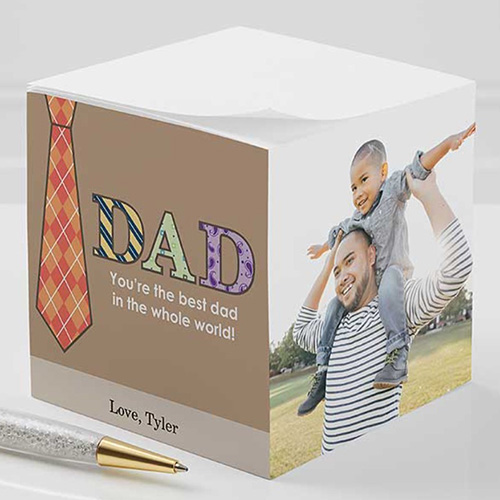 Three different photos plus a special message from you adorn this cute note cube! Great for the office or home, it'll come in handy at all the right times, from jotting down grocery lists and to-do ideas, to leaving notes for family members.
46. Outdoor Wooden Potting Table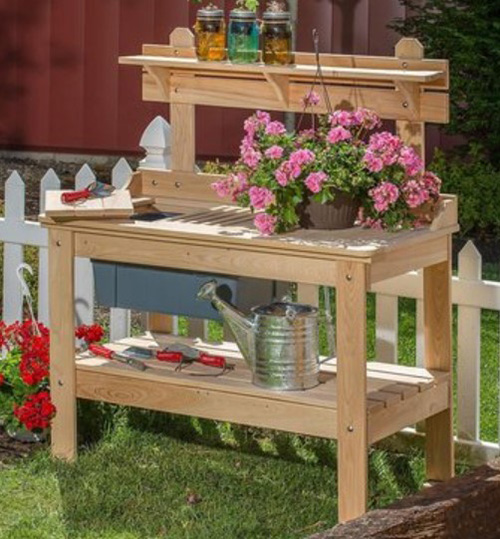 If his backyard is getting a little…disorganized, then he needs this outdoor wooden potting table! Everything comes together so much more easily and looks so much better when you have a place to put it, right?
47. Custom Printed Photo Tie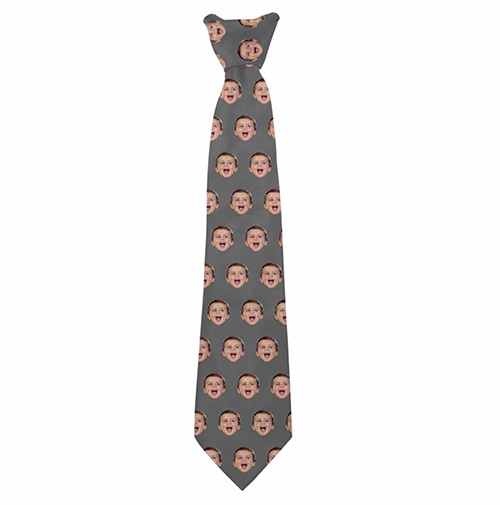 For a good laugh, get him this custom printed photo tie! Choose your cheesiest and funniest photo, and watch him wear your likeness proudly around his neck. If he's a dad humor type of gent, this would be a great gift idea.
48. Dad's Coffee & Treat Board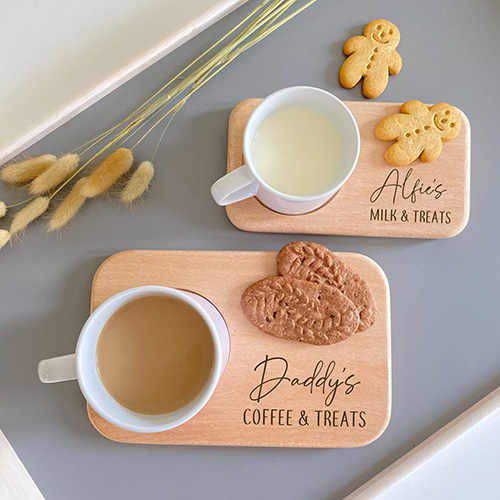 If he could always go for a little snacky-snack then this coffee and treat board is a must-have. Perfect for milk and cookies, coffee and toast, or ice cream and cake…gosh, the possibilities are endless!
49. Personalized Leather Grilling Apron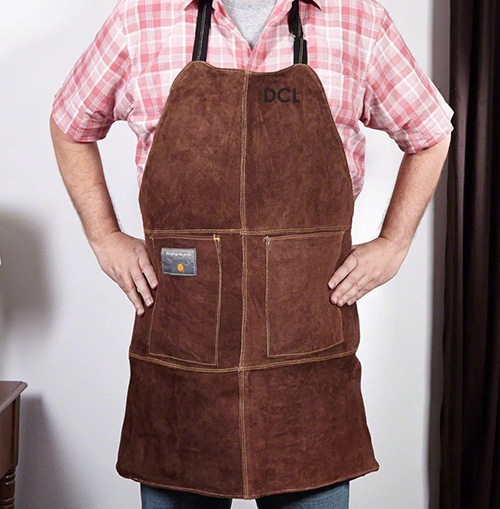 Keep his nice shirts grease and stain free with one of these great leather grilling aprons. These would make perfectly practical 50th birthday gifts for dad. They're personalized, too, so it's extra special and unique just like him.
Tail-gating, backyard BBQs, chili cook-offs…this is going to get so much use!
50. Rustic Chess Set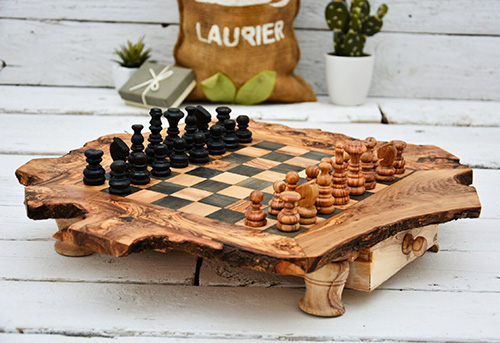 How cool is this rustic Chess set? Dad will love challenging everyone to his favorite game when he owns such a unique set. Perfect for teaching the next generation, too! Made to last and far too good-looking to pack away in a cupboard, it's like a functional centerpiece.
Read Next: Best 50th Birthday Gifts Ideas