If you're stuck on what to give someone, why not consider some bird lover gifts!
Bird watching has been surging in popularity, by some polls even topping many lists of America's favorite hobbies.
This means that many, many people are newbies ("dudes" according to the experts) while others are longtime hobbyists ("birders") or even extreme enthusiasts (often called "twitchers"). So chances are a bird-related gift would be a great idea for birthday, holidays, housewarming, and so on.
Let's talk about what makes the best gift for bird lovers, and how to give a great gift to anyone who is remotely into birding, from kids and "dudes" to lifelong enthusiasts.
Our website is supported by our users. We sometimes earn a commission when you click through the affiliate links on our website. See our privacy policy & disclosures for more information.
Bird Lover Gift Guide
In this bird watching gift guide, we're going to cover everything from birding accessories to backyard bird themed gifts. And we're going to do it for everyone no matter their level of expertise or enthusiasm.
I have to admit, I'm a total dude.
I'd love to become a for-reals birder someday, but for now, I'm content with a bit of backyard bird watching and taking my binoculars on a nature trail now and then.
Heck, my 10 year old son is better at identifying birds than I am.
But that's fine. The point is, birds are delightful. Anyone with eyes can see that much. So I can truly call myself a bird lover.
Chances are, if you're looking for a birder gift idea, you're like me. You probably would say that you're a bird lover too, but not an expert or enthusiast by any means.
So what do you give as a gift for a true birder? Someone who keeps a lifelist, travels to spot specific types of birds, and says things like "bins" and "aw, that's just an LBJ" and gets offended at the "twitcher" label.
Or, what do you get for someone when you're not sure what to give? Bird-themed gifts are great, because – aside from some people who might have a fear or or aversion to birds – pretty much everyone loves birds. They're pretty, sing songs, are fun to watch, and bring a sense of life and vitality to your backyard.
In this bird lover gift guide, we'll cover it all:
(Click or tap each link to jump to that section)
10 Best Bird Lover Gifts
Here are ten great gift ideas for anyone who likes birds.
(Later, we'll get into birding enthusiast gifts.)
1. Personalized Bird Feeder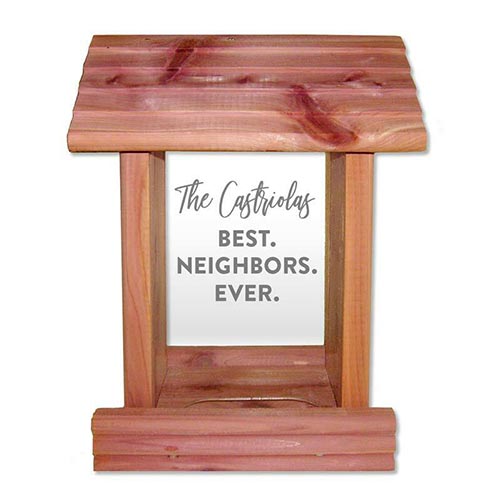 This is a simple, lovely, earthy bird feeder crafted from real cedar and personalized with custom laser etching on the front.
It can hold a decent amount of seed, which spills naturally onto both front and back sides, and will last for many years.
Handmade in Oregon, this bird feeder is a beautiful gift for anyone who loves to watch birds and see them fluttering near their home.
2. Backyard Birding Flashcards
Perfect for beginning birders or just someone who loves birds, this flashcard set boasts 100 types of North American birds in a lovely pull-drawer gift box.
Every card includes hand-drawn illustrations along with facts like behavior, habitat, and much more.
3. Woven Nest Hummingbird Houses
This set of hummingbird homes features three houses woven from natural dried hibiscus grass.
Pair these with a feeder and hang them up around your home to enjoy the wonder of seeing hummingbirds flitting and dancing about every day.
4. Handcrafted Wooden Hummingbird House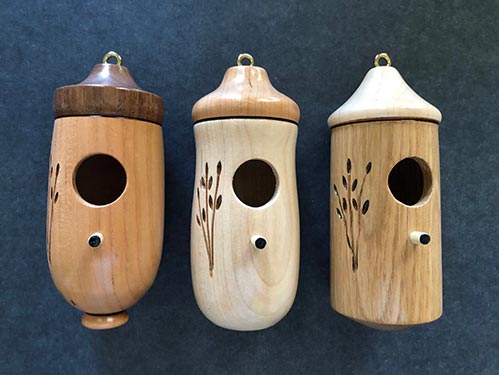 What gorgeous artistry and craftsmanship! Made from your choice of Cherry, Maple, or Oak wood, each one of these bird houses are individually handcrafted and boasts its own personality.
Smoothly finished and ready to hang, each hummingbird house is carved with a floral plant etching next to the perch.
5. Wingspan Board Game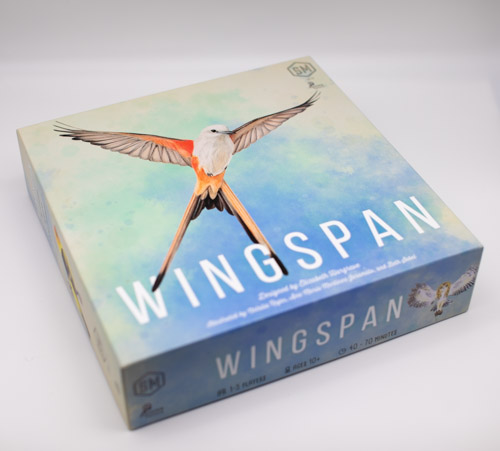 Not only is this board game gorgeous, it's also incredibly fun to play.
Wingspan is an engine-building strategy game for up to five players, and you can even play solo if you want!
The goal is to score the most points by collecting bird cards on your board in their different habitats (Forest, Grasslands, and Wetlands), laying eggs, and collecting food.
There are bonus cards that allow you to gain extra points by having, say, at least 5 birds that eat worms or the most birds in the Wetlands with eggs in their nests at the end of a round.
Every bird card behaves similar to its real-life counterpart, including predators(!), and yes, each bird's wingspan is listed on the card and can play a role in the game.
Also, it bears repeating: The artwork is simply stunning. This is a beautiful game.
It might seem complicated at first, but the instructions are clear and my 10-year old son picked it up fairly quickly, so this is a great game for anyone who enjoys board games and an excellent gift for any bird lover.
6. Personalized Lovebirds Cutting Board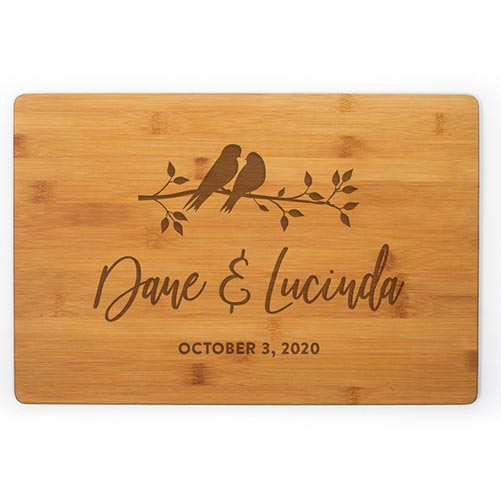 Everyone needs a cutting board! So why not get a personalized one?
This custom bamboo wood cutting board features lovely "birds on a branch" artwork plus the recipient's name(s) and a special date.
Personalize it as a wedding or anniversary for a couple, or a housewarming gift for family and friends. Whoever you give it to, they're going to love it!
7. Bluebird Suncatcher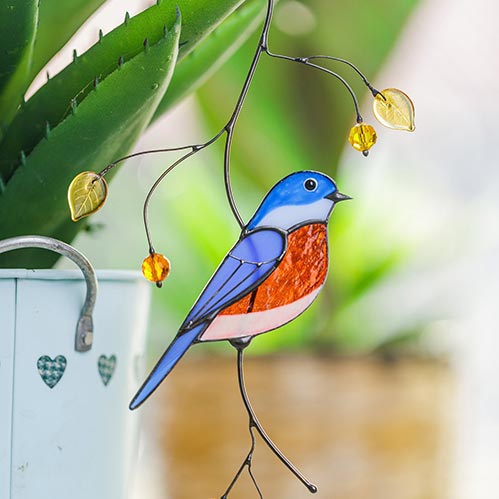 Stained glass is always in style. I really like this one because it has a simple, minimalist beauty yet is colorful enough to attract the eye.
(Sounds kinda like most birds, right?)
Designed to look like a bluebird, this Stained Glass Bird Suncatcher is handmade and small enough to fit anywhere, inside or out, with the hooked branch top and included window-hanging suction cup.
8. Backyard Bird-Lover's Guide
This is a classic guide (and one that isn't named "Audubon" or "National Geographic," etc) to common backyard birds.
The Backyard Bird-Lover's Guide not only details how to identify them but also – importantly – what type of bird feed will attract specific types of birds. There's also info on territory, nesting, courtship, parenting, and much more.
Plus, the drawings are second to none. This is a delightful gift idea for the casual bird lover.
9. Welcome to Our Nest Personalized Doormat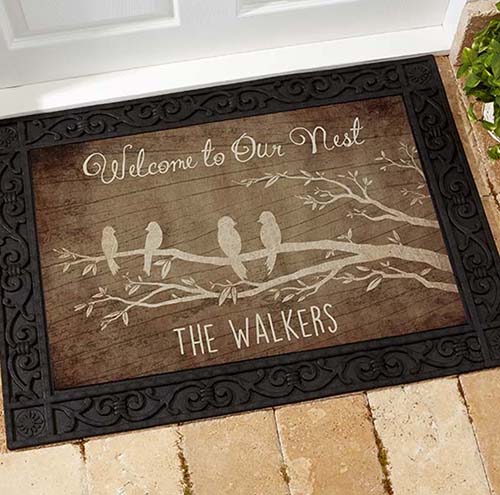 There's no place too high – or too low – to display your love for birds. With this adorable personalized Welcome to Our Nest doormat, everyone who enters your home will instantly know that they're in the right place.
10. Personalized Cardinal Coaster Set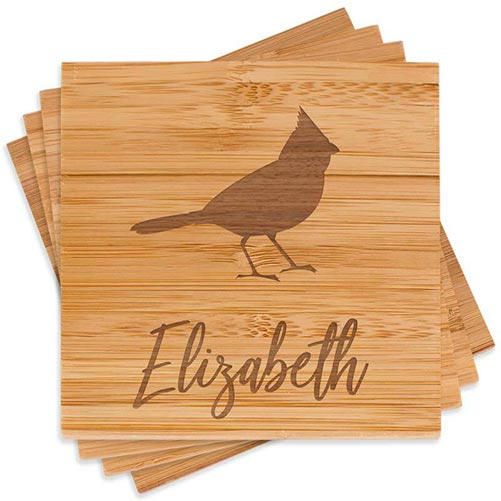 This set of four bamboo wood coasters includes a matching wooden holder, a lovely etching of a cardinal, and your friend's name in a gorgeous contemporary script font.
Coasters always make a great gift. Find out why here.
10 Best Gifts for Birders
Birders are, quite figuratively, their own breed. If you have a birding enthusiast in your life, here are some amazing gift ideas they're sure to love.
1. Custom Cardinal Travel Mug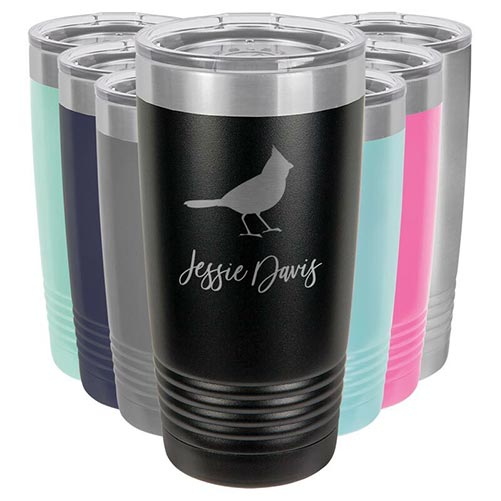 Everyone likes to drink coffee, tea, or breakfast smoothies on the go. Help your bird-loving friend keep their drinks blazing hot or freezing cold for hours on end with this Personalized Cardinal Tumbler.
The premium-quality mug comes in many different sizes and colors. It's custom engraved to order for you, and you can even include a longer message than just the name (the text size can go smaller to fit what you want to say).
2. Squirrel-Proof Bird Feeder
This squirrel-proof bird feeder is one of the world's most popular feeders, and it's easy to see why. Durable, attractive, able to hold 5 lbs of seed and made in the USA with premium quality.
You'll love watching the birds as they enjoy feeding. And you may find equal joy watching the squirrels flip off the spinning bottom perch, flying away in frustration as you finally conquer their annoying thievery.
3. Easily Distracted By Birds Shirt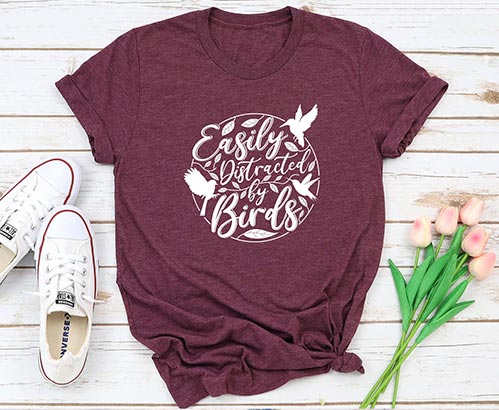 Cute tee. Says "Easily distracted by birds."
What more do you want? It's a great gift for any bird-lover.
4. Bird Call Listening Device
Here is a great entry-level listening device that will amplify bird calls. Bird watching is the gateway drug to bird listening (a.k.a., bird call identification).
This gift a fun and inexpensive way to level-up the birding enthusiast's hobby.
5. Personalized Journal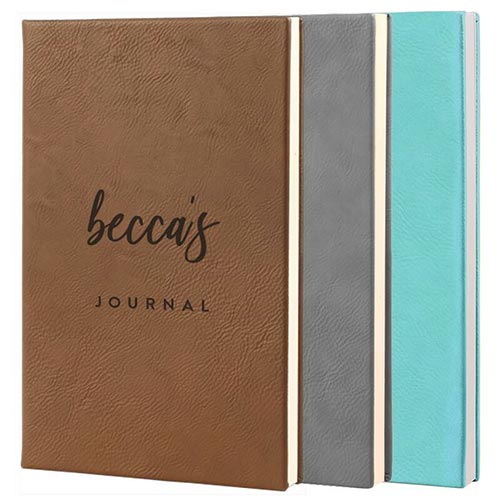 Bird watchers need to track each bird they see, when and where they saw it, and where they plan to go next.
This personalized journal is the perfect way to do just that. Custom engraving adds that personal touch to make it a memorable and much-used gift.
6. Little Bird Picture Frame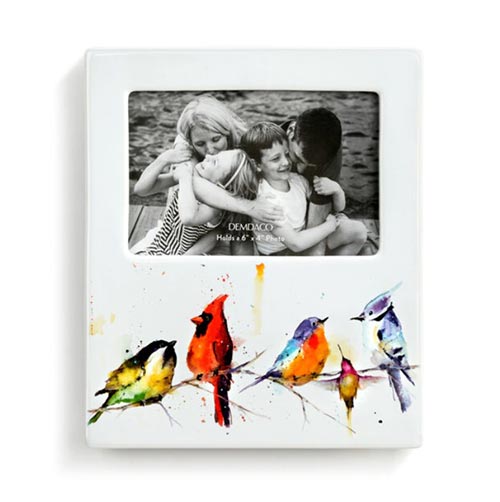 This bird art picture frame is the ideal gift for someone who has a sweet, gentle heart. The artwork is by native Oregonian Dean Crouser and features a bluebird, a blue jay, a hummingbird, a cardinal and a chickadee.
Give a special photo in the frame, maybe one of the two of your or a favorite moment in their life, and watch them glow in admiration of your thoughtfulness and the beauty of this elegant photo frame.
Find more beautiful and artistic bird lover gift ideas from Dean Crouser here.
7. Sunflower Bird Feeder
This one is fun! It's a combination bird feeder and bird bath, designed to look like a colorful flower.
The Sunflower Bird Feeder is a creative birding gift for any gardening and outdoor enthusiast. Affordable and easy to assemble, they'll want more than one for sure!
8. Birder Journal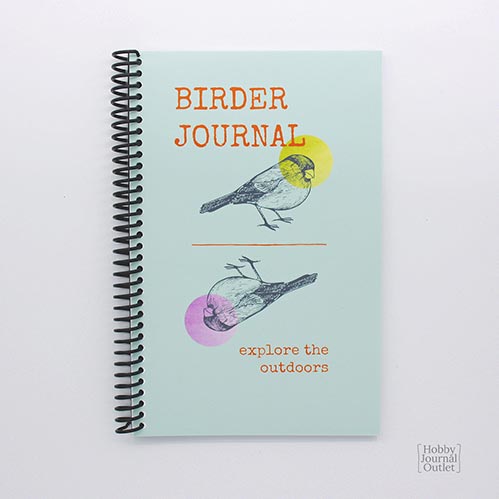 The best way to keep tabs on the bird species they've seen – or wish to spot someday – is with a birding journal.
The Explore the Outdoors Birder Journal is just the ticket. Sections include the birder's Life List and pages for individual sightings, with details like location, weather, description, field notes, and sketches.
It's durable and spiral bound, so the journal will be easy to access and use out in the wild.
9. Bluebird Birdhouse Clock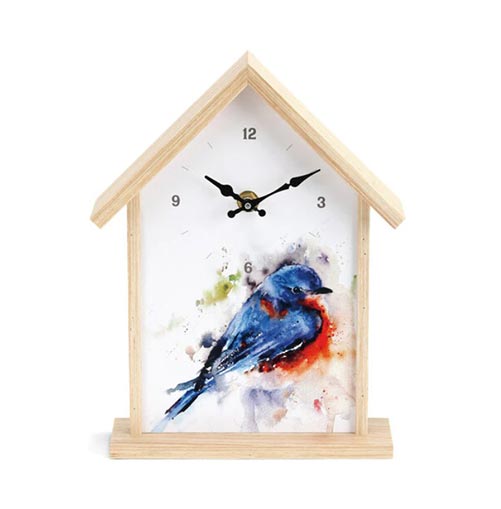 Consider this gorgeous birdhouse-shaped clock for an indoor décor gift. The bluebird watercolor art from Dean Crouser splashes color in all the right ways, and will look great on the mantle.
10. Personalized Bird Café Sign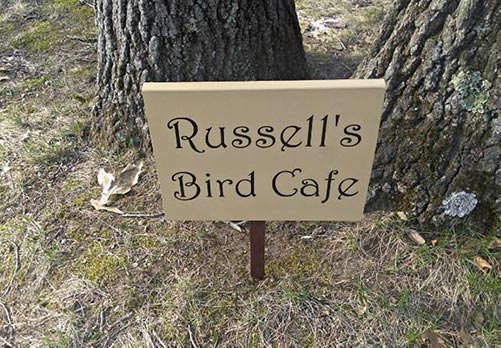 If your bird lover friend has a special feeding spot, a great gift idea is to label it with a personalized yard sign!
Handcrafted from pine wood and personalized to order with your choice of color, this Custom Bird Café Sign will be a treasure to inspire more bird feeding, more bird watching, and more nature loving.
Related: 50 Best Gifts for Nature Lovers
Bird Watching Accessories
Here's another avenue to help you discover the perfect bird lover gift. Consider gifting some must-have bird watching accessories.
Here are the essentials for bird watching:
Binoculars (see below)
A way to take photos:
All-weather jacket, hat, good hiking shoes
Backpack filled with creature comforts:

Warm/cool weather clothes
Insect repellant
Food/beverages
Combine any of these along with an idea or two from above for the ultimate bird lover's gift basket! Bird watchers love accessories, so make their dreams come true with a thoughtful gift.
Let's take a closer look at what makes a good binocular gift.
Bins (aka Binoculars)
Your favorite birder will already have bins. Good ones, probably several good pairs, specific to their needs and wants.
So why would you want to give a bird watcher a new set of binoculars? Several reasons come to mind.
They're new to birding and don't have a pair, or just one
You want to upgrade their gear (maybe they've been talking about it, or saving for an expensive pair)
You think they might appreciate an extra pair for their vehicle, or to leave ready at hand by the kitchen window, back porch, etc
So you see, whether your bird lover gift recipient is a child who is interested in birds up to an expert with years of experience, there are always good reasons to give some new binoculars.
Let's talk about what you need to know to buy (and give) a decent set.
Binocular Specs
The numbers:
8×25, 8×36, 10×25, etc
What they mean:
The first number is the magnification. That tells you how much bigger the glasses make the image. An "8" will magnify what you're looking at eight times larger than your eye. A "10" will show it ten times larger.
But note – as magnification increases, the field of view shrinks. So sometimes – especially for beginners – the lower number is better, because it will give them a broader field of vision and make it easier to use the binoculars to find birds.
The second number is the diameter of the lens. That tells you not only how big the actual binocular lenses will be (the larger the number, the larger and heavier the set) and also how much light they can gather. A larger number will have a brighter image. You'll pay more, but also be able to see better in low light, like at dawn or dusk.
Other specs:
Eye relief: Distance between your eye and the eyepiece. If someone wears glasses, aim for an eye relief number of 11mm or greater.
Close focus: The closest distance at which the binoculars can still work and focus on the image.
Field of view: Often listed in degrees (around 6-8°), but also in terms of the area you can see at a distance of 1000 yards (around 300-400 feet)
Dimensions, weight, etc: These describe the physical size of the binoculars, which is important if you're looking for a gift to go in a glovebox or for a child who would find it difficult to hold a large or heavy set
Gift for a child/beginner:
Aim for small, lightweight, relatively inexpensive bins (or monoculars, with only one eyepiece). We recommend going with the smaller magnification (8x) so that it's easier to pinpoint what they're looking at, with a diameter in the range of 25mm (at a minimum; any lower won't be bright enough) up to maybe 42mm (that size can start getting heavy).
Gift for enthusiast:
Try to find something that they don't have. A decent pocket-sized monocular to throw in their backpack or leave by the kitchen window. Get a nice set from Amazon along with a gift receipt so they can exchange them if needed. Listen and learn what they want, and give them that.
5 Best Binocular Gifts for Bird Lovers
Beginner Monocular
This compact monocular is the perfect gift for a beginner-level birder. Options for 8-10 magnification and 25-36mm lens diameter, lightweight, and high quality.
Expert/Enthusiast Monocular
Larger, heavier, and much more powerful (and thus more difficult to use), this monocular is a hugely popular item among birders with 10x60mm viewing.
Shock Proof Binoculars for Kids
Here's a cute pair of binoculars for kids. Colorful and shock-proof these feature 8X magnification, FMC lens with an angular field of view of 7.2 degrees.
Leather Binocular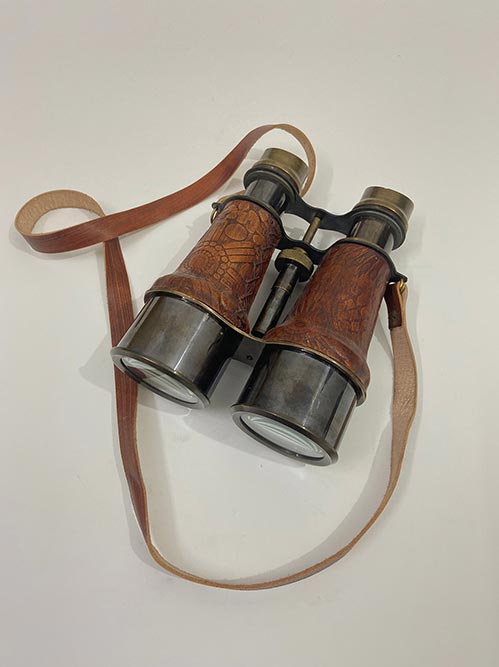 How about some old-fashioned binoculars that look AWESOME!?! This handmade antique replica features brass and leather accents that make them attractive gift, perfect for décor.
Camouflage Binocular
We love this pair of camouflage binoculars! They feature stunning HD clarity that boasts 10x magnification and 50mm objective lenses, BK-7 prism multi-coated optics for crisp color, and folding eye cups that are perfect for any bird watcher, including those who wear eyeglasses.
Read Next: 10 Bird Feeder Gifts for Backyard Bird Watchers
Pin It