On the hunt for romantic gifts for men? If there's a special guy in your life whom you'd love to surprise with a super mushy gift, you're in the right place.
In this post you'll find incredibly romantic gift ideas for just about any type of guy out there.
Whether he's uber masculine or more on the sentimental side – or anywhere in between – we've got something on this list sure to make his heart skip a beat.
Let's take a look.
21 Most Romantic Gifts for Men
Our website is supported by our users. We sometimes earn a commission when you click through the affiliate links on our website. See our privacy policy & disclosures for more information.
1. Custom Sky Map (Digital Print)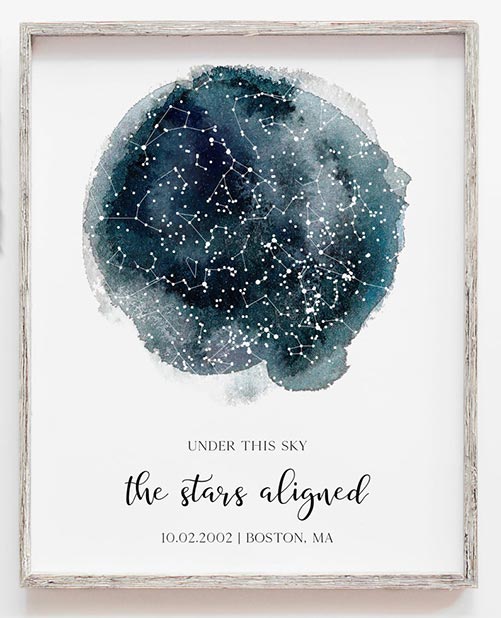 Remember the time and place where you and your man first met, first held hands, first kissed, or even got engaged or married? Of course you do! That place is special to you both, and now you can remember it forever in star map form.
When you provide the date, time, and location for this special place, you will receive a custom digital download of the night sky at the very time your now-memories took place.
Because this romantic star map is a convenient digital download, it means that you won't be waiting days or weeks for it to arrive in the mail; you can print it out from your own printer or have it printed professionally.
2. Personalized Glassware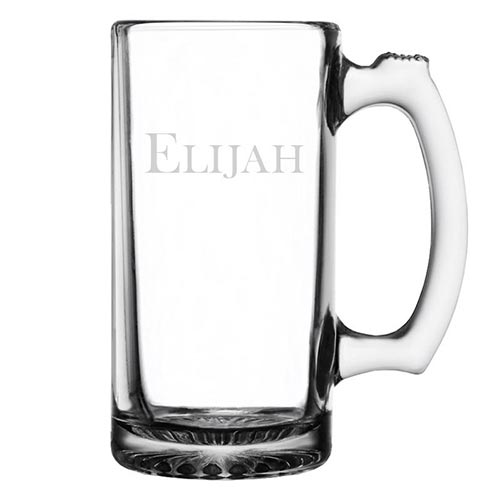 There's something so classy about a high-quality drinking glass. No matter his spirit of choice, there's no way your significant other won't like this gorgeous bar glass. Especially when it comes with his name engraved across the front.
This classic-style beer mug from Northwest Gifts makes a wonderful gift for any occasion: birthday, Valentine's Day, anniversary. It's made in the USA and laser-etched to perfection in our Oregon shop. Holds up to 12 ounces of his favorite beverage.
Check out even more classy gifts for men right here.
3. Love Letter Gift Set
I think we can all agree that love letters will always and forever be a staple of the romantic gift repertoire. It isn't just women who fall all over these things – men do too, if and when they ever receive them.
Collect and organize all your romantic thoughts for him with help from "Letters to My Love." Once you have all your letters written out, you choose a date in the future on which he gets to open each one.
It's like a time capsule in writing.
Looking for more romantic stationary themed gifts for him? Check out our 7th anniversary gift article where stationary is the modern gift theme!
4. Romantic Travel Map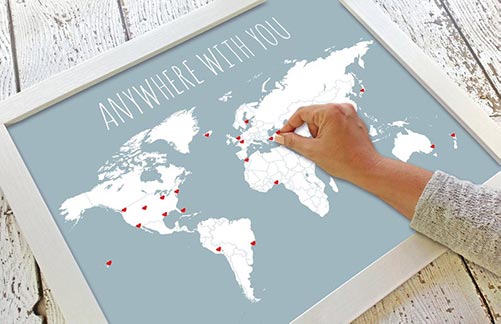 Maybe for the two of you, there's nothing more romantic than traveling the world together.
Photos and even travel journals are the bomb, of course. But it's still ideal to have a place to keep track of, in plain site, all the adventures you take together.
This travel map does just that by mixing "fun" and "romantic" into one. Each time you visit somewhere new, all you have to do is place on the included heart stickers over the location on the map, to keep track (in a super cute way) all the places you've been.
5. (Special) Hot Chocolate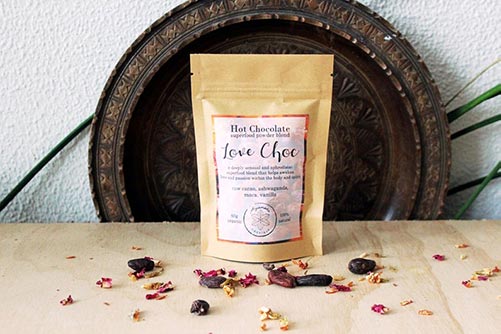 Pretty much everyone likes hot chocolate, even when it's not necessarily cold outside (raises hand). But did you know that there's a "love potion" hot chocolate out there that you and your man can cuddle up with together?
This Love Choc hot cocoa is a blend of raw cacao, ashwagandha, and other super foods to help him feel his best (and preferably, with you). In other words, he's probably not the only one who's going to enjoy this gift!
Choose between unsweetened or coconut sugar-sweetened mix.
6. "We Go Together Like…" Custom Tumblers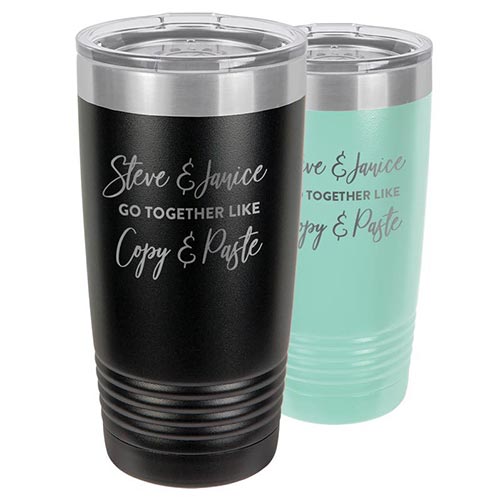 No one can argue that matching couples' gifts are adorable. And when it comes to adorable matching couples' gifts, this tumbler set takes the cake.
These personalized "We Go Together Like…" tumblers are both cute and practical, making them a win-win no matter how you look at it. Two stainless steel tumblers are included, so in reality, you're getting a gift not only for him, but also for yourself, too.
Like the "Copy & Paste" engraving you see above? Here are just a few more fun quips to consider:
"A Bushel and a Peck"
"Coffee and Cream"
"Tacos and Tuesday"
"Sharks and Tornadoes"
"Rock and Roll
"Rum and Coke"
"Pumpkin and Spice"
Which one sounds the most like you and your guy?
7. Some Fancy Cologne
When it comes to romantic gifts for men, there's nothing quite as romantically classical as cologne. Give your man the gift of a good high-end fragrance, and it should go a long way for him, in more ways than one.
You can't go wrong with an all-round winner like Gianni Versace's Eros Eau de Toilette spray for men.
Enjoy a blend of woodsy hues mingled with the more sensual scents of vanilla, geraniums, and amber. Available in a single 3.4 ounce unit or as a 3-piece set.
8. DIY Romantic Scavenger Hunt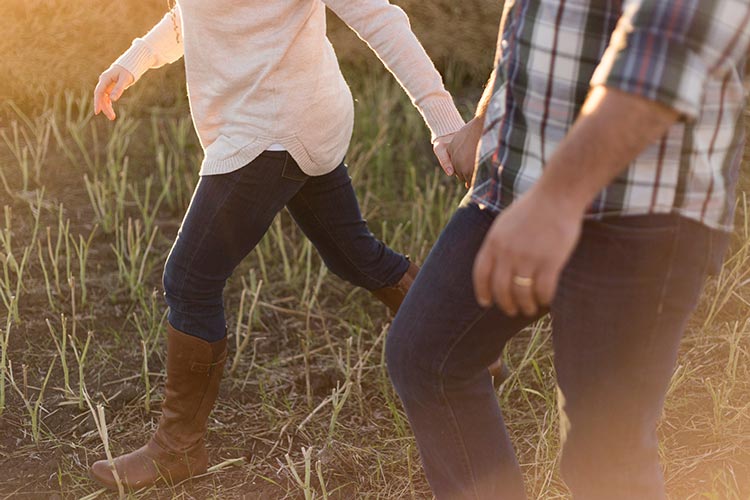 If you want to do something fun with your partner rather than just spend money on a fancy gift, here's a good idea for you: a romantic scavenger hunt.
Because this is a DIY option, you can plan and design your scavenger hunt however you wish. It can be long or short, lead to the place where the two of you can have a date, or it itself can be the date.
Come up with your own clues and make the prizes super fun, too:
A photo album with picture of the two of you throughout the years
A picnic basket with cheese, wine and crackers (you know, romantic stuff)
Some tickets to a ball game, concert or somewhere else fun
One of the gifts on this list!
Click here for even more date night scavenger hunt ideas.
9. Love Language: The Card Game
Everyone has a particular "love language" that they use to communicate their wants and needs to their significant other. You can read more about the five main love languages, from a Christian perspective, here.
"Love Language: The Card Game" is a question-and-answer game in which either of you asks the other pertinent questions about your relationship, family, your future together, and more.
Play this interesting game to discover more about yourselves, and the bond you share, on a deeper level.
10. Personalized Wine Making Kit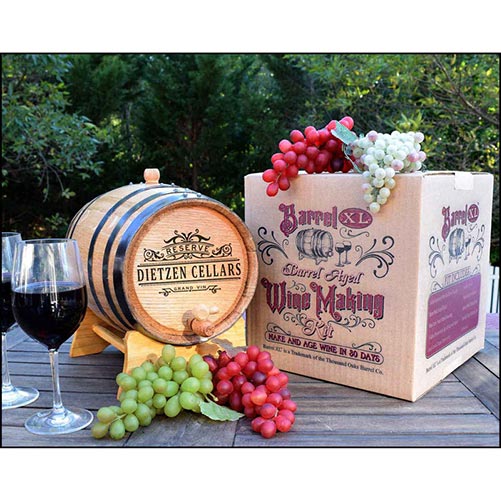 From the first miracle Jesus ever performed right up to modern times, sharing wine has always been an easy and simple way for couples to relax and unwind together after a long day.
Something just as satisfying may be the process of making that wine, too. Northwest Gifts offers an uber cool barrel wine making kit that the two of you can use to make and enjoy your own wine from the comfort of home.
The kit includes everything you need to make one whole gallon: American white oak wine barrel, barrel stand, bung and spigot, yeast and seasoning, and more. AND it comes custom-engraved with your choice of text.
11. Fernweh Candle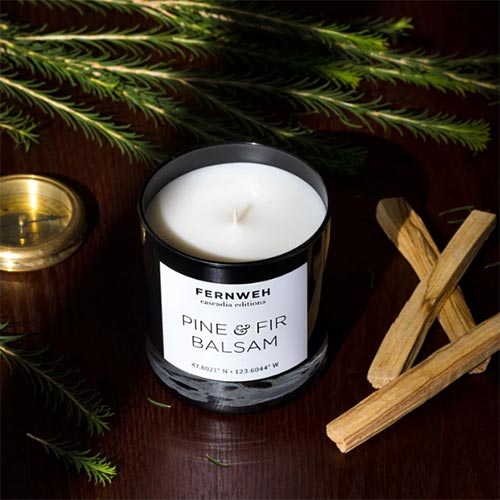 Give him the gift of a journey together… even if it's only in staycation form.
Inspired by the musky scents of the Pacific Northwest, this Pine & Fir Balsam soy candle from Fernweh is both non-toxic and slower-burning than candles you'll find elsewhere.
Allow the essential oils to invade both of your senses and carry you away to somewhere dreamy.
12. Give him a deep tissue massage
Help your hard-working partner relax their stresses away by offering them something that they may very well fall asleep to: a deep-tissue massage from their beloved.
You don't necessarily need any tools to give him a massage, of course. But a high-quality massager like the one you see above can do wonders and therefore be worth the investment.
This handheld electric massage gun is engineered to target layers of muscle that are easy to overlook otherwise. Utilizing the power of percussion therapy, it plows away at tenderness and soreness until muscles are rejuvenated and relaxed.
To learn how to give your partner a deep tissue massage, start here.
13. Inflatable Hot Tub
Speaking of relaxing…
We bet you've never thought about surprising him with one of these babies. So… you're welcome!
This inflatable hot tub takes the hard work and permanency of an in-ground hot tub away; leaving you with a much more manageable (and just as nice) spa/hot tub experience for the both of you to enjoy together.
It comes with a water treatment system built-in, replaceable filter cartridges, as well as insulated cover and locking mechanism.
14. Willow Tree "Around You"
Artist Susan Lordi sculpted the original of this piece out of her Kansas City studio. It leaves no detail lacking in illustrating the connection a couple in love feels for one another.
Offer it to your man as a sentimental, thoughtful gift that he can display where he'll see it (and be reminded of you) every day. Super romantic!
I personally own this Willow Tree figure, along with several others! They go with many different types of decor preferences, and display beautifully pretty much anywhere: on a shelf, as a table centerpiece, on the mantle, on a window sill, or even an office desk.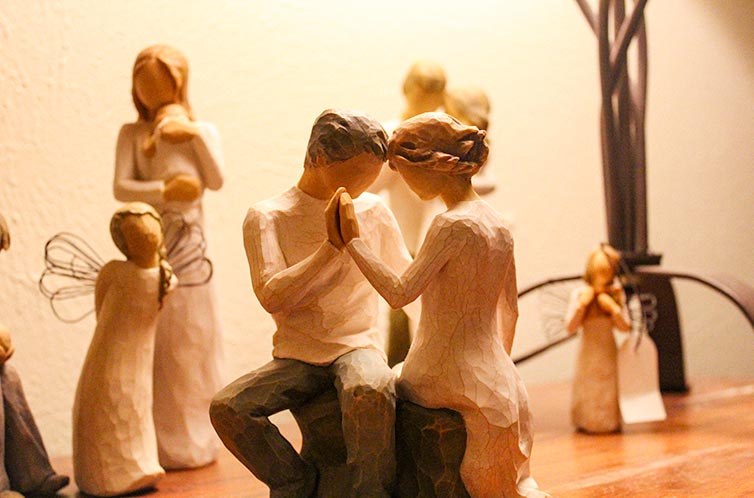 Did you know that we have a master list of gift ideas especially for men? To discover 65+ more ideas, click here.
15. Experience Gift for the Two of You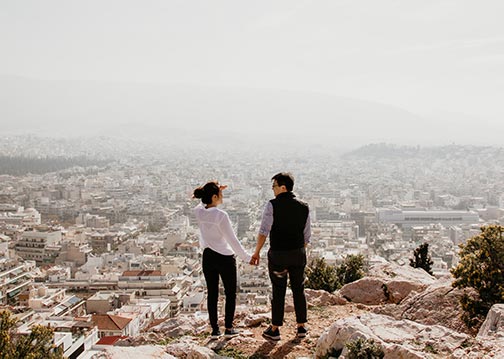 Looking for romantic gifts for men but running into a wall? Try thinking about all the different things the two of you could do together. Because chances are, whatever he's doing with you, he's going to love!
When you surprise him with a Tinggly gift box, you're surprising him with a trip to almost anywhere he could think of, with you by his side.
Horseback riding for two in Houston? A romantic dining experience on Miami Beach? Biking together across the Brooklyn Bridge?
The possibilities are limitless! Best of all, since it's his gift, he's the one who gets to choose where you're going.
"Experience gifts" like this are awesome. Here's even more experience gift ideas for you to consider.
16. Write him a poem and then read it to him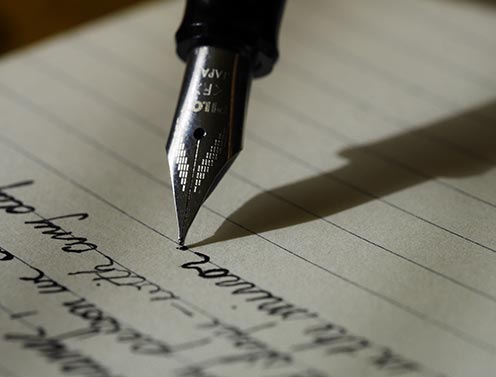 Just like we mentioned regarding love letters above, there's nothing quite as romantic as writing something sweet for his eyes only.
On that note (pun intended), if you're one for words, take your letter up a notch and turn it into a romantic poem. Just knowing that it came from you, that you actually sat down and took the time to turn your thoughts for him into something beautiful, will probably make his heart explode!
To amp up the mushy gushy, go ahead and read your poem aloud to him for added effect. You can thank me later.
For inspiration, here are 10 of the world's greatest-ever love poems.
17. Custom Sound Waves Bracelet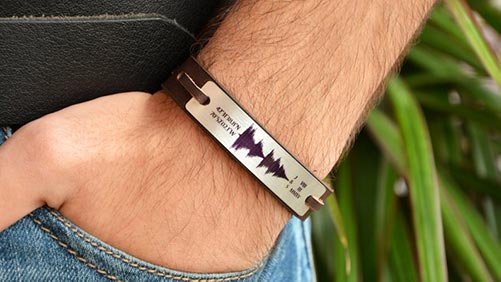 Something as simple as you saying "I love you" can make his heart pound with adoration. So why not have that phrase, or any other sound (like a song lyric), permanently illustrated on a bracelet for him to wear everyday?
This leather and stainless steel sound wave bracelet also comes the option of customizing with coordinates, so go ahead and add those to your order while you're at it.
Maybe the place where the two of you first met, had your first date, got engaged (you get the idea!)… any of those would be ideal.
18. Cashmere Clothing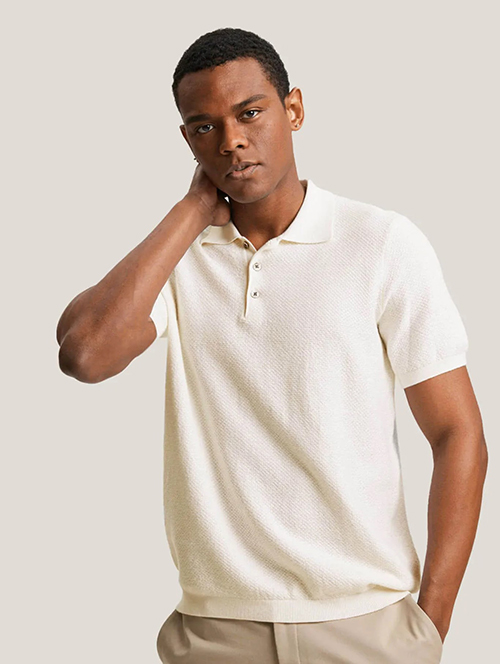 Give him the gift of casual elegance with a set of clothes from Gentle Herd. Their gorgeous collection boasts only the finest cottons, wools, cashmeres, and linens; and their designs are timeless and masculine.
Perfect for staying in or heading out, he'll absolutely love your choice.
19. Get yourself some cute unmentionables just for him!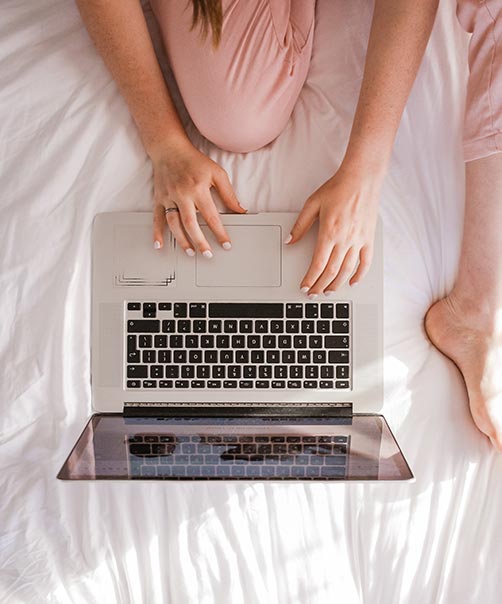 This one doesn't require much of a description – I think you know what we're getting at!
In any case, here are a couple tried-and-true resources for you to meander through:
20. Personalized Sweethearts Bird Feeder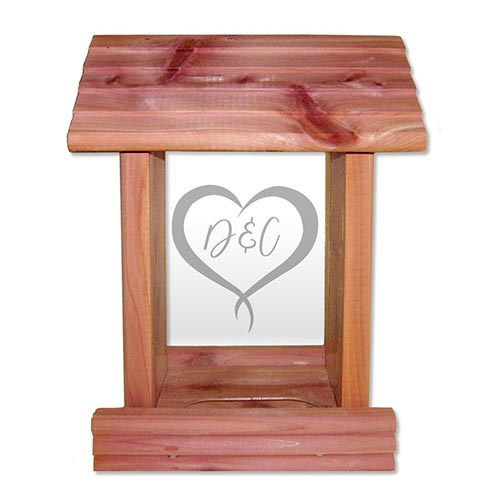 Maybe you're thinking, "Um, a bird feeder doesn't really scream romantic to me…" And you'd be right if we were mentioning any other bird feeder than the one above.
This bird feeder is a Northwest Gifts original, meaning that it's been constructed from only the finest quality cedar wood right here in the USA.
The wood is aromatic (which is just as lovely as it sounds), and the front and back acrylic panels are completely customizable. So keep the heart and initials personalization that you see here if it suits his fancy, or change it up a bit.
21. Tiger Pendant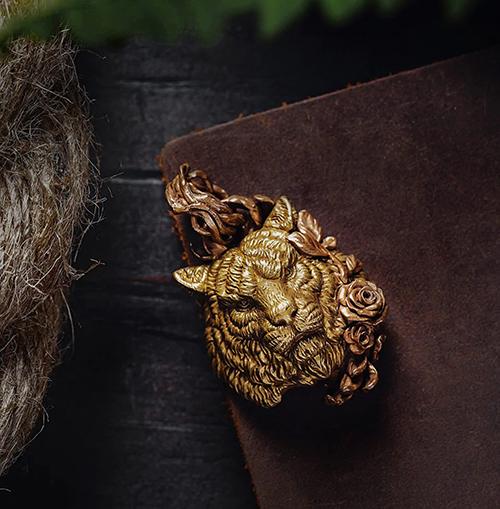 This tiger pendant is a unique and stylish piece that is sure to impress any man who wears it. Made from high-quality brass, this pendant features an intricate design of a fierce tiger with a poem engraved on the back side. Perfect on a necklace or keychain!
More Gift Ideas
Does your search for the most romantic gift for your sweetheart continue? Then be sure to check out the links below for even more lovey-dovey inspiration (with him in mind):