For a wedding or anniversary gift, or as a special personalized gift for birthday or Christmas, or as a step above chocolate & flowers on Valentine's Day, you may be considering a gift of a personalized plaque with a romantic quote for your sweetheart.
Below we've collected some inspiring and romantic lines that you just might love to have on a plaque. Most of these are available to purchase as-is (or personalized with a name), or you can always have us custom engrave the quote on a variety of attractive plaques and other items.
We do completely customizable laser engraving, with no setup fee and no minimum order quantity, on a wide variety items:
So it doesn't have to be a plaque, you can be as creative as you like in both the product and the personalization. With that in mind, for your inspiration and consideration, here are 20 plaques with uniquely romantic quotes, perfect for your soulmate.
Our website is supported by our users. We sometimes earn a commission when you click through the affiliate links on our website. See our privacy policy & disclosures for more information.
1. You Be My Glass of Wine, I'll Be Your Shot of Whiskey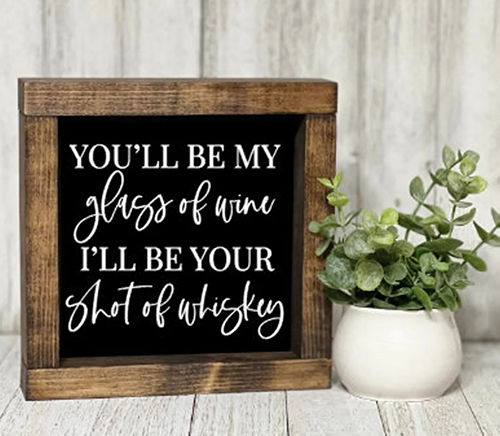 A cute quote for the couple that enjoys wine & whiskey, this plaque is available here.
Go premium: Get this quote etched on a gorgeous and spacious Quarter Barrel Plaque.
2. You Had Me At Merlot
While we're on the wine theme, here is a clever vintage-style plaque with a romantic wine quote: "You had me at Merlot." Get yours here.
Consider giving this plaque (which can include an optional hanging nameboard) along with a good bottle of Merlot and a copy of Jerry Maguire, which features the famous line, "You had me at hello."
3. I Belong With You
This minimalistic print is a stylish gift for any couple that knows they belong together.
4. We May Not Have It All Together But Together We Have It All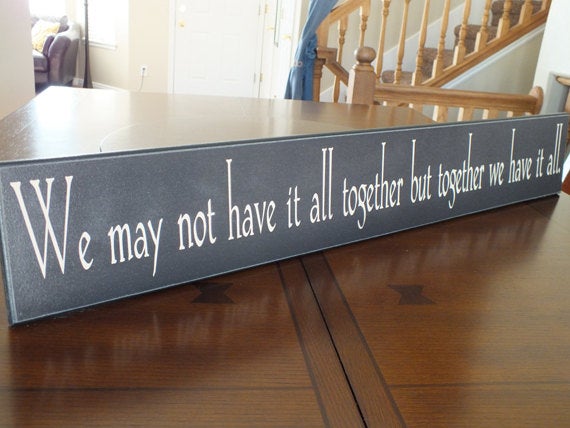 This lovely wood plaque is a wonderful gift idea for those who have been through a lot together and have come out the other side with a stronger and more devoted relationship.
5. Home of a Rusty Old Fisherman & the Catch of His Life
Keeping with the fishing theme for a moment, here is a crusty yet sweetly romantic quote for a fisherman and his beloved wife – a vintage-style wood plaque that says, "Home of a rusty old fisherman and the catch of his life."
Get yours here, and it can come with a customizable hanging name plank that attaches to the bottom of the plaque with hooks.
See more fishing-themed plaques and gifts.
6. You Are My Today and All of My Tomorrows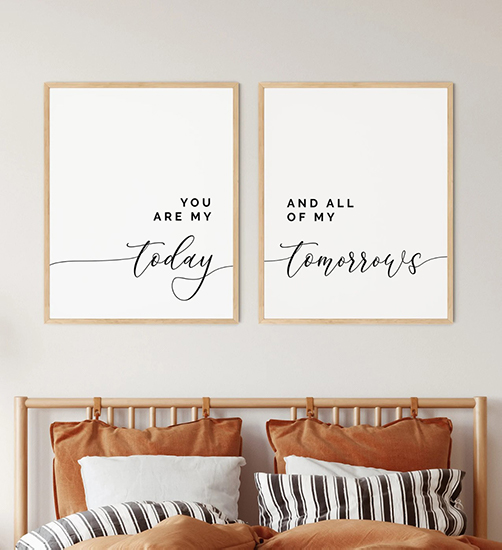 Another contemporary rustic wood plaque. "You are my today & all of my tomorrows." Available here.
7. Five Years and Still Chopping Away
This rustic, bark-lined custom basswood plank is the perfect compliment for this anniversary quote. Includes wedding rings, personalization of names and wedding date along with the quote, "__ Years and Still Chopping Away."
8. Always Kiss Me Goodnight
This is a simple, intimately romantic quote perfect for the bedroom. You can find this quote elegantly depicted as a wall decal as shown above, a reclaimed wood sign, a wide wooden sign, or custom engraved along with your names or other text on one of our alder wood plaques.
9. I Still Fall For You Every Day
This is one of those things that needs to be said over and over in keeping the romance alive – "I still fall for you every day."
Get this quote made onto a plaque here.
10. You're the Best Part of My Day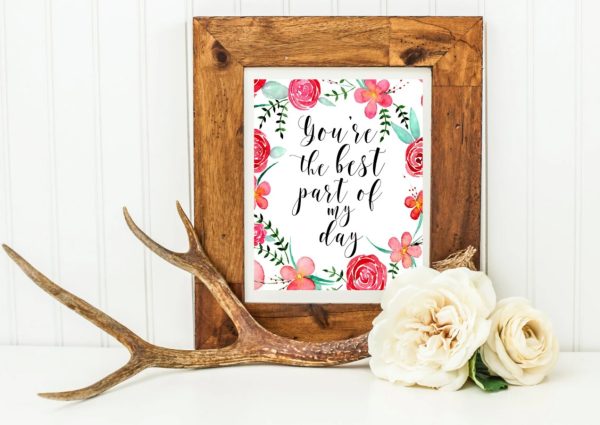 A truly heartwarming quote. Let him or her know that "You're the best part of my day." This is a sentiment perfect for the home or office.
11. You Should Be Kissed, And Often, And By Someone Who Knows How
If your relationship shares the glorious passion of Scarlett O'Hara and Rhett Butler, then this is the perfect quote for you. Give a nice framed typography print like the one above, or have the quote laser carved onto a wood plaque.
Then include a copy of Gone with the Wind – the book or the classic film – and presto! The ultimate romantic quote gift.
12. Wuthering Heights Romantic Quote Plaque
Let's stick with the classic lit theme for a bit. In Emily Bronte's Wuthering Heights, Catherine says of Heathcliff, "Whatever our souls are made of, his and mine are the same."
The plaque pictured above can be personalized and given along with a copy of the book (try this gorgeous boxed set for the literature buff), or perhaps the very best film version. This will result in a memorable and beloved literature-themed romantic gift.
13. Love is Patient, Love is Kind
Possibly the most famous quote in the world about love. The plaque above is available here and features a paraphrase from I Corinthians 13 in the Holy Scriptures:
Love is patient; love is kind. Love does not envy, it does not boast, it is not proud. Love is not selfish, it is not angry, it keeps no record of wrong. Love hates evil but loves the truth. Love never fails.
We've often engraved these verses on our Alder wood plaques, our dark Walnut wood plaques, and our rustic Natural Bark wood plaques. With any of these, you can enter in the text from the Bible verse of your choice and even include names, family names, wedding dates, and more.
Honorable Mentions
Here are some more fun and romantic quotes to consider for creating a special plaque or wall decor piece for your beloved:
Read Next: 11th Anniversary Gift Guide