Let's talk about ideas for quinceañera gifts! Turning fifteen is an exciting and important age in every young girl's life — and especially so when her heritage is Mexican, Latin American, or Caribbean.
A popular religious and social tradition, the quinceañera is much looked forward to, planned for, and is remembered ever so fondly.
As it marks her entrance into young womanhood, quinceañera is an extremely important time for each young woman and deserves to be celebrated.
When it comes to shopping for this momentous occasion, we've curated all the best quinceañera gifts so you can show this special lady just how proud you are that she is entering into a wonderful new stage in life.
What Is a Quinceañera?
A quinceañera celebrates the young woman's life, her importance in her family, as well as her contribution to society as a whole. It's also the age where she crosses over from a child to a lady.
Her quinceañera will start off traditionally with a visit to Mass with her parents and also her godparents. Then comes the party and celebration!
Quinceañeras commonly include a special dance, the gifting of her last doll from her father (which she then gives to her younger sister or any of the other young girls in the family), lots more dancing, food, and of course, gifts!
Quinceañera Gift Etiquette
Gifts are certainly not required for each and every guest, but common etiquette says not to show up empty-handed.
Even a small token or a handwritten card will be much appreciated and shows that you care.
Some simple ideas include an instant camera (so she can document her day), a beautiful piece of jewelry, a prayer book, or a gift card to her favorite store, restaurant, or coffee shop.
Willing to do more than that? Scroll down for some wonderful quinceañera gift ideas!
Traditional Quinceañera Gifts
Traditional Quinceañera Gifts are, by nature, religious. Quinceañera originated in Aztec and Mayan culture as a celebration of a young girl's entrance into society as a woman, and her eligibility to marry, bear children, and take on the responsibilities of a female adult.
With the influence of the Spanish and the Catholic church, it retained its roots as a celebration of young womanhood, but took on many religious meanings, as well.
Each of the traditional Quinceañera gifts (given by her parents and godparents) reflect an element of her ties to her faith.
Let's take a look at some of the more typical religious gift ideas.
Tiara
The tiara symbolizes the fact that she is a "daughter of the King," and a princess in the eyes of God.
Scepter
The scepter represents her acceptance of her responsibilities of being a woman.
Bible
The Bible is to remind her of her ties to and dependance on God's word.
Cross
The cross is to remind her of her identity and relationship with God.
Rosary
The rosary is to remind her of the necessity of prayer and its place in her life.
50 Best Quinceañera Gift Ideas
Our website is supported by our users. We sometimes earn a commission when you click through the affiliate links on our website. See our privacy policy & disclosures for more information.
Family members and friends, if you're looking for the perfect gift for an amazing 15-year-old girl, we've put together the best quinceanera gifts for you to shower the special birthday girl with all the presents, praise, and prestige that she deserves.
1. Elegant Tiara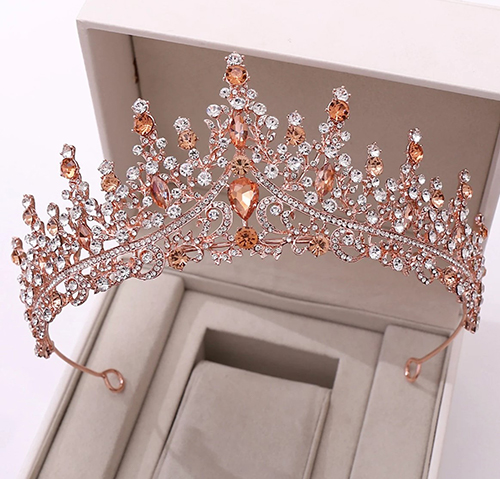 Crown her the princess of the day with this beautiful tiara. It's elegant and "grown up" looking — not like the Disney plastic crowns she used to play with as a little girl.
She'll feel like the center of the world, which she totally is — at least for the night.
2. Mis Quince Satin Robe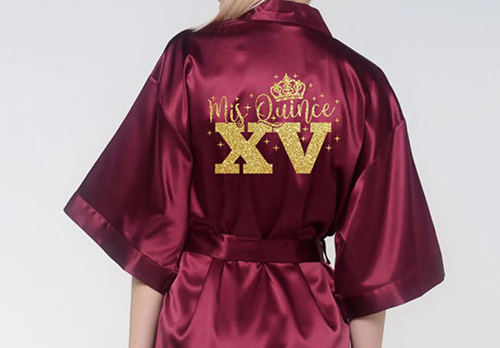 This silky, satin robe is personalized and will be her favorite snuggly outfit in no time. She'll remember her quinceañera for years to come each time she wraps herself in this soft robe.
It's available in a wide variety of colors, so be sure to pick out her favorite.
3. Gold Crown Princess Ring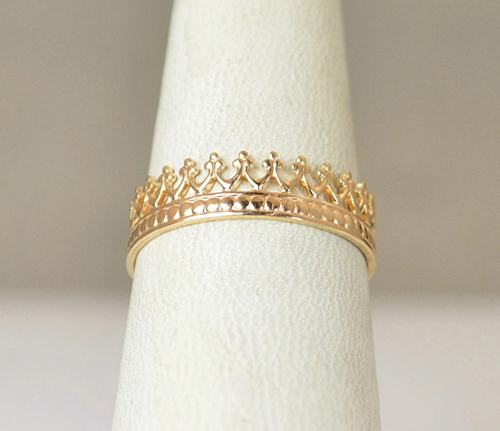 Grown up jewelry is always just the thing for a young lady at the threshold of womanhood. She'll love feeling like a mature and sophisticated woman with this attractive gold crown princess ring.
It will go with all of her outfits, and will sparkle and shine just the way she does.
4. Silver Quinceañera Heart Trinket Box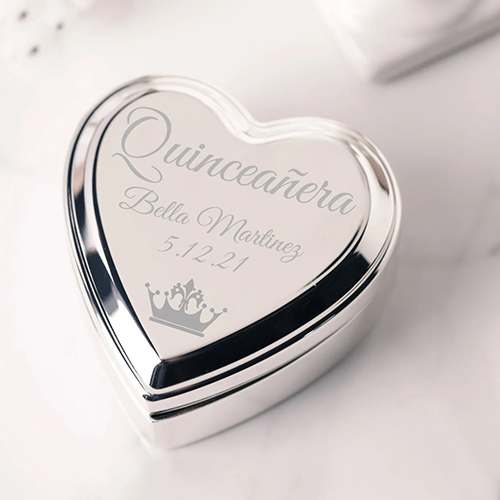 Keeping her mementos from her quinceañera will be so easy with this dainty, silver heart trinket box.
She can store little notes, pieces of jewelry, and other special bits and baubles all safely and securely on her nightstand or dresser.
5. Gold Quinceañera Necklace
Personalized by you until it's just so, this gold quinceañera necklace is a must-have for the young lady.
She'll love the meaning and what you expressed in the one-of-a-kind card, along with the pretty chain and heart.
6. Crown Bracelet
This crown bracelet will shine and sparkle, reflecting light on the dance floor all night long! She'll love the feel of this beautiful bracelet that is a bit whimsical, yet still elegant at the same time.
Quinceañera bracelets are traditionally representative of the unceasing, unbroken nature of God's love, so this gift carries extra special meaning.
7. La Quinceañera Pop-up Card
This quinceañera pop-up card is a work of art. Intricate and detailed, it's no ordinary drug store greeting card. And why would it be, when it's for someone so special and unique?
This is so much more than a card, it's a precious memento to be kept and treasured.
8. Rose Confetti Teacup and Saucer Set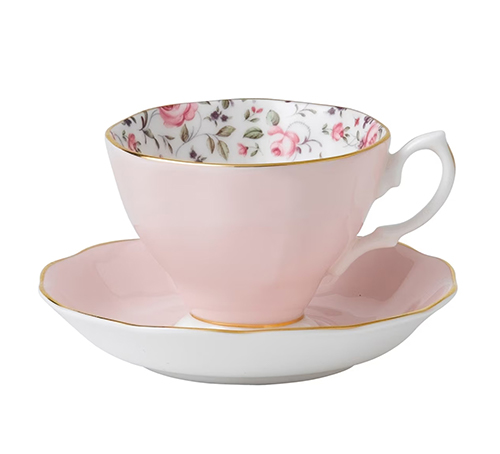 Get her something to truly commemorate growing up, like this beautiful rose confetti teacup and saucer set.
From Royal Albert Porcelain, she'll feel like the Queen of Spain sipping tea from such a lovely set.
9. Silver and Pearl Quinceañera Rosary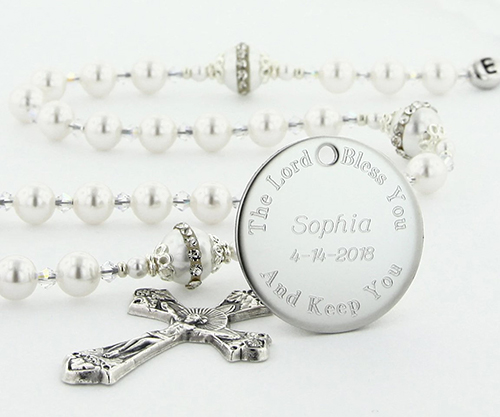 Quinceañeras are heavy on religious tradition, so why not give this silver and pearl rosary?
She'll love how grown up and sophisticated it makes her feel as she heads to Mass with such a meaningful yet practical gift.
10. Mis Quince Guest Book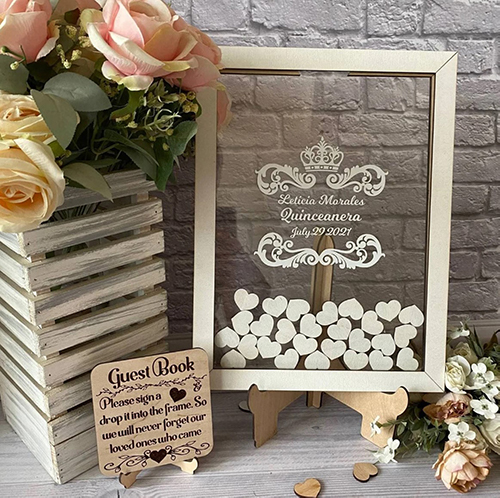 How cute and clever is this Mis Quince guest book? Not really a book at all, which makes it all the more special.
The birthday party goers sign a little heart and drop it into the frame. A fun and unique way to keep track of all of her friends and loved ones who came out to celebrate her memorable day.
11. Satin Embroidered Quinceañera Biblia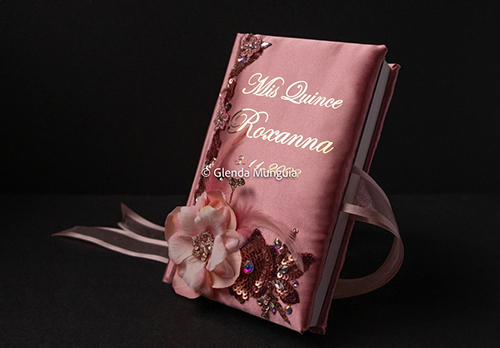 Such a special occasion calls for a new Bible! In fact, a Bible is one of the traditional gifts given on a young woman's quinceañera.
This pretty copy of the Scriptures is decorated with satin and flowers, and is personalized with her very own name. She'll love bringing it with her to Mass and studying her favorite scriptures at home.
12. Sweet 15 Rhinestone Scepter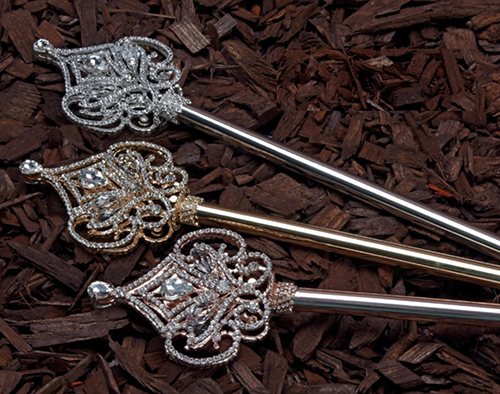 Hear ye, hear ye, all hail her majesty the princess! This sweet 15 rhinestone scepter will have her ruling her kingdom in no time — all in style and with panache.
Another great traditional pick among Quinceañera gifts to consider for her special day.
13. "Princess" Perfume
Being a grown up lady calls for grown up lady perfume!
This one by Vera Wang is just right and she'll love spritzing it behind her ears and on her wrists, just like her mom does. Now she can smell just as sweet as her personality.
14. Vellum Table Decorations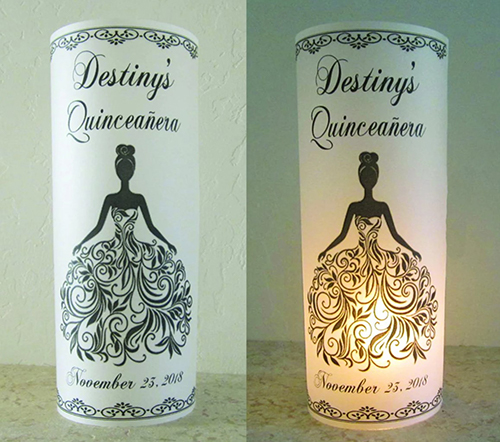 Offer to help decorate the quinceañera as part of your gift-giving with this cute vellum table decoration.
They will bring all of the decor and party favors together in the cutest of ways, personalized to be totally unique just for her.
15. Fifteen Tri-Colored Gold Ring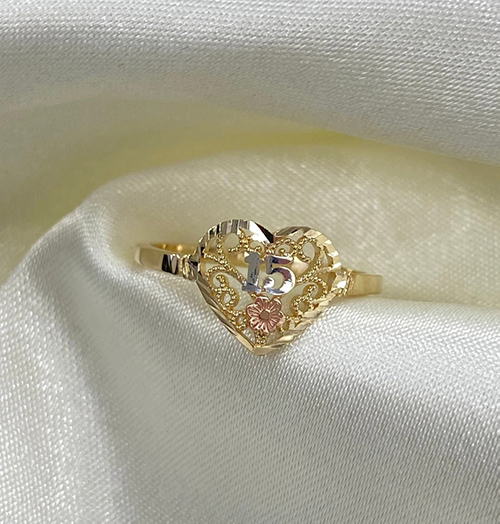 This pretty ring might be small, but it packs a big punch. So gorgeous, she'll love showing it off to all of her friends, and wearing it each and every day.
16. Quinceañera Cookies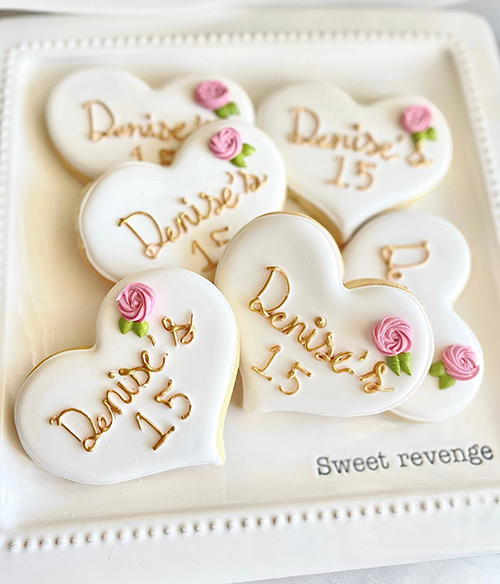 Bring a contribution to the quinceañera celebration with these adorable cookies. Yummy and sweet (in all the ways), this batch of 1- 4 dozen (you choose) are totally personalized just for her and her big day.
17. Glass Crown Votive Holders
These cute crown-shaped votive holders will light up the night!
They'll serve double duty: first, charm all the guests, and then the girl of the hour will love taking them home to decorate her bedroom after the party.
So classy, they honestly look like they came straight from a fairytale.
18. Cherished Blooms Bouquet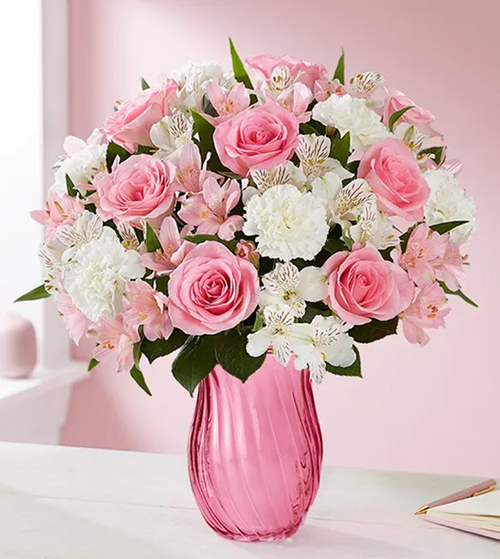 Flowers are one of the most beloved gifts that women appreciate, so welcome her into womanhood with her very own bouquet.
The Cherished Blooms Bouquet is designed to impress and delight, with gorgeous hues of pinks and creamy whites that are perfect for her sweet 15. It will stand-out in all the best ways.
19. Quinceañera Nail Art Set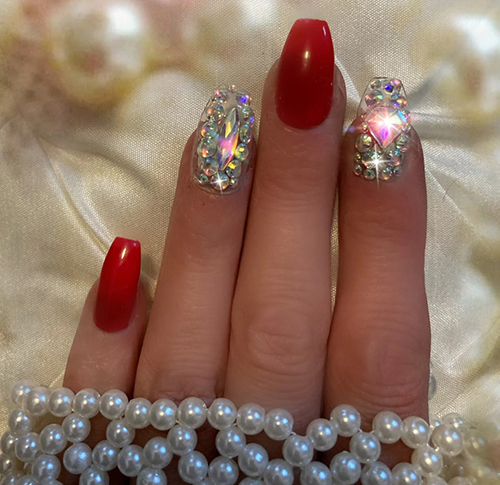 Show off her new rings with a stunning quinceañera nail art set. Easy to apply (simply stick them on), they will transform her hands into those fit for the princess she is. Now she can feel like royalty from her head to her fingertips.
20. Forever Rose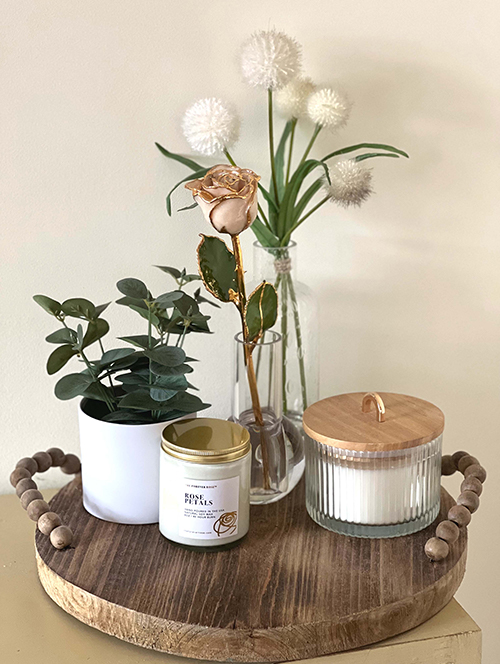 These roses really will last forever! Such stunning and elegant Quinceañera gifts for a stunning and elegant girl, these forever roses are sure to please… and even enchant!
The point is, this heirloom gift will always take her mind back to the magical night she had at her quinceañera.
21. Princess Birthday Photo Projection Bracelet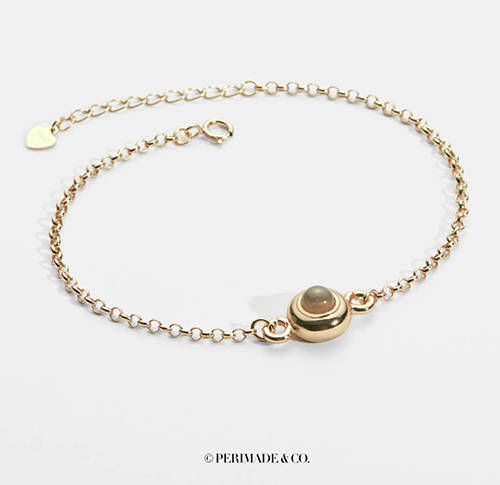 Capture a special memory and share it with the birthday princess by means of this adorable Photo Projection Bracelet.
It's modern and minimalist, and has a truly grown-up look. At the same time, all she needs to do is shine a light behind it and the photo of your choice will be projected on the wall, allowing her to relive her favorite memories at any time.
22. Multi-Colored Jewel Crown
She'll feel like she's starring in her own Hallmark channel princess movie with this sparkling multi-colored jewel crown. It will match perfectly with any dress, and it will stand out in all of the photographs and selfies.
23. Sweet 15 Bath Gift Set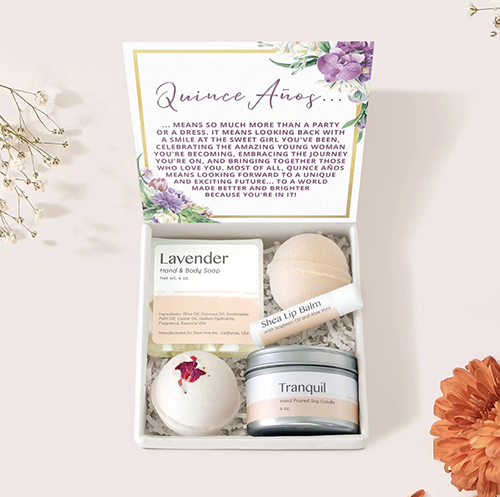 After the big quinceañera is over, she is going to need to relax her tired tootsies and treat herself to a spa at home.
Now she can with this great sweet 15 bath gift set! It has everything she needs to fully indulge after such a long (and wonderful) day.
Related: Relaxing Self-Care Gifts
24. Personalized Mis Quince Hanger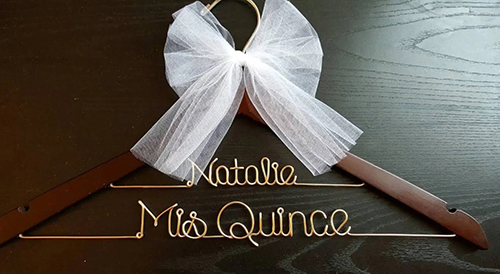 Keep that gorgeous dress off the floor and wrinkle free with this personalized Mis Quince hanger! A practical and fun gift that will be much appreciated.
Once the big day is over she can carefully hang her gown up with this special hanger and store it away in a garment bag to keep forever.
25. Custom Quinceañera Sneakers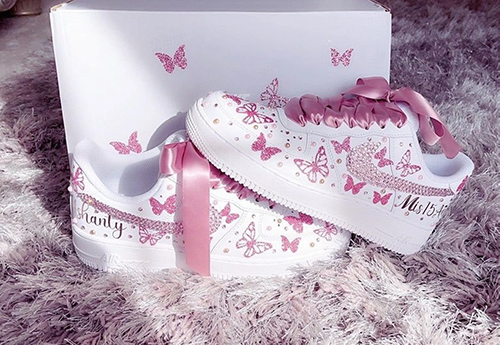 She'll want to dance the whole night away with these adorable sneakers. Well, she might anyways, but her own custom quinceanera sneakers will take her dance moves to the next level.
Sure, high heels are nice for the photos, but her feet need to be comfy and pampered the rest of the evening. These sneakers will do the trick!
Guaranteed to be a favorite among her Quinceañera gifts.
26. Mis Quince Cozy Sweatshirt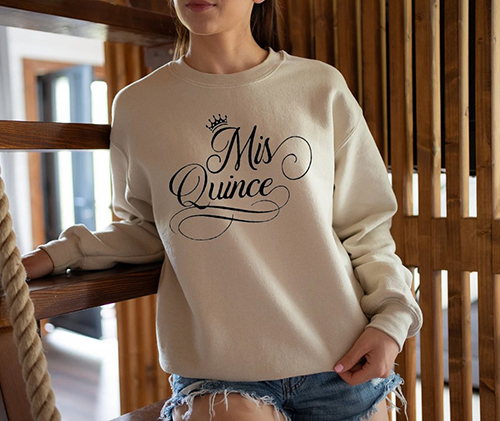 Available in many colors, this cozy Mis Quince sweatshirt is made for planning out the details of the party, and for putting on over the gown once the sun goes down.
A fun way to remember her special day for a long time to come. So soft and cozy, too.
27. Gold "15" Earrings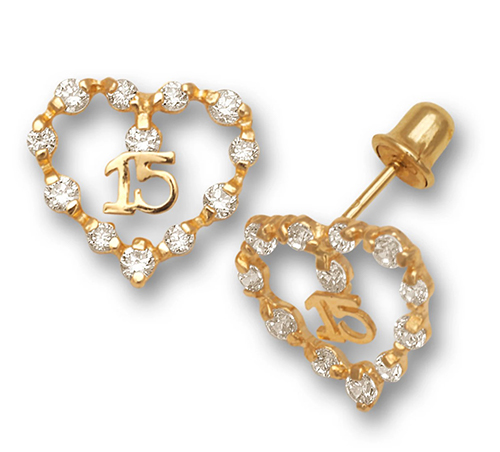 These earrings will sparkle and shine under the dance floor lights! Made of 14k gold and featuring a cute "15" design, they will totally complete her outfit and make her feel like a million dollars.
28. Rhinestone Satin Rose Bouquet
These roses won't die in a week! Made to last as long as her wonderful memories do, this rhinestone satin rose bouquet is truly unique and stop-traffic pretty.
It's an elegant twist on the old custom of bringing flowers to a party.
29. Customized Quineañera Photo Album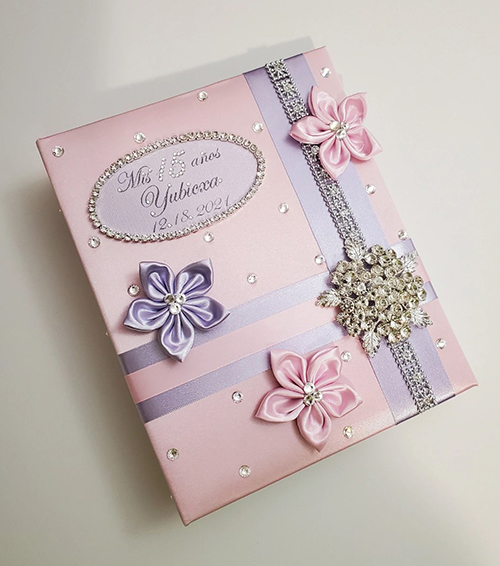 Digital photos on your camera roll are always great, but having them printed and bound in a pretty customized quinceañera photo album is even better.
You can customize everything from the color to the brooch so it's perfectly perfect.
30. Happy Birthday Spa Set for Girls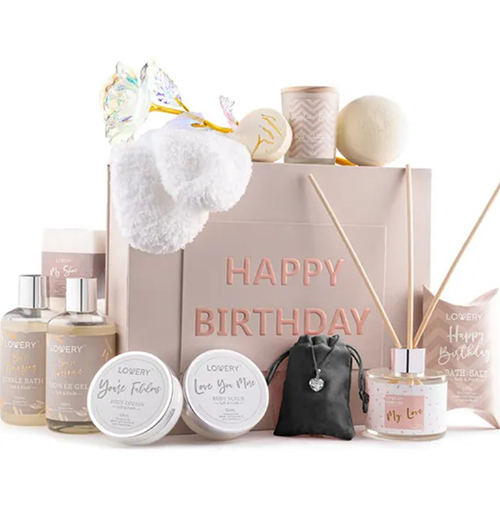 Give her the gift of pampering and relaxation with this great spa set. Along with all of the bath and indulgent body products, she'll also get a beautiful sterling silver pendant.
She'll love this set and love you for giving it to her!
31. Natural Lip Tints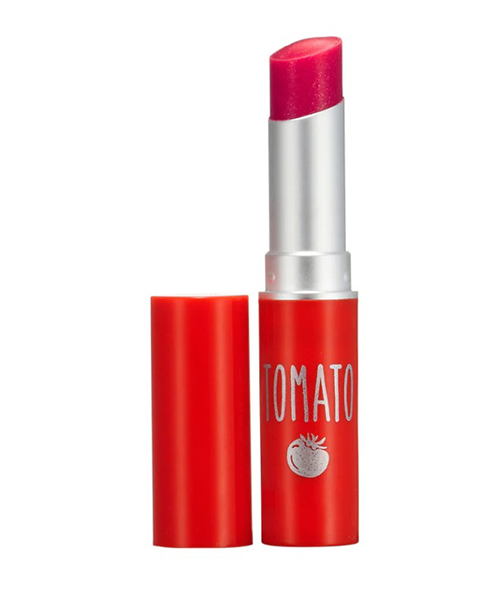 The natural look is always "in" when it comes to timeless and modern style. These great natural lip tints will nourish her lips and give just a hint of flushed color. Totally addicting and collectible.
32. Decorative "15" Chocolate Pops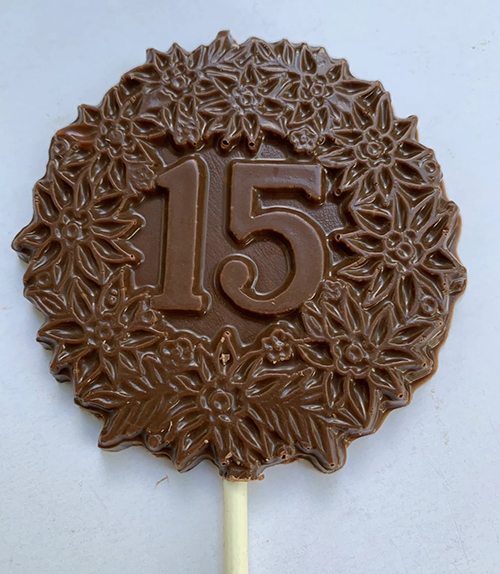 This decorative "15" chocolate pop is a chocolate lover's dream. Almost too pretty to nibble on (we said almost), you can choose from milk, dark, or white so make sure to pick out her favorite variety.
Related: DIY Birthday Gifts
33. Quince Años Last Teddy Bear
Pick out the color of this teddy's dress to match her own! This adorable quince años last teddy bear will be the belle of the ball — or at least, the centerpiece at the party.
Personalized just for her, it is a sweet nod to her childhood and will be very treasured for years to come.
34. Quinceañeras Throw Blanket
After the big party is finally over, she'll love curling up and snuggling with her pets in this quinceañera throw blanket.
Made to cuddle and catch 40 winks with, this oh-so plush blanket will be her new favorite nap companion.
35. Delicate Pink Invitations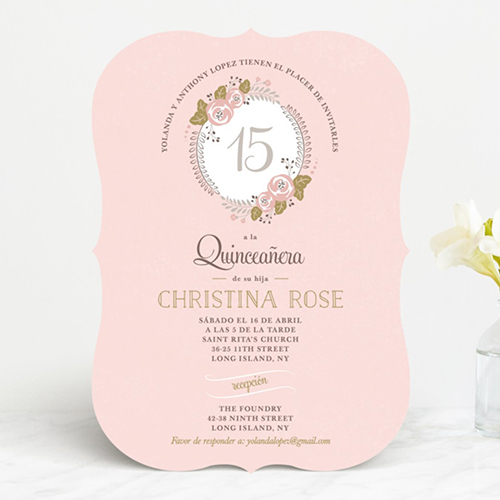 Don't let your invitations be so bland that people forget to RSVP for the big day. These delicate pink invitations will wow the guests and get them excited for the quinceañera ahead of time.
Set the bar high, and aim to impress with these stunning invites.
36. Elegant Princess Jewel Box
She really will feel like a pretty princess with this elegant princess jewel box.
Whether she keeps her letters, jewelry, hair accessories, or mementos inside, she'll love knowing her treasures are secure and organized.
Not to mention it will make her vanity or bathroom look amazing.
37. Cross and Floral Motif Music Box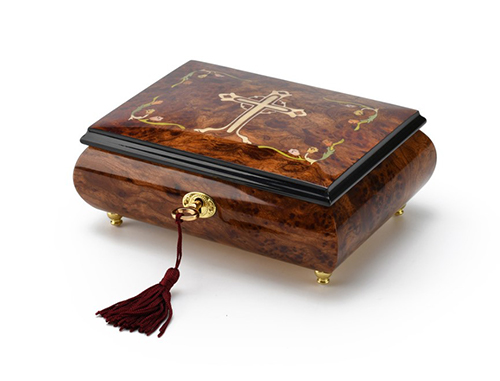 Handcrafted, this stunning cross and floral motif music box is something she'll treasure her whole life and pass down to the next generation someday.
The beautiful, inlaid decoration brings together her love of beauty and the Lord.
38. Aura Saffron Rose Candle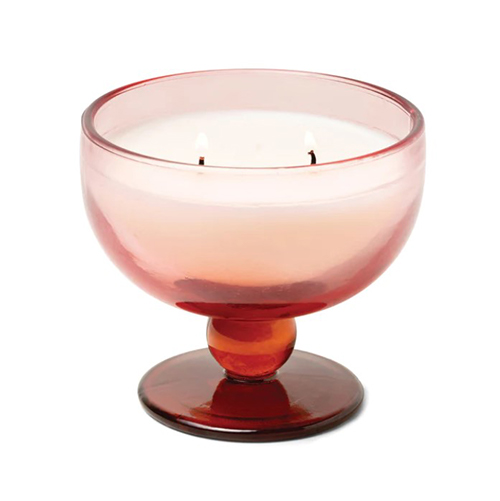 Candles are a grown up gift that she'll really appreciate, and this one is a real beauty.
Once she's burned down all of the sweet smelling wax, she can wash out the container and voila! The perfect ice cream sundae glass.
39. Pink Crystal Rosary
Rosaries don't have to be dull! This pink crystal version will match her style perfectly. Sophisticated but still a bit magical, it's a beautiful accessory to take to Mass or even to study hall.
40. Personalized Fluffy Slippers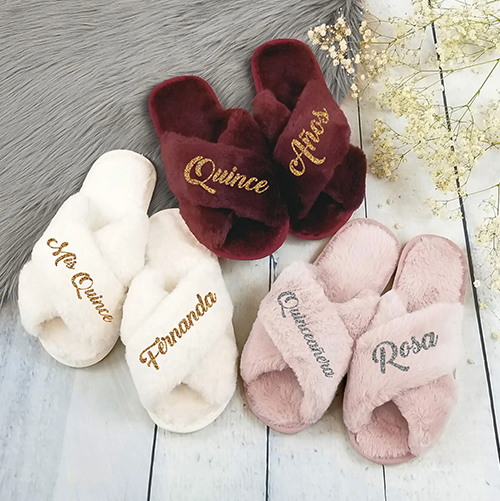 Cozy weekends and lazy afternoons need a good pair of slippers.
These fluffy ones are just to die for, and they're personalized too! With lots of colors and sizes to choose from, this is a great quince gift idea for her.
41. Quinceañera Sash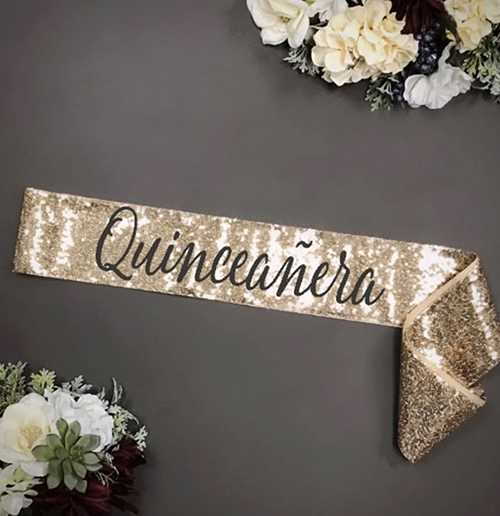 Leave no doubt who the girl of the hour is with this sparkling quinceañera sash. It will make for perfect photographs, will match any dress or gown, and will make her smile.
42. Mis Quince Neon Sign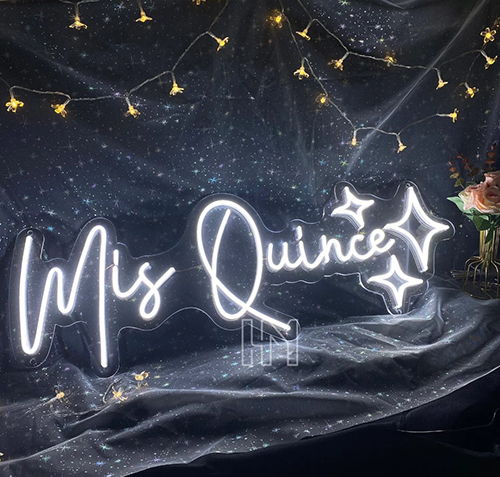 Give her something that will last, unlike chocolates or flowers. This cute Mis Quince neon sign will surely grace her vanity or bedroom for many years to come. So fun!
43. Quienceañeras Welcome Sign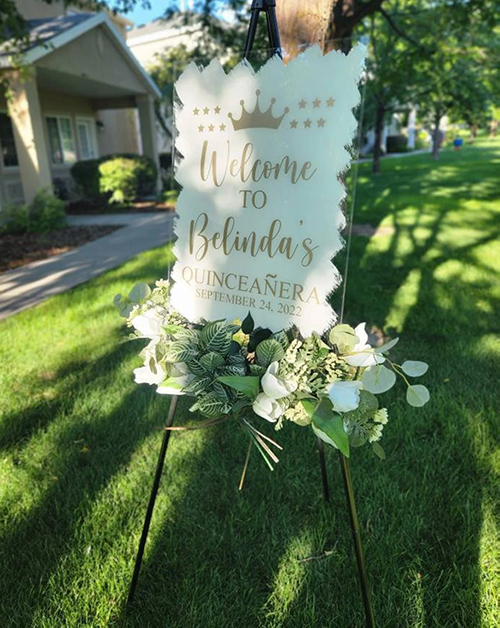 Let the guests know they're in the right spot with this pretty quinceañera welcome sign. Great for outdoors or in, it's also a fun spot to get your photo taken so you can commemorate the event for all time.
44. Happy 15th Mirror Compact
This happy 15th mirror compact has such a sweet message from you. She'll adore having this at hand for makeup touch-ups or to fix that flyaway hair. A grown up gift that she'll love.
45. Personalized Party Favor Candles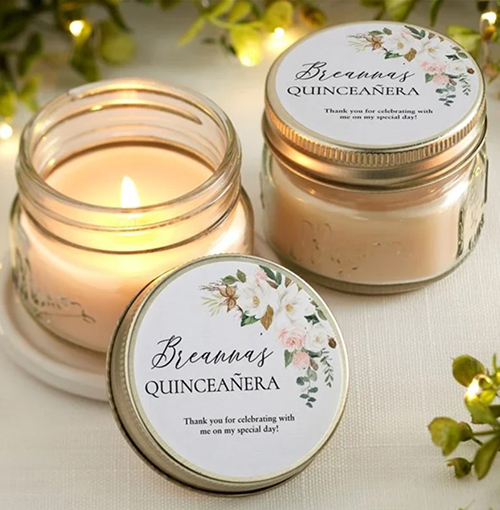 These favor candles aren't just a gift for her, but for the guests as well. Everyone will love taking home a bright candle to remember the fun day they just had. Personalized to be totally unique to your girl and her big day.
46. Quienceañera Offset Picture Frame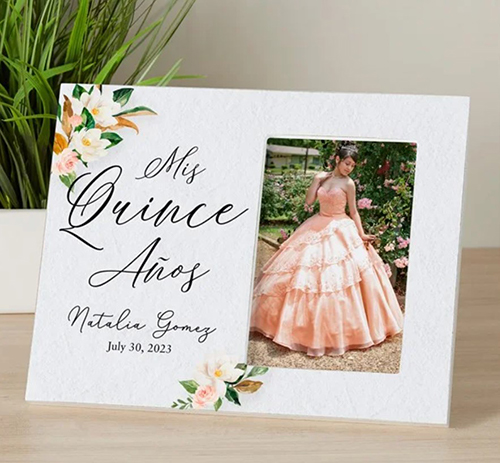 There are so many great photographs of the quinceañera to choose from, how will she decide?! Oh well, she can always rotate them out, right?
This super pretty, offset picture frame will be hung front and center, we're sure of it.
47. Princess Art Portrait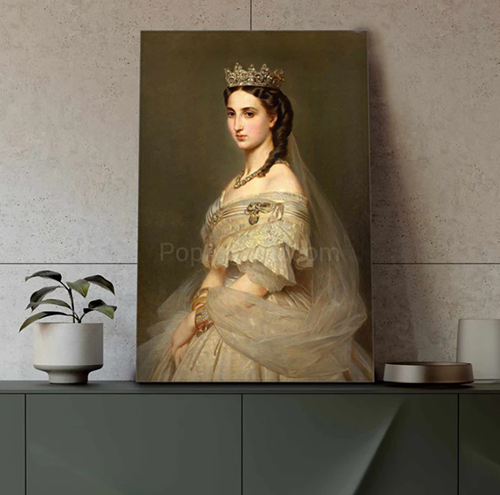 Turn one of her quinceañera photos (or any everyday photo) into a royal work of art with this fun princess art portrait.
She'll get a kick out of seeing herself as the princess or queen she always knew she could be.
48. Personalized Birthday Ice Cream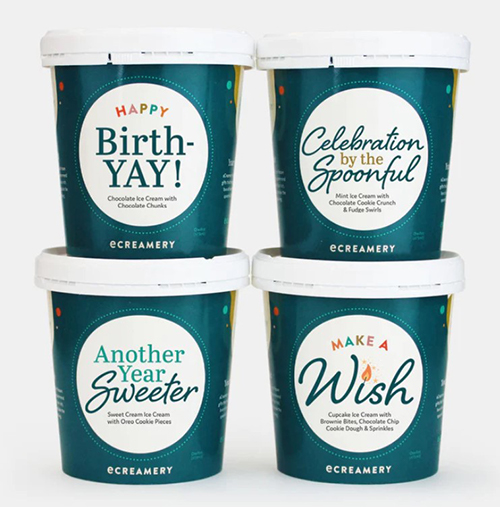 Sure, traditional Quinceañera gifts are special, but have you thought about personalized ice cream? Well, now you have.
This fun personalized creamy treat is well thought-out by you (you scene stealer you!) and will be gobbled up in no time at all.
Related: Last-Minute Birthday Gifts
49. Jeweled Scepter
After all, one must rule one's peasants, mustn't one? This fun jeweled scepter will let her rule with kindness and aplomb. A very adorable selfie accessory, too!
50. Feliz Quienceaños Cross
This beautiful cross necklace will bring a smile to her face. It will be just the thing to brighten up her quinceañera gown and make her sparkle.
A truly beautiful choice of Quinceañera gifts that will make her feel elegant and grown up.
FAQ: Quinceañera Customs
What do godparents give for quinceañera?
Traditionally, the godparents give a Bible, a cross, and a rosary for the young woman's fifteenth birthday.
What do parents give for quinceañera?
Most parents give the teenage girl her tiara and scepter. These gifts represent her growth in maturity and responsibility.
What is the last doll in a quinceañera?
The 'last doll' (also known as the ultima muñeca) symbolizes the ending of childhood for the young woman. Traditionally, the father gives her this last toy, which she then proceeds to pass on to her next younger sister or another relative.
What is the quinceañera court?
The birthday girl invites a group of young women (known as "damas") and occasionally young men ("chambelanes") who are her close friends.
The court will typically wear coordinating outfits and remain with her throughout the day. Often there is a special dance during the party just for the court.
Even More Great Quinceañera Gifts
Concert tickets
Personalized jewelry box
Essential oils
Extravagant jewelry
Bath bombs
An at-home spa day
Makeup set
Read Next: Best Gift Ideas for 15 Year Olds