We love engagements, weddings, and everything in between! How can you not be thrilled for the happy couple on such a momentous occasion? And what better way to celebrate their exciting news than by giving them fabulous and unique engagement gifts?
We've put together a collection of fun engagement gifts that are all a bit swoon-worthy. From unique finds to classic romance, there's a bit of something for everyone.
And we think you'll have just as much fun shopping for them as the lovestruck couple will have opening them all up. Cheers to love! Read on for some wonderful engagement gifts that will really stand out.
Engagement Gifts for Couples
Our website is supported by our users. We sometimes earn a commission when you click through the affiliate links on our website. See our privacy policy & disclosures for more information.
1. Pairs Well with Getting Engaged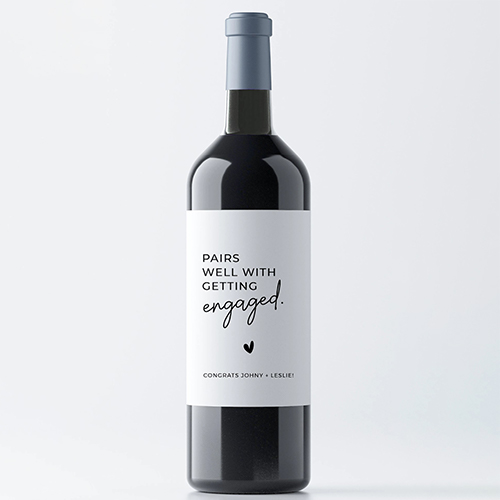 This clever wine label makes a great bottle of vino even more extraordinary! Totally unique and fun, your couple will love keeping this special bottle for many years to come. Easy to apply and available in sets (for maybe the engagement party?), or as a single.
2. Custom Vow Journals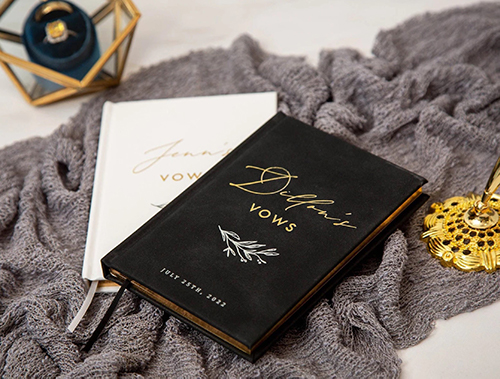 Start writing those oh-so important wedding vows now, during your engagement! These gorgeous, custom vow journals are available in several beautiful colors, and the gold edging makes them super sophisticated and elegant.
Keep one of these pretty journals to diary the days leading up to your wedding, or even use it as a gift to your fiancé on the wedding day!
3. Lovebirds Bamboo Cutting Board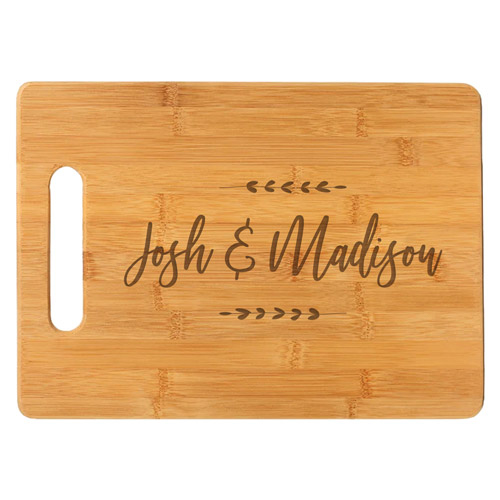 Get them something romantic and personal, but also super functional, like this adorable love birds bamboo cutting board! Made with genuine bamboo here in the US, this sweet board will come in handy during the early days of their marriage and far beyond.
4. Rustic Personalized Pillow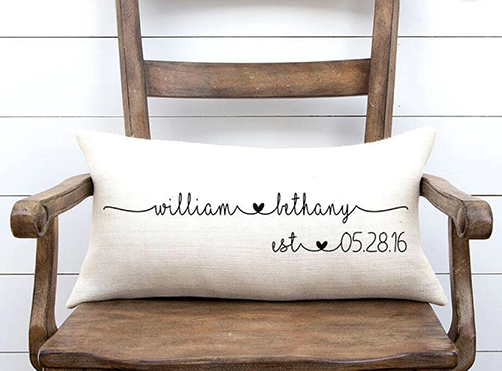 This pretty pillow is personalized with their name and wedding date, making it a great option for a standout gift. The rustic and vintage vibe will go with any style and decor, from farmhouse to minimalistic to cottage chic.
5. Embroidered Roman Numeral Hoodies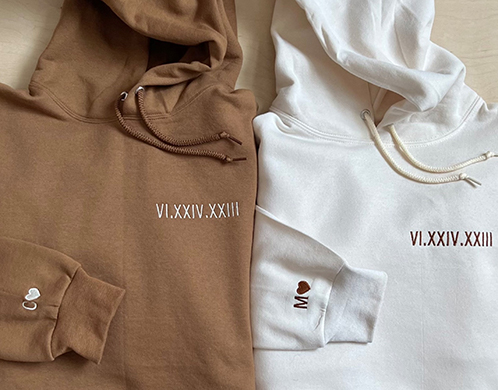 These soft and comfy hoodies are so great, your couple might not ever want to wear anything else! The Roman numerals are such a clever nod to their nuptials, too. People will want to know all about this matching set, and it may just start a trend with their fellow engaged friends.
6. Beautiful Portrait Painting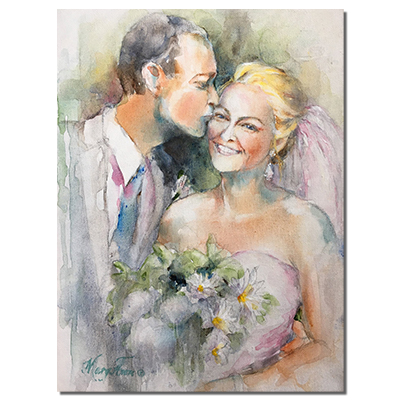 Turn their engagement photograph into a beautiful portrait painting! They'll be gobsmacked at the quality of this artist, and at how thoughtful you are.
A keeper for the rest of their married lives, it's sure to be hung in a special spot of honor (it might even get a spot at the actual wedding reception, too)!
7. Custom Wedding Countdown Calendar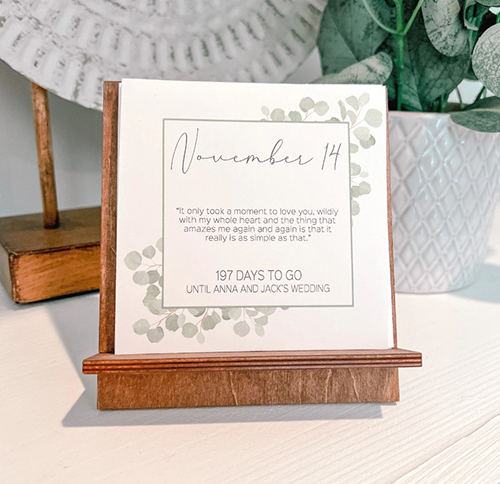 Totally personal and therefore totally unique and special, this custom wedding countdown calendar will have everyone who sees it talking about the big day! A great way to stay organized, not to mention excited, for their wedding.
8. Engagement Night Sky Map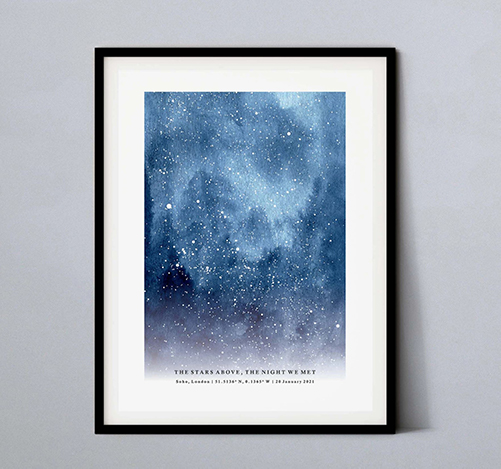 Soooo romantic! This engagement night sky map is a keeper and one for the record books. The record book of great engagement gifts, that is! Completely unique to the happy couple and their story, no two are alike (kind of like love stories).
9. Wooden Family Plaque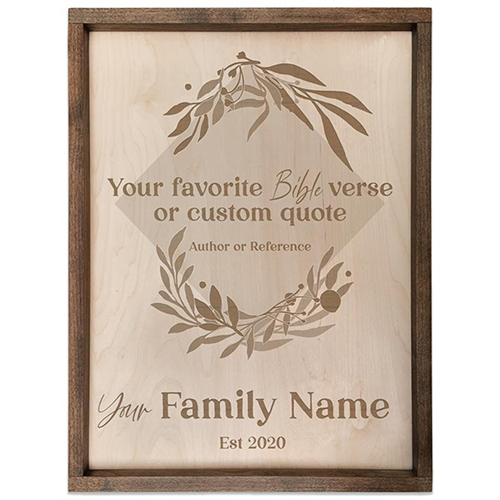 This family plaque is such a great way to start out their home together! Pretty and sweet, it's simple yet really unusual, too. Blending your families and names is just the start of something beautiful.
10. Engagement Vacation Celebration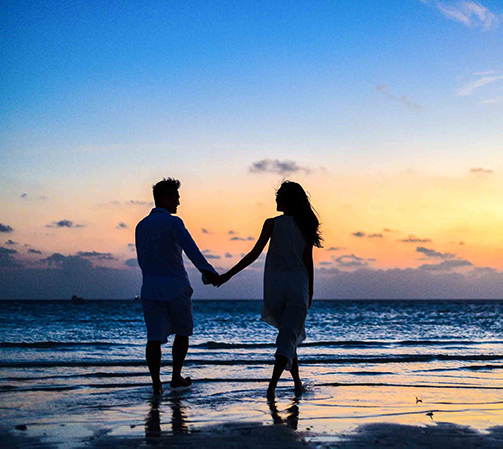 Get them something even better than a gift wrapped present! Get them an engagement vacation! They'll love getting away from all the stress and hustle and bustle of planning a wedding with a sweet little romantic get-away, courtesy of you.
With Giftory, it's super simple to give an experience they'll never forget:
Pick & purchase a voucher
Get it delivered instantly to your inbox
Choose a creative way to give it to them
They choose their own adventure
They go and make some fantastic memories!
11. Heart Shaped Photo Puzzle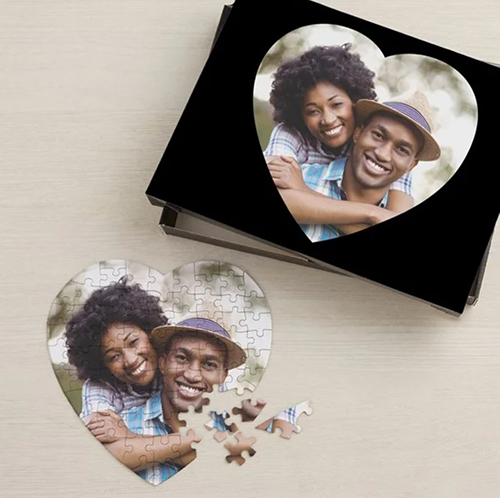 This cute puzzle will be so fun for the happy couple to put together! Puzzles are great for helping to melt away stress and anxiety — and what's more stressful and anxiety inducing than planning a wedding? Great for a date night in, or a lazy, cuddly afternoon.
12. Location Photo Map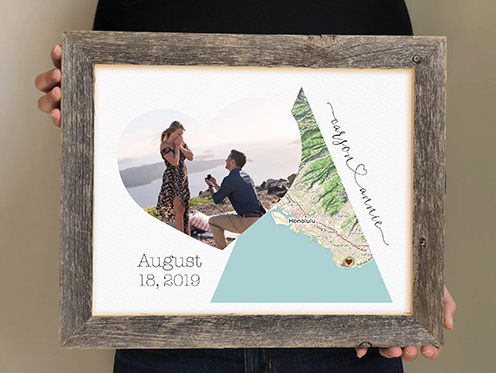 This location photo map will make them swoon! Such a sweet and whimsical way to say 'Happy Engagement' to a wonderful couple. Totally unique to their story and situation, it will earn a front and center spot on their ever-growing family wall of photographs.
13. Engagement Sugar Cookies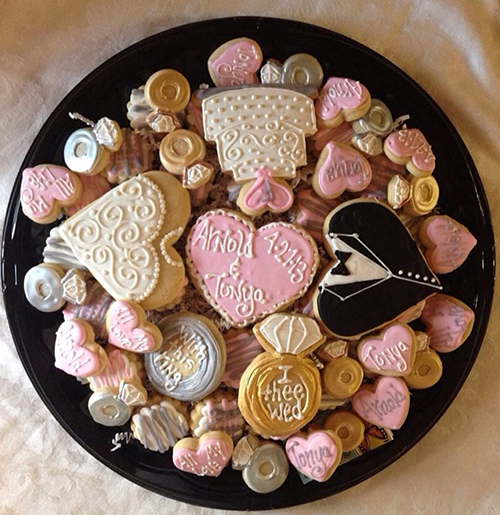 What could be sweeter than their love story? This batch of completely delicious engagement sugar cookies! Give them a boost of sugar so they have plenty of energy to plan their big wedding day!
These cookies aren't your average — they're super special, just like the happy bride and groom to be are.
14. Custom Couple's Doormat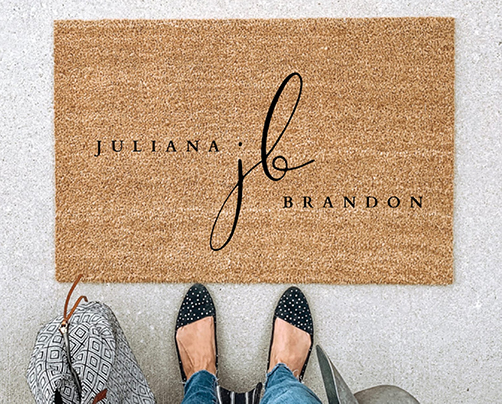 Moving in together is so much fun! Start them off right — right at the front door — with this great custom couple's doormat. They'll love seeing it each and every time they come home. An attractive and totally useful gift that they'll adore.
15. Personalized Congratulations Card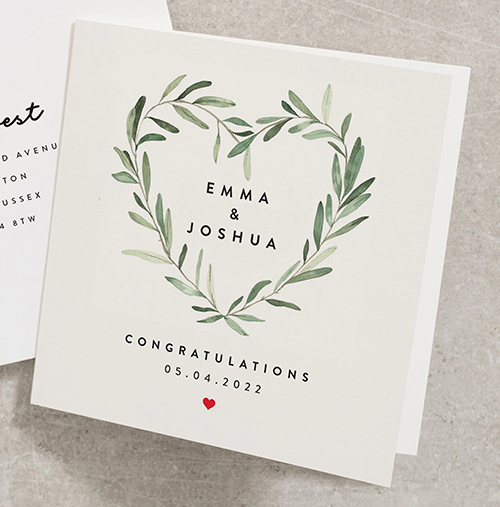 This sweet card is so pretty! We know the happy couple will be just as enchanted with the design as we are. Unique to them, it's a much more thoughtful way to say 'Happy Engagement' than picking up a generic card at Hallmark or the corner grocery store.
16. Non-Gift Idea: Tree Donation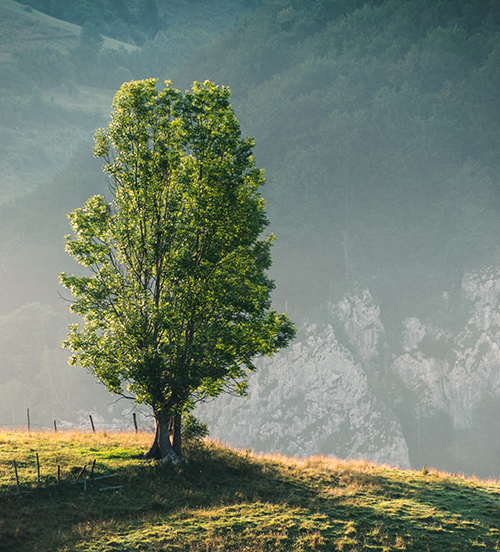 Is your engaged couple more of the minimalistic type? Do they love nature and shun materialism? Then planting a tree in their honor is just the ticket. What a great idea!
Not only are they helping out nature and conservation, they will even be given a map of where their tree is located. Road trip and a fun hike, anyone?
17. Personalized Couple's Hats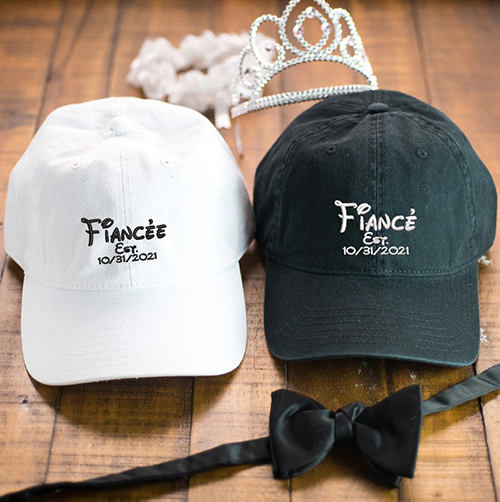 These Disney hats are just too cute. If your couple plans a honeymoon at everyone's favorite theme park, then these hats will make them squeal with delight. Super adorable and fun to wear, and perfect for all those photo ops!
18. Monogrammed Couple's Robe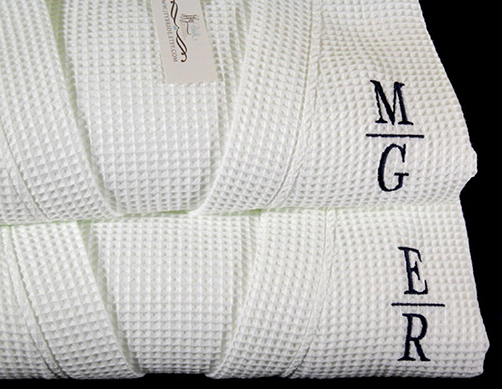 Make them feel oh-so spoiled and swanky with monogrammed couple's robes! They're so romantic, they'll never want to take them off. Great for sneaking out to the hot tub together, enjoying a leisurely Sunday brunch, or watching Netflix and cuddling.
19. Engagement Journal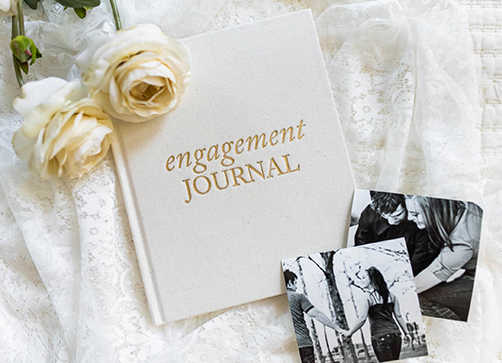 Keep track of everything you need to remember during this exciting engagement period with a great journal like this one! Whether it's used for receipts, quotes, photos, table seatings, lists, or all of the above, this little book is worth its weight in gold.
20. Digital Picture Frame
Add in all the photos of them together, but don't forget some of you and their friends, too! With this fabulous digital picture frame, it's so easy and fun to swap out and add to the collection, no matter where you're located. Surprise them every week or so with something new!
Related: Best Wedding Gifts for No Registry
Engagement Gifts for Her
21. Bride to Be Gift Box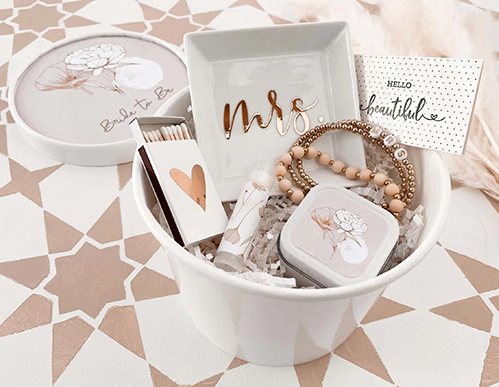 This cute box is sure to elicit a lot of oohs and ahhs when they open it! Perfect for the bride to be with its gentle hues of rose and cream, it's filled with all sorts of things she'll adore. And the box itself will come in handy for storing precious keepsakes!
22. Feyonce Engagement Card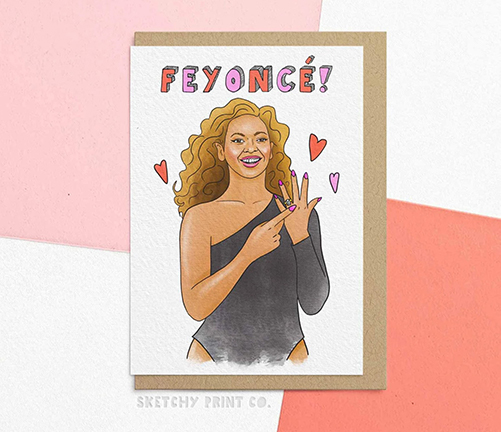 Make her giggle uncontrollably with this funny Feyoncé engagement card! Anyone can pick up a generic 'Happy Engagement' card at their local supermarket, but you went above and beyond (just like extra-queen Beyoncé would do).
23. Gold Ring Display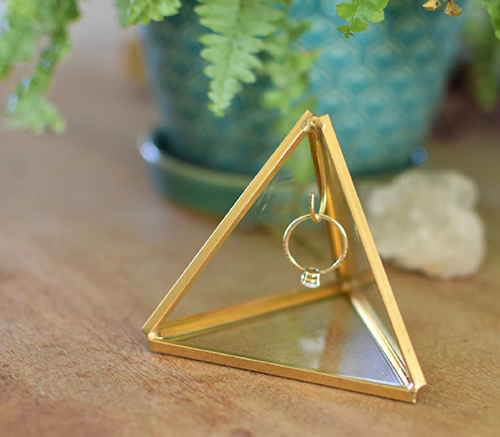 Of course she loves showing off her engagement ring, but sometimes she needs a safe and cute place to put it. Set by the kitchen sink for when she's doing dishes or rolling out dough, or put it on her desk when she's painting or doing pottery…
The possibilities are endless. Way cuter than a normal jewelry box or dish, too! Functional yet stylish engagement gifts are some of our faves.
24. Jewelry Cleaner
Keep that diamond sparkling with a great jewelry cleaner! No dull gold here, no sir! She'll love polishing her ring until it shines like the top of the Chrysler Building.
25. Does This Ring Make Me Look Engaged?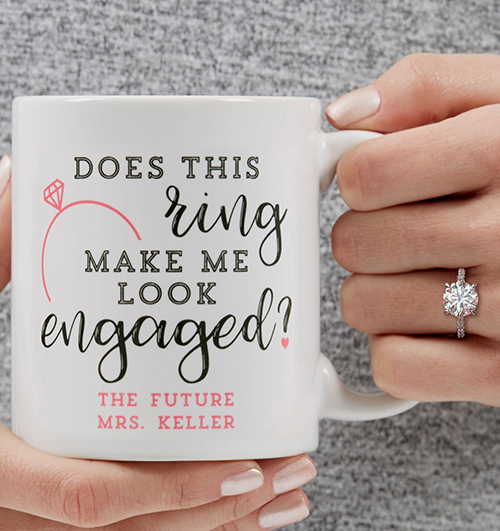 This cute mug is totally personalized and is made to show off at the office, the gym, or while drinking coffee with friends! She'll love this fun mug and will want to sip all of her favorite beverages out of it for sure.
26. Birds on Branch Necklace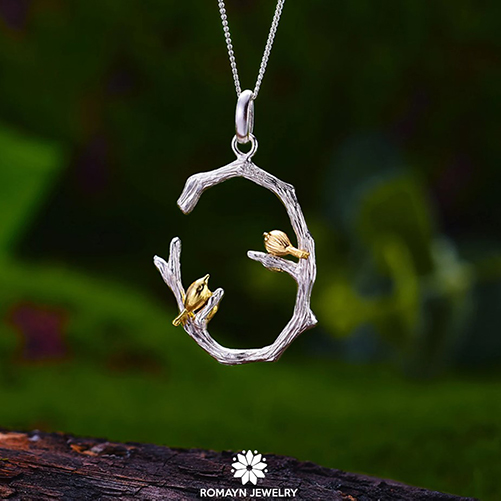 This sweet little pendant is picture perfect! And by that we mean she'll definitely want to take a few selfies while wearing it. The birds are like darling little lovebirds, making it just right choice of engagement gifts for the bride-to-be.
27. Future Mrs Glass Mug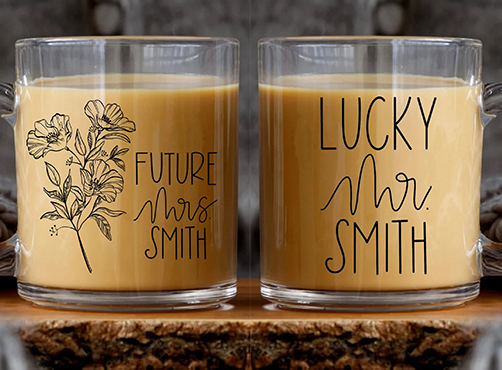 This clear glass mug is customized with her soon-to-be last name, and is such a delight! She'll love such a thoughtful gift and will want to toast to her marriage, her groom, and you — the best gift giver in the land!
28. Bride's Instruction Manual
Well, where was this little puppy back when I got married? This funny book is actually super helpful for not only surviving, but thriving through the most hectic part of your life — the engagement and wedding!
29. Celebration Chocolate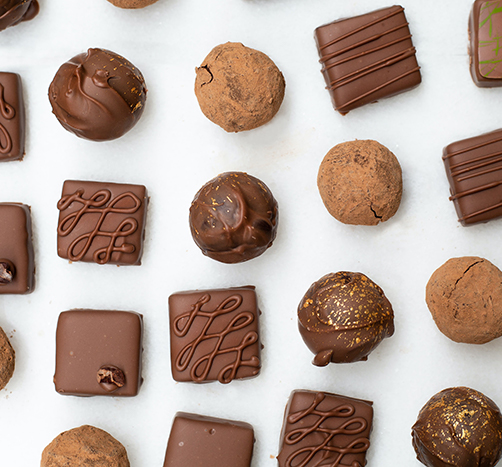 Face it, she needs a little bit of quality time with her bestie: chocolate! She'll greatly appreciate this celebration chocolate, and if you're lucky, she'll share! These decadent desserts are delivered every month, so she doesn't need to pace herself (because who wants to do that with chocolate?!)
30. Future Mrs Sweatshirt
There's plenty of time for dressing up in the future — what she really wants to do is dress down! Like with this ultra soft and comfy sweatshirt.
She can shop for the big day, take a nap, grab coffee, swing by the gym, or just stay home and veg out. She's totally earned it!
Engagement Gifts for Him
31. It's Official Custom Beer Mug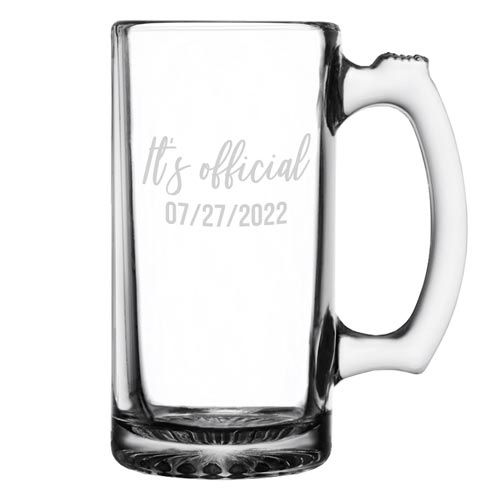 Take him right off the dating market for good with this fun 'It's Official' custom beer mug! He'll love raising a toast to his new Mrs-to-be, and filling up his new mug with his favorite cider, IPA, or stout.
His friends might even be a little jealous and start looking for a way to get their own (wink-wink).
32. Photo Bracelet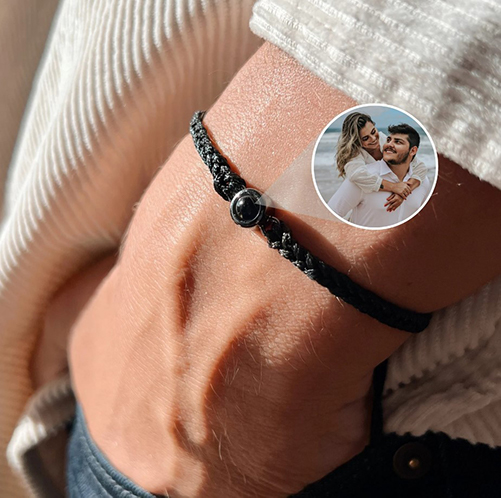 This cool photo bracelet really has us enamored! Not only does the minimalistic style blend right in with your suave man, but hidden inside — for his eyes only — is a great photograph of the two of you! So romantic and just between you lovebirds. We love it!
33. Celebration Cigars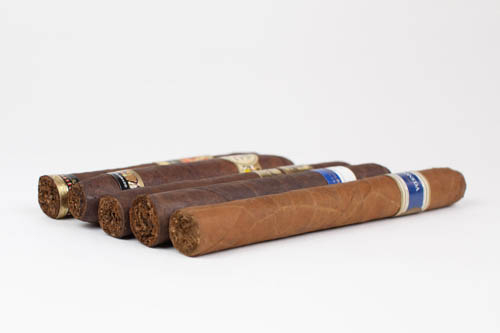 They're not just for passing around at the birth of a baby, after all! These celebration cigars are perfect for lighting up during the engagement celebration. Hand-rolled and delivered each and every month. So sophisticated, don't you think?
34. Engraved Rosewood Pocket Knife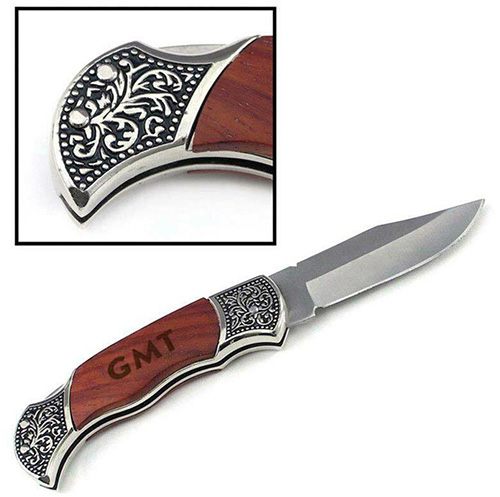 Engrave this amazing rosewood pocket knife with his name or maybe your nickname for him? Sweet baboo? Love monkey? Jungle stud? Well, whichever direction you go with the engraving, he's sure to love this high-quality and handsome blade.
35. Custom Whiskey Barrel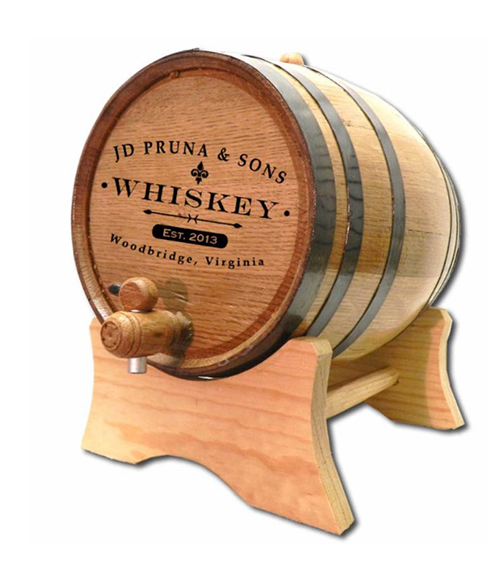 Don't forget the whiskey! This amazing custom whiskey barrel is going to be the talk of the dinner party, the tailgating group, the backyard BBQ, or maybe even the talk of the town!
It's really that cool. Made of oak and made to last, it's a great conversation piece that will be kept for years and years.
36. Personalized Congrats Beef Jerky Message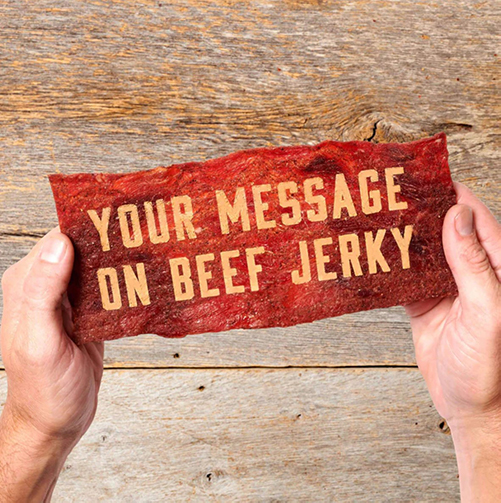 He's really not that into your bouquet of roses or even a box of chocolates. Nope, what he really wants (even if he doesn't know it yet) is a personalized message on a big ol' slab of beef jerky! I mean, come on. Who would turn down beef jerky?
37. Engraved Leather Flask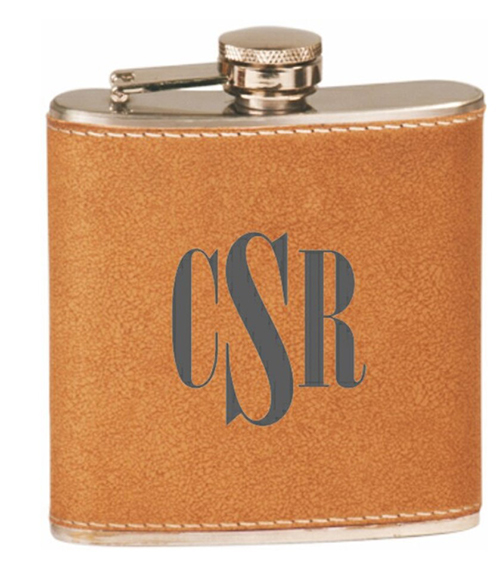 Keep him as suave and sophisticated as 007 with this engraved leather flask. He can sip his favorite liquor in style and feel like a million bucks once he owns this! The style is timeless and modern all at once, and it's such a grownup, ultra-cool gift for your dude.
38. Groom's Instruction Manual
Because you know he needs one! This clever book will guide him through just about everything he needs to know to have a smooth engagement, a picture perfect wedding day, and a romantic honeymoon (wink-wink, nudge-nudge).
39. Custom Message Shortbread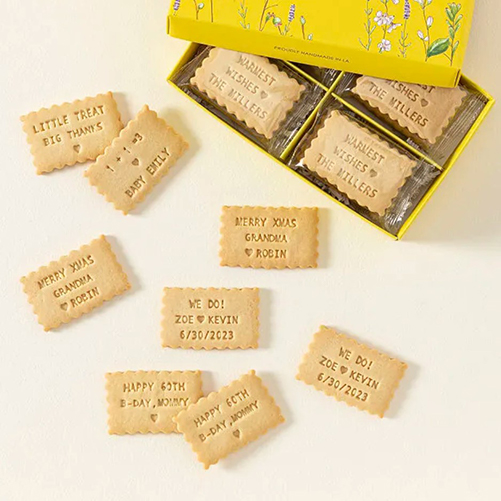 If your guy has a major sweet tooth, he'll eat up this custom message shortbread! Almost too cute to eat (we said almost) these delightful treats are melt-in-your-mouth good. You can personalize them however you like, making them truly one-of-a-kind!
40. His Own Ring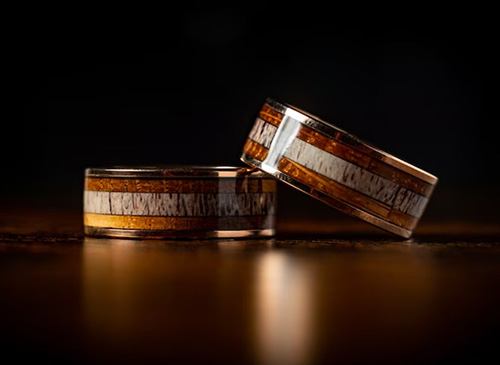 Who says engagement rings are only for girls? Show the world he's taken with a ring all his own! One of these fabulous rings will be a wonderful token of your love and devotion, all while adding a touch of class to his daily ensemble. He'll love its masculine elegance.
Traditional Engagement Gifts
41. Flowers & Rose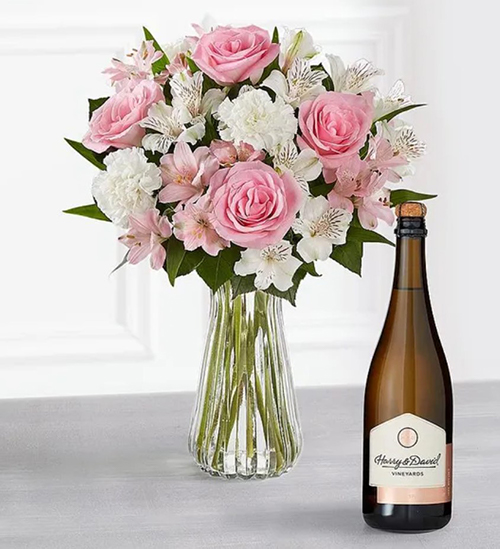 It's a classic gift for a reason! Flowers are such a simple yet timeless way to show you are thinking of the bride and groom. Pick their favorite blooms in their favorite colors, and be confident that you are having not just flowers delivered, but smiles as well.
Related: Beautiful Flower Gifts
42. Dinner Celebration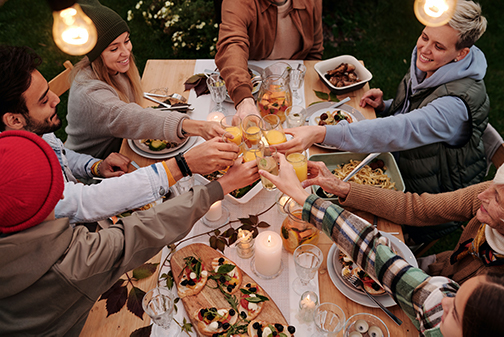 Celebrate their engagement with a romantic dinner & toast for the couple-to-be! Whether you have it catered, make reservations, or cook them a family meal!
This is a great opportunity to hear the engagement story, reminisce, laugh, and have some great conversation.
43. Engaged! Personalized Ring Box Ornament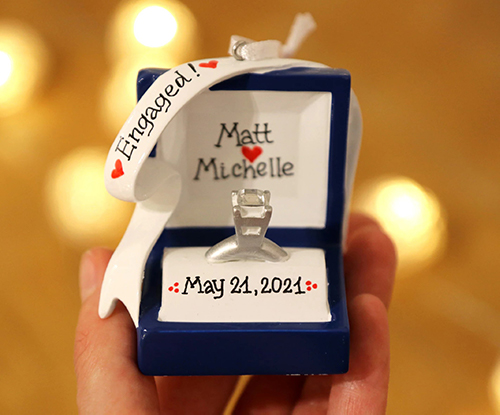 This super cute, personalized ring box ornament will light up their Christmas tree! Whether or not they got engaged near the holidays doesn't really matter — "our first Christmas together" ornaments are always appreciated, and this one is a little more special.
44. Wedding Ring Dish Holder
This sweet wedding ring dish holder is sure to come in handy more times than you might think! The cute design stands out in any room, and it's a great place to stash your rings safely while you wash produce, cook meals, scrub the dog, do chores, etc.
45. Our Adventure Book Engagement Scrapbook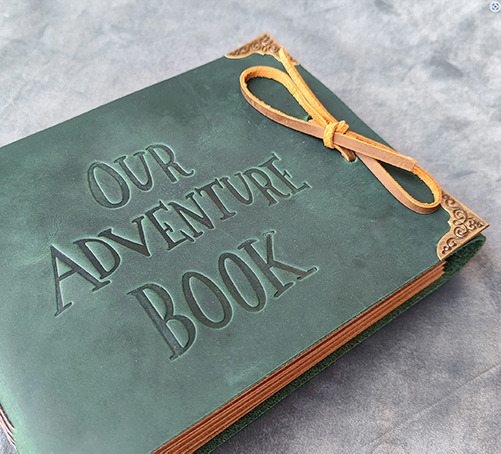 Document your crazy stories together with this 'Our Adventure Book' Engagement Scrapbook! Their future kids will love reading through this adorable book someday, and it's just so much fun to fill out. Memories are so instrumental in a successful marriage!
Personalized Engagement Gifts
46. Engagement Map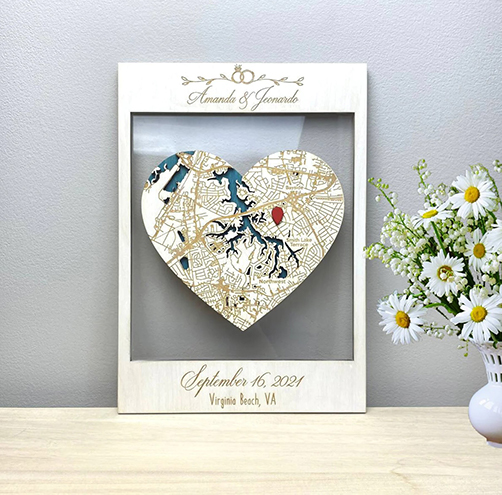 This Engagement Map is a stunner just at first glance! But once you get up close and personal, it gets even sweeter due to the personalization.
What a beautiful work of art that is made even more special and unique, thanks to a little forethought about the details of their engagement.
47. We Go Together Like Tumblers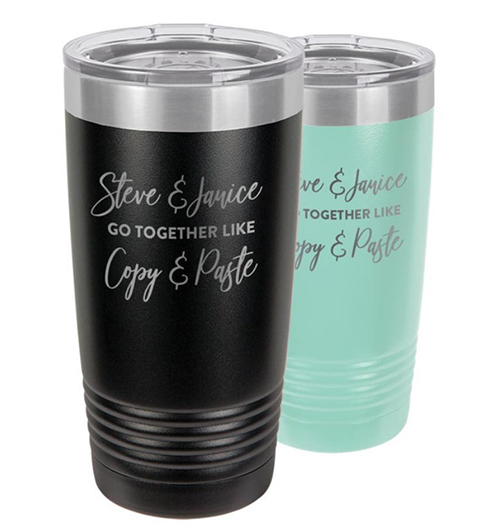 Great tumblers aren't always easy to find, but we did some leg work for you. These ones are available in different colors, can be engraved however you see fit, and are vacuum sealed!
That means their beverages will stay at just the right temperatures all day long. It's a win-win for everyone!
48. We're Engaged! Candle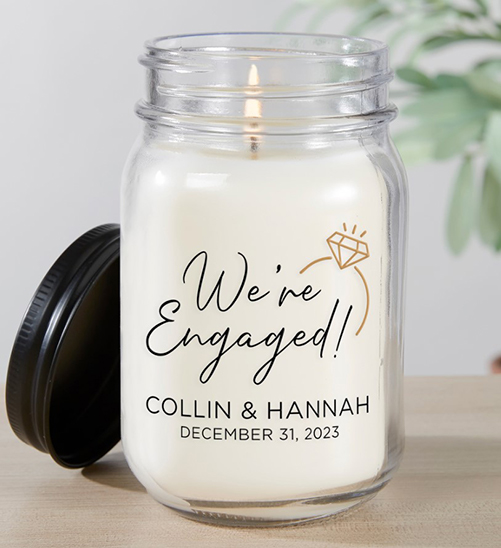 They'll love lighting this special candle during date nights at home, while watching movies (add a little romantic ambiance), or just to make the home smell fresh and inviting. So cute and thoughtful, it's a well planned gift that will make them smile each time they light it.
49. She Said Yes Frame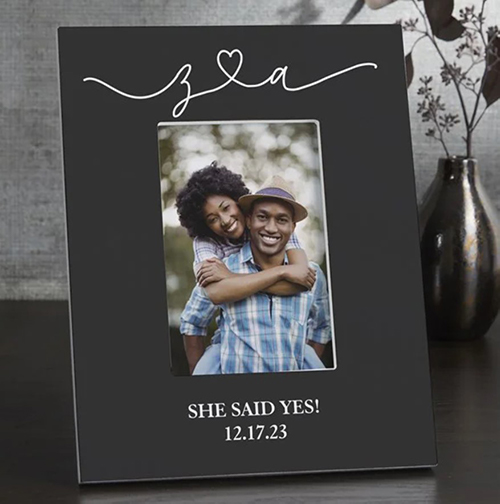 Get that adorable photo of the two of them framed stat! This 'She Said Yes' frame is perfect for the occasion. They'll love having this keepsake around for years and years to come. Easy, thoughtful, and just absolutely perfect!
50. Couple's Bucket List Journal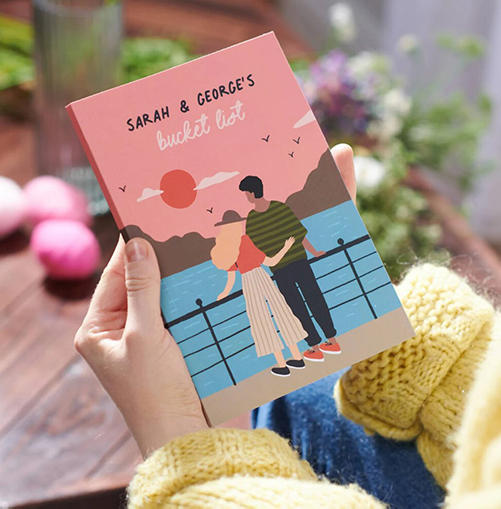 Have them keep track of all of the adventures they want to go on together with this great Couple's Bucket List Journal. It will keep the dreams alive, and get their inspiration really flowing with new ideas. Perfect for planning future anniversaries, birthdays, or even their honeymoon!
Unique Engagement Gifts
51. The Adventure Challenge: Dinner Dates & Couples Edition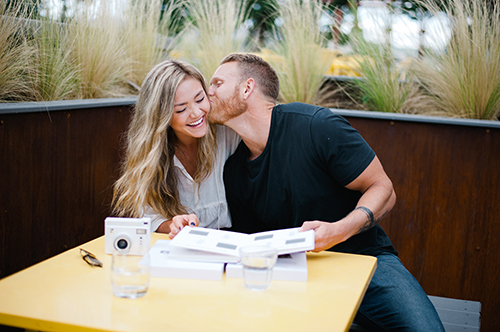 With scratch-off dates and totally unique ideas and fun challenges, this Adventure Challenge: Dinner Dates and Couples Edition will be their absolute favorite gift this engagement season! They'll be closer than ever before after playing this uber-romantic game.
52. My Humans Are Getting Married!
Perfect for Fido or Fifi to dress up and feel like a part of the wedding, too! So cute, puppy will love boasting about his upcoming nuptials. Well, his human's nuptials anyway. Maybe he's next, though?
53. Royal Couple's Portrait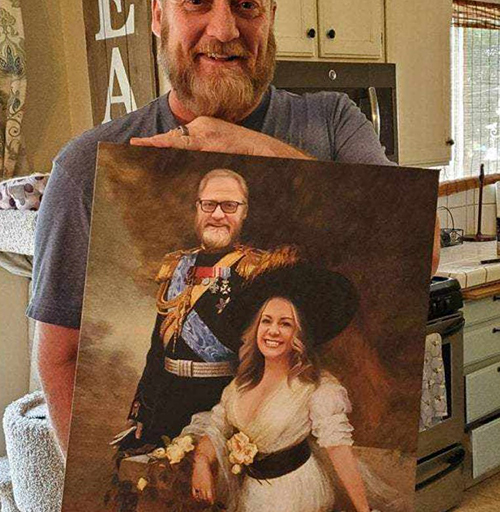 Make them laugh and laugh and laugh, and then go hang this silly Royal Couple's Portrait front and center where everyone can appreciate it! They'll go bananas over this fun gift that will treat them and portray them like the King and Queen they are.
54. Sweethearts Bird Feeder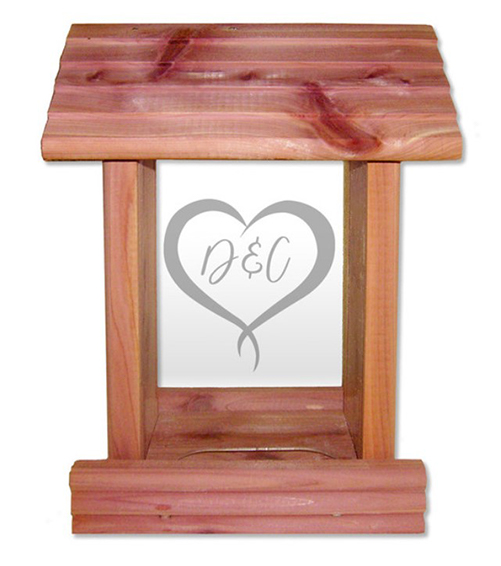 Give them a practical gift that not only they, but the birds, will love with this Sweethearts Bird Feeder! With its generous size (so they won't constantly be refilling instead of enjoying), and its charming personalization, it's a cut above the rest. They'll love it for many years to come!
More: Bird Feeder Gifts for Bird Lovers
55. Personalized Couple's Set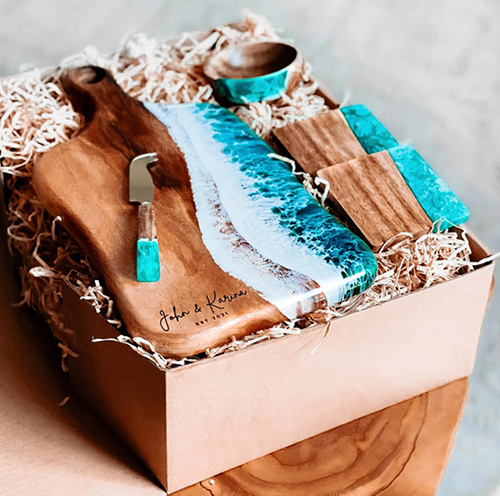 For the cheese aficionados in your life, look no further than this personalized couple's set! Such a handsome work of art, really, it will be an instant classic piece in their kitchen rotation.
Great for charcuterie boards, too! Pair with some local cheeses and a bottle of wine, and you have a real winner for the happy couple.
Funny Engagement Gifts
56. Future Wife/Hubby Socks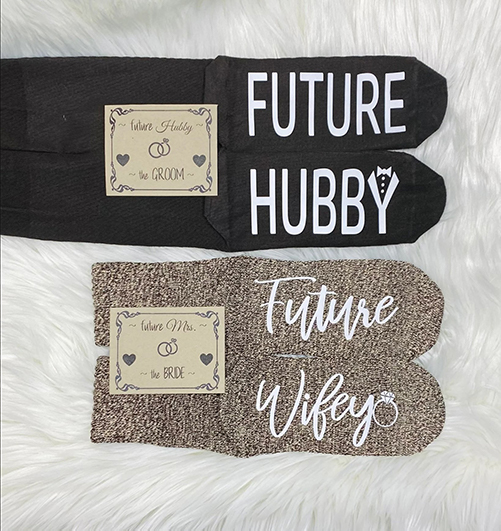 Warm up those cold feet already with a couple cute pairs of matching socks! They'll get a kick (get it?) out of these adorable sockies. Great for date nights in, slow weekend mornings, or late night snuggles.
57. Marriage Survival Kit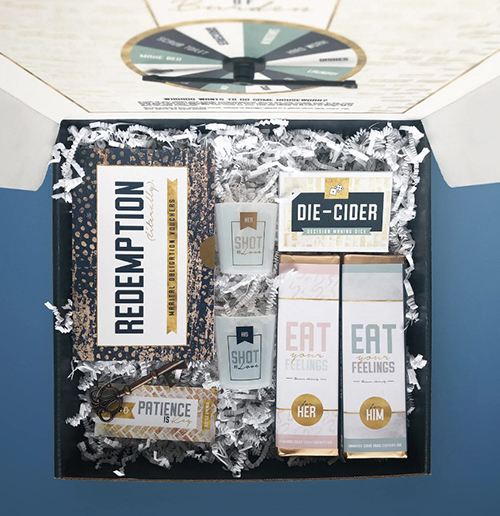 We're not sure which items we like best — they're all so funny and clever! This 'Marriage Survival Kit' will make them laugh, but they'll also totally enjoy using all of the cute items. Eat Your Feelings, anyone?
58. Congratulations Ice Cream Delivery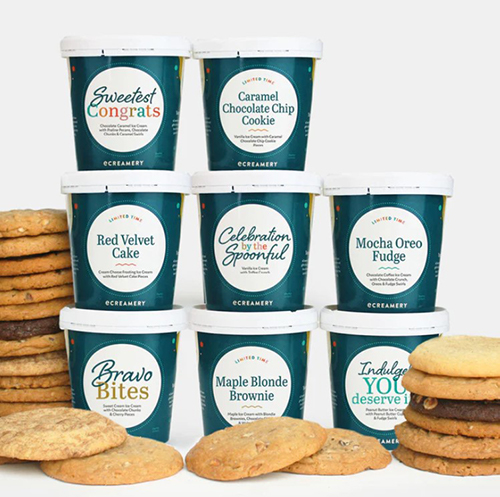 Tell them how happy you are for them with ice cream! Who wouldn't love that? For a really unique and fun gift, luscious ice cream delivered right to their door cannot be beat. Delicious and refreshing, and also pretty darn romantic.
59. Under New Management Shirt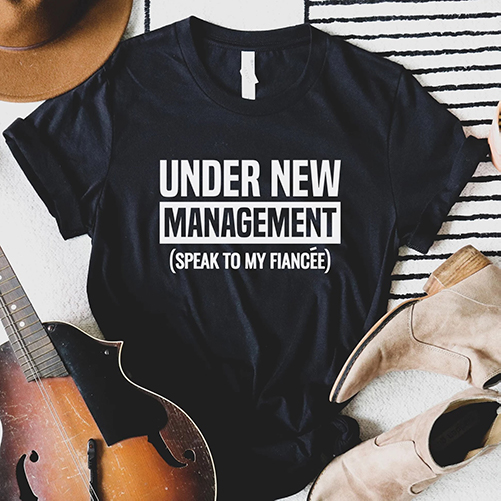 It's funny because it's true! This clever t-shirt will be his new favorite pretty much as soon as he opens it. All his married friends will nod solemnly in solidarity. Available in plenty of colors and sizes so you can get one that is just right for him.
60. My Humans Are Getting Married Mug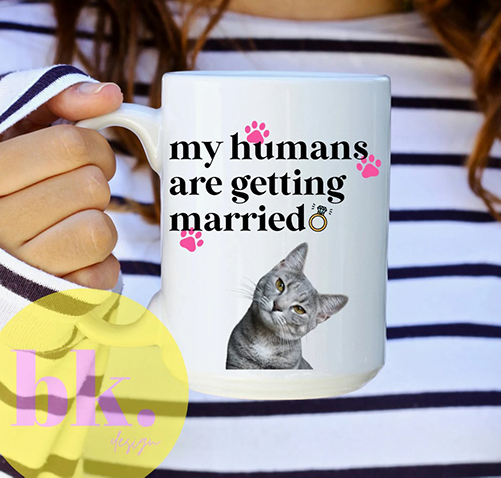 Don't leave the fur babies out of the wedding planning! This cute mug is a nod to them, and their Mama and Papa will love it. Pair with some locally roasted coffee beans or a few teabags for a fun and easy gift.
DIY Engagement Gifts
61. DIY Personalized Platter Engagement Gift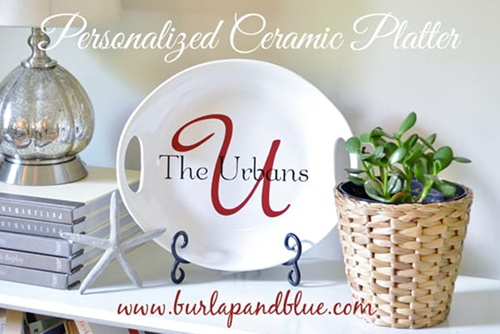 This personalized ceramic platter is perfect for a meaningful engagement, bridal or wedding gift. This easy gift is inexpensive and comes together quickly. The couple will appreciate your time and thoughtfulness!
62. DIY Personalized Wedding Koozies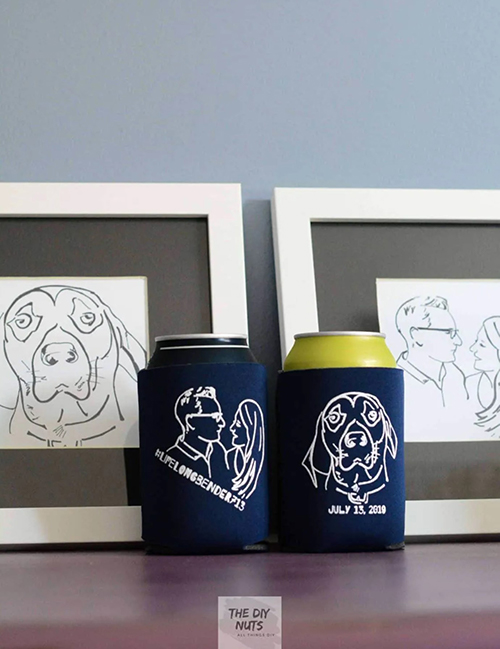 Create your own, homemade Koozie for the engaged couple. They will love your personal, DIY touches that come from making this special gift. And they'll be able to use it for years to come at each and every block party, camping trip, or while rafting down the river!
63. Easy DIY Salt Dough Engagement Ornaments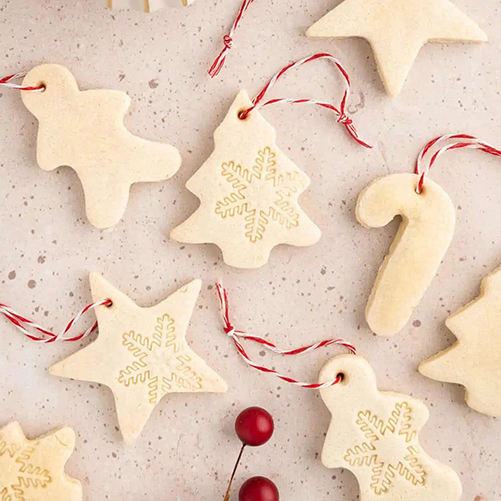 Hand-stamp the couple's name into these easy, three-ingredient salt dough ornaments so they can have an everlasting memory of the moment. These can go on the Christmas tree every year, and will become treasured keepsakes! They'll love unpacking them each and every December.
64. Engagement Shadow Box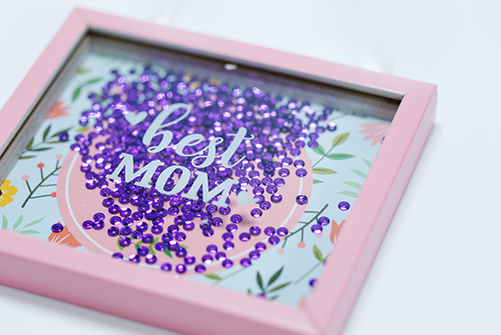 Place photos and keepsakes from when they first met all the way up to their engagement night into a great shadow box! Easy to put together and oh-so sweet. Leave a little space for them to add their own mementos.
65. Engagement Survival Gift Basket
Put together a sweet couple's basket with all of their favorite things! This gift is extra special since you know the two of them so well. From their favorite books and movies, to wine, chocolates, snacks and more! The sky's the limit.
Here are some fun ideas to put into your basket:
Date night ideas
Planning journals and pens
Gift cards
Snacks, chocolates, treats
Relaxing spa gifts
Read Next: Traditional Engagement Gifts