These fantastic Father's Day gifts for brother (or brother-in-law) will show them just how much they mean to you, and to the whole family!
After all, your own Daddy-O and the father of your offspring aren't the only wonderful dads in your life. Your brothers and brothers-in-law have been raising awesome kiddos and deserve some love — and meaningful gifts — this Father's Day, too.
So we did the gift sleuthing for you, and found 40 of the best Father's Day Gifts for brother. Let's celebrate those rad dads!
Father's Day Gifts for Brother
Our website is supported by our users. We sometimes earn a commission when you click through the affiliate links on our website. See our privacy policy & disclosures for more information.
1. Best Dad Ever Tumbler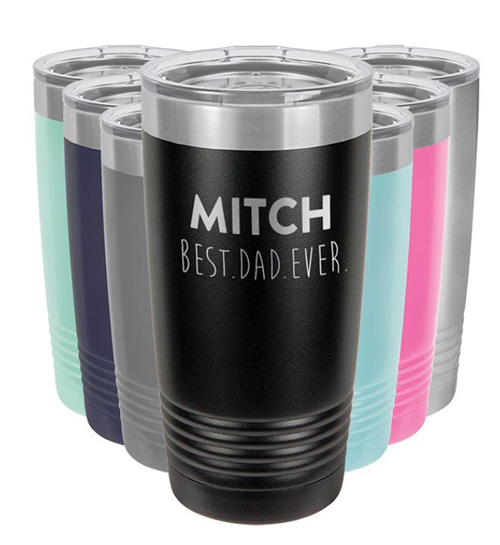 This stainless steel tumbler lets everyone know where he stands as far as the Dad Competition goes — first place for sure!
These tumblers come in his favorite colors and you can have them personalized however you like best. Vacuum sealed for all day beverage comfort, it's just what he needs.
2. Matching Father/Child Shirts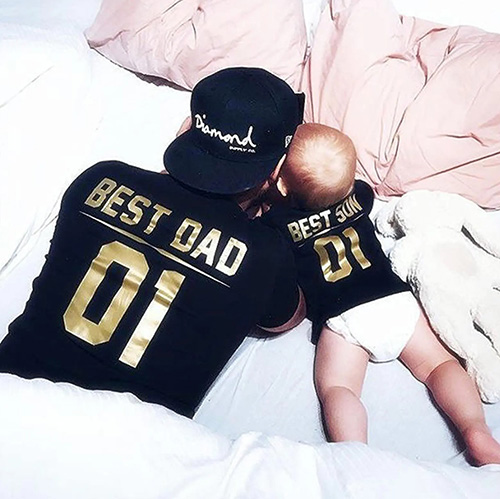 This thoughtful gift is going to look so great for that Father's Day photo op!
Whether he's a rocking dad to two or twelve, the whole family is going to look absolutely priceless in these fun shirts. Sporty and comfortable, too!
3. Noise Canceling Headphones
It's no secret, his household can get loud! Get him something practical that he will be absolutely thrilled with: these great noise canceling headphones.
Especially if he works from home, these are a no-brainer that make the best Father's Day gift.
4. Members Only New Dad Coffee Mug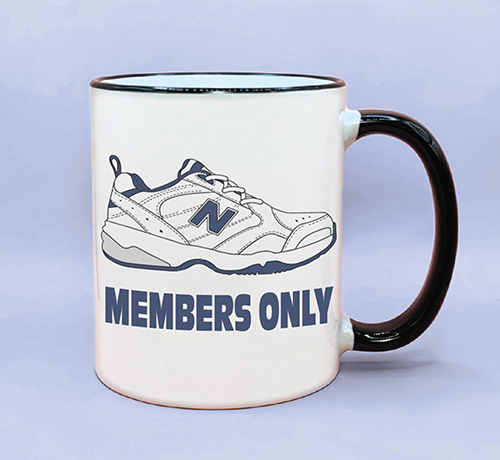 Join the club with this fabulous and witty coffee mug! He'll get a kick out of this great cup and will love showing it off to his pals.
An ideal gift for the java lover, it's the perfect size and dishwasher safe, too.
5. (Jerky) Flowers for Him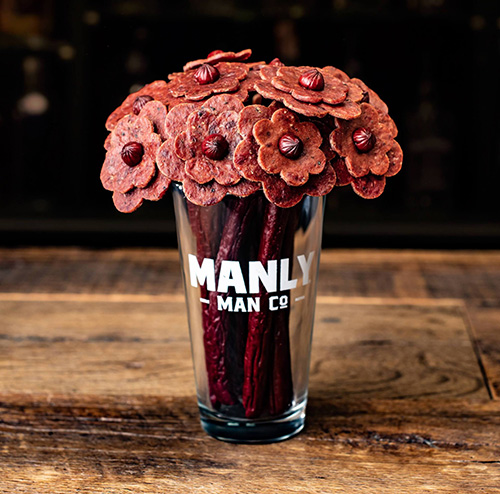 Dad is hungry. That's pretty much a given. Get him a delightfully unique gift that will be devoured in no time, like this jerky flower bouquet!
He's going to love this so much, we think you'd best bookmark this site… It's probably going to be your annual, go-to Father's Day gift from now on.
6. Engraved Explorer Watch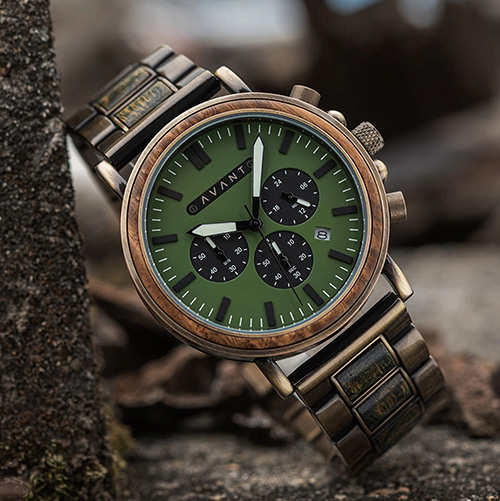 This engraved explorer watch is so handsome, and would make such a special Father's Day gift! It has a timeless look (Get it? Timeless?), and will instantly spruce up his dad outfit with some sophistication.
We love the wood against the green, too. Engraving is optional, but what a sweet treat it would be.
7. Security Cameras for the Home
Keeping his family safe has always been his top priority. Make it a little simpler with these security cameras for his house. As far as practical gifts go, these can't be beat.
Because a Doberman puppy might not be as appreciated. Cute, but… ya know.
8. Custom Morse Code Bracelet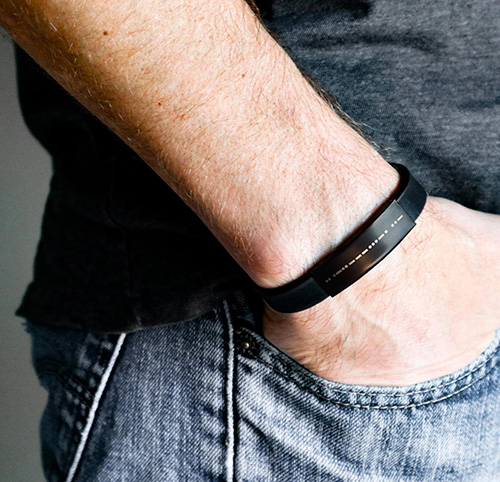 Send a special message anytime you like with this amazing, custom morse code bracelet. A perfect way to show him how much you care, it's a unique, one-of-a-kind, sweet gift. Just like he is!
Handmade of leather or silicone for a modern touch.
Related: Heartwarming Father's Day Gifts
9. It's Not a Dad Bod
This hilarious hoodie will be his new favorite for those chilly fall mornings or brisk spring nights! Clever and cute, they're the perfect Father's Day gift ideas for your favorite father figures, or your father's figure!
10. Family Tree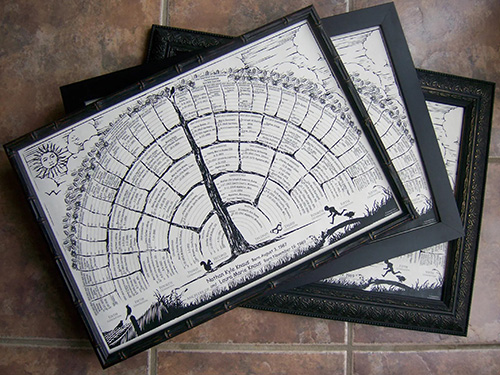 Six generations are easily filled out with this family tree template! A perfect gift for the history buff, the genealogist wanna-be, or just a guy who loves his family.
Entertaining, meaningful, and made to last for the next six generations.
11. Monthly Craft Beer Subscription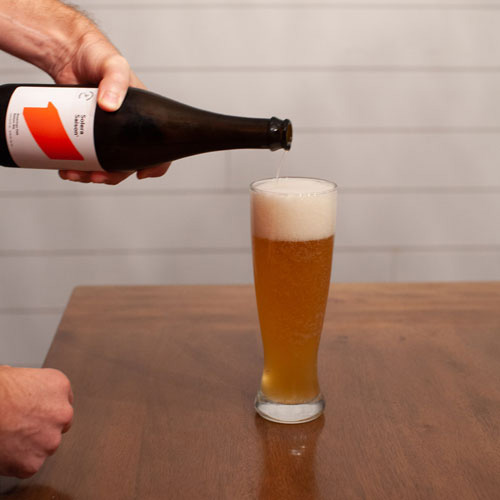 Need some last-minute Father's Day gifts? How about these monthly craft beer subscriptions? They'll be blown away by the selection and look forward to it each month.
Totally a winner, you'll look like a hero, and they'll have an extra happy Father's Day.
12. Sleek Men's Docking Station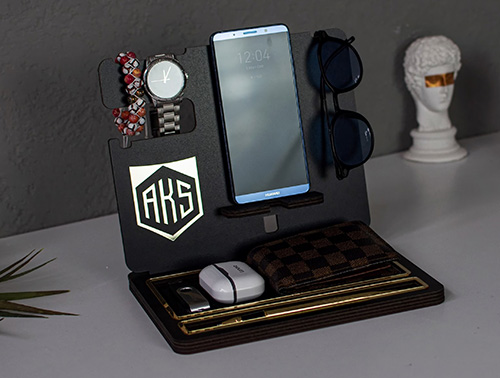 This docking station really is sleek! It will completely organize his desk or nightstand so he always knows where his important things are. Great for home offices, work spaces, and traveling, too.
If he's the type of dad that likes to stay organized, then this is the right gift for him.
13. Father's Day Gift Box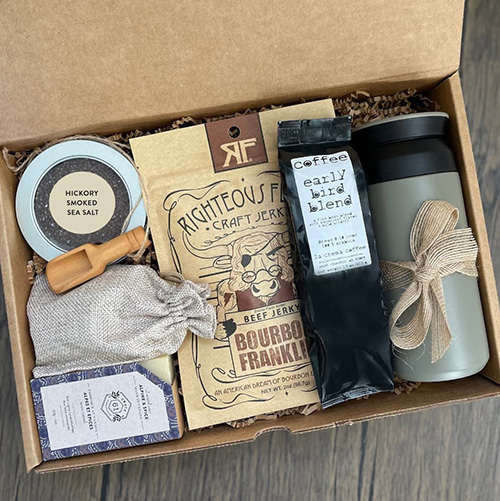 Don't know what to get your big brother for Father's Day? A great gift basket never fails to impress! This one is totally manly and is chock-full of goodies he'll go nuts for (including nuts).
14. High Quality Coffee Machine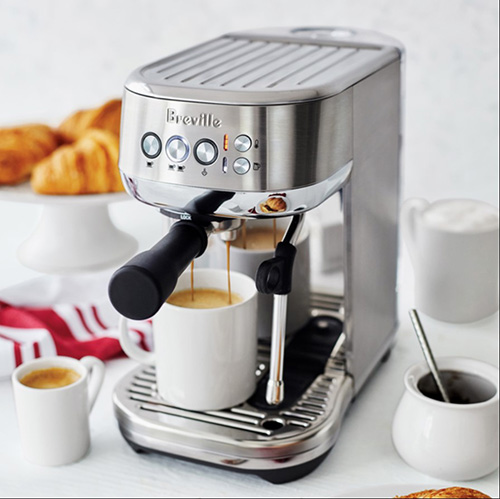 If he's a coffee addict (we mean, enthusiast…yes, coffee enthusiast) then he needs a really awesome, high quality machine to brew those magic beans in! And this one just simply cannot be beat.
It will be his new favorite piece of equipment pretty much instantly.
15. Engraved Money Clip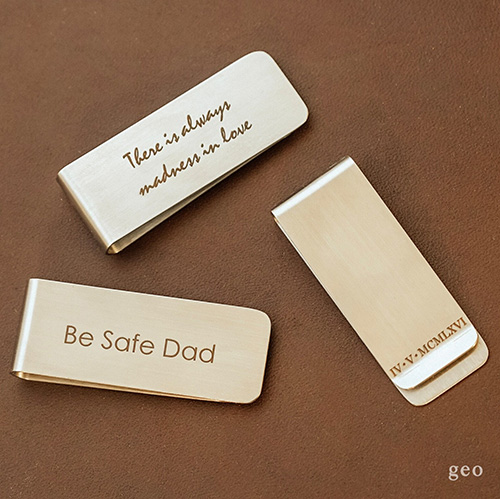 Engrave this great money clip however you see fit. With something witty, something sentimental, something silly — there are no rules, so have at it!
If he loves having some spending cash on him, he'll love this fancy-shmancy clip to keep it all together.
16. Family Experience Gift
For memorable Father's Day experience gifts, look no further than Giftory! There's nothing he likes more than spending pure quality time with his family members, so this gift is a real no-brainer.
Here's how:
Order the experience online
Get a voucher emailed instantly (to you or to the recipient, your choice!)
The recipient chooses their experience, near or far, they just have to be able to get there
Make memories!
Doesn't matter if he prefers lazing at the beach, mountain cabin retreats, hiking, canoeing—there's something for everyone. It's almost as much fun to pick it out as it is to experience it!
Related: Our 50+ Favorite Ideas for Experience Gifts
17. Personalized Whiskey Barrel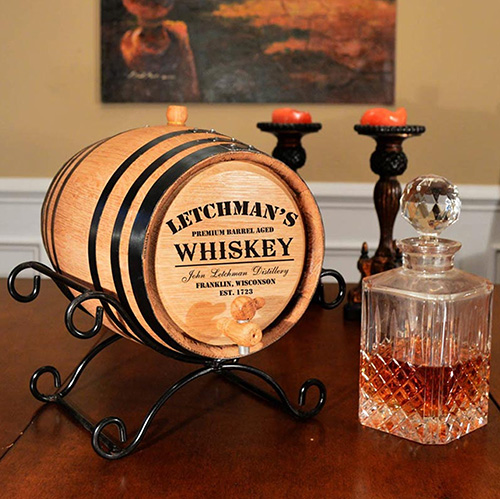 This handsome and personalized whiskey barrel is a real conversation starter. It's so gorgeously rustic with its polished wood, and can we talk about that engraving?
His friends are going to want one, that's for sure. Totally functional, it's a work of art that can be used and loved for many, many years.
18. Dad's Playbook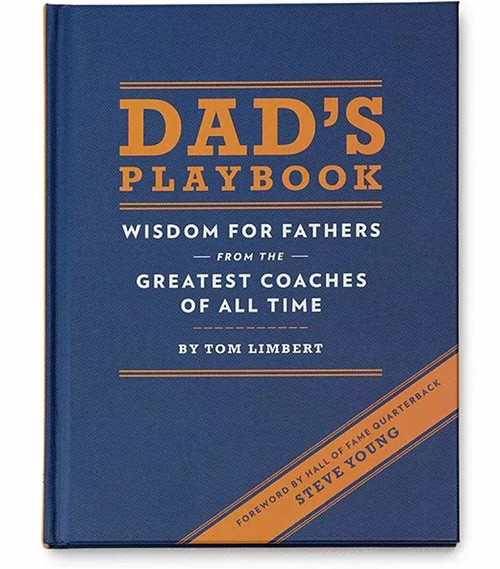 Is your brother or brother-in-law a total rookie/newbie at this dad thing? Then he'll love this Dad's Playbook, which is chock-full of great advice from some of the greatest coaches of all time! Perfect for sports fans and armchair quarterbacks.
19. 3D Crystal Portrait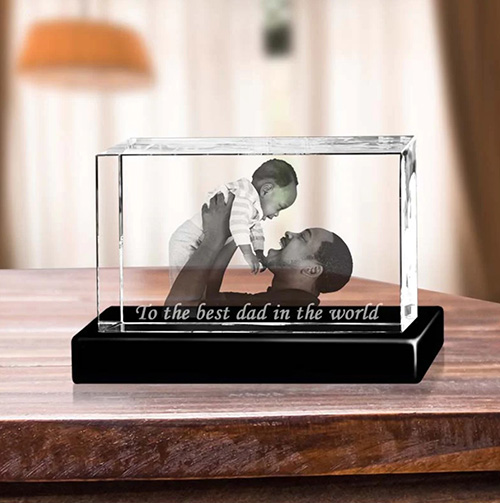 If it's his very first Father's Day, then you might pick up one of these great 3D crystal portraits!
We think a few tears may surface in his eyes (they're called allergies…a'hem) when he sees this beautiful keepsake of himself and his baby.
20. Personalized Keychain Ring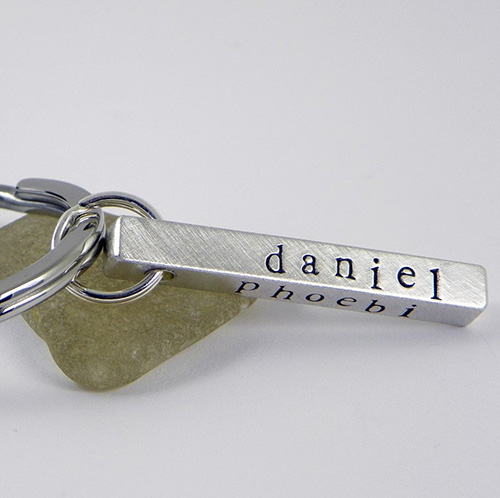 This keychain would make such a great Father's Day gift! He'll love swinging his keys around with this, and spotting them in the key bucket or on the hook will be a breeze.
Classy and cool, but not so obnoxiously large that it gets in his way, this one is a keeper.
Father's Day Gifts for Brother in Law
21. Funny Regal Family Portrait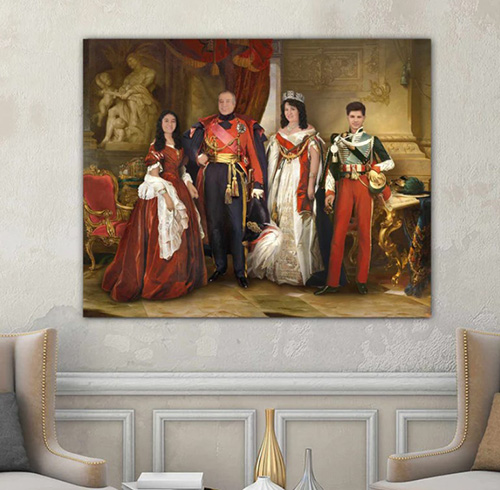 For a funny and totally personalized Father's Day gift, how about this hilarious regal family portrait? He'll get a kick out of seeing his goofy, modern day family all royaled up.
Such perfect Father's Day gifts for fun loving dads with a good sense of humor (and that's most of them, right?).
22. Personalized Leather Journal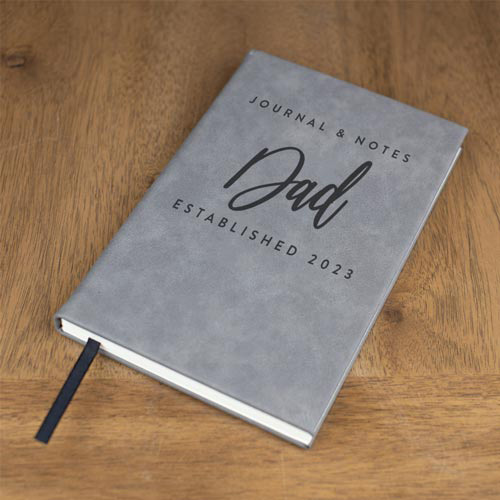 For the ultimate personalized Father's Day gift, how about this lovely leather journal? He can jot down everything including fatherly advice, funny things his kids say on the daily, memories, stories, and more.
Talk about leaving a legacy — his grandkids and great-grandkids will love receiving this gift someday as much as he does now.
23. Dad Jokes Father's Day Card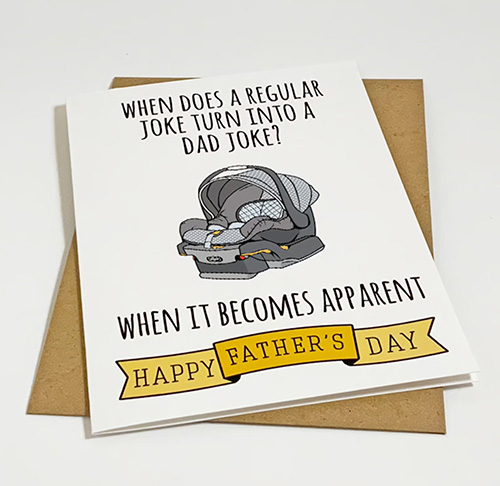 For first Father's Day gifts for brother, this card packing the ultimate Dad Joke is a total winner. He'll crack a smile for sure. Don't forget to write something personal inside for a meaningful card that will be a keeper.
Related: First Father's Day Gift Ideas
24. Custom Bobble Head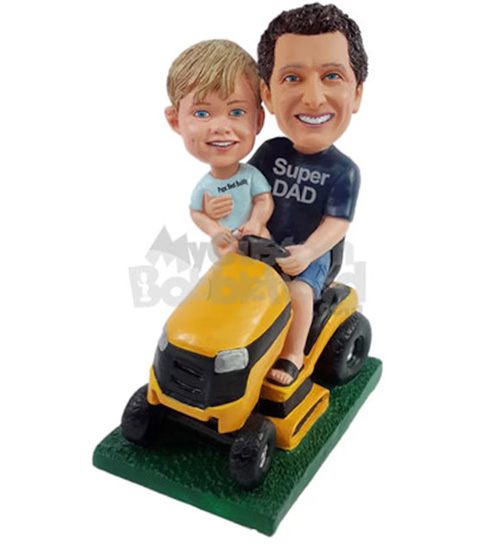 A custom bobble head just can't be beat in the personal gift department, eh? He'll get a huge kick out of seeing himself as a bobble head.
I mean, don't we all aspire to be one someday? A fun gift for a fun-loving guy.
25. Bar Mirror Man Cave Sign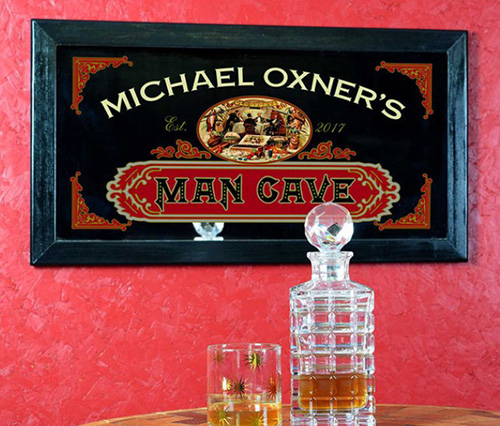 This one-of-a-kind gift is sheer perfection for the man cave or den! He'll love the personal details and the way it makes any wall just "pop" with vibrant colors. The vintage feel takes us back to old-time saloons and tall, chilled pints. A totally cool gift that his wife will love, too!
But wait! There's more! For different designs, check these out!
26. Personalized Tape Measure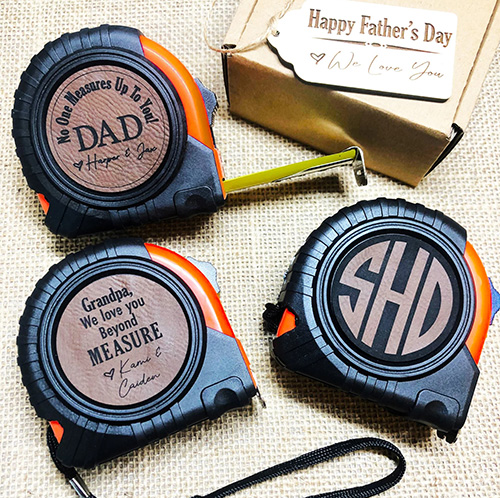 Every guy (and girl) loves to grow their tool collection! This personalized tape measure is like no other — and no one can sneak off with it thinking it's theirs, either.
Practical, yet still sentimental and sweet, he'll be reaching for this great gift for many, many years to come.
27. Inflatable Tub for Ice Bath
So comfy, he'll want to soak for hours! This inflatable tub is great for ice baths to soothe those tired muscles. It's built to last, is easy to set up and take down, and is even big enough for two. Now that's a great dad gift…
More accessories for the guy that loves ice baths too much:
28. Digital Picture Frame
This digital photo frame is picture perfect! He'll adore watching his favorite family memories scroll by each and every day. It's so easy to add to the collection, too! And you can do it as easily as sending an email.
29. My Favorite Hiking Buddies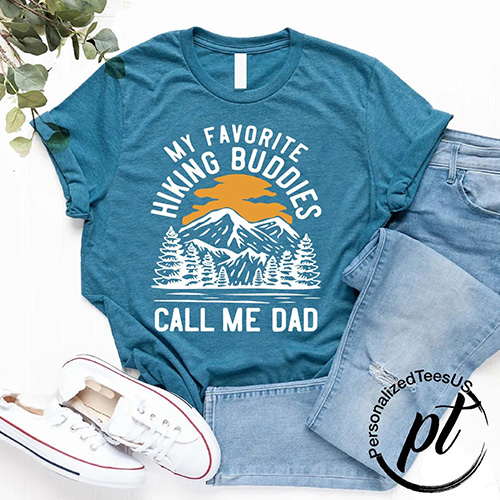 Get outside and play in the great outdoors! This fun shirt will be his go-to all summer long. Camping, hiking, fishing, walking, biking, tail-gating…
You name it, and this shirt will be packed along, too.
30. Custom Golf Balls
Equip him to head out to the course and whack some custom golf balls. These great golf balls are totally unique to him, and all his golf buddies will be a little bit jealous that they don't have some. Perfect for the golf loving dude!
31. Udemy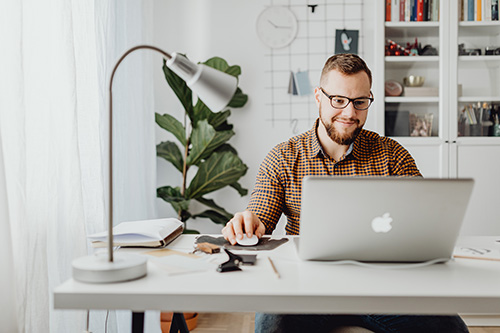 Does he have a favorite hobby he wants to get better at? Something he's passionate about? How about something totally new and uniquely him?
These courses from Udemy specialize in a virtual experience that is so much better than a present wrapped in tissue paper.
32. Embroidered Gym Bag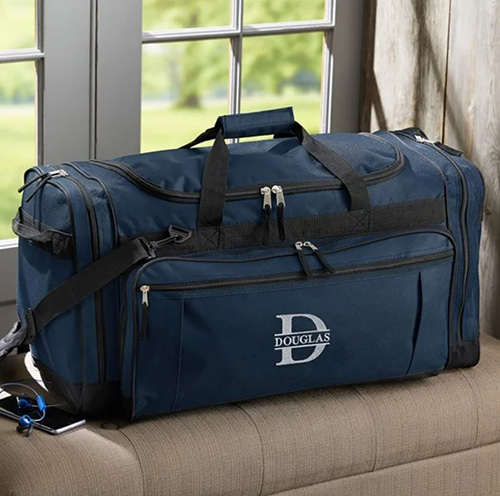 This sturdy and handsome gym bag is embroidered with his name or initials, easily avoiding confusion when traveling or at the gym!
It can hold absolutely everything he needs for a great workout, and it's equipped with functional pockets and strong zippers. Plus, it's just the right size!
33. Grillfather Apron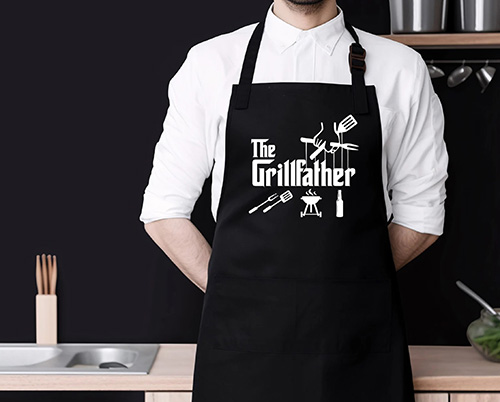 Ha! We are so here for it. The Grillfather Apron takes his barbecue game to new heights. He'll love showing off this funny and useful apron during all his backyard grill-fests, chili contests, and tail-gating parties.
And this personalized grill utensil set will complete your pick of Father's Day gifts for brother, so he's ready to take on anything.
34. Anker Portable Phone Charger
Guys love a great practical gift like this Anker portable phone charger! It's so annoying to watch your battery die when you're not in a place to charge it.
The kiddos will know they can always and forever get ahold of Dad with this great gift.
35. Congrats Wine & Snacks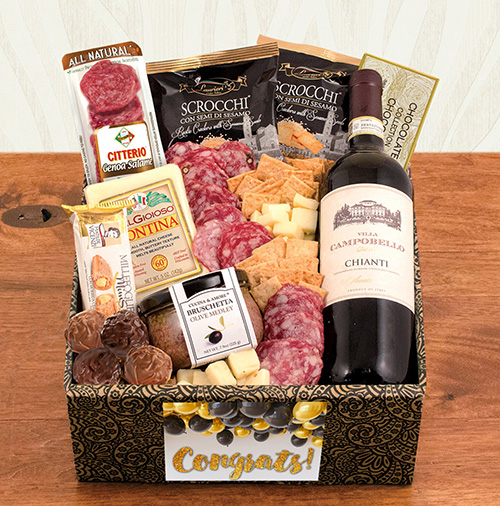 For last-minute Father's Day gifts for brother, you can't go wrong with one of these wine and snack combos! With the most delectable Italian snacks and wine, he'll be living large for sure. Maybe, just maybe, he might even share with you.
36. Self Heating Coffee Mug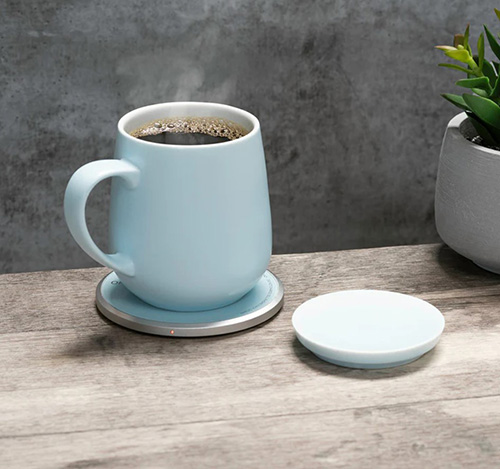 You had us at self-heating coffee mug, but we're also pretty enthralled with the phone charging capabilities! What a cool gift for the dad who is always just a bit too busy to drink his coffee fast enough. So sleek looking, too.
37. Beef Jerky Message Card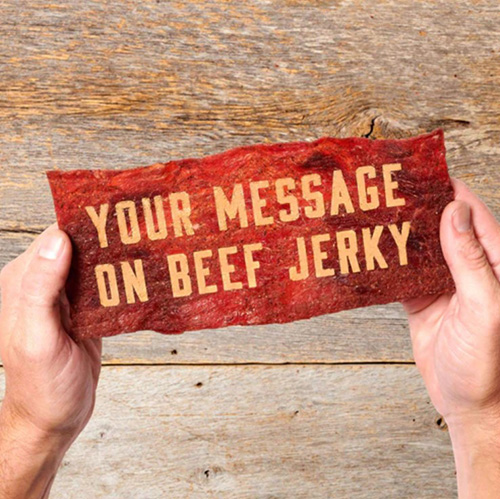 Who writes messages on paper? Pfft! So passé. Try writing him a funny line or two on this beef jerky message card instead! He'll love reading it and then getting to devour it.
38. Pour Over Coffee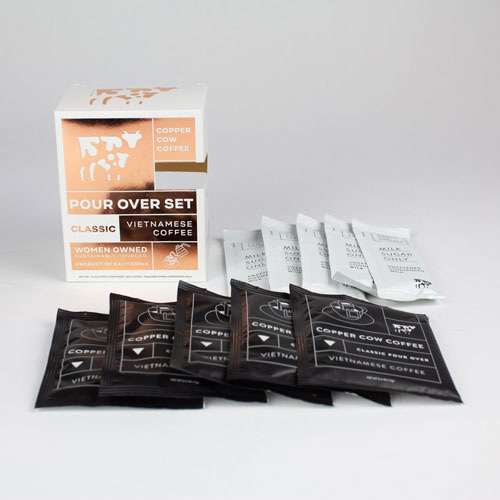 When you've got kids, you know you don't exactly have all the time in the world to brew a fresh pot of coffee each morning.
This pour over coffee is here to the rescue! It makes a really fabulous cup of Joe that he will greatly appreciate. Plus, it's sustainably sourced so he can feel good about his morning cuppa.
39. Exceptionally Bad Dad Jokes
There are the cringy, eye-rolling dad jokes, and then there are Exceptionally Bad Dad Jokes! Keep him all brushed up on the worst of the worst with this fun book. They're frightfully terrible and will keep him absolutely delighted with his own wit…
40. Best Dad Ever Old Fashioned Knife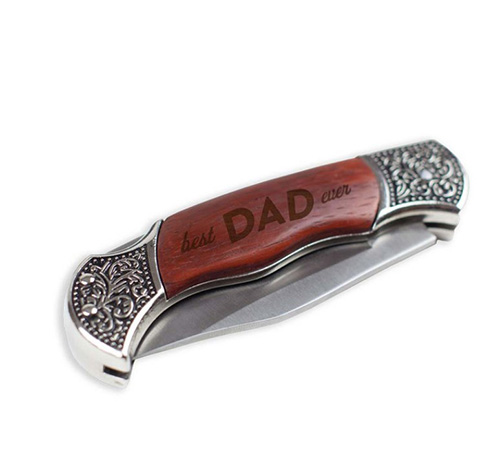 Made of stainless steel, this best dad ever old fashioned knife will be a hit at the Father's Day festivities.
He'll love having this personalized knife by his side, and will whip it out at every available opportunity. A great option that is both functional and practical, but also sentimental and very sweet.
Read Next: Best Father's Day Gift Ideas