Love is in the air! When someone you adore finds that special person to spend their life with, it's time for some really wonderful, traditional engagement gifts. It's also time to ask some important questions to help find the most perfect of presents. For instance:
Are you able to deliver your gift locally, or do they live far away from you?
Have they been together a long time, or a short while?
Have they already set up house, or are they youngsters who barely own a set of forks between the two of them?
Are they religious, or would they prefer something a bit more secular?
Do they have children and/or pets?
Once you've established the kind of gift your friends (or your own fiancé!) would like the most, it's time to get shopping! Don't worry, we've done all the heavy lifting for you. Read on for 20 traditional engagement gifts that they will adore almost as much as they adore one another. Awwww!
Should you give your fiancé engagement gifts?
While certainly not required, a sweet token or even a large gift for your fiancé is never a bad idea!
After all, you know him/her better than anyone, so a well-timed and carefully chosen present will be much appreciated. Never let it be said that the wooing is over once the ring is on! We think it's just beginning actually.
"I no longer believed in the idea of soul mates, or love at first sight. But I was beginning to believe that a very few times in your life, if you were lucky, you might meet someone who was exactly right for you. Not because he was perfect, or because you were, but because your combined flaws were arranged in a way that allowed two separate beings to hinge together."
― Lisa Kleypas, Blue-Eyed Devil
Is it traditional to give engagement gifts to friends or family members?
Absolutely! The little lovebirds are setting up house together, making plans, going on adventures with one another, dreaming of kids… They'll need some gifts to help make it all happen!
Whether you go with something practical, functional, and useful, or something more romantic and luxurious is up to you and your most excellent gift giving prowess.
Are they in need of a blender for their on-the-go, smoothie loving lifestyle? Or are they desperately in need of a romantic date night at a local restaurant? Are you planning on bringing another gift to the wedding, or is this one for the record books?
You know them well, so a little thought can bring about a sentimental gift that your friends and family members will swoon over.
"The best love is the kind that awakens the soul and makes us reach for more, that plants a fire in our hearts and brings peace to our minds. And that's what you've given me. That's what I'd hoped to give you forever."
― Nicholas Sparks.
What is an appropriate gift for an engagement party?
First of all, ask yourself if this party is for both members, or only the girl/guy. If it's a bridal shower/hen party, make sure you know if it's more of a lingerie party, or a setting up house (kitchen/bathroom supplies, etc.) party.
This is coming from someone who still blushes when she remembers giving bra and panty sets at a bridal shower, only to realize every other guest brought kitchen towels and small appliances… It's best to know ahead of time!
Ask yourself what kind of things they might need, as well as what kind of things they might want. If they haven't begun living together yet and are fresh out of college, practical engagement gifts are going to be very appreciated!
When my husband and I got married, we woke up the next morning at our new apartment and realized neither of us owned silverware. Or a trash can, or a broom, or toilet paper.
You know, the basics.
20 Traditional Engagement Gifts
Our website is supported by our users. We sometimes earn a commission when you click through the affiliate links on our website. See our privacy policy & disclosures for more information.
1. Beautiful Rose Bouquet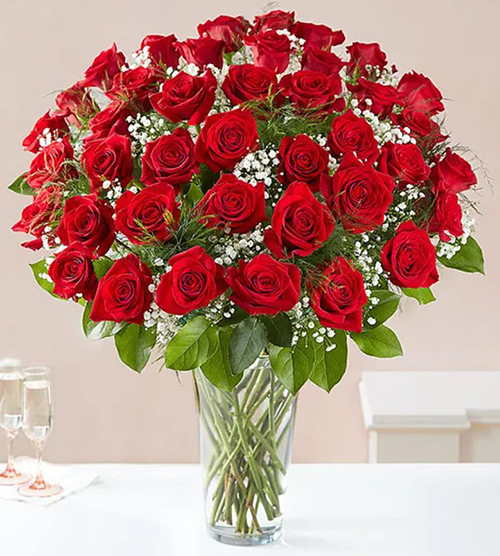 Sending a fresh and fragrant bouquet of long-stemmed roses will take their breath away! Roses have always symbolized long-lasting and passionate love, which is right smack where the happy couple lands right now (and hopefully, forever).
This gorgeous bouquet can be ordered in two, three, or four dozen bunches, and is truly romantic, lighting up the room and filling it with a decadent aroma. They come in a clear, glass vase, and are artfully arranged with baby's breath and various greenery.
2. Ring Dish for Him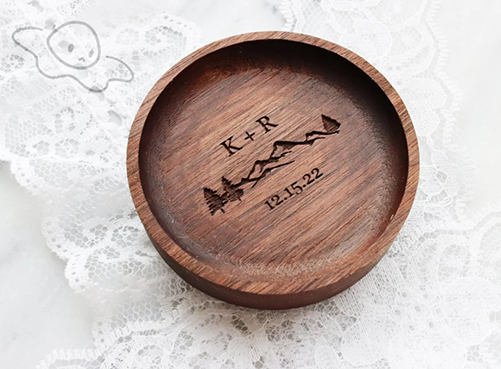 This personalized ring dish has a vintage appeal and a rustic vibe that he'll love a lot more than something sparkly and overtly feminine!
The rugged outdoor man will especially love having this at hand (literally!) for those times when he needs to remove his ring.
Think working on the car, painting, doing yard work, or making her a batch of sourdough bread from scratch! Handmade of the highest quality walnut wood.
3. Ring Dish for Her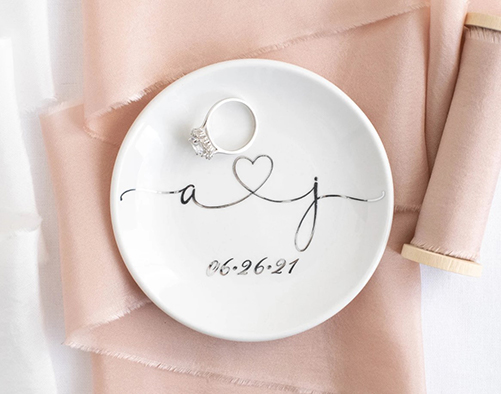 This pretty ring dish is going to come in so handy at all the right times! With its swirly and romantic font, their two initials join together making it truly customized just for the happy couple.
She will love having a safe and secure spot to put her ring, whether it's near the bathtub, by the kitchen sink, or even outside on the potting table while doing yard work.
Not just used for rings! This sweet dish can just as easily be used as a spot to drop her keys at the entryway, to hold her earrings or other baubles, to place cotton balls or Q-tips in the powder room, or a million other ways.
4. Celebration Champagne Gift Basket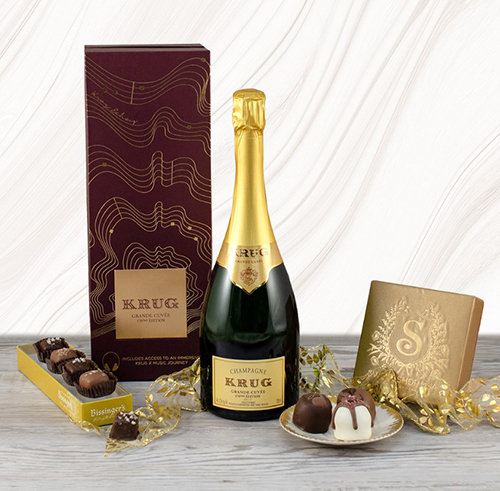 This celebration champagne gift basket is one for the record books! After a long week of trying on wedding gowns, looking at venues, shopping for invitations, and a hundred other things that come with planning a wedding, a box full of decadent and luscious chocolate truffles paired with a bottle of extra fine bubbly is just the thing!
They will absolutely swoon over this wonderful and thoughtful gift that will bring some sophistication and elegance to their otherwise ordinary Tuesday.
5. Custom Wedding Countdown Calendar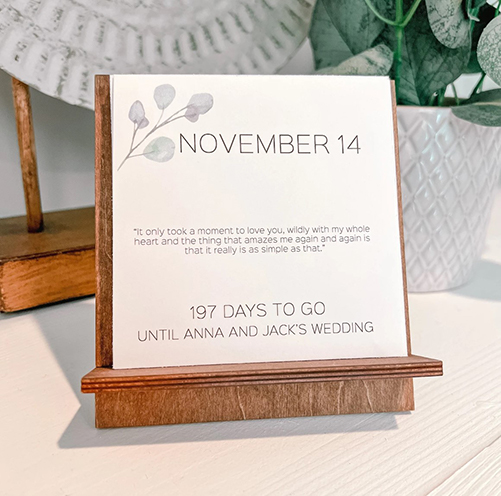 Countdown to the big day in style with this custom wedding countdown calendar! Filled with romantic quotes, each page is different and unique.
A wonderful little addition to their desk at work, or to set up by the coffee maker at home, this calendar is really one-of-a-kind and will keep their wedding day at the forefront of their minds.
As if they could forget! This calendar comes with a stand in a color of your choosing.
Related: Unique Engagement Gifts That Will Really Stand Out
6. Engagement Card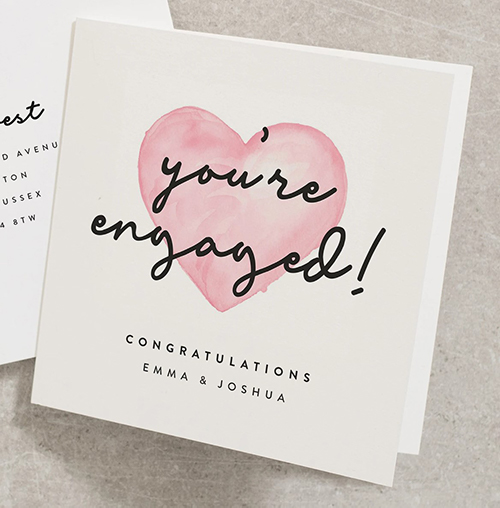 This personalized card is totally unique to them, the happy lovebirds! Once you've ordered this adorable card, you can handwrite a message inside, making it truly special.
It's also a great size for including some gift cards to local restaurants, coffee shops, and the like. An easy and simple way to show you are here for them as they embark on their married life together.
Related: Best Wedding Wishes, Messages, & Congratulations
7. Sign Her Up for Bridal Magazine Subscriptions
Ever since she was a little girl, she's been wistfully eyeing those colorful and romantic bridal magazines. Give her a subscription and watch her eyes light up!
She'll love having page after glossy page of wonderful ideas for her wedding day: from saving money to splurging, dress options to honeymoon attire. This is a great gift, especially if she is doing the bulk of the wedding planning herself!
8. Custom Photo Frame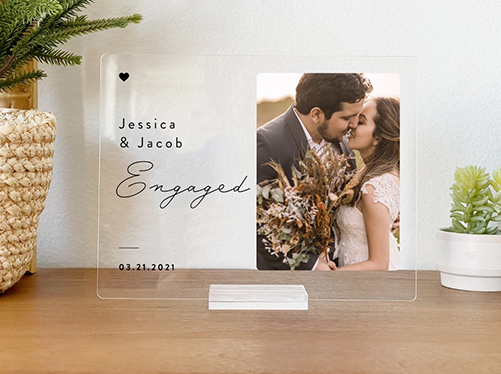 This custom photo frame is so modern and chic! The sleek, clear design means their favorite photograph will really "pop."
Customized with their wedding date and their names, this is sure to be a favorite among their engagement gifts when they're unwrapping all of their presents.
Easy and simple, but oh-so thoughtful! You can even choose from different sizes and stands to suit their needs and styles.
9. Celebration Vacation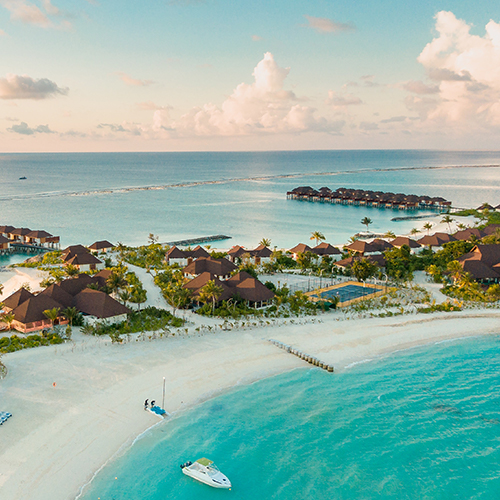 If you have the means and the desire, sending them on a much-needed vacation will be a momentous gift! They will be blown away by your generosity and you can feel good about demanding updates and selfies.
Giving an experience—versus yet another microwave oven or crockpot—is a sure-fire way to stand out from the crowd, don't you think? If it's your children or grandchildren getting engaged, this celebration vacation is the absolute perfect present.
From Giftory, simply order your gift, get a voucher, give it to the recipient, and then let them choose the adventure of their choice. Easy peasy!
10. Personalized Wooden Cutting Board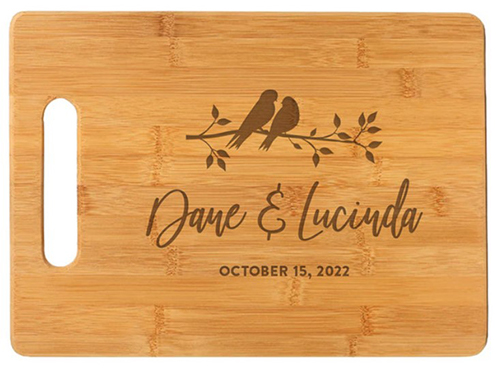 This wooden cutting board is just darling! The happy couple is still in that stage where they love seeing their names written together, so personalized engagement gifts are always so appreciated and loved!
This board is made of bamboo, and the lovebirds depicted on it are such a cute reflection of their upcoming nuptials. This high-quality and well-made board will be treasured for many years to come.
If handing down secret family recipes is a part of your family's traditions, then we recommend sharing the cherished secret with this cutting board instead! Put your favorite family recipe front and center, and watch them be delighted with the result!
Related: Best Gifts to Give at Bridal Showers
11. Congratulations Dinner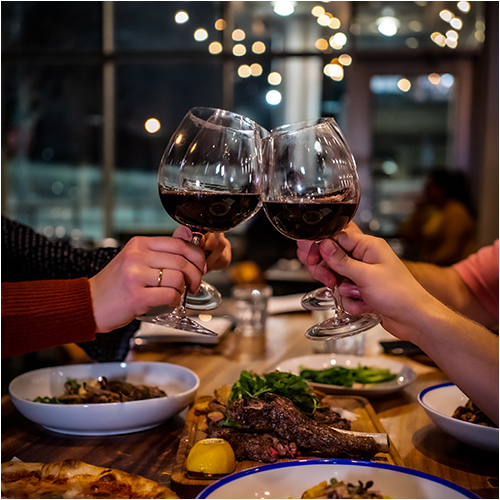 Celebrate their upcoming nuptials with a fabulous dinner party! Invite their nearest and dearest (or keep it small with just themselves and you!), and spend the whole evening talking, reminiscing, and helping them plan their big day.
You can cater the event at your home, cook it yourself from scratch, pay for a dinner out, or simply order pizza. There's no wrong way to do this — just do it! You, and they, will be glad you did.
12. Planning Journals
Staying organized is key when planning a wedding! There's so much that can be forgotten or glossed over. I'm stressed for them just thinking about it! Coming to the rescue is one of these great planning journals — whew!
They can jot down everything imaginable. From the little and the mundane, to the big and important. Everything goes inside: dress ideas, torn articles from magazines, bridesmaids sizing, cake flavors, venue prices… oh, the list just goes on and on and on!
13. Something Blue Tie Patch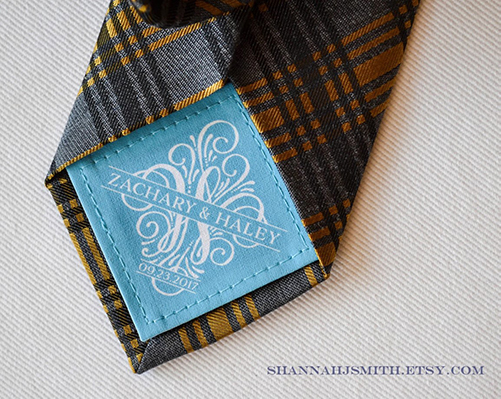 When it comes to having "something borrowed and something blue," the tradition isn't just for the bride! Give him something blue, too, with this adorable tie patch. It will be a little secret between him and her, and is also such a sweet keepsake from their wedding day.
A simple little gift that will mean a lot, this patch is great for a mom gifting to her son, or even from the fiancé to the groom-to-be.
14. Custom Something Blue Handkerchief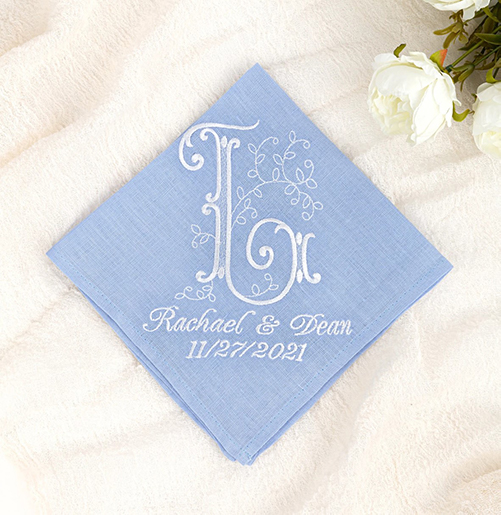 Give her "something blue," that isn't in the form of an earring or a ribbon! Instead, this pretty blue handkerchief can be tucked inside her bouquet of wedding flowers or in her pocket (Did you know they make wedding gowns with pockets now? Genius!).
The white embroidery really stands out against the vintage blue, and she'll love not only using it on her wedding day, but keeping it for all time after.
15. Sweethearts Bird Feeder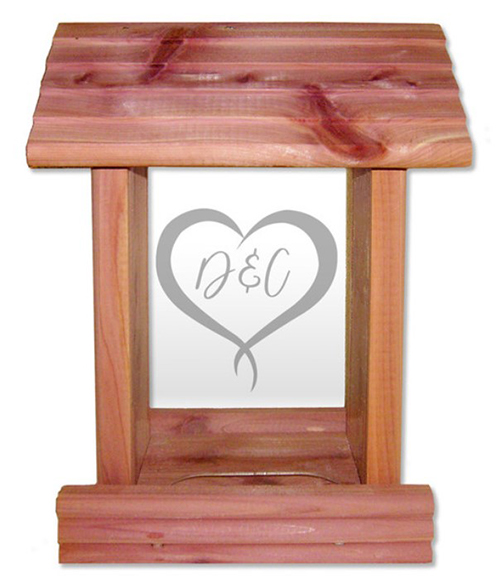 For the nature and outdoor lovers, this sweetheart bird feeder is the no-brainer of engagement gifts! They'll adore hanging this well-made feeder outside, and making friends with all the fine-feathered fowl around.
With its generous size and the personalization of their names and wedding date, this is a totally unique gift that they will treasure for many years to come. And so will the birds!
16. Cigar Night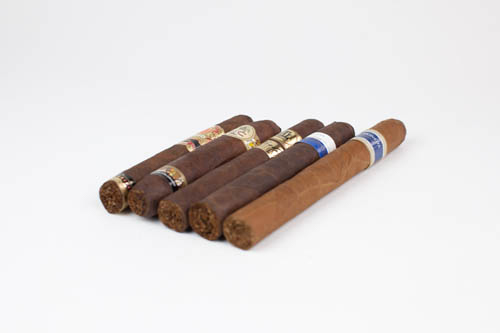 Celebrate their engagement with a traditional smoking of cigars.
Keep it going every month until they tie the knot with this subscription service! Such a fun and unique gift that they'll totally look forward to, these cigars are hand-curated and completely unique and special.
17. Engagement Ring for Him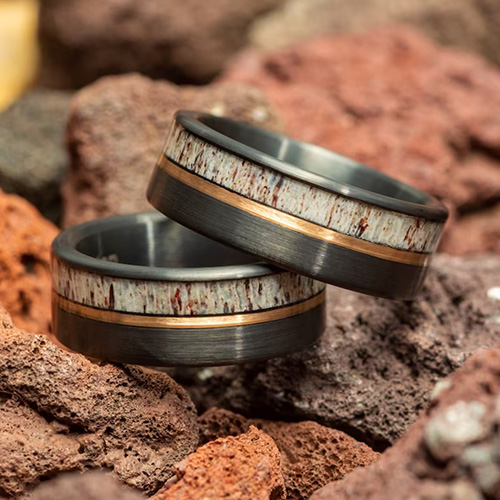 This sleek and striking ring will have him showing off his ring nearly as much as she shows off hers (or maybe more — who knows)!
It isn't something you'll find in your traditional jeweler's shop! It's beautifully crafted of tungsten, natural deer antler, and is finished off with an elegant, brushed gold stripe. Classy, a bit rugged, and so handsome, he'll sport this band with pride.
18. Engagement Gift Basket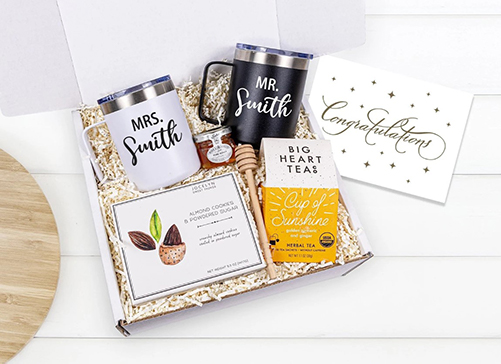 Cookies and tea are just a couple of the great items you'll find in this fun engagement gift basket! The cute tumblers are personalized just for them, and that honey looks so delicious. There's so much fun in one little basket, and the packaging is so beautiful, too.
They'll love this thoughtful basket, and might even want to know where you got it so they can order some for their wedding party!
19. Professional Couple's Portrait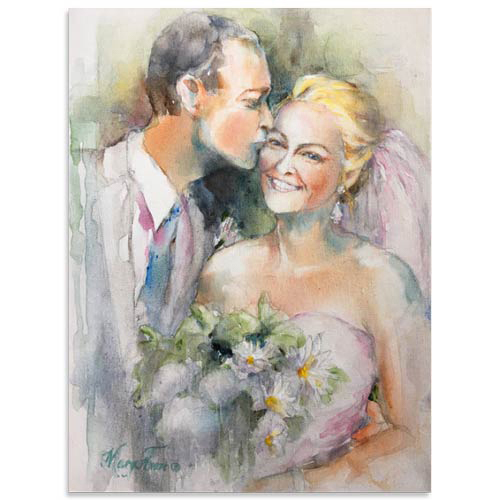 Turn their favorite photograph into a professional couple's portrait! Anyone can print out a photo and toss it in a frame, but this option is so much more lovely and elegant.
It will be the focal point of the living room in their new home, we're convinced. Artist Mary Ann has been doing portraits for many years, and loves bringing photographs to life with her paints.
20. Wine with Custom Wine Label: "Pairs Well with Getting Engaged"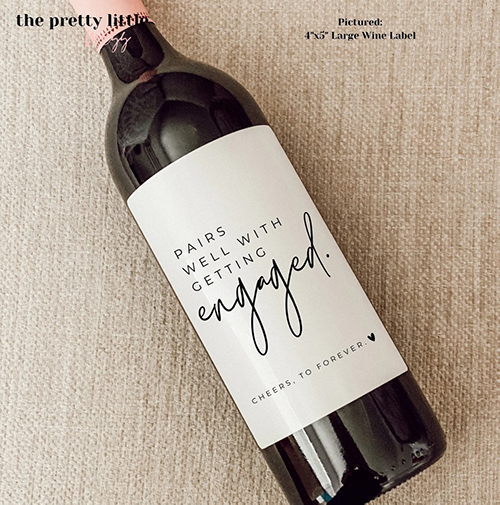 Grab a whole stack of these fun wine labels for the engagement party or the wedding party!
Once you've paired them with their favorite red or white wine, you have a truly unusual and delightful gift. Simple and small, but they really pack a punch!
These labels are darling and we're sure they won't throw out the bottle once it's empty, but instead will want to keep it as a souvenir and keepsake! After all, this is one of the happiest times of their lives.
Read Next: Best Wedding Gift Ideas