When someone close to you loses a loved one, you want to do something to express your condolences and communicate that you are grieving alongside of them. Giving thoughtful sympathy gifts is one way to do this.
You will, of course, also want to be mindful about what you say and do; it's important to carefully think through appropriate sympathy gifts for your grieving friend so that your gift is uplifting, encouraging, and appreciated.
To help, we have collected these 10 heartwarming and meaningful sympathy gift ideas for a grieving friend. These memorial gifts will help you express your support and willingness to walk alongside them in this hard time.
First, a few tips to help you choose the right, helpful gift.
Choosing the Right Sympathy Gift
There are several approaches you can take when choosing a sympathy gift for your grieving friend.
Practical Gifts
You can go with a practical gift, like a handy gift basket of household items or a massive Costco-sized supply of toilet paper. (Yes, they will appreciate it. The last thing someone wants to do after they have lost a loved one is go to the store for TP.) See items #4 and #12, below.
The practical sympathy gift shows that you want to help meet their physical and emotional needs during this difficult time, and that you are there through thick and thin.
Decadent Gifts
You can go with a decadent gift, for instance fine wine, fine chocolate, expensive memorial jewelry, or a day at the spa.
A decadent sympathy gift tells the recipient that they are a valued person — even in the midst of their grief — and is a good way to show you support them no matter what they are feeling. Gifts #3 and #10 would be good examples of a decadent gift.
Personalized Gifts
Another popular approach is to give a personalized gift. A personalized memorial bird feeder, a blanket, or a tumbler are great examples. (See items #1, #3, #5, and #9 below.) A personalized sympathy gift typically has the decedent's name and dates inscribed on it, so it puts the focus back onto the memory of the departed loved one.
This type of gift honors the memory of the deceased and shows that you are coming alongside your friend or loved one to grieve together.
Classic Gifts
Lastly, you can give a classic sympathy gift. This is generally what you think of first: flowers, bereavement gift baskets, a memorial plaque, a candle, a photo frame, a necklace.
Classic sympathy gifts show your genuine love and affection towards both the deceased and the mourner, and are always a great choice when you are not sure what to get.
Each of these types of sympathy gifts could be right for you to give to the grieving individual. It depends on who they are, who you are, and your relationship with them.
Sympathy Gift Ideas Instead of Flowers
Flowers are a great option to send to a grieving family member or friend. However, some people don't like the fact that flowers will eventually lose their beautiful bloom, wilt, and die. For some, that is an unwelcome reminder of the death of their loved one.
Traditionally that has actually been an important and symbolic feature of sympathy flowers. It's a reminder of real life that can help the grieving person face things head-on.
The flowers represent the life cycle in miniature — they bloom brilliantly, then slowly fade away until the time comes to lay them to rest. The very fact that flowers are so delicate reminds us of the frailty of this life, and helps us appreciate them as a comforting gift.
Still, many people prefer to send something other than flowers when choosing a condolence gift for a grieving loved one.
Perhaps you know that they have plenty of flowers already, or maybe you want a more meaningful and heartfelt gift. Perhaps you simply want to stand out from the crowd with some unique sympathy gift ideas. If that is your instinct, go with it!
You know them best, so go with what feels right. Of course you're going to Google a few ideas to make sure you say the right thing (or don't say the wrong thing… read this for help in those areas).
And you're already on the right track since you're reading this article to help guide you to a great gift idea. We have plenty of suggestions to help, so browse through until you find the perfect condolence gifts for your dear friend in this time of need.
10 Heartwarming Gift Ideas for a Grieving Friend
Our website is supported by our users. We sometimes earn a commission when you click through the affiliate links on our website. See our privacy policy & disclosures for more information.
1. Personalized Bird Feeder Sympathy Gift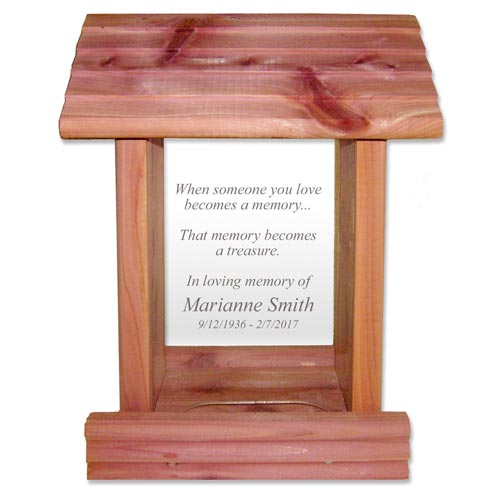 A personalized memorial bird feeder makes a heartwarming sympathy gift for several great reasons.
First, it is especially touching because it is custom engraved with the name and dates of the lost loved one. You can add a poem or choose from a variety of artwork themes or military service emblems, and even have the back side engraved with a special message.
Second, they are a great pick among unique sympathy gifts. They will probably receive plenty of food and flowers, perhaps jewelry or mugs or photo frames. Even if they don't receive those things, they probably already have many of them around the house.
This will most likely be their first personalized bird feeder. As a bonus, it goes outside, so it's not some trinket that will take up space or end up in a junk drawer.
Third, a bird feeder celebrates life. It's used to feed the birds, sustaining them and drawing them close so your friend can experience the healing balm of nature by simply looking out the window.
Birds are also symbolic of hope, life, and taking flight to new horizons. These are a beautiful way to honor and celebrate the life of a loved one with a memorial gift.
2. Guided Grief Journal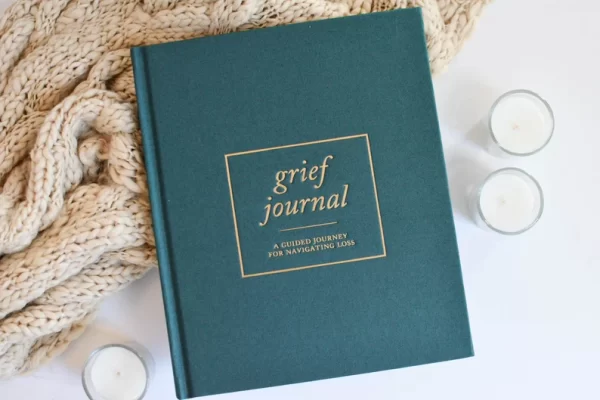 Grief journaling is probably one of the most helpful and healthy ways to process all of the thoughts and emotions that accompany losing someone.
Studies have proven that writing down what you're going through and experiencing helps both the mind and the spirit to accept, process and, most importantly, heal from the shock caused by a variety of emotional traumas including death.
This beautiful grief journal is formatted to gently guide the mourner through the grieving process via daily questions, prompts, and thought provoking quotations related to grief and healing.
Even if they are not a habitual writer, these journals are specially designed to help make processing easy. They don't have to use it everyday, or even every week, but knowing it's there as a safe place to put their thoughts is extremely comforting.
3. Personalized Sympathy Throw Blanket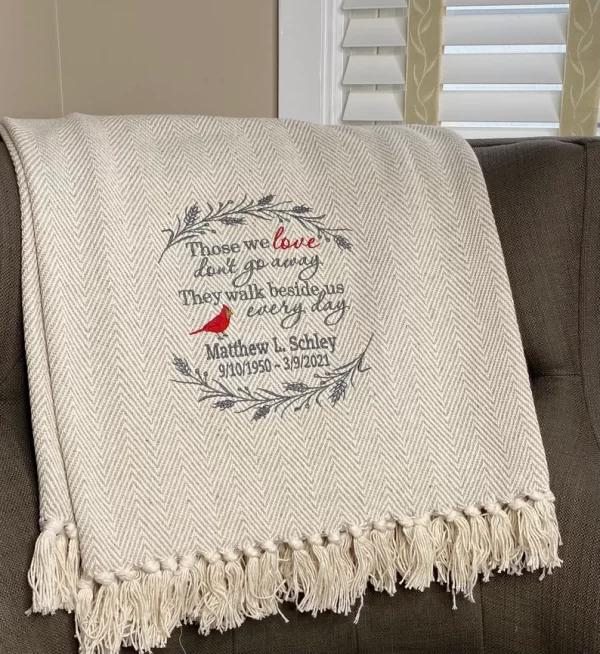 The grief process is tiring work. Your friend will need plenty of time to rest. What better condolence gift could you come up with than a super-soft and personalized throw blanket?
This cozy blanket measures 60″ x 50″ and includes their name (or the lost one's name) plus the quote, "Those We Love Don't Go Way, They Walk Beside Us Everyday." The words are embroidered onto the blanket, a process which ensures that it is permanently affixed and will not crack, fade, or peel off.
If this one is a little over your budget or takes too long, you could instead simply give a regular throw blanket like this lovely one.
4. DIY Sympathy Gift Basket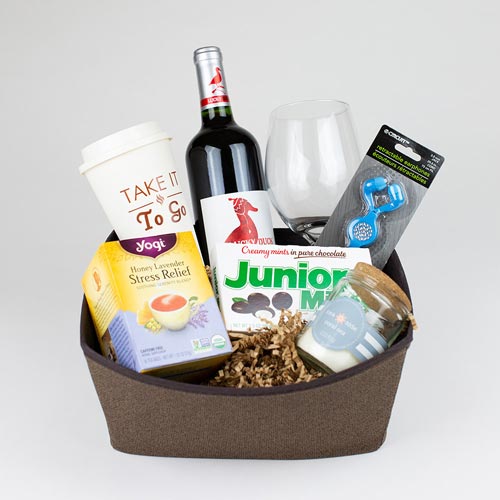 Few things are more touching than a hand-picked selection of goodies and practical household items.
You can stick with things that are helpful and useful, like paper goods and pantry items; or go the opposite route with completely gratuitous things like a pampering bath set, or a haul of luxurious wine, coffee, or chocolate.
The nice thing about a DIY sympathy gift basket is that it has a personal touch, being obviously hand-picked and arranged. Yet since everything is in store-bought packaging it doesn't have the, ahem, "homey charm" given off by a gift that you literally make by hand.
Here are some popular items to fill your sympathy gift box or basket:
Practical Items
Paper Dishes
Napkins
Paper Towels
Toilet Paper
Garbage Bags
Ziploc Bags
Air Freshener
Gifts
Flowers
Essential Oil Candles
Cozy Blanket
Novel
Sympathy Books
Movies/DVD
Relaxing Music
Bath Sets
Food
Canned Soups
Healthy Freezer Meals
Tea
Coffee
Gatorade
Basic Pantry Items
Fresh Fruit
Veggie Platter
Treats
Chocolate
Muffins
Cookies
Wine
Candy
Pint of Ice Cream
Gourmet Snacks
5. Personalized Memorial Tumbler Mug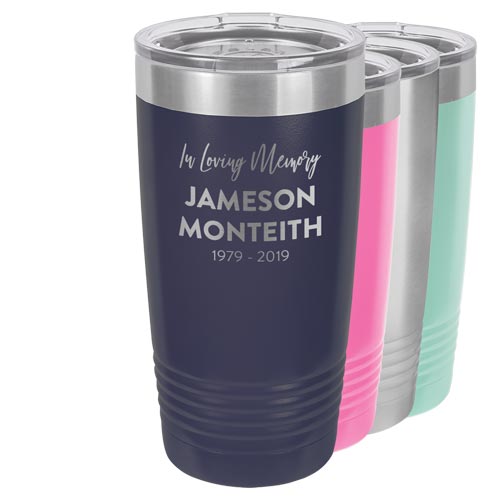 A personalized memorial tumbler effectively combines the elements of useful, heartwarming, personalized, and sweet all into one great sympathy gift.
These tumblers are insulated and vacuum sealed to ensure that drinks stay hot (or cold) for hours on end. Include a bag of coffee or a selection of tea to make it a literally warming gift.
It's a perfect way to honor your friend's loved one with a coffee thermos they will actually use.
By the way, people in mourning almost always love to hear the person's name. It almost seems backwards; we typically assume that they wouldn't want to be reminded of their loss. But the best grief counseling advises (and anecdotal evidence agrees) that using the decedent's name has a positive effect.
Rather than effectively "erasing" the individual (and validity of the mourner's grief), you are affirming the impact of their life. This is why a personalized tumbler (or bird feeder, blanket, etc) with an inscription of the loved one's name makes a thoughtful gift.
6. Remembrance Heart Keychain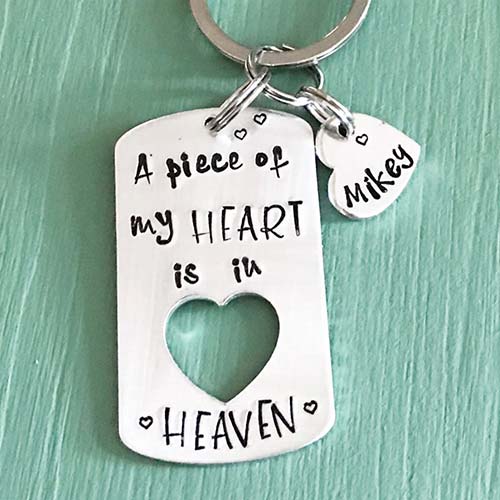 The great thing about this remembrance keychain is that it is small and unobtrusive, yet meaningful and ever-present.
Your friend can attach it to their keys and it will go with them wherever they go. Whether at work, on a jog, running errands, or on a night out with friends, they'll always know that a little piece of their heart is in heaven.
Made from resilient stainless steel, it's a cute and affordable sympathy gift that includes hand-stamped personalization.
7. Ever Remember from Willow Tree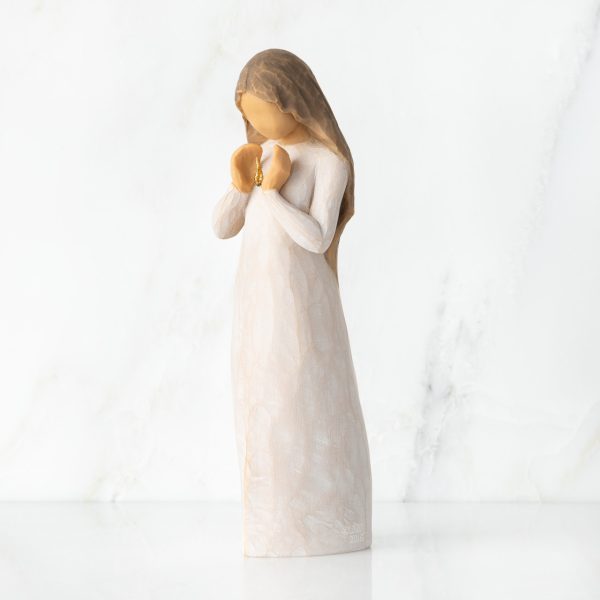 Sometimes it's the small, delicate, visual reminders that we find most comforting. A favorite photograph of the loved one we've lost, a memorial portrait, a vase of their favorite flowers, or a special remembrance sculpture.
Ever Remember is a beautiful visual representation of the memories we protect and carry with us long after someone dear has passed on. The figure of the young woman guards a golden flame over her heart, representing how precious those memories are and how they remain with us forever.
This stunning piece will be perfect for those regularly frequented areas like their living room or bedroom, where they can be gently reminded of their loved one.
8. Amazing Grace Wind Chimes
These memorial wind chimes are set to the tune of the beloved Christian hymn, Amazing Grace. The gentle ringing of chimes when the wind blows will remind your grieving friend of their loved one in a very special way.
This is a popular choice among grief gift ideas as it is affordable, timeless, and (like the bird feeder, above) goes outside so it won't clutter up your friend's home.
The simple folk tune resonates deeply with many believers, and brings to mind the words of the hymn that point to salvation by faith in Jesus Christ, our only hope in both life and death.
More heart-"warming" gifts: 50 Coziest Gifts to Warm Someone Inside & Out
9. Handcrafted Memorial Plaque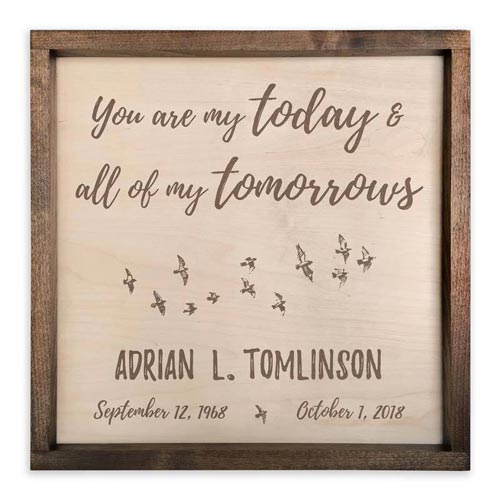 This handcrafted wooden memorial plaque is made in Oregon from solid wood and laser etched with a memorial quote and In Loving Memory inscription.
Birds signify the soul's journey into the next life, and the wall mounted sign features the loved one's name and dates. The quote, "You are my today and all of my tomorrows," is also featured. A Northwest Gifts Original.
10. Sterling Silver Remembrance Rings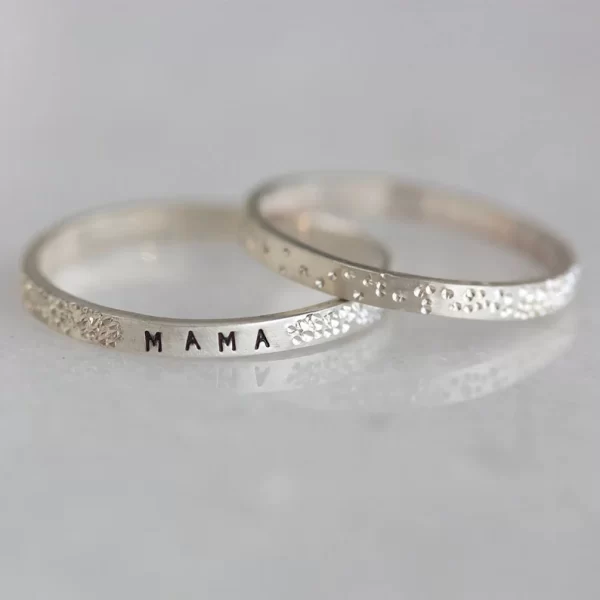 Having some meaningful token or memento to keep on your person at all times can also be helpful when processing a loss. It can help the mourner feel close to the one they've lost, and as though they aren't simply moving on and forgetting too quickly.
These beautiful sterling silver remembrance rings are perfect for this use. Small and unencumbering, they never have to take these special rings off, unlike a necklace or bracelet.
They can be custom stamped and personalized with a name, too, making them one of our favorite types of memorial gifts.
More Thoughtful Memorial Gifts
Comfort Bowl Condolence Gift
The "Comfort Bowl" is a sympathy gift in a classic style, but with a contemporary twist. The bowl is filled with light and dark rocks with crystals, and each rock features a hand-written message or note of encouragement.
The sympathy messages include quotes like, "Hold tight to memories," and "Take all the time you need." A lovely and heartwarming gift for your friend in mourning, and one that will last for years to come.
Here For You Compassion Packages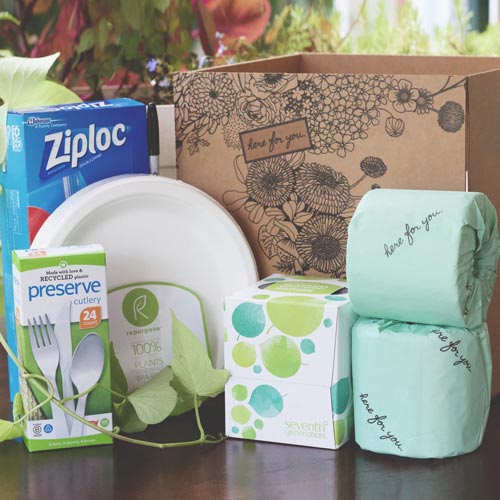 A Here for You Compassion Package includes the little thoughtful things that come in so handy when your grieving friend is feeling overwhelmed. This is the perfect "practical" sympathy gift to send when you can't come and drop off something personally.
These gift boxes are filled with things like disposable plates, cutlery, tissues, and a sympathy card. Remember, for someone in the midst of grieving, going to the store for even just essentials can sometimes seem like a daunting task.
This gift box will help your friend on a very practical level while also being a wonderful way of showing your love and support.
Optional upgrades and add-ons are available, with plenty more household items as well as comforting additions like bath bombs and tea samplers.
Sympathy Gift Heart Ornament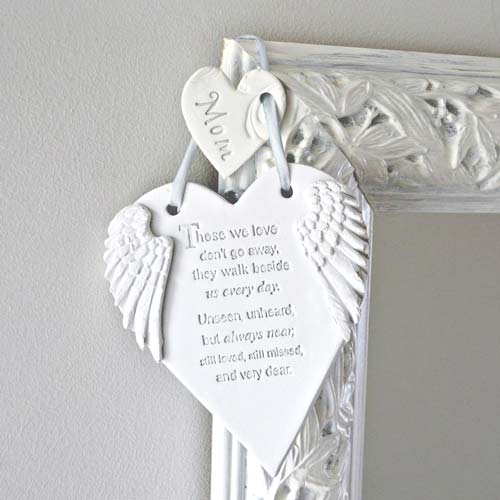 This handcrafted clay heart features a lovely memorial poem, angel wing adornments, and a smaller personalized heart. The ornament set connects with your choice of pink, blue, or silver ribbon.
Put together, the result is a heartwarming gift that the mourner will cherish in memory of their departed loved one. It's the perfect gift to send to a friend far away, too.
You can just imagine the impact your gift will have when they find a surprise package on their doorstep and open it to find this gorgeous personalized heart ornament.
Additional Ideas for a Memorial Gift
We've written a lot about sympathy and memorial gifts. The above list is our take on the very best gift ideas for a grieving friend, but it's not exhaustive by any means.
Here are some more resources for great memorial gifts: