Let's take a look at the best bathroom gifts for your spouse, for housewarming, or for good-old-fashioned potty humor.
When it comes to bathrooms (or the powder room, if you want to get fancy), organization is key!
Then again, the same thing goes for inviting décor.
You want the restroom to be a place of relaxation and comfort. After all, it's hard to enjoy your bubble bath at the end of a long day if there are shampoo bottles falling on your head, the towels are spilling out of the cupboard, and the lighting makes it looks like a Hollister store in the mall.
And it's tough to want guests to come over when everything is messy, disorganized, and the décor looks like you thought 2006 never went out of style (but it did and it's not coming back for a while).
Read on for easy ways to make your bathroom less like a horror show, and more like your very own spa! Plus, any of these will make wonderful housewarming gifts, or as a gift for your favorite shower lover.
Top Ten Bathroom Gifts
Our website is supported by our users. We sometimes earn a commission when you click through the affiliate links on our website. See our privacy policy & disclosures for more information.
1. Handmade Modern Floating Shelf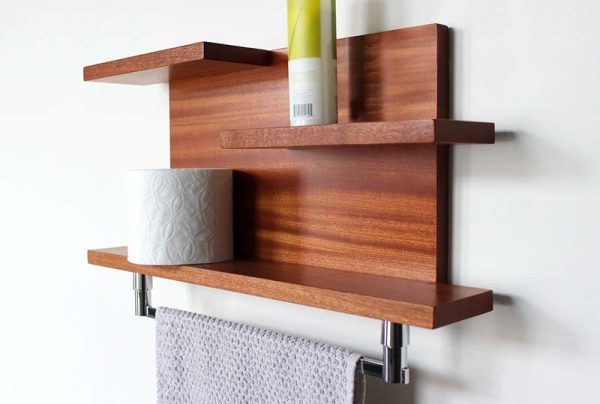 Shelves are oh-so important in the bathroom – there's only so much you can stack on the counter! These gorgeous handmade floating shelves are as good-looking as they are practical. You may want to get more than one and arrange them around your mirror. The towel rack attached to the bottom is such a life-saver, as well! How did we get along without these?
2. All Bums Welcome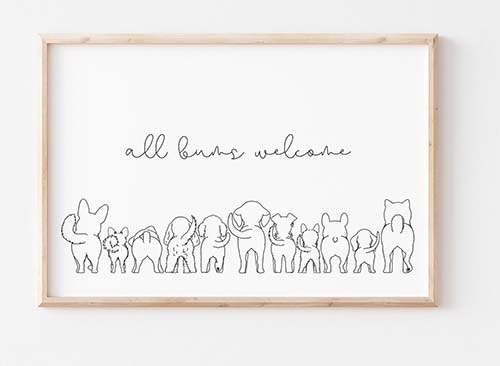 It's cheeky in all the best ways! This cute bathroom décor print has some tongue-in-cheek humor and we are here for it! Make all your guests feel welcome – whether the two-legged kind, or their fuzzy butt companions.
3. Amazing Candles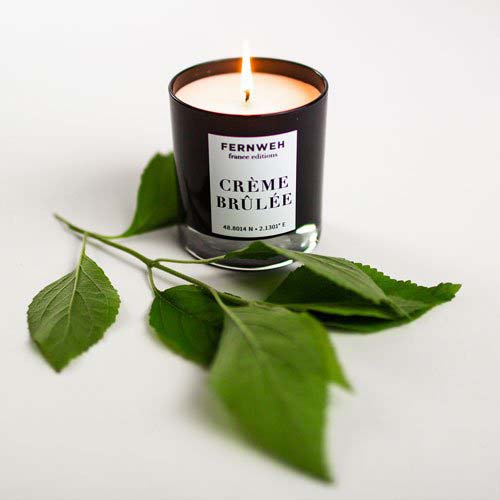 An exotically scented candle is necessary in the bathroom! Sure, for romantic bubble baths for two, but also for those times… well, we've all over-indulged at Taco Bell, am I right? These decadent candles will give any room the aroma of an expensive spa. Long-lasting and handcrafted, you do not want to burn out on these!
4. Stoneware Sponge Holder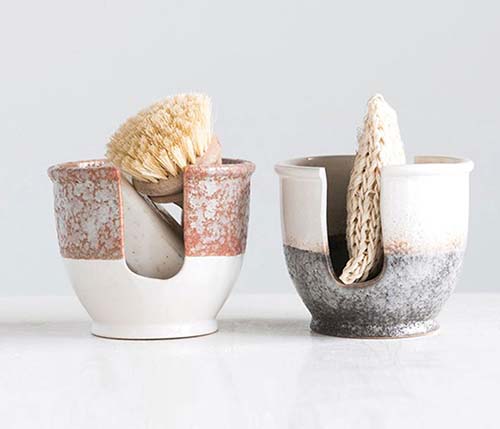 These stoneware sponge holders can be used for all sorts of bathroom necessities, not just sponges. How about make-up wedges, exfoliating cloths, bars of soap, mini bottles of toiletries from the hotel, razors, floss, and cotton balls to name a few? These are so pretty, rugged yet stylish.
Your guests will want to know where you found them!
5. Shower Drink Holder
Hey, maybe you didn't know until now that you needed a beverage holder in the shower, but hey! Now you know!
You can't un-see this beauty, and you're gonna wish you had gotten one… so, go ahead, order it! You'll be glad you did when don't want to let go of that cold beer and need to suds up for your lady on date night.
6. Wash Your Worries Away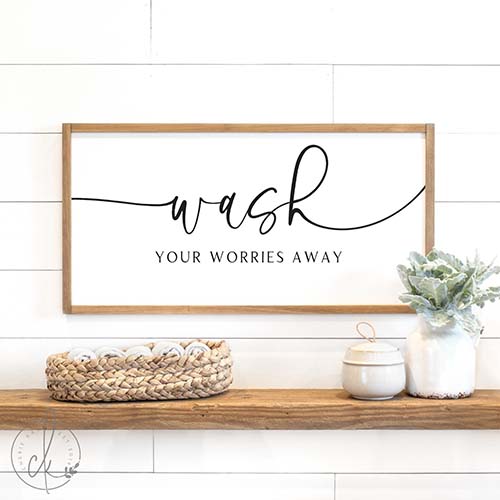 Keep it minimalistic and farmhouse themed, even in the bathroom! This sweet sign reminds you to wash your worries away and will really dress up an empty lavatory wall. With its simple black and white, it will blend perfectly into any décor, and would also make a great wedding or housewarming gift.
7. Hand Hammered Virgin Copper Sink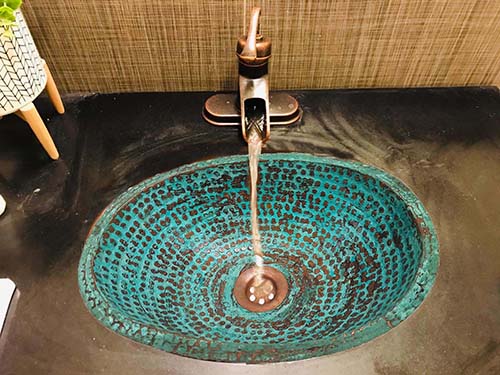 Make the sink the statement piece with this stunning hand-hammered green patina beauty! Guests will be in awe of this gorgeous work of art, and you'll feel sophisticated and expensive every time you wash your hands. What more can you even ask of a humble sink?
Made of copper, no two sinks are the same, just adding to their charm.
8. Wooden Bath Caddy
If an hour long soak is one of your love languages, you need this beautiful wooden bathtub tray! It holds all your bathing necessitates, like your book (when are they going to start making waterproof books? Inquiring minds want to know), a glass of wine or cup of coffee, your favorite scented candle, and yes, we're gonna suggest it: a delicious snack.
9. Wash Your Hands Flower Pot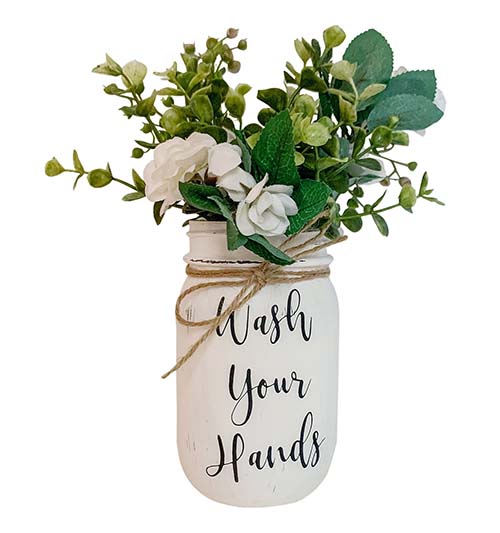 This cute little flower pot will look adorable sitting on your bathroom counter or on a shelf! Whether you fill it with faux flowers, the real blossoms, or even other things like cotton balls or makeup brushes, we're sure you won't regret buying this mason jar to brighten up your space (and remind your kids what to do after… you know).
10. Eco-Friendly Body Care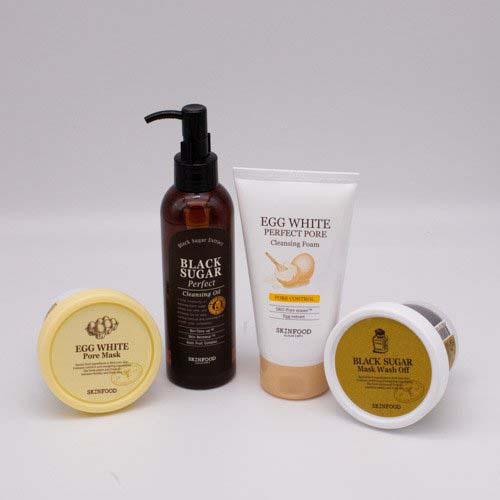 You only have one body for the rest of your life: take care of it! These delightful lotions and potions will work their magic on your epidermis, won't break the bank, have ingredients you can actually pronounce, and will look pretty sitting on the counter.
What more can you ask of your toiletries?
Related: 15 Gorgeously Eco-Friendly Gifts
Cute Housewarming Gifts for Bathroom
Let's talk housewarming! Most folks go for kitchen accessories as housewarming gifts, so next time you want your present to stand out in all the best ways, consider something for the loo!
11. Natural Soap Gift Box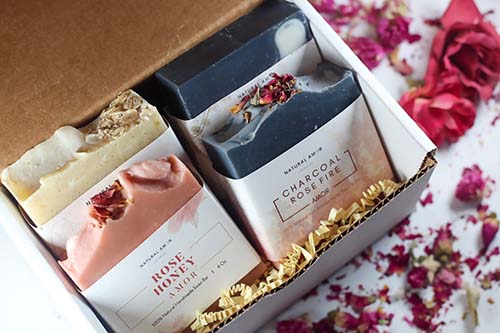 These soaps are so pretty, don't be surprised if they never actually get used! No one wants to see them disappear, after all. But once you get past that, and suds up your mitts, you'll love the scents, the lather, and the cleanliness you get from them. The box includes 4 yummy scents.
12. Adorable Bathroom Mats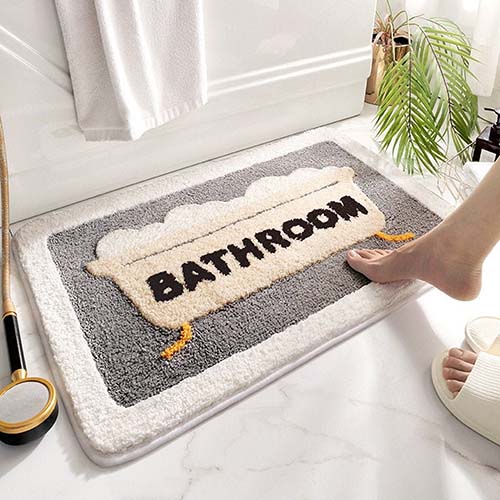 This tufted bathroom mat is just the thing for when you're stepping out of a hot shower at the end of a long day or first thing in the morning! Your feet will feel pampered, and no puddles to clean up. The soft colors will match whatever décor your friend has going, too.
13. Waterproof Soap Labels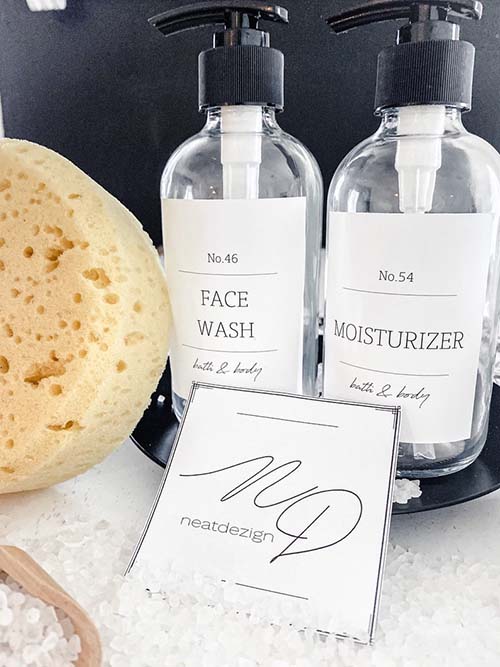 These are just the labels, so you'll want to make sure you grab a few jars to go with! You know how the labels on your favorite soaps and body gels get all icky and scummy? Not so the case with these clever and cute labels. Minimalist in style, they're an easy way to spruce up a bathroom.
14. Personalized Bath Towels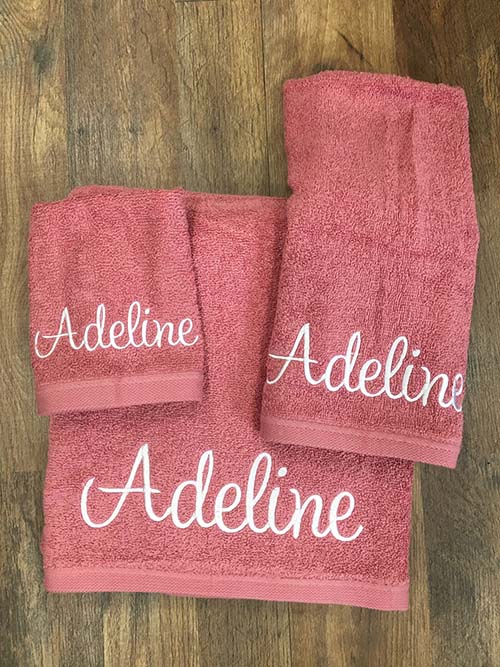 Embroidered and personalized bath towels are a great gift for a house warming! They'll love having their own towel that no one else can claim they "thought" was theirs, right?! Priceless. And anytime you have a monogrammed anything, you just feel… posh!
15. Custom Towel Hooks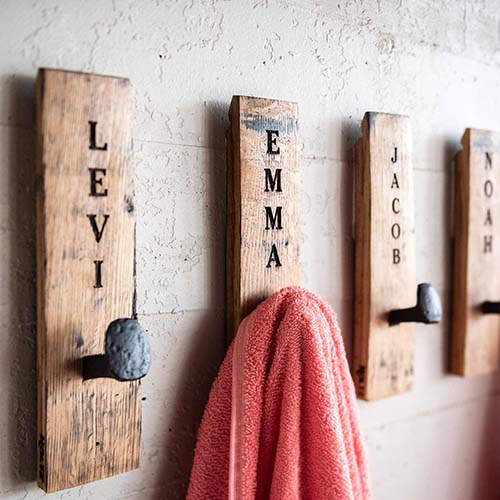 For larger families especially, these rustic towel holders are so perfect! Complete with their own names, there's no more blame game of Who Left the Towel on the Floor (NOT our favorite family game, we prefer Monopoly or Risk). They'll love the way their bathroom gets an instant makeover with these, and you can't beat the organization upgrade!
16. Minimalistic Toothbrush & Paste Holder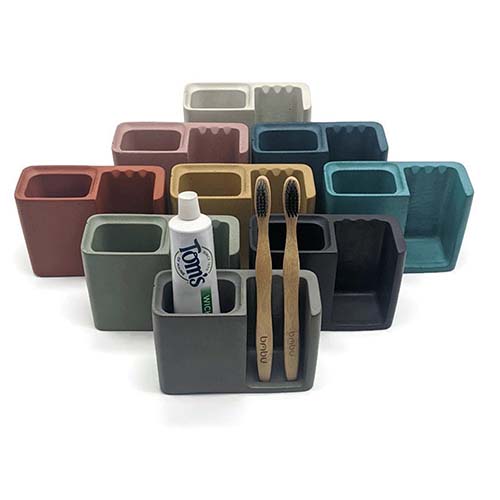 These minimalistic toothbrush and toothpaste holders are so unique! They'll love the addition of style and organization in their bathroom with one or two of these.
Handmade in North Carolina using – for reals – concrete.
17. Glass Cotton Holders
It's simply amazing what removing your cotton balls, Q-tips, and the like from their ugly packaging can do! Instant makeover! These apothecary bathroom canisters will transform your countertop from hot mess to timeless style. Was JoJo Gaines here, or do you just have fabulous style?
18. Toilet Night Lights
Hey, don't knock it till you've tried it! These funny light up novelty lights for your commode are a fun way to… well, you know, go. 16 lights will rotate through, and yes, it is motion activated. (hehe).
Also a fun way to potty train those rugrats!
19. Cloudy Day Toilet Paper Storage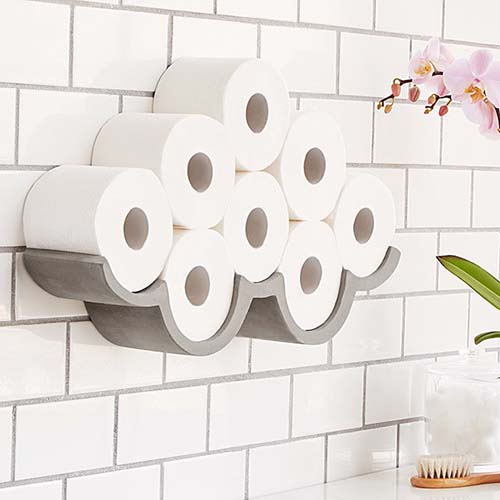 There's nothing worse than realizing your out of toilet paper when you've finished the deed! Unless it's that happening when you're in a guest bathroom and WHERE DO THEY EVEN KEEP THE TOILET PAPER CUZ IT'S NOT HERE! Panic!
Keep those moments at bay and look great doing it with this toilet paper holder that keeps eight whole rolls at your fingertips.
20. Gold & Marble Two-Tier Vanity Tray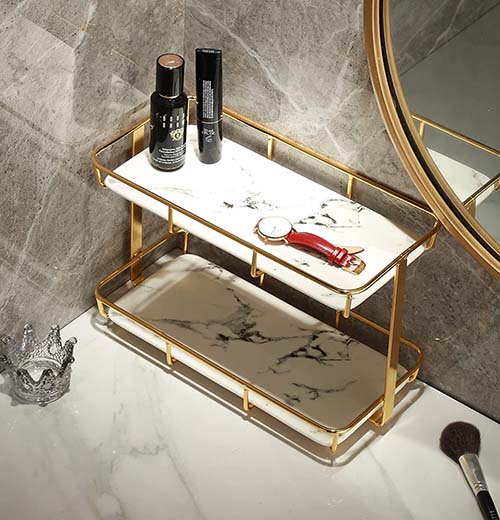 The problem with bathroom counters is they're just too darn small! Where to put that second tube of deodorant, your collection of cosmetic brushes, your wedding ring, your watch, those pretty decorative soaps… and so on and so forth!? Stacking a second story is, if you will, key.
This pretty gold and marble shelving unit will look so nice, and really keep your hoarding – er, we meant, collecting – of cosmetics organized.
Related: 21 Thoughtful Housewarming Gift Ideas
Bathroom Gifts for Him
Bros gotta go too, so what bathroom gifts can you give to him? Here are the best ideas.
21. Shower Beer Crate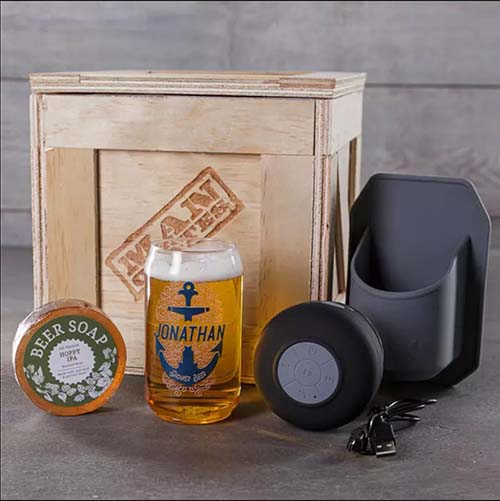 For the bachelor pad, this funny Man Crate for the bathroom is so perfect! He'll love it all, from the beer holder, beer soap, to the waterproof speaker so he can blast his '80s metal and tune out his farts.
Not to mention the super-manly crate it ships in! Man Crates is always a fun place to shop and support, so head over there now!
22. Cologne Shelf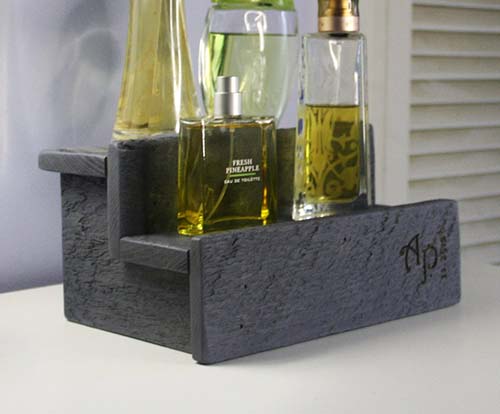 If he has a scent for everyday of the week, he needs a place to organize them! Enter in this cool gray cologne shelf. It will instantly clean up his cluttered counter or drawer and keep his glass bottles safe and security. Of course, it would also look great with other bathroom toiletries on it as well!
23. Geometric Floating Storage Shelves
Floating shelves are just the thing for a small, cramped bathroom will little storage space. If his cupboards are filled to the brim with that Costco sized package of TP or way too many towels, get him one or two of these.
He can keep his favorite and best-looking bathroom items in arm's reach, and also make them part of the décor. Hard to do that with a rickety over-the-toilet shelving unit, right?
24. Caution: Boy's Bathroom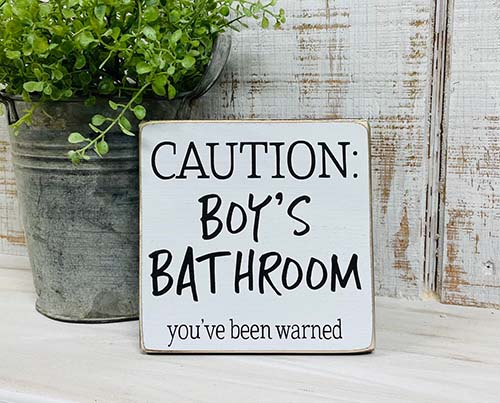 Keep it real with this funny sign warning guests what they're about to enter into! A boy's lair! This cute sign will make him laugh (because it's so true), whether he's 9 or 99.
25. Concrete Bathroom Organizer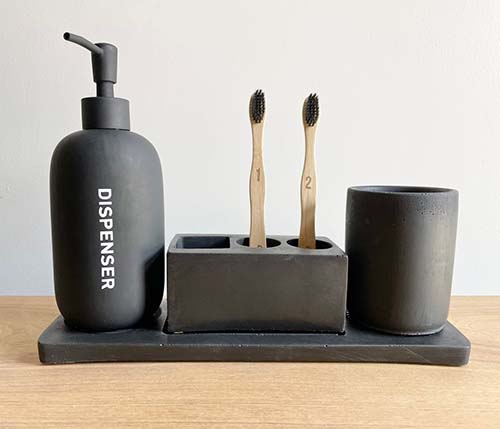 Suave and minimalistic, industrial and modern, this accessories set will really make his bathroom pop! In a charcoal black/gray color, it holds his toothbrush and toothpaste in style.
Bathroom Gifts for Her
Ladies love cute, fun, and functional gifts for the ladies' room. Here are some that she is sure to appreciate!
26. LED Bathroom Mirror
A good mirror is key for the fashionista who never leaves the house without a full face! This LED bathroom mirror is totally adjustable, and the lighting is so good those stray eyebrows didn't stand a change! Most bathroom mirrors and lighting are the worst for grooming and applying cosmetics – but this one changes the game.
27. Cosmetic Storage Box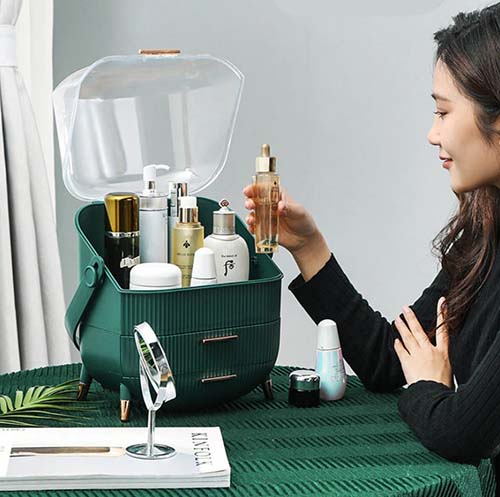 If she used to store her Bonny Bell lip gloss collection in her Caboodles carrying case, she will FLIP over this grown-up cosmetic storage case! Designed to hold as much as possible and to look amazing while doing it, this case is waterproof for those oops moments, and is available in white or hunter green.
Also great for traveling makeup artists, models, or actresses/ballerinas.
28. Hair Care Holder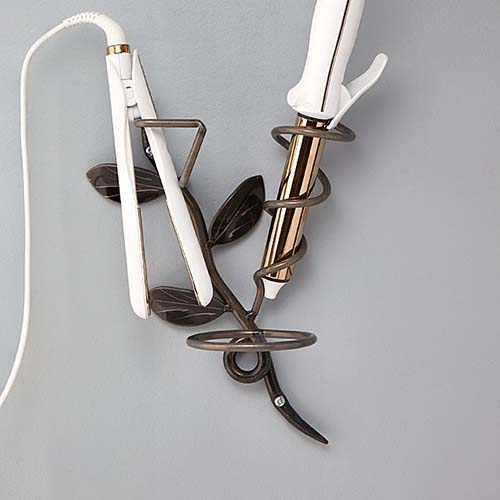 Those curling wands, flat irons, hair dryers… oh my! While needed and used on the daily, they have a tendency to take up ALL THE SPACE. Not to mention the cords that get tangled and yeet (to coin my own meaning for the term, since my kids won't tell me) everything else off the counter!
This great organizer makes all those annoyances a thing of the past. Mount on the wall, close to the outlet, and never worry about electrocuting yourself again.
29. Decorative Jewelry Holder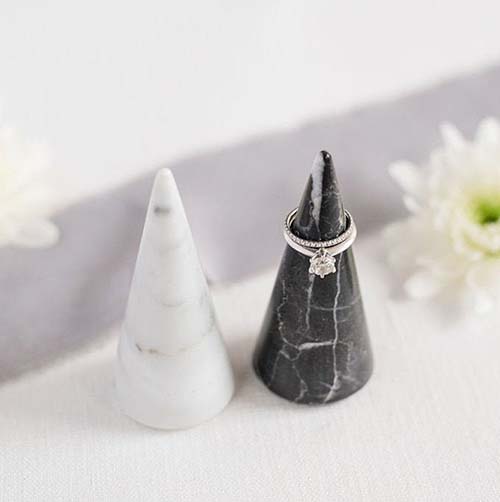 Gives your rings a home while you shower or wash your face, so your counter stays clutter free. Doubles as décor, with its pretty marble and sparkling gold accents. Cute, functional, and a brilliant stocking stuffer!
30. Under Sink Organization
You know you have one… that bottle of sunscreen! But where is it? Ack, the cupboard monster strikes again. This bathroom organizer will transform and clean up the under-the-sink cupboard in almost no time at all! Think of all the treasures you're going to find when you implement this baby.
Funny Bathroom Gifts
This is the section you've been waiting for. Nothing beats out bathroom humor, so here are some hilarious and funny bathroom gift ideas!
31. Rustic Humor Signs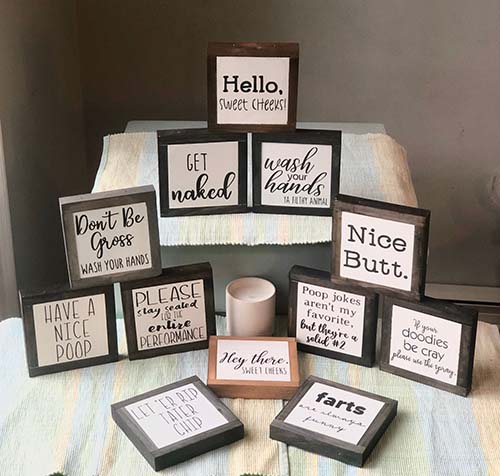 Cheeky and sassy little signs are just the thing you didn't know your bathroom needed! Make your guests smile, and you too, when they see these clever and witty expressions and wishes.
32. Jumbo Clothespin Bathroom Towel Holder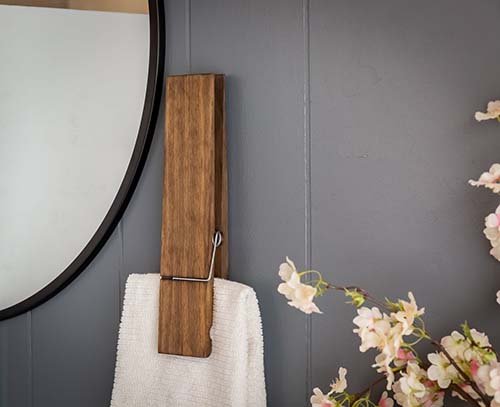 Totally whimsical in style, this giant "clothespin" towel holder is so fun! For the unique and clever one in your life, this will be a huge hit.
33. Poo-Pourri Spray
A whole set of different sets of Poo Pourii? Sign us up! You'll never regret having these on hand – they'll save the day in more than one way and more than once.
34. Bathroom Review Sign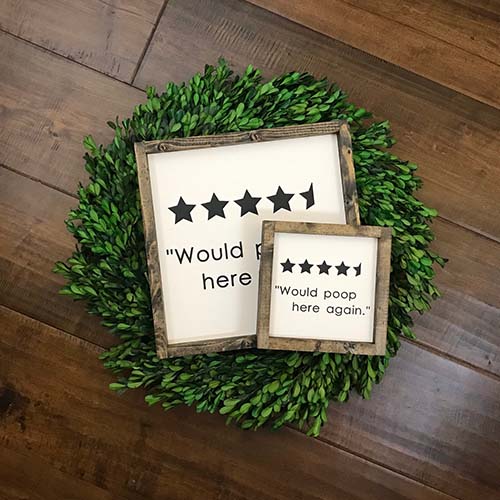 Funny for the Airbnb owners, the guest bathroom, or really any powder room, these funny signs are sure to be a hit. You can hang them right next to the Comment Card/How Can We Improve Box.
35. Potty People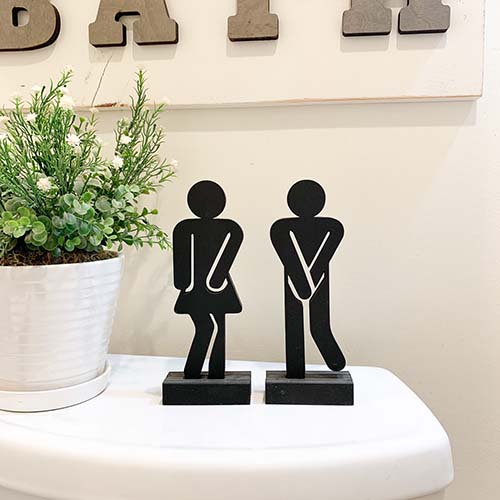 The potty dance is as old as time and isn't going out of vogue any time soon! These cute two bathroom standing statue silhouettes will make your guests laugh and reenact the moves they're showing off!
36. Used Beer Recycling Station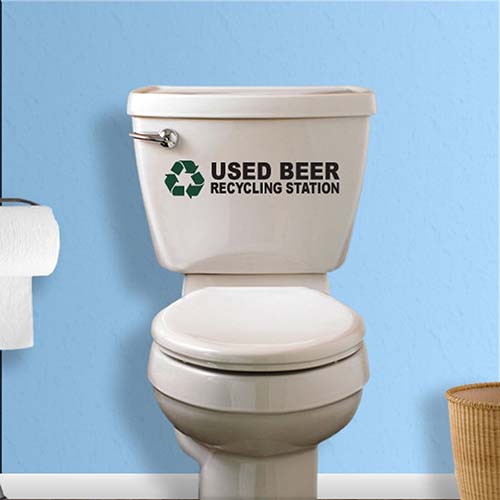 This decal is sure to make all the guys laugh, and some of the gals too! Recycle your beer and then go replenish!
37. Bathroom Word Search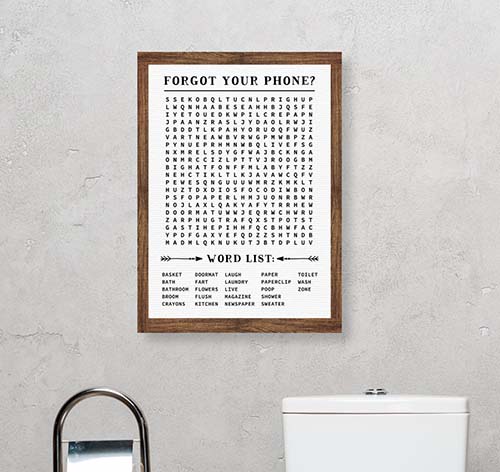 Give your guests something to do when they left their phone behind and have to go #2! Better than reading the cereal box during breakfast even, this clever and funny print is unbeatable.
38. Please Put Seat Down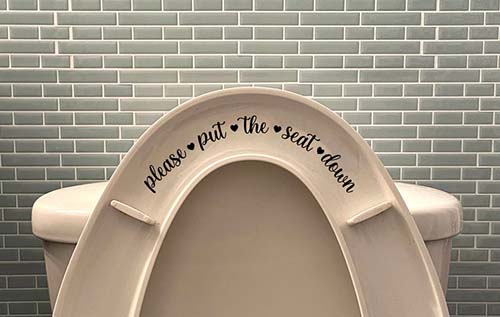 Just a friendly reminder from someone who has fallen in before! This funny decal will leave no excuses behind when you're showing off your behind.
39. Gold Elephant Toilet Paper Holder
Gotta keep a few rolls handy (there's nothing worse than being left one shabby square). This cute golden elephant toilet paper holder is sweet and unusual way to do just that: stack some rolls on his generous trunk and make your bathroom look totally adorable all at once.
40. Hello Sweet Cheeks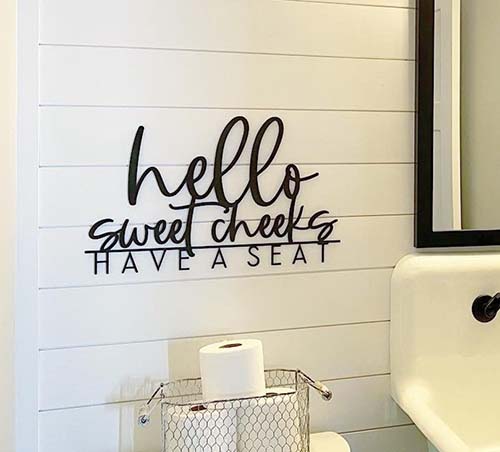 Invite your guests to take a load off (or is a load out?) with this funny sign. Keep the humor and look great doing it!
Gifts for Shower Lovers
If someone special in your life is well-known for their love of long, long, looooonnnnggggg hot showers, after you upgrade to a tankless water heater to provide endless hot water, gift one of these amazing shower accessories.
41. Humidity Loving Bathroom Plants
Plants are necessary for a calming and relaxing and healthy home atmosphere, but not all do well in a steamy bathroom! These ones do, however, and they look amazing to boot. So crank up the hot water and shower away!
Related: Flower Gifts for Everyone
42. Shower Steamers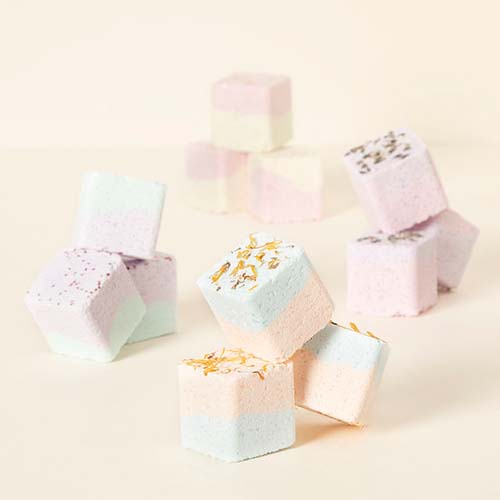 Shower lovers secretly envy their bubble bath friends, but no more! Like bath bombs for the shower, these fun shower steamers make your ordinary hot spray into a genuine spa experience. They'll want to stay in until the water heater begs for mercy.
43. Towel Warmer
Make an ordinary bathroom into something extraordinary with this amazing towel warmer! Feel like you're in the most exclusive spa when really, you're just at home. Pamper yourself with one of these and feel better about getting your day started right.
44. Golden Mountain Sunset Shower Curtain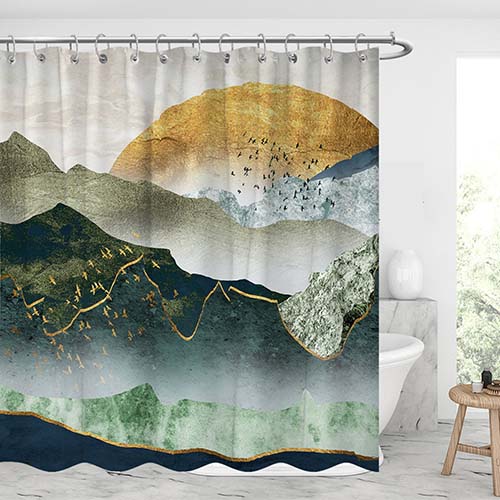 A pretty shower curtain might just be the easiest bathroom makeover ever! We love this one, with its gorgeous mountain landscape with jewel tones of green and gold.
45. Shower Eucalyptus Bundle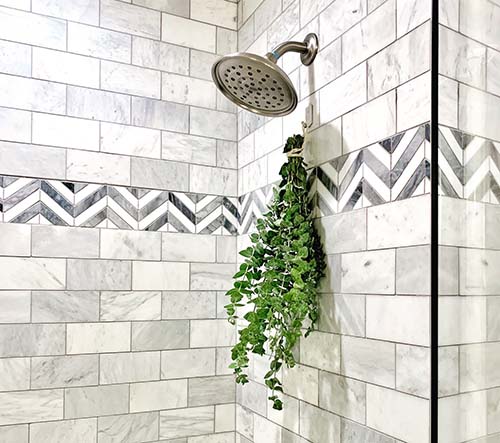 For allergy sufferers, those who have a cold, or simply nature lovers, this eucalyptus bundle will transform their shower into something so delightful! The aromatherapy of eucalyptus will feel the shower and their noses, resulting in a spa like experience.
46. Teak Shower Bench
A place to sit and apply lotion so you don't slip and slide all over the damp floor? Um, yes, please! This pretty teakwood stool is just the thing for painting your toenails, shaving your legs, or having a place to sit while your toddler splashes.
47. Waterfall Shower Set
Long gone is the corroded and pathetic shower head of your past! Enter in this amazing waterfall shower head that transform your shower experience from ho-hum to unforgettable. Your daily shower is about to be the best part of your day!
48. Minimalistic Towel Storage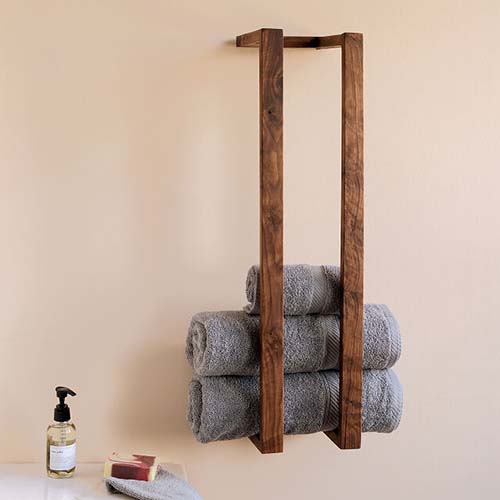 Store your prettiest towels in style with this wooden rack. Anyone can hammer in some Command Hooks and call it a day, but when you mount this sleek design, your bathroom will really be on another level.
49. Hanging Shower Caddy Baskets
If you're a toiletry diva and collector (raise your hands, curly girls), you need a smart and efficient way to store all those necessities! This organizer will hold an amazing number of shampoos, conditioners, shave gels, facial washes, and body gels.
50. Personalized Plush Bath Robe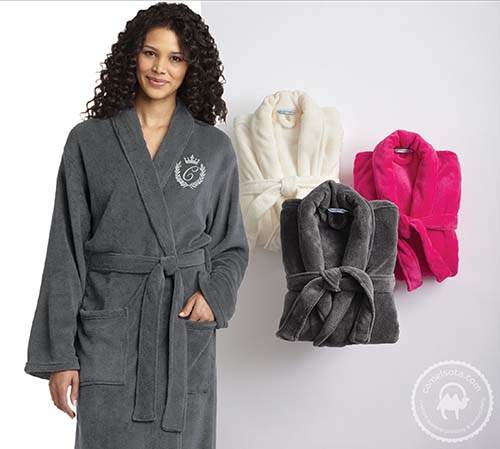 Feel like a million bucks and look like it too with this plush monogrammed robe! Perfect for chilly mornings or frosty nights, or for when your freshly washed hair threatens to run down your back (brrrrr). Available in a wide variety of colors, he or she will love this bit of posh sophistication at home.
Read Next: 21 Delightful Housewarming Gifts (that they'll actually use)
Pin It