Do you like cool casual shoes with totally unique prints? Great. Today, I'm going to be sharing a Groovebags review and unboxing with you.
Our website is supported by our users. We sometimes earn a commission when you click through the affiliate links on our website. See our privacy policy & disclosures for more information.
Groovebags Review
Groovebags is a super cool website that offers a variety of themed bags, shoes, socks, and other items.
They have several types of shoes (casual, hi-tops, boots, etc) and other neat gift ideas (phone cases, totes, car seat covers, etc) all with the cutest (and sometimes craziest) themes.
Stuff like:
Dachshunds & flowers
Math formulas
Shoes that look like a pencil
Galaxy prints
You get the idea. Cute, wild, fun, hipster. They even have shoes that you can customize with your own dog's photo!
I got sucked in. Recently, I ordered a pair of Groovebags casual shoes for myself. Specifically a certain pair that looked super cute.
I want to share my experience of those shoes with you (unboxing photos included!) so that you can decide whether or not they'd be something you'd want to gift a loved one – or try out for yourself.
So without further ado, here is my honest Groovebags review and unboxing featuring casual kicks for ladies.
Groovebags Shoes Unboxing
Of course I have to begin with the actual box. Here is what I received from Groovebags: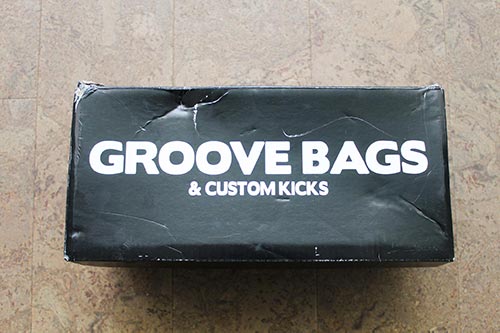 As you can see (and because this is truly an honest review), the box arrived a little worse for wear.
To be fair, it was shipped in a plastic wrap with my address on it. AND it came all the way from the Pacific Northwest to Texas where I live. So I can forgive a little roughness around the edges.
After all, it's what's on the inside that counts!
(And for the record, my package was placed in my mailbox. But I'm not 100% sure if that's the case all the time.)
Now let's lift up the lid.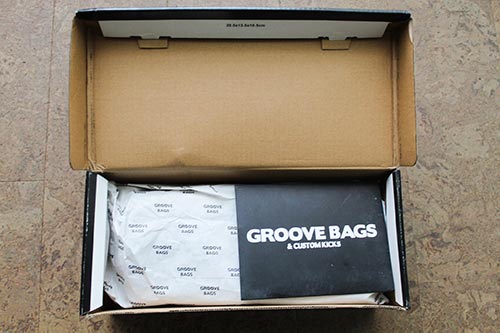 The first thing we see is an envelope placed on top of some neat tissue wrapping.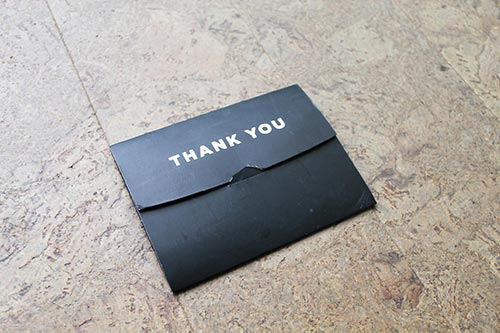 It's a Thank You card from Groovebags! I'm pretty excited to see it….
I personally love it when companies take the time to send a little something extra along with the product you ordered. Don't you? It shows that they really care about their customers' buying experience.
Let's open it.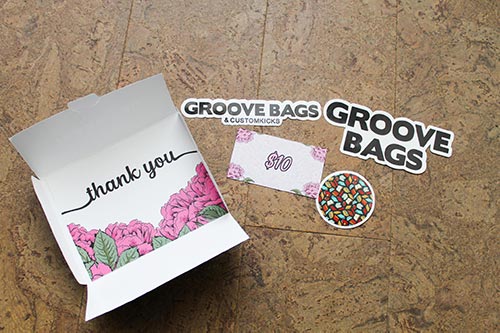 Inside of the envelope I find all kinds of fun goodies. Not that it matters too much for my shoe review, but the inside of the Thank You card catches my eye with its colorful floral design.
I don't know if it's the same with all of their shipments, but in my Thank You envelope I received:
a few cute Groovebags stickers
$10 coupon code for my next purchase
a personal Thank You letter from a company representative
Now let's get to the good part.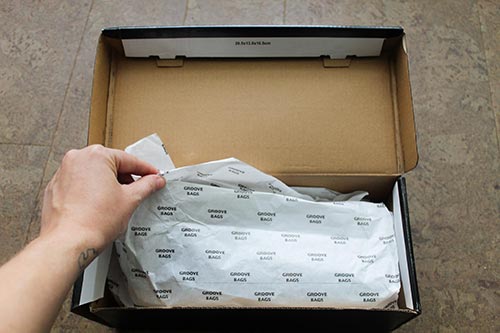 Getting ready to lift the top layer of tissue paper. Can you feel the anticipation??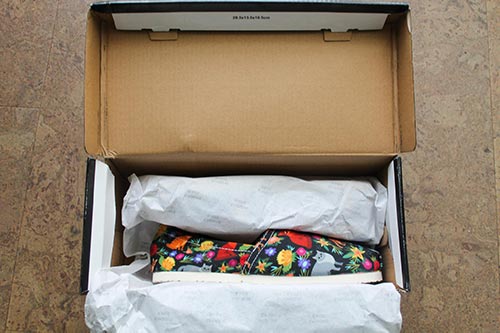 The first peek at my new kicks does not disappoint.
Because I'm a crazy cat lady, I ordered them in the Cat Flower theme. But that is just one of the many designs you can choose from online.
They also offer multiple shoe styles and several more fun products, all with the same theme: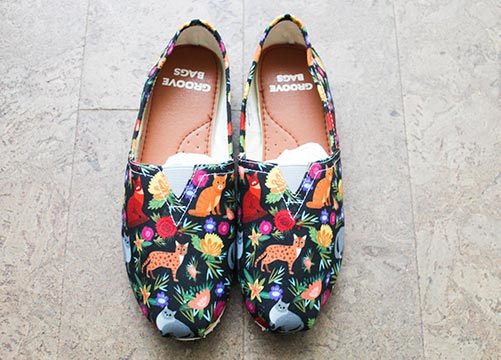 With my new kicks now totally unboxed, you can see for yourself just how beautiful they are. The color really does "pop" on these casual shoes; and for the record, I took these photos in natural lighting.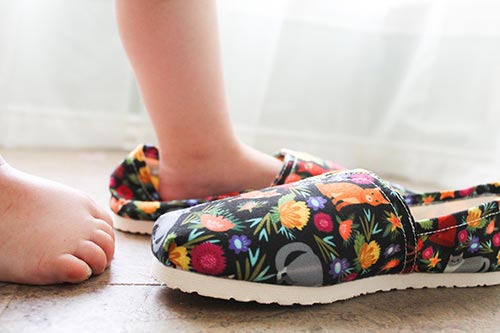 My toddler naturally wanted to be the first to try on Mom's cool new Groovebags…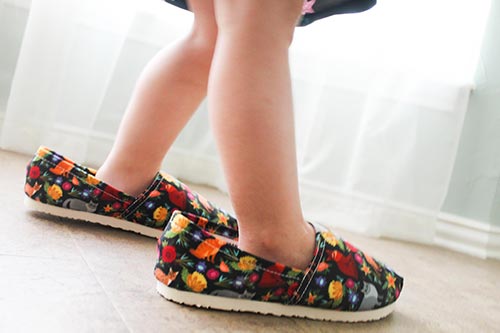 …and as you can clearly see, they fit like a glove!
Now it's my turn.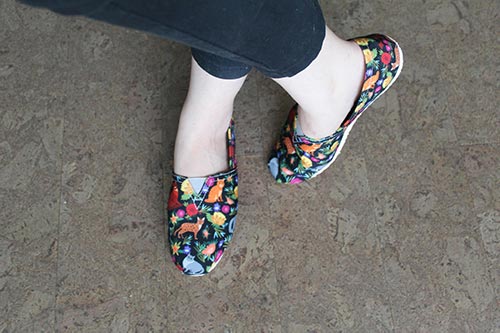 The first thing I noticed when I tried on my cute new shoes was how lightweight they are.
But not in a "thin" sort of way; on the contrary, they have a very sturdy feel, like they are going to last me a long while. It must be the canvas they are made from.
The second thing I noticed was how easy it was to slip my foot through the vamp. The elastic V served its purpose in that respect. It also provides some wiggle room across the top of the foot whenever you take a step.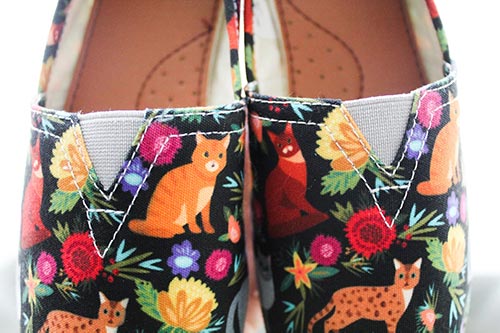 An up-close look at the elastic stretch vamp. All of Groovebags casual shoes feature this V, which is good to know if you're considering a pair.
You can also see the vamp's excellent stitching job here, too.
Now let's flip them over.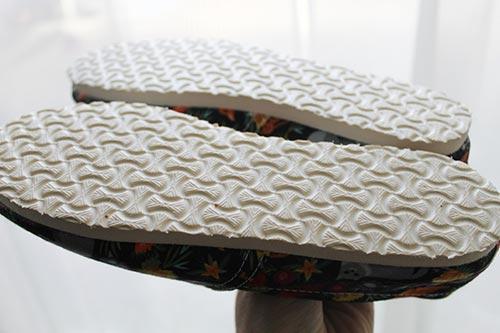 Underneath all the drama of the poppin' canvas print, you can see the grooved EVA outsole. It's designed specifically, according to their website, for "exceptional traction" purposes.
To be honest, I haven't gone for a jog in the rain in these just yet. So I couldn't tell you for sure how much traction the EVA outsole really provides.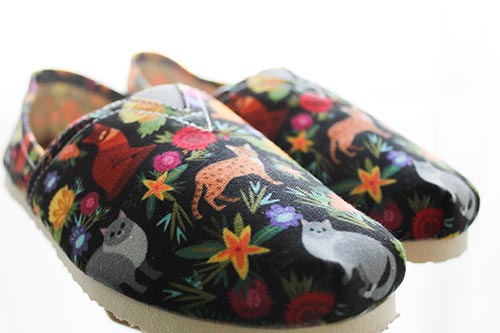 Here's an up-close pic of the front of the full-wrap canvas print. It really doesn't disappoint/was exactly as advertised.
Time to Try Out My New Groovebags
Next it was time to put my new shoes to the test. So we headed out to our local walking trail.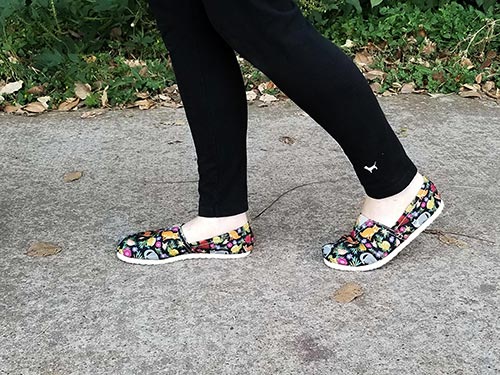 Now, these are casual shoes, not necessarily made for walking long distances. And usually, my feet are the type to, no matter what new shoes I get, break out in blisters during the initial breaking-in process.
So I was full-on expecting to have a raw spot or two, on the back of my heel and/or where the top of the foot rubs against the vamp. At least.
BUT I DIDN'T GET ONE BLISTER.
I didn't get one twinge of irritation at all.
And we walked two miles down the trail. And half of that time, I had my 30-pound two-year-old on my back in her carrier.
(Full disclosure – by the time we had made it back to our car to head back home, my feet were sore. But not because of my Groovebags. It was the kind of sore they always are after a long walk, even when I'm wearing appropriate shoes for walking.)
Honestly, while on the trail, I forgot I was even wearing my new kicks. But the beautiful scenery is a little distracting.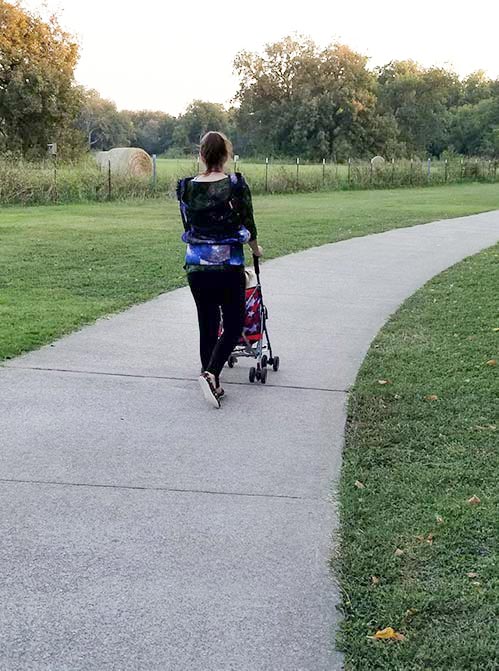 Final Thoughts on Groovebags Shoes
1. Cost
I don't know what the price of these shoes is when you're looking at them right now. But when I ordered them, they were on clearance for $29.95.
Everyone's wallet is different, of course, but for me that was a perfectly acceptable price for a nice pair of shoes.
At checkout, Groovebags also offered a "SafeGuard Shipping Guarantee" for $0.98, so I went ahead and got that, too.
With taxes, my personal total rang out at $35.88.
2. Production/shipping
They ask that you allow for 7-10 business days for them to print and ship your order. Their site also states that custom orders may take longer.
I placed my order on a Wednesday and they were delivered into my mailbox the following Monday. So I only waited five days for my shoes to arrive. I don't know if that is typical, and it could have been because my pair was on clearance.
But in any case, I was happy that they arrived earlier than expected.
3. Communication
Once my order was placed, I received separate email updates from Groovebags on my shipment every step of the way. I received an email:
When I first placed the order
An email containing my receipt
Once the order was shipped
When it was out for delivery
When it was delivered
Obviously, I loved being kept in the loop like that as to where my order was.
4. Shoe sizing
I wear a US size 7 in women's shoes, and that's what I ordered my Groovebags casual shoes in Cat Flower in. They fit true to size. The end.
5. Verdict
It should go without saying by this point that, overall, I'd recommend Groovebags shoes to anyone who is into wearing shoes.
(Uhhh… yep, that would be everyone.)
They were a great purchase, in my opinion, perfect for wearing around the house or out and about. I look forward to getting a lot of use out of them.
Read Next: Best Crazy Cat Lady Gifts