Here are the 30 best gifts for the doggo lovers in your life.
Whether they're being followed by a loyal Golden Retriever, chased around by a spunky Husky, herded by their own Australian Shepherd, or suspiciously eyeing the mailman along with their pack of Chihuahuas, dog lovers are easy to please (much like their mutts), and will go bananas over a great gift.
We've curated the very best ideas to help you discover something thoughtful, creative, and unique.
10 Best Gifts for Dog Lovers
Our website is supported by our users. We sometimes earn a commission when you click through the affiliate links on our website. Learn more here.
1. Dog Paw Photo Frame
This cute paw print frame hold your most treasured photographs of five of your favorite 'good boys' (or five different shots of your one and only).
The rustic wood background goes perfectly with all the colors and styles of your living room, the photos slip easily in and out, making rotating those pics that much easier!
A sentimental way to display your pooch's photos after they passed, or – better yet – while they're still here, making everyone smile!
2. Dog Travel Bag
Keep Fido's dietary needs, snacks, poop bags, leases, harnesses, collars, water bowl (and don't forget the toys!) all in one handy zip up travel bag.
It's stylish and oh-so useful, whether you're heading out for a road trip, a day at the beach, an overnight at Gramma's, or going camping with the family. The gray fabric is easy to wipe clean and the zippered pouches are just the thing for the smaller but important items, like dog tags, toenail clippers, and socks for cold winter nights or hot pavement in the summers.
Seriously, this gift is one that they'll keep for years and never know how they ever got along without it!
3. There's Probably Dog Hair in Here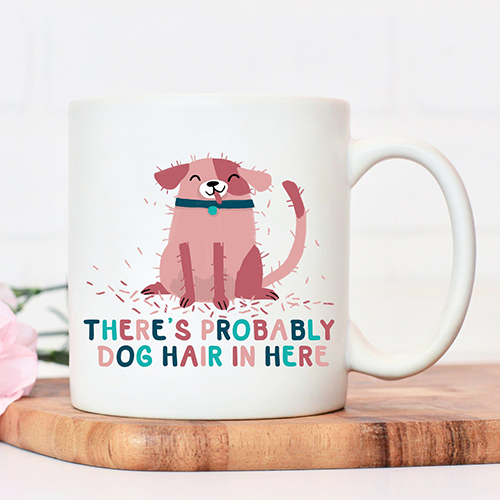 Let's just be honest and keep it real here, peeps! When you have fur babies there is definitely dog hair… well, um, everywhere.
Oh well, you get used to it after a while! For your dog lovers who own the hairiest of beasts, this adorable mug is a real winner.
This would also be a sweet gift for your groomer, kennel manager, or vet assistant!
4. Custom Dog Shirt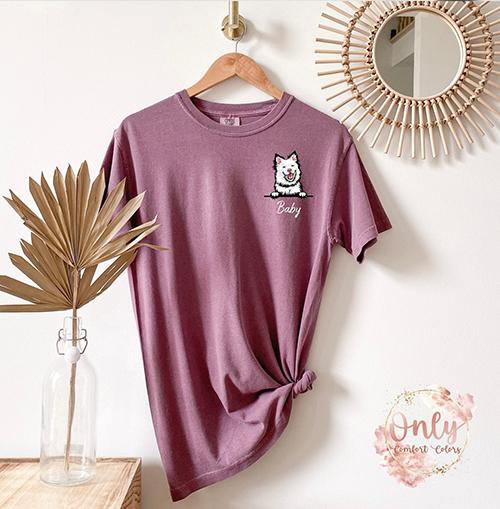 You know they're going to be wearing this custom tee every darn day they can. Start by simply knowing your breed and name, choose the color of the tee, and then let the masters do the rest for you.
The end result: a one-of-a-kind, soft, comfy, and simply irresistible shirt that will have everyone at the dog park wishing they had one.
Just add a nice layer of dog hair and you're fully dressed!
5. Steel Silhouette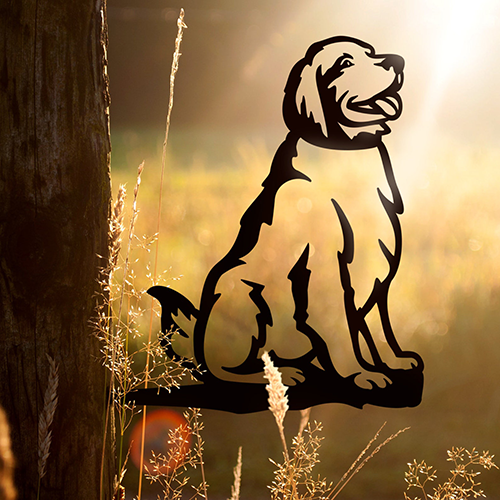 Such a sweet way to memorialize a pet who's no longer with us, this steel silhouette is exceptionally eye-catching and pretty to look at.
Whether you mount it outside to reflect the light, or keep it indoors, it brings a bit of sophistication and whimsy to your home. There are lots of breeds to choose from so you won't have any trouble matching your best boy or girl to the artist's creation.
6. Dog Treats Jar
So cute! We just love this treats container, with its funny little rump up in the air, and its clean, white lines. Whether your doggy loves biscuits, jerky, or peanut butter snaps, you need an adorable place to store them, that will blend in with your kitchen items, and will still make sure your guests know it's not a cookie jar.
At least, not for them.
7. Photo Dog Pillow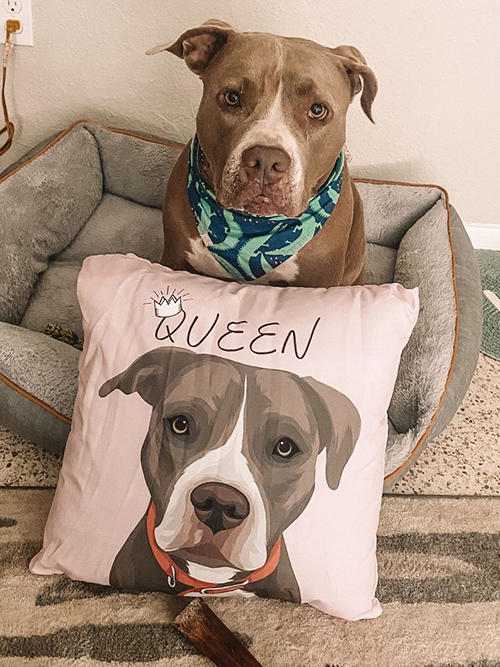 A pillow with your furry bestie right on it? Sign us up! Just provide your doggy's picture (make sure to get their best side, of course), and their name, and you'll have a one-of-a-kind throw pillow that everyone will want to snuggle with!
Especially if you have a no-dogs-on-the-bed rule, you can break it now. Of course, your dog may want this pillow for himself on his own bed. Guess you'll have to flip for it!
8. Dog Love Wall Art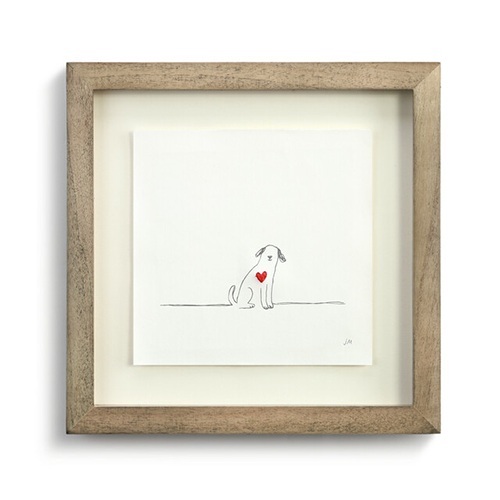 Drawn in pencil and hand-stitched, this whimsical and charming print will be the perfect gift for the dog lover in your life!
With paper, wood, glass, and cotton, this sweet print has all the textural elements, and the simple sketch reminds one of the bond between human and pets.
We heart it!
9. I Still Live With My Parents
If they refer to themselves as Mom and Daddy when it comes to their little four-legged baby, they'll crack up over this cute and funny bandana for Pooch. The black and red plaid is great for boy doggies or girl doggies, and is available for all sizes.
10. Best Dog in Show Gift Basket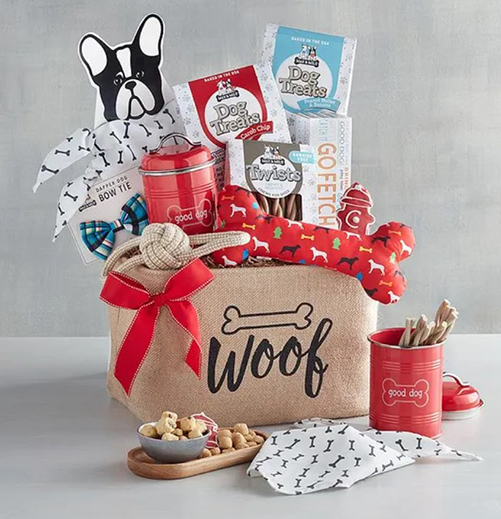 How DO you properly pamper the world's greatest pooch? With the world's greatest puppy basket, that's how! This cute, reusable burlap basket is stuffed with only the finest for Fido or Fifi.
With five different varieties of tasty treats, four types of toys, and only the most dapper of fashion accessories — what's not to love? This is sure to elicit plenty of sweet woofs and tail wags.
10 Best Gifts for Dog Moms & Dog Dads
You know who these people are (maybe you are one yourself), so you know that you'll need to find a special gift that acknowledges their precious pooch. Here are 10 delightful gifts for dog moms and dads.
11. Dog Dad Hat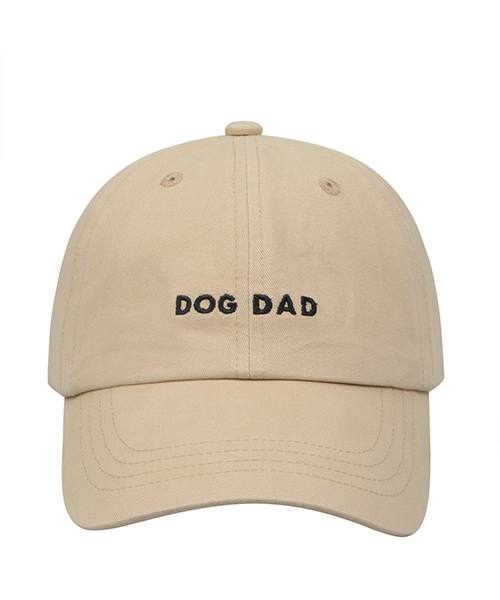 Keep it simple and leave no doubt! His heart is with the puppies. The perfect cap for dog dads all over, the soft embroidery says everything anyone needs to know.
Great for walking the pups, or doing chores, the neutral color means it goes with anything and will be his new favorite hat.
12. Personalized Dog Parent Tumbler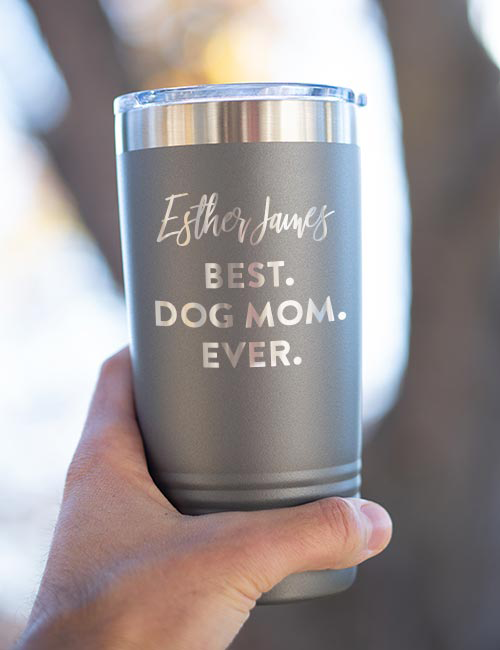 Insulated and engraved with your personalization, this vacuum sealed tumbler is going to be a hit! It's available in a wide variety of colors and can be personalized however you like, although we love Best Dog Mom Ever.
We're sure her fur babies would agree with the sentiment!
13. Sorry I'm Late – Shirt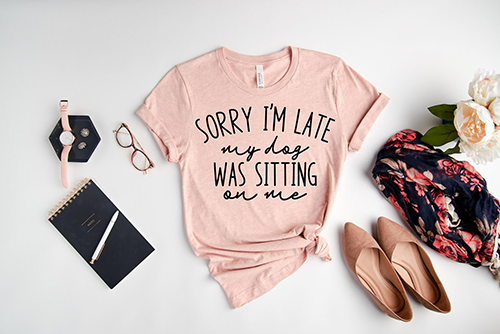 With its soft pink hue, swirly font, and hilarious (and accurate) words, this tee will get lots of laughs and agreement from all the other dog moms out there who see it.
We've all done it: been late to something because the baby was asleep on our lap. So why not admit it, and 'fess up?
14. Dog Mom Mug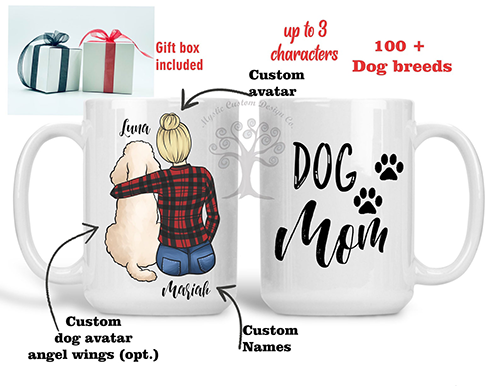 With a custom avatar of you or them, not to mention over 100 dog breeds to choose from, this mug is so extra special! It'll arrive with you and your dog's name on it, making it one-of-a-kind, and if your best furry friend has passed on, you can even add angel wings.
15. Best Dog Dad Ever T-Shirt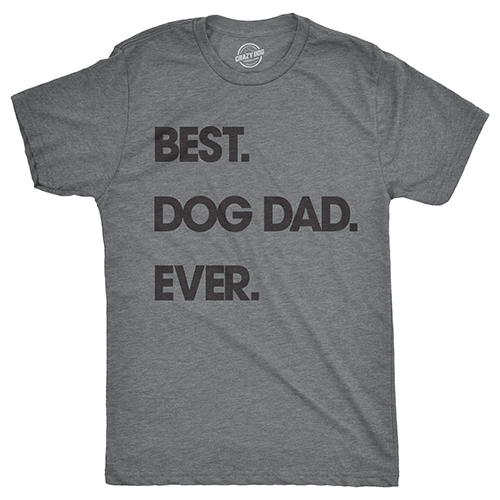 Leave no doubt! He really is the best dog dad ever, and we all know it, so now he can rock the title with proud. This gray tee is soft and cozy, already "broken in," and makes him king of the castle. Or the dog park. It'll pair perfectly with his shorts, jeans, or joggers.
16. Custom Door Mat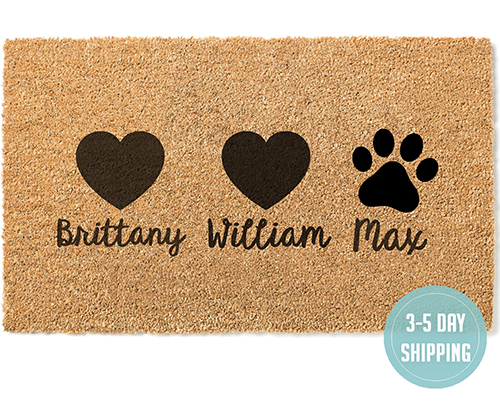 Personalize this doormat with your family's names, you can add any and all of the hairy family members, choose your font, and it's so affordable! And did we mention free shipping?!
This is such a great housewarming gift, a present for the newlyweds, or a way to welcome the newest addition to the family after a day at the humane society.
17. You + Me + the Dogs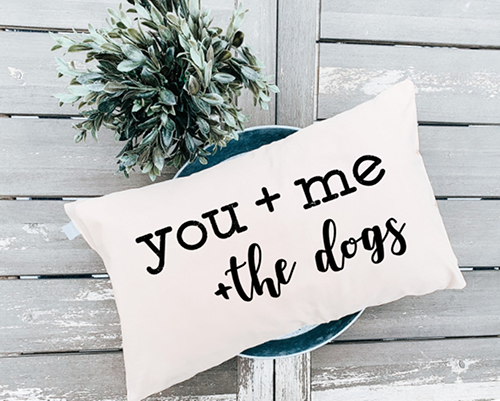 Such a great wedding gift, anniversary present, or just because it's so darn cute, this pillow is just perfect. All you need is love, family, the doggo, and this adorable pillow. Happiness starts now!
18. We are Dog People – Sign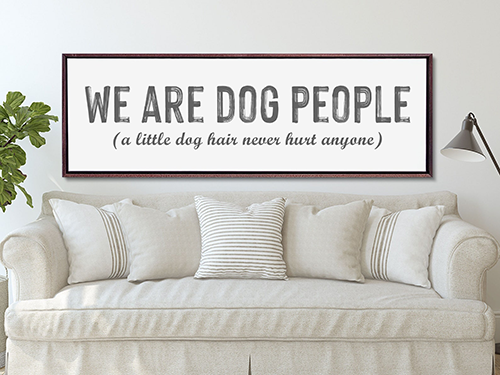 Just in case there was any doubt, leave it all behind with this sweet sign! It's a sly nod to the fact that yes, you will leave our home with a little bit of us left on you… mainly the dog hair.
But also, you know, better than you were before you arrived. With its neutral colors and large size, it's just the thing for a big family room or bonus room.
19. Initial Paw Bracelet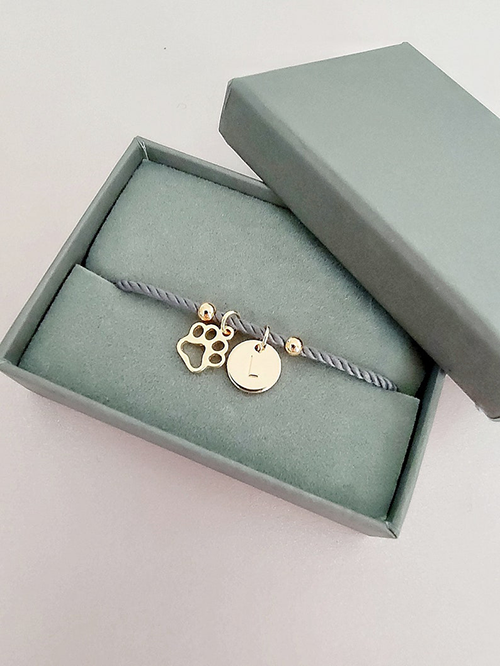 A way to remember your pooch after they've passed on, or a great gift for the college bound student who is leaving their childhood bestie behind, this charm bracelet has a sweet paw print and the initial of your dog. All on a pretty band and nestled in a gift box.
20. Dog Mom Car Decal
In case the nose prints and barking doesn't alert all the other drivers, this cute bumper sticker will let them know who holds the keys to her heart. Hint: they have four paws and like belly rubs.
Personalized Gifts for Dog Parents
More great gifts for dog parents, these ones are all personalized in some way that showcases their love for a favorite pup.
21. Dog Photo Bookmark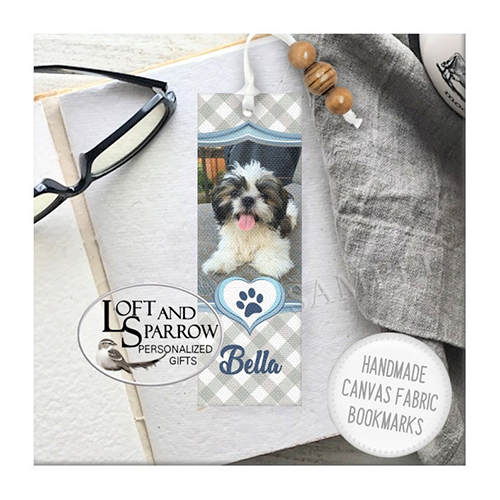 A simple little gift that will fit perfectly in a greeting card, or nestled inside a new book, this personalized bookmark will light their eyes up with gratitude!
Customized with your favorite photo and with sweet little beads on the ribbon to hold your place, this will make them smile every time they pick up their book.
22. Leather Dog Keychain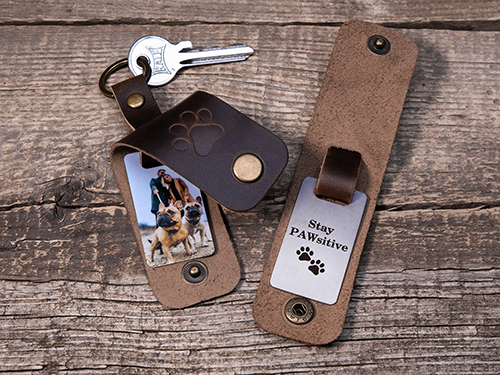 This leather dog keychain is engraved with a sweet paw print, and holds your favorite mementos or photo of man's best friend. Made of real leather, the quality can't be beat, and this will hold up for years to come! A favorite with dog lovers and we know why.
23. Custom Leash Holder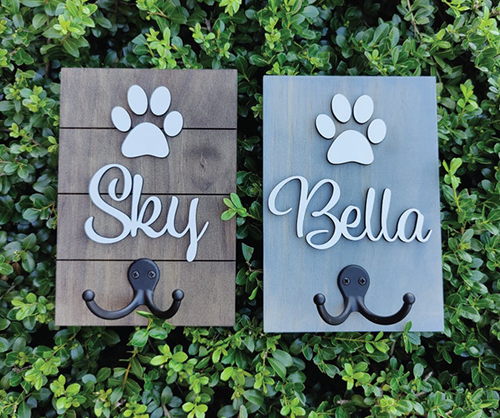 It's amazing how those leases tend to disappear into the back yard, the shoe basket, the mud room, behind the sofa, or in the depths of the car.
Keep them always at hand and ready for a walk with these adorable custom leash holders. Engraved with their name(s) and with two sturdy hooks each, it's always walk time.
24. Dog Photo Custom Ornament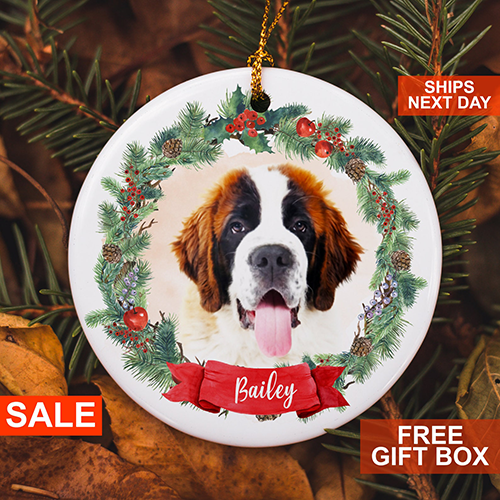 Don't forget how good the pooch has been when writing Santa! Fido is definitely on his nice list, and he deserves a great ornament that is one-of-a-kind: it has his sweet furry face right on it!
The only thing that is better than one of these ornaments on your Christmas tree is a whole Christmas tree full of them.
25. Crystal 3D Dog Portrait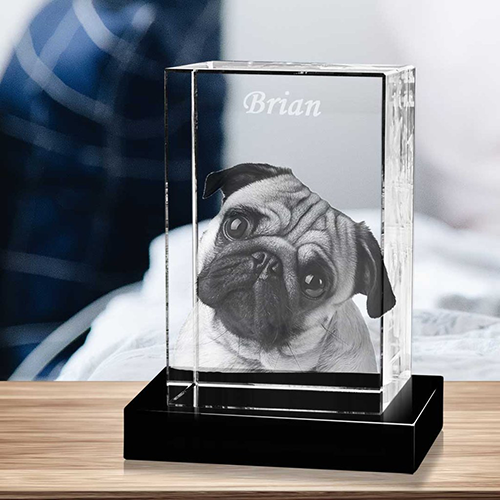 Choose your favorite photograph of your favorite pet and they'll magically turn it into one of these amazing crystal 3D dog portraits.
It'll look great at the office, on the desk, on a bookcase, or coffee table. Get ready for all of your friends to ask, "OMG I need one of those for my dog!"
26. Photo Pet Blanket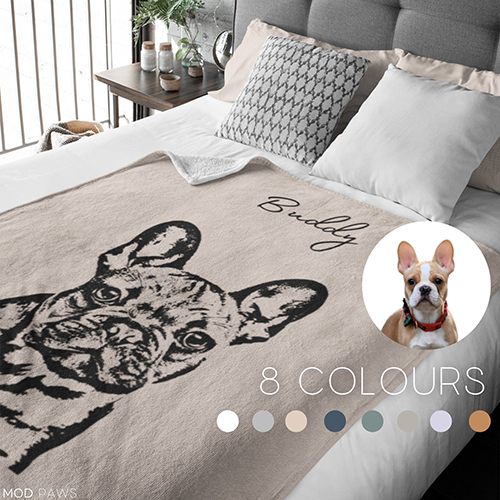 Available in eight different colors (all pretty earth tones), this great blanket hits all the right notes! It's completely unique, with your own pet right on it, and their name too. What a great gift for the puppy lover in your life!
Also adorable for grown children about to move out on their own, or to remember a pet who has passed over the rainbow bridge recently.
27. Personalized Dog Box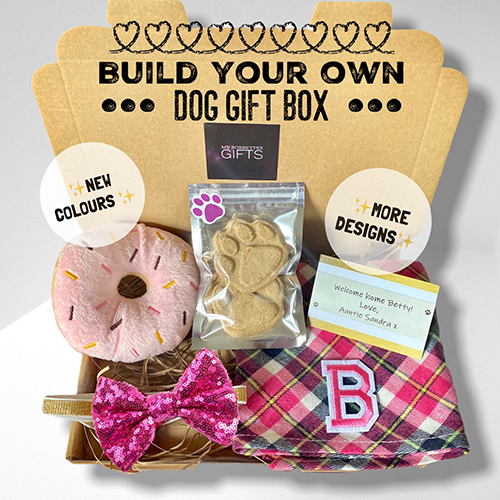 Build your own and have fun doing it! These cute dog boxes are totally up to you as to what they pack them to the brim with: you can choose from bandanas, wholesome and yummy treats, toys, collars… all with a cute note that says how much you love them.
Can't go wrong with this one.
28. Doggie Bag Holder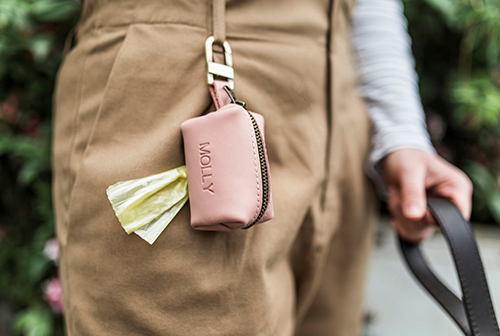 Not every pair of shorts has a convenient pocket for those doggy bags; don't you wish you had a place to keep the roll in one spot?
This little zipper pouch comes to the rescue! Not only cute to look at, it's totally practical and will get a ton of uses.
For anyone who has ever dropped their roll of bags, only to have to painstakingly roll them all back up again, this is a lifesaver.
29. Embroidered Dog Towel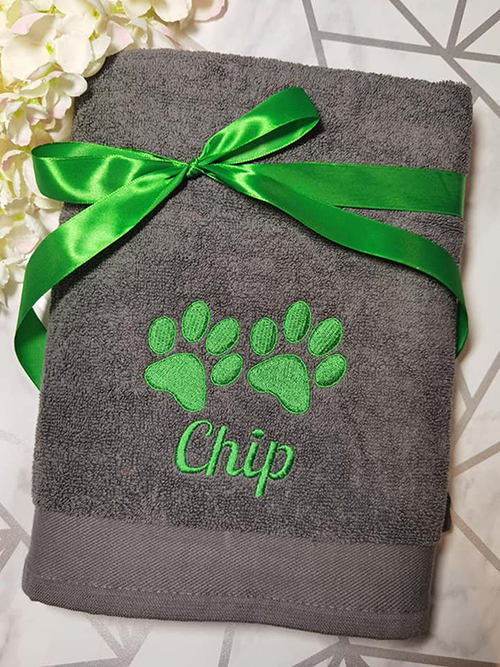 Cute enough to take to the beach, display in the bathroom, or purchase a whole set, these personalized towels are buttery soft and embroidered with your pupper's name.
You can use them of course, for Spot's bath time, or for your own shower use. They're thick and soft and so adorable.
Related: 50 Must-Have Bathroom Decorations
30. Personalized Pet Bag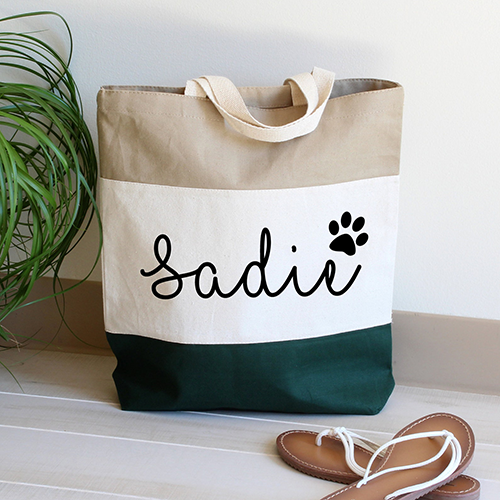 You need a sturdy tote to carry all of your canine's needs, whether it's to the park, the beach, or the kennel that you're both off to!
Enter in this pretty tote, personalized with your pet's name and ready to be filled up with snacks, leashes, coats, and water! Adventure is out there!
Read Next: What to Get Someone Whose Dog Died (+10 Dog Memorial Gifts)
Pin It