Last Updated on July 31, 2020
If you have an awesome dad, you want to give him an awesome Father's Day gift. That, if you'll pardon the pun, is a given.
So let us suggest that for the perfect gift idea, go custom. Here we feature 15 personalized Father's Day gifts that will truly impress him this year. Not only are these attractive, cool, and often functionally useful things, but with the added custom touch your gift will be transformed to the next level.
Considering a bottle opener? Put is name on it. How about a wallet, dopp kit, tactical knife, or whiskey aging barrel? Personalize it with his name or initials.
Better still, many of these personalized Father's Day gifts have space for you to customize a special message. Maybe an inside joke, maybe a heartfelt note expressing your love, or maybe you just want to say "Dad, you're awesome." Whatever that perfect message might be, you can nail it with a personalized gift.
So check these out!
Our website is supported by our users. We sometimes earn a commission when you click through the affiliate links on our website. Learn more here.
Personalized Father's Day Gifts
1. Personalized Father's Day Gift Tumbler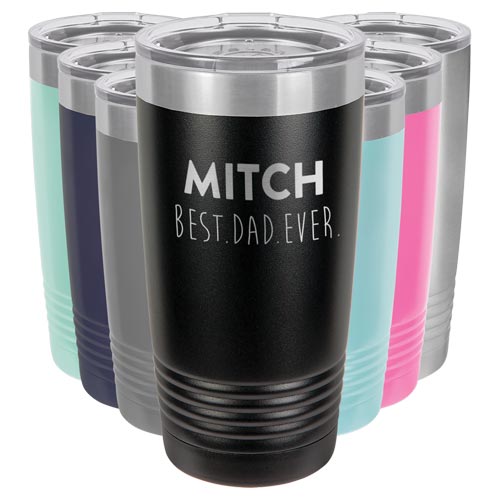 A personalized tumbler coffee mug is something that dad will carry around every day. Whether his jam is coffee, tea, protein shakes or anything else, this tumbler will keep it roasting hot or freezing cold for hours on end.
It works so well because of the way it is made. Double-walled stainless steel with a vacuum sealed interior provides incredible insulation that maintains the temperature of the beverage inside for hours on end.
Plus, it looks cool! Custom engraved with your father's name in an attractive design, this tumbler is the perfect personalized Father's Day gift.
2. Custom Engraved Oak Aging Barrel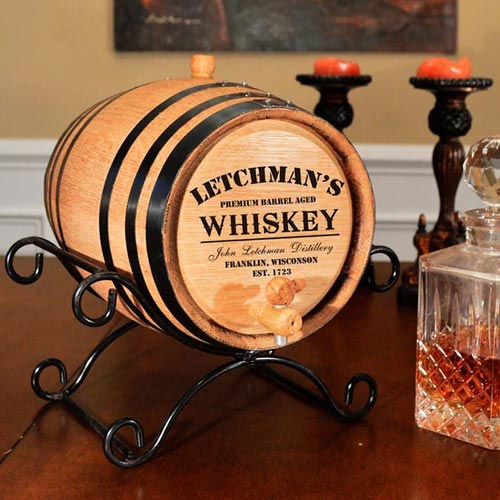 Aging whiskey has always been cool. If your dad is into whiskey (or bourbon, or scotch, etc), then help him take his game to the next level with his very own personalized whiskey aging barrel.
The barrel is crafted from real American white oak wood, steel hoops (in your choice of black or silver) with a medium interior char and custom laser engraving of an awesome personalized whiskey label theme. Whiskey isn't the only theme, either… Check out all our custom barrel designs here.
Each barrel includes stand, bung, spigot, and basically everything he needs to get started aging his own spirits at home (except the spirits, you'll have to get that on your own!). This is a great gift that he'll remember, treasure, appreciate, and use. Maybe he'll even share with you!*
*If you're over 21, that is.
3. Personalized Wooden Wall Mounted Bottle Opener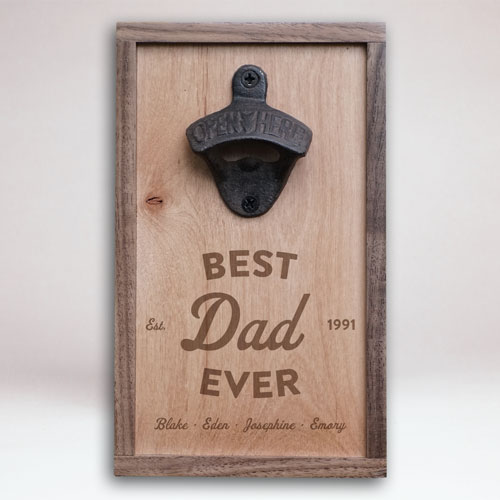 This wooden wall-mounted bottle opener is handcrafted in Oregon and personalized with your dad's name (or the names of all his kids, or a favorite quote, or anything else you like, for that matter).
A walnut wood frame surrounds the contrasting alder wood center, which boasts a cast iron bottle opener and personalized etching that reads "Best Dad Ever" along with the year he became a father. The bottom line can be changed to anything you want, so create your own personalized Father's Day gift today!
4. Personalized Father's Day Gift Socks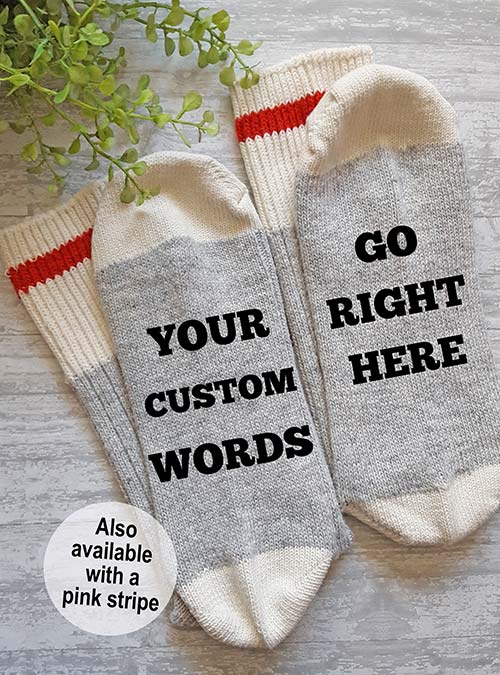 Cozy, comfy, and personalized: These custom socks make a great Father's Day Gift!
Question 1: Are you looking for a personalized gift for dad that is quirky and unique? If yes, please proceed.
Question 2: Is dad kind of a dork? If yes, get these socks.
Think about it – Socks that read "Hey Hungry, I'm Dad" every time he puts his feet up?!?! Yes, please.
You could do the classic "If you can read this, bring me a beer." Better yet, what's his favorite? "If you can read this, bring me an Old Rasputin Imperial Stout." You get the idea.
5. Personalized Dopp Kit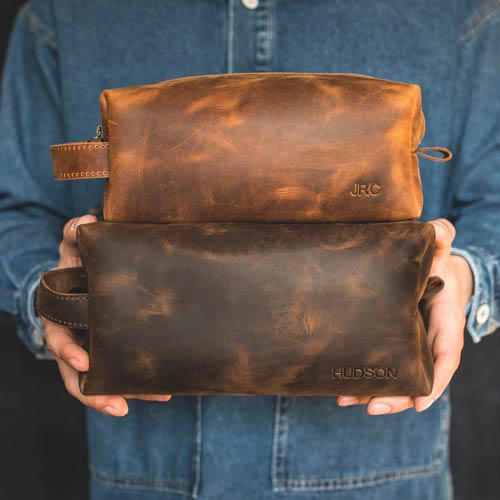 This leather dopp kit keeps it classy while providing your dad with a gorgeous personalized Father's Day gift he will remember, treasure, and actually use.
A good dopp kit bag allows dad to keep all his grooming accessories in one place, and doubles as a toiletries travel bag. This one is made from Italian full-grain leather and includes personalization of name or initials.
6. Personalized Father's Day Gift Bird Feeder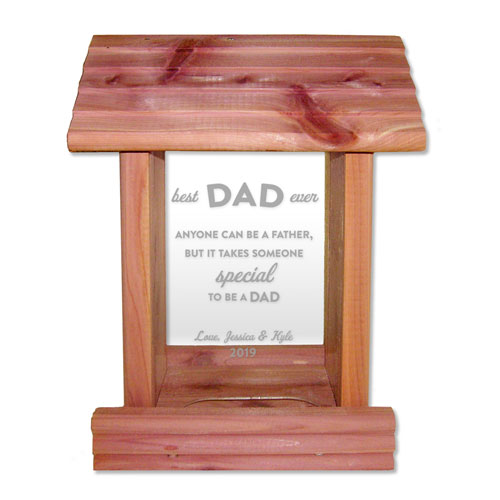 Dads get a lot of "dad stuff." You know: ties, funny t-shirts, coffee mugs, grilling accessories.
This personalized bird feeder takes your Father's Day gift giving onto a totally new tack. It has an earthy and natural vibe, and it can be customized with any engraving you like. Write a personal message or just put your dad's name on it, whatever it takes to make it special.
He'll get to enjoy the birds coming around, adding a bit of life and liveliness to the yard. And, as a bonus, he'll have one less junky Father's Day kitsch gift laying around that he feels obligated to keep. It's a win-win!
7. Personalized Garage Clock Sign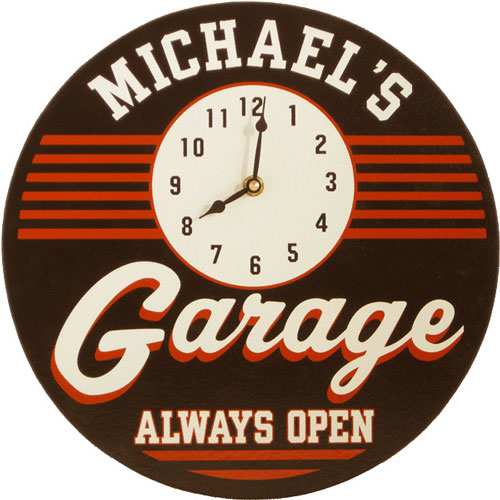 For the mechanically inclined dad who unwinds with his tools in the garage, this retro-style garage clock sign is the ultimate personalized Father's Day gift.
It's made in the USA, customized to order, includes a working clock and arrives ready to hang.
8. Personalized Wooden Watch Father's Day Gift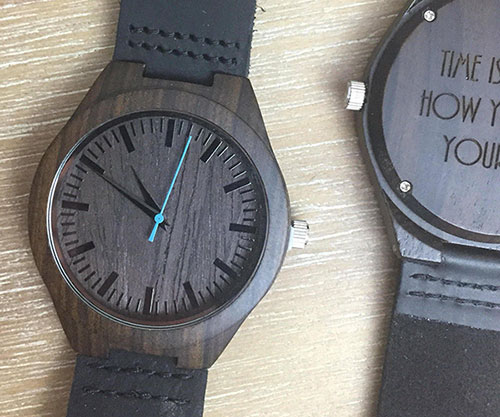 Watches are always in style. This wooden timepiece includes custom laser etching on the back of the watch in your choice of font, the perfect medium for a heartfelt message to your beloved dad.
9. Personalized Vintage Home Bar Sign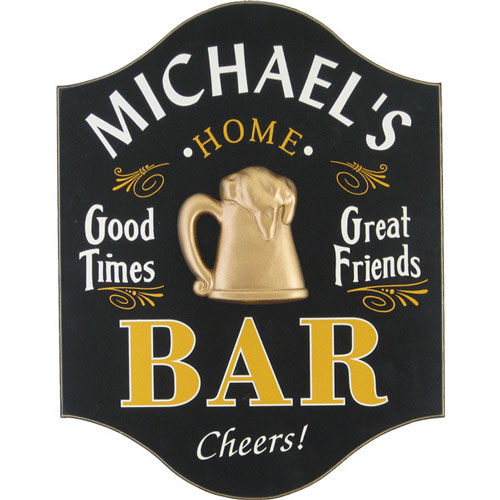 Provide your pop with a custom touch to his home bar with this vintage-style personalized home bar sign. It's a classy gift that has been popular for men year in and year out, for Christmas, birthdays, retirement, and, yes, Father's Day.
Made in the USA from furniture grade wood and custom silkscreened, this plaque features your dad's name across the top and a hand-carved 3-dimensional relief of a beer mug. Arrives ready to hang on the walls of his home bar, man cave, or office.
10. Monogrammed Sweat Pants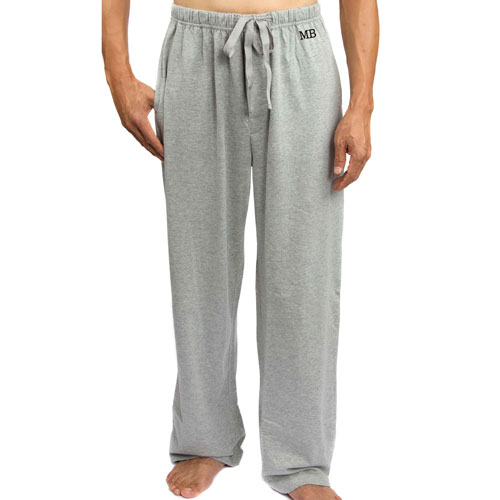 Sometimes a dad just needs to lounge. Let him luxuriate in style this Father's Day with some comfy, quality, and personalized sweats.
Available here in black or gray in breathable 100% cotton jersey. Two seam side pockets, elastic drawstring waistband, and free customization in your choice of thread color. Up to 3 letters are allowed, so this is ideal for initials or simply "DAD".
11. Personalized Father's Day Wallet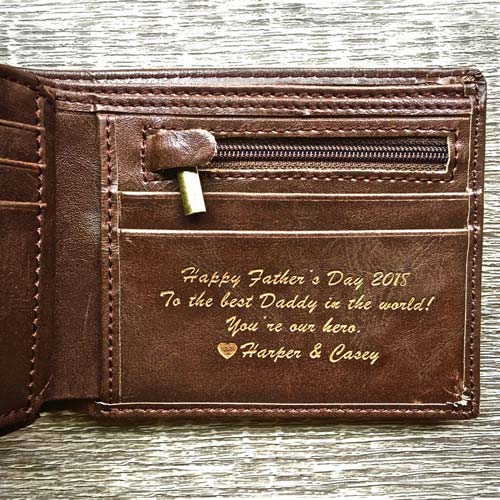 There are two things dad takes with him every time he heads out the door: keys and wallet. Us guys carry our wallets everywhere we go, so why not give him the gift of a wallet that will last a lifetime?
Especially when that gift includes a personalized message from you to him! This personalized leather wallet will be a gift he treasures always.
12. Custom Engraved Tactical Knife
Tactical knives are just plain cool. When you add customization, it just gets cooler.
Give dad something special to carry around wherever he goes with a personalized tactical knife.
With his initials etched onto the wooden handle, he'll be reminded of your gift every time he cuts a fishing line or opens one of those impossible-to-get-into plastic packaging around some electronics device (which will be outdated in 6 months) from a less thoughtful gift-giver.
13. Custom Engraved Old Fashioned Pocket Knife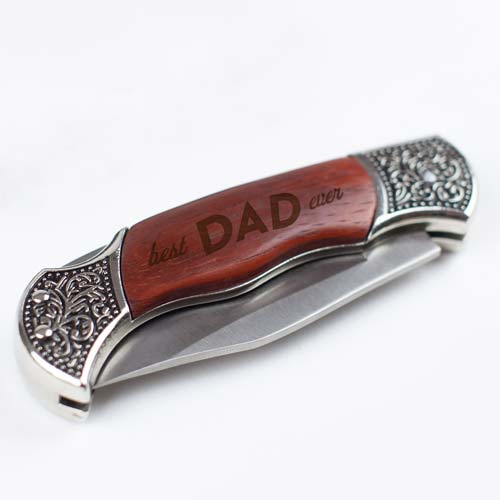 It doesn't get much manlier than this. Old-school style and practicality meets made-to-order customization to create one of our best personalized Father's Day gifts.
The 3″ stainless steel blade is wrapped in a rosewood handle, which is engraved with our simple "Best Dad Ever" design. We can personalize the back side of the knife's handle with initials, name, or anything else you like.
This custom engraved old-fashioned pocket knife is a great way to show your dad how much you appreciate him. It will be a genuine heirloom!
14. Personalized Cutting Board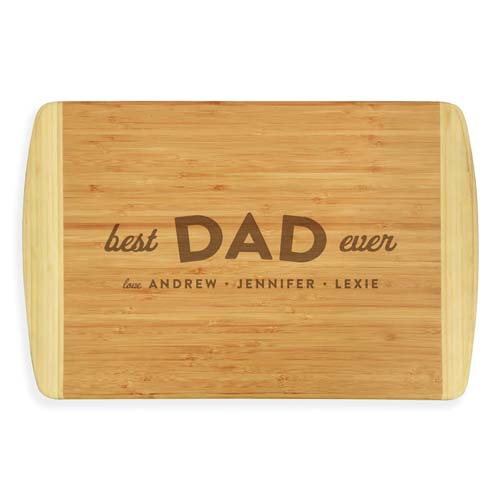 For the dad who loves to cook, personalize this bamboo wood cutting board! I'm no chef but I do enjoy cooking now and then, and I use our bamboo cutting boards nearly every day.
This is a personalized gift that is also highly practical. It will be used often and reflect your love and appreciation back up at him as he chops away at his next gourmet special du jour.
More custom engraved cutting board designs are available here.
15. Personalized Metal Ammo Box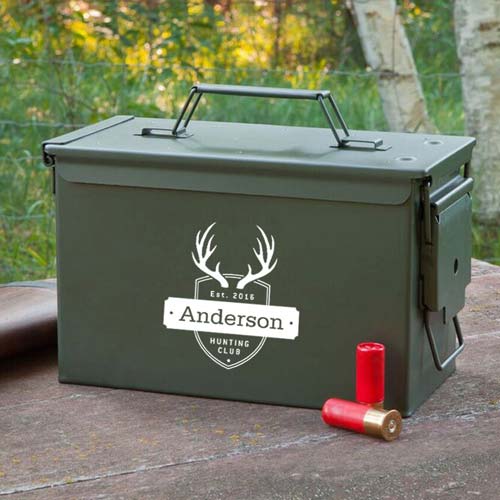 A dude loves his ammo. For the gun enthusiast, you can personalize his very own ammo box and he'll love you forever.
This durable metal ammo box is waterproof and includes your choice of emblem (antlers, American flag, geese, etc) along with your dad's name and a "year established" date. It's one of our favorite personalized Father's Day gifts for the gun aficionado dad.
Also, if he's into guns and ammo, you might want to check out this guide to the 21 Most Creative Gun Collector Gift Ideas.
More Father's Day Gifts
Pin It